Let's get directly to the point. One of the biggest hurdles of decorating a dining room is what to put on the walls.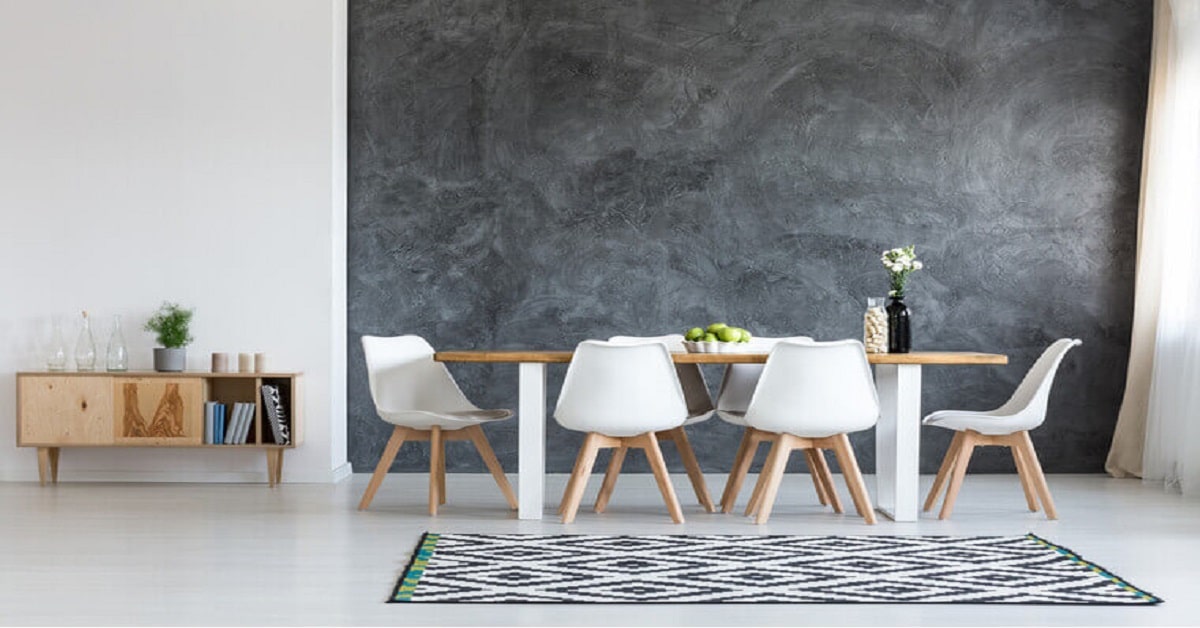 You see, our dining room is shared with guests, friends, and family, but usually the room looks bland and plain. As shine as cute kitchen decor ideas, this is the very reason why we should become more creative with decorating our dining room wall.
Thank you for reading this post, don't forget to the best blogger Guy About Home who offers the best garden and home improvement tips! If you are a home decor and design fan, don't miss the tips on home ideas. If you are a home garden owner, then you might be interest in our complete guides to house plants!
By doing so, we can improve the ambiance of the room, and just focus on our guests and to make all the conversations fun without getting distracted with a bland wall. 
That said, we've rounded up our favorite dining room wall décor concepts from quirky to traditional and everything in between. Read on to get inspired!  
Dining Room Wall Ideas
Wood Accent Wall
If you want to make more of a statement in your dining room, then having a wood accent dining room wall is a nice pick. 
You can easily get creative with this choice by picking a unique material like painting a bold, graphic pattern using wood materials, or just reclaimed wood.
Still not satisfied, find more inspiration after reading cross wall decor ideas
Cabinets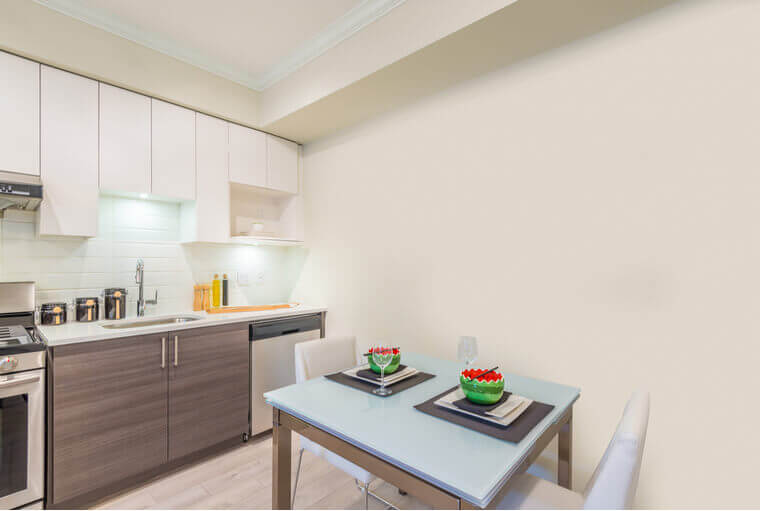 You might also like to forego art all together and cover one of your dining walls with a big shelving unit. 
This choice will provide you an awesome deal of flexibility when it comes to your décor, and of course a good chunk of additional storage space. 
You can also include pieces of art on the large shelves and some decorative items as well. 
In addition, you can also make an open shelving storage look with glasses, plates, or service pieces – which is great if you do not have any kind of open shelves around your kitchen.
Still not satisfied, find more inspiration after reading modern wall design
Plate Collection
If you're fond of collecting plates, then you can effortlessly make a beautiful arrangement on your dining room wall. 
You can pick to display your plates by pattern, color, or mixing it all up and just hang all what you like. 
Though you can definitely plan your arrangements ahead, you are not required to do quite as much planning as you do when it comes to the gallery walls. 
 find more inspiration after reading  antler wall decor ideas
Calendar
If you want a more casual dining room, you can use something more practical instead of artwork. And what we mean is a calendar. 
Classic calendars are loved by many graphic artists since they are so beautifully designed. 
You can find some sellers that sell our every year, buy you can just place your name down on their waiting list, so that you will be the first one to hear when next year's calendars come out. 
Still not satisfied, find more inspiration after reading bedroom wall ideas
Large Tree as Art
If you can't really do a living wall because it seems overwhelming, then most likely your dining room wall will need a large tree. 
While these large trees can certainly be on the more pricey side, with the right treatment, you will certainly have it for a number of years to come.
If you decided to get a large tree in front of your dining room wall as a focal piece, then be sure that you'll also invest in a gorgeous pot to aid show off your plants. 
Still not satisfied, find more inspiration after reading antler wall decor ideas
Typography Artwork
This one is another simple art concept to create pieces of artwork in your dining room. 
You can pick messages that have a lot of meaning to your family, or just pick certain letters or words that come with powerful graphic elements that make punchy pieces of art. Excellent as decorating ideas for small living room.
By utilizing a simple black and white palette is a nice concept if you like to make things more neutral. 
Still not satisfied, find more inspiration after reading home bar wall decor ideas
Child's Artwork
If your children are always working on their talent, you should already have a number of awesome artwork just lying around the living room. 
That said, it might be the time to consider choosing some pieces and framing them up to make them as artwork for your dining room wall. 
Remember that engineer prints are a pricey method of getting larger pieces of art to use.
Still not satisfied, find more inspiration after reading wall bar shelf ideas
Family Photography
If you are consistently snapping family pictures or photos of your children, then try enlarging some of them and use them as an artwork for your dining room wall. 
Printing family photos in white and black is an ideal way to make them look more professional and pulled together. 
Still not satisfied, find more inspiration after reading minnie mouse room decor ideas
Vintage Signage
We all know that vintage signage is an amazing pick for dining room wall décor. Lovely as diy guy room decor, you can pick one larger sign, or just go for many smaller signs and simply hang them altogether.
Vintage signage is enjoying items to hunt for at yard sales, and they come in various sizes and shapes. 
Chalkboard
A large, hanging chalkboard is actually another fun choice for a more modern-looking dining room.
You can use chalkboard to spot for kids to draw while grown-ups are eating. Also, if would want to fill up a larger space, then try considering chalkboard paint to outline a much bigger chuck for your dining wall. 
Still not satisfied, find more inspiration after reading large walls in living room ideas
Vertical Garden
The concept of vertical garden surely falls into the quirky criteria. Not to mention that dining dining room walls are a super unusual option for making your dining room stand-out among the rest. 
You can make a vertical garden with the use of special pockets that are crafted to hold your plants and let them thrive properly.
We suggest that if you would like to go with a plant wall, be sure that your dining room will get sufficient light for you're the plants you're looking to acquire. 
Still not satisfied, find more inspiration after reading wine themed kitchen wall decor
Woven Wall Hanging
If you didn't know, woven wall hangings have become all the rage these past few years all thanks to the boho trend still going strong with its design.
You can actually search for the ideal vintage dining room wall hanging for your space on many websites on the internet. 
Or you can actually just make your do-it-yourself version. You see, the nice thing about do-it-yourself outputs is that you can decide to make them exactly the size you want to fill up your wall.
Still not satisfied, find more inspiration after reading salon wall art ideas
Art: Graphic Wallpaper
We definitely love the appearance of wallpapers and we think that dining rooms are the ideal spots to implement such art.
Nevertheless, if you are still not yet prepared to take the plunge or don't possess the budget yet of putting graphic wallpapers to your dining room, then a piece of graphic wallpaper will surely suffice.
Just get or find a design or print that you like, and then get a piece that is just big enough to fill your dining room's blank space. 
You can also resort to smaller graphic wallpapers (be it coordinating prints or the same prints) that you'd love to frame and hang together on one wall on your dining room.
Still not satisfied, find more inspiration after reading massage room wall art
Large Mirrors
For the most part, a nice mirror is one of those items that never really go out of style. Large mirrors are class. So, you can feel more comfortable getting a premium one.
Furthermore, a large mirror is an amazing solution if you've got a smaller space that you'd want to open up a bit. 
Round mirrors are absolutely having a moment as of the moment, thus if you are not sure of what kind of mirror will work in your humble dining room, then we highly advise you go round.
Still not satisfied, find more inspiration after reading garden tub wall decor
Gallery Wall
If ever you happen to own a huge collection of art, then a gallery wall would most likely be the ideal solution for your dining room.
You can just mix and match different finishes, frame colors, and various sizes of art. Inspired as eid decor ideas, in fact, you can even throw in some unique items to make a fun gallery dining wall that will display your collections.
That said, keep in mind that the spacing and doing of gallery walls can often be a little bit tricky, so try to plan the whole thing out before grabbing any tools you needed. 
Still not satisfied, find more inspiration after reading paris wall decor
Conclusion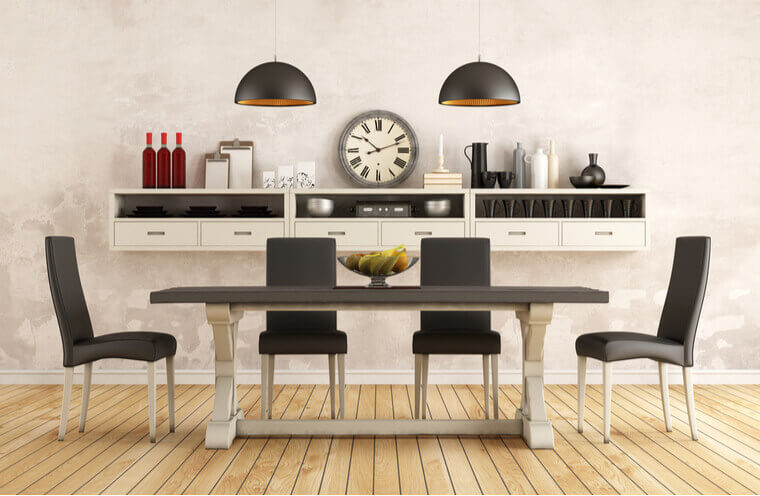 Let's admit that when we're decorating our dining room, it's very easy to concentrate on the plates, chairs, and tables.
But we mustn't forget that walls are a crucial part of our dining room as they tend to set the mood and vibe of the space. Once you've planned what type of ambiance you want for your dining room, then pick the hues and paint the walls. 
Install some lighting that will improve the vibe of the room, and show off the walls with plants, mirrors, plates, paintings, or any other stuff that we mentioned above.
And lastly, if you're on cute kitchen ideas, then we've got the wall decor for kitchen ideas right here. Please comment below if you've got any feedback.
For more amazing ideas you can have, visit Guy About Home today or you can check the related blogs: