Decorate Your Paris Themed Bedrooms with french Paris themed bedroom accessories! A Checklist for teenagers girls
Paris is, without doubt, one of the most famous cities on the planet that has been associated with everything beautiful. From great food, romanticism, music, and a very rich culture that dates back centuries.
Thank you for reading this post, don't forget to the best blogger Guy About Home who offers the best garden and home improvement tips! If you are a home decor and design fan, don't miss the tips on home ideas. If you are a home garden owner, then you might be interest in our complete guides to house plants!
For this reason, everyone wishes to visit the place at least once in their lifetime, and those that never get that chance always do their all to bring Paris to them. The following are some of the best Paris-themed bedroom decor ideas.
#1 Parisian Windows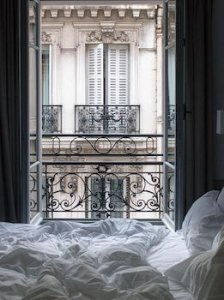 Source:
https://www.pinterest.com/pin/115123334214393054/
You have probably come across this word somewhere on the internet or in the books. Parisian windows are a thing, and they refer to the huge windows that are used in French buildings that give the room a very iconic look with light sweeping through the whole room during daytime.
You can have them set up in your bedroom to add some character to the bedroom. For those that worry about having to deal with a lot of light in the morning, there's the option of using heavy curtains that block the light completely.
Try these windows and see how your bedroom turns out.
#2 Paris themed Mirrors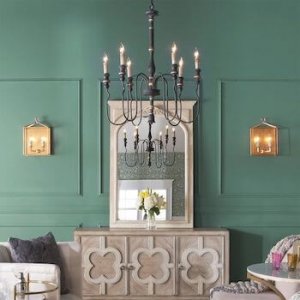 Source:
https://www.pinterest.com/pin/498844096232563862/
One unique thing about Parisian architecture is the high ceiling setup, they love making their house very huge going up, and this creates a lot of space for other things to be added to the room.
It is very common to find huge mirrors in Parisian bedrooms; they are usually set against the walls and can go all the way to the ceiling in some instances. This adds a classy touch to the bedroom.
It is always refreshing to have that chance to admire yourself in the mirror as you go to sleep. The mirrors also reflect light around the house, making things even brighter.
#3 Parisian Wall Art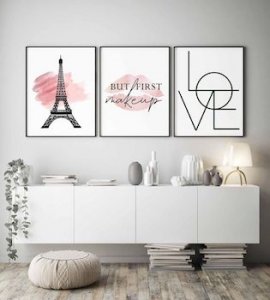 Source:
https://www.pinterest.co.kr/pin/736620082801541419/
Parisian wall art goes beyond the simple hanging of portraits and paintings on the wall. It leans heavily on carvings that are made on the walls and the ceilings. These are usually in the form of flowery patterns that are uniform across the room.
They add a beautiful touch to the room, and they are the ideal form of art that someone who doesn't love cluttering the walls with too much art would truly appreciate.
For those that love having art drawn on the wall or framed pictures hung, there's always the option to draw the most famous structure from Paris, the Eiffel Tower. You can never go wrong with that kind of modern wall art, and it works very well when juxtaposed against a white wall.
#4 Parisian Statues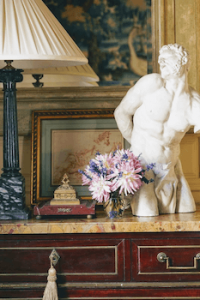 Source:
https://www.pinterest.com/pin/246642517081145631/
Statues are another great way of accentuating your bedroom to bring it to life. They don't have to be big, you can even go with a simple head of a random finger, or if you have a deep reverence for Parisian history, you can choose a sculpture of a famous French figure like Napoleon or de Guille.
The freedom to choose rests on your shoulders, and you can go with anything you want. However, you have to be careful you don't overdo it because you don't want to have a heavy statue that could fall on you hanging near your bed. Keep them small and minimal.
#4 Paris-Themed Furniture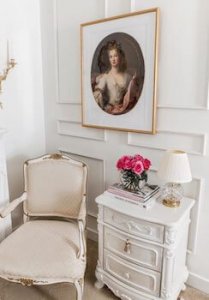 Source:
https://www.pinterest.com/pin/51932201943430658/
The most common misconception among many people is that bedrooms only need beds. However, if you happen to have enough space around, then you can add anything in the bedroom, and furniture that is commonly found in other parts of the room can be of great addition there.
You can have a French-styled dresser with Parisian art and sculpting to add that classy touch to the bedroom set. The dresser or cabinet, or sofa, shouldn't be too big; Gears and accessories that can help us work from home are also essential in life, including tablet stands;  you just have to match its colors with the color scheme you chose to go with.
#5 Paris Themed Lights and Glow Stickers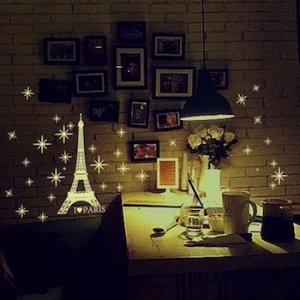 Source:
https://www.pinterest.com/pin/AcnirsM0gMA4HypxuI-DmMlLF6WDCM-nD6133dWEr_r9O0icYNjpgwI/
Imagine looking up at the ceiling and seeing the glow-in-the-dark stickers or LED strip lights shaped in the outline of the Eiffel Tower. Using lights as bedroom wall art in this form is not something new and one of the unique ideas on this list.
You have the freedom to create anything you want, and you can set up anything as long as you have space to spare. You can even mix differently colored strip lights to create an ambient setting that calms you just before going to sleep.
Conclusion
The bedroom is your sanctuary, and you should do everything in your power to make it as comfortable as you can. There are many other ideas out there that you can implement as decor; you just have to find the pens that tickle your fancy.
For more amazing ideas you can have, visit Guy About Home today or you can check the related blogs: