Working to renovate your home with a star wars theme is a great idea especially if you are a big fan of star wars. Your decor will include a lot of unique choices that may not resonate with others.
Thank you for reading this post, don't forget to the best blogger Guy About Home who offers the best garden and home improvement tips! If you are a home decor and design fan, don't miss the tips on home ideas. If you are a home garden owner, then you might be interest in our complete guides to house plants!
However, given that it is your space to work with, you have the freedom to make it what you'd like.
Coming up with the right decor ideas may prove to be a challenge especially if you don't know what to include in your space. Here are a few star wars decor ideas for you to consider.
Wall Decor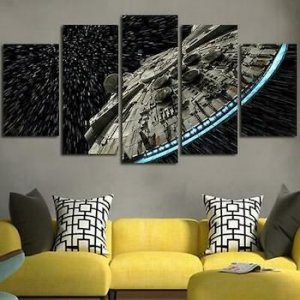 Source:
https://www.pinterest.com/pin/274930752241968065/
One of the most challenging bits when it comes to decorating your home is figuring out what to do with your big empty walls. With the star wars theme, you have different wall decor options including adding wall decals, murals, or wall art.
Murals are a great choice if you're looking for something that will stand out and be the main decor focus. Using wall art is also an excellent choice given that you can easily reposition it or remove them when needed.
On the other hand, wall decals add a great look that makes it seem like you've drawn onto the wall which adds character to the room. Choose the kind of wall decor you'll add to your space and remember that it should feature characters from star wars or some other aspect.
Kitchen Decor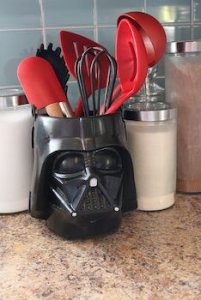 Source:
https://www.pinterest.com/pin/281543702788536/
Renovating your kitchen is an investment that will contribute to the overall look of your house. When it comes to your kitchen, most of your utensils will be unique and also serve as decor pieces.
Invest in space ship jar holders for your cutlery, death star jar for your sweet treats, and star wars cups. These items will be a great addition to your kitchen seeing as they'll be practical and also functional.
Bean Bag Pillows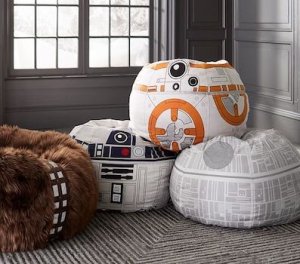 Source:
https://www.pinterest.com/pin/1477812368073422/
Your living room renovation will always feature the addition of the right furniture and comfy seating options. The best way to add such seating options while remaining practical and sticking to the theme is by adding bean bag pillows.
These are great floor pillows that work great to offer comfortable seating in your home. You can easily have them tailored to your desired design to have them fit in better into your space.
As you do this, ensure that the fabric used features star wars prints to contribute to your house decor theme.
Greenery and Creative Planters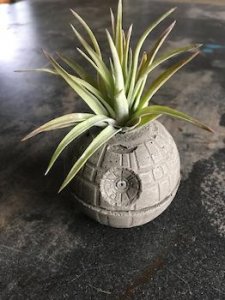 Source:
https://www.pinterest.com/pin/374502525269280760/
One of the best ways to completely revolutionize the look of your space is by adding greenery. This adds a great look and brings life into your space. Incorporating indoor plants in your home comes with amazing benefits that you should keep your eye on.
This however only happens when you ensure that your plants are well taken care of at all times. To add the star wars theme, invest in unique planters like a death star or space ship planter.
With this, if you cannot easily find them, consider taking up a DIY project and recreate your planter and feature it in your home.
Textiles and Throw Blankets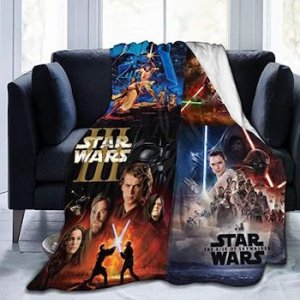 Source:
https://www.pinterest.com/pin/577797827183149049/
Another amazing way to add the star wars theme to your home is by investing in star wars inspired textiles. This applies to your duvet cover, beddings, and pillow covers. This will be a great way to have this aspect included in your bedroom with ease.
The textiles should be printed with characters from star wars or get those written 'star wars'. On the other hand, investing in star wars throw blankets will be a great addition to your couch. Throw blankets add a very comforting feel on the couch making them a go-to decor piece.
Night Light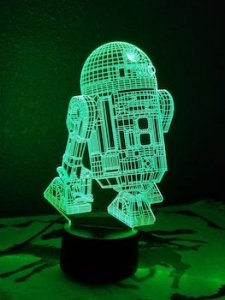 Source:
https://www.pinterest.com/pin/532550724693257372/
Adding a night light in your home allows you to easily convey the mood that is required during the nighttime. It helps you limit your exposure to bright light and blue rays that may interfere with the quality of your sleep.
When getting your night light, invest in a quality Led light that gives a 3D look. Also, make sure that you get star wars inspired night light that features different characters from the movie. This will act as a great decor piece whether in use or not.
Conclusion
When it comes to renovating your home, finding the right decor pieces is important to ensure that you achieve your goal. With the star wars theme, a lot of your decor ideas will also serve as functional additions to your home which is an added advantage.
Take your time to work with the pieces you find and decorate your space to the best of your ability. If you lack a decor piece that you wanted to incorporate, consider creating yourself from scratch.
Your creativity will win the day when you do. Make your living space your own and embrace your unique style.