In this article, we want to share with you some ideas on how to decorate your bedroom wall so it won't look like a bit bland.
Thank you for reading this post, don't forget to the best blogger Guy About Home who offers the best garden and home improvement tips! If you are a home decor and design fan, don't miss the tips on home ideas. If you are a home garden owner, then you might be interest in our complete guides to house plants!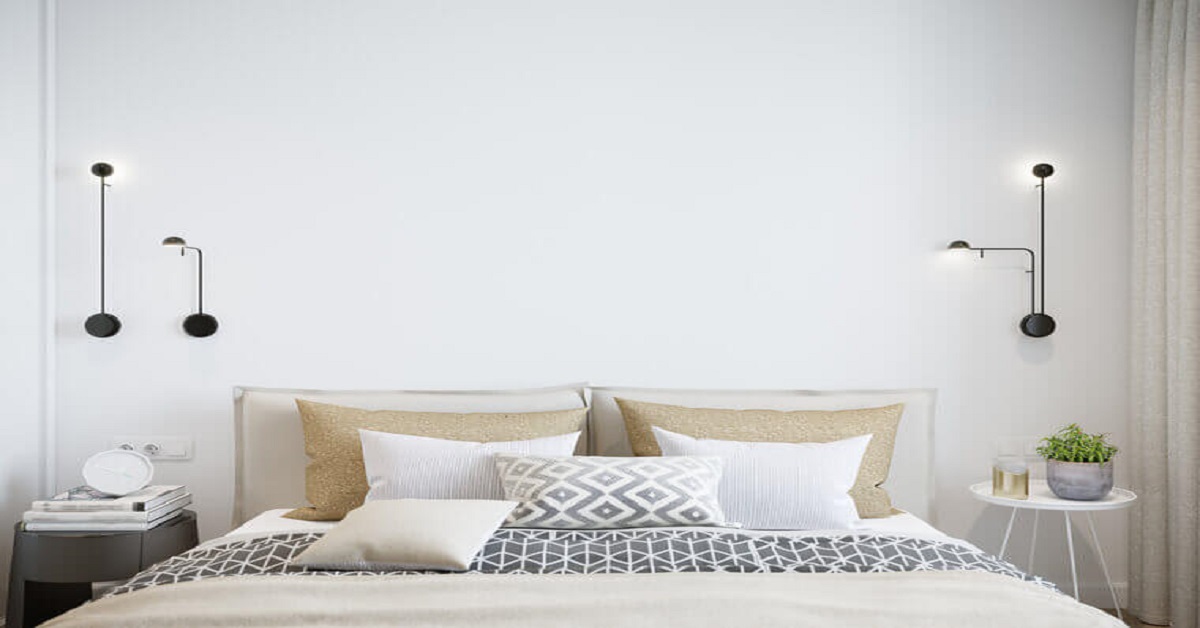 You see, the spacious and empty wall area over your bed is primarily the culprit that something's lacking, and so you should focus on it and do the rest later on. 
Now, one decor idea we're looking to emphasize in this guide is the use of paint for your bedroom wall because it's cheap, simple, and less-hassle – after all, you only need a paint!
That said, here are the proven ideas to decorate your bedroom wall to the next level. Read on!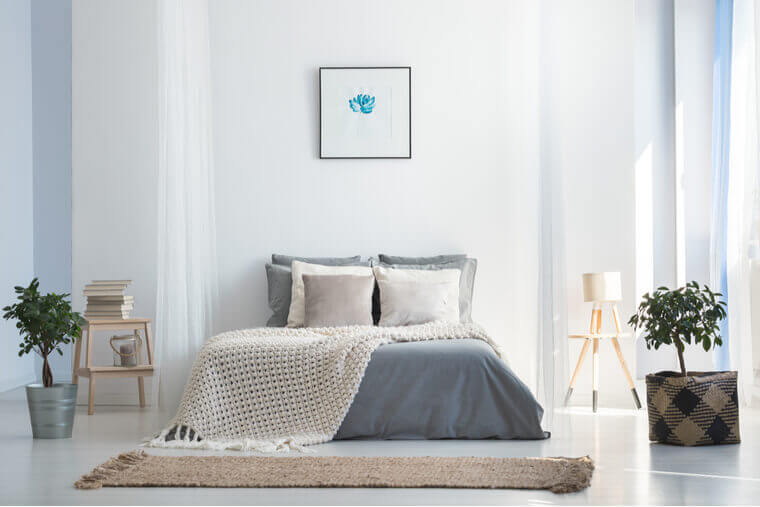 Simple Tips and Ideas
Rustic Style
Be it natural or artificial, having a stone coating is an amazing choice for those people who want to treat their bedroom spaces with an earthy and rustic look. Just keep in mind to add in another natural material so you'll get a little bit of contrast. A good material is of course, wood.
Vertical Gardens
Any bedroom can actually do with some potted greens, and seeing as green walls or vertical gardens are actually one of the current trends to follow nowadays. That said, we highly suggest treating your bedroom wall to a small-yet-stylish vertical garden.
Emphasizing Bright Hues
For the most part, vinyl decorations aren't only meant to make character but to also get attention to certain spaces like a brightly colored bedroom wall.
Here are some vinyl wall ideas you might be interested in.
Utilize Lighting
Don't just think of your lighting fixtures as means of illuminating your bedroom space, because you can utilize the baddie room ideas with led light guide for your bedroom wall.
You can do with layered lighting and test out how it will affect your bedroom wall's look.
Concrete Walls
Concrete materials can make bedroom look industrial, minimalist, or elegant. Concrete's cost-effectiveness is one of its main advantages, and this makes the material a popular pick for bedroom walls. 
Art Work
Did anyone say that awesome art pieces are only for living room walls purposes only?
Well, just see how easily that bedroom's vibe would flow after you hang pieces that will complement other hues in the bedroom wall.
Wall Decals
For the most part, wall decals can surely style up any room around your house, particularly for the simple reason that wall decals are very versatile and practical decorations.
Here's a tip: Bedroom walls coated in soft pastel colors aren't only for kid's rooms anymore since they show a vibe of harmony and tranquility no matter what the room is.
Themed Wall Art Pieces
Cars, paintings, horses, sea creatures, etc. can make a neat, pleasant frame which also improves the ambiance of your bedroom wall. This won't only add decorative vibe to your bedroom, but it will also provide a bit of personal touch.
Mirrors
Is your bedroom not that spacious, and really gives vibes of tightness? Well, by simply adding a mirror will surely help you out since mirrors can provide extra visual and light space, ultimately helping you to be more comfortable.
Believe us if we say that one large mirror in an appealing frame on your main bedroom wall can make all the difference.
Rustic Bricks
We normally see this kind of design all the time, but an exposed brick wall will surely show off a bold, genuine, countryside style around your sleeping area. You can resort to a modern design or color in a glossy finish.
Wallpapers
If you want to resort to wise economy and some sort of practicality, then having some light wallpaper for your bedroom wall is the most ideal choice.
There are a number of colors and designs to test out, so make sure to choose one that will fit your personal style. After all, it's your bedroom you'll decorate.
Colorful Combinations
Though it's certainly true that white room gives extra spaciousness and light, colorful combinations will show off a spirited and energetic ambiance. What you want to do is simply try and test different combinations that will work well with lighter colors if you're fond of tranquility vibe.
Now if you want a little bit bolder, then darker hues is the perfect pick for you. However, you would want to remember to stay away from powerful contrasts.
Personal Memories
Simple framed photographs of family members and best friends embellishing one's living room wall is a typical practice, but did you know that you can do the same thing for your bedroom wall?
This would be a lovely way to add some significant emotional feel to the most private space around the house.
And now, let's proceed on the most simple, less-expensive, and less-hassle idea of decorating your bedroom we're talking about in the intro – the paint!
How to Decorate Bedroom Wall with Paint?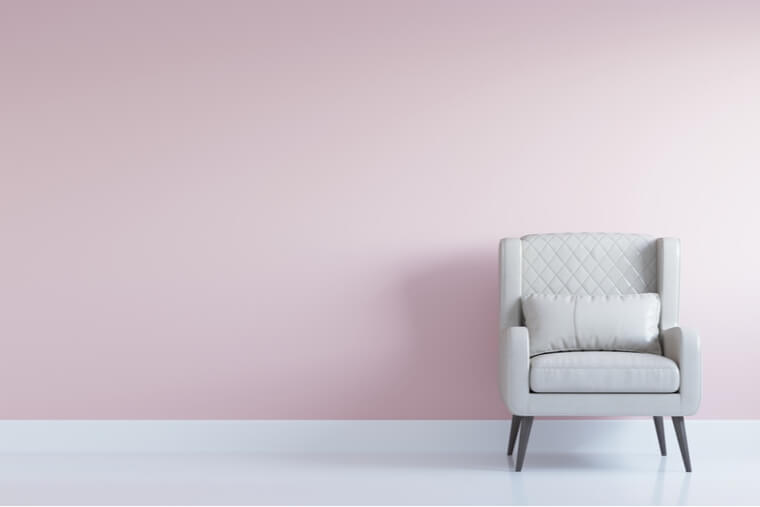 If you didn't know, all it actually takes is a gallon of decent paint, spare time, and paintbrush or paint roller so you can make your bedroom walls have a new look.
But you must keep in mind that if you are seeking for greater results, you must take your time to execute the required preparations such as cleaning the walls off dirt and dust, patching holes, taping off certain spots you want to avoid getting painted, and protecting the furniture and floors using a drop cloth.
Paintbrush Needed:
Try stenciling
For the most part, there are stencils in each motif imaginable. You can use stencils to make a mural above the headboard or even try your hand at stenciling a border around the upper edges of your bedroom walls.
Adding stripes
With this tip try using a painter's tape in order to mask off certain stripes on your white bedroom walls then fill in using a joyful bright tone so you can achieve a whimsical look. However, if you're looking to get a more sophisticated aura, a neutral shade will do.
Faux techniques
Putting a cool color or texture effect is actually as easy as blotting a sponge in the glaze, then painting it over your bedroom wall. Other simpler faux techniques include watered-down paint with a wide-tooth comb, rags, feathers, and crumpled paper sack.
Try going dramatic on just one wall
If you're looking to try bright or dark color on your bedroom wall, but is not totally ready for too much drama, you can just go ahead and get one accent wall at the head of your bed.
Painting all 4 walls
Either you're fond of a trendy shade of gray, the moodiness of blue, the freshness of white, or something bright, a fresh coat of paint will surely give your bedroom wall an instant highlight. 
No Paintbrush Needed
If you are currently renting and can't paint your walls or if ever painting is not just your thing, then here are some options for you:
Again, decals, decals, decals
You see, wall decals are not just for any kids or nursery's room nowadays as you can find decals in all sorts of designs from plain funk to motivational, to whimsical and to sophisticated. Scatter a few floral decals around the bedroom walls, craft a mural, place a border, and put a faux decal window looking out on a tropical angle.
Resort to a rug
 If you're not fond of quilts, you can go with hanging a not-typical area rug instead. A lightweight oriental rug, cowhide, shaggy faux fur, or a zebra-print rug will surely add pizzazz.
Get and hang a quilt
 If you're fond of casual and country ambiance, then try hanging a quilt on your bedroom wall at the head of your bed that will serve as a headboard. Or just fill up open area on the biggest wall in the bed-room.
Fabric ideas
Whether you believe it or not, you can actually utilize fabric rather than wallpaper to cover your bedroom walls. In addition, the fabric is very easy to get rid of when your lease is up or just tired of it. Pick a lightweight cotton print that you're fond of, and utilize starch fabric stiffener in order to implement the fabric to the bedroom wall.
Conclusion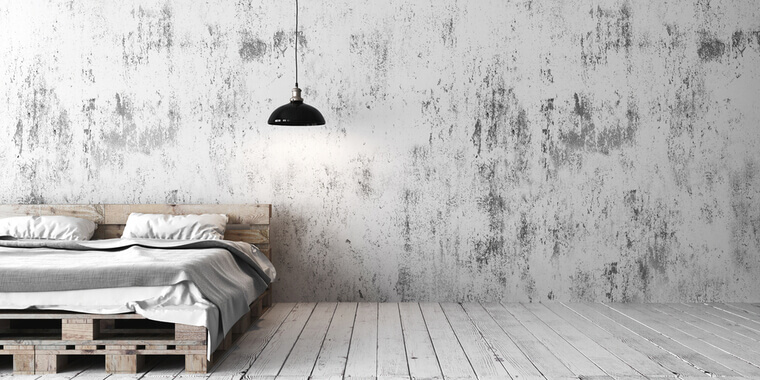 Since bedrooms are used so much aside from sleeping, this haven requires to reflect the person's style and personality as well.
This is the very reason why we've compiled a list of beneficial tips and ideas above so that you can put new life into your bedroom by just focusing on the walls. One good news is that, none of these tips are expensive to execute. In fact, all of them are very easy to do, and ideal for those individuals who are renting only.
For more amazing  wall decor ideas for commercial or residential uses, visit Guy About Home today or you can check the related blogs: