Regular cleaning and maintenance are crucial in order to keep your outdoor furniture in shape, especially in winter. For the most part, you don't want to eat on a messy table, and obviously you don't like the idea of sitting on a grimy patio chair, right? This is the very reason why regular cleanings are essential for maintaining outdoor furniture.
Thank you for reading this post, don't forget to the best blogger Guy About Home who offers the best garden and home improvement tips! If you are a home decor and design fan, don't miss the tips on home ideas. If you are a home garden owner, then you might be interest in our complete guides to house plants!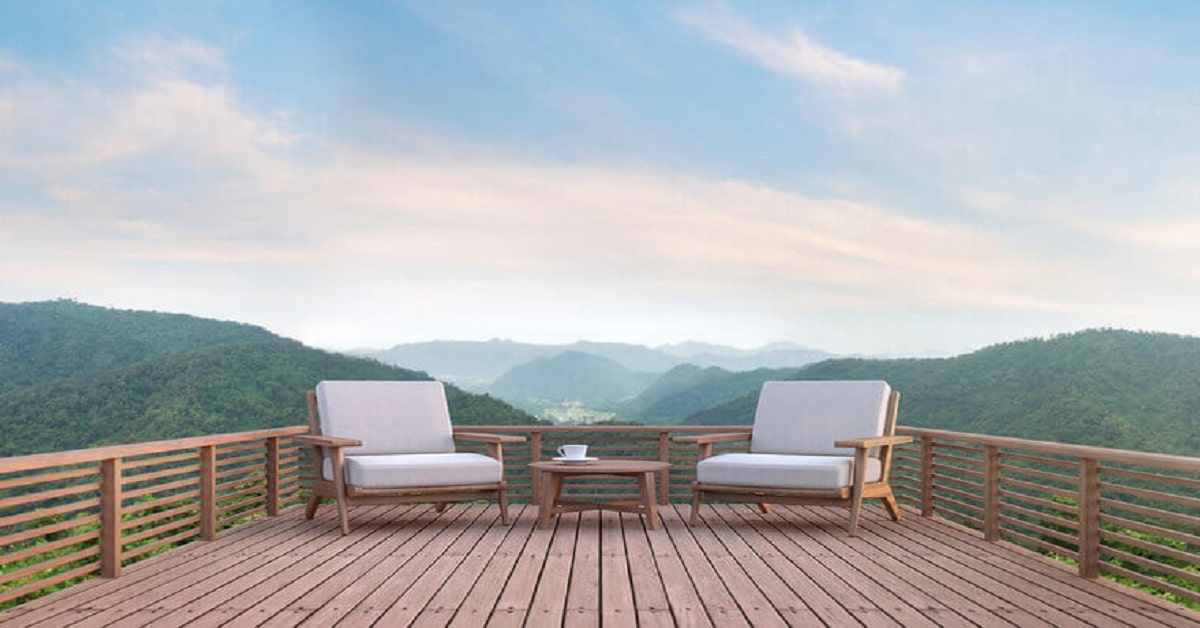 The problem is that, winter or any harsh weather will most likely leave your patio furniture looking dull. But with the following tips and hacks we will be sharing you, all types of outdoor furniture will surely be looking good the entire year.
Furthermore, remember that the furtniture's material is a huge factor to achieve an effective cleaning. And that's why we'll discuss different furniture's materials along the way.
If you want to learn more, stay tuned!
Cleaning Outdoor Cushions
You see, if you don't have any cushions, your patio furniture would probably be as good as useless. Similar to different kinds of furniture out there, cushions should be given some extra care especially after long winter months. 
Cleaning and washing cushions probably won't be enough. You should also do some extra research on how to eliminate bed bugs that are nesting on the cushions during those winter period.
Now for certain garden furniture like cushions and mattresses, you should always inspect them for possible stains like grass or urine stains from your neighbor's pets. 
Such stains are easy to remove by the way. As for removing oil stains, simply follow the steps on this post and you're good to go. 
Cleaning Plastic Patio Furniture
Plastic patio furniture is one of the favorites for many homeowners as they're durable, easy to maintain, cheap, and doesn't rust and rot.
However, plastic patio furniture comes with two main disadvantages: They tend to become brittle and their color could fade if just left out in the heat.
Cleaning Cast Iron Patio Furniture
Cast iron patio furniture are also one of the favorites because of their heavy and durable nature. One thing to note about such kind of furniture is that they tend to be pricier compared to plastic or aluminum furniture for the reason that they lasts significantly longer than other kinds of materials.
In order to keep the cast iron's durability and preclude rust, obviously you'd want to clean the furniture consistently. The good thing is that, it doesn't take long hours to clean cast iron furniture. 
Additionally, you're not required to buy any pricey cleaning materials. On a side note, here's how to maintain your cast iron patio furniture.  
Cleaning Wrought Iron Patio Furniture
Wrought iron patio furniture are much lighter compared to cast iron. In addition, this material can easily be manipulated to craft elegant and durable furniture for your outdoor area. 
Fun fact: A lot of manufacturers use wrought iron for fencing and outdoor furniture because they are very durable and easy to maintain.
Also, wrought iron furniture's weathered look can aid plenty to your house decor.
Now here's how to keep the color of your wrought iron furniture and make it look new. As for additional protection, you'd want to use spray wax at least once a year.
Cleaning Rattan Patio Furniture
Usually often mistaken as bamboo, rattan is actually a light, attractive, durable, and an environment-friendly material. 
Rattan has been used for 'centuries' in certain parts of Asia like China and Malaysia because of their excellent reliability.
Remember that you shouldn't leave rattan furniture outside for too long as they could break down due to corrosive elements.
So, here's how you wanna clean rattan patio furniture and make them look great all the time. 
Cleaning Wicker Furniture
If you didn't know, wicker furniture is crafted from a tropical climbing plant called rattan (which we already mentioned above). 
The only difference is that wicker furniture are much moer durable due to different weaving technique.
Not to mention that such material doesn't really need extra care. Wicker furniture is also very easy to clean.
As for cleaning, just use a vacuum to gather dirt and dust. If you don't want dirt to accumulate in crevices, use a low-pressure hose at least every few weeks. 
If vacuum is still not enough, then do the finishing touches with a mild oil-based soap, a sponge, and some warm water.
Afterwards, just simply rinse the soap and let the furniture dry. And finally, remember that you shouldn't sit on your damp wicker furniture because you might cause the material to sag.
Cleaning Teak Patio Furniture
Teak wood furniture is good because they are durable and requires less-maintenance. Usually, maintaining it only requires a fine sandpaper or teak oil to display its natural form.
Teak is naturally resistant to mold and rot but mildew might form if not appropriately cleaned. So make sure to frequently clean it.
Conclusion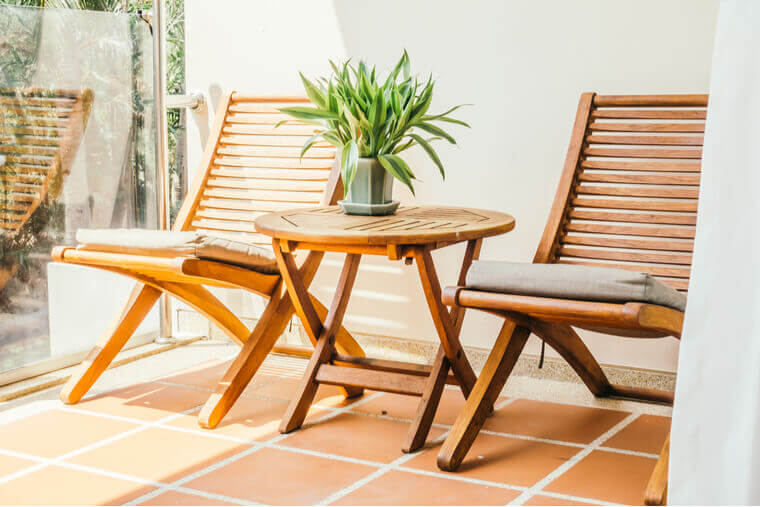 Patio furniture stains are hard to clean if left alone. So, you must always have a serious back-up method if the above tips don't work.
That said, if you  want to get your teak wood furniture's luster, just sand it. For metal and certain woods, extra sanding effort is necessary. Plastic furniture on the other hand is quite harder to revitalize. Simply coating them with paint won't really do any good because it would only last short-term.
Now, along the process, you'd most likely encounter some damage deck boards, and if this happens we suggest you to implement these detailed steps. If you have any feedback about our topic today, please feel free to leave a comment below!
For more amazing ideas you can have, visit Guy About Home today or you can check the related blogs: