Safe and ethical hunting adventures are both thrilling and rewarding. As such, if you enjoy the wild, you may want to decorate your home with mementos from your expeditions. It could also be that you have never ventured but you enjoy the aesthetic nonetheless.
Thank you for reading this post, don't forget to the best blogger Guy About Home who offers the best garden and home improvement tips! If you are a home decor and design fan, don't miss the tips on home ideas. If you are a home garden owner, then you might be interest in our complete guides to house plants!
That said, there is a thin line between intriguing and shocking, disturbing hunting decor. So, how do you choose the right pieces to get it just right? Read on.
Deer Mounts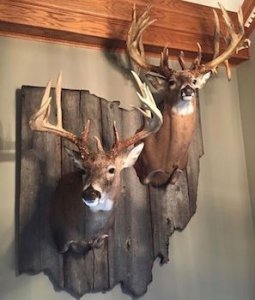 Source:
https://www.pinterest.com/pin/AcZTm2tUZw56L1aqolUO3iW-GfUHxZPWOjx3dH57-BfFrmDRYAXJu6s/
Deer mounts are also known as taxidermy. The latter name comes from the preservation processes performed by a taxidermist to ensure that a deer head is mountable for the long haul.
These installations would be ideal if you do not mind bold hunting decor given as some people get jarred by them. They are, nevertheless, striking statement pieces that would keep dinner conversations, with fellow hunting enthusiasts, flowing. If you have not had a chance to hunt your own deer, you can scout for sales near you. Make an effort to ensure that they are properly treated.
It is advisable to have a professional install your deer mount. While it may seem easy, it may be more than you can handle, more so as a first-timer. Work with areas that accord them a full display like over a living room fireplace mantle or on a spacious hallway wall.
Improvise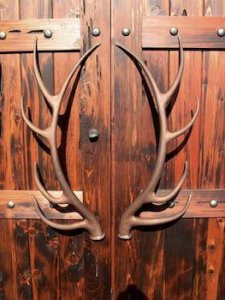 Source:
https://www.pinterest.com/pin/70437467300684/
One of the best ways to approach decor schemes is by working with an idea both demonstratively and subtly. In this case, decor items that allude to hunting would suffice. You would likely find such items at hunting-themed gift shops or you could commission them as custom designs. Examples of such items would include:
Horn-shaped drinking glasses
Art displaying hunting exploits
Antler door handles
Lifesize animal figurines
The beauty of improvising this way is that it makes the decor an experience. It says to your guest that hunting is not simply an idea you display but a part of your lifestyle.
Animal Hide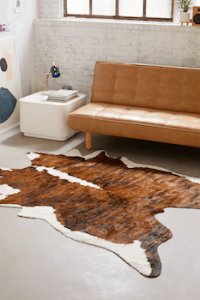 Source:
https://www.pinterest.com/pin/313422455325248770/
Animal hide is beautiful and could enrich your decor scheme in bedrooms or the dining area. The problem is, it is a legal gray area that could land you into some trouble. Endangered species, especially, are protected by law from hunting exploits and the sale of their hide is prohibited. As a result, you would have two options:
Follow stipulated legal purchase channels
Use faux animal hide rugs
Legal purchases require that you find a licensed buyer that has authentic merchandise obtained through permitted culling. It is often an expensive and time-consuming process. On the other hand, good quality faux animal hide rugs will deliver the same aesthetic and cost you far much less than originals. You may even sleep better at night knowing that you saved an endangered species by not participating in their trade.
Furniture and Color Tones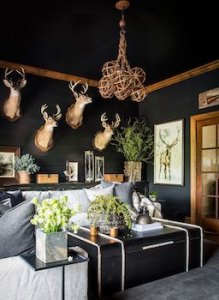 Source:
https://www.pinterest.com/pin/7388786878690505/
The thought of a hunting cabin immediately conjures up images of leather seats. That is certainly one way to go. Given as leather is made from animal hide, it fits right in with this theme. It also delivers the muted earth-tone colors that are a hallmark of hunting decor. In other words, you would seldom go wrong with leather furniture here.
However, what is decor if not a voyage of creativity? If you would like to shake things up a bit, you could always work with other fabrics in interesting shades such as green. The charm of green here is that it is still reminiscent of the wild but it also breathes life into space. Granted, earth tones are calming but they can also make a room look dull and unintriguing.
A Touch of Nature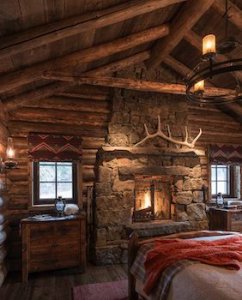 Source:
https://www.pinterest.com/pin/44824958776043254/
Hunting is driven by natural primal instinct. The contrast of a deer head mounted on a marble wall is interesting but it does not quite hit the mark, does it? In light of this, anything you could do to bring nature to space would be a plus.
Consider decor trends such as an unvarnished stone fireplace and hardwood floors. Their natural look would set a better background for hunting decor pieces than an overly modern look. You could, however, still add a few salient modern pieces to counter the monotony if you deem it necessary.
Conclusion
A good decor scheme looks good, feels good, and tells a story of who you are. If hunting and game are a big part of your life, then it is only fair that you bring a part of it home with you. Now that you have some tips to start you off, you will likely have an easier time creating the hunting-theme home of your dreams.