Country chic is a name given to that rustic kind of decor. The almost vintage look that you are more likely to find in old furniture. This look can be recreated even on newly made items, and this gave rise to the country chic style, which has become a very popular interior decor option for many people.
Thank you for reading this post, don't forget to the best blogger Guy About Home who offers the best garden and home improvement tips! If you are a home decor and design fan, don't miss the tips on home ideas. If you are a home garden owner, then you might be interest in our complete guides to house plants!
So how exactly can you make use of this style to transform your home? The following are some of the ways that this can be pulled off seamlessly.
Wood Beams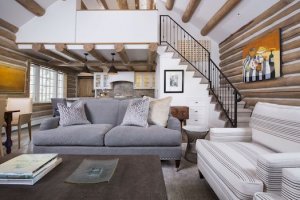 Source:
https://www.pinterest.com/pin/308426274487207355
Wood is the ideal material when it comes to recreating that rustic country chic look, and the places where this can be applied around the house are limitless. As shine as coffee bar wall decor ideas, to begin with, wood is the main construction material for many houses; for this reason, incorporating it into the design is not hard.
You can have rustic wood beams lining up the ceiling and the walls in uniform patterns to create that cottage look inside the house. You don't have to paint them as they look good in their natural state. This look is most ideal for the living room inside a house that has ample space.
Log Wood Cabin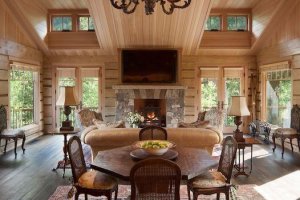 Source:
https://www.pinterest.com/pin/308426274487207322
This is another exciting option that can transform the interior space of your home by leaps and bounds. Basically, rather than have stone walls and ceilings, you instead use planks of wood to create a nice finish all around.
This kind of setting works best in houses that are isolated out in the woods with huge windows that allow as much light as possible. This style is so refined and beautiful to the point where you won't need to add any other thing like wall art.
The wood itself creates an aesthetic appeal. You can switch up things by using different types of wood for variety.
Furniture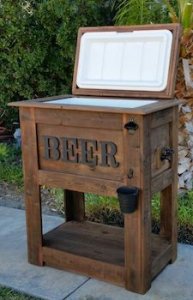 Source:
https://www.pinterest.com/pin/5559199530016285/
There's something very alluring about vintage furniture, the type that looks old. Many people have very old furniture sets that have been passed down, and this can add a very artistic feel to any room they are placed in.
For those that don't have the luxury of owning a family heirloom, you can still recreate that feeling by acquiring country chic furniture online or having it designed from scratch; a good artisan worth their salt shouldn't have any problem pulling this off.
The furniture in question can be chairs, sofas, tables, or dressers, and they can be placed in any room. For the best results, don't cover them with anything that may obscure visibility; the older the look, the better the effect.
Window Frames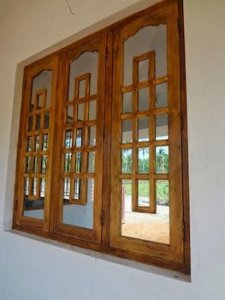 Source:
https://www.pinterest.com/pin/29554941295102519/
One of the standout features of modern houses is that the windows are getting bigger with time. This has opened up limitless ways through which people can exercise their creative freedoms when it comes to decorating the interior spaces in regards to their windows.
With most windows reinforced with metal bars, you can go the opposite direction and use country-chic wood frames as supports for the window glass. Setting this up may be too tall a task for you on your own, and you may need the services of a professional to get this done.
The bottom line here, however, is that replacing metal with wood for windows and doors adds a rustic touch to the general outlook of the entire house.
Rustic Wooden Walls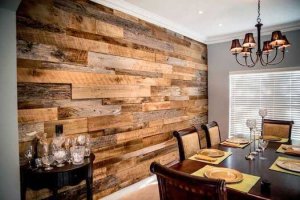 Source:
https://www.pinterest.com/pin/3096293482439404/
The option of filling your walls with framed art and paintings is always attractive to anyone since it is flexible, and you can have as many paintings as you want. Lovely as country kitchen decor themes, however, there's another viable option that comes in the form of wooden walls.
This involves the use of rustic wooden planks on the walls to create a beautiful mosaic pattern that adds a unique touch to the interior space. You can switch up different types of wood to create variety.
At the same time, these planks of wood can be used to house hooks, which can, in turn, be used to hang art or act as coat hangers.
Conclusion
Going with modern country chic decor designs is a recommended move because it mostly taps into the natural looks of wood. There's no need to add any other form of art because the wood in itself has natural patterns that look beautiful when used in the appropriate way.
To get more ideas for your living quarters, feel free to visit our website at any time to get unlimited ideas on how to further improve your home.
For more amazing ideas you can have, visit Guy About Home today or you can check the related blogs: