Coffee bars are a common feature in most urban settings around the world, and starting a coffee bar would net you a good amount of money at the end of the day. But how do you go about making the coffee bar space an appealing place for people to keep coming by? The following are some top coffee bar décor ideas that you can implement.
Thank you for reading this post, don't forget to the best blogger Guy About Home who offers the best garden and home improvement tips! If you are a home decor and design fan, don't miss the tips on home ideas. If you are a home garden owner, then you might be interest in our complete guides to house plants!
Signage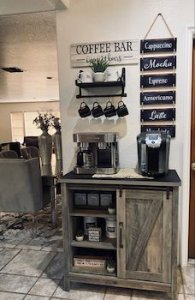 Source:
https://www.pinterest.com/pin/5207355809545290/
One thing that makes people aware that what you are running is a coffee bar is a properly written display of the name of your establishment that indicates the services you are selling. The types of fonts used are always of an artistic and calligraphic nature. The best place to place such signage would be on the door coming in as well as the walls.
To avoid any confusion, do not clutter the name with too much information or other art items. If you have to add something else then limit the extra art to a simple icon of a coffee mug somewhere on the side.
Wall Art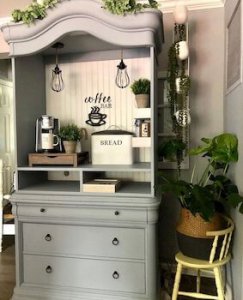 Source:
https://www.pinterest.com/pin/412290540894123546/
Coffee goes well with music and books. As shine as cafe decor ideas, you are free to go wild with all forms of wall art that depict famous musicians, musical instruments, and books. The wall art can either be framed as a picture or hung strategically from a place where it can be seen well, or it can be done as a painting on the wall itself.
The latter is recommended because it gives you the freedom to draw anything you want and you can always leave some space for later additions when you feel like it. When it comes to colors, mix up bright and dull ones to create that contrast that will attract the eye of anyone that happens to walk by.
Cups and Mugs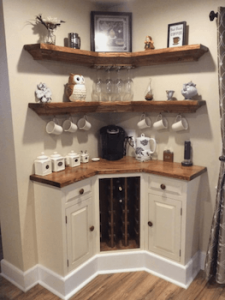 Source:
https://www.pinterest.com/pin/62417144823954701/
Make use of the space by displaying the coffee mugs and cups in full view. Rather than locking them up inside the cupboard, create shelves that you can use to arrange all the mugs in an orderly manner with related colors to add a creative touch to space.
You can also use nails to hang the mugs and cups by their handles. Go a step further by having the coffee mugs and cups inscribed with coffee-related art on them to make them stand out from a distance.
The same can be applied for glass jars that you can use to house sugar and all the types of coffee at your disposal. The shelves can also be used to store colorful coffee bags and packets, and considering how colorful they can be, this could transform the entire setup.
Chalkboard Menus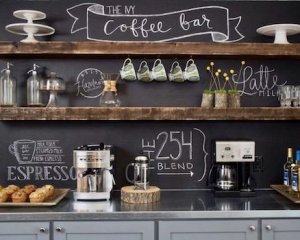 Source:
https://www.pinterest.com/pin/35043703340560165/
Having a large chalkboard menu pinned against the wall is another great way of adding to the coffee bar décor. Excellent as chalkboard decor ideas, chalkboard menus can be used to write up the names of all coffee types on offer.
This can be done by hand in beautiful handwriting using differently colored chalks for the best effect. You can even create a weekly calendar menu with specific types of coffees being served each day.
The chalkboard menu boards can also be used alongside planks of woods that are engraved with art. The most effective method of engraving art on wood is called pyrography and it can be used to create all manners of patterns on large wall surfaces that will add a unique artistic touch to your coffee bar.
Lighting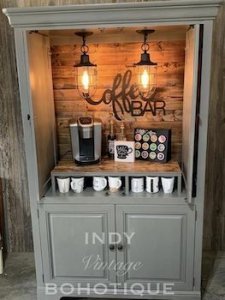 Source:
https://www.pinterest.com/pin/1970393575986801/
Coffee bars are places of relaxation, where you can read a book or listen to some slow jazz music. Therefore, the mood has to be exactly right at all times, and the most effective way of ensuring that is through lighting.
The lighting has to be subtle, not too bright as that will kill the ambiance. Inspired as country chic decorating ideas, it has to be bright enough for someone to read a book but dim enough to create that cool atmosphere that goes hand in hand with cool music and the smell of coffee beans.
Therefore, you have to utilize LED strip lights, lining them under tables and counters and in spaces on the walls so that they can cast their light against other reflective surfaces then wash the whole room with gentle forms of light.
Conclusion
Coffee bars can be set up at home using various accessories or can be run as a business at a different location. If you do choose to open a commercial coffee bird, you have to invest heavily in the décor.
For most people, frequenting a coffee bar goes beyond the simple act of drinking coffee, it is the ambiance of the place that also attracts them, the peace of mind they experience when they just sit and get lost in the moment of slow music, perfect lighting and the smell of coffee wafting up their noses.
Feel free to visit our website to get more exciting décor ideas that you can implement for our coffee bar.
For more amazing ideas you can have, visit Guy About Home today or you can check the related blogs: