Animals have been used as trophies for years. Back then, when hunting wasn't as regulated as it is now and many animals were not on the endangered list, it was common to see people hang what they killed in their own homes.
That has not changed much in the modern world. We still have people who use replica animal heads as decor in their homes, and top of that list are antlers. The following are some antler decor ideas worth giving a try.
Wall Decor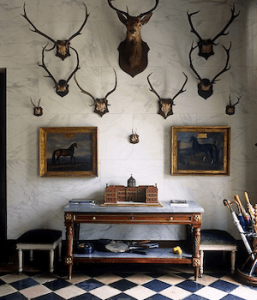 Source:
https://www.pinterest.com/pin/86905467789815946/
It used to be a matter of prestige to hang your kill inside your house, a testament of prowess. Although most hunting is prohibited, you can still hang replica versions as wall art in your living room to add some life to the interior space of your house.
Antlers vary in sizes and shapes; the bigger they are, the better they look. You can place them over the fireplace overlooking the area where people sit. The more juxtaposed against the background, the more striking the look.
Avoid cluttering other forms of art around so that they can stand out more. If you have space for it, you can hang as many antlers as you want.
Coat Hangers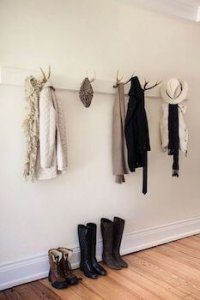 Source:
https://www.pinterest.com/pin/351912455647958/
Spice up things a little by getting rid of the conventional forms of coat hangers and replace them with antlers fixed on the wall. You'll be killing two birds with one stone with this move since the antlers will be acting as decor when not in use and as coat placeholders when you come back in the evening.
These types of antlers don't have to be big; you can have several of them placed as wall decor along the entryway, something that people who come to visit will immediately notice. They add a sophisticated touch to the whole interior setting.
Towel Rack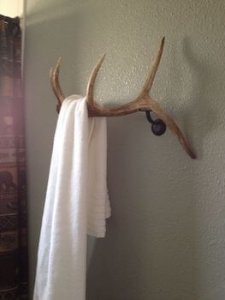 Source:
https://www.pinterest.com/pin/260505159677314962/
Many people never do much in their bathrooms as far as decorations go. Considering the little time people spend there and the limited space, It is usually seen as an excessive move to consider heavy decoration.
However, you can add more classes if you use antlers as towel racks. For this idea, you don't have to go with something big, a simple antler with extra protrusions will work. Has it fixed against the wall securely with metal so that it can hold several towels at the same time without falling apart?
Table Support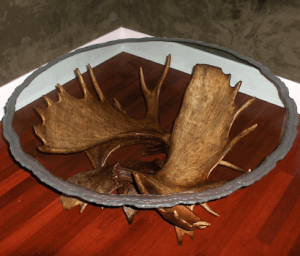 Source:
https://www.pinterest.com/pin/121667627423228192/
This is the most creative form of antler art that will immediately draw praise from your visitors if they are lucky enough to see it. Basically, what you do here is get a wooden tabletop then have deer horns act as the legs.
Getting right can be tricky since antlers grow erratically, and no two of them are the same; it will require the expertise of a pro to get it right, or you may end up with a wobbly table. This can be used for the main table in the middle of the room, or you can have it prop up the dresser in your bedroom.
Lamp Stands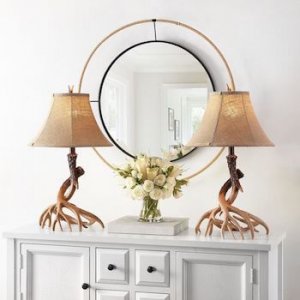 Source:
https://www.pinterest.com/pin/246923992097812184/
Antlers make for very good lampstands; they are very artistic and can be used in every single room and as many as you may want since lamps don't take too much space. Considering how solid they can be, antlers can be designed in such a way to allow them to hold up lamps.
To get them to stand upright can be a challenge, so you may have to also get the services of a professional, or you can just buy them ready-made from the countless sites that sell them online. The advantage of going with this route is that antlers are never identical, and this means you'll have variety.
Jewelry Holder
Source:
https://www.pinterest.com/pin/351912459511127/
Necklaces, watches, rings, bangles, basically all the glittering things you love wearing when you are out can be turned into art when you are indoors with nowhere to go. There's always the option of storing them in a jewelry box and keeping them out of sight, but that is boring. Spice things up by hanging them on antlers somewhere visible.
Conclusion
If you can get your hands on antlers legally, then be as creative as you can when decorating your home. The styles mentioned in this list are nothing but the tip of the iceberg; there are countless more other ideas you can try out, with most of them on our informative blog that you can visit at any time.
——
Featured Image Source:
https://pixabay.com/photos/wildlife-nature-mammal-animal-deer-3128367/