If your man cave lacks the comfort needed to make it the best man cave ever, then you'll love this article.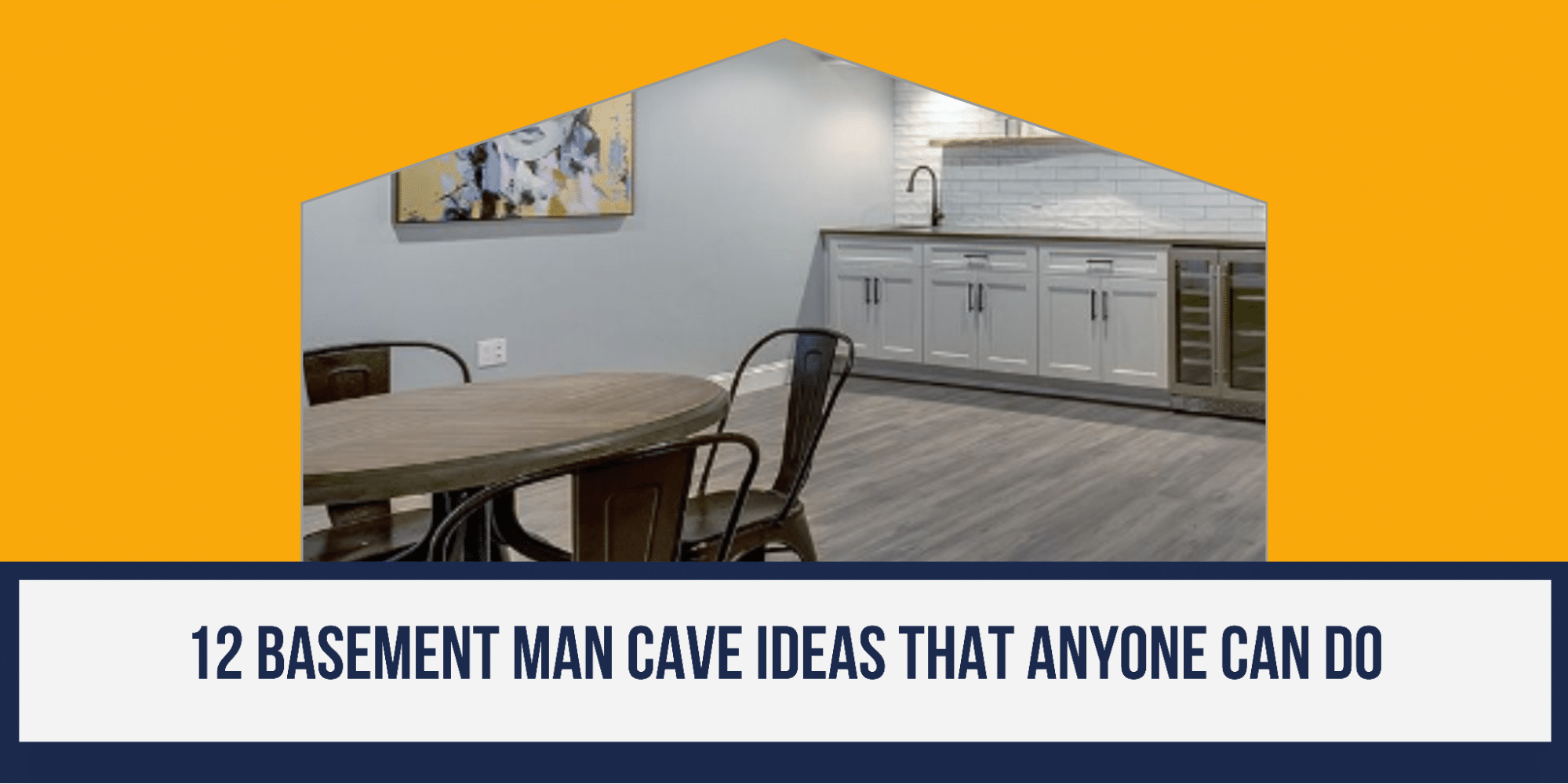 Image: Canva
Thank you for reading this post, don't forget to the best blogger Guy About Home who offers the best garden and home improvement tips! If you are a home decor and design fan, don't miss the tips on home ideas. If you are a home garden owner, then you might be interest in our complete guides to house plants!
Basement man caves are not new and have been around for quite some time. They originated from the need to escape from the family or find a quiet place to get away from it all. The basement man cave has evolved into a multi-purpose room that can be used for anything from a hobby, game room, and even a movie theater! The possibilities are endless when creating the perfect man cave in your basement.
We'll look at some of the best basement man cave ideas.
Table of Contents
How to Build a Man Cave in a Basement
Small Basement Man Cave Ideas
Unfinished Basement Man Cave
Simple Basement Man Cave Ideas
Finished Basement Man Cave
Cool Basement Man Cave Ideas
Man Cave Stair Ideas
Basement Man Cave Wall Ideas
Low-Budget Basement Man Cave Designs
Modern Basement Man Cave Ideas
Rustic Basement Man Cave Ideas
Sports Man Cave Basement
DIY Basement Man Cave Ideas
Small Basement Man Cave Ideas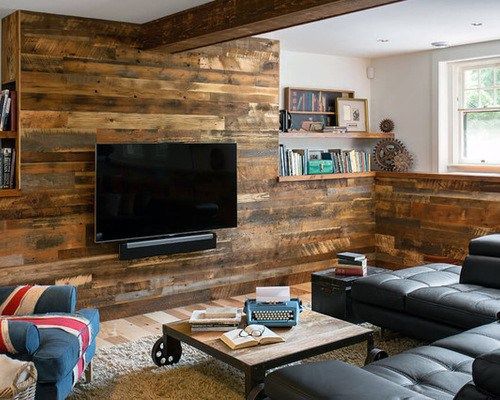 Image: Pinterest
A man cave is a space solely designed and defined by the man of the house. It is the one place he can go to escape the hustle and bustle of life. Movies, games, and a whole lot more are just some examples of what could be in a cave. Following are a few small basement man cave ideas that you can use to transform your basement into your area.
Check out these small basement ideas:
Be resourceful with what you have in your home.
Use rich colors for your wall paint.
Add a small fireplace if there is still space.
Purchase a large screen TV for entertainment.
Use personalized items to help it feel more like your own.
Unfinished Basement Man Cave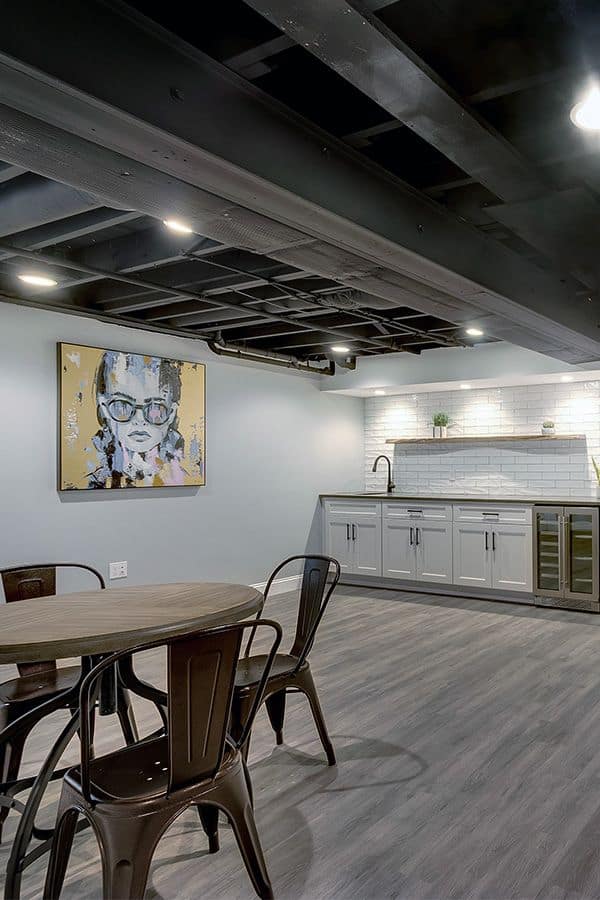 Image: Pinterest
An unfinished basement could be a good option if you're in the market for a media room or something else. After all, this is a savvy way to add a whole bunch of square footage onto your home while still keeping costs low—and you can also save a ton on features you don't need.
Unfinished basement man cave ideas for you:
Hire a contractor to help you get it done ASAP; they will save you time and money.
High ceilings and laminate floors will be a great addition too.
Add a piece of furniture that matches your style and personality.
Wood paneling on the walls with a wooden ceiling.
Huge, flat screen TV for entertainment.
Simple Basement Man Cave Ideas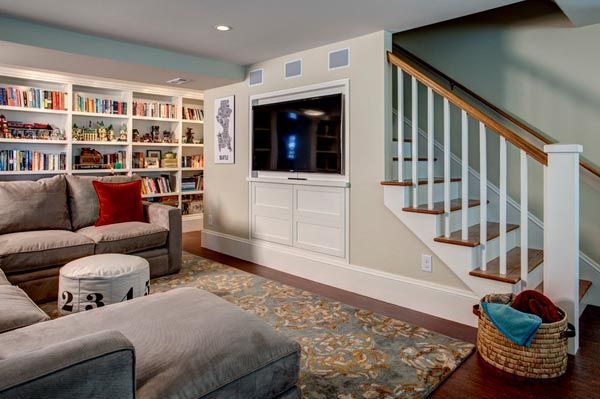 Image: Pinterest
One room that should be among the most comfortable and fully accessorized as possible is the simple man cave. Many men enjoy spending time in their basement, even before they install a man cave. But it could stand to be more inviting and organized. The ideas detailed here are intended to maximize your comfort while you spend time in this man cave space to feel at home.
This simple basement man cave idea will truly transform your space in your home:
Decide on a final design after brainstorming and planning.
Recycle palettes and use them as shelves or tables.
Add hanging racks to hang ceiling lights.
Don't forget to include a comfortable chair.
Use lanterns and string lights to add ambiance.
Bookshelves will add style.
Finished Basement Man Cave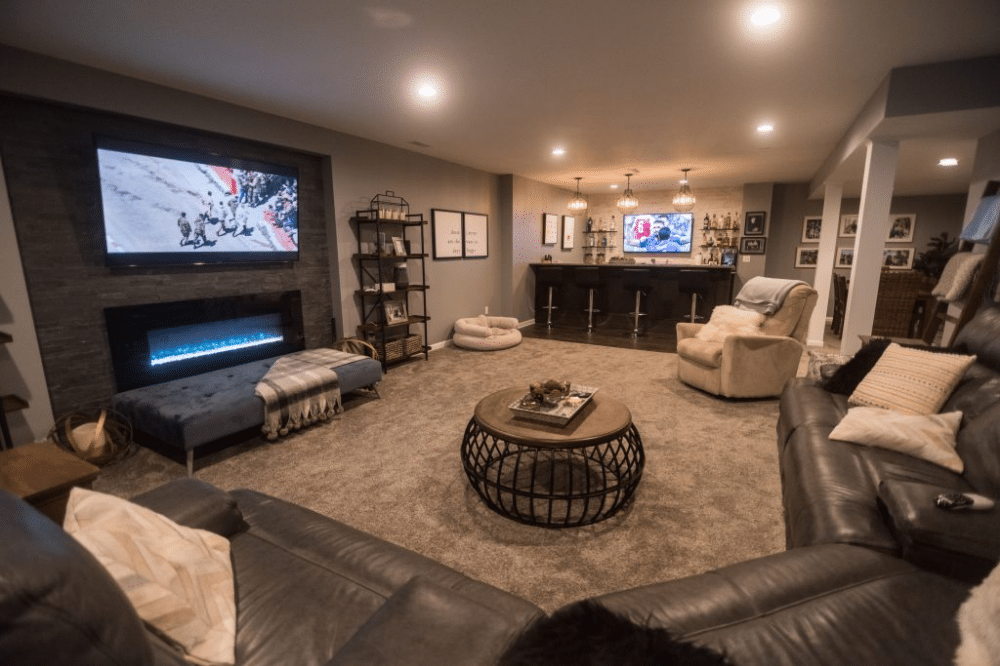 Image: Pinterest
Having a man cave or finished basement is exciting, and you may want to choose an area to finish based on what you will use the most. If you are doing a man cave, remember that you can repurpose some of the things you already have, such as your old desk if it's not worn out or any other furniture in decent shape. Don't go crazy and buy every new thing for your room.
Use these tips on how to make your finished basement into a man cave:
Installing a fireplace is excellent, as it creates a focal point in your seating area.
Hang things on the wall.
Add accent tiles for decoration.
Pick your wall color.
Install the bar, televisions, pool table, and couches
Cool Basement Man Cave Ideas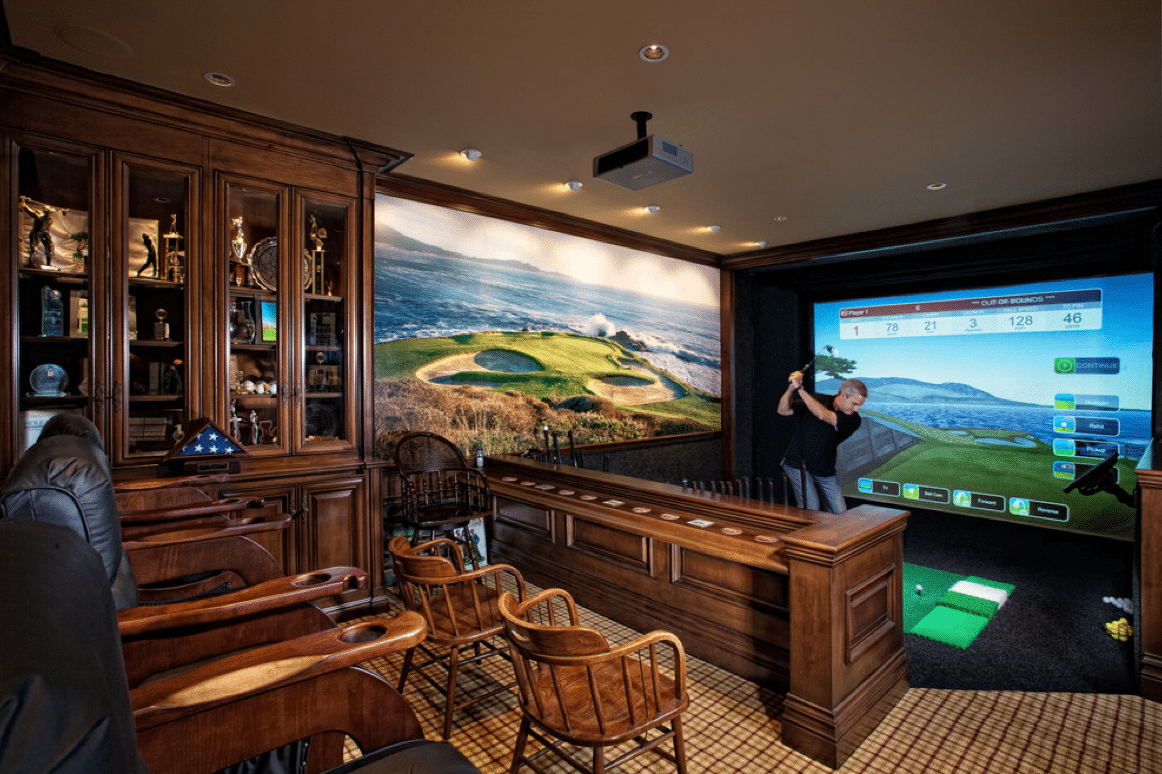 Image: Pinterest
Are you looking for cool basement ideas? The best man cave ideas come from a place of personal interests, but there should also be plenty of room for the homemaker. Making this a home office or even a study (to keep the peace) may be necessary for balance. Understanding what you're looking for and why saves money right off the bat. A successful man cave design depends on crazy ideas or ultramodern concepts.
Consider these man cave ideas for inspiration:
Choose the right furniture and accessories.
Pick a theme; retro games and memorabilia.
Play with the elements, add comfy seating, and a cinema.
Be creative – Cover the walls with something unexpected.
Hook up the high-def TV.
Add a cool sound system.
Man Cave Stair Ideas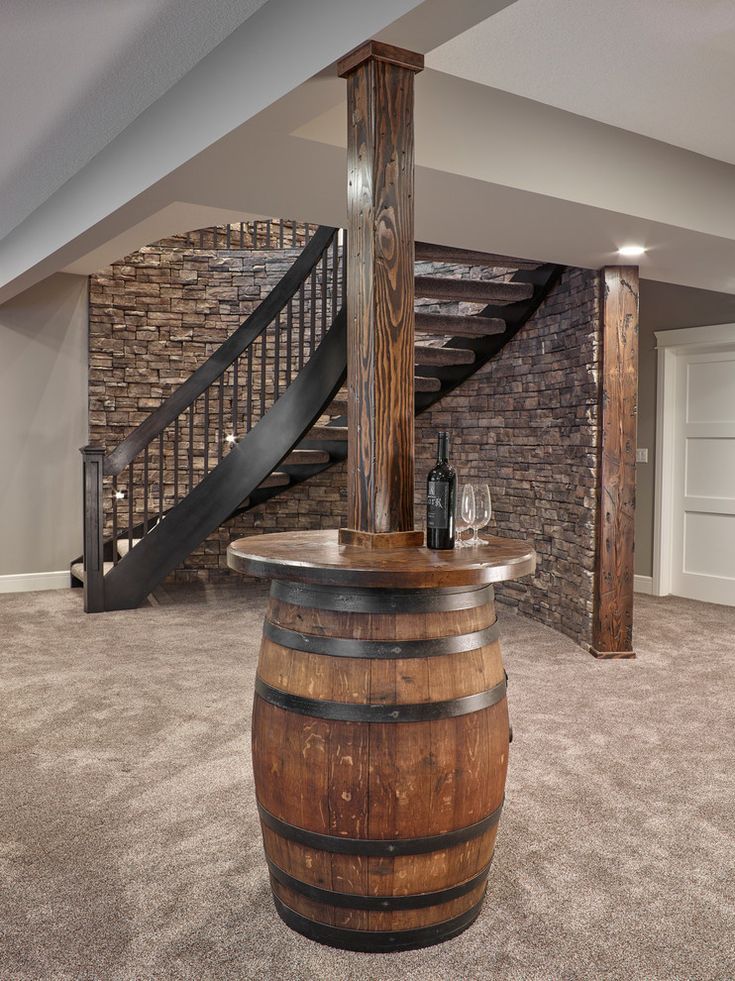 Image: Pinterest
Stairs are essential to a man cave, as they allow you to move from floor to floor comfortably. And while the easiest route is getting a set of pre-made stairs, that doesn't mean you have to settle for an inside-the-box solution. There are plenty of DIY options if you're so inclined, and you can get some fantastic ideas by browsing home design blogs—we included a few options here. All that's left is taking the plunge and putting some of these ideas into practice.
Check out these man cave stair ideas:
Choose a stone material as paint.
Play with light to create an inviting feel.
Add drama through accessories.
Avoid painting risers. As risers often get splashed, the paint may crack when it dries.
Apply a sealant to the bottom of each riser so that it does not come in contact with moisture.
Place bookshelf on stairs if there's still space.
Basement Man Cave Wall Ideas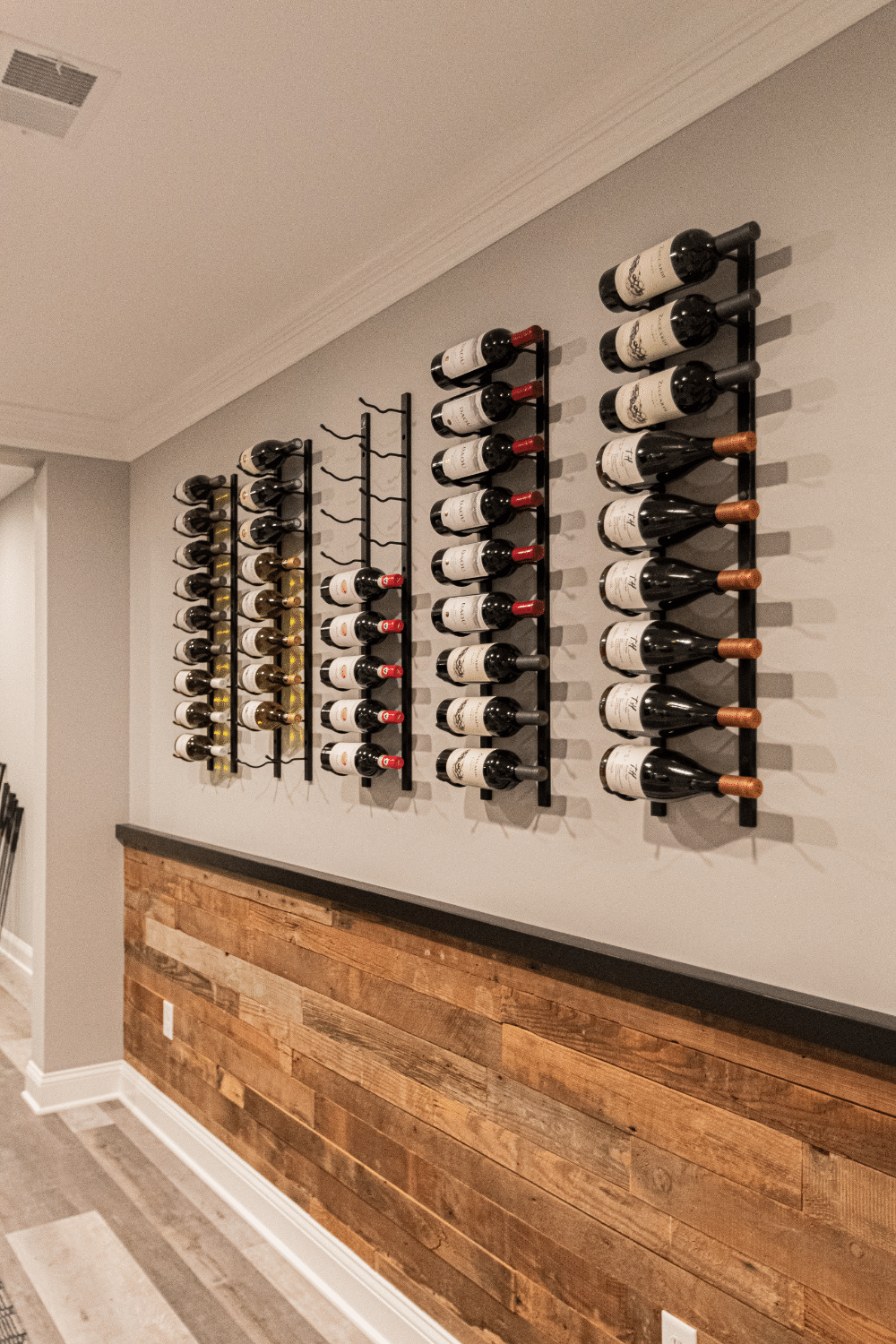 Image: Pinterest
Great basement wall ideas are meant to serve many purposes. A well-thought-out concept will ensure this depending on your goals for the room. Having an area where everyone can mingle and have fun is ideal if you're hosting a gathering of friends and family. A great man cave wall system can even offer the flexibility of providing multiple arrangements as your needs change over time.
You can use these basement man cave wall ideas:
Try with these wine racks on the wall.
Pick out a unique theme for the room.
Use rustic materials like steel, concrete, and reclaimed wood if you want to tie in some
industrial elements.
Hang up a few vintage posters; they are the ultimate manly wall art.
Mirrors (add depth and shine to your room).
Wall lighting will be the best too.
Low-Budget Basement Man Cave Designs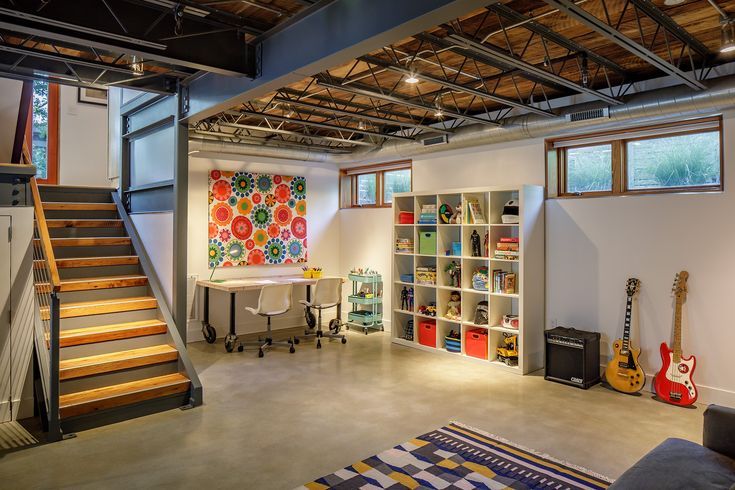 Image: Pinterest
The best affordable man cave designs make the most of limited space. For example, you might use furniture to enclose a small section of your basement to simulate the feeling of a larger room with fewer walls. You might also choose a theme for your man cave to give it an identity, like a game room, home theater, or study area. This can help you select décor, lighting, and even furniture pieces.
Low-budget basement man cave designs tips:
Woodworking projects are always a good idea.
Consider adding cabinets for the toys or even things you want to keep in one place.
Work around the natural light source.
Add color and life with plants.
Large wall art also has a good ambiance.
Additional space for TV viewing.
Add a rustic touch.
Modern Basement Man Cave Ideas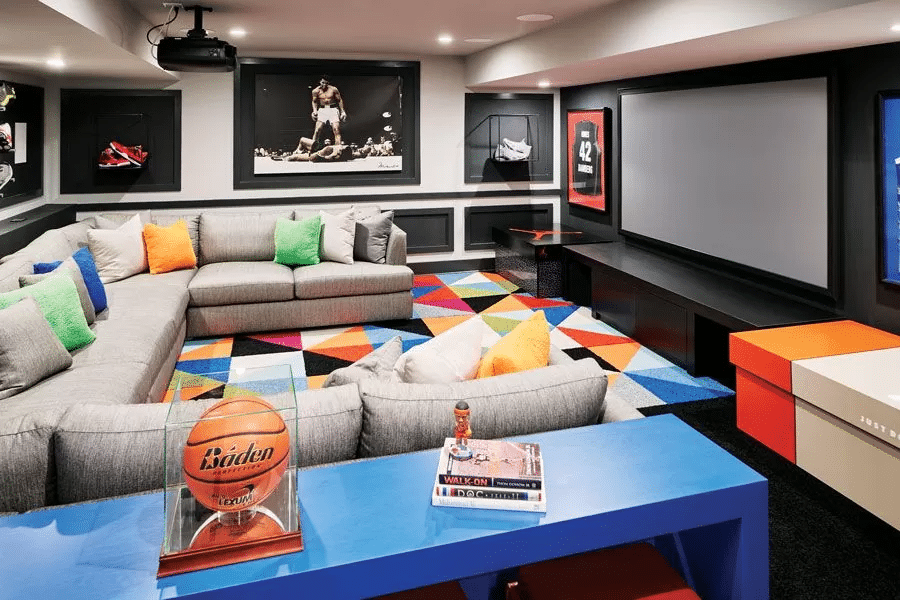 Image: Pinterest
The basement is a common source of wasted space, but it doesn't always have to be. With some imagination, molding, and paint, you can turn a modern basement into the cozy hangout spot you've always wanted if you're on the verge of another day and looking for an alternative to hitting another atmosphere-filled space.
Consider setting up your basement with these tips. Your next party will be a hit!
Use a great TV.
Adjust your white balance to suit any light.
Modern furniture.
Surround yourself with the sport you love.
Add an oversized couch and colorful pillow on each side.
Rustic Basement Man Cave Ideas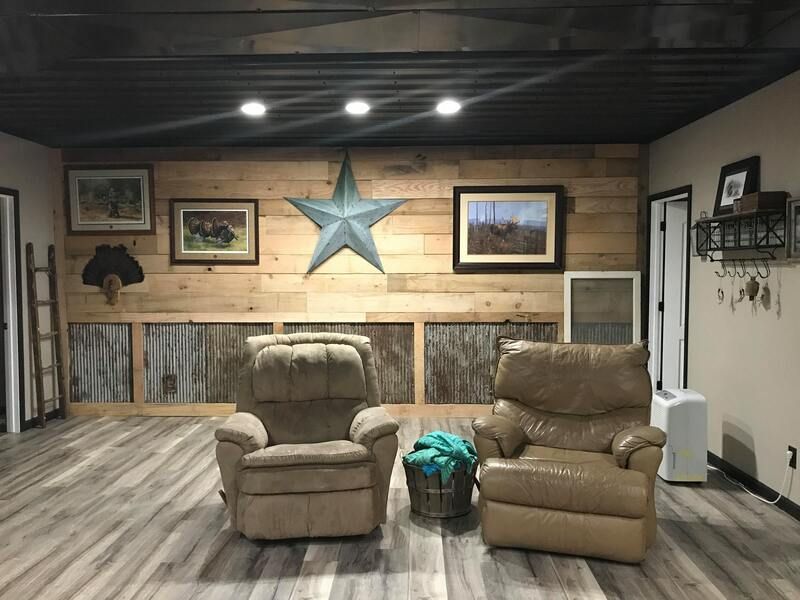 Image: Pinterest
Rustic has always been one of man caves' most popular design styles, which is hardly surprising. A rustic basement makes the best use of a man cave's limited square footage by creating a combination lounge, entertainment area, and bar with a more homely feel than commercial bar-style furniture.
Here are some ideas:
Shop at thrift stores for wood stools, tabletop bars, and sinks.
Paint the walls with a light block color to keep the warmth inside.
Add plenty of pillows and comfy cushions.
Install rustic living room furniture.
Add wall art.
Add decorative details – like exposed beams, brickwork, and hardwood floors, to add interest.
Sports Man Cave Basement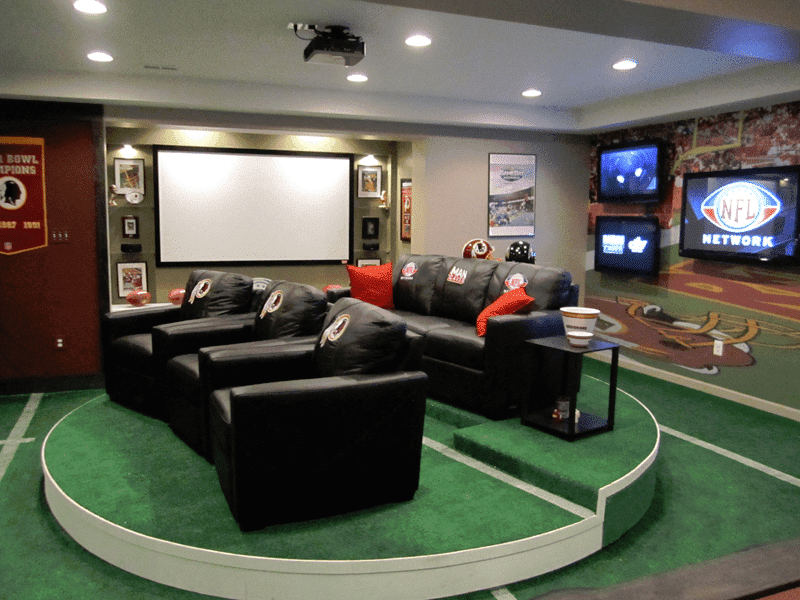 Image: Pinterest
Creating a sports-themed basement is different than any other idea for a man cave space. This is beneficial because if you have the right equipment and know what men like, you can easily create sweet spots that appeal to their passions. Of course, it wouldn't be much of a game room without suitable entertainment systems. After all, they help make your games crisper and more precise and allow you to play music from your favorite artists.
These small touches and additions will help you turn a mundane basement into the best man cave around:
Have a beer fridge.
Create a comfortable area.
Add a unique sports theme.
Add decor with your favorite team colors or inspiration.
Add a large flat-screen TV.
Wall art of your favorite players, teams, or themes.
DIY Basement Man Cave Ideas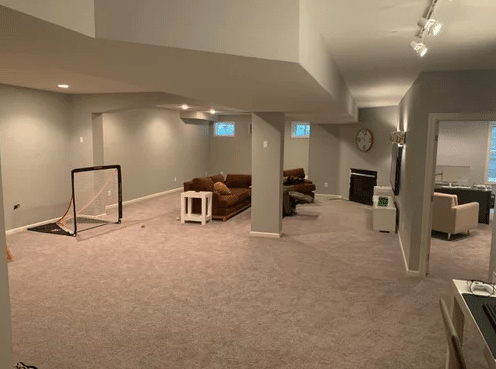 Image: Houzz
DIY projects always give you the chance to do something new and exciting. Whether it's a primary bathroom makeover or something smaller like this man cave, there are plenty of ways to enhance your basement. Consider your budget, the function of the area, when you intend to complete the project, and how much time you have available. These factors will all lead to a better outcome that turns your basement into a true escape from your everyday life.
Here are DIY basement man cave ideas and do-it-yourself tips:
Add manly and decorative pieces.
Get comfortable sofas and chairs.
Add light fixtures and wall lamps.
Hang posters on the wall.
Get a bar set up for drinks and cocktails.
Color your walls with a color that inspires you.
Takeaway
Basement bar ideas are an effective way to come up with barn man cave designs that can make a basement the most frequently visited room in the house. Many people have basements in their homes, but few use them to their full potential. When you transform your basement into a bar and recreation area, however, you turn it into a unique place that family and friends will want to gather for socializing and good times. Read on for some excellent basement bar ideas that will help you design a man cave that's sure to be popular with everyone.
Check out the rest of what Guy About Home has to offer by going to their website.
Since you're curious to learn more, check out the following list of resources.