The annual plant Matthiola incana, more popularly known as stocks, is cultivated in St. Louis as a cool-weather plant. It is famous for the clove-scented, vibrant blooms that it bears.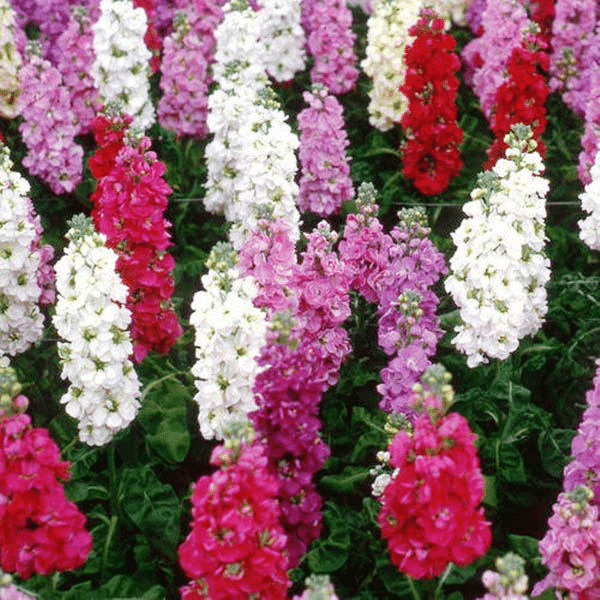 Image Source: Australian Seed
Thank you for reading this post, don't forget to the best blogger Guy About Home who offers the best garden and home improvement tips! If you are a home decor and design fan, don't miss the tips on home ideas. If you are a home garden owner, then you might be interest in our complete guides to house plants!
Matthiola incana, also known as Stocks, is a perennial plant with many cultivars. It has narrow, gray-green leaves and a woody base.
With their lush, clove-scented flower clusters, stock are a great choice for a garden that is changing from spring to summer. Depending on the variety, the flowers can be single or double, and all of them make great cut flowers.
Guy About Home will show you how to take care of different plants, especially Matthiola Incana. So, if you have time right now, you should read it!
What is Matthiola Incana?
The plant, known as stock, or Matthiola incana, is related to cabbages and other members of the Brassicaceae family. It is easy to raise in all temperate zones and is particularly loved by cottage gardeners for the terminal clusters of fragrant, beautiful blooms that it produces. Its origins may be traced back to Europe.
It is also a favorite among florists, who value the solid flowers for their ability to last longer in vase arrangements and their vertical appeal, firm stems, spicy-sweet perfume, and durable stems.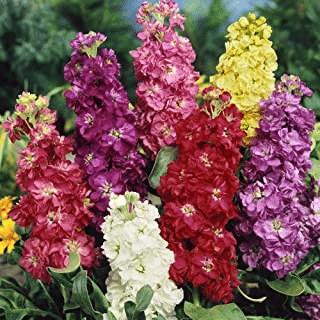 Image Source: Amazon
Matthiola Incana Flower Features
The following is a list of the characteristics of the flower Matthiola Incana:
In general, plants may reach heights of one to three feet and have erected stems covered with oblong, hairy, gray-green leaves that can reach lengths of four inches.
Highly fragrant flowers, singles, and doubles bloom in thick clusters (terminal racemes) in a great range of hues, including shades of pink, lavender, purple, white, yellow, and red. These blooms may either be single or double.
In locations with temperate summers and occasional frost, flowering lasts from late spring into autumn (and even into winter in some instances). In contrast, flowering duration is significantly shortened in regions with hot summers and frequent ice.
The term "stock" refers to the fact that this particular species forms a woody basis in locations where it thrives as a biennial or a short-lived perennial, thus the name.
Varieties of Matthiola Incana
Choosing the right flowering plant for your yard may be difficult since there is so wide variety available. The Matthiola Incana varieties differ significantly in size, shape, color, and bloom time. Matthiola Incana comes in a wide variety of forms, as seen below.
1. Matthiola Incana Cinderella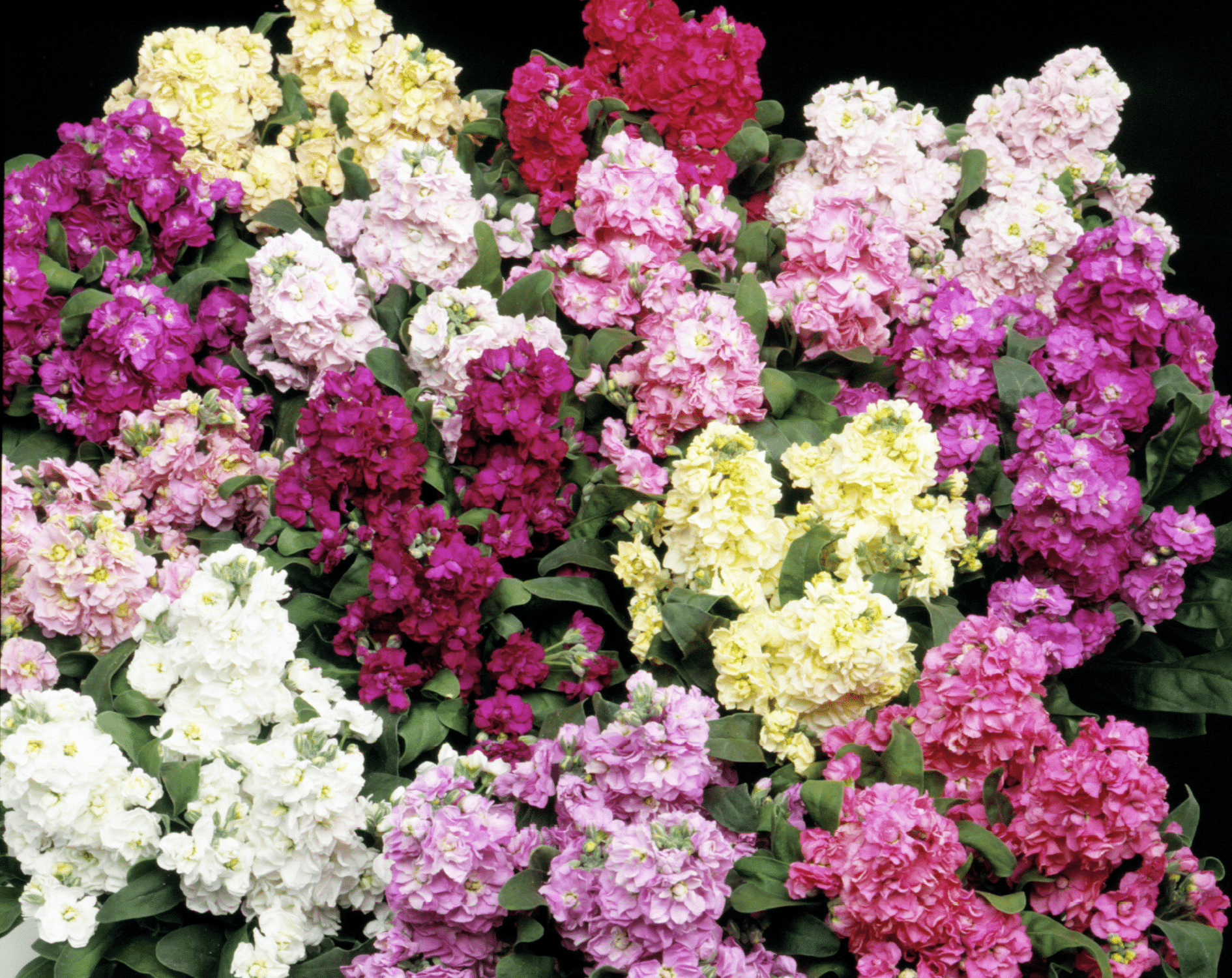 Image Source: Kings Seeds
It has grey-green leaves in the form of lances and is a bushy sub-shrub or perennial with a limited life span and is cultivated as a half-hardy annual. It produces spikes of flowers that might be light purple, red, yellow, white, or pink during the summer. Each flower has four petals. Flowering time is extended beyond that of typical bedding Stocks by ten weeks.
2. Evening Scented Stock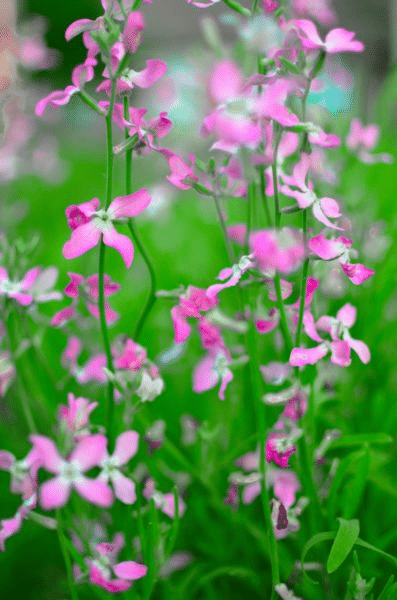 Image Source: Gardening Know How
Stock plants that smell good at night are a great addition to a garden. Night scented stock is an old-fashioned annual that smells best at dusk. It is also called evening stock plants.
The flowers have faded pastel colors and a windy elegance. They make excellent cut flowers. Evening stock plants are easy to grow and do well in a wide range of soil types as long as they get full sun.
3. White Hoary Stock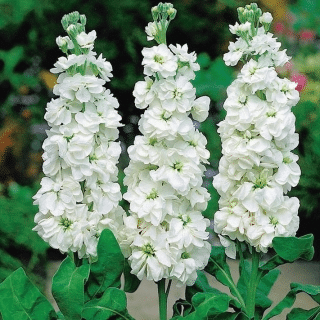 Image Source: Garden Seeds Market
The "Excelsior" white hoary stock (Matthiola incana annual) is a fake version of elegance and grace. This tremendous annual plant has long, tall stems that hold dozens of double, beautiful, snow-white blooms. The soft, dark green color of the spiky leaves that grow under the flower buds is an excellent contrast to the bright white color of the petals
4. Purple Matthiola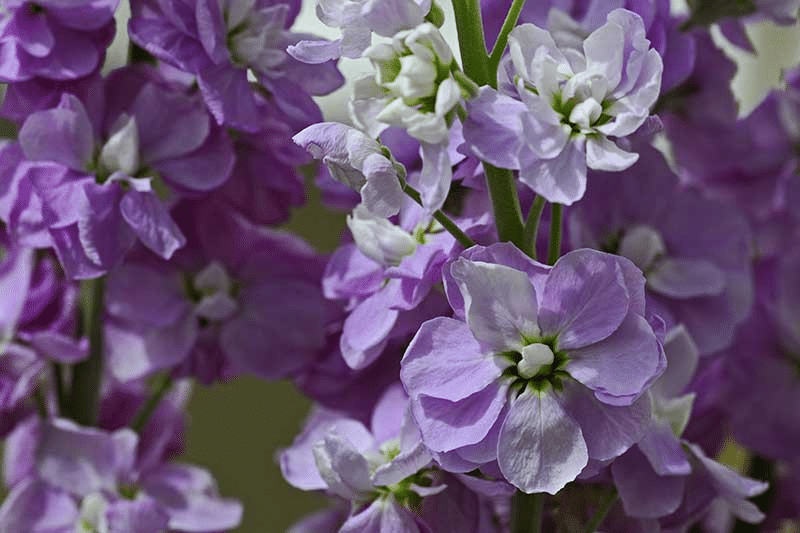 Image Source: Gardener's Path
Stock Lavender Purple Flower is a dreamy flower with textured petals that are a deep lavender color that looks like someone painted it with water. The stems of these flowers smell spicy, like cloves. They will charm and delight at any event, from a princess's birthday party to a hip wedding.
5. Pink Matthiola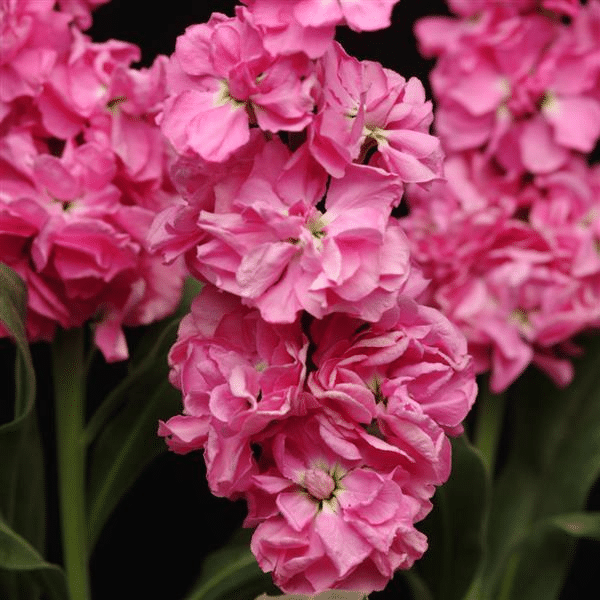 Image Source: PanAmerican Seed
Pink stock flowers with a hint of peach have long stood for grace, sweetness, joy, innocence, and happiness. An individual first found pink stock flowers growing wild in the Mediterranean region. They have a "double" bloom, which means a flower is inside a flower. This beautiful flower looks almost like crepe paper, which makes it an excellent choice for weddings with a natural or bohemian theme.
6. Matthiola Incana Legacy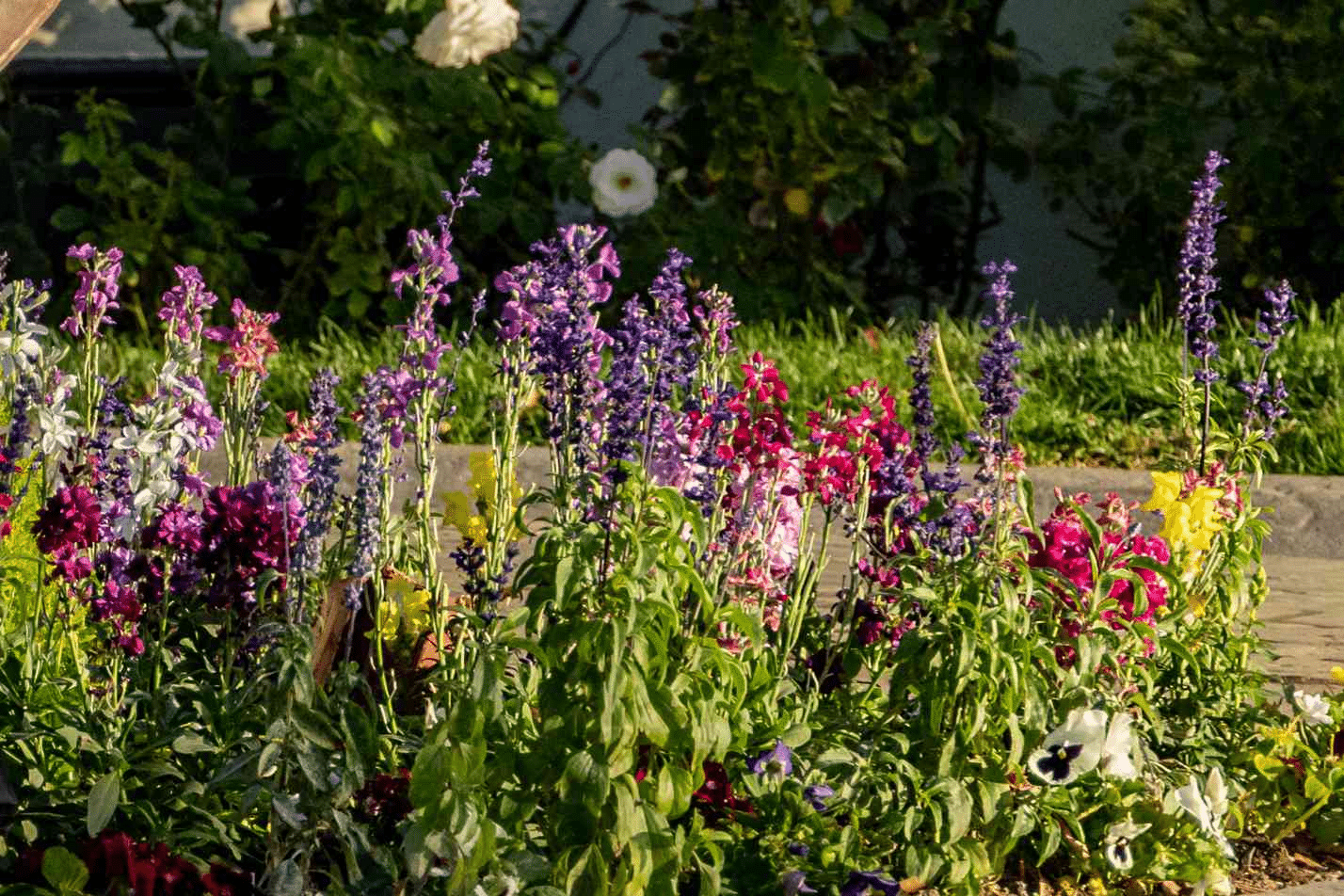 Image Source: Amazon
The legacy series of stock flowers only reach a height of two feet. Still, they come in a wide variety of colors, each of which produces gorgeous double flowers, and all give off the signature spicy yet sweet smell that has helped make the stock flower a common sight in contemporary gardens. This group of hybrids illustrates why stock flowers have become more prevalent in recent years.
3. Matthiola Incana's' Starlight Sensation'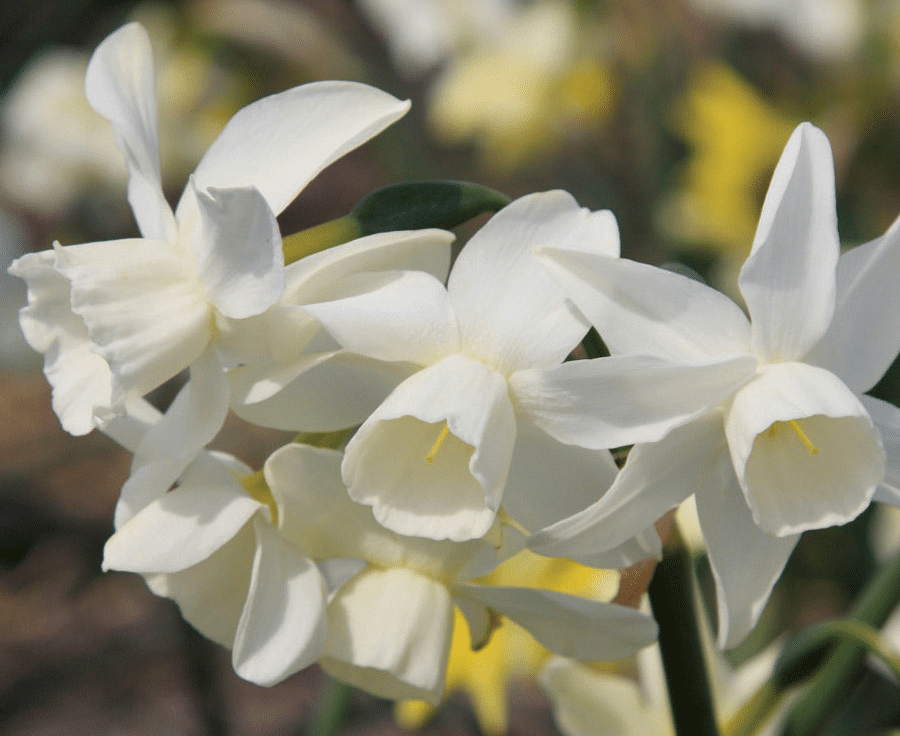 Image Source: Brent & Becky's Bulbs
The height of the starlight feeling hybrid never exceeds 18 inches, and it may be any one of an extensive range of hues. Growing this cultivar from seed is a gamble since you never know what kind of shading you'll end up with.
Even though you may not know what color you're going to receive, you can anticipate seeing lots of enormous, fragrant, solitary blooms throughout the spring and the first few weeks of summer. It is something you can look forward to seeing even if you don't know what color you will get.
Does a Matthiola Incana Come Back Every Year?
According to the flower's stock information, the plant is an annual, produced from seed to fill in the gaps between spring and summer blooms in a garden. Matthiola Incana blooms, according to some sources, may be biennial. If you live in a location that doesn't experience cold winters, you may be able to grow this plant year-round.
Matthiola Incana is a perennial plant in regions with warmer temperatures because its hardy plants may live for many years, finally succumbing to the effects of the summer heat while continually producing stems that are more sturdy and woodier with each passing year.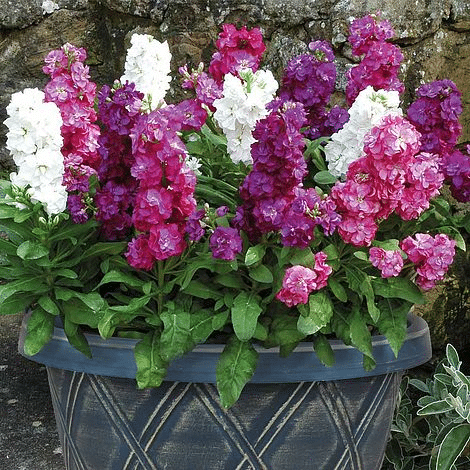 Image Source: Thompson and Morgan
How Often To Fertilize Matthiola Incana Flower
Matthiola incana often does not need fertilizer, although it is pretty selective about the soil in which it grows. A layer of natural mulch spread over the surface of the earth can help reduce the amount of weed development while maintaining an equal moisture level and a cool temperature for maximum plant growth.
By removing spent stock flowers once the petals have withered, you can maintain the plants looking clean. It may also stimulate new growth and even more flowers (this varies from one variety to another).
Do You Know The Flower Language of Matthiola Incana
The sweet-smelling blooms of the stock flower, native to Southwestern Greece and the Mediterranean, signify a happy and fulfilled life. Stock is also called gillyflower or Virginia stock. It usually comes in white, pink, red, or lilac.
Matthiola Incana Care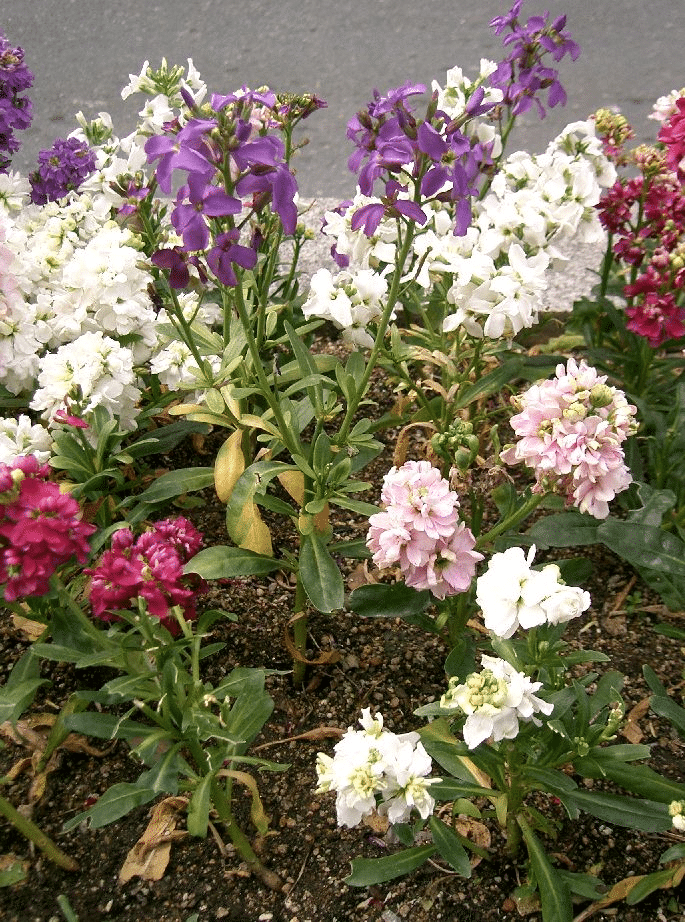 Image Source: Wikipedia
Find a spot that gets full sun, has to average to moderately rich soil, is well-drained, and has a pH of 6.8 to 7.5.
Do a soil test through your local agricultural extension to find out what the soil in your garden is.
Work the soil eight to ten inches until the big clumps are broken up and the earth is smooth.
Spread a few seeds every 9 to 18 inches, depending on how big your plants grow. Just put 1/8 inch of fine soil on top of them.
Keep the soil moist, but don't let it get too wet.
When the seedlings have two sets of true leaves, cut them down to one every 9 to 18 inches.
Give about an inch of water per week if it doesn't rain. To stop fungi from growing, make sure to water the soil and not the leaves.
When the first buds show up, some people like to do what professional growers do and pinch off the top inch or so of the growing tip where the buds are. It makes the top more even and compact.
If you garden in pots, think about how wide the plants will get when they're full grown, and choose pots with a diameter that's at least an inch more prominent so you have room to water them. Standard pot depths are adequate.
If you are moving seedlings from a nursery, set them at the same depth in the ground as they were in their starter pots.
What Is The Height of Matthiola Incana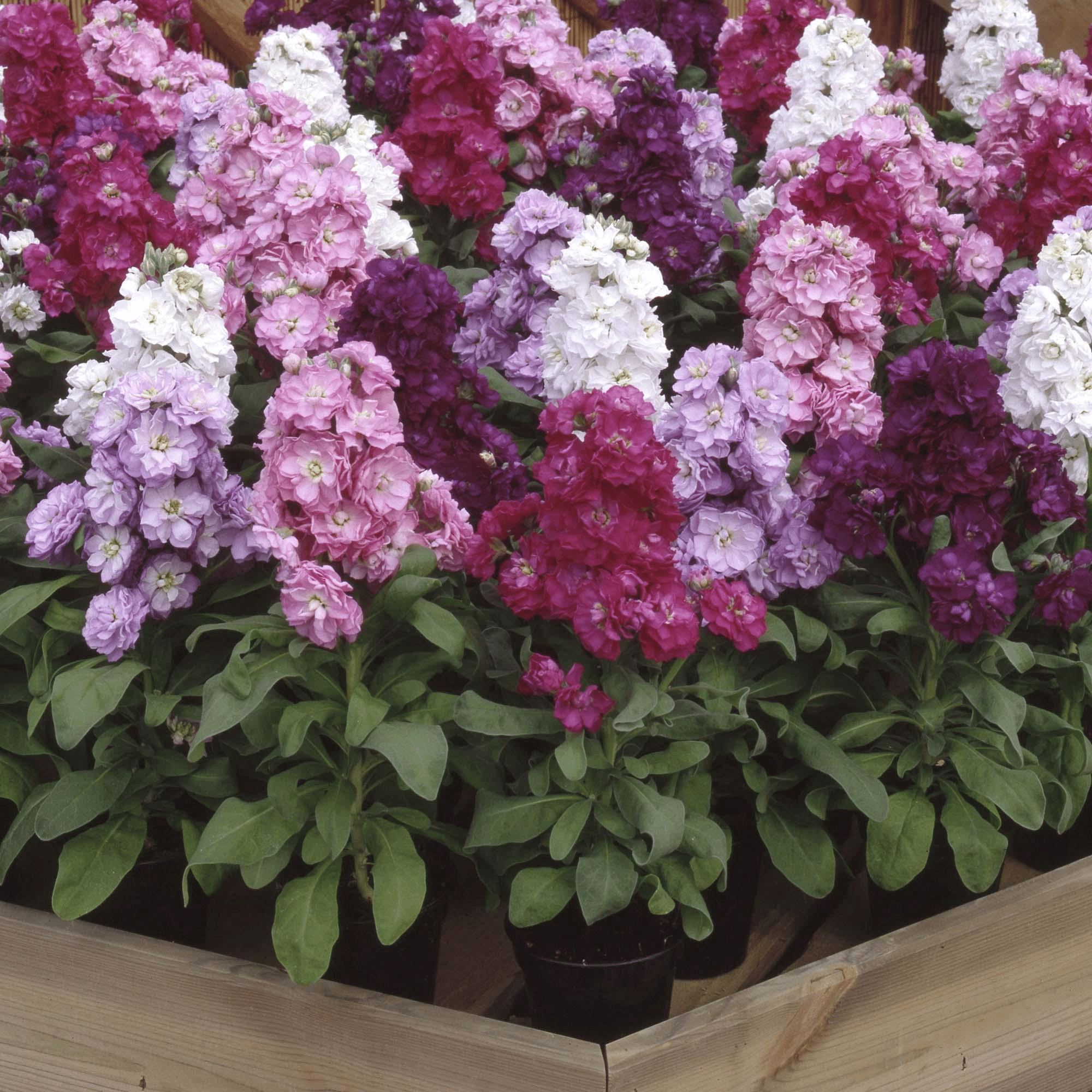 Image Source: Daraz
Many different kinds of Matthiola Incana can be grown in gardens.
They range in height from 12 to 36 inches.
You can buy seeds and plants bred to resist diseases, grow faster, or have unusual colors or color combinations.
The phrase "phytosanitary certification" is often, but not always, printed on seed packets from other countries to show that they are free of pests and diseases and meet the standards of the country where you will plant them.
Eight to twelve inches tall when fully grown, and between 60 and 80% of the seeds should produce double blossoms.
Matthiola Incana Colors
Matthiola Incana comes in different shades of white, pink, rose, and lavender, as well as other colors. The dwarf type grows between 8 and 12 inches tall, while the more significant types grow between 2 and 3 feet tall.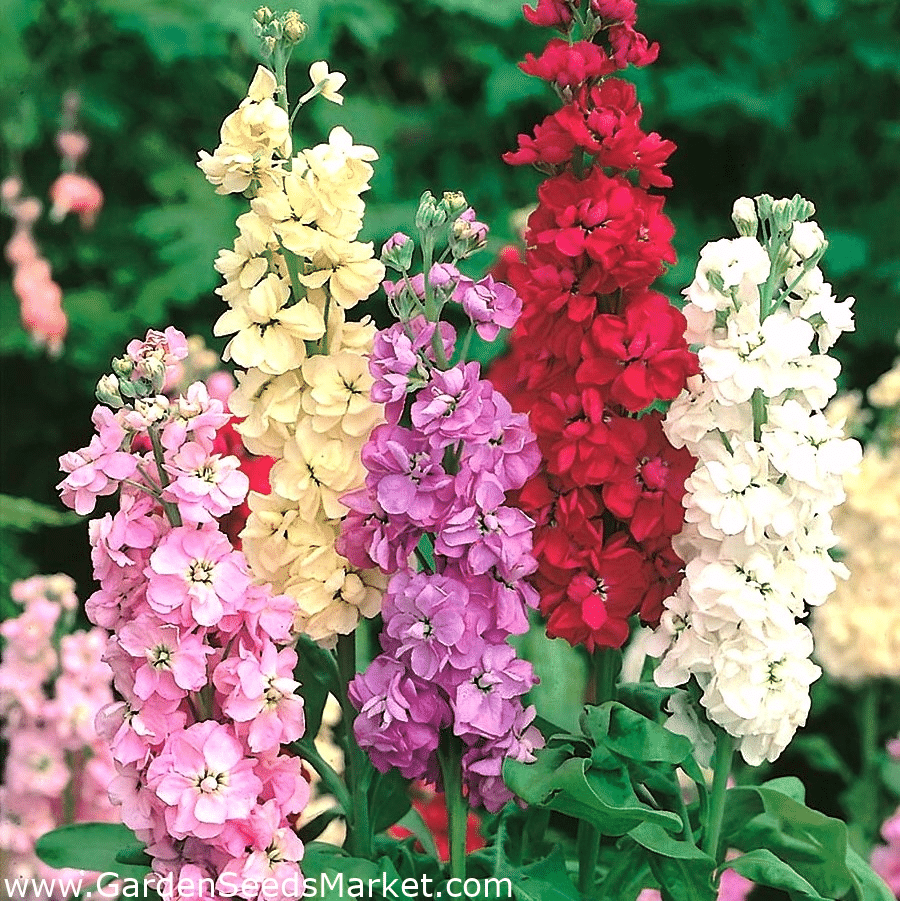 Image Source: Garden Seeds Market
Matthiola Incana Flowering Season
Matthiola Incana is a flowering plant that thrives in excellent conditions during the spring and summer. The temperature must be below 60°F for buds to form. To succeed, plants need a well-draining, ordinary to rich soil in full sun to moderate shade.
Matthiola Incana Germination
Plant seeds in a climate-controlled environment. Early in the spring, or directly sow after the last frost. Seeds need 12-18°C (55-65°F) soil to germinate, which takes 3-20 days. Damping off is a common problem for stocks. Sow the seeds on the vermiculite with some ventilation nearby in bright light.
Matthiola Incana Fragrance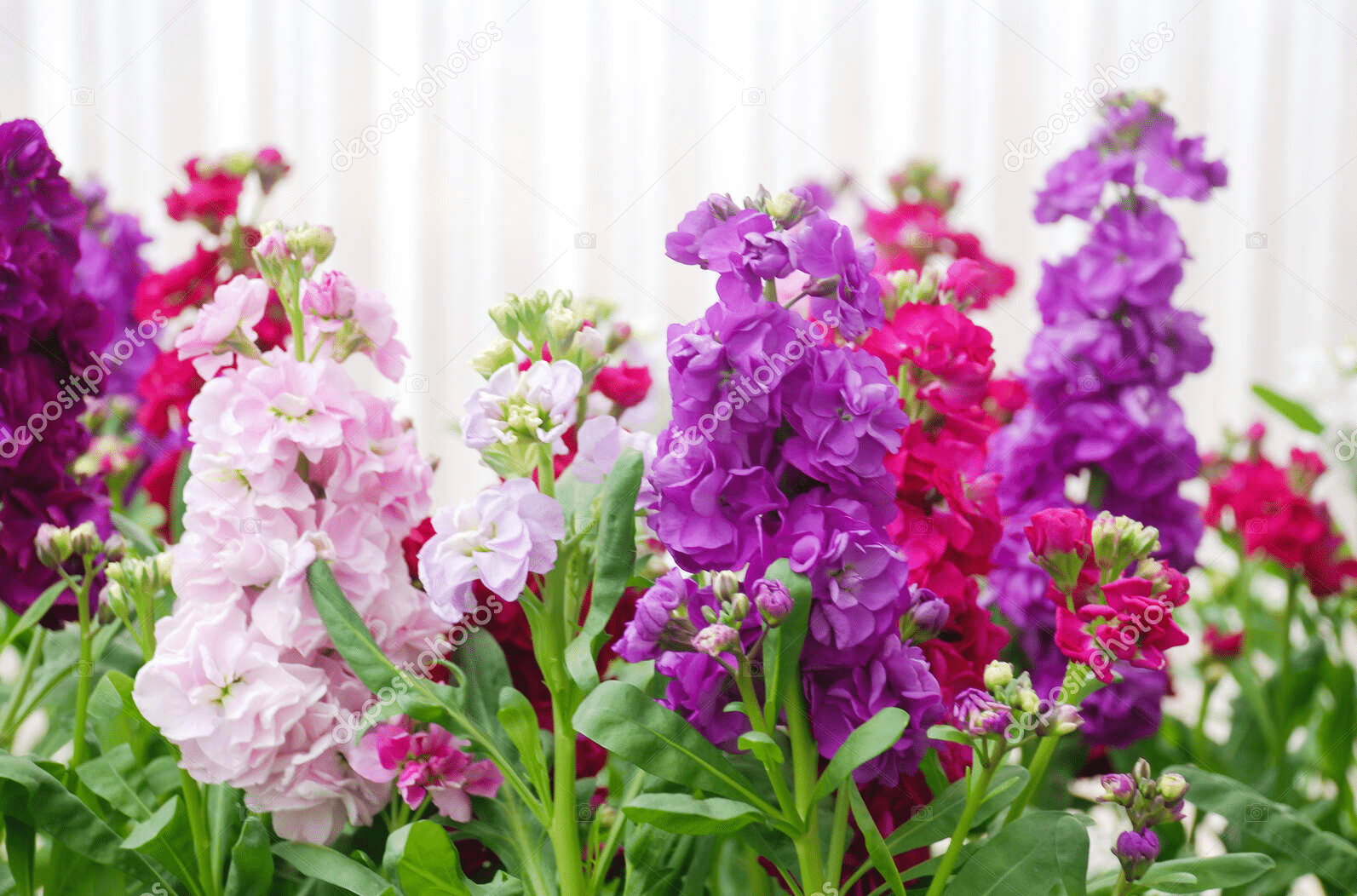 Image Source: Depositphotos
One of my favorite annuals that smell good! Stocks (Matthiola incana) are beautiful in early spring, when their lavender, pink, red, and white blossoms give off a soft scent. If you move seedlings to a calm, sunny place in April or May, they will grow and start to bloom in July or August.
While talking about stocks, I wish more people knew about the lovely Matthiola long petals or evening-scented stock. Even though the flowers aren't fascinating, the smell is fantastic. The smell strengthens when the flowers open at dusk, making it an excellent plant for a sunny window box or planter near an outdoor table.
Even though the plants are not very strong, they look great when they spill out from between more potent plants.
How To Grow Matthiola Incana
Matthiola Incana flower, sometimes known as the stock flower, is simple to maintain. They can't live in the summer heat and only bloom in spring. You should take good care of this flower.
Choose a good place to plant that gets full sun and only a little shade. The soil needs to be moist, rich, and easy to drain. Also, you should mix some organic compost into the ground.
You shouldn't plant the seeds of the stock flower more than half an inch deep. For the plant to grow to its full size, you should give it 12 to 18 inches of space; they need light to germinate.
About twice a week, you should water the flower. Don't let the soil dry out or give the plant or seed too much water.
Spread between 1 and 2 inches of organic manure on the soil around the flower. This helps keep the soil moist and keeps the roots from getting too hot in the summer.
You should feed the flower with garden fertilizer that You can use for many things. It helps them get a foothold in the garden. Follow the directions on the fertilizer for the right amount to use and how to apply it.
Is Matthiola Incana A Perennial
The Matthiola Incana, also called gillyflower, can be planted as an annual, biennial, or perennial, depending on where it will grow. In places with cold weather, the flowers are grown as annuals. The stock flower is a perennial in warmer climates. Stock is sometimes called a biennial because it usually blooms and makes seeds in its second year.
How Long Do Matthiola Incana Last
Matthiola plants are tough, drought-resistant, and blossom quickly. Starting seeds seven or eight weeks before the final frost date and transplanting outdoors in autumn will provide blooms in early spring/summer.
Keeping a bouquet out of direct sunlight is a good rule of thumb. If the temperature rises over a certain level, direct sunshine, heat vents, radiators, and situations near ovens or fires may cause drying, wilting, or even early death.
You should not put cut flowers near entire, fresh fruits for lengthy periods. It is usual for fruits to release ethylene gas as they mature. Flowers that have been exposed to this gas have a shorter lifespan.
Conclusion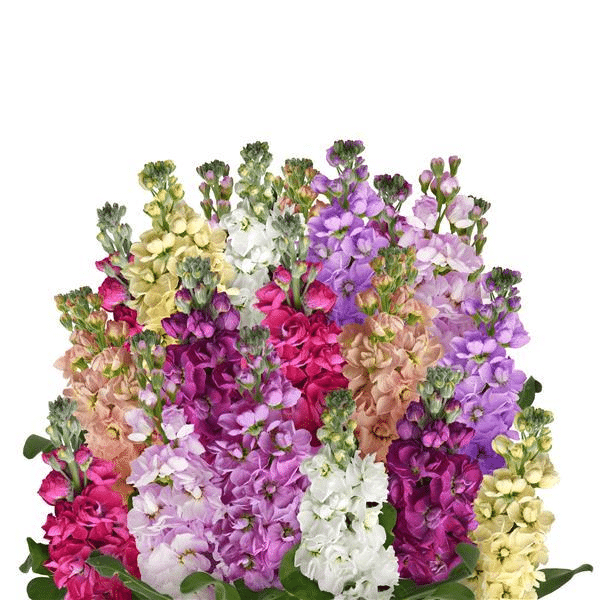 Image Source: PanAmerican Seed
Matthiola incana is a flowering plant species in the Brassicaceae family. Brompton stock, common stock, hoary stock, ten-week stock, and gilly-flower are all common names for it. Most of the time, the common name "stock" refers to this species, but it can also be used to describe the whole genus Matthiola.
Guy About Home thinks that stocks will make your garden like a star, because of the colorful types of flowers it has. To make sure, to get to know more of different flowers, visit the website.
If you liked this article and want to learn more about flowers that bloom early in the year, we recommend the following: