Running a hair salon is a great venture that requires you to put your best foot forward. This begins with your salon set up and the decor you choose to incorporate.
Always remember that humans are visual beings and first impressions matter the most. With this in mind, you should work toward making your space aesthetically pleasing. Take a look at the best small hair salon decor ideas to get you started.
Furniture
Source:
https://www.pinterest.com/pin/11118330319778948/
Given that you're working with a small hair salon, your choice of furniture has to be very intricate and well thought out. This is mainly because your furniture plays the biggest role when it comes to decorating any space.
As you figure out your furniture situation, you need to remember to avoid going with bulky and dull-colored choices. This is mainly because they'll make your space look smaller.
To avoid this, go with furniture that is light and not too big to ensure you leave spaces around your salon.
Also, when it comes to your color choice, ensure you pick something warm and bright. For instance, incorporating pastel or pink is a great idea. These colors are feminine and super soft. They also give the illusion of a bigger hair salon.
Natural Elements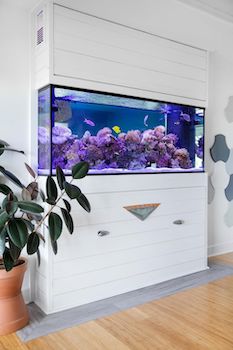 Source:
https://www.pinterest.com/pin/224546731400527824/
The best way to provide a relaxing feeling to any space is by including natural elements. Depending on the space you're working with, you have different choices for what to include. You could either use natural wood, bamboo or incorporate an aquarium.
These decor additions are a great way to make your clients feel welcome and have them coming back. They also give your salon a unique look and goes to show the amount of work you put in to make it a great place to be.
Florals and Greenery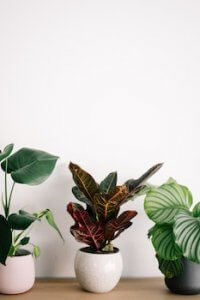 Source:
https://unsplash.com/photos/IcxBbmxecEM
Given that as a salon you'll mostly be working with ladies, adding some flowers into your small space is a great idea. Ladies are drawn to flowers and the beautiful color and mood they exude in any given situation.
Adding some florals and creating a beautiful centerpiece that you can be known for will work great. This alternatively also works great as a backdrop for your client's pictures after getting all dolled up.
Greenery is another decor aspect that you need to consider. Look into gardening and find indoor plants that can thrive and have them well situated into your small space.
The green will provide a great contrast to the other colors in the salon making it pop and add character to your space. Also, including greenery will improve your air quality.
Artwork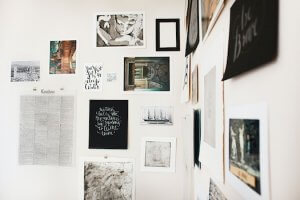 Source:
https://unsplash.com/photos/EUJv2IVxlKQ
There's just something about large empty walls that don't work well for any space. Walls need a statement piece that makes them feel right and avoids feeling displaced. This is where your artwork of choice comes in.
With this, you have different options on what you'd like to include. You can either include framed photos, paintings, or flyers. It's all a matter of personal preference and what works best for your space.
As you choose your ideal piece, consider incorporating pictures that will resonate with your clients. For instance, if you have a nail bar in the salon, having a painting or picture of really well-done nails would work great. Just be sure to be mindful of the pieces you include on your wall to avoid going overboard.
Mirrors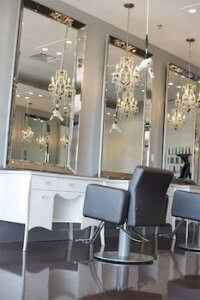 Source:
https://www.pinterest.com/pin/2462974773250648/
Typically, hair salons come fitted with a mirror or two to allow their clients to see themselves in them. However, as a small hair salon, the inclusion of mirrors should be a deliberate move geared toward your interior decor.
This is especially because having mirrors makes a room appear bigger. Also, the use of mirrors brings in great light that is essential if you plan to work on clients with ease. To include this, consider investing in mirrored furniture or adding some to the wall.
With wall mirrors, avoid using mirrors that come with any borders on the side. Instead, work with plain mirrors and have them installed correctly.
Mirrors will give your establishment a luxurious and elegant feel that will get customers attracted. With this, you should however be sure to stay on top of your cleanliness to ensure the place is appealing.
Conclusion
When looking for decor ideas for your small hair salon, just think of simplicity and the illusion of space. Simplicity works great in small spaces given that you don't have to include too much into your space.
Thinking of ways to make your space look bigger will give you the best decor ideas. Once you have the ideas in hand, be sure to implement them, and create a hair salon that you are proud of.
Work with the appropriate furniture and include natural elements, flowers, and greenery. This will give your salon character without forgetting the use of appropriate artwork that resonates with your clients.
For more amazing ideas you can have, visit Guy About Home today or you can check the related blogs: