Running a hair salon is a great venture that requires you to put your best foot forward. This begins with your salon set up and the decor you choose to incorporate.
Always remember that humans are visual beings and first impressions matter the most. With this in mind, you should work toward making your space aesthetically pleasing. Take a look at the best small hair salon decor ideas to get you started.
Thank you for reading this post, don't forget to the best blogger Guy About Home who offers the best garden and home improvement tips! If you are a home decor and design fan, don't miss the tips on home ideas. If you are a home garden owner, then you might be interest in our complete guides to house plants!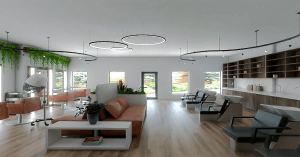 Image Source: Pixabay
Humans are visual beings and first impressions matter the most, so you should work toward making your space aesthetically pleasing. Take a look at the best small hair salon decor ideas to get you started.
People visit a hair salon to relax and pamper themselves after a tiring day or week.  So when stopping by your salon, it's essential to give them the serenity and peace of mind they deserve. Setting up a gorgeous yet low-budget salon interior design is a surefire way to attract customers and gain more profit.
Setting up a salon can be overwhelming too – from planning the interior designs to determining the price lists. To give you an idea, we've listed down some important things that you should consider and know when designing your dream salon.
What Makes a Good Hair Salon Interior Design?
A good hair salon puts up a creative and beautiful interior design to allow clients to rest their heads and eyes. A customer's experience begins the moment they enter the door of your salon; this is why you need to make sure that your salon has a welcoming, relaxing and friendly atmosphere.
The interior design of a salon benefits both customers and staff. Who doesn't want to work or visit a salon with a clean, comfortable, and beautiful environment, right? You should check out some tips to make your room aesthetic.
Don'ts on Small Hair Salon Decors
Small spaces can be difficult to decorate, but it's not impossible. As shine as small patio decorating ideas on a budget, With the right strategies, you might be surprised by how much style you can do. Check out these don'ts to keep in mind when decorating small hair salons.
Don't push all the furniture against the wall
The first thing you might do when putting up your furniture is by pushing them against the wall, but don't do that. Leaving an open space in the middle can make a small space even more closed in. On the other hand, arranging the furniture at the center creates an illusion of having more space.
Don't mix furniture colours
The colour scheme of your hair salon doesn't have to be wild, crazy, and colourful to allow customers to relax. Soft colours and patterns are often more effective in making a small room feel larger. You can start with a neutral base paint on the wall and bring in some shades through the rugs, pillows, and other accessories.
Don't ignore awkward spaces
A small area requires you to utilize every space, even the awkward-shaped areas that can be difficult to decorate. Instead of leaving a space blank, you can put up a bench or chair to create a relaxing seating or waiting area.
Don't forget about the mirrors
Mirrors are small-space design tricks that you can use in your hair salon. They reflect light to give the customers an illusion that you have more space. Aside from that, it also adds a bit of sparkle and helps them check out their new look.
Don't clutter the surfaces
Having a lot of things instantly makes a space cluttered and very small. Since you need a lot of furniture for your salon, make sure to put away most of the small appliances in a cabinet so your space won't look completely stuffed.
Top 5 Small Hair Salon Decor Ideas
Furniture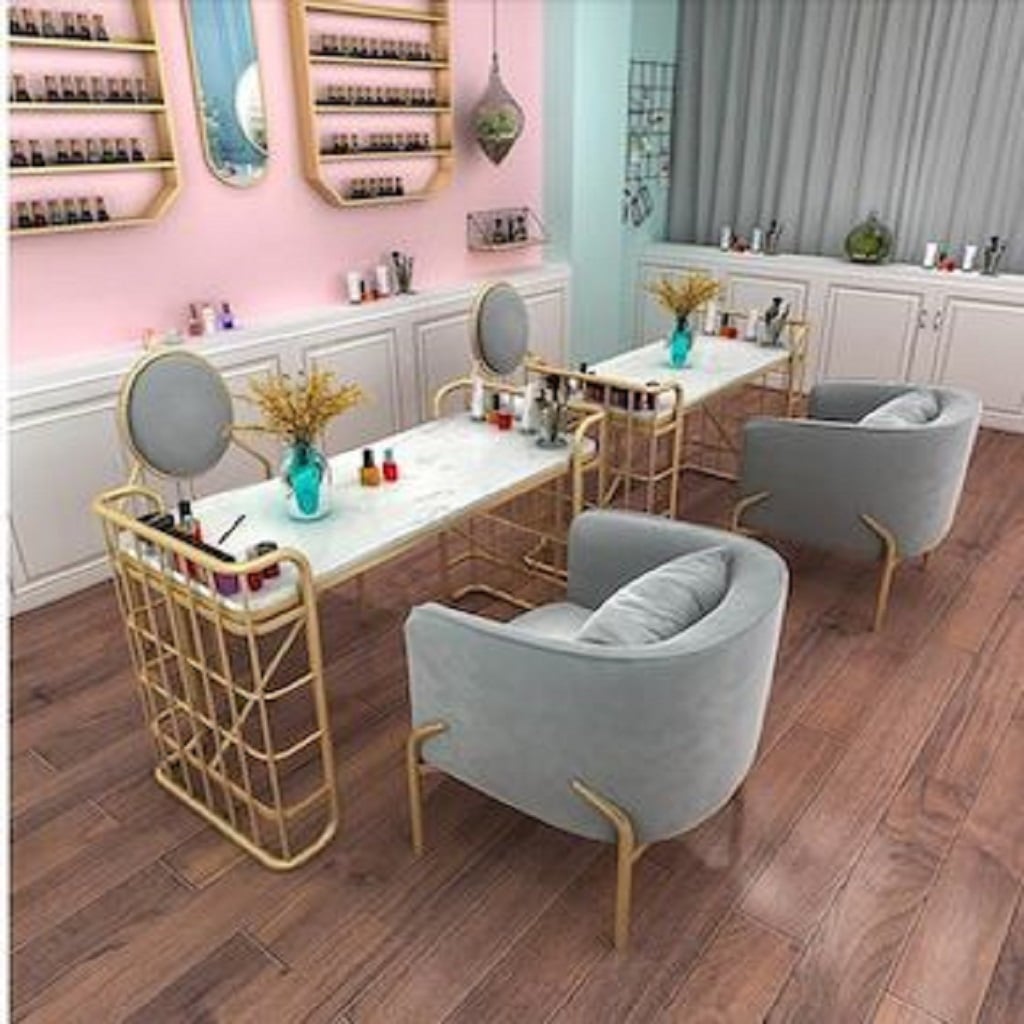 Source:
https://www.pinterest.com/pin/11118330319778948/
Given that you're working with a small hair salon, your choice of furniture has to be very intricate and well thought out. Excellent as small salon suite ideas, this is mainly because your furniture plays the biggest role when it comes to decorating any space.
As you figure out your furniture situation, you need to remember to avoid going with bulky and dull-colored choices. This is mainly because they'll make your space look smaller.
To avoid this, go with furniture that is light and not too big to ensure you leave spaces around your salon.
Also, when it comes to your color choice, ensure you pick something warm and bright. For instance, incorporating pastel or pink is a great idea. These colors are feminine and super soft. They also give the illusion of a bigger hair salon.
Natural Elements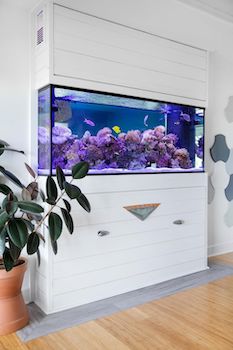 Source:
https://www.pinterest.com/pin/224546731400527824/
The best way to provide a relaxing feeling to any space is by including natural elements. Depending on the space you're working with, you have different choices for what to include. You could either use natural wood, bamboo or incorporate an aquarium.
These decor additions are a great way to make your clients feel welcome and have them coming back. They also give your salon a unique look and goes to show the amount of work you put in to make it a great place to be.
Florals and Greenery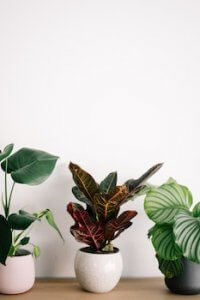 Source:
https://unsplash.com/photos/IcxBbmxecEM
Given that as a salon you'll mostly be working with ladies, adding some flowers into your small space is a great idea. Ladies are drawn to flowers and the beautiful color and mood they exude in any given situation.
Adding some florals and creating a beautiful centerpiece that you can be known for will work great. This alternatively also works great as a backdrop for your client's pictures after getting all dolled up.
Greenery is another decor aspect that you need to consider. Look into gardening and find indoor plants that can thrive and have them well situated into your small space.
The green will provide a great contrast to the other colors in the salon making it pop and add character to your space. Also, including greenery will improve your air quality.
Artwork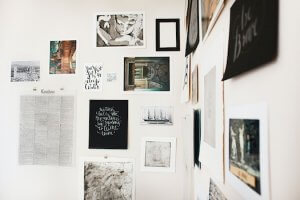 Source:
https://unsplash.com/photos/EUJv2IVxlKQ
There's just something about large empty walls that don't work well for any space. Walls need a statement piece that makes them feel right and avoids feeling displaced. This is where your artwork of choice comes in.
With this, you have different options on what you'd like to include. You can either include framed photos, paintings, or flyers. It's all a matter of personal preference and what works best for your space.
As you choose your ideal piece, consider incorporating pictures that will resonate with your clients. For instance, if you have a nail bar in the salon, having a painting or picture of really well-done nails would work great. Just be sure to be mindful of the pieces you include on your wall to avoid going overboard.
Mirrors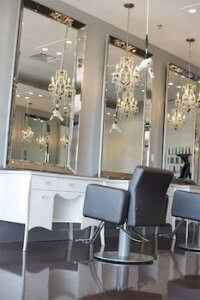 Source:
https://www.pinterest.com/pin/2462974773250648/
Typically, hair salons come fitted with a mirror or two to allow their clients to see themselves in them. However, as a small hair salon, the inclusion of mirrors should be a deliberate move geared toward your interior decor.
This is especially because having mirrors makes a room appear bigger. Also, the use of mirrors brings in great light that is essential if you plan to work on clients with ease. To include this, consider investing in mirrored furniture or adding some to the wall.
With wall mirrors, avoid using mirrors that come with any borders on the side. Instead, work with plain mirrors and have them installed correctly.
Mirrors will give your establishment a luxurious and elegant feel that will get customers attracted. With this, you should however be sure to stay on top of your cleanliness to ensure the place is appealing.
Factors to Consider When Designing a Small Hair Salon
Decorating a small hair salon can be confusing – you want everything to fit as much as possible, but the room should not look and feel cramped. Lovely as spa decor ideas, you don't have to sacrifice style for space – here are some factors to keep in mind when designing a hair salon.
1. Lighting
In any room, the lighting is very important so always consider this when designing a salon. Make sure that the doors and windows bring in as much daylight as it is possible. However, if the location of your salon can't have much daylight, always prioritize having proper lighting.
Proper lighting is needed so that the hair stylist can perform the services with precision. From clients browsing through a hair magazine to the stylist doing hair colour services, these activities require specific lighting needs. Here are some hair salon lighting tips to ensure efficient lighting.
The illumination level refers to the amount of light scattered over your salon area. For a hair salon, the lighting must be consistent and must possess a high level of illumination. This is to allow hair stylists to see the work they do and that clients should be able to have a clear view of how they look.
If you want to provide your staff and clients with the best environment, you need to ensure that the lighting system of your salon diffuses an elevated colour rendering index (CRI). This measures the capacity of a light source to reflect the colours of the spectrum which allows your staff and clients to differentiate colours and their different shades. 
The color temperature is the lighting system's power to send out a warmer or a colder light beam. It creates an ambience for a given space so the salon must be bright, vivid and stimulating. This allows highlighting the stylists' work and ensures the well-being of their clients.
2. Furniture
Newbie designers tend to stuff up the room with lots of furniture without following a proper plan. It's important to have important furniture in the salon; but make sure that there aren't too many of them to avoid hindering your movement that may not be so pleasing to the eyes.
3. Colors
How you set up and place the furniture can be a crucial factor, and colors also play the most important role that makes a room look attractive. Make sure to choose color combinations for the wall, light, and furniture.
How to Make a Small Hair Salon Look Bigger
When setting up a beauty salon, your priority should be interior design. The field of beauty and hairdressing revolves around appearance, and your salon design is the prime of your creativity and how you interpret art. 
It's given that salon designing can be challenging, especially when you have no idea where to begin. If you're confused about how to set up your design, here are some 4 tips for building salon design.
1. Choose a theme
Start your design by choosing the main theme for your salon. This is an important step as the theme you prefer will be the basis of the furniture and the overall design of your salon. Inspired as spiderman kids party, the decorations, colour and music must align to set up a soothing atmosphere.
2. Set up a good waiting area
The waiting area or the reception area is the first section of every beauty salon, and this room welcomes your clients so it's important to leave a good impression. You can put up comfortable chairs and magazines to provide entertainment to your guests while they wait.
3. Mix colour palette and lighting well
Most customers prefer salons with eye-catching colour palettes. You can experiment with the palette but you must stick to them. You can also opt for colours that reflect your brand or your salon's theme.
4. Consider your clients
Always put yourself in your client's shoes and ask yourself if your salon is something that you want to see and enter. List down some important notes such as what are the things you prefer and what you expect when you enter a beauty salon.
3 Suggestions About Decorating a Hair Salon on a Budget 
Decorating a hair salon can be a difficult task – you want to put up decorations to attract customers but you also don't want to spend a huge portion of your funds on the decorations.  Here are some of the best low-budget hair salon interior designs that you can try.
1. Consider Abstract Art
Hair salons always feature art, so if you're a bit tight on the budget, nothing stops you from creating your abstract art. Instead of buying paintings as decorations, invest in canvas and frame and unleash the artist in you.
2. Creative Display
Every salon has equipment, supplies and tools, so instead of an additional cost of cabinets to store them, there are other ways you can do it. You could use a clothesline to hang the colour tubes and create a colourful shelf. Aside from the additional art, it makes reaching out to what you need even easier.
3. Recycle
Setting up a salon doesn't mean you need to go grocery shopping and buy every product on your list one by one. Before you spend all your funds buying the supplies, make a list of what furniture, tools or supplies you currently have that are working well and you can use in your salon. 
Conclusion
When looking for decor ideas for your small hair salon, just think of simplicity and the illusion of space. Simplicity works great in small spaces given that you don't have to include too much into your space.
Thinking of ways to make your space look bigger will give you the best decor ideas. Once you have the ideas in hand, be sure to implement them, and create a hair salon that you are proud of.
Work with the appropriate furniture and include natural elements, flowers, and greenery. This will give your salon character without forgetting the use of appropriate artwork that resonates with your clients.
For more amazing ideas you can have, visit Guy About Home today or you can check the related blogs: