The best way to throw a successful party that the kids will enjoy to the fullest is by having a theme for it. Themed parties are a great way to express your kid's personality and interests while still making it a fun time.
One of the best themes to consider is the spiderman theme. This is a theme that will apply to kids of all ages and ensure that everything is a success.
Thank you for reading this post, don't forget to the best blogger Guy About Home who offers the best garden and home improvement tips! If you are a home decor and design fan, don't miss the tips on home ideas. If you are a home garden owner, then you might be interest in our complete guides to house plants!
To make this possible, you'll need to invest in the right decor and also have a great understanding of what you want to achieve. Here are a few decor ideas that you should consider investing in.
Backdrop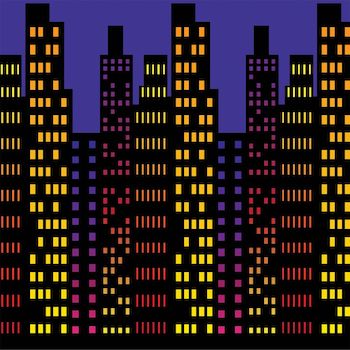 Source:
https://www.pinterest.com/pin/569142471665259287/
The first thing you need to consider is your choice of backdrop. Working on your backdrop first will change the whole look of the space you're working with. This is a great way to ensure that you disguise everything you don't want to be featured during that day.
When it comes to your choices, you can either buy a new one or make your own. If you are on a tight budget, DIY your backdrop and get it to an appealing look. To get the spiderman look, invest in a cityscape backdrop that gives of the mood you're looking for.
It features highrise buildings with well-lit windows on a night. This backdrop provides the perfect setting for a hero like Spiderman. If you need any additional backdrop, consider investing in a starry night backdrop that will complement the cityscape one.
Banners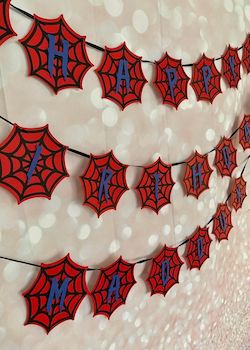 Source:
https://www.pinterest.com/pin/7740630597997949/
Using banners is another great way to include the spiderman theme into your kid's party. These banners are a great addition given that they can easily be customized and are easy to install.
To customize your banner you can include a few pictures of your kid, their age, and anything else you'd like to acknowledge. If not, you can just work with the birthday banners as they are and create a beautiful setting.
These banners come with images of spiderman, the suit, or spider webs with the inclusion of the colors. Using banners is a great way to add to your decor and easily achieve your spiderman theme.
Spider Webbing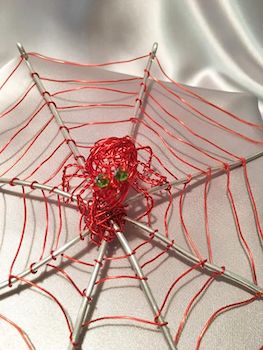 Source:
https://www.pinterest.com/pin/155303887193519867/
To bring the full glory of using a spiderman theme for your party, including spider webs into your space. You can get these webs from a decorations store or DIY one yourself. Be sure to be creative with this to ensure it brings out your vision as desired.
Once you've installed the spider webs in your space, also consider adding a few spiders. These spiders are plastic and work as props to get the whole theme together. However, as you do this, be very mindful of the age of kids you'll be dealing with.
As much as kids love spiderman, they are not as enthusiastic when it comes to spiders. If you'll be dealing with kids who will easily be scared off by the presence of spiders, you should avoid using them.
Balloons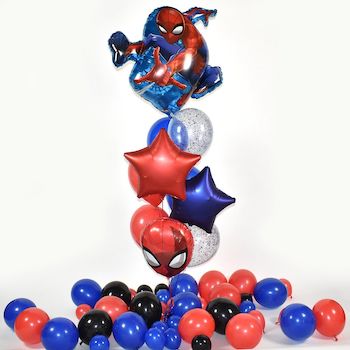 Source:
https://www.pinterest.com/pin/123215739795622138/
A kid's party without balloons will feel like something is missing. Adding balloons is a great way to add a fun element into the room and also achieve your desired outcome. With this, you can work with two different options.
On one hand, you could get a spiderman balloon and hang it from the roof. This would be a great illustration of your theme.
On the other hand, you could get normal balloons but have them in the colors featured in the spiderman suit. This means you'll have to carefully place them to ensure they depict your theme as required.
Paper plates, Cups, and Napkins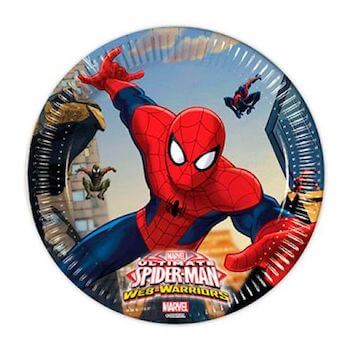 Source:
https://www.pinterest.com/pin/647462883925775703/
Investing in paper plates for a kid's party is a great way to ensure that you don't have too much cleaning up to do. These plates can easily be tossed in the recycle bin once you're done with them.
The best part is that you can find spiderman themed paper plates that will easily complement the decor you're going for with your party. This is a great way to effortlessly include the spiderman theme into your space.
Additionally, you could also consider investing in similar themed cups and napkins. Given that they'll be on display the whole time, they will serve as great decor pieces.
Conclusion
If you're planning your kid's party and are considering the spiderman theme as the start of the show, these decor ideas should come in handy. Be sure to invest in the right kind of decor to ensure that your party turns out perfect.
Additionally, as you add all the decor, remember to be mindful of the age group you'll be dealing with. This will help you avoid going overboard and including decor that will make the kids uncomfortable. Take your time to decorate your space and enjoy the process.
For more amazing ideas you can have, visit Guy About Home today or you can check the related blogs: