Budgeting is an integral part of life. It's a great way to help you stay on track while still achieving incredible feats; the goal is not to run into debt. For your man cave on a budget, there are several unconventional ways to go about it!
If you're on a tight budget but still want a man cave, you can obtain the appearance you want without breaking the bank. Repurposing old furniture and decor pieces and learning to see them in new ways is the key.
Thank you for reading this post, don't forget to the best blogger Guy About Home who offers the best garden and home improvement tips! If you are a home decor and design fan, don't miss the tips on home ideas. If you are a home garden owner, then you might be interest in our complete guides to house plants!
Your needs also play a considerable role when budgeting. In other words, when it comes to cave budgeting, you don't just set aside money for decor and paintings that aren't appropriate for your hobby. As a result, consider spending money on decor, furniture, and artwork that are appropriate for you or the individual for whom you're creating a man cave on a budget. Read on for some more creative home ideas.
Table of Contents
Low Budget Small Man Cave Ideas

Small Man Cave Ideas on a Budget

DIY Low Budget Garage Man Cave

Sports Man Cave Ideas on a Budget

Cool Man Cave Ideas on a Budget

Simple Man Cave Ideas on a Budget

Garden Man Cave Ideas on a Budget

Shed Man Cave Ideas on a Budget

Building a Man Cave on a Budget

Conclusion
Low Budget Small Man Cave Ideas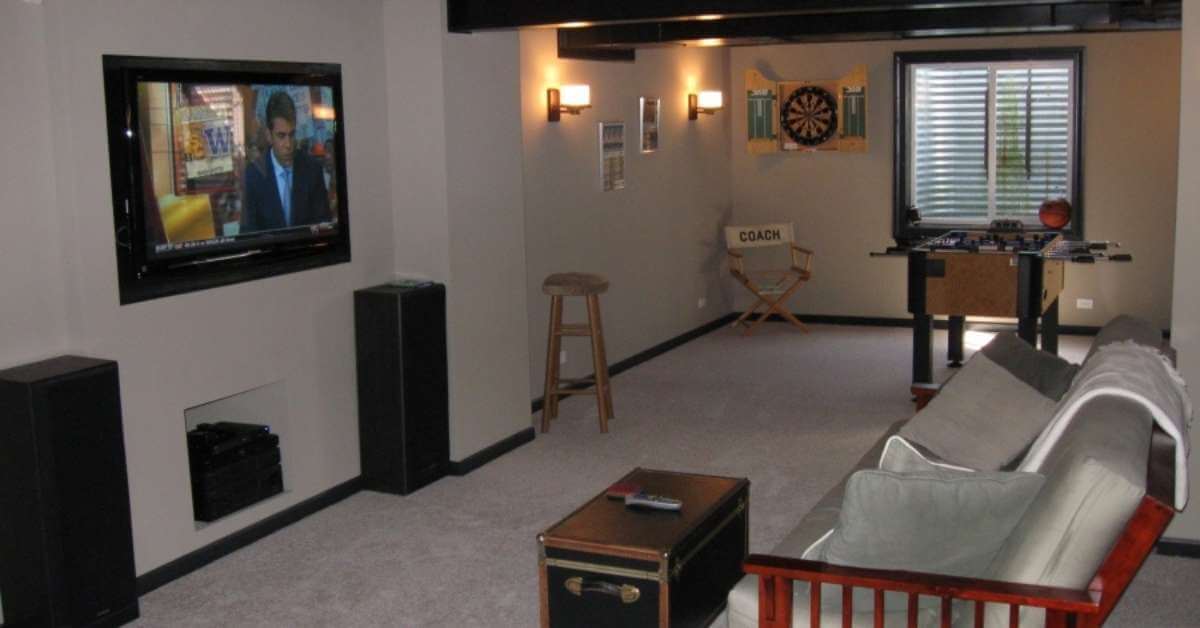 Image Source: Buildipedia
The term "low budget" is subjective and determined mainly by what you are ready to part with for that moment. Usually, when this term is used, most people think it's for the poor. No! It might just be another way to say not for the wealthy, but a man cave is achievable on a sizable budget.
This can be achieved by:
Repainting your basement or garage in white 

Refurbishing the ceiling to taste 

You might not need to spend much on the flooring; getting a wide rug for the small room is okay.

Install a Small Tv and Sound system

Bring in your old couch 

You can turn your toolbox into a temporary table
You don't have to do it all at once; a little drop will fill an ocean over time. The key is consistency while maintaining your budget.
Explore more small man cave bar ideas if you take interest in it
Small Man Cave Ideas on a Budget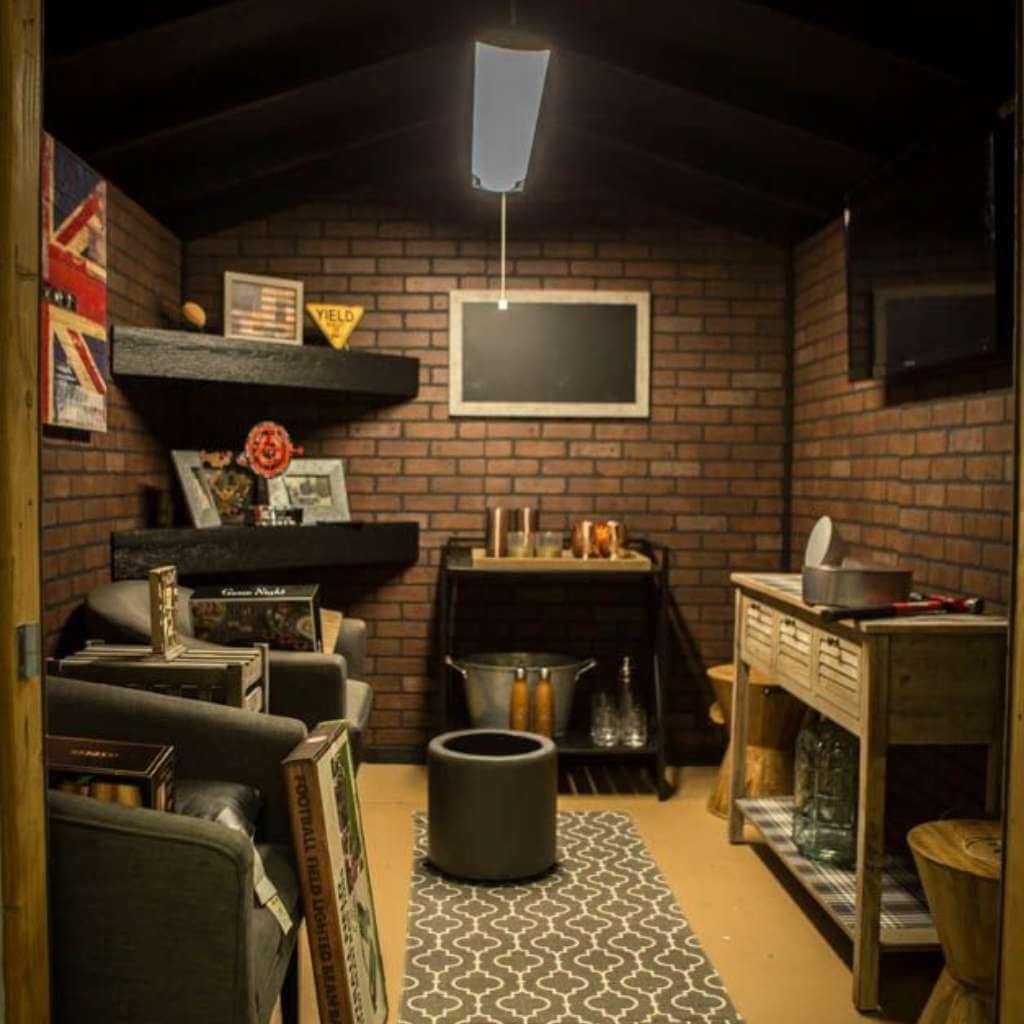 Image Source: Pinterest
Long couches must be man cave worthy, but in the absence of ample space and a huge budget, you have to settle for a single chair. The goal is to have a place to unwind and stretch your legs while having fun.
A small man cave can be downright challenging while setting up, but with thoroughness and creative process, something incredible can be achieved.
On a budget, completely transform your man cave with these tips;
Convert your small basement by installing a welcoming door

An ample fluorescent light to illuminate

Small Couch and side wardrobe

center rug to keep feet warm

You can add wall arts
In your overall setup, avoid stuffing yourself with too many elements—Air Condition is vital for proper ventilation.
Man cave bar ideas on a budget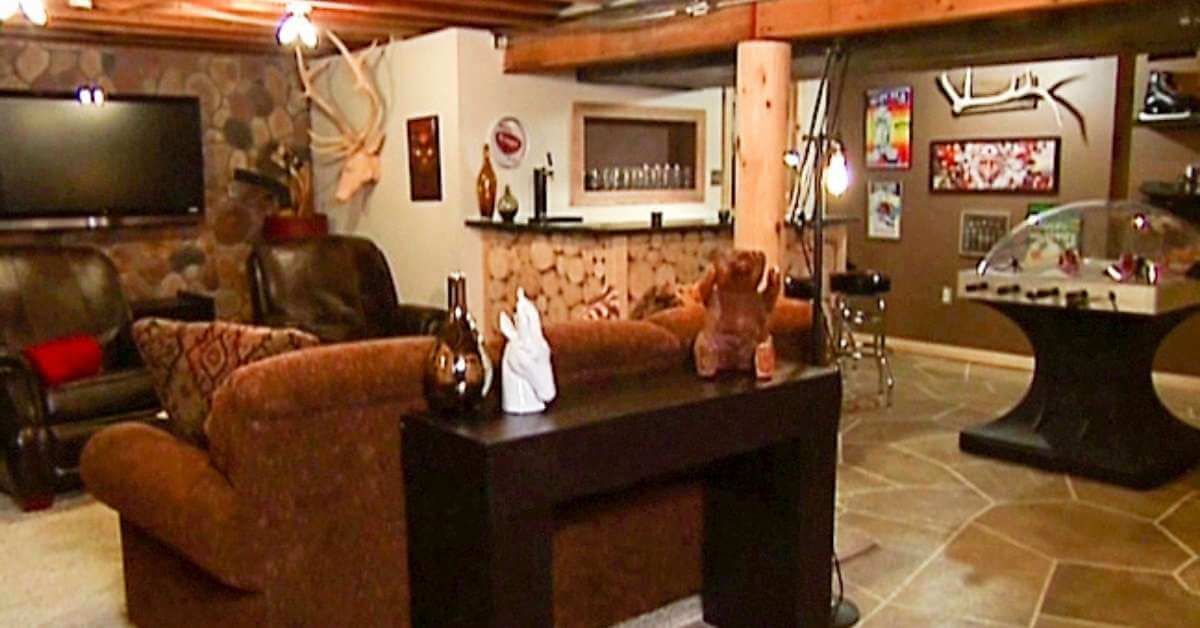 Image Source: Prime Video
Using your spare time to build a suiting man cave might be another way to unleash the creativity in you while enjoying your hobby. Some old items you probably have hanging around can be used for this DIY set-up without spending much.
Consider using a  low-budget DIY process like this if you know you are the creative type:
Bring in your unused or old couch

Install your old television and sound system

Fix enough lighting by buying a fancy lamp holder

Convert a small area in your garage into a bar

You can buy a foosball table to boost your fun time

Fix wall arts and paintings
With these, you have a man cave ready for the hideout.
Explore more low budget small man cave ideas if you take interest in it
Sports Man Cave Ideas on a Budget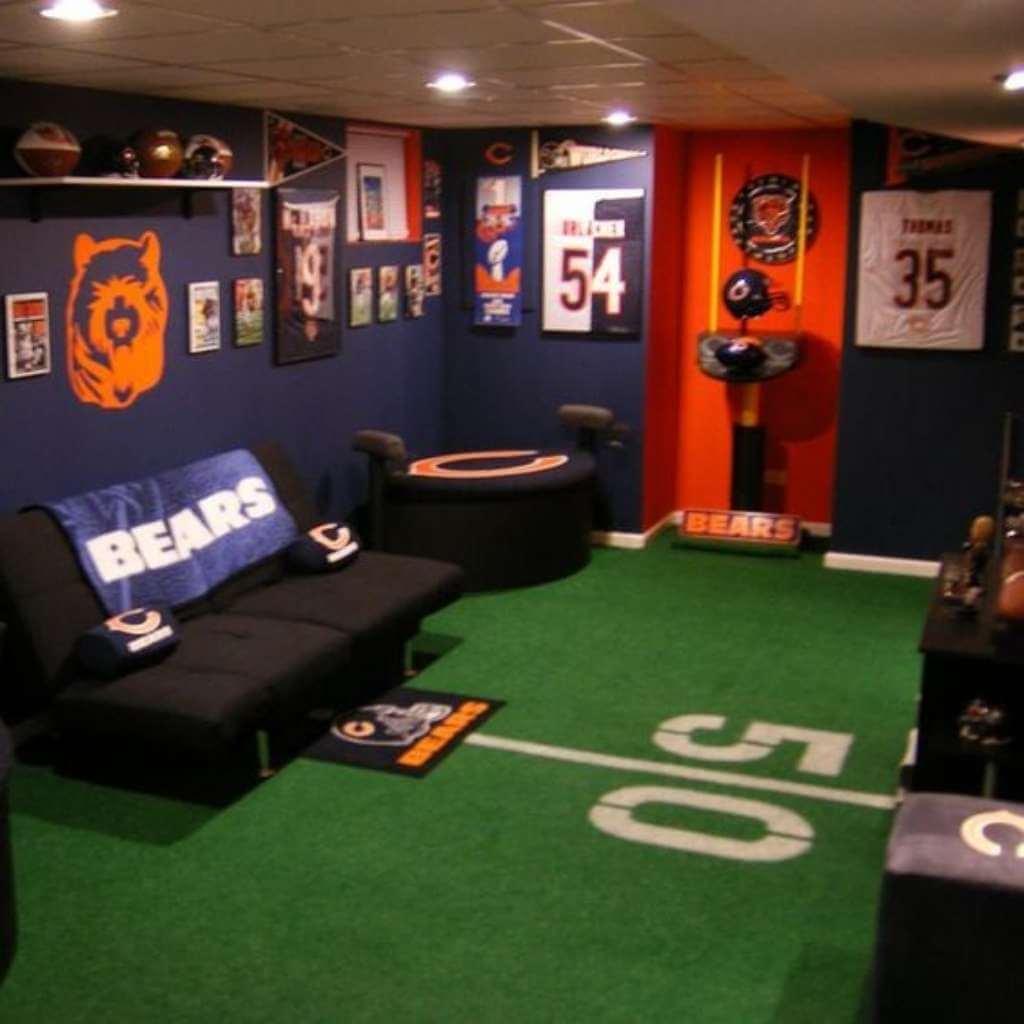 Image Source: Pinterest
Regardless of the sport you choose, you want to watch the big game in luxury when settling down. You can still do this on a budget, and frequently we think that setting up this style might be expensive, but that may not be true in the real sense.
To achieve your sporty man cave on a budget:
Paint the walls in your favorite club pattern

Buy a green rug big enough to cover up your small room

Remodel your old couch or buy a budget-friendly couch 

Install a Television 

Buy sporty wallpapers of different styles (legends and clubs)
Explore more simple man cave ideas if you take interest in it
Sports Man Cave Ideas on a Budget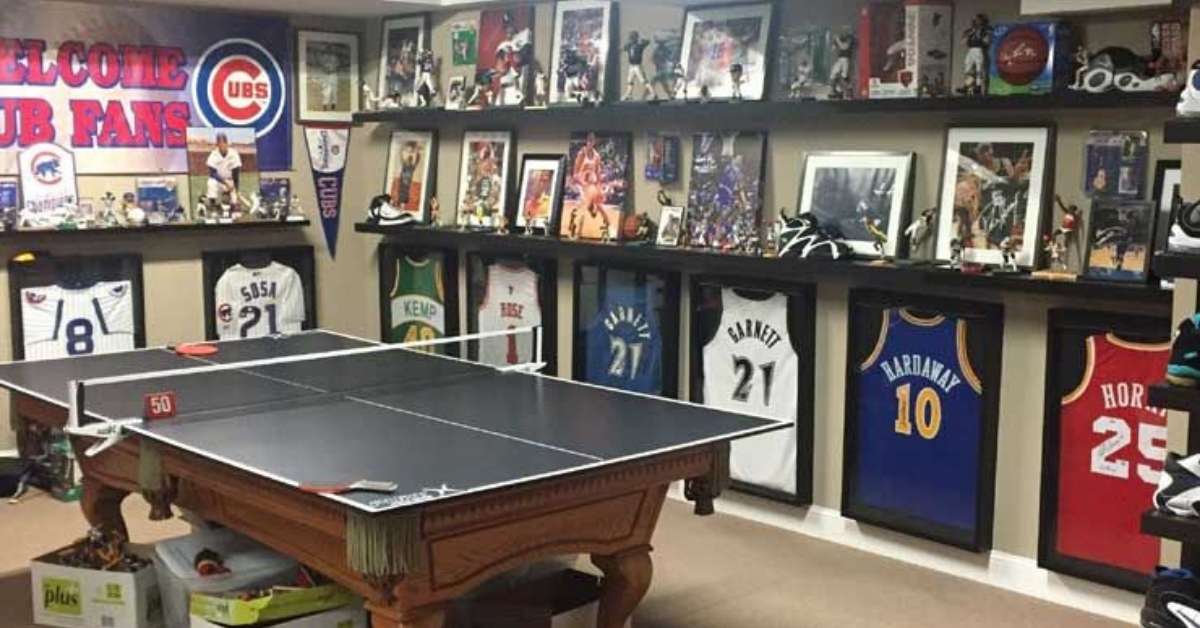 Image: Pinterest
When you love the outdoors, the last thing you want to do is stay inside. No matter how lovely your home may be, it will never have that fantastic cave feeling. You can have it, though. You can build an amazing Sportsman/Outdoorsman cave on a budget with just a little creativity and DIY skills!
Check out these for sportsman cave ideas on a budget:
Put your favorite sports stuff and pictures up.
Create a list of sports equipment you want to keep.
Choose the right sports furniture for the space.
Install a dart board and arcade games.
Use supplies you have around your house.
Cool Man Cave Ideas on a Budget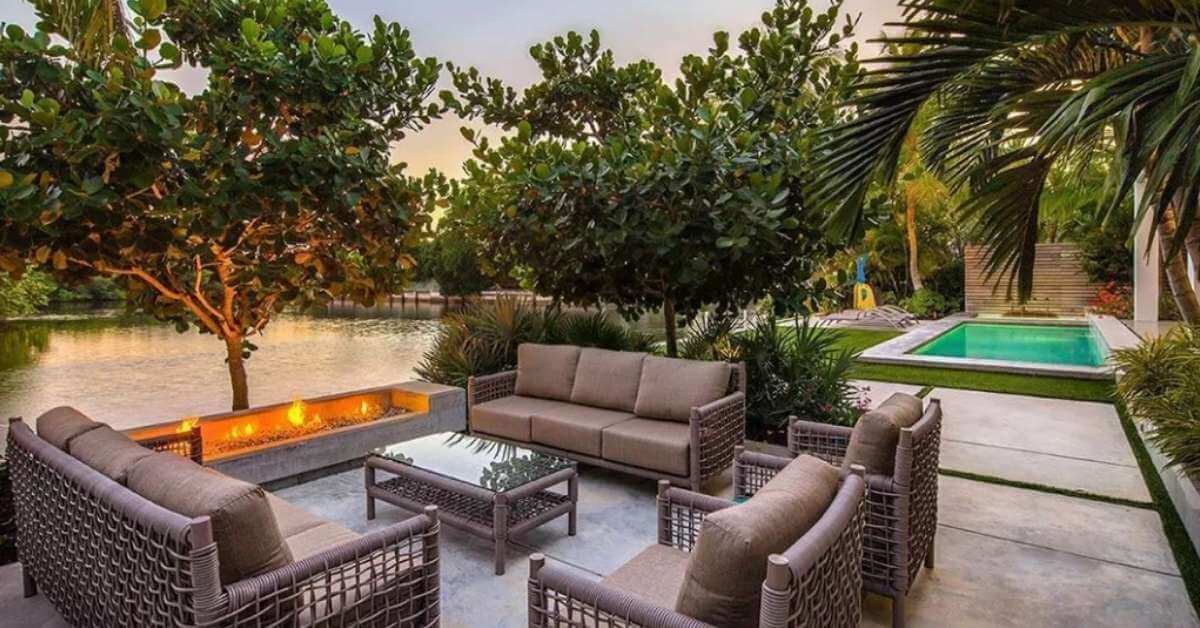 Image Source: Spacewise
Even though it's referred to as a "man cave," your own space is not restricted to the house! An outdoor living area might aid your quest when you want to unwind. If you live beside a river or already have a pool in your home, having this budget-friendly cool man cave is optimal.
Create an outdoor living room on a covered deck by setting up:
Comfortable seats and glassy table

A mounted TV 

Plant trees around for a shed
Alternatively, create a fire pit next to your pool so you can unwind after a hard day. The options for your outdoor man cave are endless!
Simple Man Cave Ideas on a Budget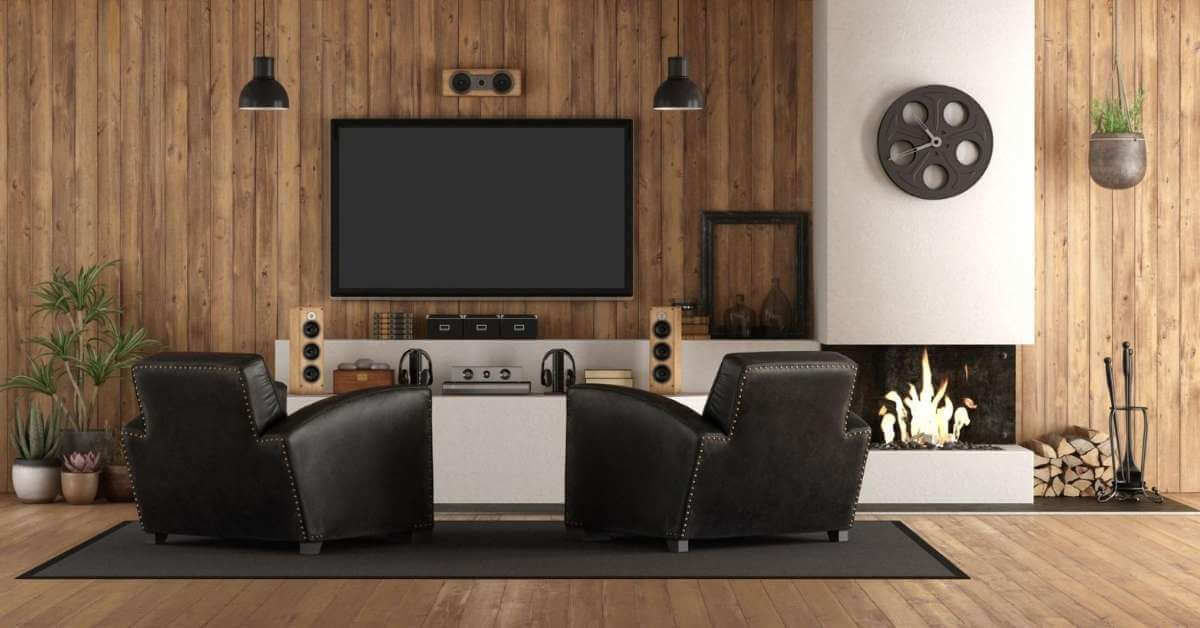 Image Source: Countryliving
Simplicity is the ultimate sophistication; it gives a classy vibe irrespective of not having too much on display. This type of set is intentional and shows that the owner knows what it wants. This space speaks more with more minor elements in place.
It is very much easy to achieve this on a budget by:
Getting two black one-seater sofa

A center rug or carpet

Lining the wall and floor with woods

Natural plants and flowers in pots or vases

Pendant lights 

Television set

Refrigerator with fire pit
There is no only way to achieve this rather than going with stuff you can afford, only that the approach must be minimal.
Garden Man Cave Ideas on a Budget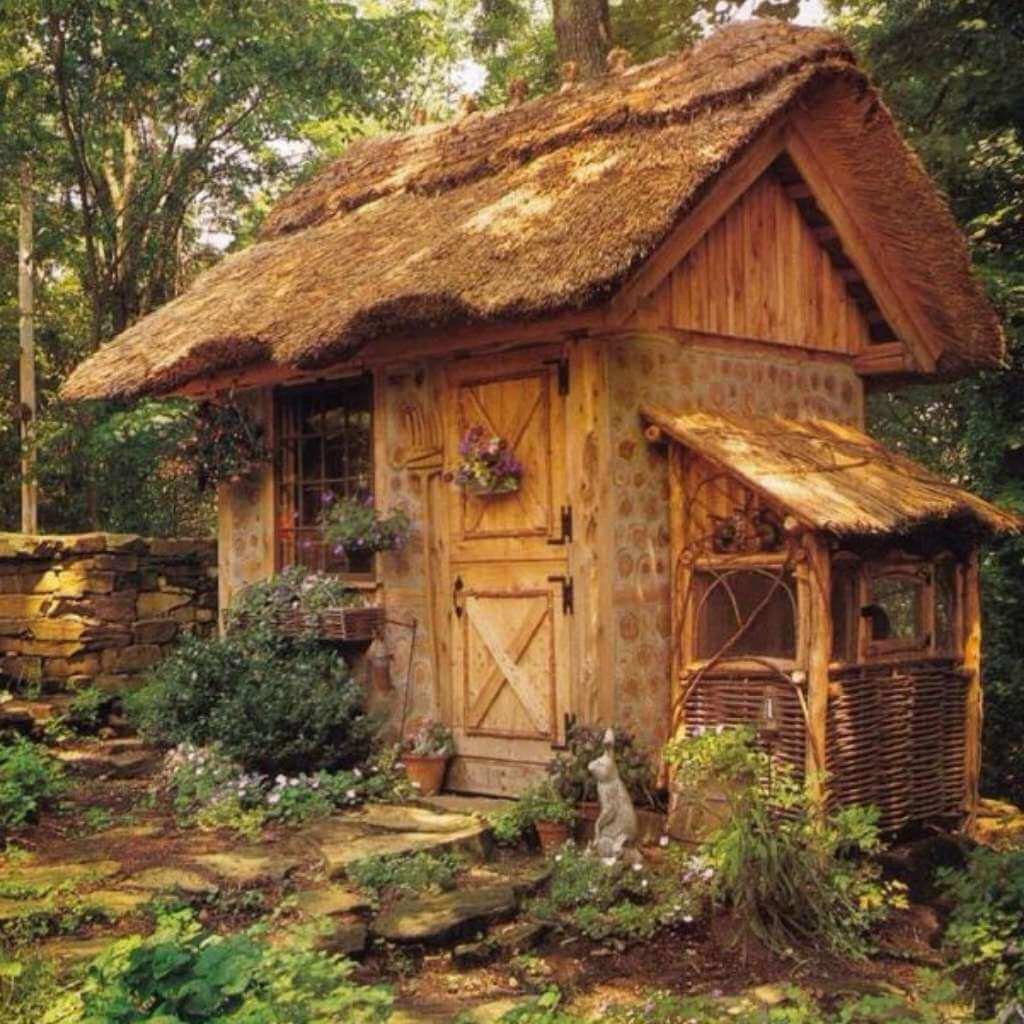 Image Source: Backyard Boss
If you are the type that feels relaxed while enjoying the beauty of nature, or you get inspired when hearing the whispers of birds and crooks of animals, this is right for you!
It might have a rustic look, but it does have a calm and mild feeling when relaxing in this garden haven, another good reason to run away from modern tech or chemical paints and galvanized roofs.
You can go with this budget-friendly garden man cave by:
Building a small house with mud in the garden yard

Thatched roofing

Small bird and rabbit hous
Shed Man Cave Ideas on a Budget
Image Source: Pinterest
Recently, building a shed man cave with woods and bricks is slightly out of style. The trick now is to get a suitable size container and make them helpful for this purpose. Exploring this idea doesn't mean you should exclude furnishing and finishings like painting. All these thrills can be added to spice it up.
Aside from its portability, it is also budget-friendly and easy to transport in case of relocation.
Here are measures that can be taken while setting this up:
Get a shipping container of a suitable size.

Make the flooring with marbles, tiles or concrete.

Get enough furniture as much as you think it's needed

Arrange other elements based on your favorite theme
Building a Man Cave on a Budget
Building a cave on a budget is dependent on a creative approach and how well you have decided to go about it. $20,000 could be a budget for some, while others are looking to achieve beauty with $1,000 or less; this is how subjective it is. For this content, we would be suggesting ideas irrespective of your budget.
Following these few steps will help you achieve a low-budget man cave:
Start by choosing your desired theme
To begin your man cave budget draft, consider the theme of your hobby, taste, personality, and passions. For example, you can structure the scene to align with your love if you're a big football lover.
Posters, painting and wall arts are another creative way to spice up your man's haven. Posters are frequently available for a few dollars. Consider exhibiting some of your stuff, such as sports trophies, beloved team jerseys, and other mementos, as additional accessories. Paint the walls to quickly and affordably modify the look of your man cave.
Before purchasing the focal point of your man cave, consider a flat-screen television; it is a significant necessity in today's world. Depending on your region, you could check around to find a deal that suits your budget. Other elements like the Karaoke stage could be created as the highlight of your man cave.
Instead of buying new furniture, decorate your man cave with secondhand items.
Look for garage sales in your community and pun shops. You could be able to get your furnishings without spending any money if you're lucky.
If you want to use a refrigerator in your man cave or you are the type that loves to have enough wine around, think about the long-term costs. A mini bar won't be a horrible idea. However, you can't have it all glittering. A table and shelf would suit this purpose till you have enough to refinish the area.
Conclusion
There's no reason to get rid of outdated furniture. You can work on it at home and utilize it in your man cave. In your man cave, always look for items that can be updated, reconditioned, or repurposed.
If you're replacing a refrigerator, put it in your man cave instead of throwing it away. You might even be able to turn it into a kegerator, allowing you to serve your beer on tap. It's not expensive, and you can do it yourself.
These are some of the budget-friendly man cave ideas, and I hope they've been helpful, but don't be scared to get creative and try your own.