If you've got a spare room and there's some space along one of the walls, why not transform it into your very own man cave?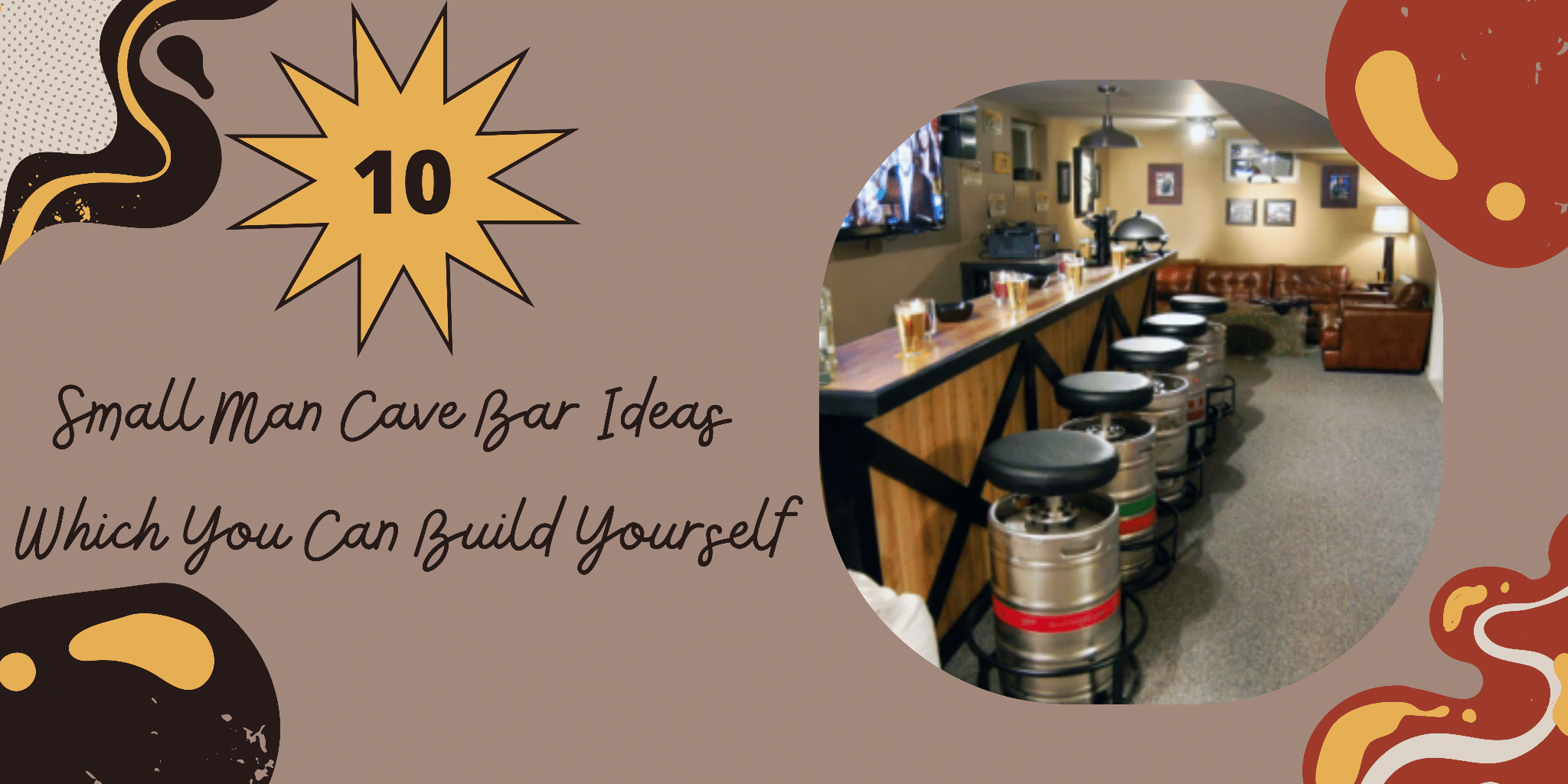 Image: Canva
The small man cave ideas are a place of refuge and relaxation for men. They have a location where they can get away from the pressures of everyday life and relax with their friends, watch the game, or engage in a significant pastime that they are passionate about. 
The theme of a man cave can be specifically tailored to suit the individual's taste. Below are just a few great ideas for setting up a small man cave bar. Learn and create one for your home!
Table of Contents
Tiny Sports Bar

Compact Cigar Room

Attic Pub Man Cave

Baseball Lover's Small Man Cave

Bar in a Shed

Mini Movie Theater Man Cave Bar

Small Corner Bar

Garage Bar Conversion

Stylish Small Man Cave

Small Home Office Man Cave
1. Tiny Sports Bar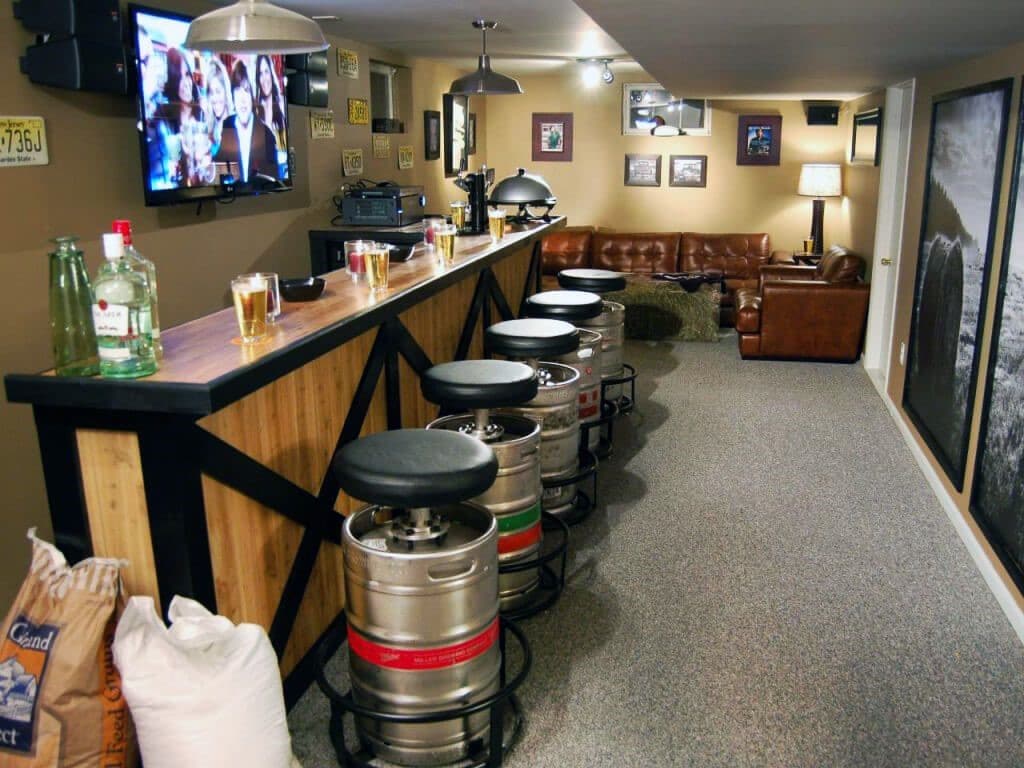 Image: Pinterest
It doesn't get much better than this! This man cave is perfect for a sports lover. The bar provides plenty of room for easy access, while the seating area allows friends to gather around to watch games or just have a good time. It comes with a cabinet that has bar stools attached and an extra tall flat screen antenna to pick up all of your favorite shows. 
Check out the tiny sports bar man cave tips:
Choose a room in your house to be your small man cave bar.

Hire someone to do it for you.

Add a mini refrigerator and flat-screen TV for

entertainment

.

Purchase some beer kegs.

Choose a theme: old school style, sports fan, collection type.
2. Compact Cigar Room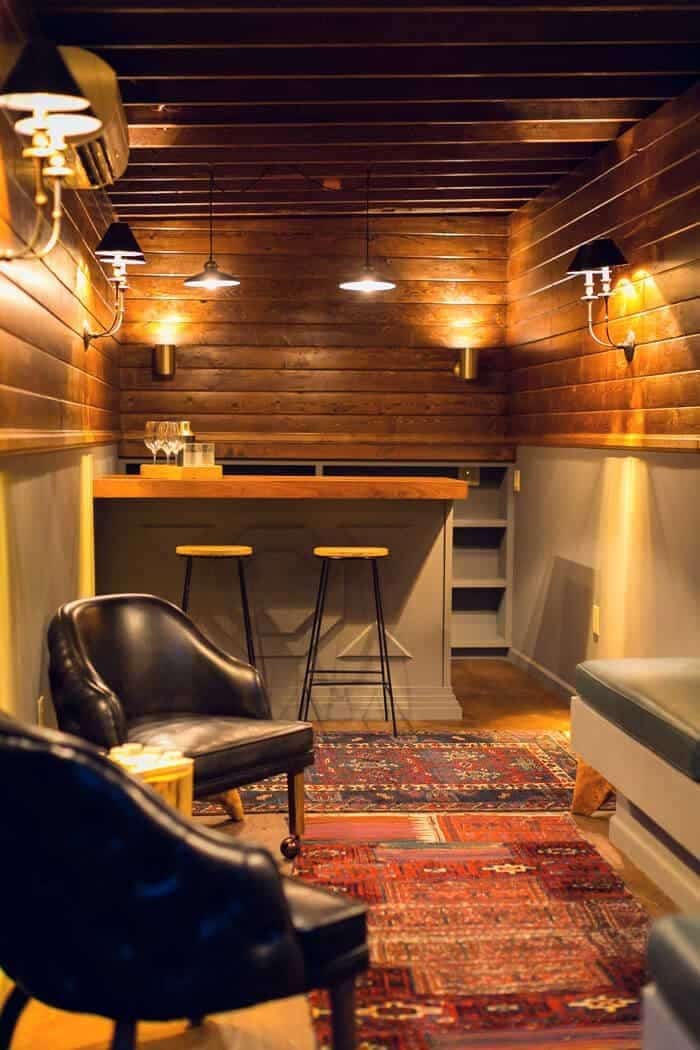 Image: Pinterest
Spend time with your buddies, relax, and enjoy your cigars any way you like in this wonderfully designed compact cigar room man cave bar. The design is beautiful, but the natural attraction is the cabinet where you store your cigars and accessories in it.
Check out these strategies for making the most of a small cigar room:
Measure out the number of cigars you want to store in your bar.

Use an accent wall to showcase your cigar collection.

Utilize a small cigar humidor and good wine glasses.

Use lights that match the entire room.
3. Attic Pub Man Cave
Image: Pinterest
Attic pub man cave bar is the perfect way to convert any space into your pub. Enjoy the best of two worlds: a man cave with everything you could want, an attic with a comfortable bar, ample storage, and great light! Easy assembly is required, but this creative design from the attic pub will make you want to invite family & friends over for fun nights full of great food and drinks.
Consider these strategies to maximize your attic pub man cave bar:
Figure out the current state of your attic pub man cave bar.

Find local suppliers for materials and fixtures.

Have dartboards and plenty of seating.

Hire a professional contractor.

Clear out space for the TV, fridge, and chairs.
4. Baseball Lover's Small Man Cave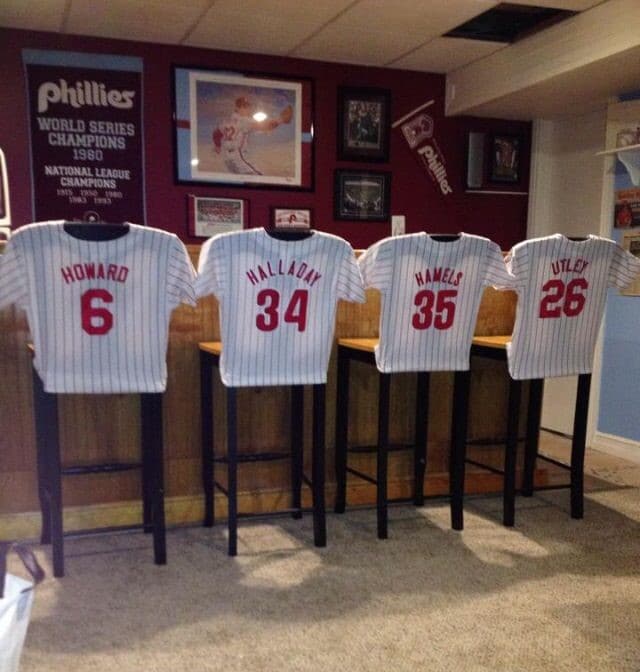 Image: Pinterest
For a baseball fan's man cave bar, this is the perfect gift. This pub is perfect for hanging out with friends or by yourself. With high-quality construction and durable materials, your bar will have a long time in front of it.
A baseball fan's man cave bar can benefit from these suggestions.:
Add a few stools and a bar top.

Add small details (lighting, decor, artwork, etc.) to make it your own.

Hang your favorite team's memorabilia.

Add some space to store your beers.

Set up your bar and line it up with a well-organized fridge.
5. Bar in a Shed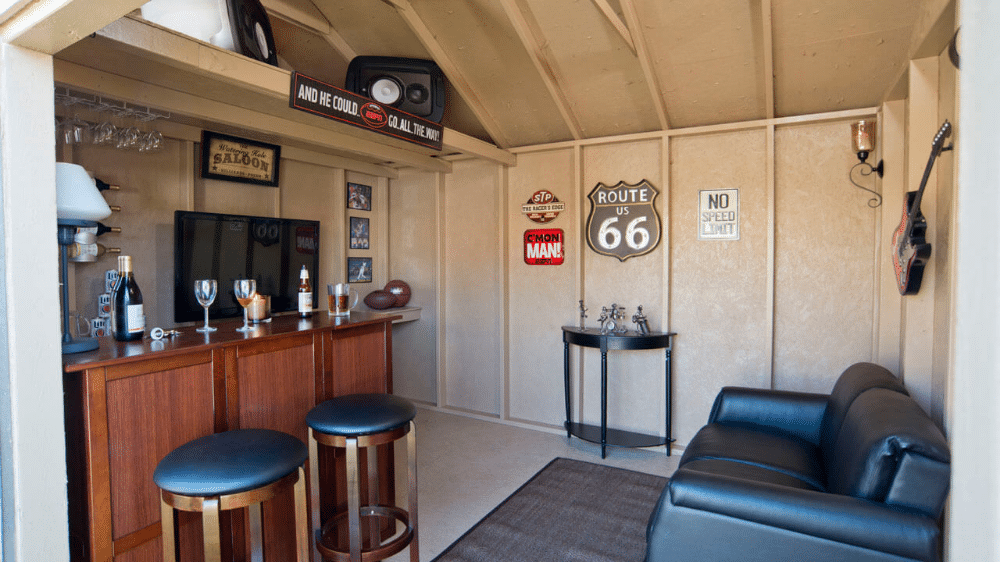 Image: Pinterest
Bring the bar experience indoors with this classy, in-shed bar. Crafted from solid wood, it's a piece of furniture that can be repurposed for multiple uses and will last for years to come. Featuring a black hammer-finish, chrome base, and brass footrest, the bar can seat up to four people comfortably while you entertain your guests or watch the big game.
Here are simple steps to get you started.
Use this idea in a shed, man cave, basement, or backyard.

Paint or stain shed to your taste, color, and decor.

Put a fridge, stereo system, and other items.

Finish it with personalized signs and decorations.
6. Mini Movie Theater Man Cave Bar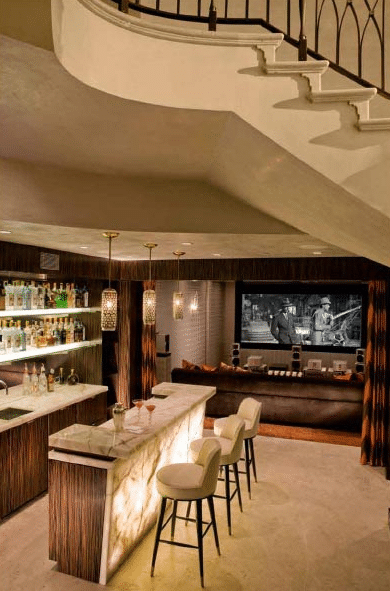 Image: Pinterest
This mini-movie theater will transform your man cave bar as it features a wooden cabinet and a giant monitor that plays movies right on the wall. It comes with a built-in projector and sound system, so you can enjoy watching TV, sports, or movie nights in your theater. With four speakers and wireless remote control, this sleek mini home theater is easy to operate.
Check out this mini movie theater man cave bar tips:
Keep it simple with one color, dark hardwood floors, etc.

Stream movies on Netflix instead of regular TV.

Match every light in the room.

Buy your favorite alcoholic drinks and foods for the guest and store them for the upcoming event.
7. Small Corner Bar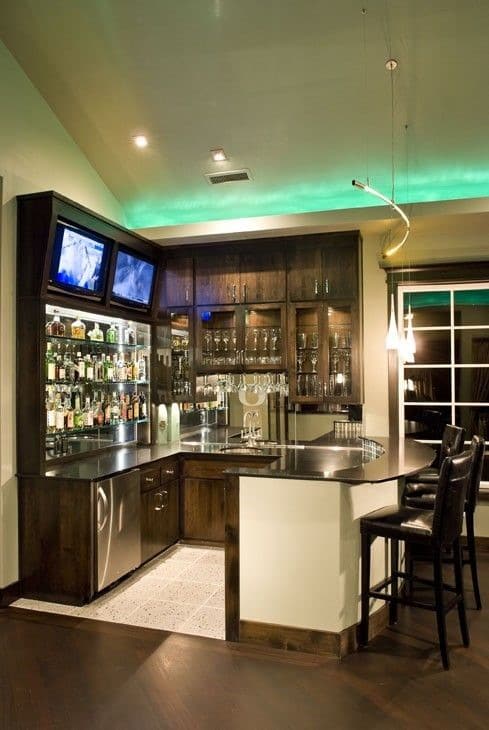 Image: Pinterest
The small corner man cave bar is an excellent addition to any man's home. Whether it's your living room, basement, or garage, this bar will provide you with all the essentials for entertaining guests and enjoying family time. The built-in storage and tiny refrigerator in this little corner bar make it ideal for enjoying cold beverages while you watch sports, entertain guests, or listen to music.
Check out this small corner bar-great value idea:
Use cheap material and bulk items.

Find inspiration and ideas for manly decoration.

Use the brown color theme.

Make it comfortable and inviting.

Choose from a selection of alcoholic beverages.
8. Garage Bar Conversion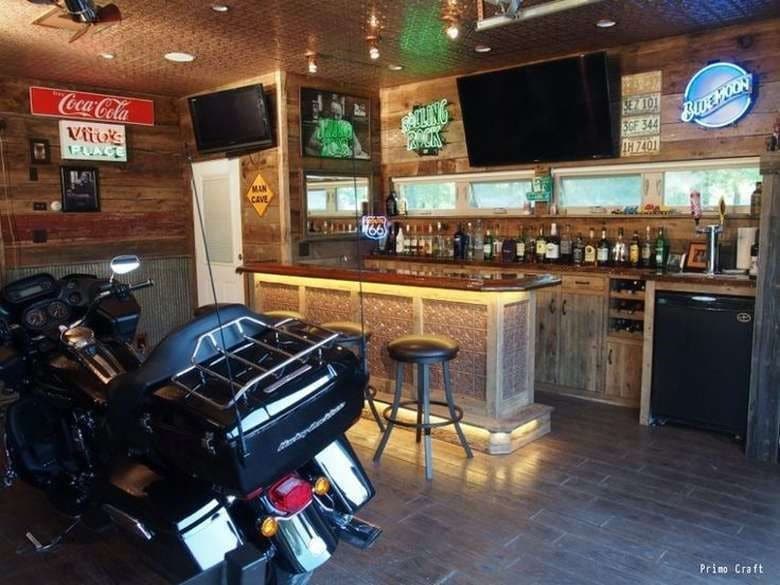 Image: Pinterest
A perfect conversion from garage to man cave! This bar comes with everything you need to convert your garage into a fully functional, entertaining area, complete with an ice cooler, glass shelving, and back bar. It's a perfect addition to any garage.
Check out the garage bar conversion idea:
Make a DIY or hire a professional.

Plan and budget it.

Add some board games.

Use futons or furniture as seating.

Make it cozy.
9. Stylish Small Man Cave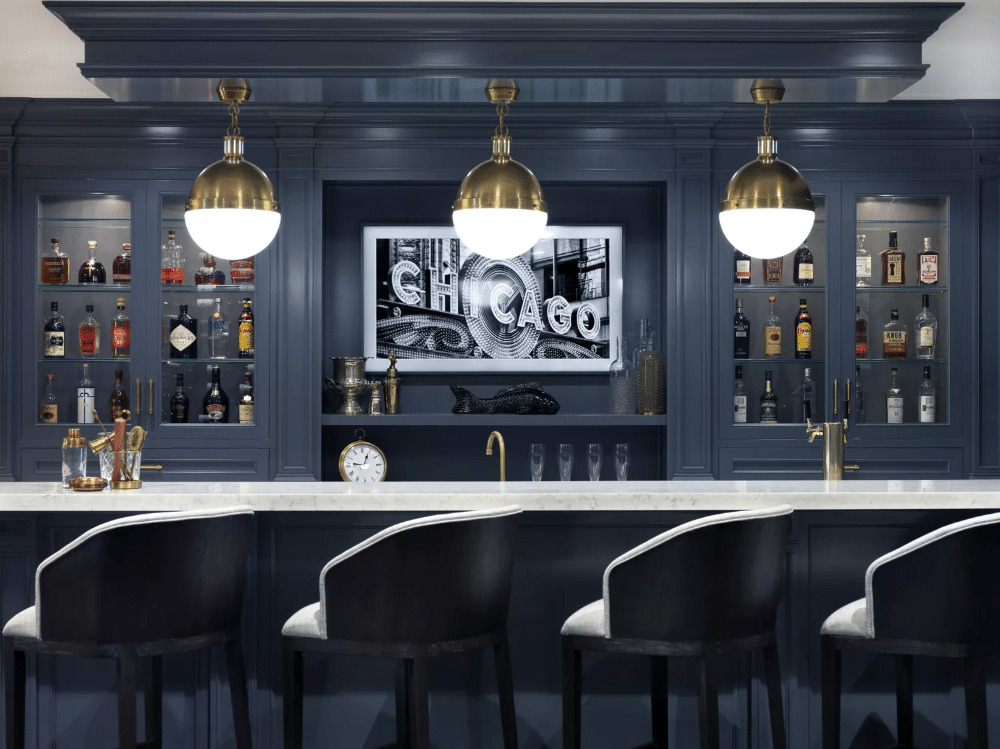 Image: Pinterest
Get ready for the ultimate man cave. This stylish and multifunctional small bar is just what you need to unwind, relax, and enjoy a taste of refreshment fully. The attractive cabinetry with door and drawer functioning makes it perfect for guests visiting you. It looks great in any room of your house!
Here are a few stylish/simple design ideas for your man cave:
Use things that you usually wouldn't use.

Buy a dartboard.

Get a mini pool table.

Paint the color of the dark walls that matches the entire theme.

Add a new and comfy chair.
10. Small Home Office Man Cave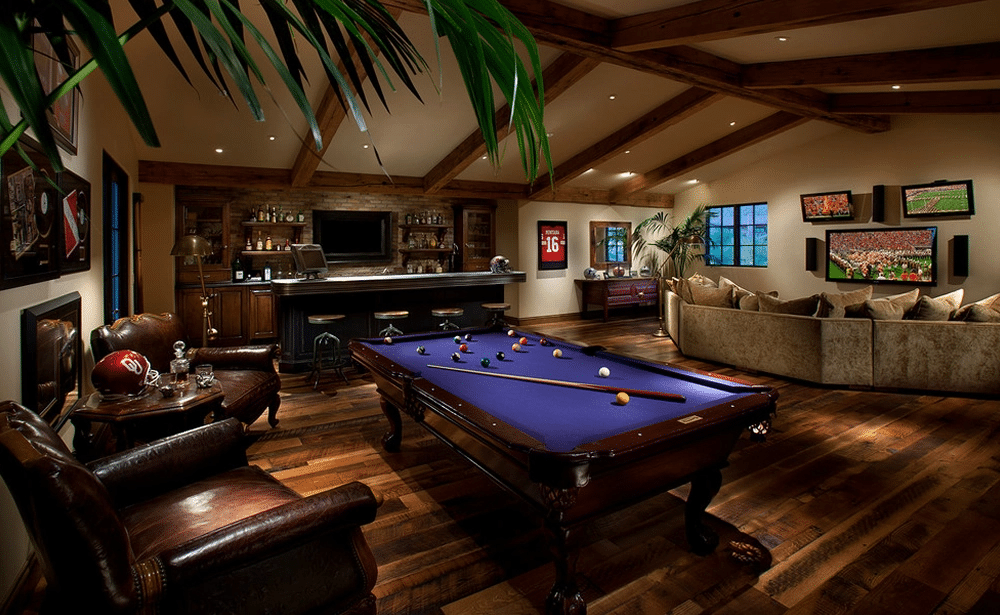 Image: Pinterest
The monotony and tension of working at a desk all day necessitate a getaway to your man cave. This bar was designed for the home office but could also be any room in your home or apartment.
Create a small home office man cave bar with these tips:
Buying a small refrigerator and putting it below the bar to keep the drinks cold.

Find a cheap corner table.

Invest in a home office couch or chair.

Install some rustic wood panels on the walls.

Mount your flat-screen TV.

Improve lighting with LED bulbs.
Takeaway
Hopefully, these small man cave bar ideas have provided you with some inspiration on how to start a man cave bar. At the very least, I hope it inspired you to look around your basement, garage, or unfinished attic to find the best place to build this awesome bar.
Visit Guy About Home for more of these exciting ideas!
It's also important to check out the articles listed below, which will provide you with a wealth of information.