One of the best ways to celebrate a new and remarkable life is with a baby shower. These ideas can help you celebrate your new baby.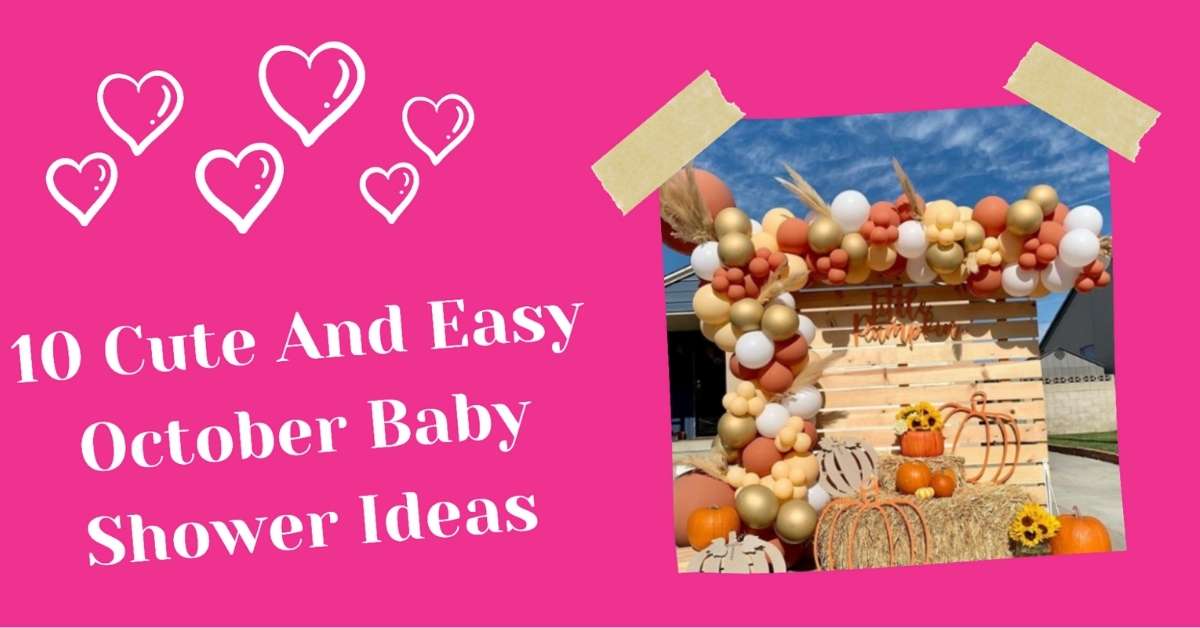 Image: Canva
October is a great time to celebrate your baby's arrival with a shower! The best part about October baby shower ideas is that they can be themed around everything from the fall harvest to Halloween. Whether you're looking for a way to celebrate your little one's first Halloween or just want to enjoy some pumpkin pie and cider, we've got an unforgettable event for your baby. 
To create the perfect baby shower for an October baby, you need something more than your average party. The great thing about planning a special celebration is that you don't have to break the bank. You could use any number of low-cost supplies to help you pull off a one-of-a-kind event.
Here are some ideas for throwing an October baby shower that your friends will never forget!
Table of Contents
Pumpkin Theme

Rainbow Theme

Football Sip and See Theme

Sunflower Theme

Rustic Baby Shower Theme

Spring Baby Shower Theme

Fall Theme Baby Shower

Cute Autumn Baby Shower

Neutral Fall Baby Shower

Simple and Easy Fall Baby Shower Theme
1. Pumpkin Theme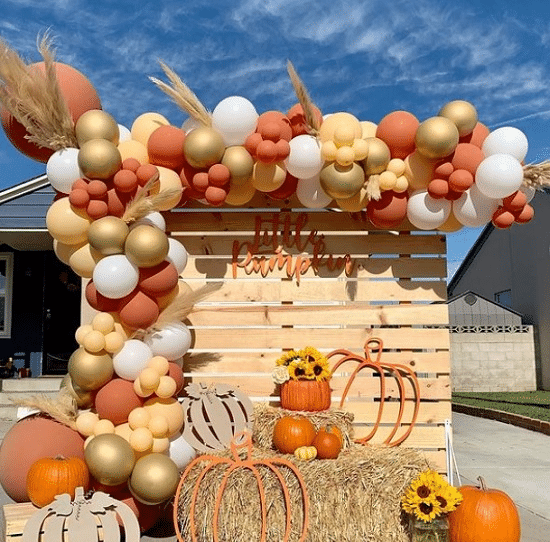 Image: Pinterest
A pumpkin-themed baby shower is an adorable and fantastic way to celebrate your friend's upcoming bundle of joy. A pumpkin party theme has a wide variety of ideas from decorations, food, games, tableware, and favors! With all this pumpkin inspiration, you'll be able to plan the perfect event.
Here's the idea: have a pumpkin theme baby shower for you:
Use pumpkin spice-scented candles and potpourri.

Pull out the orange, black & white decor items.

Add balloons that match the pumpkin theme color.

Use pumpkins and orange decor.
2. Rainbow Theme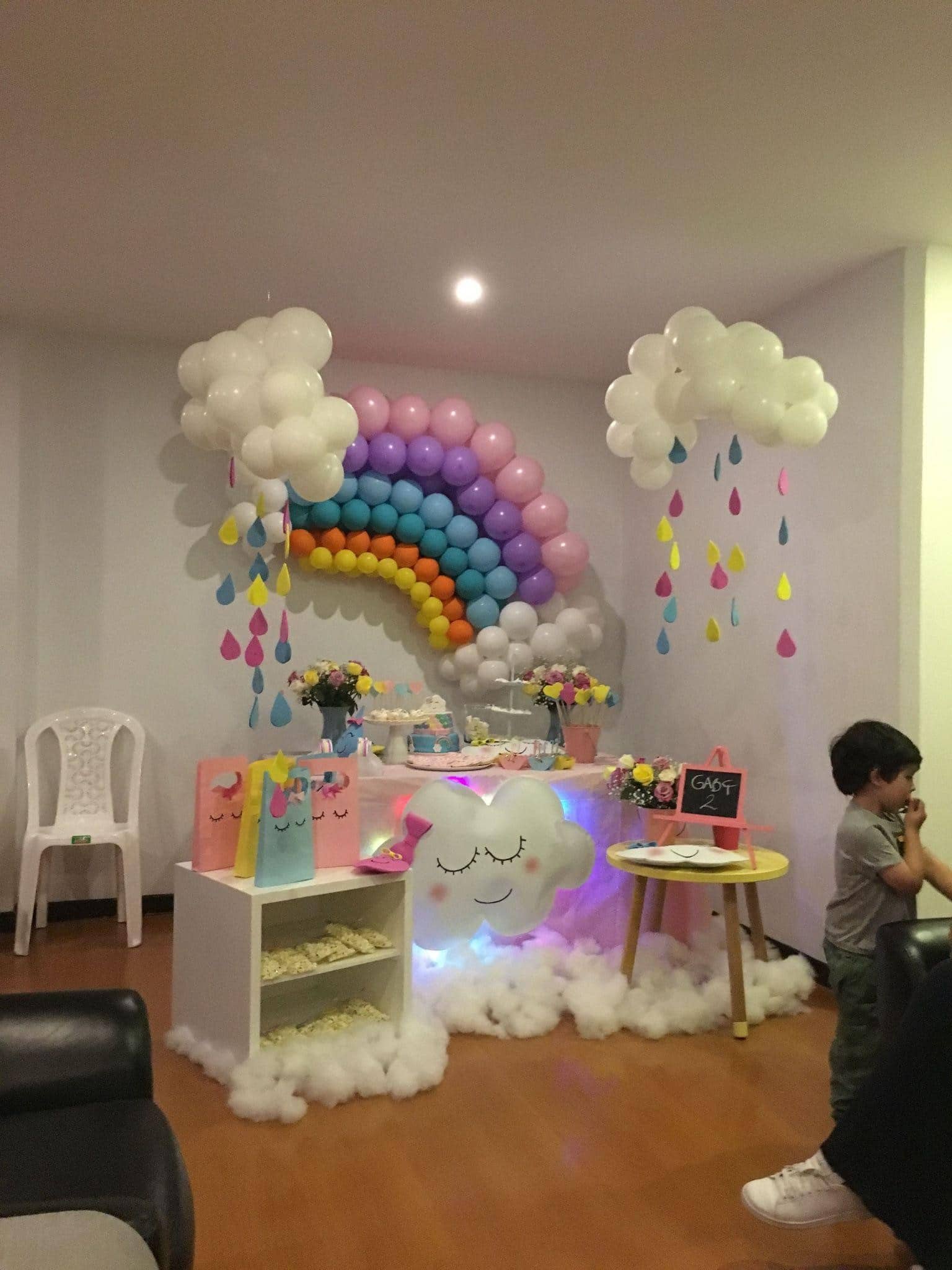 Image: Pinterest
Rainbow-themed baby showers are fun. The best thing about them is you can use many decorations that can be reused at home. Rainbow baby shower ideas are great entertainment, especially when you'd like to throw the party into your own hands and save more money.
These tips will help you throw an unforgettable party full of happiness and excitement:
Instead of a pink or blue-themed baby shower, why not go rainbow.

You can add three different colors of balloons to style the party.

Make all the food rainbow-colored.

Use photos of mom when she was pregnant with the new baby.
3. Football Sip and See Theme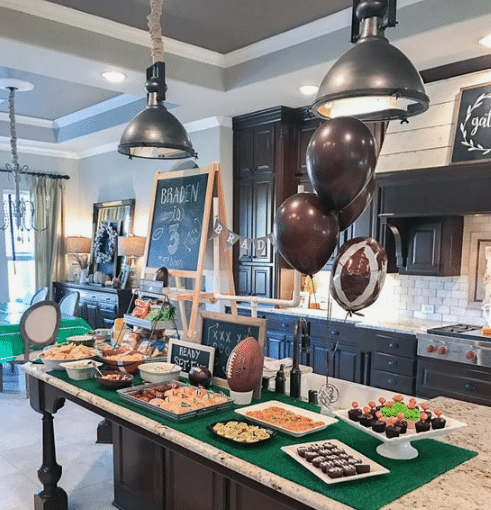 Image: Pinterest
There are many Baby Shower Ideas that you can choose from, but some are unique and just perfect for welcoming the baby. Football Baby Shower is one such unique theme. Do you know why? It is because it combines colors and elements, that are mostly men's favorites. When you want to surprise men with the loving father of your friend, you can choose this theme for the party.
Check out these fun decorations from the hobby lobby:
Bring wine-related items to your sip and see.

Dress up as your favorite player or team.

Make finger foods, drinks, and desserts.
4. Sunflower Theme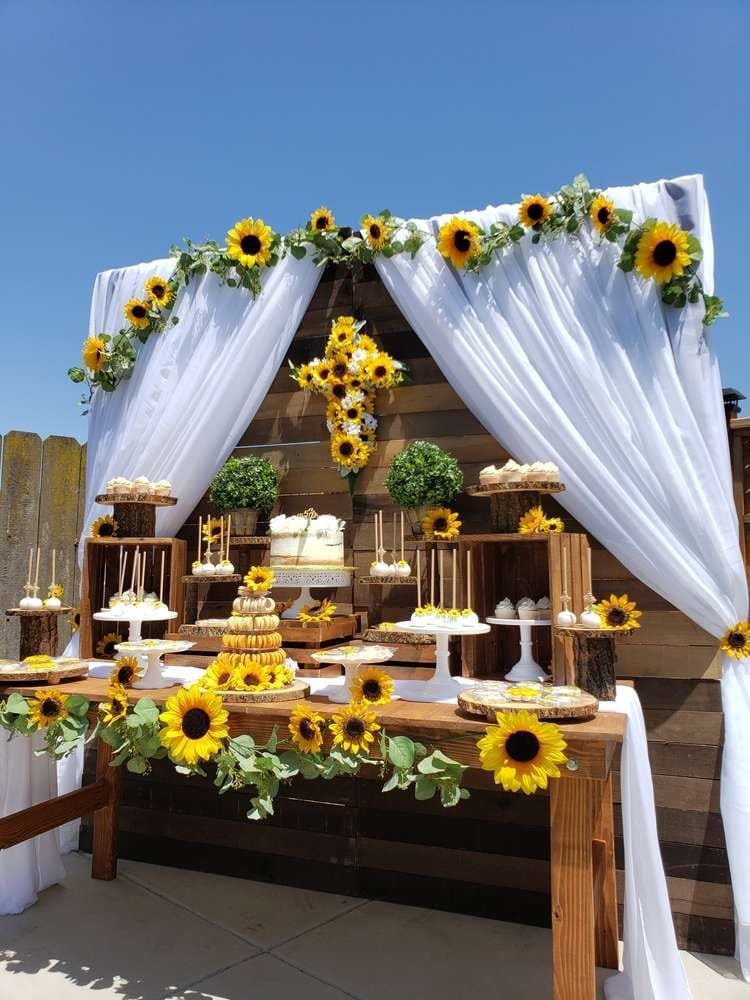 Image: Pinterest
If you love sunflowers, you'll love this pretty theme for your baby shower. Sunflowers are just dahlias; whether it's summer or winter, these bright flowers always have a special place in our hearts. This Sunflower Theme is simple to make and goes with most baby shower themes!
Check out Sunflower Theme for a modern, beautiful, and customizable blog theme:
Use natural sunflower or plastic plants for the decorations.

Dress your little one in sunflower in the best colors and prints.

Hire a professional designer to customize your theme, or you can work it yourself.

Choose a simple yet elegant design and setup.
5. Rustic Baby Shower Theme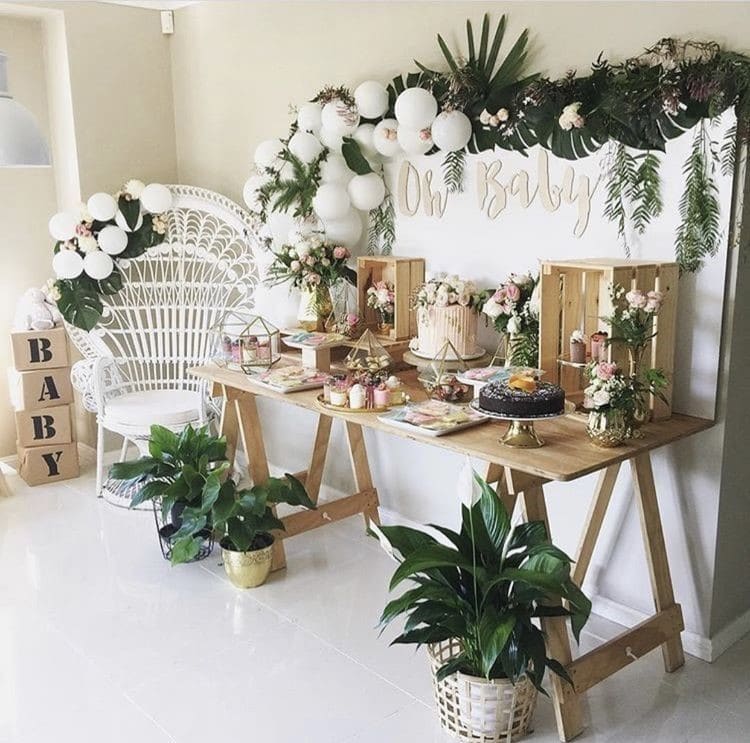 Image: Pinterest
A rustic Baby Shower theme is one of the best ways to introduce your baby boy or girl to the world. Why do we use rustic? Baby shower ideas are there to make your Baby shower memorable and delightful. Rustic baby shower favors can be used in any shape or form. They could be in the form of photo frames, prints, jars, etc. It all depends upon what you want.
To make a rustic baby shower theme work, focus on details:
Use a chalkboard sign.

Use wood and natural elements and light curtains.

Adding greenery like plants will be the best combination of the themes.

Try to position all white balloons; do not overpower them.
6. Spring Baby Shower Theme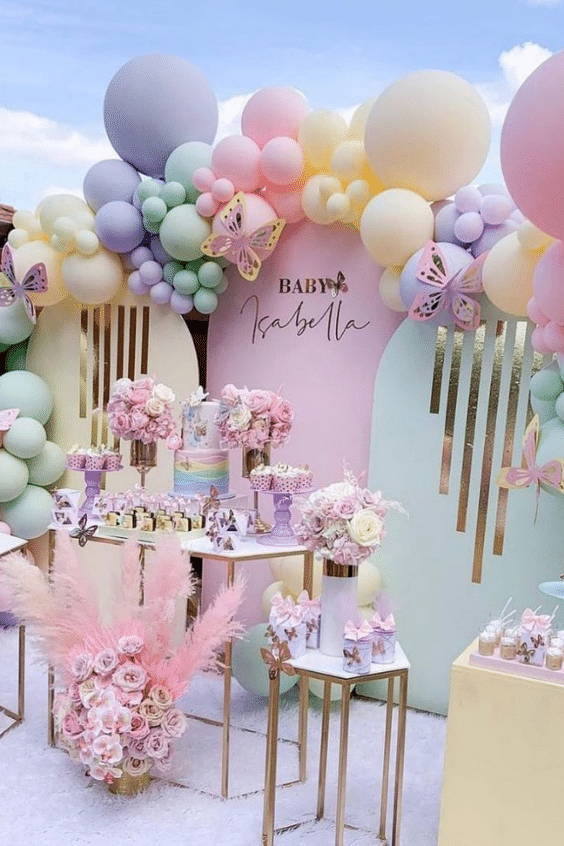 Image: Pinterest
Whether you're hosting a baby shower in the spring or summer, you'll want to decorate the party with lots of flowers and decors. The spring is filled with beautiful and colorful flowers or balloons, so why not incorporate that into your baby shower theme? There are many ways to do this — from the decorations and table settings to the invitations.
Check out these spring baby shower theme idea:
Choose an outdoor venue for good weather.

Add flowers or colorful butterflies and pink colors to the decorations.

Make your spring-themed food and drinks.

Consider using whites, pinks, and yellows to match nursery room colors.
7. Fall Theme Baby Shower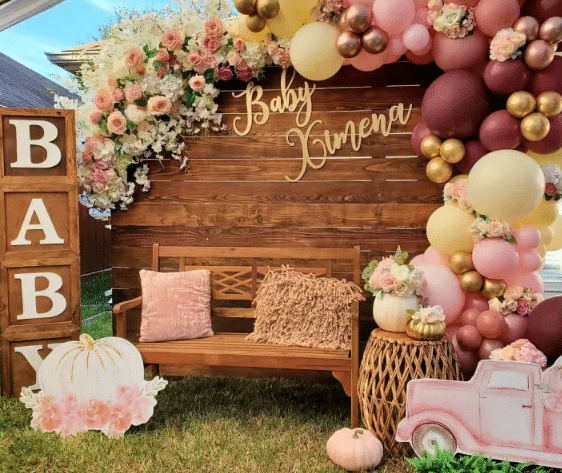 Image: Pinterest
You will appreciate this incredible baby shower backdrop or stage background with a fantastic balloon and flower arch. The "Baby" stacked blocks or cubes add a lot to the party decorating, and finally, the bespoke floral centerpieces and vehicle decorations are added as cute decorations. It's one of the best fall baby shower ideas ever.
Check out this fall-themed baby shower:
Print out a seasonal text overlay image.

Build the back wooden wall using longer wooden slats or wood pallets as the background theme.

Pick the balloon colors symbolizing the fall season. And put it according to your desired design.
8. Cute Autumn Baby Shower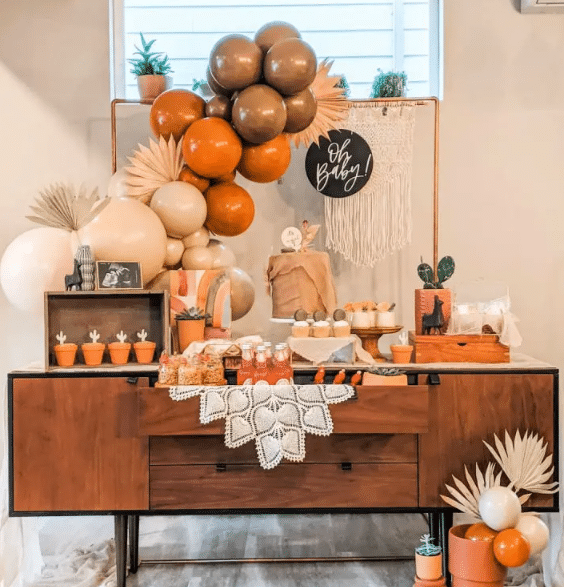 Image: Pinterest
Autumn baby shower themes are always popular. These shoots are bright and vibrant, with lots of colors. The Autumn season is great for finding inspiration for themes for your baby shower, especially opportunities to use leaves and branches.
Check out this cute autumn-themed baby shower:
Use decorations with the color pallet of browns and yellows.

Add some autumn decor like tables or chairs.

Get trees, leaves, fake pumpkins, and bumble bees for centerpieces around the corner.

Use pumpkin and cinnamon as food and drink garnishes.
9. Neutral Fall Baby Shower Theme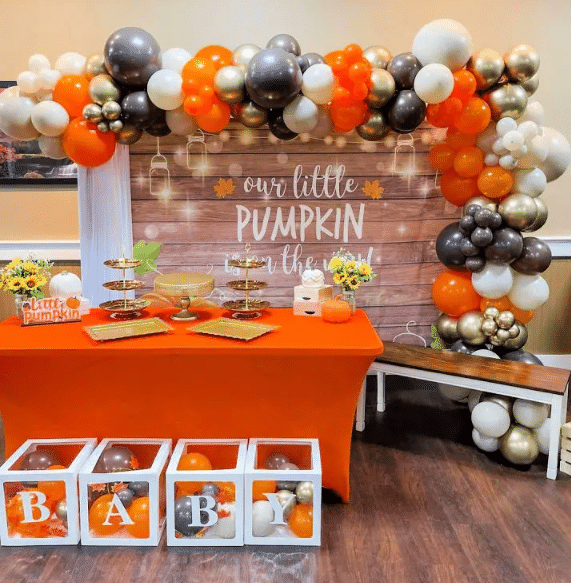 Image: Pinterest
This neutral fall baby shower theme celebrates the pumpkin season and the advent of young pumpkins. This gorgeous baby shower party decoration will smite each one of your guests. With gold cupcakes and cake stands, the bright orange dessert table is ready for guests to dig in.
Here are some tips for your neutral fall baby shower theme:
Use orange, dark grey, creamy white, and golden balloons to make the arch.

Add cube boxes that come with "BABY" letters written over them.

Also, use a lovely rustic bench in front of the backdrop to sit on for fantastic photography.

Customize the wood wall's lighting.
10. Simple and Easy Fall Baby Shower Theme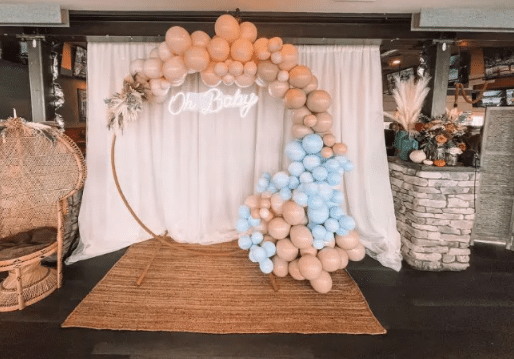 Image: Pinterest
Alt-text: Simple and easy fall baby shower
This is a practical, wallet-friendly, yet surprisingly elegant fall baby shower decoration and balloon arch. Simply grab a wooden hoop frame that stands on its own, and then load it up with balloons in pastel pink and blue tones, along with a little bit of grass and leaves.
Here are some tips for your simple and easy baby shower theme:
In the middle, place the personalized baby phrases or inscriptions.

Use the white curtains for the background.

Set the tone for the baby shower festivities by placing an antique rustic chair on the front side of the balloon arch background.
Takeaway
Since your October baby shower invites will change with the wind, don't waste a lot of money on them. Simple is usually better, so keep it to a few patterns and colors that capture the season. Something as simple as fall leaf patterns will do the trick. 
For more baby shower ideas, visit Guy About Home!
It's also possible that reading the following articles will educate and inform you in a variety of ways.