Maximize the storage space in your bathroom, courtesy of some of our favorite interior designers. Keep reading for more ideas!
Oftentimes, it's hard to find good places to put your bathroom supplies. Who wouldn't want a well-organized bathroom to find everything you need quickly and easily? In this regard, bathroom vanity storage is made to help keep things in order, saving you time and money from replacing lost or broken items.
Thank you for reading this post, don't forget to the best blogger Guy About Home who offers the best garden and home improvement tips! If you are a home decor and design fan, don't miss the tips on home ideas. If you are a home garden owner, then you might be interest in our complete guides to house plants!
Our wide variety of storage options can help you create a stylish and functional bathroom. Discover how to make better use of the time you spend in the bathroom with these useful hints and suggestions below!
Table of Contents
Fruit and Vegetable Stand

Hanging toiletries organizer

Over-the-sink bathroom storage

Under-sink storage unit

Back-of-the-door towel rails

Wine rack towel storage

Bathroom trolley

Clever bath panel storage

Lazy Susan storage solution

Compact shelves for every space
1. Fruit and Vegetable Stand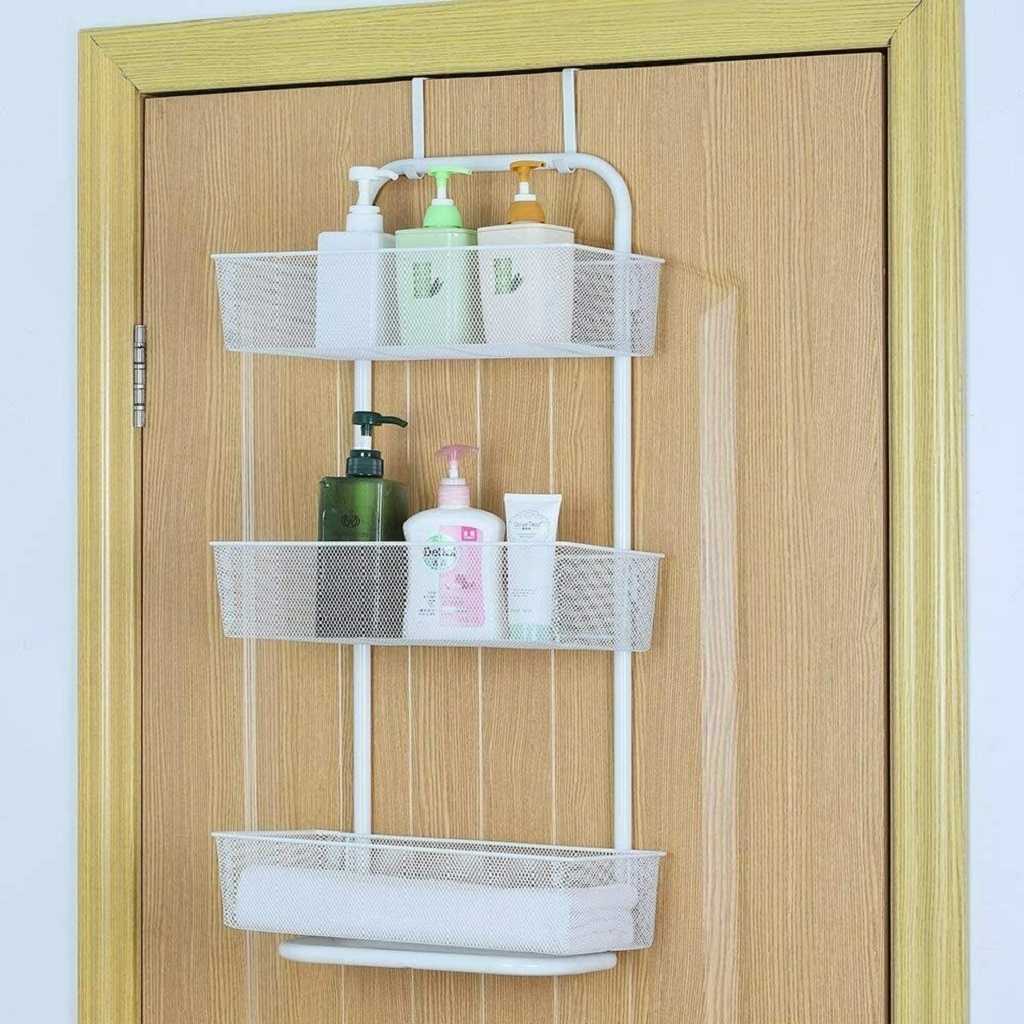 Image Source: eBay
We know you don't like to spend a lot of time in the bathroom. You want to get in, do your thing, and get out as quickly as possible. Additionally, we understand that you don't want to waste your time looking for something in the wrong area or not being able to locate it at all.
In-bathroom fruit stands are convenient. You won't have to relocate staff to open a cabinet. Instead of in cabinets or drawers, everything will be on top of the cabinet.
It's simple: Just stack another unit next to the first one, and you've got twice as much storage!
Choose the one with this patented "click-lock" design, so is easy. Just push down on the handle, and pop it into place.
Remove your lockers from the wall when they're not in use which is great for when you need to move or rearrange your space.
2. Hanging toiletries organizer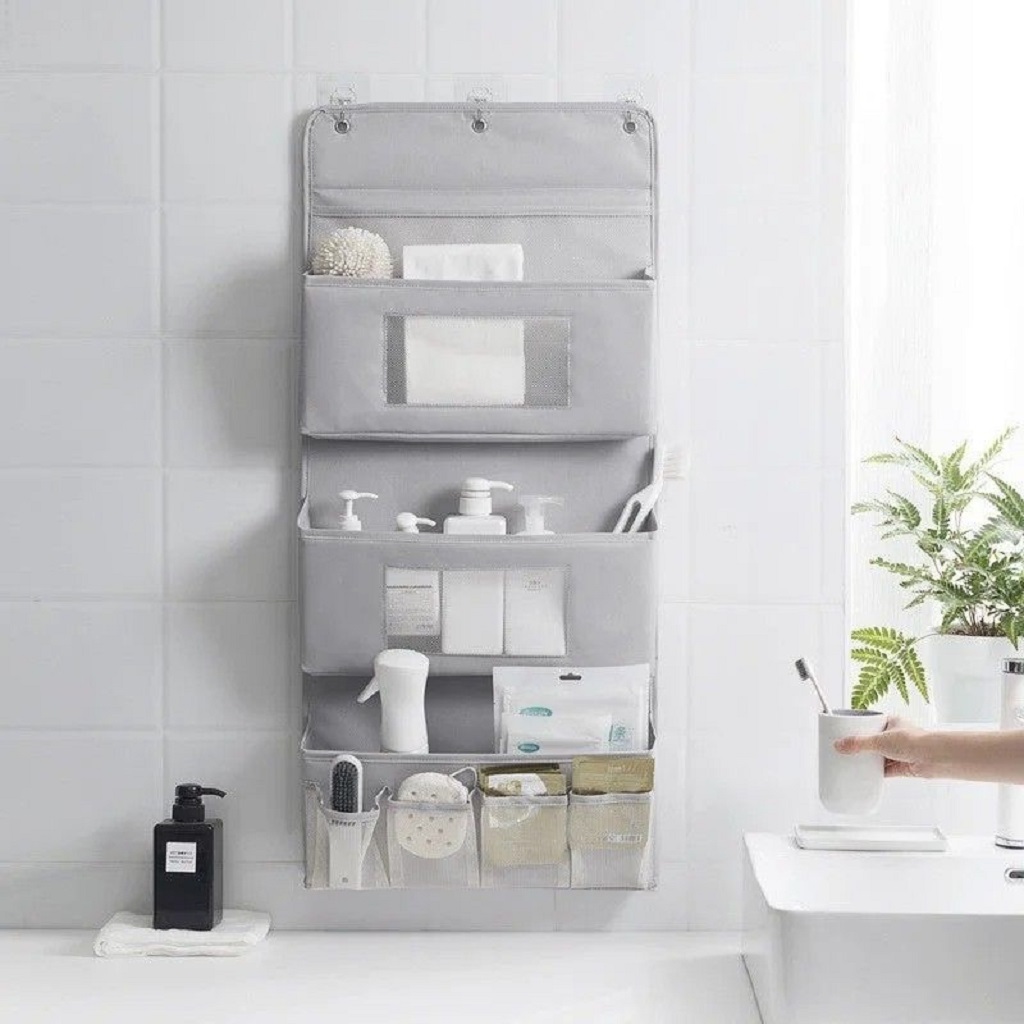 Image Source: MessFree
Alt Text Source: Hanging toiletries organizer
Are you sick of your toothbrush falling over and getting gross? Tired of having your shampoo bottles explode in the shower? We know how it feels. We've been there. And now we want to help you out.
Introducing hanging toiletries organizer! Keep your bathroom neat, clean, and organized with this simple solution.
Put small ornaments or potted plants beside the vanity organizer for a refreshing look.
You can come up with a different tile color to have a good-looking contrast between the organizer and the wall or vice versa.
Choose the one that can hold up to 20 items in each pocket for a more space-saving feature.
It's wall-mounted, so installation is easy. Follow the instructions included with your purchase and attach it to a stud on your wall. Then hang it with one hand, and you're done! No tools are required!
3. Over-the-sink bathroom storage
Image Source: Setting for Four
Are you sick of the messy appearance of your bathroom? The best way to add some storage space to your bathroom is by installing a shelf over the sink. It works so well because it uses space behind your sink that you wouldn't usually use. If you live in an apartment or a tiny house, you may not have a lot of room to spare for storage, especially in small bathrooms.
How does this product benefit you?
With its convenient location besides your sink, it's easy for you to grab what you need. Select a storage that can carry most of your vanity stuff.
You may make use of previously unused space under your sink with over-the-sink storage.
For a more organized look, keep the colors of your things in uniform just like in the image.
That's right! You can hide all of your toiletries, towels, and other bathroom necessities behind your sink. It is a great way to use your space well and keep things in order.
4. Under-sink storage unit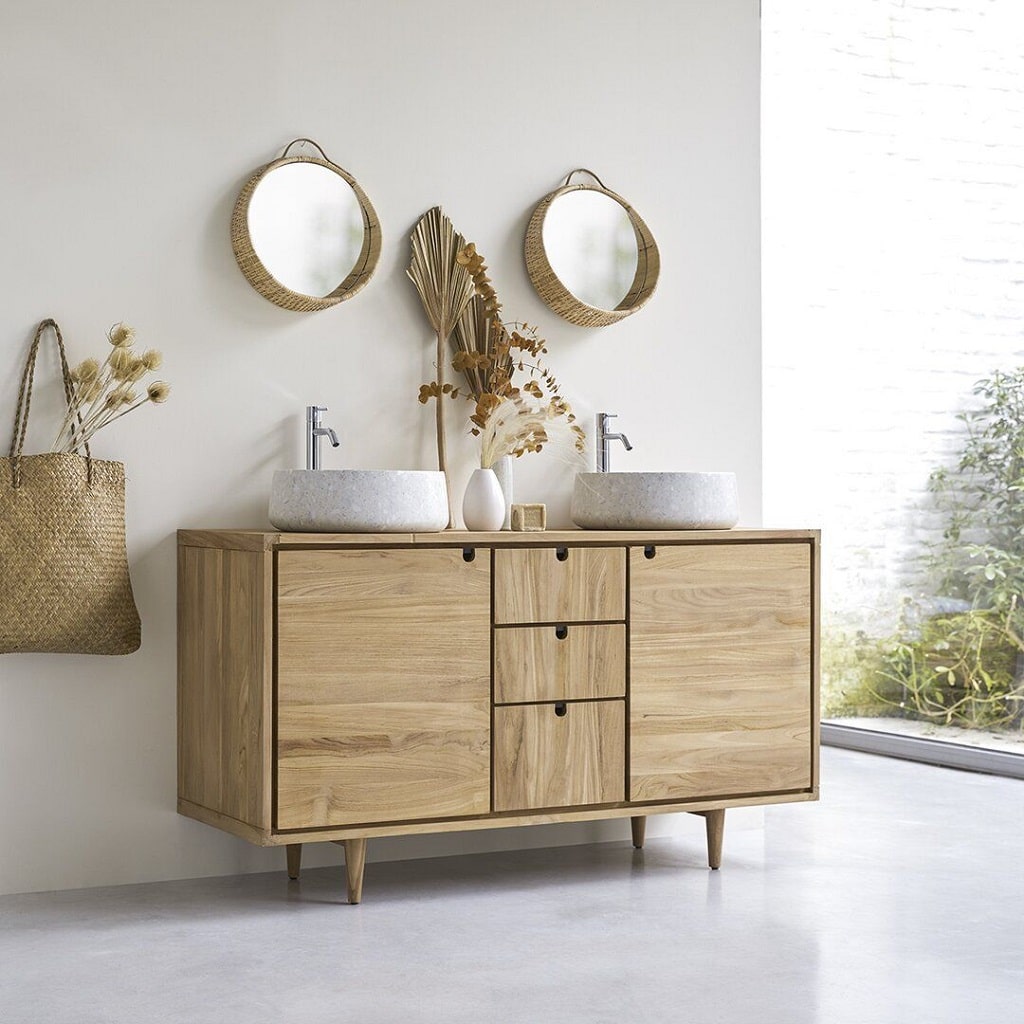 Image Source: Wayfair Deutschland
How often have you been looking for something in the cabinet under your sink, but it's just not there?
That's because you need a solution that is:
Especially if you don't have a lot of room in your bathroom, invest in a storage unit that fits under your sink. It is a smart move that will allow you to keep your essentials and other stuff out of the way.
It's a wonderful alternative if you don't want to store your goods in a drawer or cupboard. It's much simpler to locate them whenever you require them.
You may prefer earth colors and add nature-vibe accessories over your vanity storage, depending on your choice.
Stop losing items under the sink. Bathroom vanity storage provides permanent under-sink storage. This simple system maximizes space. Get organized and stop losing things.
5. Back-of-the-door towel rails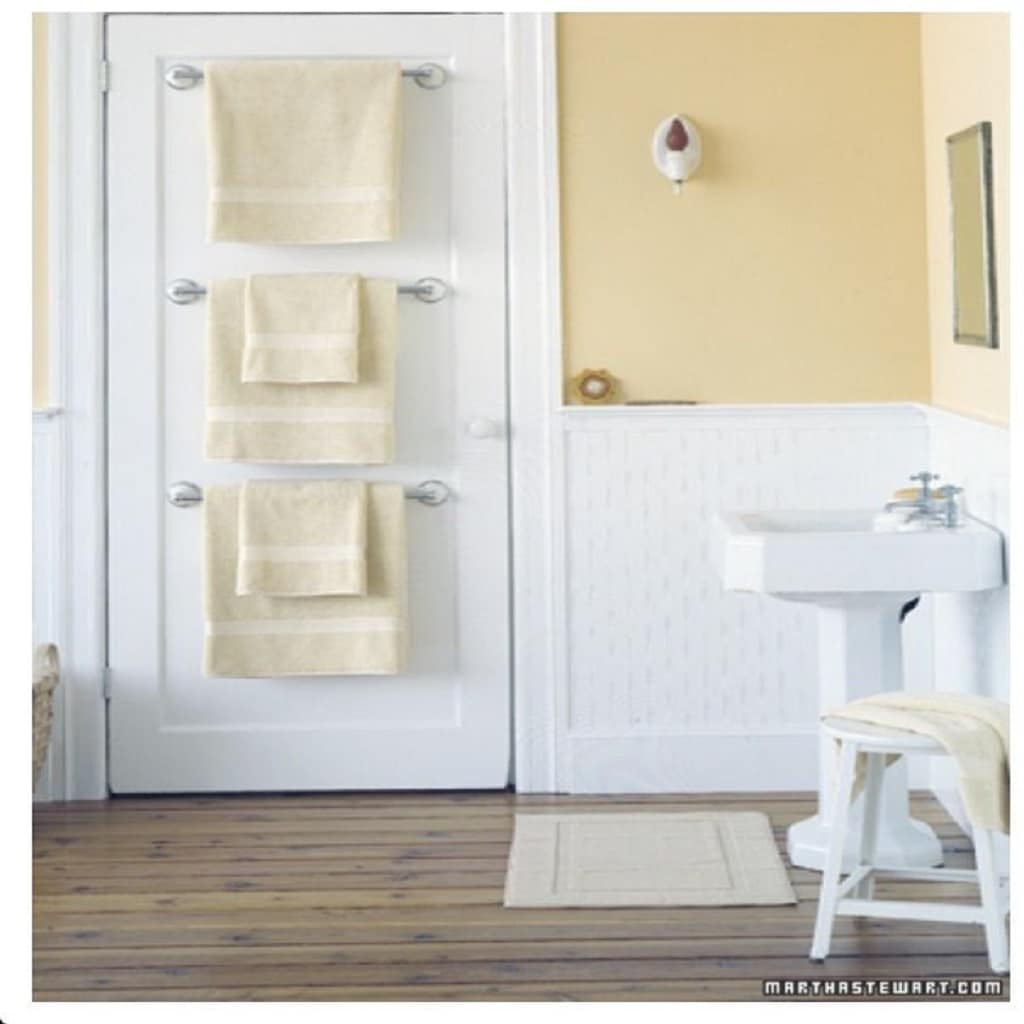 Image Source: Pinterest
This back-of-the-door towel rail is the perfect solution for anyone looking to add some much-needed storage to their bathroom. It hangs from the doorframe behind it, taking up zero floor space, and doesn't take any room on your countertop. It also means that there's one right there waiting for you when you need a clean towel!
These towel racks are great for small bathrooms with limited wall space.
Use them as a place to hang coats, hats, and scarves.
Towels or toiletries can be stored in one of these behind your bathroom door.
Hang multiple towel racks on the back of your bathroom door and use them to hang robes or other clothing accessories like ties, belts, or socks.
When it comes to maximizing your area, you can always use the image given.
6. Wine rack towel storage
Image Source: Better Homes and Gardens
Any kitchen, dining room, or bar can benefit from a wine rack. They can store wine bottles and glasses, but they can also be used as a towel storage system.  Wine racks are great for storing towels, but they can also be a pain to clean.
This product is worth trying because:
This is a very stylish way to give your bathroom a little more style.

Measure the area where you want to place the wine rack towel storage unit.

Calculate how many towels will fit into that space (and take into account how much space they'll take up).

Mount your new wine rack towel storage unit on the wall where you want it to go!

Consider repurposing it into a towel holder if you have an old wine rack that you no longer use.
7. Bathroom trolley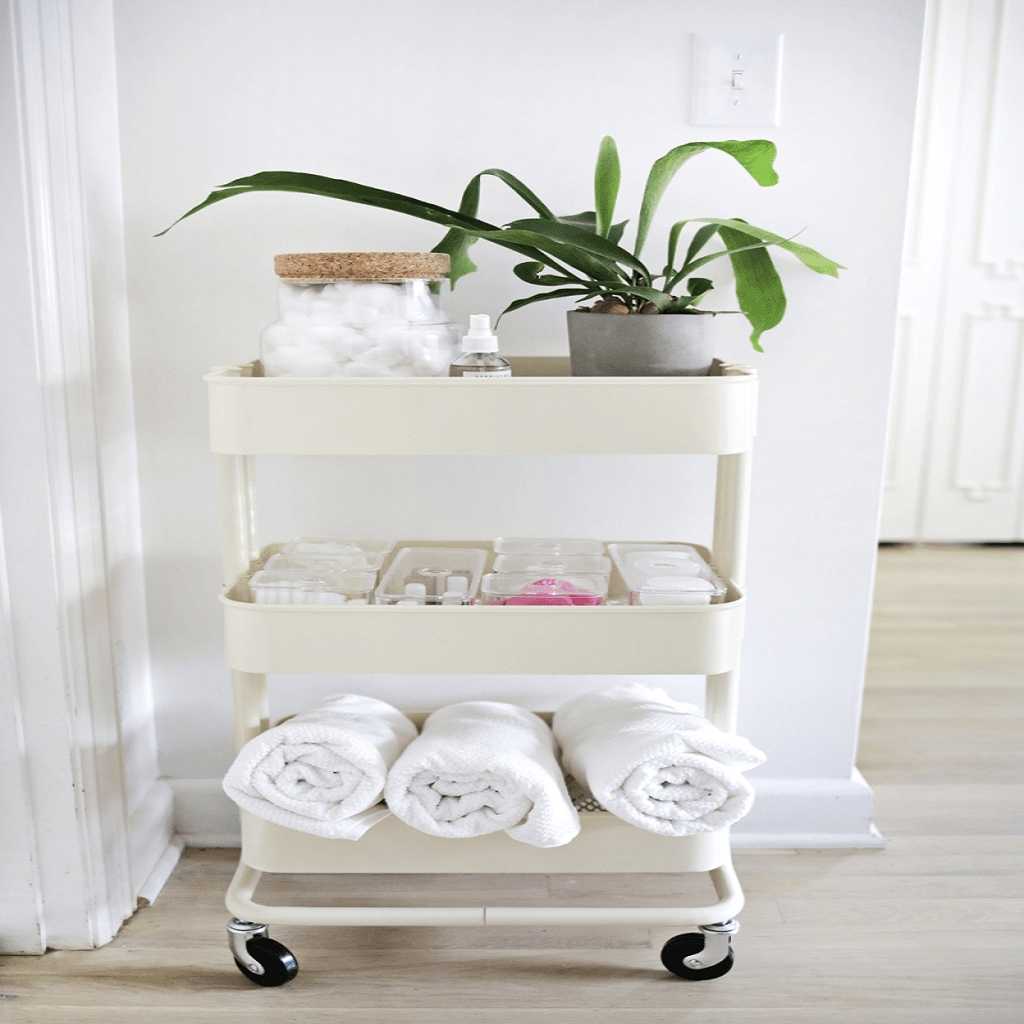 Image Source: Domino Magazine
Our bathroom trolley is the perfect addition to your home, whether you're renovating or just adding a little something new. It is easy to use, inexpensive compared to other storage options, and provides extra storage with its movable shelf.
If you use a bathroom trolley, here are some things to think about:
Store more than just your toothbrush or soap; you can even use it for dirty laundry and towels! 

Put over a potted plant to add a refreshing vibe inside the bathroom.

Choose a uniform color for your bathroom essentials, as well as the bathroom trolley. In this sample, white dominates the area which features a clean and clear space.
Some bathroom trolleys can contain just a few items, while others can hold a full bathroom cabinet's worth of supplies. With these more extensive models, you may store your essentials near at hand while still being able to locate them quickly and efficiently if that is important to you.
8. Clever bath panel storage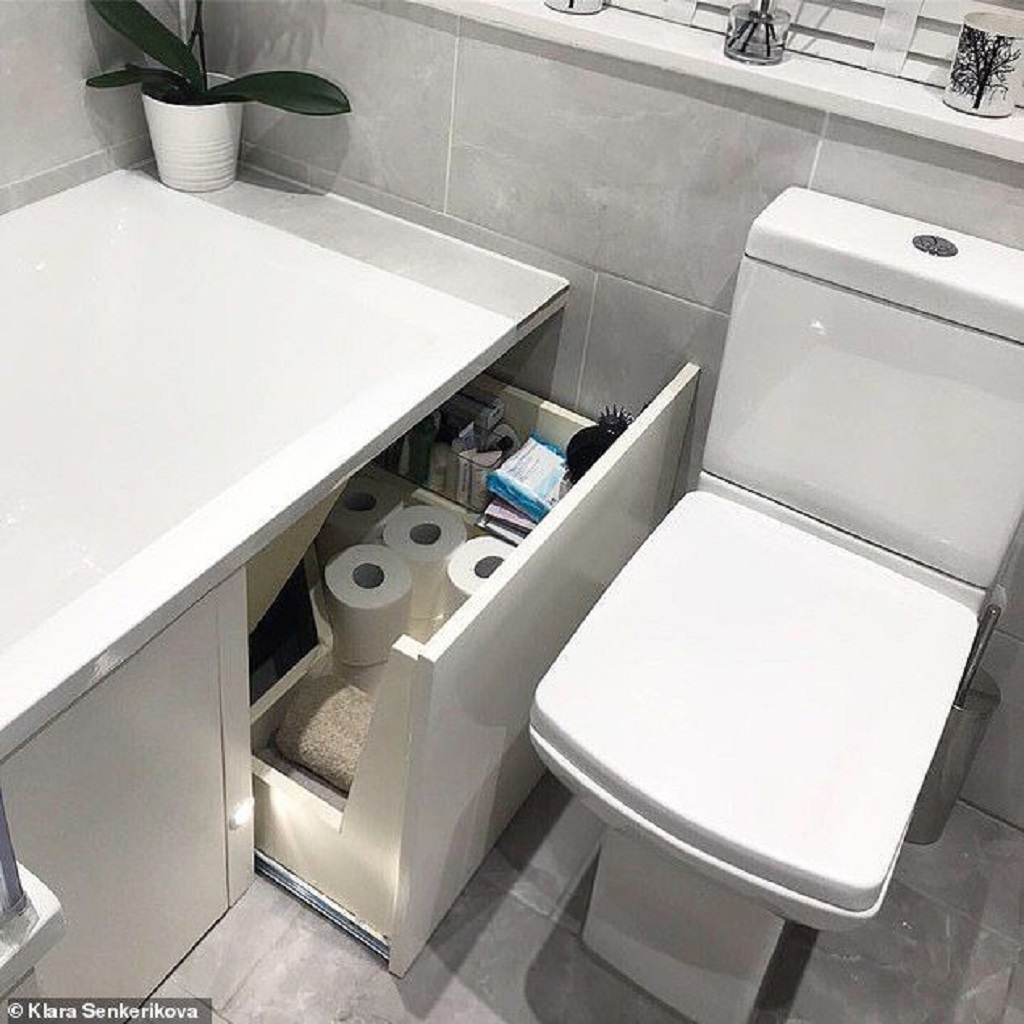 Image Source: Daily Mail
Your bath panel storage is sure to make your life easier. It's an easy way to keep all of your bath supplies and accessories in one place, free up space in your bathroom and have everything ready when you need it.
Here's how it works:
Use this clever storage panel in the bathroom to store your towels and other bathroom essentials.

Install hooks inside your cabinets above the sink or toilet so that you have more space for towels and washcloths.

Install a shelf above your toilet to store your shampoo, conditioner, and other toiletries.
This storage cabinet can be the perfect fit for a more traditional style. It has four drawers that will give you plenty of room to store all those toiletries that seem to take over every bathroom!
9. Lazy Susan storage solution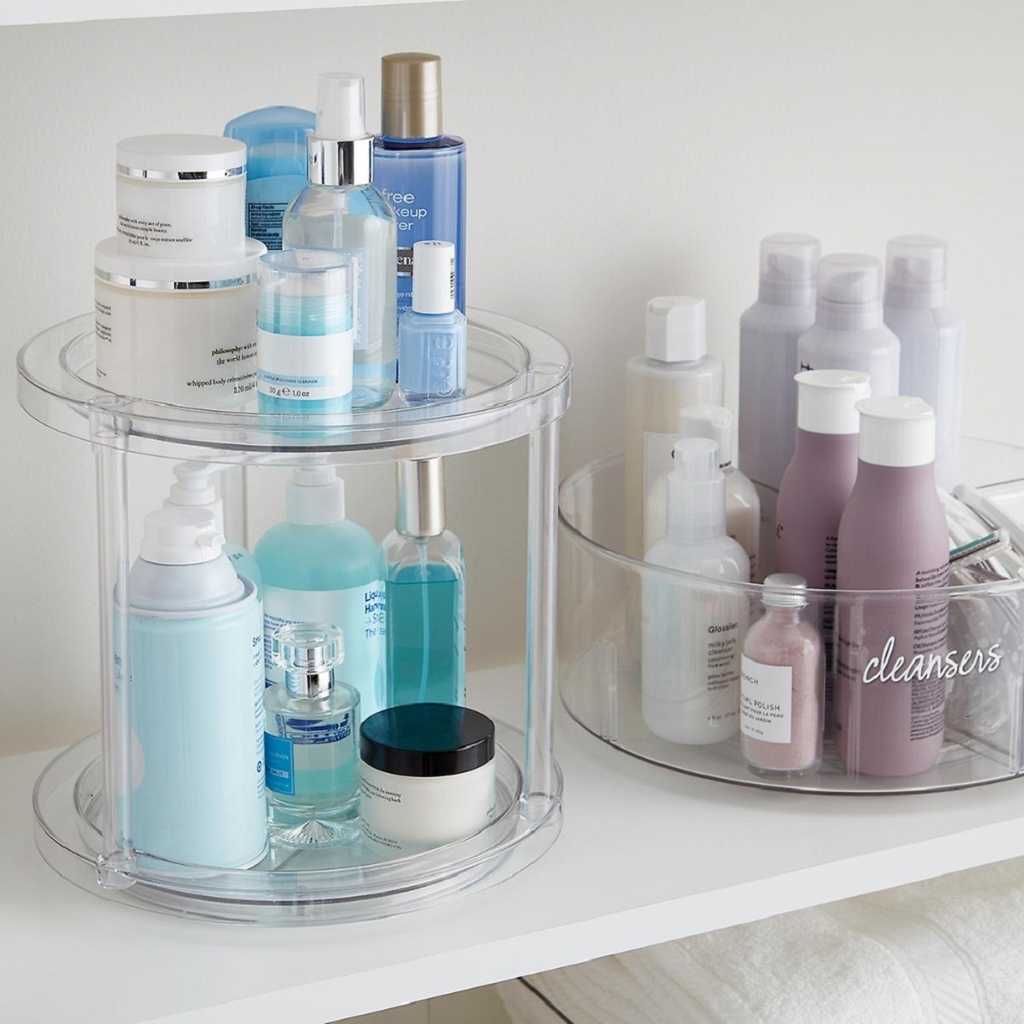 Image Source: The Container Store
A spinning tray known as a "Lazy Susan" helps display and store objects. Because they make it simple to reach items on a counter, they are typically found in the kitchen or in a bathroom. The name "Lazy Susan" comes from these trays allow people to spin them around effortlessly with just one hand. These changes help individuals find what they need more quickly and conveniently.
It's perfect for storing essential supplies, bathroom items, or anything else that you need quick access to.
To improve your space with the use of Lazy Susan:
As a multi-purpose tray, the Lazy Susan serves as an ideal solution for serving numerous
dishes at once. Lazy susans make it simple to get to your food and drink.
If you want to personalize your Lazy Susan, consider painting it or adding decals or stickers.
10.Compact shelves for every space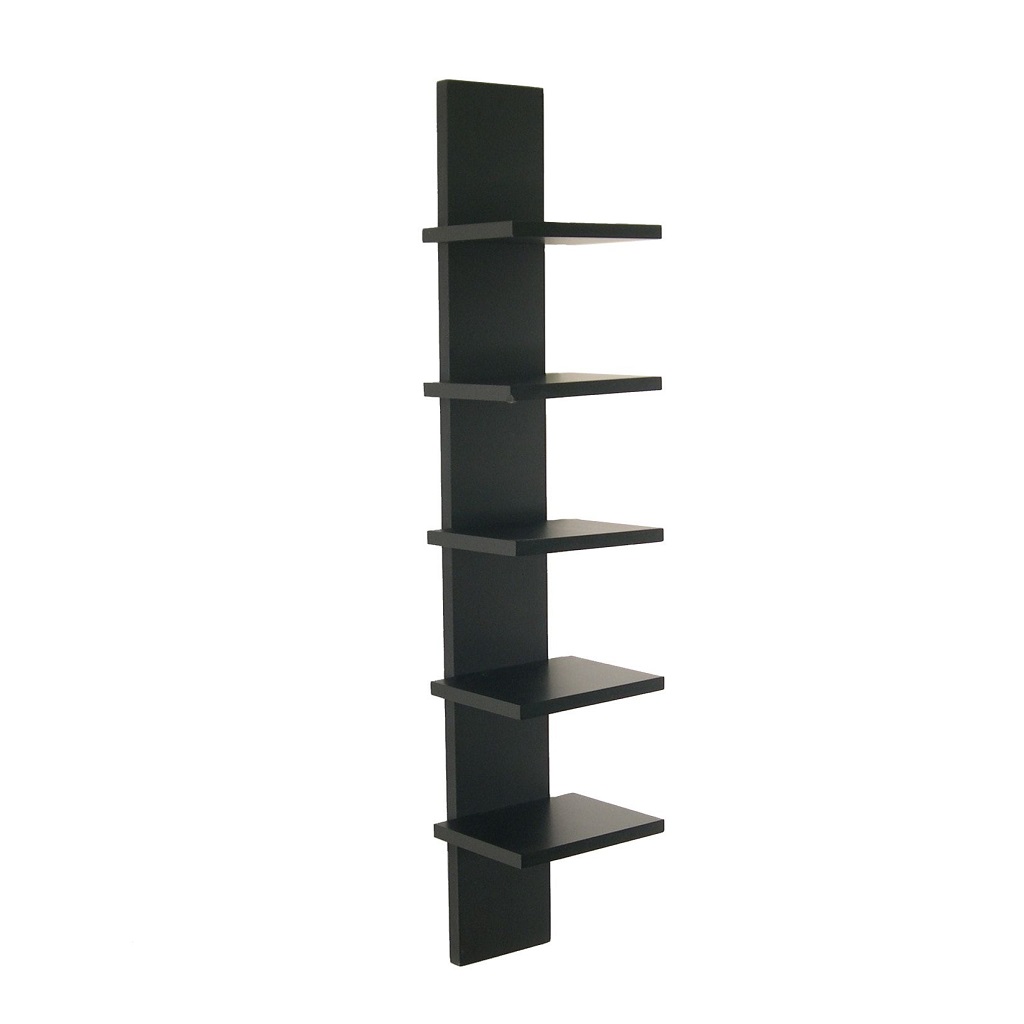 Image Source: Lowe's
Do you have a tiny space that needs more storage? We've got you covered! It is worth trying as these shelves are compact and versatile, perfect for small spaces. They can fit in any room and also look great!
Use them also in your kitchen to organize pots and pans or for towels and toiletries in your bathroom.

Either you can put tiny indoor plants on every shelf too.

You can design it whatever you want with your needs, such as a towel rack, or other essentials.
And if you're worried about how much storage you'll get out of these shelves, don't be. These shelves are made of sturdy steel and come with a warranty against bending or breaking, so they're built to last!
Conclusion
Storage is the secret ingredient to creating a beauty-focused bathroom. Creating space for your things, be they toiletries or linens, allows you to get the most out of your bathroom. Use up every available inch of your bathroom vanity with these storage ideas.
For more amazing ideas you can have, visit Guy About Home today or you can check the related blogs: