Side yard landscaping doesn't really need to be too tricky to maintain. Try these different low-maintenance side yard ideas in your home!
Transforming your side yard into a cozy space you can rest in or into a garden is an idea that many people are enthusiastic about. However, others may not have the time and effort to maintain their side yards in the long run. Opting for side yard designs that don't cost much to maintain and manage is the key to such considerations.
When talking about low-maintenance side yards, factors that are taken into account usually include the amount and kind of vegetation to place, your budget, and many others. We have compiled several low-maintenance side yard ideas that you may want to renovate yours into. Read on to know them in detail.
Thank you for reading this post, don't forget to the best blogger Guy About Home who offers the best garden and home improvement tips! If you are a home decor and design fan, don't miss the tips on home ideas. If you are a home garden owner, then you might be interest in our complete guides to house plants!
7 Best Low-Maintenance Side Yard Ideas
Plants, pebbles, and fencing

Rustic tile walkway with plants on the sides

Side yard wooden seat

Side yard patio

Pebbled pathway

Side yard patio with decorative lights
7 Best Low-Maintenance Side Yard Ideas
The photos that we have compiled below showcase different side yard designs that shouldn't take much effort and money to maintain. These designs usually played with various elements that can be found in your side yards, such as the fences, plants, and furniture. Check them out below!
1. Plants, pebbles, and fencing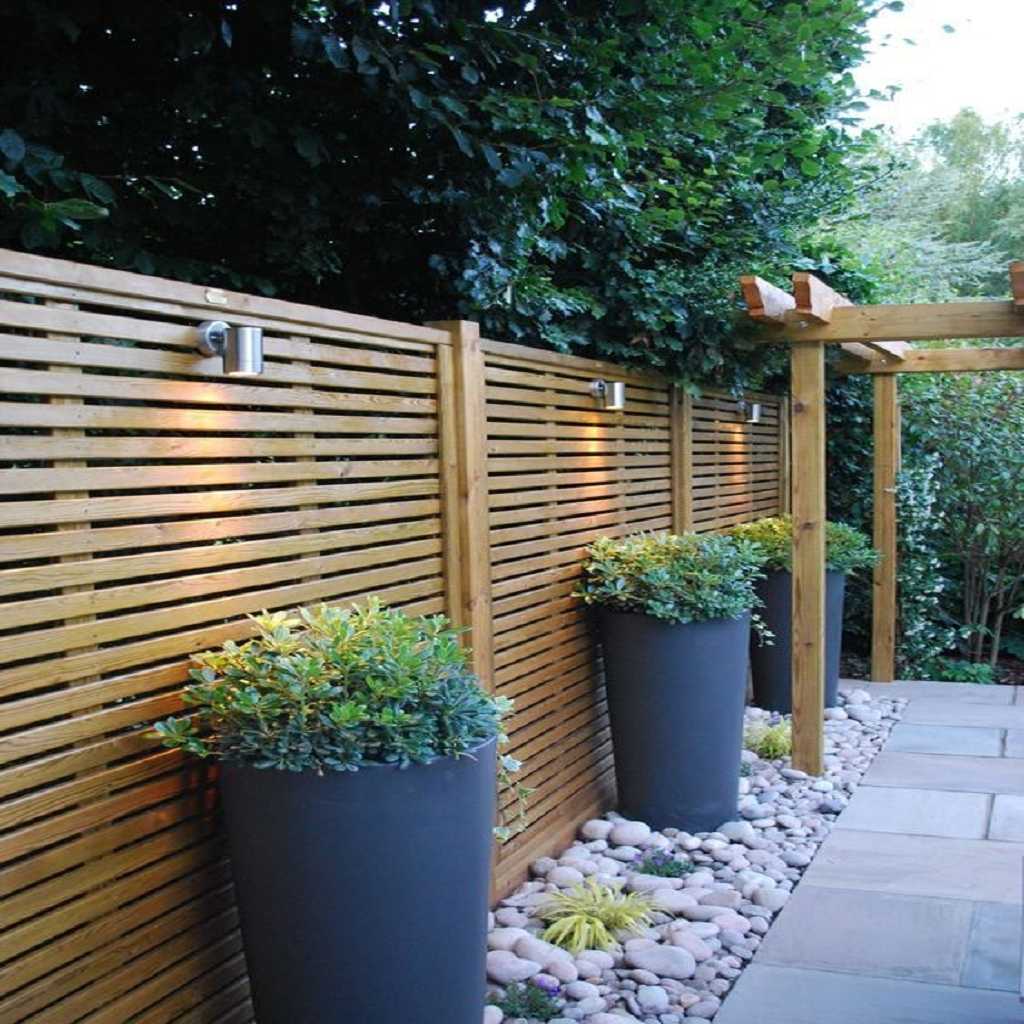 Image Source: DecorTrendy.com
This side yard design focused more on the plants, pebbles, walkway, and fencing. Notice that the designer made use of tall pots to elevate the greens to half as tall as the fence. What's good about this design is that it also pays attention to the homeowner's privacy aside from being stylish and adding to the overall look of the yard.
Looking at the ground portion of the yard, notice that it is paved with concrete (which, depending on preference, could be rustic tiles, marble, etc.). Pebbles of different sizes are also placed beside it, surrounding the potted plants. There's also a pergola on the side and a few spotlights for each plant.
2. Rustic tile walkway with plants on the sides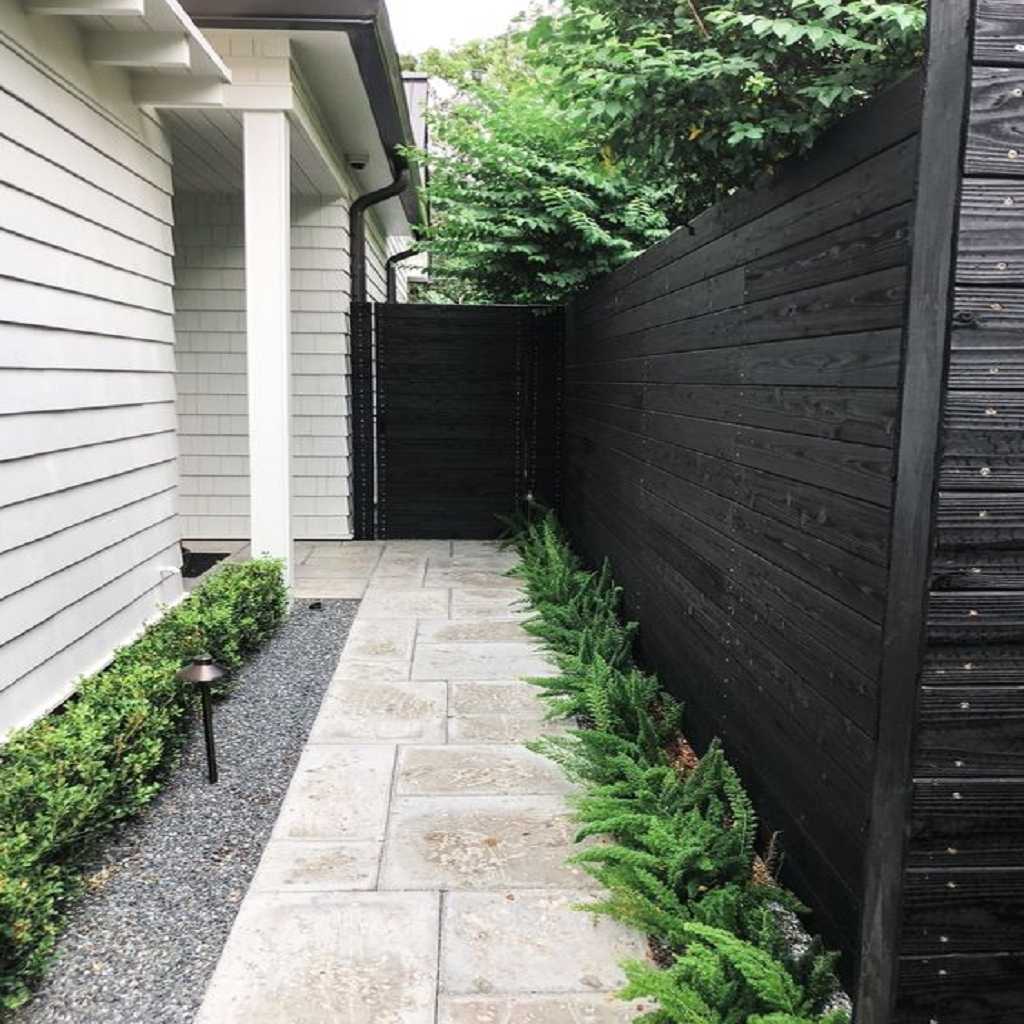 Image Source: Nakamoto Forestry
If you only have a small side yard to play with, you can keep things simple. Get rid of the grassy or muddy ground by paving it into a walkway. You can use any kind of material, such as concrete, rocks, and more — it's totally up to you. Of course, you should consider the colors to use and ensure that they go well together.
In case you want to retain vegetation, which is good for circulating fresh air, you can leave some space on both sides of the walkway. Plant the greens in two lines and cover the soil with pebbles to make the design consistent. Adding a solar-powered walkway light would be great as well for safety and appearance.
3. Side yard wooden seat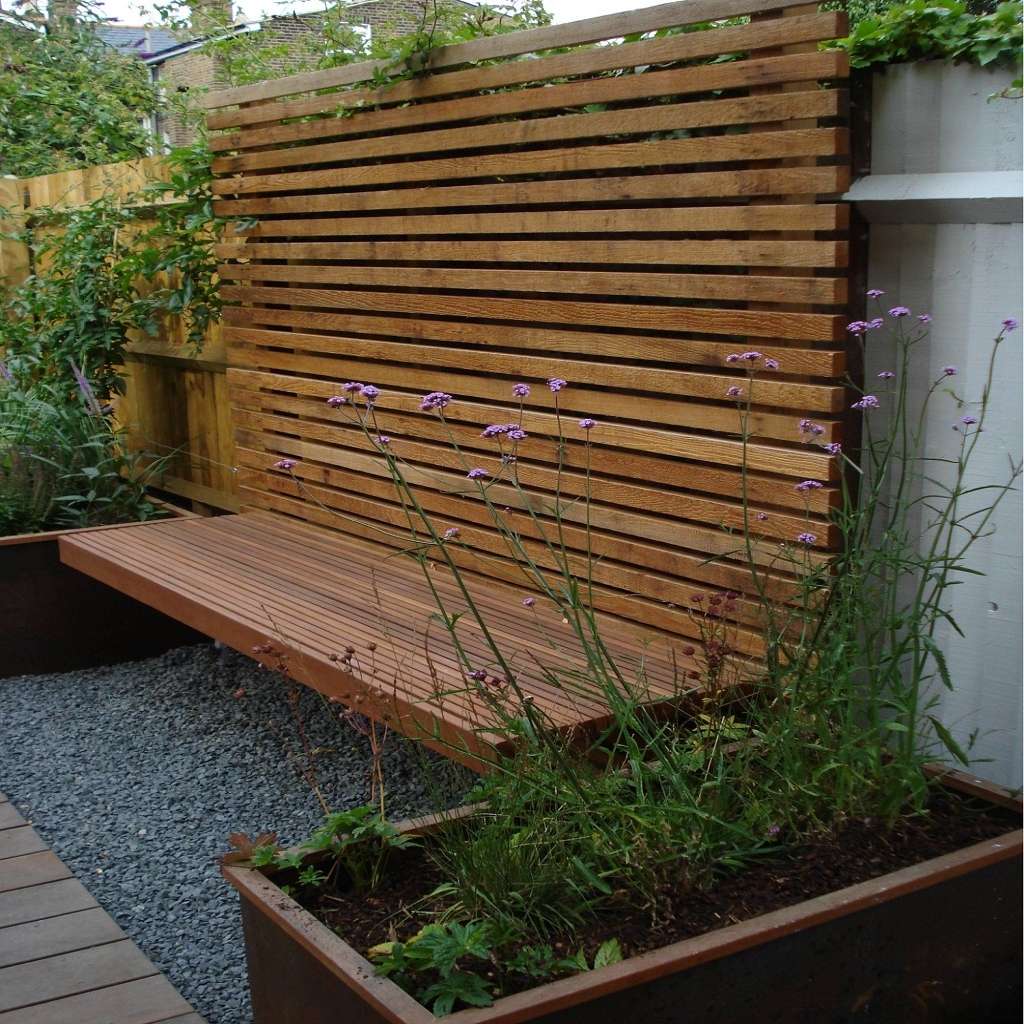 Image Source: Flickr
This is another side yard idea that you can try for small spaces. The crafter made use of wood lumber to make this side yard seat. Notice that the backrest is installed on the fencing behind. Plants in garden boxes are also placed on each side of the seat, making up for the fresh ambiance of the place.
Gravel or other types of small stones can also be put underneath the seat to hide the soil. If there's still available space for a walkway, you may also do that as well in front of the wooden seat. Take note that this design uses a limited amount of plants, making it really easy to maintain.
4. Side yard patio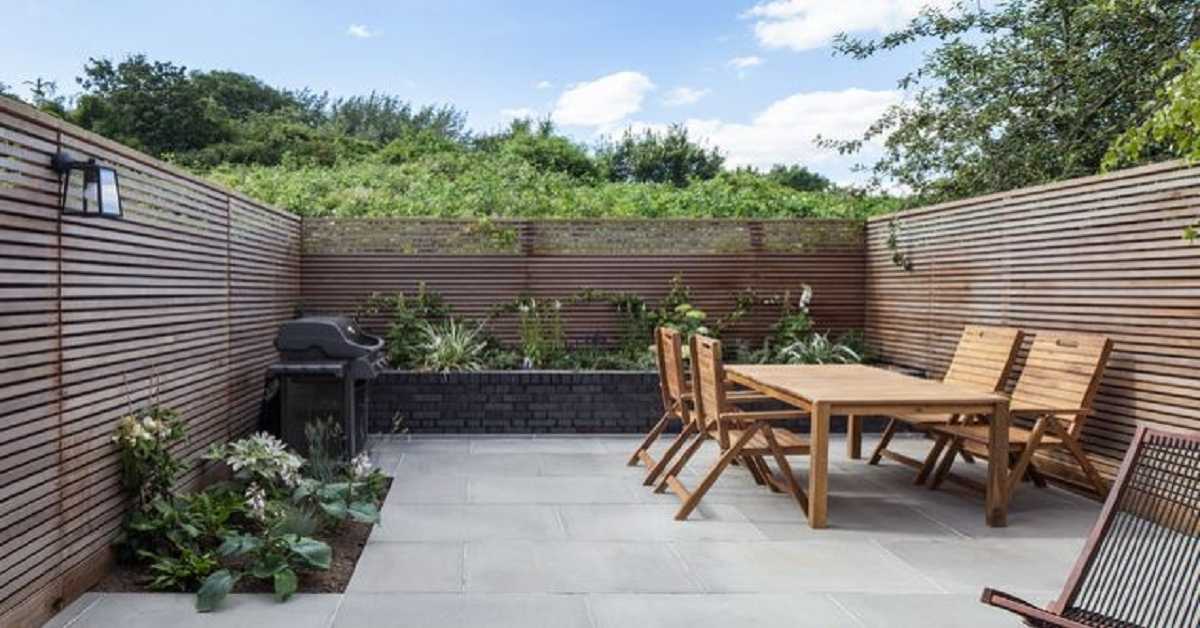 Image Source: Garden Patch
If you are a keen observer of privacy, you may want to try this side Lumber Yard yard idea for your home. The design features a boxed appearance, achieved by attaching many pieces of wood lumber around. Pay attention to the back portion, where you can see a brick garden box, with some plants in it.
On the other hand, this design employed the use of concrete or rustic tiles for its flooring. If you want, you may leave out a part of the soil uncovered to put in some plants. To complete your patio, add a table and seat set, preferably in wooden color as well to match the theme of your place. You can also add some lamps to ensure good lighting at night.
5. Pebbled pathway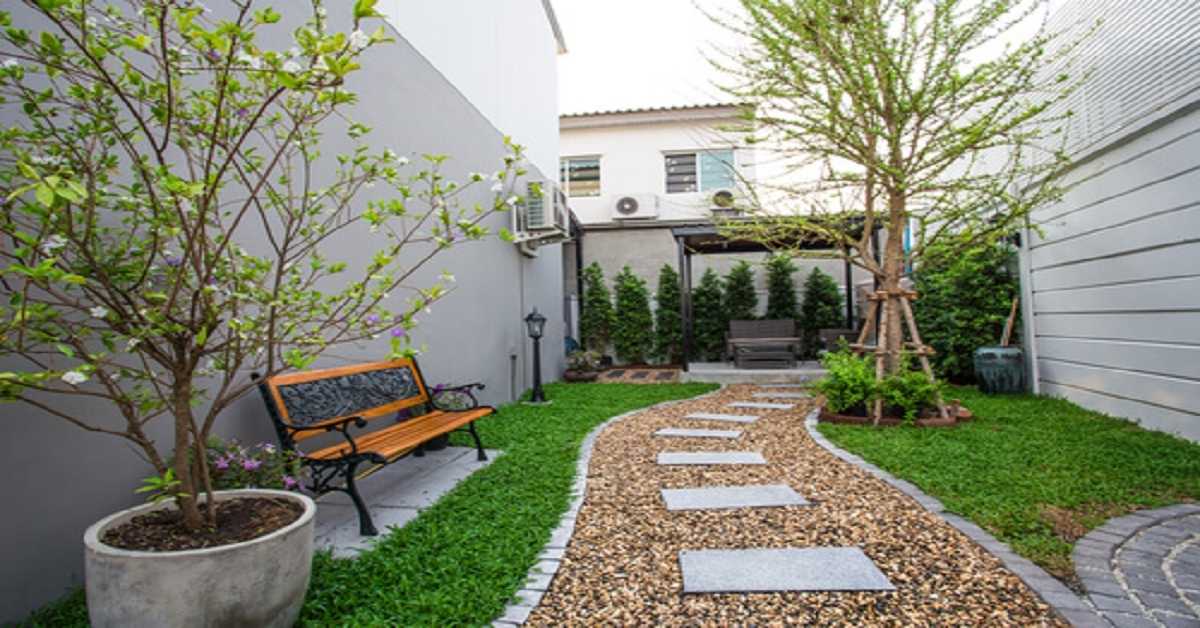 Image Source: Bower NYC
Something that rarely goes missing in a side yard is the pathway (or walkway, depending on how you call it). Especially when a place is filled with bermudagrass, such footholds are essential. While you may go for irregularly-shaped walkways, it's entirely up to you whether you want to opt for uniform ones.
Covering up the surrounding soil with pebbles would be great as well for preventing muddy appearances. For better harmony, you may want to play with the colors of the footholds and pebbles — ensuring that they are in contrast. If there's still space available, put bermudagrass, other easy-to-maintain plants, and a seat, perhaps, for decor.
6. Side yard patio with decorative lights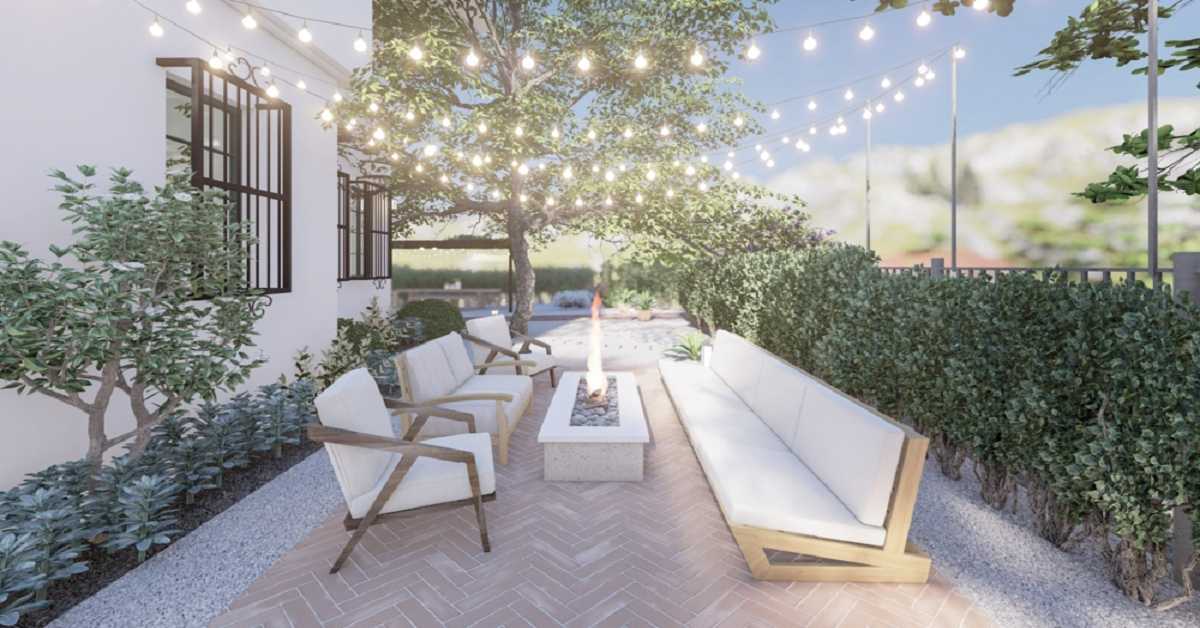 Image Source: Yardzen
For spacey side yards, you may want to try having a cozy patio with plenty of seating areas. Starting from the flooring, you may opt for a bricked or tiled one, where the edges are covered in pebbles. Besides the hardscape, you may put a row of plants for fresh air, but they need not be those with intricate needs.
Once done, you may build a fire pit in the middle, surrounded by sofa seats. If you're worried about the rain, you may go for ones with detachable foam or others made of stronger material. To top it off, put some decorative lights, preferably solar-powered for fewer expenses on electricity.
Conclusion
Having a beautiful side yard also requires corresponding maintenance. If you don't want to put so much effort into managing your side yard to keep it in tip-top condition, you may put in those low-maintenance ones. Try the stunning but easy-to-maintain side yard ideas we have compiled today! 
For more amazing ideas you can have, visit Guy About Home today or you can check the related blogs: