Forget the days of boring side yards! These modern side yards are filled with inspiration and fun.
Get creative with your side yard, and you'll be amazed at the results. We've got a roundup of modern sideyard ideas and designs that will take your backyard from drab to fab.
Do you dream of having a fantastic side yard like the one above? Something beautiful, functional, and valuable to everybody? You can have it without the miracle of modern photoshop. Below, we will share with you the best ideas for your side yard.
Table Of Contents
Side Path with Stones and Gravel

Pebbles, Potted Plants, and Flowers

Stone Pathway with White Flowers

Stone Side Pathway with Flowers and Statues

Japanese Sideyard

Sideyard Landscaping with Lights

Asian Side Yard Patio

Tropical Sideyard

Minimalis Side Garden

Side Garden with Potted Snake Plants and Marble Pebbles
1. Side Path with Stones and Gravel
Image: Pinterest
Do you want to add a touch of modern elegance to your sideyard? Consider this simple side path. It adds curb appeal and gives your property a unique look. For an excellent option, use stones or gravel in the yard. This is great for anyone who wants something different from their yard.
Add stones and gravel to your side path for an exciting, cohesive look. 

Add some potted plants to add color and life.
This is a good idea if you want something simple and stylish. The stones help define the path, offering a nice contrast with the grass. They also provide a natural look that will be more attractive than concrete over time.
2. Pebbles, Potted Plants, and Flowers
Image: Pinterest
You don't need to dig and plant for this side yard landscaping design as pebbles and potted plants are enough (or even a few trays of succulents). Put pots along your driveway and front walkway. Extra plants can hide views into your home while letting light through windows.
Add curb appeal with plants in pots

Use decorative landscaping elements

In the side yard, use rocks or stones to add screening.

Use plants like ferns and moss that don't need much care in the garden beds.
Another way to enhance the beauty of your side yard is by adding water features such as fountains or ponds. Remember that they require regular maintenance, so make sure you have enough time available for them.
3. Stone Pathway with White Flowers
Image: Pinterest
Forget spending hours mowing and manicuring – just install a stone path! Stone paths are durable and low-maintenance, so they're perfect if you don't have time to fuss with your yard.
Try all of these:
Mix and match different shaped stones to create clean lines

Other ways to create a unique pathway are using bricks and pavers

You don't have to spend money on pavers and rocks. Be creative with your resources.
When choosing the stones for your walkway, remember that other factors affect the cost of building a new equipment path. If you choose an uneven stone, you may have to excavate or construct concrete blocks to level it.
4. Stone Side Pathway with Flowers and Statues
Image: Pinterest
A beautiful way to connect different yard areas is by using stone to make paths. Concrete does not require much upkeep. Use your imagination for decorating. You might place these next to your front door or gate leading into your backyard or garden.
You can create a series of trails that lead through flower beds and vegetable gardens. 

You can use stone pathways to create an artistic feel with various plants, flowers, and statues.

See a unique stone pathway with flowers and statues.
This idea is perfect if you like to entertain outdoors or want to add some curb appeal to your home. To keep it simple, choose plants that are easy to maintain and don't need much attention.
5. Japanese Side Yard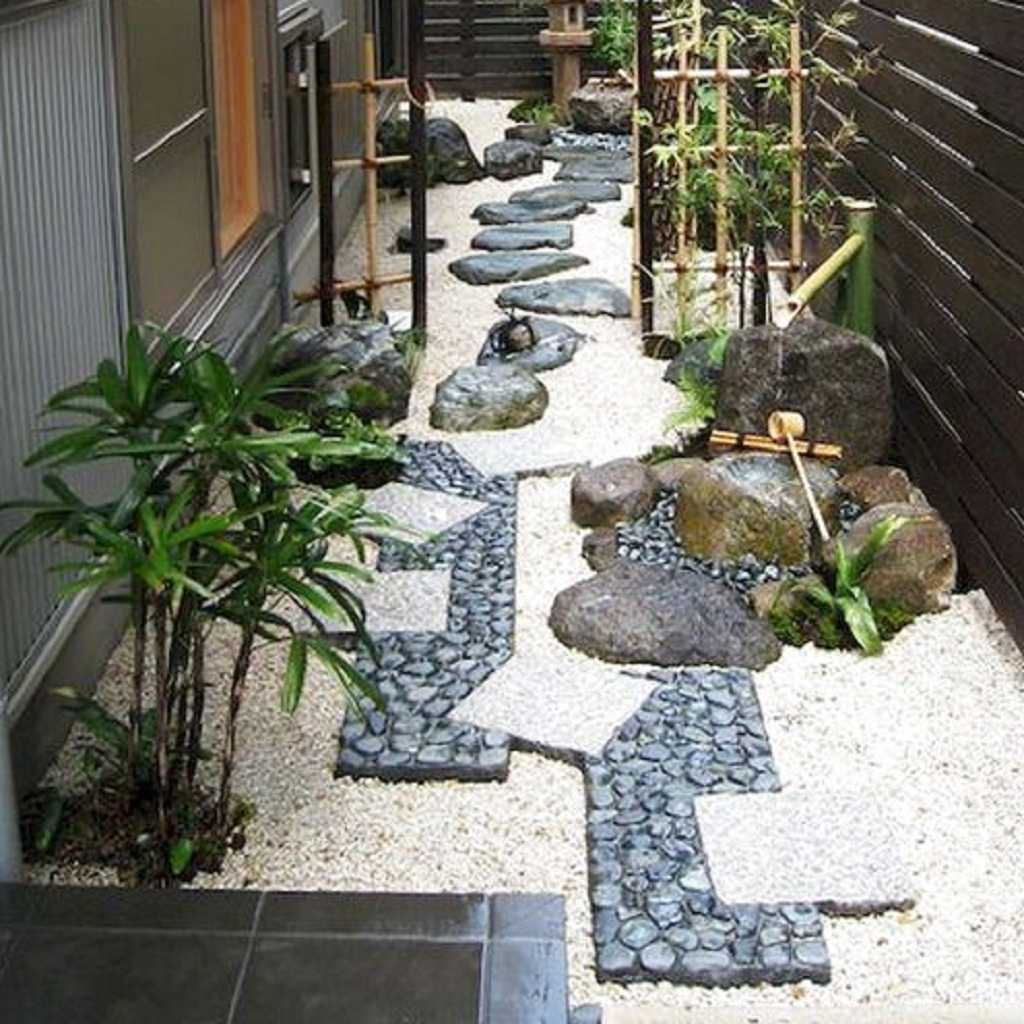 Image: Pinterest
Gardens in Japan have a long history and are known for their particular beauty and tranquility. If you want to make your Japanese backyard garden look authentic, there are several things you may do
Play your imagination like these:
Inspire yourself by visiting a Japanese garden.

Create an oasis of plants, water features, and art

Make it more accessible to visiting guest
The next thing you'll need is some plants that grow well in shade and moist soil conditions, like ferns and mosses. These plants make up most of the vegetation in Japanese gardens because they require little maintenance once they're established.
6. Side Yard Landscaping with Lights
Image: Pinterest
Lighting is the way to go if you want to spice up the elegance of your side yard landscaping. If you have a fence or other structure that divides your property from the street, place string lights or spotlights along the perimeter of your property. This will illuminate trees and plants, making them more visible at night.
Create a beautiful ambiance through these steps:
Consider adding colorful lights to your side yard landscaping

Hire a professional or get it done yourself
7. Asian Side Yard Patio
Image: Pinterest
When you think of an Asian side yard patio, the first thing that comes to mind is a traditional tatami room. This can be an excellent idea for those who want to create a private space for entertaining guests and lounging around.
Go with some of these:
Go someplace exotic and different. Traditional Asian style is beautiful when applied to a sideyard. 

Make a more enjoyable entertaining space. The bamboo privacy fence and the hanging lanterns create an exquisite look.

Experiment with different flavor combinations. Adding plants will also make this space more naturalistic.
8. Tropical Side Yard
Image: Pinterest
Creating a tropical paradise in your backyard is surprisingly easy—but it does take some planning. Once you've got the basics down, it's time for you to experiment and have fun!
Here are some quick tips:
The first step is to find plants that thrive in high heat, then ensure you provide them with enough water and fertilizer. 

Add flowers, vegetables, and fruits with the Tropical Side Yard style.

No grass is needed! Just be open-minded and adventurous

Think different and think about nature.
The Tropical Side Yard idea would be perfect for those who live in warmer climates where palm trees and other tropical plants grow well.
9. Minimalist Side Garden
Image: Pinterest
Minimalist gardens are not only beautiful but also very practical. They make great use of space, so they are so popular these days. This garden style is ideal for those with little space in their backyards.
You have yourself a beautiful minimalist side garden with these tips!
Make it look fantastic with minimal effort. You have to add some green plants, pebbles or rocks, maybe a few trees.

Keep your plants in check at all times.
Creating a minimalist garden can be done in various ways, but the most common method is to use local flora. Because of its low maintenance requirements, this form of green is beautiful.
10. Side Garden with Potted Snake Plant and Marble Pebbles
Image: Pinterest
The snake plant is a succulent that is easy to grow and adapt to almost any environment. It's also known as mother-in-law's tongue or achira, and it's perfect for the sides of your home. With its spiky leaves and striking colors, this unique plant will stand out from the rest of your garden.
How to improve it?
Use potted snake plants, marble pebbles, and anything else in your side garden.

Find something else to do with marble pebbles, such as small white pebbles or any type of pebbles that blends the entire yard.
Water your snake plant when the top inch of soil feels dry to the touch. After a few days without water, the plant will swiftly return to total health after being watered again.
Takeaway
Side yards are one of the vital areas of your home. They add an aesthetic value and provide a place where you can spend some quality time with your family. Hence, you must design an appealing and functional side yard on one side of your house. This article talks about some modern sideyard ideas that are simple but still creative.
For more home improvement ideas, visit Guy About home now!