Transform your double sink area into something jaw-droppingly beautiful with these ideas that are surely helpful for you!
You are probably thinking about what bathroom double sink ideas are out there. This article is written just to give you tons of inspiration that you can apply to your home.
Double sinks are important in the bathroom because it gives you the impression that your bathroom looks larger than it seems. Plus, the owner his or her personal space when cleaning or admiring himself or herself. This can save them time waiting for someone to finish brushing their teeth. It can be done at the same time by having double sinks.
So, here you go. Come read on!
Table of Contents
Perfectly Symmetrical Bathroom Double Sink Ideas

Space Between Bathroom Double Sink Ideas

Antique and Vintage Bathroom Double Sink Ideas

Printed and Dramatic Wallpaper for Bathroom Double Sink Ideas

Modern and Elegant Bathroom Double Sink Ideas

Classic and Traditional Bathroom Double Sink Ideas

Illuminated Dark Contemporary Bathroom Double Sink Ideas
1. Perfectly Symmetrical Bathroom Double Sink Ideas
Image Source: Interior Design Ideas
There are several ways to spice up your double sink bathroom. Tons of furniture shapes above are not there to make you uncomfortable but to show you that there is always magic once you decided to wield them.
Here's your guide:
Install a candle-style gold chandelier to add something elegant to your bathroom. 

Instead of putting plants, sanitary stuff, or bathroom toys beside the sink, have your bathtub and a

figure painting

as the primary furniture to eliminate awkward spaces and project a unique style. 

The octagon mirror with thin gold frames depicts a stylish and glamorous ambiance. Not all people have this eye for this kind of mirror so you might want to add these above your double sink. 

For something contemporary, go for a round gold overmounted washbasin. 

Complete the symmetry by putting full-length glasses and having a marble countertop.
2. Space Between Bathroom Double Sink Ideas
Image Source: Houzz
If you are the kind of person who enjoys filling up the uncomfortable spaces in your bathroom, then this double sink idea is for you! Combine the traditional and the modern way at once!
How to do this?
Get a large oak wood rectangular cabinet for a traditional style and for excellent storage. 

Wall-mounted faucets

are a good option but you should make up your mind about the furniture because these kinds of faucets could not be moved. 

Pick rectangular sinks and make them visible because they are one of the bathroom assets.

For the space between, you could put indoor plants, perfumes, shampoo, hand wash, hand or bath towels, or any displays. Aside from this, it could give you space for more stuff. 

Go for a pivot rectangular mirror since it is convenient and uncommon.
Have your tiles free from dirt with bathroom tile cleaning ideas. 
3. Antique and Vintage Bathroom Double Sink Ideas
Image Source: Houzz
Go back in time where everything is elegantly simple including the bathroom! For sure, your parents and grandparents will love this bathroom set-up. They would be nostalgic about their good old days.
If you want to achieve this, you must read the following:
Convex mirrors are very much more antique than rectangular ones. Better choose them over the one. 

No time for overmounted sinks? Go for an under-mounted sink for they are very much old and traditional. 

The cabinet should be made in oak and has fewer compartments. It would be better if they have sculpted border designs to make it more classic and one of a kind. 

For the flowers, choose assorted colors to eliminate the dullness of the old vibe. 

Instead of black and white, go for warm color and choose a single candle-like uplight sconce to be put beside each vanity.
4. Printed and Dramatic Wallpaper for Bathroom Double Sink Ideas
Image Source: HGTV
Who said that printed wallpaper is for amateurs? It is something pictured as a non-fashion sense. Break this stereotype by applying this to your bathroom double sink. Time for some creativity!
Here's what you can do:
Add

abstract art

to your bathroom by pasting a printed, sophisticated wallpaper. 

Match it with a luxurious under-mounted double sink. 

Acquire a rectangular red frame mirror for a more fashionista and chic style. This would highlight the undeniably beautiful contrast between red vanities and blue wallpaper. 

Have your shelf and sink top brown for long-lasting and enormous beauty. 

Acquire a traditional white cabinet for simplicity and not overpower the entire bathroom color. 

Reflector wall lights are ideal if you want to project a traditional way. But if you want more luxurious ones, go for symmetrical sconces.
Maintain a shiny clean bathroom with cleaning ideas for the bathroom.
5. Modern and Elegant Bathroom Double Sink Ideas
Image Source: HGTV
Try this modern and luxurious bathroom double vanity idea to feel fantastic every day as you walk into your bathroom. Notice that everything is minimal but was utilized well through nice furniture and features.
On how to do these, here are some tips:
Separate the bathroom double vanity sink by building a wall after your bedroom. This is a contemporary design where you can install your gigantic rectangular lighted mirror and floating oak wood cabinet. 

Trough sinks

make your cleaning process simpler through their sleek and industrial look.

Make sure to match every color to the room design. Brown, white, grey, and black is pretty much the very versatile colors. 

To contribute to the industrial look, go for porcelain tiles.

Aside from toiletries, you put a cut-out picture in a tiny frame around tiny plants to make it cute.
Decorate your bathroom into a tropical style with beach-themed bathroom styles. 
6. Classic and Traditional Bathroom Double Sink Ideas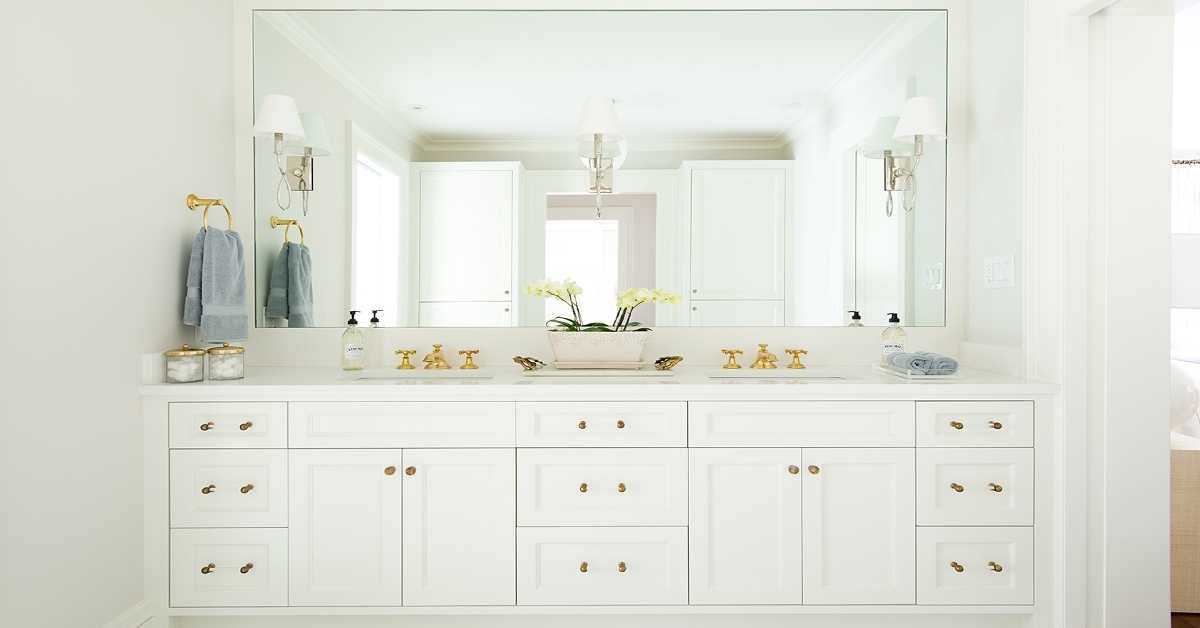 Image Source: Acampora Interiors
It's what they always say; white is the classic color, especially if you are still undecided about what color you should paint your bathroom. White gives out neutrality as well as simplicity. And, as you can see, being simple also corresponds to being beautiful.
It is never too late to have this plain white elegant bathroom double sink idea:
Undermounted sinks are ideal for a balanced look. But if you found overmounted sinks can form a symmetry, they will do too. 

For a more elegant and clean look, choose a single rectangular frameless vanity. 

Better purchase a traditional cabinet that has white and minimal gold colors. 

Be unique by installing sconces in the vanity but if you feel like it can be uncomfortable, install them on the walls beside the vanity. 

To remove the dullness, put some potted flowers, bath towels, scented candles, soaps, and hand wash. 
7. Illuminated Dark Contemporary Bathroom Double Sink Ideas
Image Source: Interior Design Ideas
You must be artsy to achieve this kind of bathroom. Say goodbye to the classic white or painted wall bathroom double sink idea and step up your game. This is the right time to play with shapes, colors, and brightness.
What you can do are:
Have your wall doodled with boxes while minimally highlighting the edges and portions of some boxes of your primary colors. The color above is warm and dull combined with mustard yellow, white, and grey. You can also choose black, white, and brown if you will. 

Combine modernity and vintage style with wooden backsplash. You can try applying symmetry for a more contemporary design by having an unbalanced built cabinet beside the vanity and a rectangular classic white sink. 

To make your bathroom larger, acquire rectangular vanities. 

Lastly, illuminate the entire area by adjusting your built-in lights and hanging lights to warm colors.
Conclusion
Deciding on what bathroom double sink design you should put in can be exhausting and confusing. This is exactly why we provide articles like this for you. We aim to help you with your problem.
Remember that the key in designing is to have a color palette so you will know what furniture pieces you will acquire. Try not to overpower everything. If you aim to focus on sinks, then you must know what are the types of it followed by the overall bathroom design.
For more information, you need to know about bathroom design, visit Guy About Home today!