Have a lovely bath and admire yourself in this double vanity bathroom designed just for you!
Most of the time, we neglect the bathroom design. The reason being is that it is one of the hidden areas in our home. But we have to remember that having a bathroom with an excellent and creative design tells more about our personality as a home-keeper. In this case, we really have to put much effort into upgrading and beautifying the mentioned home area.
Bathrooms are also considered one of our comfort areas. So, why not have them beautiful and designed based on our desires?
In this reading, you are about to discover tons of ideas that will help you in designing double vanity bathrooms. Come and read on.
Table Of Contents
Primary Double Vanity Bathroom Ideas

Brown and White Double Vanity Bathroom

Kid's Double Vanity Bathroom

Small Bathroom With Double Vanity

Modern Double Vanity Bathroom Ideas

Chic-Rustic Industrial Double Vanity Bathroom

French Style Double Vanity Bathroom
1. Primary Double Vanity Bathroom Ideas
Image Source: My Domaine
Isn't it nice to have a contemporary bathroom? It somehow gives you the feeling that you are luxurious because you can stay in this room with someone else without being overly large. However, if you are still a beginner and cannot decide where to put the bathroom furniture, you can just start designing a primary one.
Things you should consider in having a primary double vanity bathroom:
Go for a black, gold, gray, and white theme. Simple colors should be enough.
Cabinet design should be balanced. Don't purchase the one with unequal spaces.
Place two square-shaped mirrors above the sink.
To add more design, you can place rattan design baskets, indoor plants, or anything that eliminates the dullness of the bathroom.
You can acquire black and white tiles for a bit of modernity and match the overall design.
2. Brown and White Double Vanity Bathroom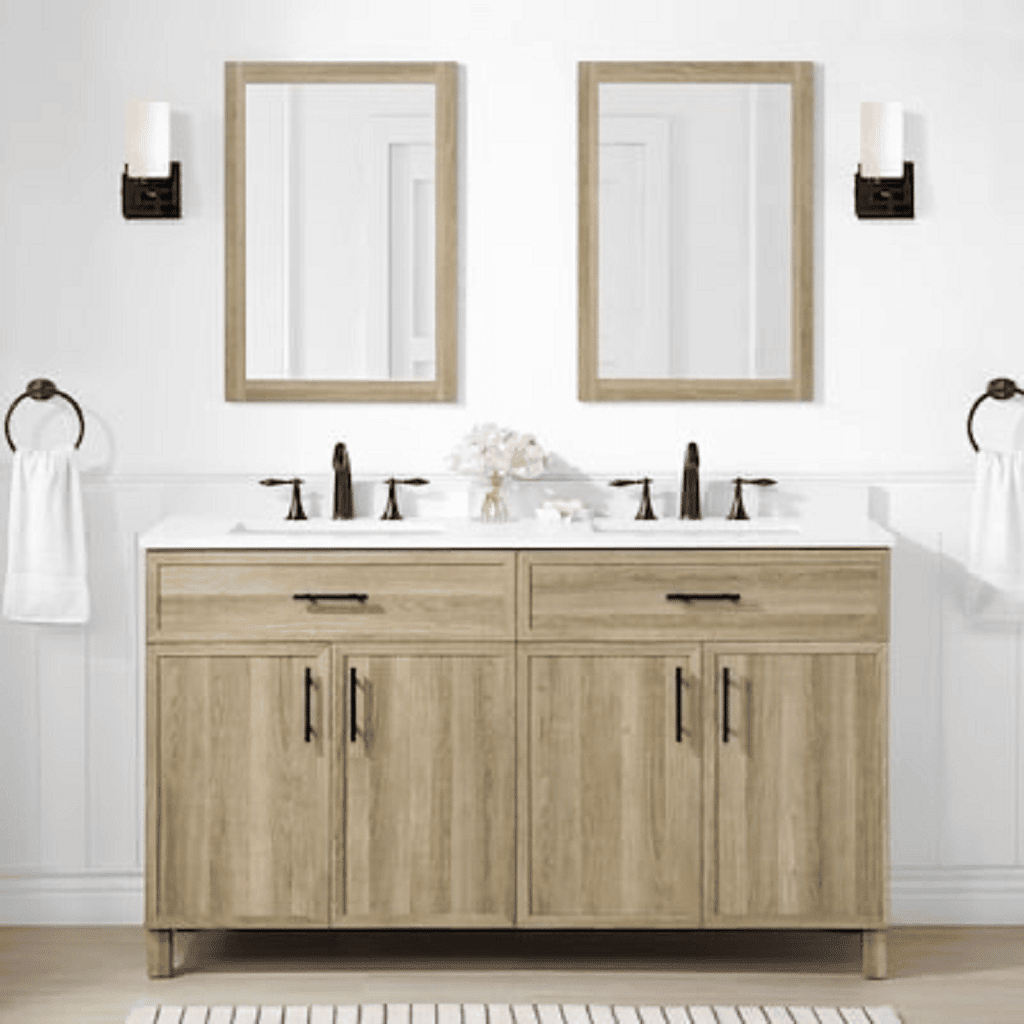 Image Source: Lowe's
This kind of bathroom is common in resorts because it matches nature's idea. From the trees to the cottage, everything should be in wood. However, you can put a modern combination in it if you like.
Bring a traditional and rustic mood to your bathroom through these steps:
Acquire an oak or a wooden cabinet for two.
Sinks can be in contrast to somehow express modernity. Black and white colors are ideal.
Separate hand towels should be placed on both sides.
For a more balanced and rustic mood, you can install a candle lamp above.
Mirrors should also be in squares, and its frame should be brown and wooden.
Rags can also be placed on the floor but make sure the color matches the theme.
Lastly, place an artificial mini vase filled with flowers in between sinks.
Still not satisfied, visit bathroom decor ideas to find out more.
3. Kid's Double Vanity Bathroom
Image Source: Homedit
Have you ever heard of a separate bathroom for your little ones? Yes, we got some ideas for you. You can incorporate these ideas in your cozy home to ensure that your children can enjoy cleaning their bodies once they get into that bathtub and see themself all cleaned up in this double vanity bathroom.
If you are that eager to have this cute bathroom in your home, you can:
Play with colors. Acquire bathroom toys and colorful baths and hand towels. Place them in your cabinet. Make sure that your cabinet is divided into two since your mirror is for two.
Put those colorful round rugs in the bathroom and ensure that they do not overpower one another. Pick colors that are eye-pleasing.
Be creative and have your children's favorite cartoon characters in your bathroom. You can purchase cartoon merchandise in the stores near you.
4. Small Bathroom With Double Vanity
Image Source: Good Works Furniture
You do not need to enlarge your space just to fit these two sinks and double vanity in your bathroom. A small bathroom is enough to achieve a cute and convenient look. Indeed, there is enough space for two people brushing their teeth here.
Some suggestions in which you can spice up your tiny bathroom are:
Install a tiny vertical built-in cabinet between mirrors where you can put your toothbrushes, soaps, and medications.
Choose simple colors to avoid overpowering the entire design. Go for white and grey color.
You can put a small hanging rack for your towels and tissue beside the left sink.
Make sure that the lights are designed as tiny chandeliers and are put above the two mirrors to keep them balanced.
All you need is a simple and plain rag to dry your feet as you go outside and inside the bathroom.
5. Modern Double Vanity Bathroom Ideas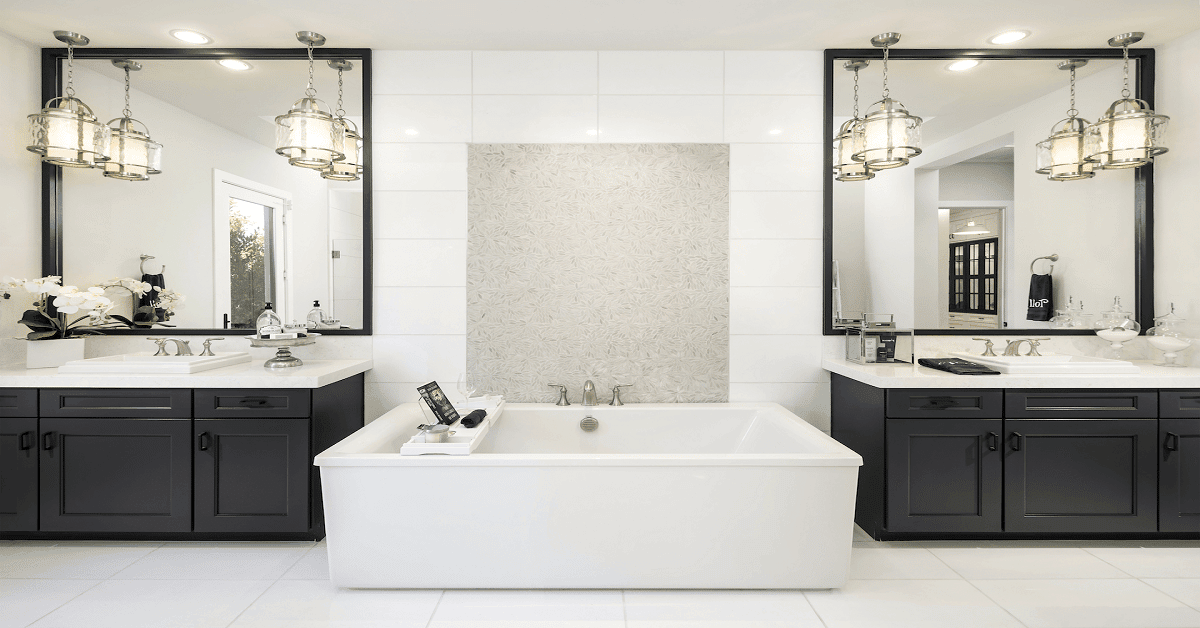 Image Source: TYB Projects
We understand the urge for you to have your bathroom luxurious. We also hear that you do not desire to be left out in this modern world, so you might as well want to incorporate modernity into your comfort room. Well, worry not because we got some ideas just for you!
To achieve a modern bathroom design, you can make these as your basis:
Purchase a gold lantern-like chandelier and hang it in your bathroom.
For a more unique design, you can install your bathtub in between the sinks and vanities.
Black and white never go wrong if you want to achieve a minimalist yet modern style.
No need to put some rags because your tiles are the ones who reign the entire design. You can have a small portion of different tile colors too!
Place some artificial or fresh flowers in a pot or vase near the sink.
6. Chic-Rustic Industrial Double Vanity Bathroom
Image Source: Hunker
Having a chic-rustic double vanity bedroom has always been challenging because you need to combine your traditional and modern ideas to achieve a look that will definitely blow the minds of anyone.
If you are still struggling with what to do, here are some ideas:
Instead of covering up the nails which keep your mirror in place, you can make it visible and just hang the mirrors.
Install a small sconce beside the two mirrors. Then, prioritize your ceiling lights. Two modern double lights will do the trick.
Combine the design with wood and tiles in designing your walls, floors, and ceilings.
Your cabinet should be made in oak, where there are several drawers and compartments for you to put your bathroom stuff.
You can also place indoor plants under the window and have some sanitary stuff around the sink.
Check out bathroom cleaning hacks to maintain a clean bathroom. 
7. French Style Double Vanity Bathroom
Image Source: OVE Decors
French designs never fail to put up elegance in the bathroom. Having this kind of design is excellent if you are the type of person who wants to stay in the bathroom for a while. Not only will you be amazed by the design, but you will feel all the confidence in the world.
Here are some tips just for you:
Acquire antique and vintage mirrors.
Install gold lampshade-like lights in between and on every side of the mirrors.
Purchase a cabinet with a single drawer, built-in sinks, and a single yet huge space underneath for your bath and hand towels.
Floors should be made of grey bricks to bring out the French design ultimately.
Keep it simple by having white painted walls.
Place all your sanitary things and a modern vase of flowers in every sink corner.
Bathroom cleaning ideas will help you achieve the bathroom you always desire. 
Conclusion
Every part of the house needs a bathroom where all you can see is a well-organized and well-thought-out design. The article aims to give you creative ideas that you can incorporate so you can enjoy every bit of your time admiring your clean self and someone very important to you.
Double vanity bathrooms can be costly, but it eliminates the awkward spaces in which you sometimes make a big deal. Remember that the living room is not the only area where you should be creative. Include your bathrooms too!
If you plan to acquire the above-mentioned kind of bathroom, do not hesitate to visit Guy About Home today for more ideas that you might want to check out.