Find your inner peace with this grey bedroom ideas; ideal for a calm, relaxing space with style.
It's time to make your bedroom a warm, welcoming, and relaxing place. Grey is the perfect color for your bedroom as it allows you to create a space that is both sophisticated and elegant.
Thank you for reading this post, don't forget to the best blogger Guy About Home who offers the best garden and home improvement tips! If you are a home decor and design fan, don't miss the tips on home ideas. If you are a home garden owner, then you might be interest in our complete guides to house plants!
Grey can help you achieve this by providing an understated backdrop for other colors and patterns. This will let you add splashes of color with pillows or other small items without taking over the room.
In addition, grey bedroom ideas help create a calm environment that will help you unwind after a long day. While white can make a room appear larger, grey helps create more intimate spaces where you can relax with family or friends. Continue reading this article to see more!
Table of Contents
Grey and White THe Color of Neutrality

Pure and Stunning and Its Simplicity

Walls are Painted, Dark Grey

Mixture of Red, Black and White

White and Medium Shades of Grey

A Navy Blue Bedroom

Silver and Rust Sophisticated Color

Warm Wood Vintage

Grey Wall Decor

Wood and BabyPink Walls
1. Grey and White: The Color of Neutrality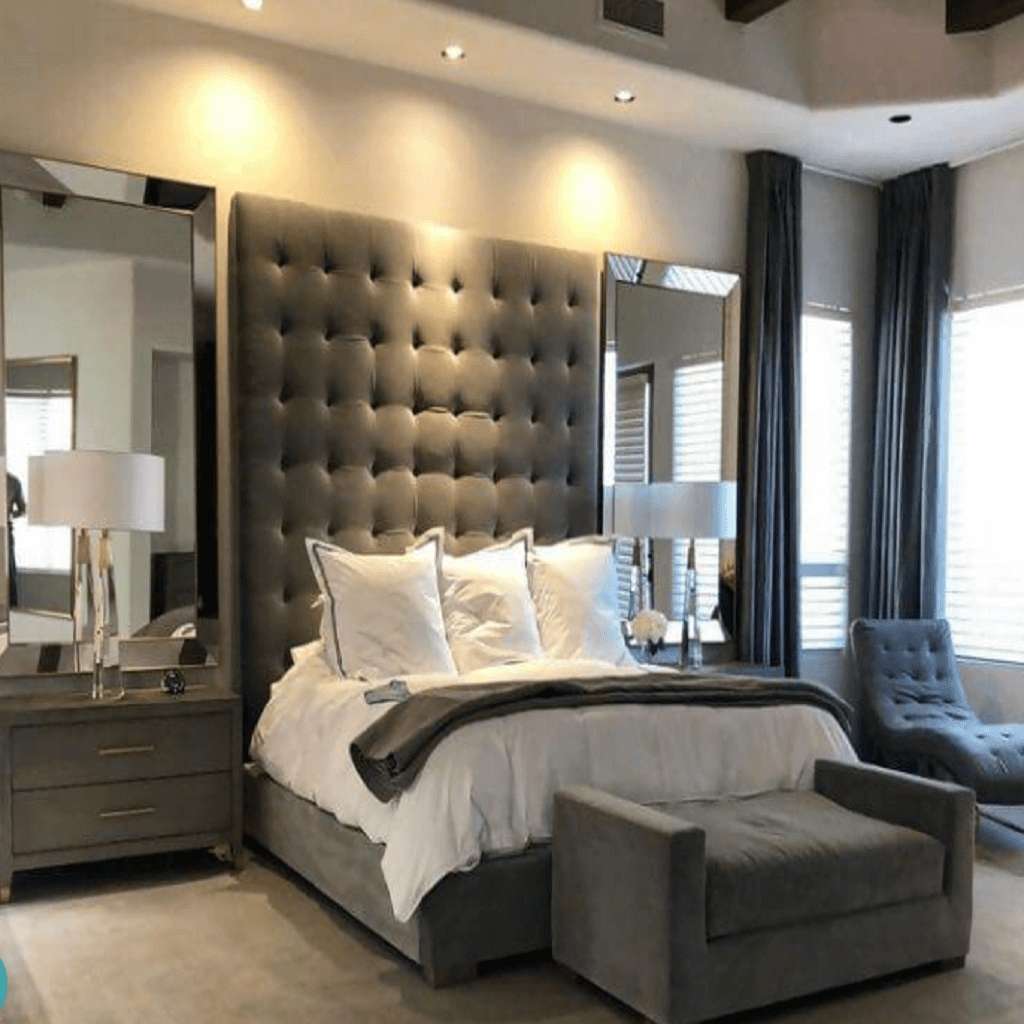 Image: Farmfoodfamily
This bedroom's neutral gray and white are expertly used to create a welcoming, refined atmosphere. They can be combined with any other color to create a sense of peace and are best used in small space.
Just try these for extra polish:
White gives a sense of space, while grey makes everything appear more compact. If you want your room to appear larger than it is, go for this duo!
Still not satisfied, find more inspiration after reading blue bedroom ideas
2. Pure and Stunning in Its Simplicity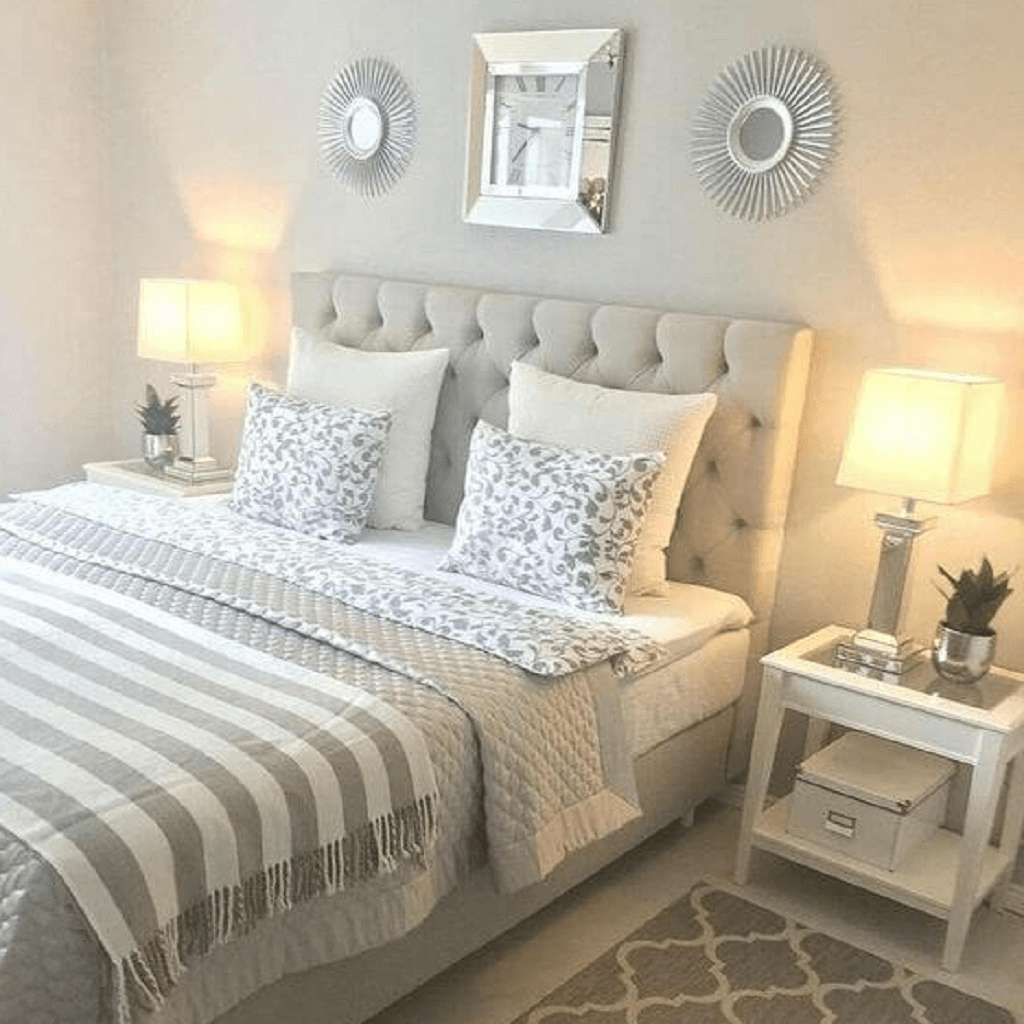 Image: Farmfoodfamily
We all know that women love to have a soft and comfortable bed. However, when you are talking about bedroom ideas for women, it's not just about sleeping but also dreaming of more than just a good night's sleep.
Improve it by these:
Use softer shades of grey mixed with white stripe beddings to provide just the right mix of elegance and simplicity.
Add some warmth to your bedroom with grey and white striped beddings.
3. Walls Are Painted, Dark Grey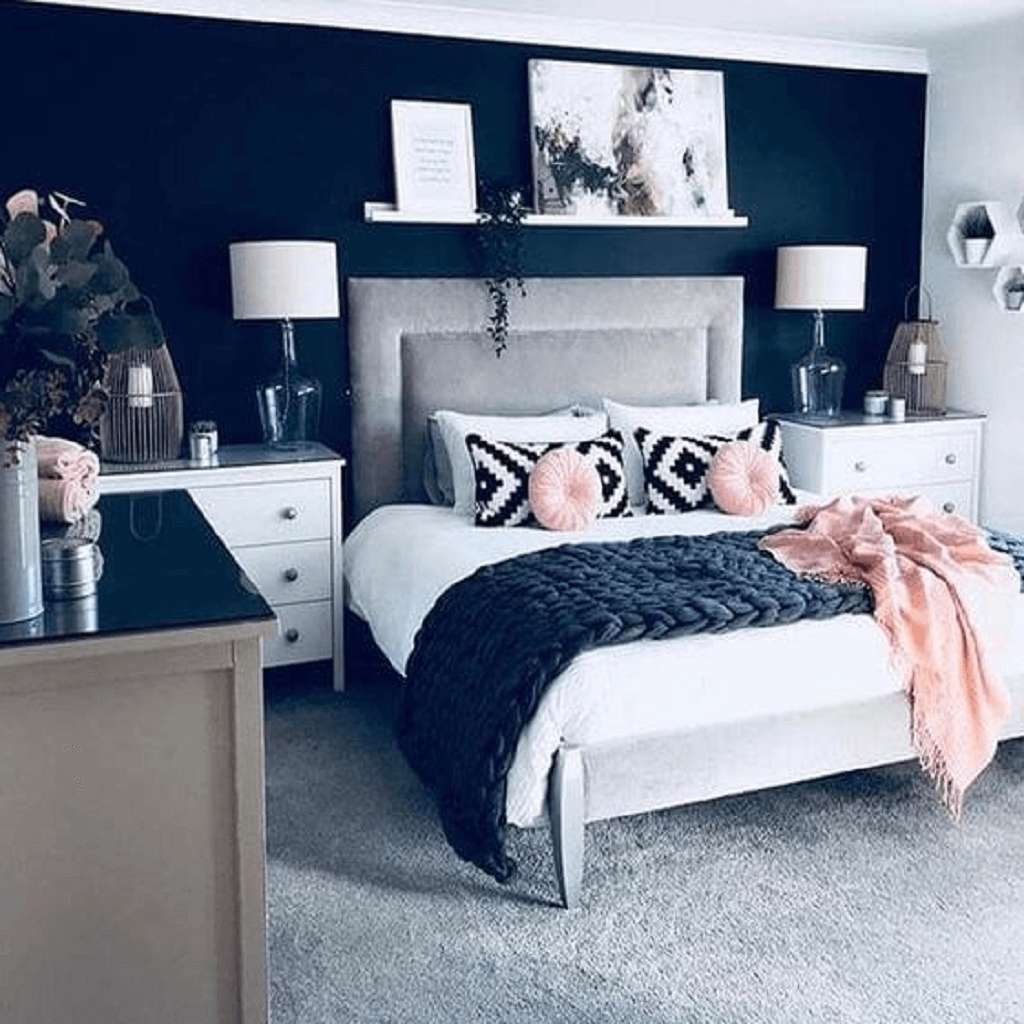 Image: Farmfoodfamily
Try to paint the walls dark grey to make a difference, or use white walls. However, they were always too bright, so try to incorporate black and you'll surely love it. The grey has a lovely calming effect that makes the room feel more spacious.
To further improve this design:
Widen your design horizons
Play with complementary colors and patterns to create a cohesive space.
If you like this idea but don't want to paint your entire room dark grey, consider painting one dark wall grey or just one section of that wall.
Still not satisfied, find more inspiration after reading Tumblr Bedroom Ideas
4. Mixture of Red, Black, and White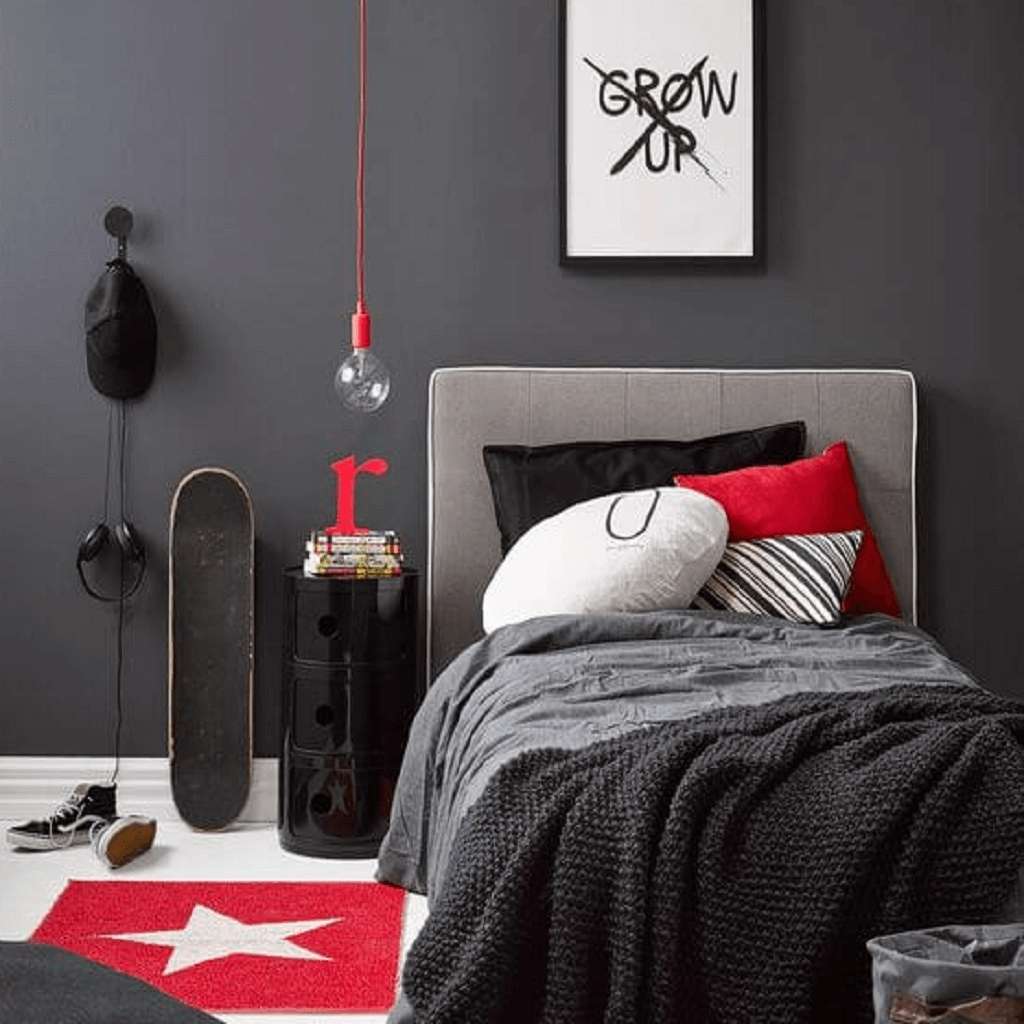 Image: Farmfoodfamily
It's possible that the secret to success for some people is to inject a little bit of color into an otherwise entirely grey bedroom. It offers the ideal amount of contrast in addition to the highlights.
For a more exciting look:
Paint the room red to achieve that perfect fix.
Try adding a pop of red with some pillows, lamps, or a rug.
Soon if you want to be subtle, start here. Red goes with practically everything, primarily black and white. Furthermore, red can overrun a room if it's too bright or aggressive.
Still not satisfied, find more inspiration after reading Tumblr Bedroom Ideas
5. White and Medium Shades of Grey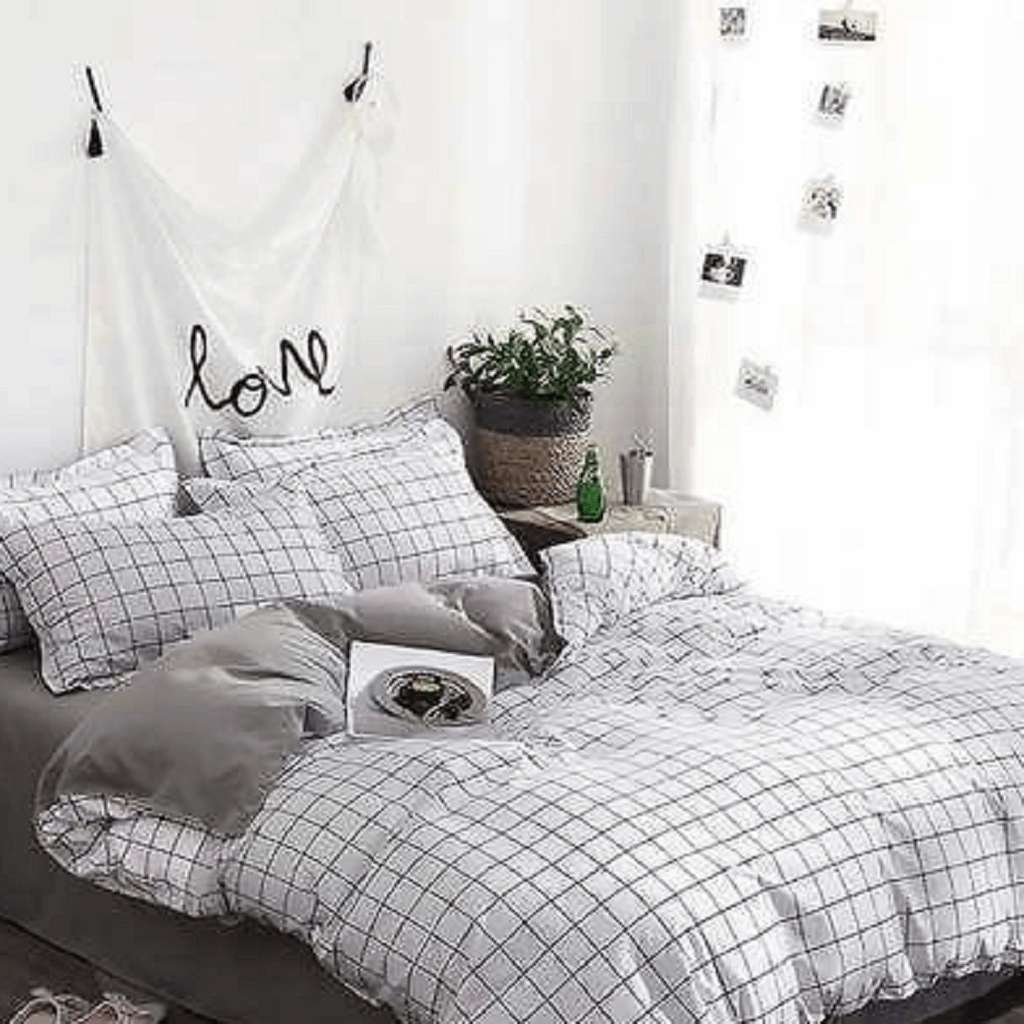 Image: Farmfoodfamily
All white, grey, and off-white colors are lovely in a bedroom. These colors should be found in the majority of the furniture in it. You can give the color accents to decorative pieces like lamps, pictures, or pillows. But if you prefer to make everything match, you should go with warm shades of white or beige instead.
You may consider this to add some:
Use a mix of soft and crispy linen to give it a stylish look
Mix up white and medium tones of grey to create a cozy bedroom
Walls painted in light grey make people feel calm. This gives you enough privacy for you to enjoy your rest time.
Still not satisfied, find more inspiration after reading women bedroom ideas for small rooms
6. A Navy Blue Bedroom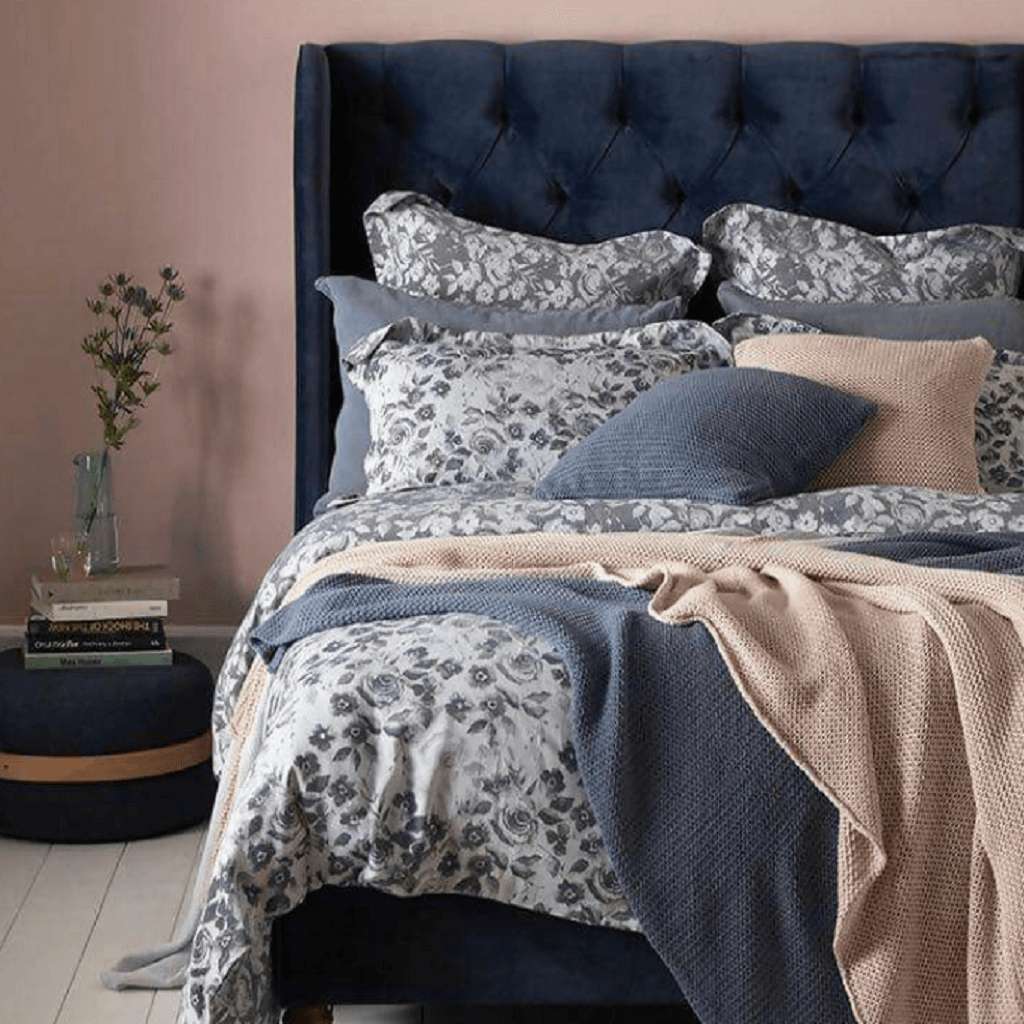 Image: Farmfoodfamily
If you're looking for a bedroom that will make you feel like royalty, add a mix of grey, then this is the one for you. The dark blue walls create a sense of depth, and the red accents give it warmth and coziness.
Just add a little bit more of these to feel cozy:
Use navy bedding and white accessories
Go for chic, simple patterns like the floral pattern
Accessorize with a black lamp and white side table
If you want extra color, add green there.
If you're looking for a new paint color for your bedroom, give navy blue room a try!
7. Silver and Rust Sophisticated Color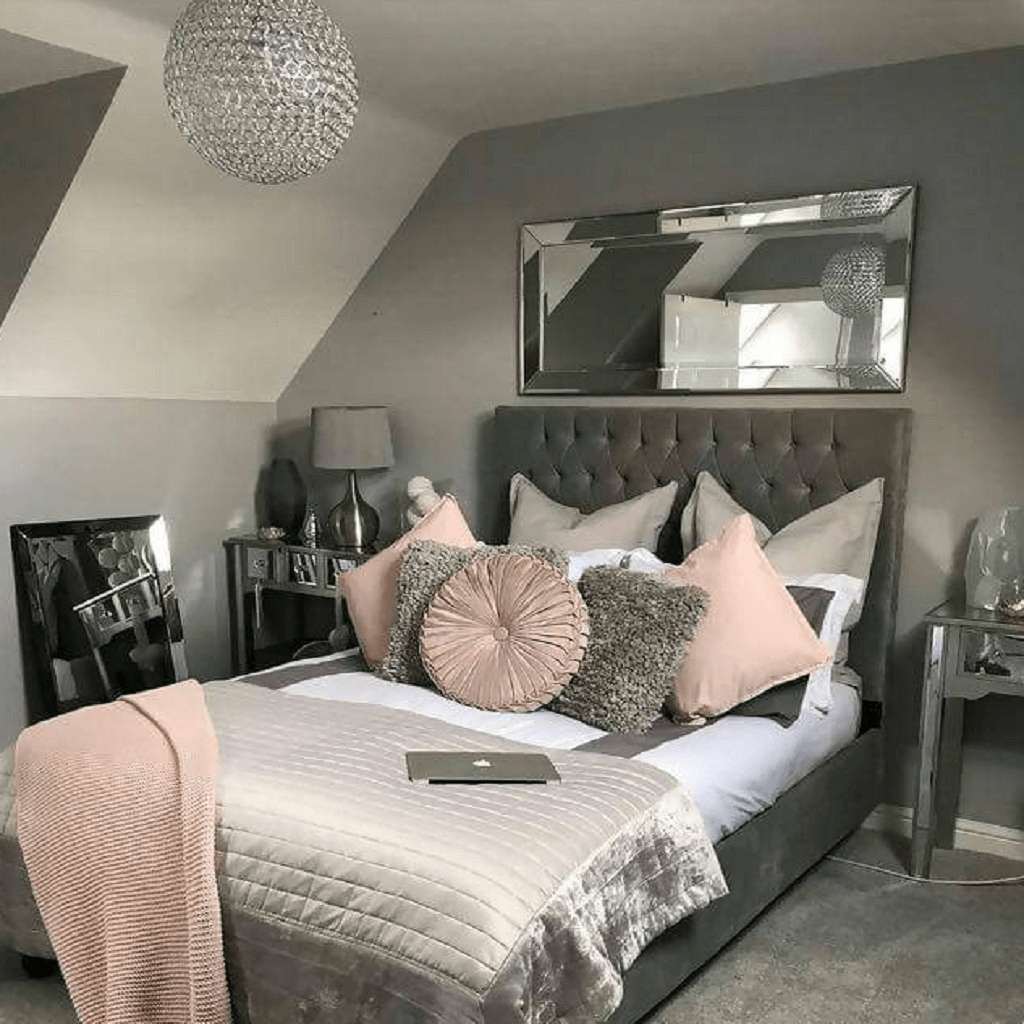 Image: Farmfoodfamily
I know you love the look of silver but aren't a fan of its coldness. Consider adding rust or a darker brown tone to your space. This will help warm up the room and create an inviting atmosphere for your family to enjoy.
Add some of these:
Use framed art above your bed to make the room look complete.
Paint the walls brown and add an accent wall of silver
Since the bedroom has a soft mix of grey, silver, and brown in different shades, adding the mirror in the back makes the whole room look better.
Still not satisfied, find more inspiration after reading Young Women Bedroom Ideas
8. Warm Wood Vintage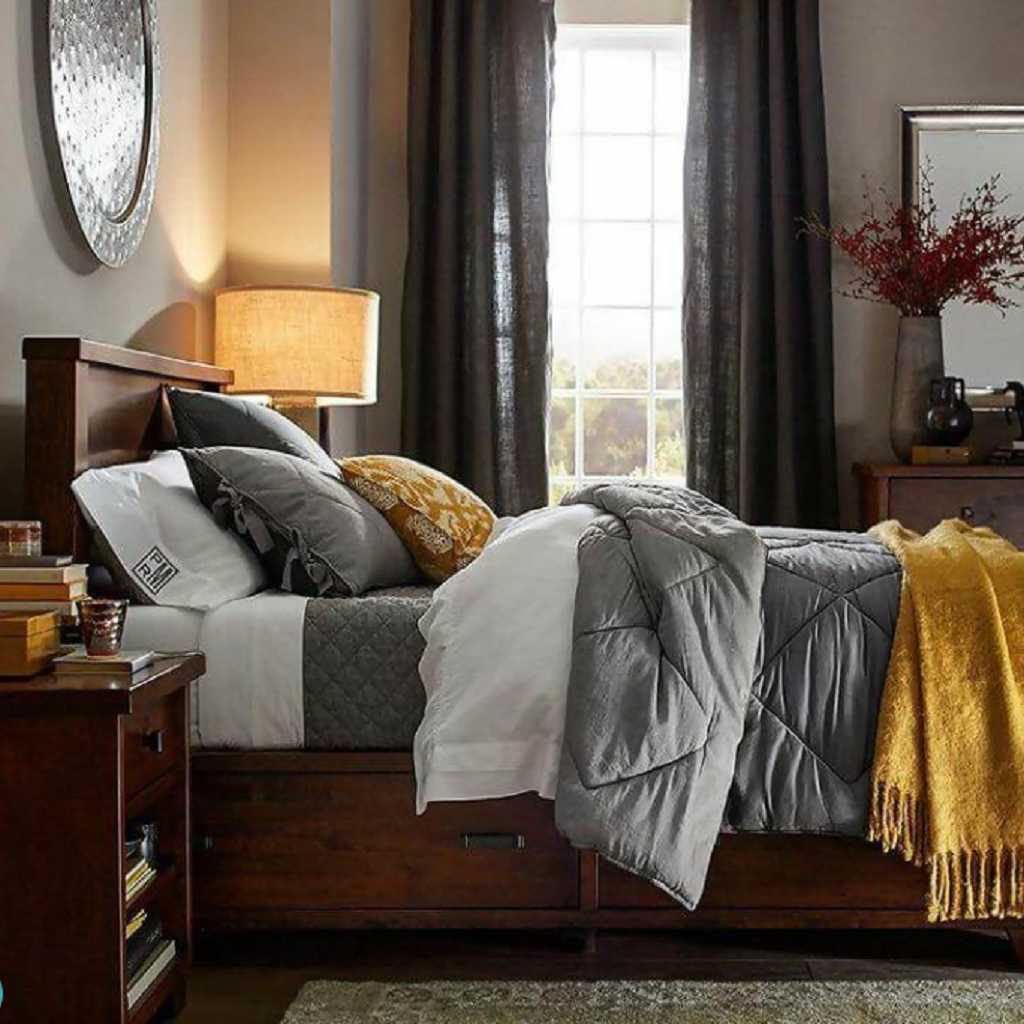 Image: Farmfoodfamily
Think about waking up every morning in this room. This bedroom's warm wood and vintage vibe make it feel like you're sleeping in a cabin, but with all the luxuries of a private island home.
If you like to sleep in vintage style, you'll love this cabin-inspired bedroom:
Add some wood to give your home some personality. You can find some awesome furniture deals that way.
Add some old-school touches.
Finish it with gold leaf paint, give it a kiss of glitter, and hang it.
It's the perfect time to get cozy with your favorite wood-themed items.
9. Grey Wall Décor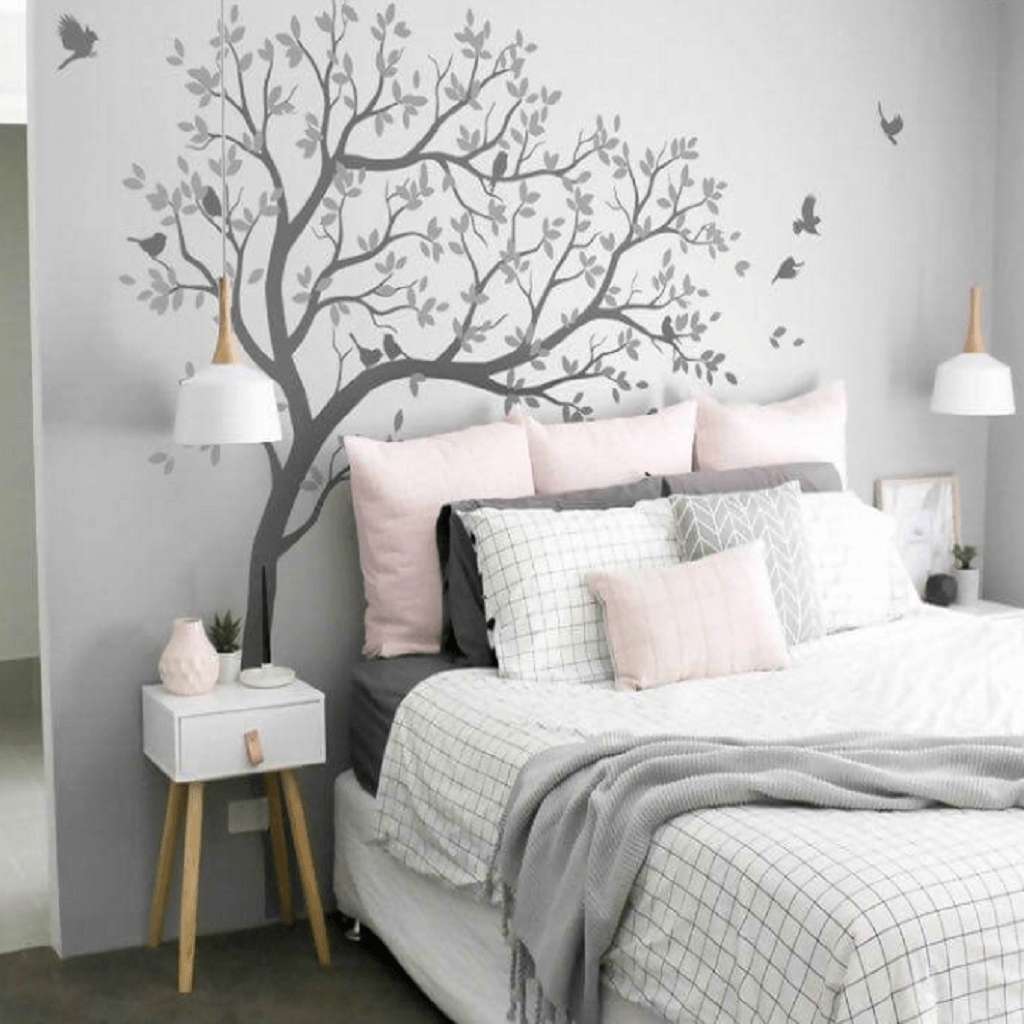 Image: Farmfoodfamily
Grey walls are a great way to add a little bit of color without painting the whole room. They're also a great way to hide stains, imperfections, and other things you might not want on display.
Try these to find out:
Make sure that the furniture, no matter how big or small, still complements each other.
Choose a contrasting color for your pillows.
Of course, choosing the right piece is not enough; you also need to place it properly and make sure it brings out the best in you out of your walls.
Still not satisfied, find more inspiration after reading Small Bedroom Ideas For Women
10. Wood and Baby Pink Walls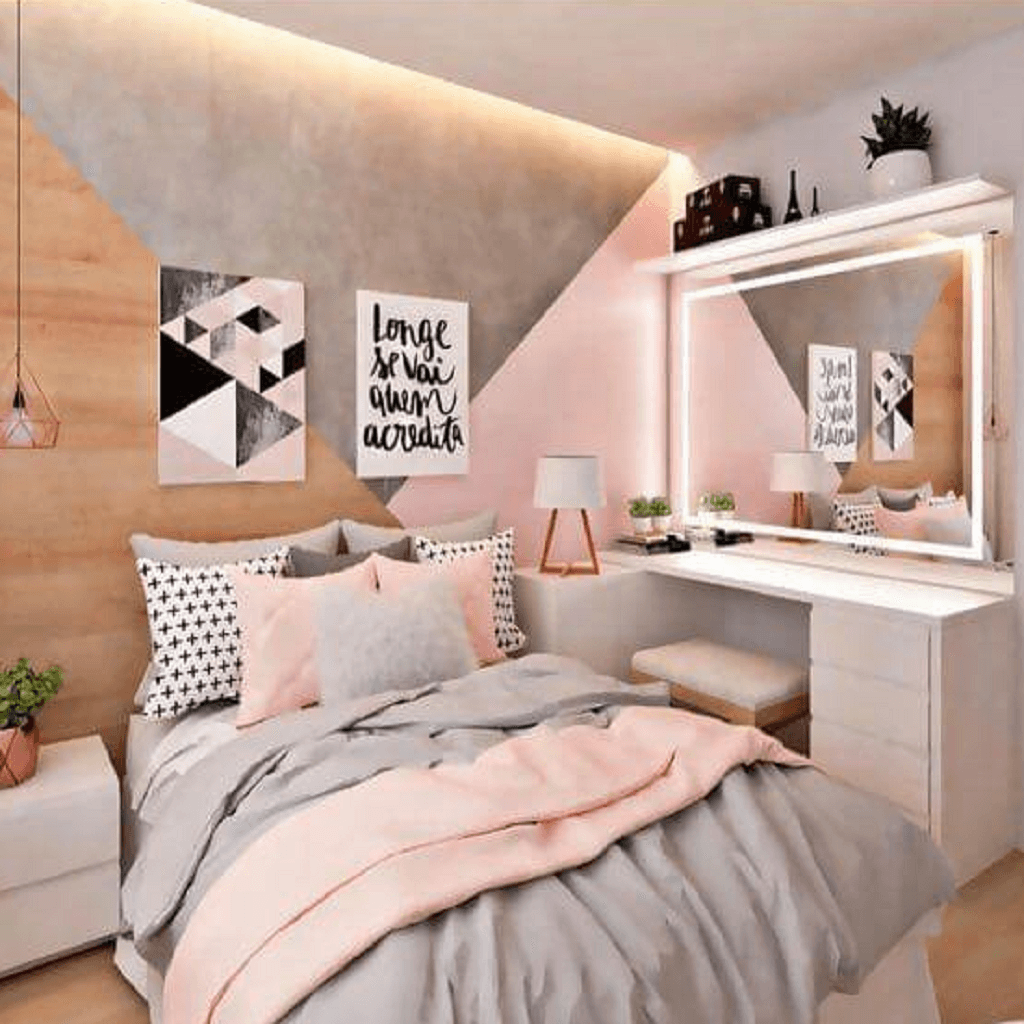 Image: Farmfoodfamily
Wood and baby pink walls are an excellent color combination. Well, it's not just about how good this color combination is, but more about how well-balanced they are. Coordinating with furniture and accessories will never go out of style.
Create a calm environment with these tips:
Add a few wall hangings and plants to make it look even better.
Don't go overboard with your color choices
Use different textures and objects to create interest
Choose calming colors like light blue or green for the walls.
Add white linens to the bed that is made from organic cotton.
Takeaway
Grey bedroom design ideas are one of the colors used in interior decoration since a long time ago. If you have a bedroom decorated in grey colors, surely you get that calming effect on you. Also, you can choose different bedroom decor variations of the color such as light grey, dark grey, silver, or charcoal grey as they give a sense of space to the bedroom.
For more amazing ideas you can have, visit Guy About Home today or you can check the related blogs: