Prove that a classic white bathroom vanity area can be splashed with tons of creativity and fantastic ideas now!
Nothing beats a classic white area. Yes, it can be hard to maintain its color over time due to smudges and dirt residues. But isn't it nice to have this sense of responsibility in maintaining one? Also, remember that every color starts with plain white, so why not make white the most intriguing color of all time.
Thank you for reading this post, don't forget to the best blogger Guy About Home who offers the best garden and home improvement tips! If you are a home decor and design fan, don't miss the tips on home ideas. If you are a home garden owner, then you might be interest in our complete guides to house plants!
Splash every creativity into a simple and classic one, yeah? Read this article to know more about the things we are talking about.
You can also visit creative vanity ideas if you like a little bit of a twist. 
Table of Contents
Ultimately Large Space For White Vanity Bathroom

Single And DIY White Vanity Bathroom

Modern And Industrial White Vanity Bathroom Ideas

White and Rustic Stylish White Vanity Bathroom Ideas

Cottage Vibe White Vanity Bathroom Ideas

Chic and Dreamy Style Vanity Bathroom Ideas

Raining Towers Vanity Bathroom Ideas
1. Ultimately Large Space for White Vanity Bathroom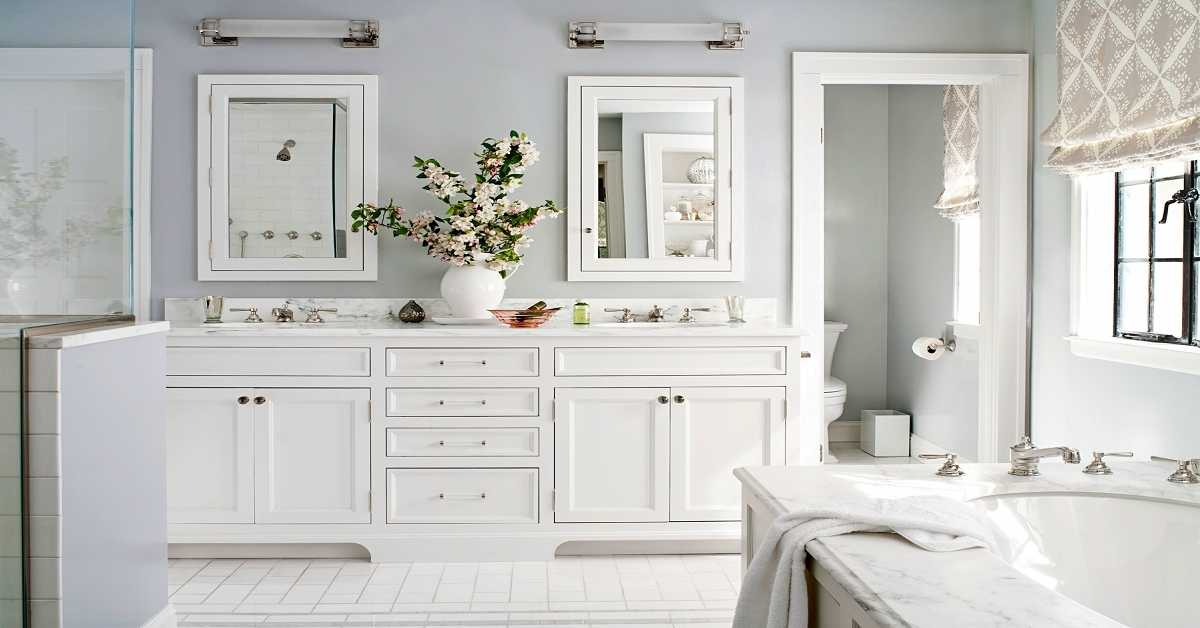 Image Source: Better Homes and Gardens
Maximize the space in your bathroom area. There is no need to buy colorful furniture pieces when you have such elegant furniture that will surely beautify your vanity bathroom. No need to resort into something colorful; just do a classic white one with a few minimal colors for a twist!
What to do?
To main

tain design balance among your door and vanities, acquire a classic white rectangular mirror. Get a spherical or concave one if you desire to have something contemporary and focus on other furniture. 

A marble twist is what you need. Your sink and bathtub tops should be in marble texture for a smooth, relaxed, and modern sensation. 

A grey-white painted wall is ideal for maintaining the primary theme but with a bit of contrast. 

Own everything with a traditional white cabinet and have your stuff organized through different compartments.
Still not satisfied, explore more  double vanity bathroom ideas  if you take interest in it
2. Single and DIY White Vanity Bathroom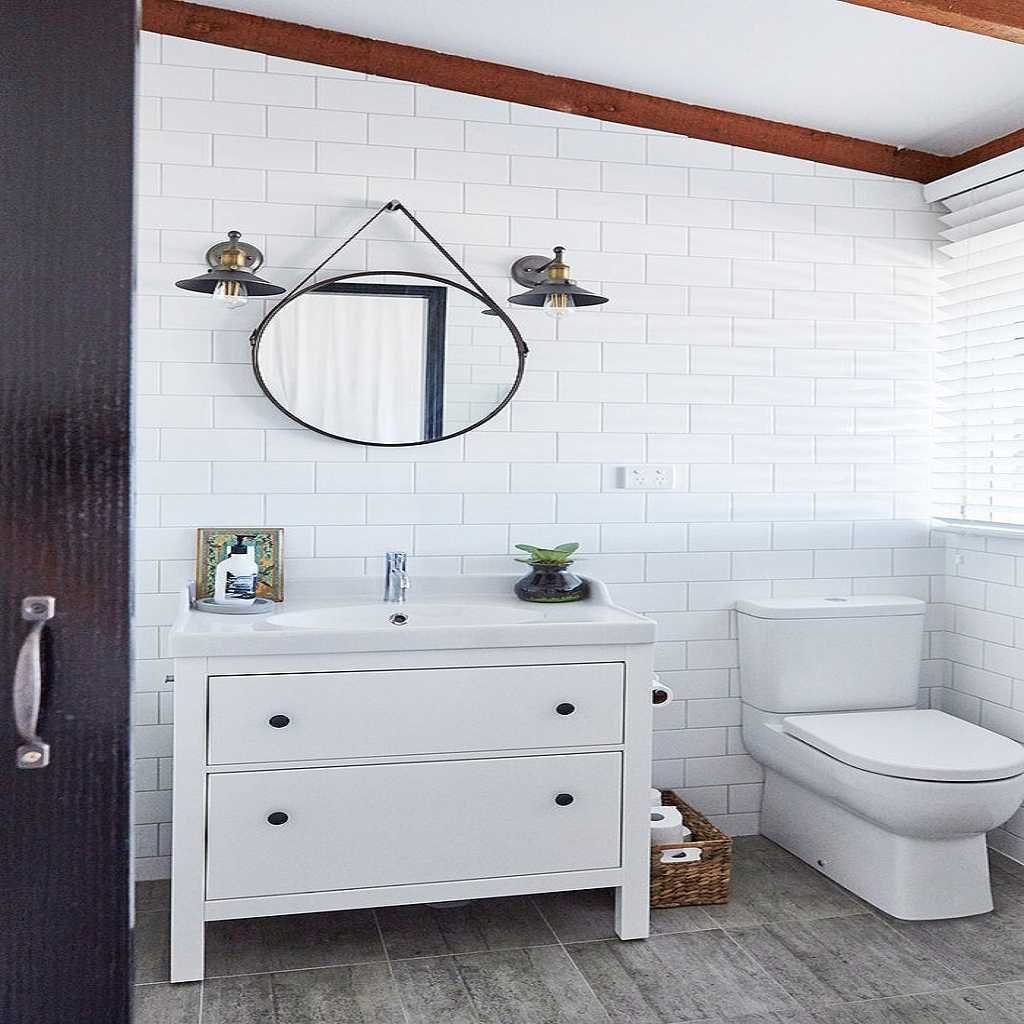 Image Source: Living For Media
Suppose you don't want to go over the budget and unleash your creativity. You got one thing to do: Go for a DIY and white single vanity bathroom. Make sure that everything is just minimal to fit into the room and also to match the minor theme. Large furniture can overpower the others, so better avoid it.
Here's what you can do:
Step up

your game by acquiring downlight reflectors in between your spherical mirror. But if you still want a classic one, go for a rectangular vanity and a light-bulb sconce. 

Since it is just a small space, have a traditional small white cabinet with 2-3 compartments. 

Paint your wall white or maybe install ceramic tiles. You can paint the edges brown or black to have a little contrast. 

Lastly, flaunt some displays. Put a mini-plant, a portrait, and your toiletries and sanitary stuff.
Still not satisfied, explore more  blue vanity bathroom ideas  if you take interest in it.
3. Modern and Industrial White Vanity Bathroom Ideas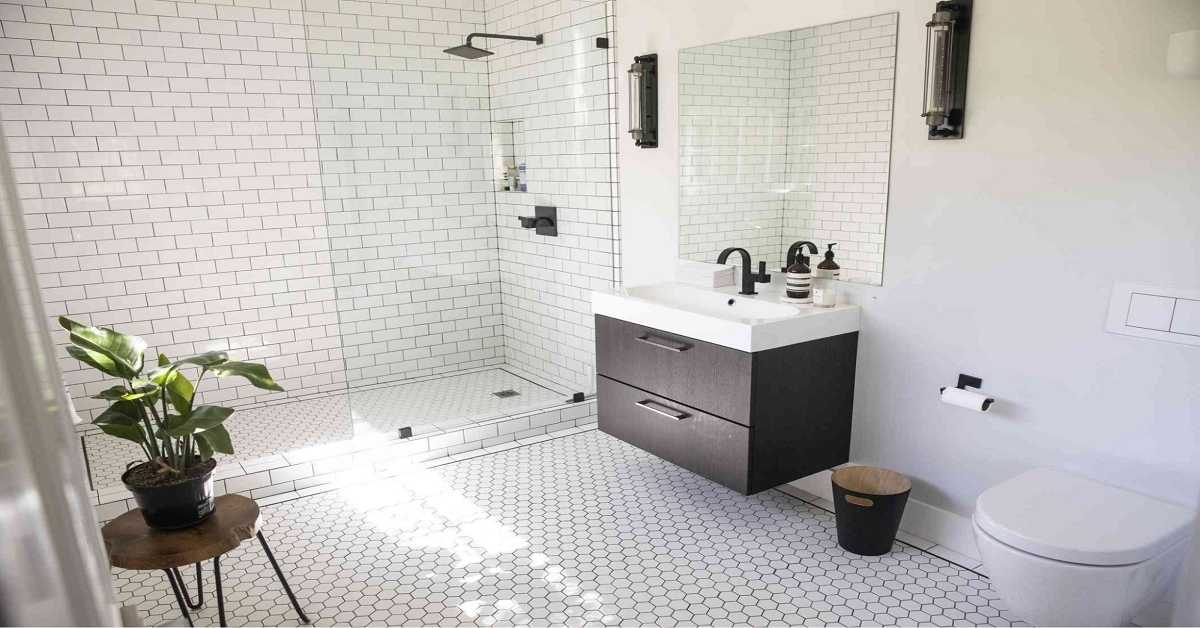 Image Source: The Spruce
Since black and white are the primary colors of modernity, let us focus on white. Some say that black is more powerful and attractive. Let us break that belief and turn white into something dominant so that you will never regret painting your vanity bathroom white.
For a

dramatic look, install white-painted

ceramic tiles

around the wall. For the flooring, ensure to follow the sequence by acquiring tiles that match the wall tiles. 

Choose a frameless mirror and a floating cabinet to contribute to the modern era. Undermounted sinks are ideal because separate wash basins sound DIY and traditional.

Go for an average size sconce. The one that is slim depicts modernity. 

For more visual design, you can put the indoor plant on the stool or purchase a mini plant on your sink top, along with other sanitation stuff.
Still not satisfied, explore more  navy blue vanity bathroom ideas  if you take interest in it.
4. White and Rustic Stylish White Vanity Bathroom Ideas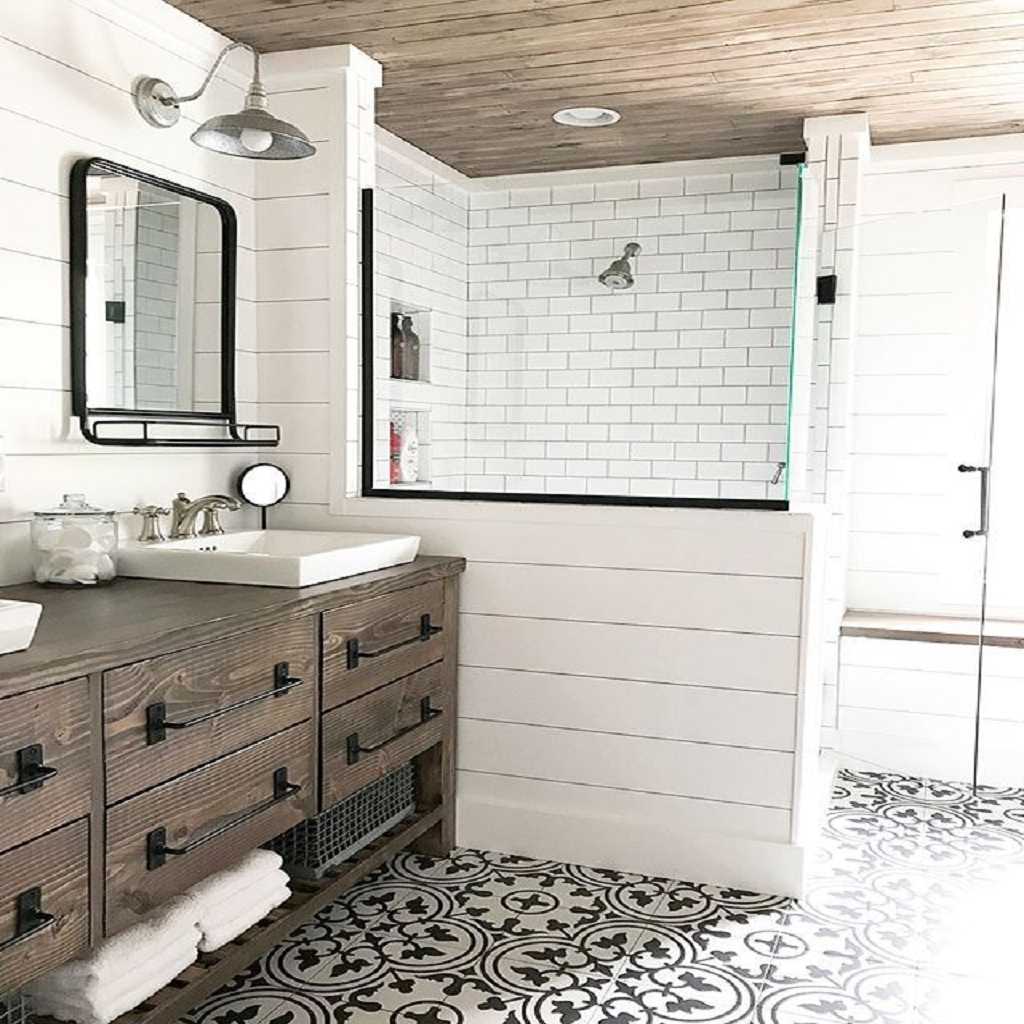 Image Source: Pinterest
Time to combine your ideas! Who says that a classic white one cannot be merged with the traditionally old design ideas? Let's make it possible with the right furniture pieces and paint.
Find out how you can have this kind of vanity bathroom:
Acquire an oak-wood cabinet. No need to paint it white, a little bit of contrast will do. 

Add

an average squared mirror with a black frame, or you could have a wood-framed one to match the cabinet. 

Play with rustic and classic by having a wood ceiling and wood vanity backsplash. The other wall portion and floor can be covered with limestone tiles. Floor patterned tiles are lovely to eliminate the dullness.

Lights can be single or in-between grey light reflectors for neutrality. Trough sinks give off the traditional and modern vibe, so choose this.
Check bathroom cleaning hacks to maintain an attractive bathroom. 
5. Cottage Vibe White Vanity Bathroom Ideas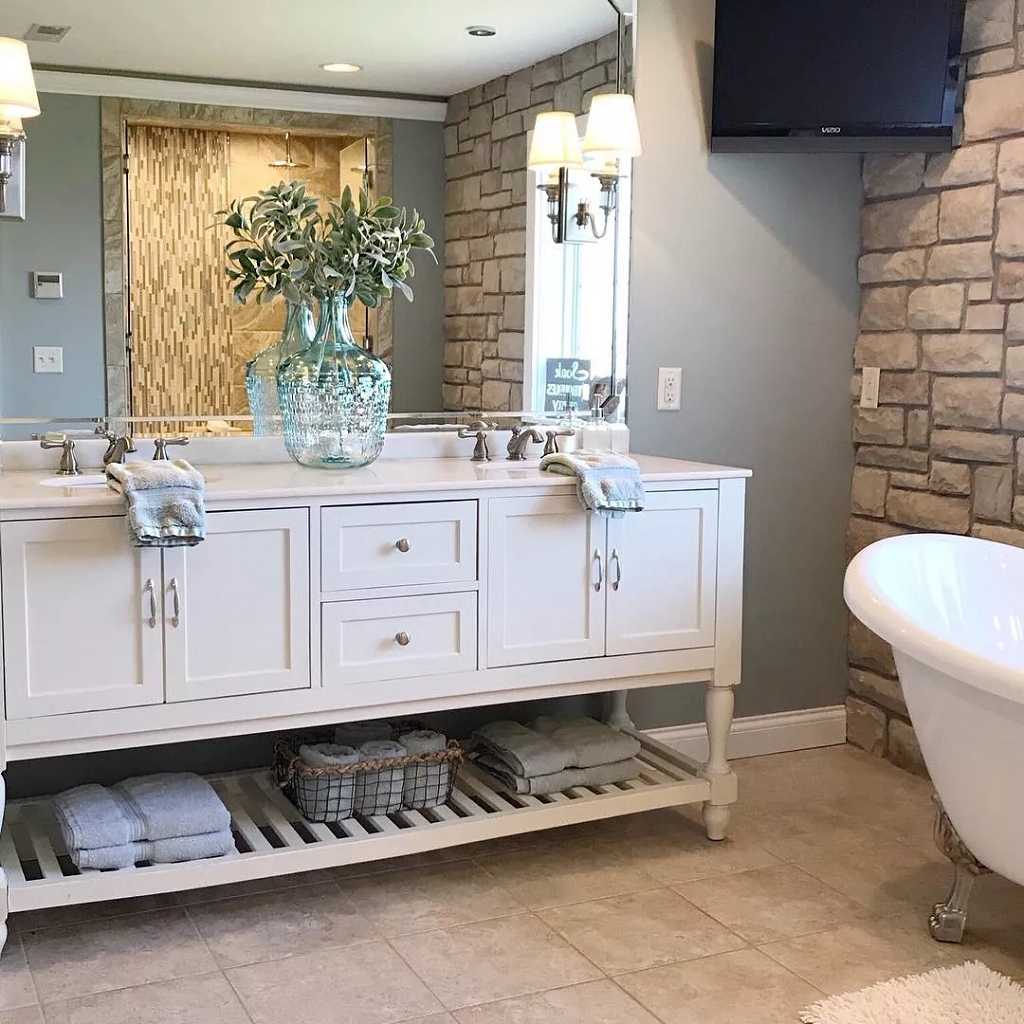 Image Source: The Gate Way Home
Bring a more natural and airy look to your bathroom vanity area by turning it into a cottage look. Instead of a boring wall-painted one, highlight your interiors by having an open cemented wall and free-standing white furniture features.
To achieve this, you have to:
A free-standing and an open storage white cabinet can be elegant and French-style but if

you want to push through attractive contrast, pick these. Yet if you ought to match the theme, go for a vessel white vanity sink.

Instead of a mini plant, highlight your sink top design with a large indoor plant in a transparent vase. 

To complete the cottage vibe, install cemented or cobblestone wall interior. For the floors,

limestone tiles

will do.  

Lights can be a traditional lampshade sconce or a lantern-like one for a more rustic vibe.
Get more bathroom DIY vanity ideas in this link attached. 
6. Chic and Dreamy Style Vanity Bathroom Ideas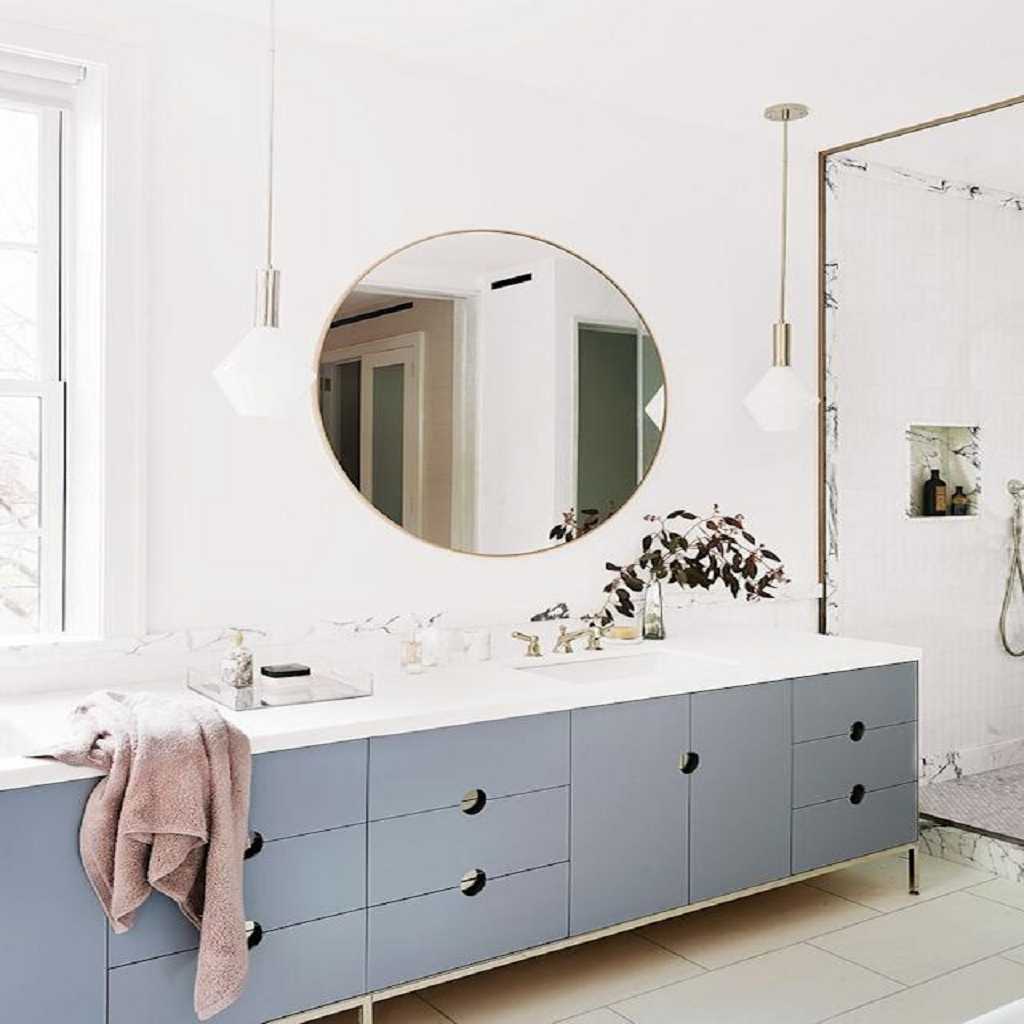 Image Source: Yahoo News
Sprinkle a bit of feminine in your vanity bathroom. You will surely love admiring yourself while singing in awe with this bathroom vanity. You can also enjoy the style and storage abundance of the cabinet. The mixed colors also give you an idea that white can be paired with everything. Just don't overdo it.
C

hoos

e a light color for the cabinet. Intense colors like black, red, and dark blue overpower the white color and entire theme. 

Aside from vintage and elegantly framed mirror, a spherical mirror with a thin frame is lovely. 

You can install minimal marble tiles for a dramatic mood. Or, you can just have your room painted for a soft mood. 

To contribute to the chic mood, go for elegant hanging hexagon lights. 

Add some plants, toiletries, and sanitary stuff to the sink top.
However, if you want something tropical, check out bathroom beach-themed designs. 
7. Raining Towers Vanity Bathroom Ideas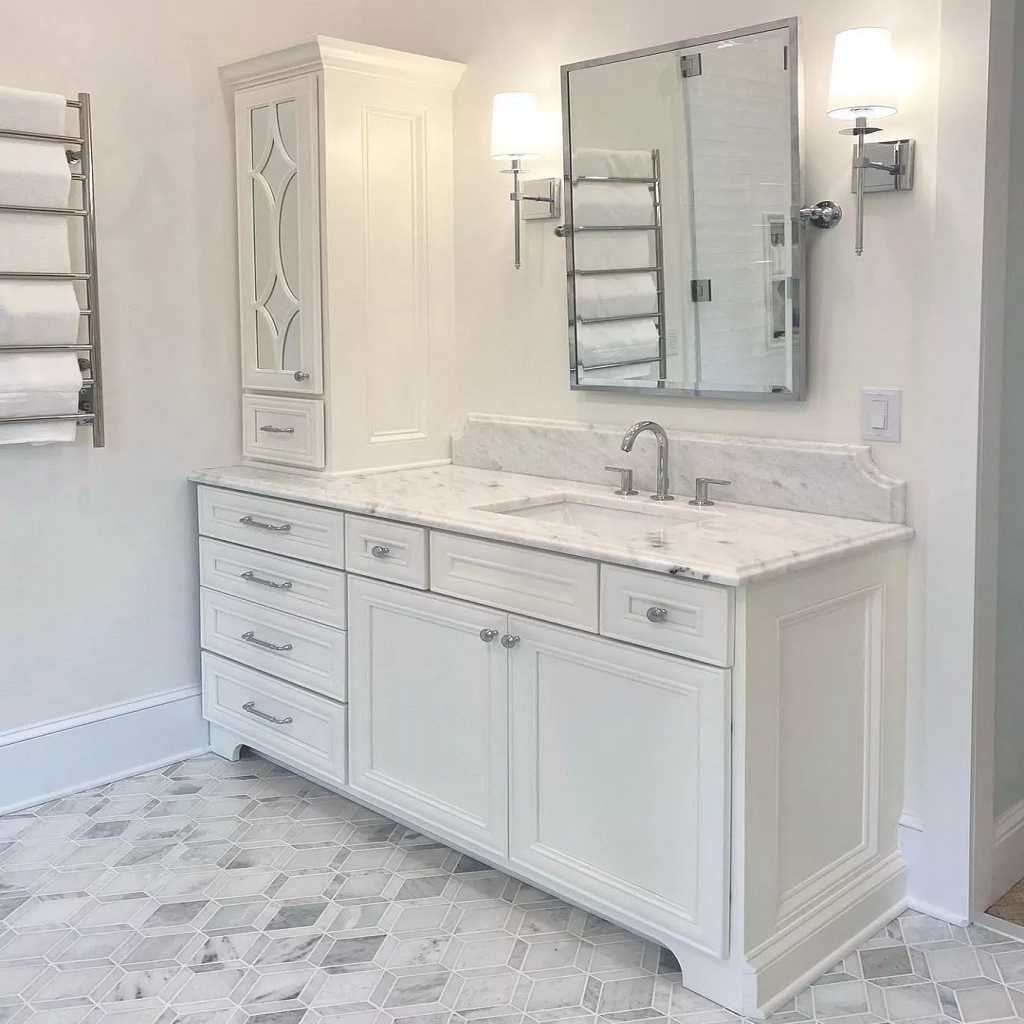 Image Source: The House of Haires
Eliminate all the awkward spaces and use every furniture piece as they give beauty to the entire bathroom—time to surround your vanity with furniture pieces that are unique in white.
What you can do are:
You c

an have a combination of vintage and traditional one for the cabinet. The upper cabinet should have a conventional cornice and many compartments to organize your toiletries and sanitation stuff. 

A white stone sink top is also nice if you want to have a little bit of an artsy and dramatic design. 

Match the shapes of the cabinet shelf and vanity by choosing a rectangular one. You decide if you want to have a thick-framed or thin-framed vanity. 

Tiles can be porcelain or ceramic, anything that gives off a classic or an elegant vibe. 

Uplight or downlight sconce will do. Just make sure it is suitably paired with the white color.
Still not satisfied, explore more  master bathroom vanity ideas  if you take interest in it.
Conclusion
Unlike many other colors, white is very underrated. So why not break that stereotype by acquiring the right amount of creativity in your comfort area? It is time to begin the journey of the white color, and you can start by obtaining it in your bathroom.
One tip that you should always follow so that every white piece of furniture piece is visible and can avoid overpowering each other is choosing the right shape, contrasting colors, and volume. The ideas above will seriously help you out.
For more amazing ideas you can have, visit Guy About Home today or you can check the related blogs: