Acquire a breathtaking vanity bathroom that is affordable and easy to work on!
One thing that you can always do to save money is to have yourself do the design. Not only you would enhance your creativity but you will also develop a sense of responsibility. Isn't that great to hear?
These superb ideas will definitely make your mind blown. Who knows that simple DIY hacks can turn your vanity bathroom into something spectacular? All you have to do is to check out this article and see for yourself.
However, to have your vanity area maintain its fabulous look, you can check out the bathroom cleaning checklist. 
Table of Contents
Vintage Style DIY Bathroom Vanity Ideas

Classic and Elegant DIY Bathroom Vanity

Budget-Friendly Single Bathroom Vanity Ideas

Farmhouse Vibe DIY Bathroom Vanity

Rustic Wood DIY Bathroom Vanity Ideas

Small DIY  Bathroom Vanity Ideas

Colorful DIY Bathroom Vanity Ideas
1. Vintage Style DIY Bathroom Vanity Ideas
Image Source: Homedit
So you are on a low budget yet wanted a vintage style? No problem! This is your answer. The magic is in your hands. Live in an old-fashioned way in the easiest way possible.
All you have to do are:
Since you are building the cabinet, you should buy a separate wash basin. A classic white sink will do the trick. 

Step up your game somehow by acquiring a spherical mirror but if you want to stay traditional, place a square mirror. 

Aside from the open storage cabinet, you can acquire

rattan

baskets for your toiletries and bath stuff. 

For the backsplash, you choose the color. You can have a half-painted wall and a half-tiled wall for a combined mood. Use porcelain style for a glossy and smooth wall. 

Instead of a single sconce, go for a hanging three-sconced warm light to match the vintage color and vibe.
2. Classic and Elegant DIY Bathroom Vanity
Image Source: Better Homes and Gardens
Surround your vanity with simple and elegant colors. White and cream are the ones! But the question here is how you can simply turn those colors into something eye-pleasing? Can you do that? Of course!
Here are some tips:
You decide if you want a classic rectangular vanity, or you could have an antique mirror to achieve the royal vibe. 

For the sconces, you can have a lampshade-like sconce for a more homey comfort ambiance. Just ensure that the handle is made of glass for elegance. 

Match your medicine cabinet with the glass sconce handle. You can go for a simple cabinet if you think it is weird. 

Console sinks matching the bathroom theme are ideal if you really want to design your bathroom based on your desire. 

Put a slim vase filled with fresh flowers to add more life to the design.
3. Budget-Friendly Single Bathroom Vanity Ideas
Image Source: Better Homes and Gardens
If you still cannot decide on the right bathroom vanity for you, you do not have to worry about it. Just stick to your budget and make the most of your creativity. Remember that it is not about the brand. It is always about the style.
For you to achieve a budget-friendly vanity bathroom, you should:
Instead of a cabinet or building a wall cabinet that can cost your time, you can just purchase an average table that has divided open storage. 

To play with the design and colors, you can have patterned fabric baskets to serve as your divider of toiletries and bath stuff. 

Undermounted sinks are ideal for a balanced look. Go for a panel mirror, for it is less costly.

For additional designs, purchase hanging lights and succulent plants to be placed around your vanity area.
Have your bathroom wall fantastic through bathroom wall decor ideas. 
4. Farmhouse Vibe DIY Bathroom Vanity
Image Source: Better Homes and Gardens
Upgrade your bathroom vanity space into something extremely unusual. Well, who has a bathroom now that has a farmhouse vibe? Everything is digitized in this modern world, and even bathroom themes are just going with the flow.
But the flow towards having a contemporary bathroom does not stop so all you need to do are these:
Paint the antique mirror depending on the color theme. The visible brush strokes help create a natural rustic old look to your furniture. 

To add more thrill yet a convenient option, choose fabric baskets and place them in the open storage table. You can choose a vase with sunflowers or just have flowered succulents and a tree branch display for other designs. 

Purchase a separate wash basin and faucet and place them above the table. 

Walls can just be simply painted. A bathroom mat will also add a simple and affordable design.
5. Rustic Wood DIY Bathroom Vanity Ideas
Image Source: DIY Crafts
If spending too much is such a burden to you, you can permanently save by innovating your wood table. In that way, you are not just unleashing the creativity in you, but you can also save money.
Achieve a rustic wood look bathroom vanity through these:
Find a wood table and rework it. No need to have it painted, just a simple shaping of edges is enough. If you want to buy a cheap one, make sure it is made of oak to ensure its durability. 

A mini cabinet is ideal if you want to keep your toiletries a little private. But if you want easy access and a less pricey one, you can have a table with open storage. 

You can have a spherical pivot mirror surrounded by an oak frame to add a more rustic vibe. 

You can choose a separate wash basin or just have an under-mounted sink.
6. Small DIY Bathroom Vanity Ideas
Image Source: Better Homes and Gardens
If you have problems decorating your small-spaced bathroom area, we got you! Never worry about the awkward spaces because you can always maximize them through our fascinating furniture pieces and fabulous ideas!
What you can do are:
Have your displays ready. It can be plants, quotations in a frame, portraits, or small vases. 

Make use of your vanities by putting different kinds and sizes of mirrors on the wall to project a decorative look. 

You can go for a

ceramic sink

or an under-mounted sink with built-in faucets depending on your desire. 

Go for black and white hanging reflectors for a classic vibe for the lights. 

Cabinets should be white or should be made in oak to match the simple design. 

The backsplash can be made of limestone tiles or a simple white or cream-painted wall.
To maintain the fantastic design, check out bathroom deep cleaning ideas. 
7. Colorful DIY Bathroom Vanity Ideas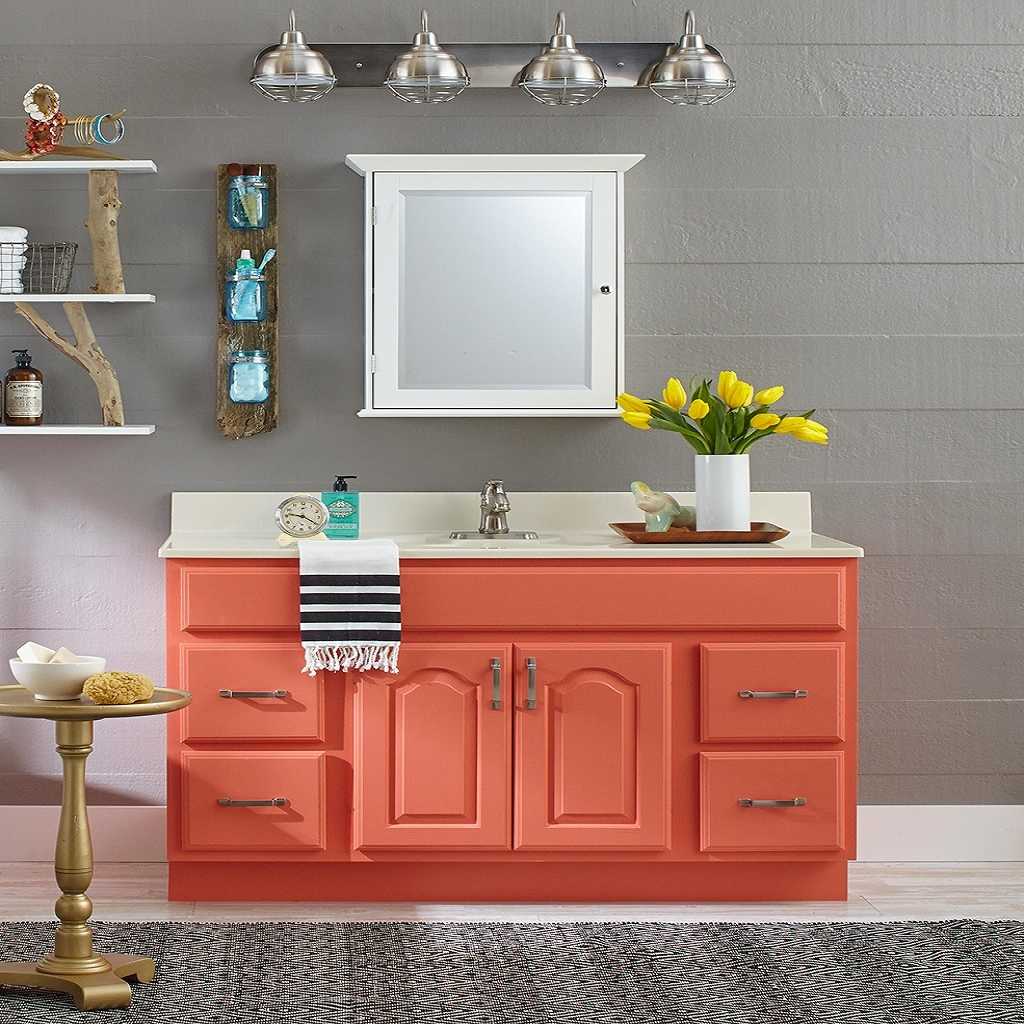 Image Source: Better Homes and Gardens
Notice that the whole area is filled with furniture pieces of different colors. Well, let the traditional way of having colorful bathroom vanity designs. A paint job can be time-consuming, so why not buy furniture in several colors and put them together?
To know more about this, you can:
If you have a grey wall, you can have contrasting colors such as orange, white, or red. 

Achieve a farmhouse vibe by having a wood average stool, wood shelf, and small display branches among your toiletries. 

Combine modernity and a rustic vibe through stainless lights and a 2-in one mirror (medicine cabinet and vanity)

Tiles can be wood or ceramic tiles. Purchasing a rug is optional. 

Above the sink, you can put a small clock, sanitation stuff, and a vase filled with fresh flowers.
Have your tiles free from any dirt. Visit bathroom tile cleaning hacks.
Conclusion
Don't be afraid of doing something great for your bathroom. The bathroom vanity ideas mentioned above are just the beginning of squeezing those creative juices in you. We hope that we have shed light to you on these ideas.
Apply the ideas, and you will indeed be surprised at how you can transform your bathroom vanity into a fascinating one. Put in mind to trust yourself and do some research before designing your vanity. Follow all the procedures of assembling furniture pieces or purchase a ready-made one to make it easy.
For more information, visit Guy About Home today!