Learn about these fun and creative Fall baby shower ideas that are sure to make your next baby shower a huge hit.
Fall baby shower ideas can be a lot of fun. This is the perfect time of year to get together with your friends and family and celebrate the arrival of a new baby. Here are some fun Fall baby shower ideas that will help you make this event even more special for everyone involved.
Thank you for reading this post, don't forget to the best blogger Guy About Home who offers the best garden and home improvement tips! If you are a home decor and design fan, don't miss the tips on home ideas. If you are a home garden owner, then you might be interest in our complete guides to house plants!
The first thing that you need to do is decide on a theme for the event. You can do many different things with this theme, but you must choose something that will work well for everyone who attends your party so they will have fun. The ideas below are great for Fall baby showers. You can choose a few or all our ideas!
Table of Contents
Rustic Fall Baby Shower Ideas

Thanksgiving Baby Shower Ideas

October Baby Shower Ideas

Baby Shower Cupcake Ideas

Pumpkin Baby Shower Ideas

Farm Baby Shower Ideas

Beautiful Baby Shower Ideas

Outdoor Baby Shower Decorations

Fall Baby Boy Shower Ideas

Fall Baby Girl Shower Ideas

Cute Fall Baby Shower Ideas

Fall Theme Party Ideas

Fall Baby Shower Cake Ideas

Fall Baby Shower Food Ideas

How Can I Make my Baby Shower More Fun

How Many Baby Showers Should a Person Have
What Month Should I Have a Baby Shower
A baby shower is an important event for you and your family. It's an opportunity to celebrate your child's upcoming birth and shower the honoree with gifts, love, and well wishes.
It can be tempting to plan the event any time during the pregnancy, but most people think it'd be best to have a baby shower between 24 and 32 weeks (six to eight months) before the expected delivery date. 
Your plan for the baby shower's schedule will most likely be determined by some elements, such as the season, the number of guests invited, and, of course, the honoree's preferences for the date and time of the event.
Where To Have a Baby Shower on a Budget
It is not a problem if you cannot throw the baby shower in your own home or at a friend's home. There are still many more places you may go to that won't cost you a thing, and you can choose from many different things.
For instance, many churches provide their congregants with fully equipped kitchens in their fellowship halls or family centers. Even if you're planning to splurge, your guests will love the following ideas for a cheap baby shower.
1. Rustic Fall Baby Shower Ideas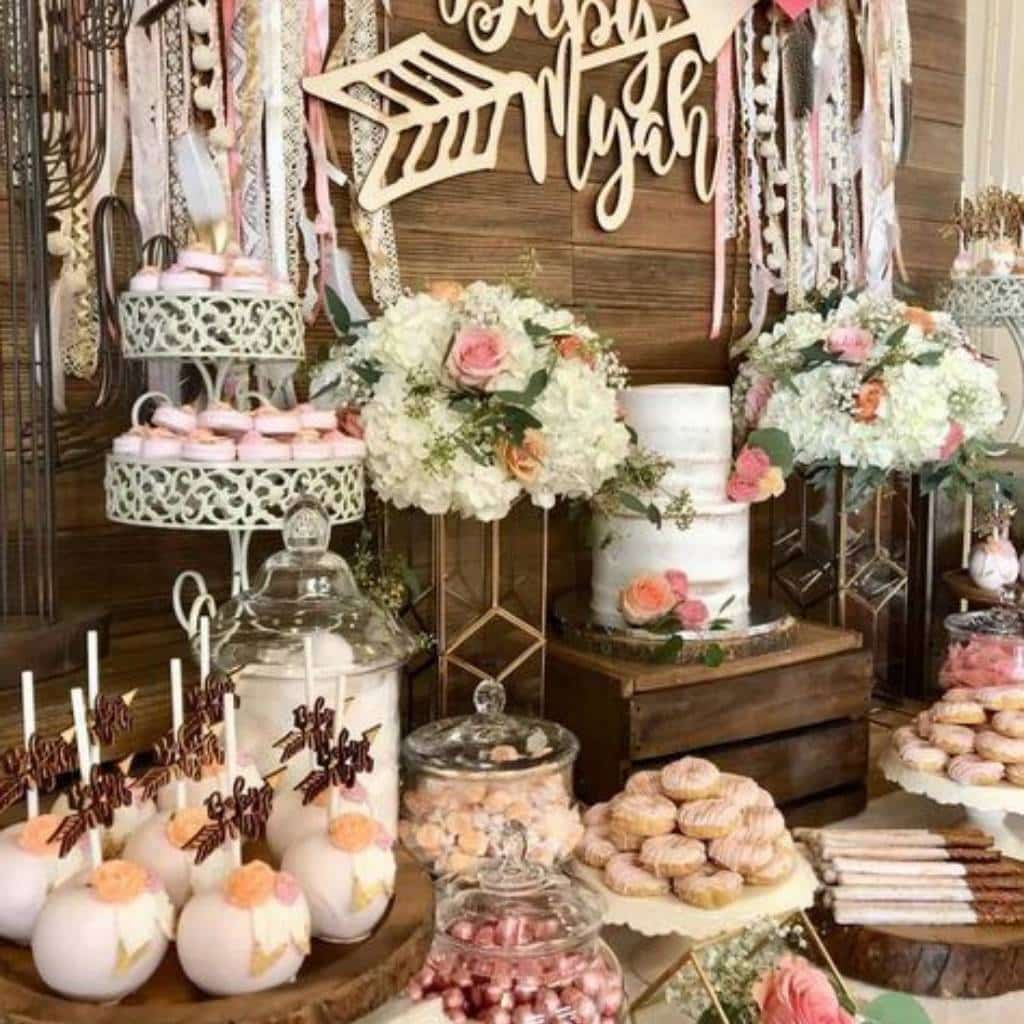 Image: Pinterest
Let's get rustic-fall-cute with these immensely adorable baby shower ideas. The rustic Fall theme is a favorite, especially among people in love with the autumn and romantic couples who want to invite people to a cozy and warm celebration!
See pictures of cute rustic fall baby shower ideas:
Decorations can include pumpkins, pinecones, and leaves.

Choose

rustic Fall recipes

.

Create DIY accents with old pallets, fence slats, rocks, etc.

Focus on using natural elements in decor.
2. Thanksgiving Baby Shower Ideas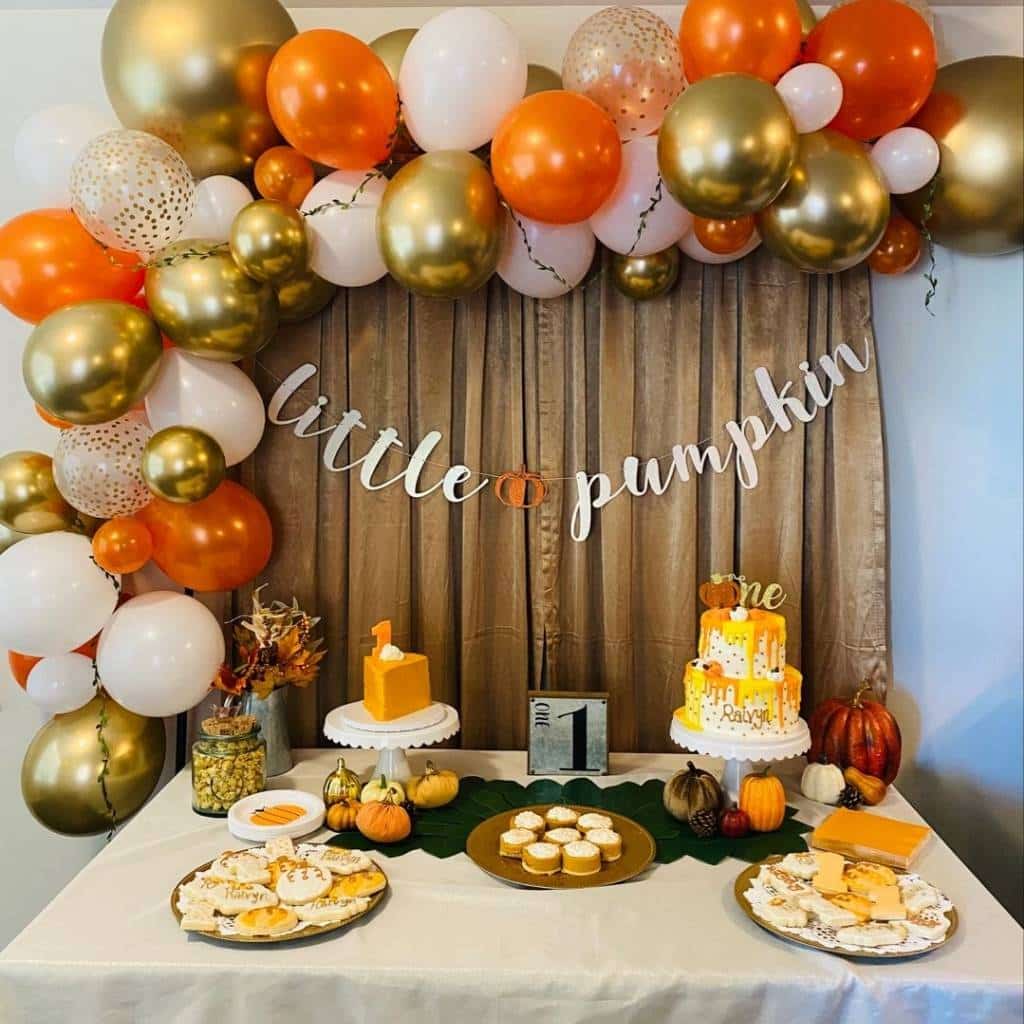 Image: Pinterest
You've decided to throw a Thanksgiving baby shower but want to avoid the same old baby shower ideas you've seen at other parties. This can be a challenge. When considering Thanksgiving baby shower ideas, sometimes your creative juices get stuck. To get out of this rut, you need to take a step back and evaluate what makes Thanksgiving unique.
Check out these Thanksgiving Baby Shower Ideas:
Add

some personal touches to balloons with your favorite colors like orange, white, and gold.

Add a photo booth so your guests can take pictures of the big moment. There are several different photo booth rental options to choose from if ever you book with DJ Cutt Entertainment for their Portland photo booth rentals.

Use bright colors and pumpkins.

Use rustic textures in your decorations (burlap and twine).
3. October Baby Shower Ideas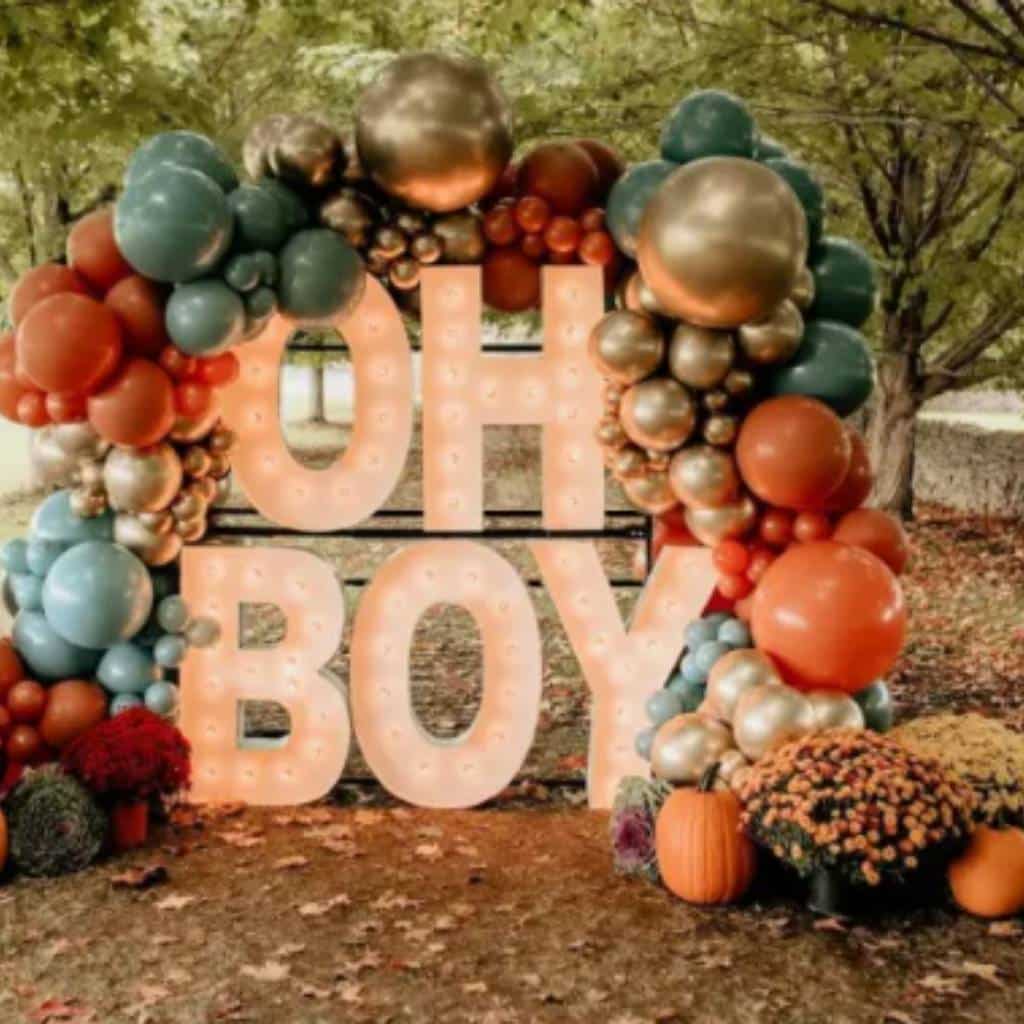 Image: Pinterest
What better way to celebrate the newest member of your family than with a baby shower. Whether you're throwing the party or honoring a friend, there is plenty of fun October baby shower games to choose from.
Here are some ideas for games parents-to-be will love at a baby shower.
Create a DIY game station; craft fun and challenging game that you can play at the party.

Send an invitation to your friends informing them of your October baby shower. Make sure to include a date and time.

Come up with themes for the baby shower and colors/decorations.
4. Sunflower Baby Shower Ideas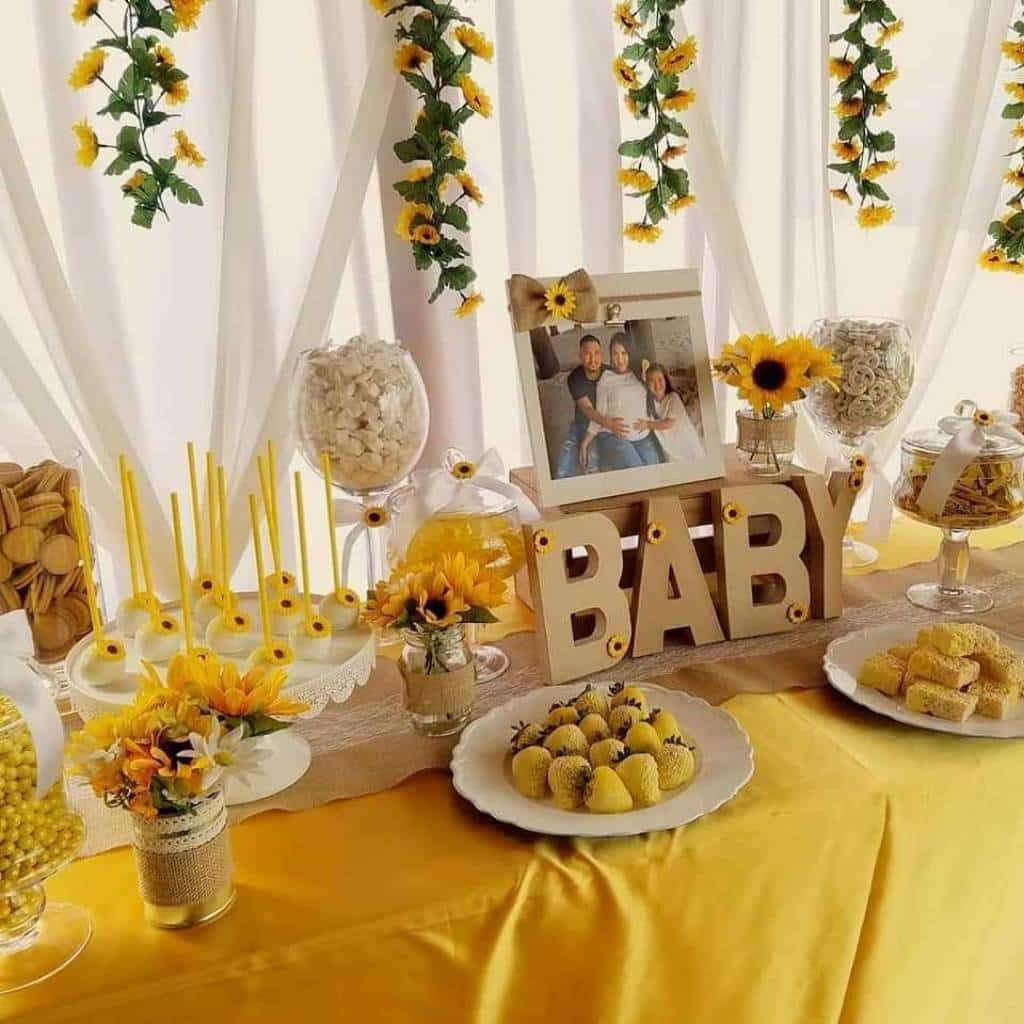 Image: Pinterest
Sunflower baby shower ideas are trendy and currently in demand. It is versatile and can be designed to match any baby shower theme you want to use.
These sunflower baby shower ideas are sure to impress:
Use sunflowers as they symbolize rebirth and renewal.

Make your colorful sunflower invitations.

Tie your centerpieces onto with ribbon instead of using floral tape.

Decorate with sunflower print tablecloths and napkins
5. Baby Shower Cupcake Ideas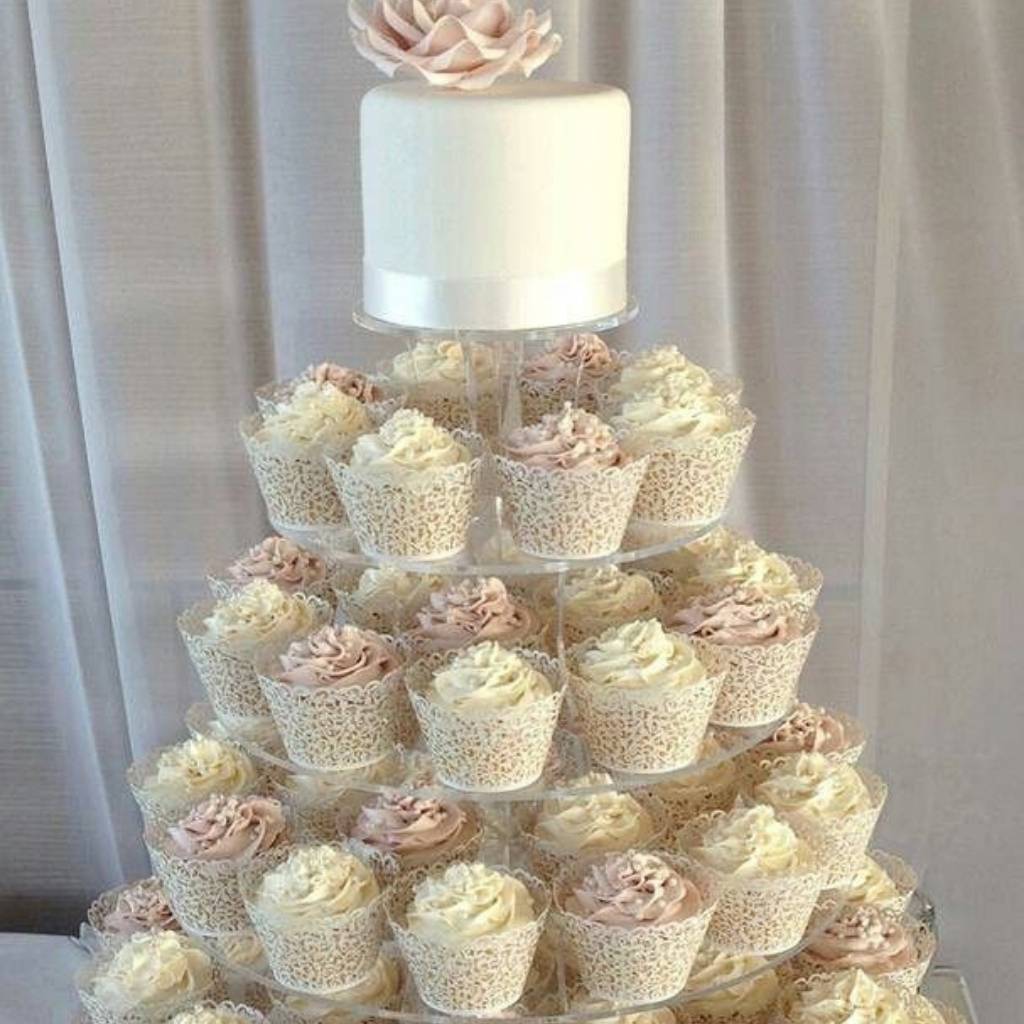 Image: Pinterest
Baby showers are a fun and exciting celebration of life! You get a head start knowing what the baby will look like, meet the mommy-to-be, and party with friends. The decorations at a baby shower can be playful. Still, they are also functional to help you prepare Baby's room, so while cupcakes are inedible, they're perfect as part of your cupcake decorations.
These ideas help you plan, style, and organize your next baby shower:
Use colored

sugar for sprinkles.

Make something quick, simple, and beautiful. Don't feel tied down to the traditional baby shower cupcakes.

Make little name tags with info on them.

Instead of making the typical pink or blue, why not mix it up.
6. Pumpkin Baby Shower Ideas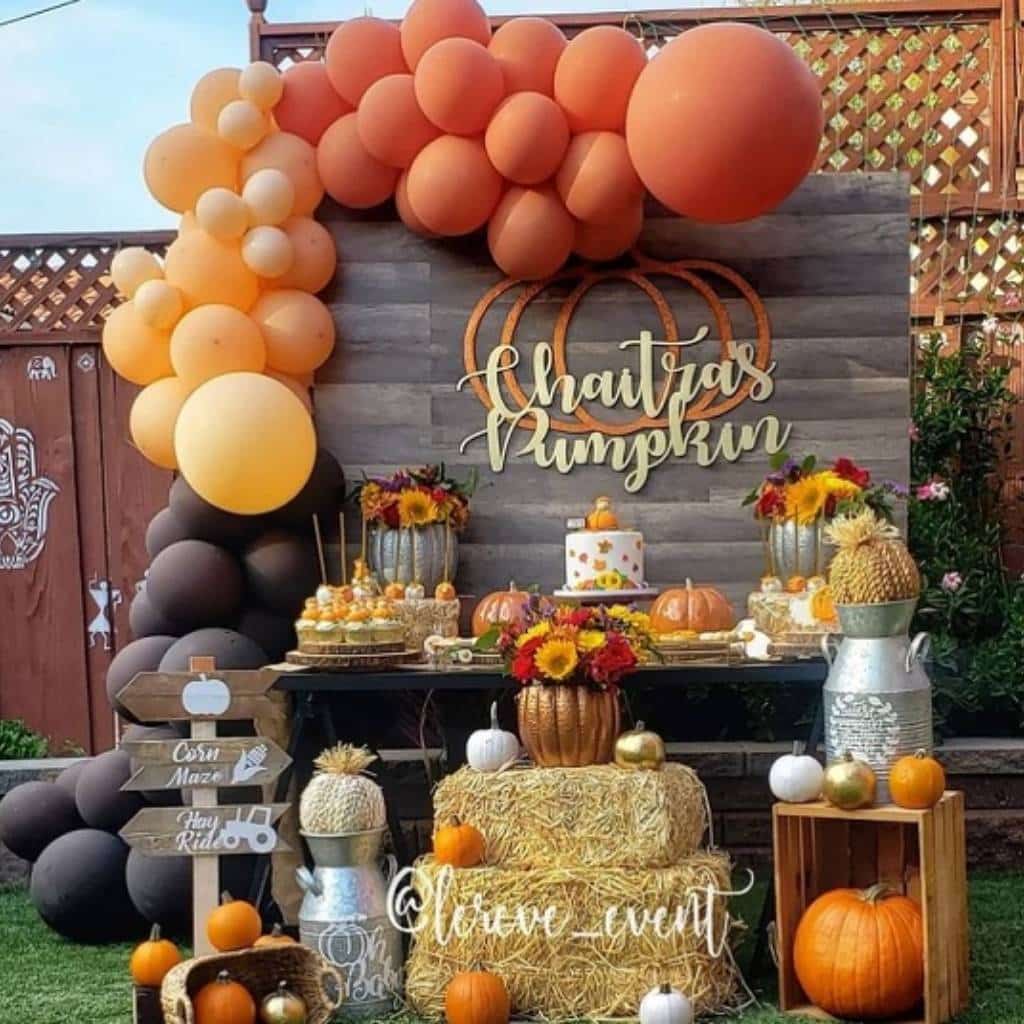 Image: Pinterest
When you think of pumpkin pie, you might start getting hungry. But pumpkins aren't just delicious — they're a super versatile vegetable! This is why pumpkins are a popular base in many recipes like pumpkin bread and pie. And now they make an excellent theme for baby showers too!
Check out these fun and clever pumpkin baby shower ideas:
Use pumpkins for decorations, treats, and activities.

Add different balloon colors like orange, black, and yellow to add some colorful effects.

Decorate the cookies and other treats to match the party's theme.

Use the best pumpkins for carving.

Make your budget work for you.
7. Farm Baby Shower Ideas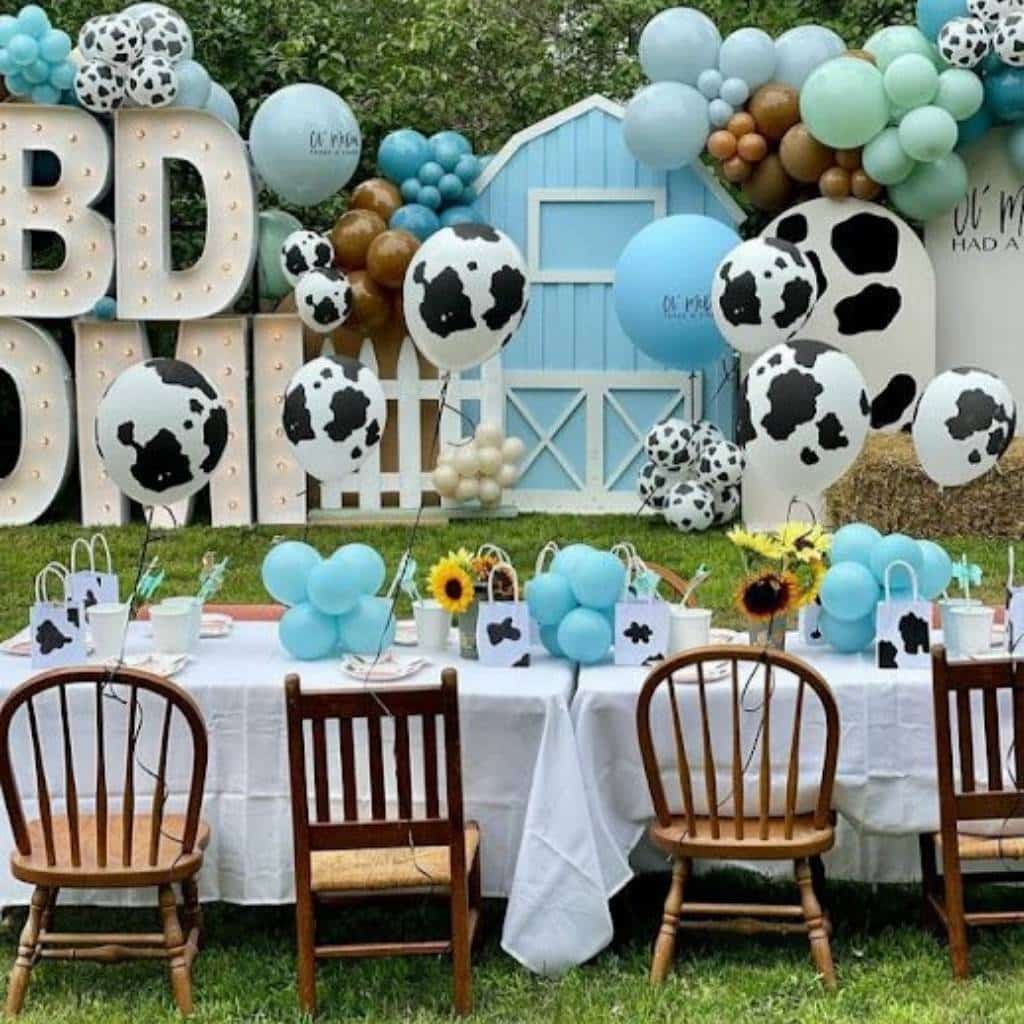 Image: Pinterest
Now that everyone is in love with the farm-to-table movement, it makes perfect sense to go with a cute farm theme for your baby shower. What better way to brighten up the party than by styling everything with blue and green, the perfect colors of a sunny summer day in a country field.
Here, you can find ideas, themes, invitations, and more. We've compiled some great ideas:
Add must-haves like a barnyard animal, baby shower favors, and decorations.

Add in the good to have items like baby barnyard animal games, baby printables, and others.

Make your table look like a farm by decorating it with farm-themed items.

Use different colors of balloons blue, green, and cow-inspired balloons.
8. Beautiful Baby Shower Ideas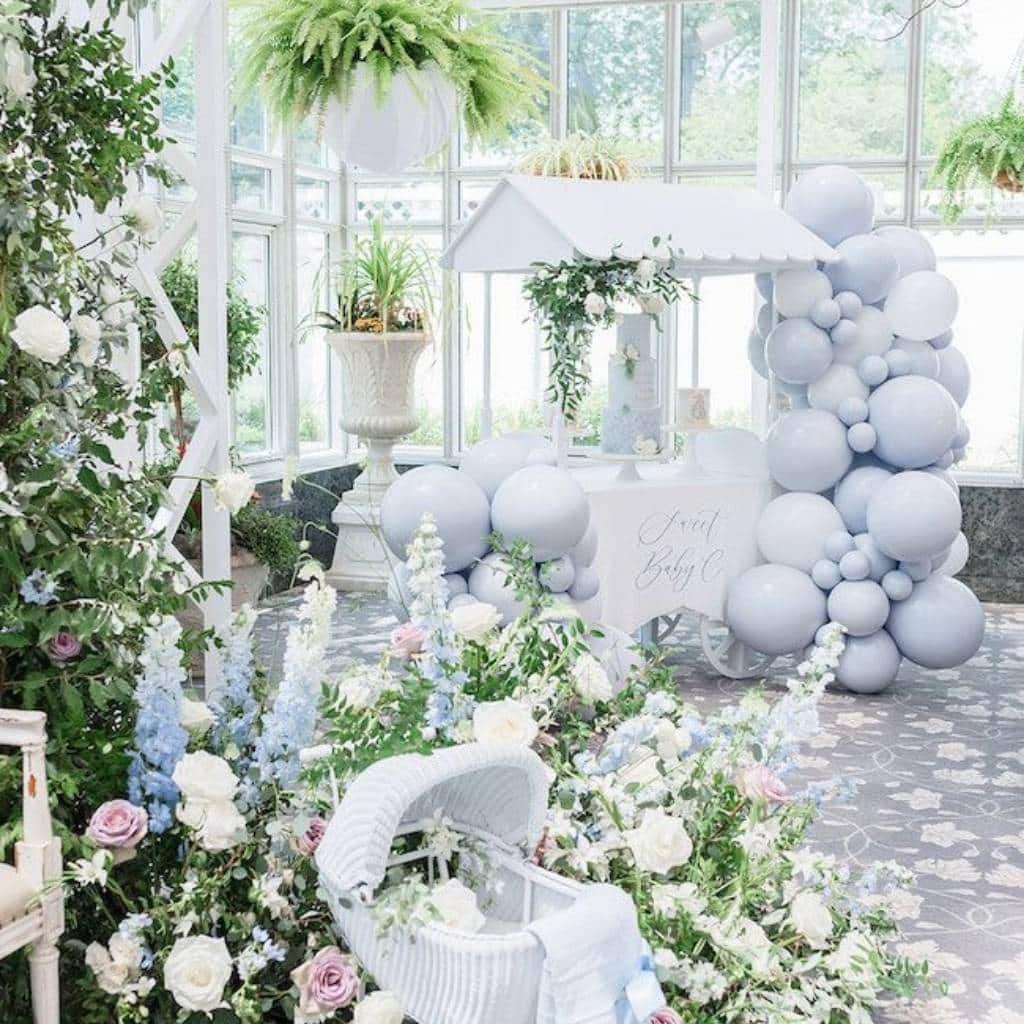 Image: Pinterest
The next time you are left in charge of a baby shower, know that there is beauty in simplicity. If you can't afford or don't have the time to plan a lavish baby shower for the mommy-to-be, rest assured that there are many other ways to throw a stylish and memorable party without breaking the bank.
Here are some beautiful baby shower ideas:
Be chic and practical when considering colors, patterns, and decor.

Don't forget to add your original touch based on your style.

Plan a fun activity that the mothers can do while they are together.

Make your guest feel welcome and comfortable.

Consider getting some tiny baby toys for the food table.
9. Outdoor Baby Shower Decorations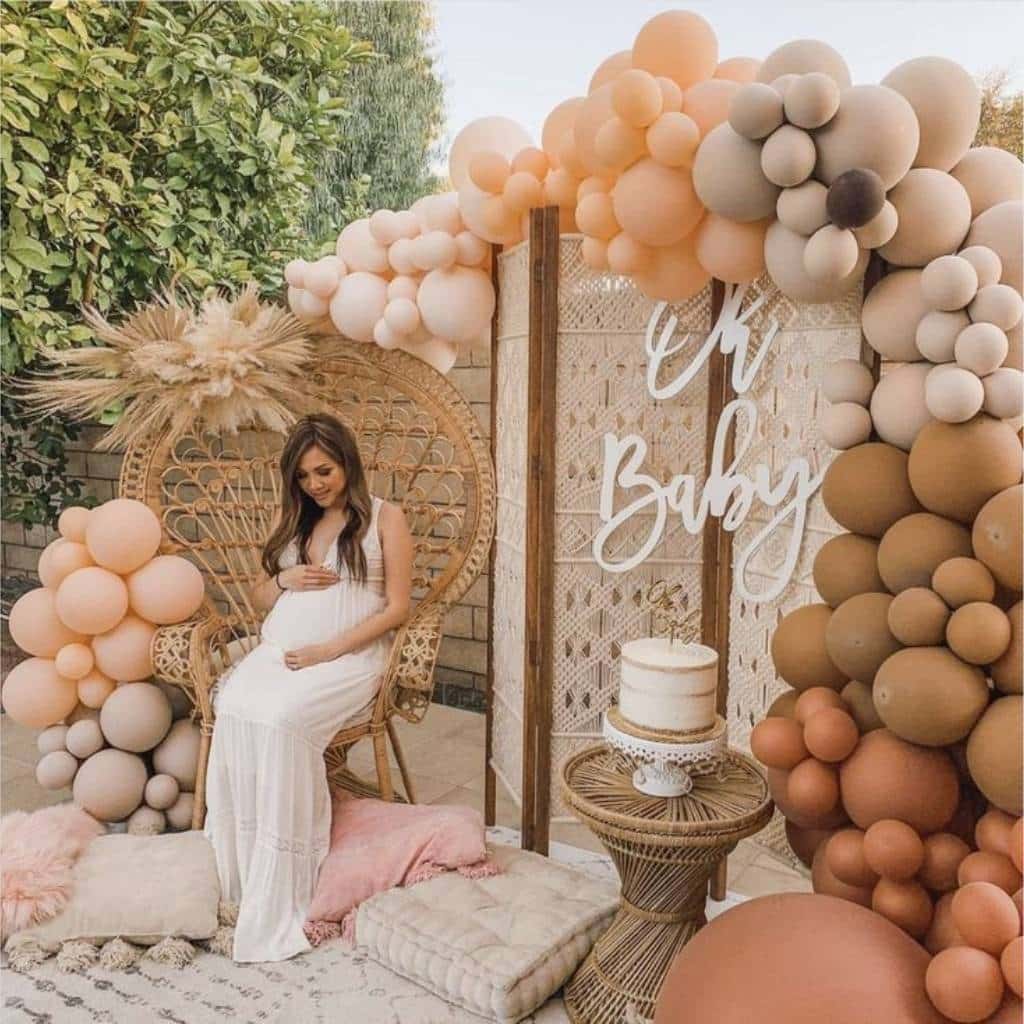 Image: Pinterest
How to plan an outdoor baby shower? Outdoor Baby Shower decorations are pretty simple, so you don't have to spend a lot of money on decorations. Just use the things around you or cheap accessories that you can find at your nearest dollar store or any store.
Get inspired by some cute, fun, and easy-to-make ideas:
Find great outdoor baby shower decor ideas you need.

Decorate your outdoor areas to make them kid-friendly.

Add flowers, ribbons, and tiny toys to an outdoor party backdrop.

Choose a vibrant color scheme, dark or light color.

Use fresh flowers and sticks
10. Fall Baby Boy Shower Ideas
Image: Pinterest
It's not easy to get the best ideas for a baby shower, especially if you're looking for baby boy ideas. But you can't just get any old idea — it needs to be perfect. So we've made a list of some incredibly awesome baby shower ideas that are perfect for your baby boy shower.
Check out some cool Fall baby boy shower ideas:
Think about Fall-themed baby shower food and how you can incorporate it into your party.

Use pumpkin food decorations.

Make a DIY diaper cake and decorate it with small popsicle sticks.

Set up a photo booth with colorful backdrops and props.
11. Fall Baby Girl Shower Ideas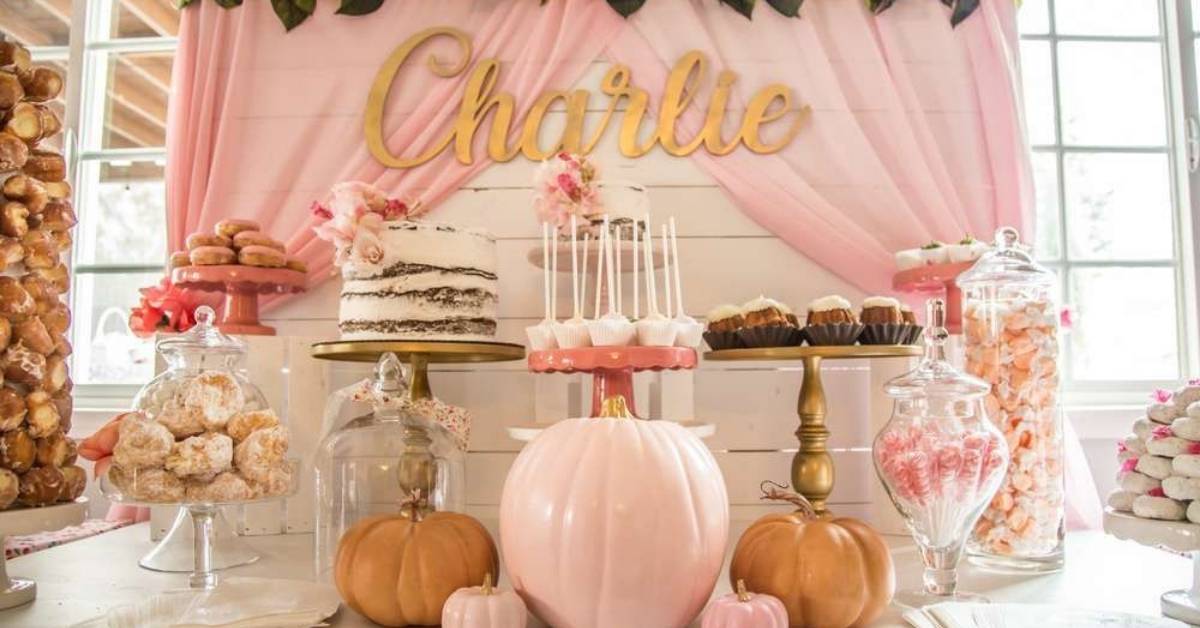 Image: Pinterest
Bring joy to your Fall baby girl shower with these adorable ideas for a fun, simple, and unique baby shower. Celebrate what's new and will come this Fall season with lots of autumn decorations, food, and of course, pumpkins!
We've gathered these favorite ideas to create a fun and exciting Fall baby girl shower:
Focus on the colors and elements of Fall, baby pink, and white.

Create a menu that's delicious and budget-friendly.

Decorate with small, white decorations and greenery. Serve up a few summer drinks.

Finger foods would be great for this quick get-together.
12. Cute Fall Baby Shower Ideas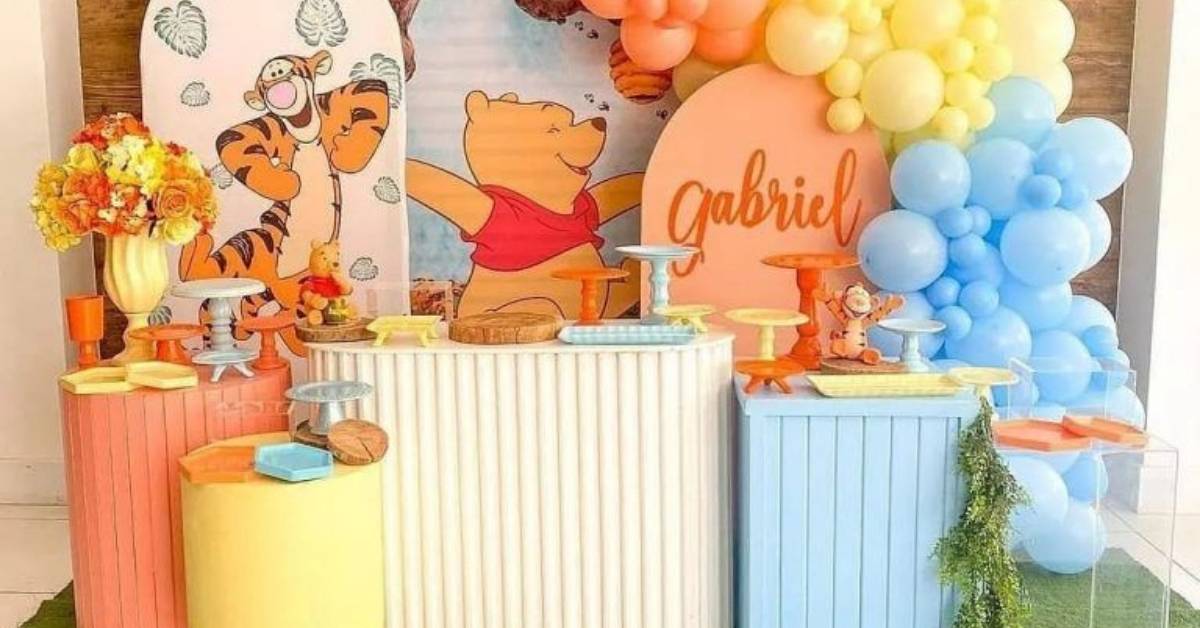 Image: Pinterest
Fall is the best time to throw a party baby shower because you can bring out all your favorite childhood decorations, such as the decorations you used during Halloween and Thanksgiving. There is also cute giant pink wallpaper and cartoons. You may use adorable colorful balloons as background decorations with tassels on them. Everything!
Ideas to create the perfect Fall atmosphere:
Use tie-dye napkins or pumpkins to have fun with the place settings.

Make sure to decorate the outside, inside, and your table.

Add Candy Corn to your favorite chocolate chip cookie recipe.

Look for easy recipes, desserts, invitations, and decoration ideas.
13. Fall Theme Party Ideas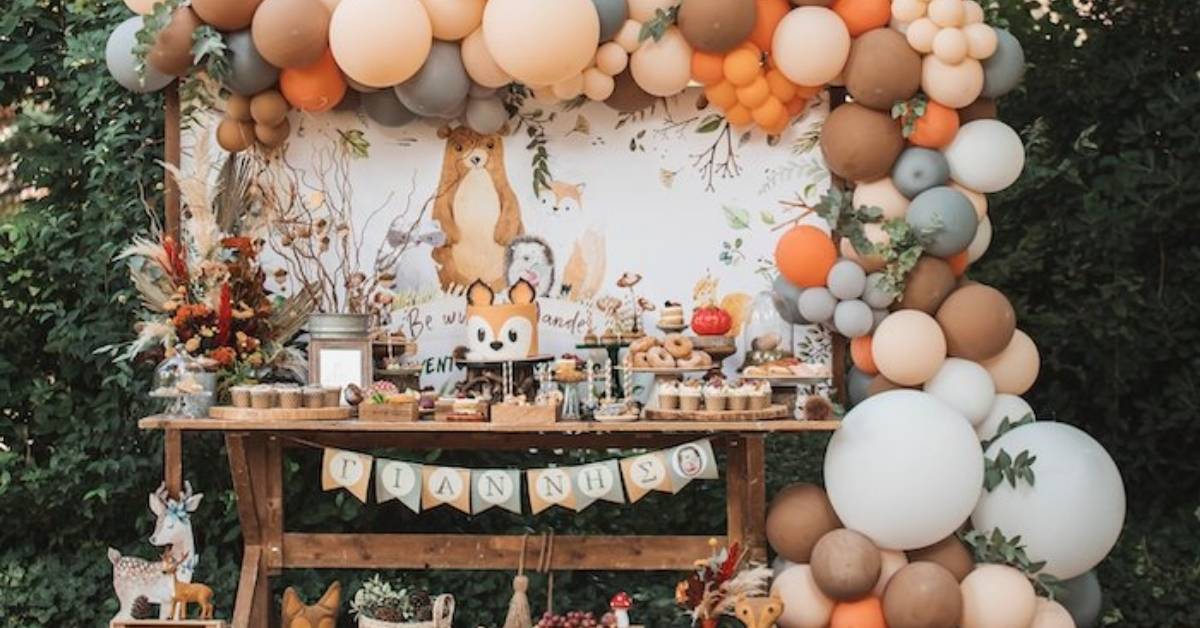 Image: Pinterest
Fall baby shower ideas are a lot easier to create than you think! Planning a baby shower can be a lot of fun, and you may unleash your talent in decorating.
These ideas and printables will breathe life into any party:
Make your decorations, food items, and signature cocktails.

Decorate with pumpkins, gourds, and balloons Fall decorations.

Make a food table with Fall foods.

Play pumpkin carving games.

Learn how to DIY citronella candles.

Use a centerpiece of a real giant pumpkin or a fake flocked pumpkin.
14. Fall Baby Shower Cake Ideas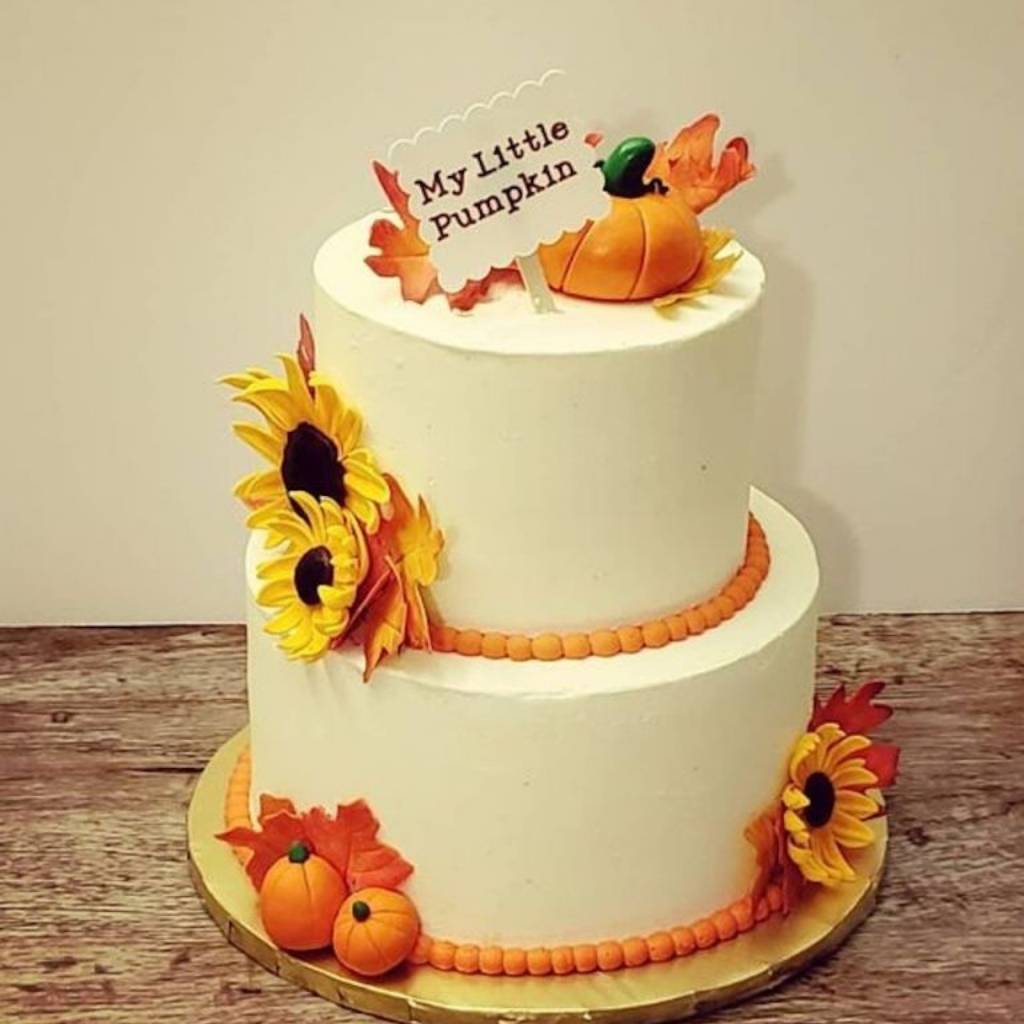 Image: Pinterest
Whether you're expecting a little pumpkin in the Fall or not, everyone needs ideas on how to decorate a baby shower cake. Baby shower cakes are not only popular with moms-to-be, but they are also fun to make. You can make the cake of your dreams and still stay within the budget by baking your favorite—no matter what it is—baby shower cake.
Check out these awesome baby shower cake ideas:
Mak

e pumpkin puree from scratch with this easy recipe.

Pick the suitable types of decorations and ensure they go well with each other, like sunflowers and mini pumpkins.

Try carving the cake with a pattern or template.

Bake your cake instead of buying one. That way, you will save more.

Use Fall-inspired colors and add a touch of gold to make it extra festive.
15. Fall Baby Shower Food Ideas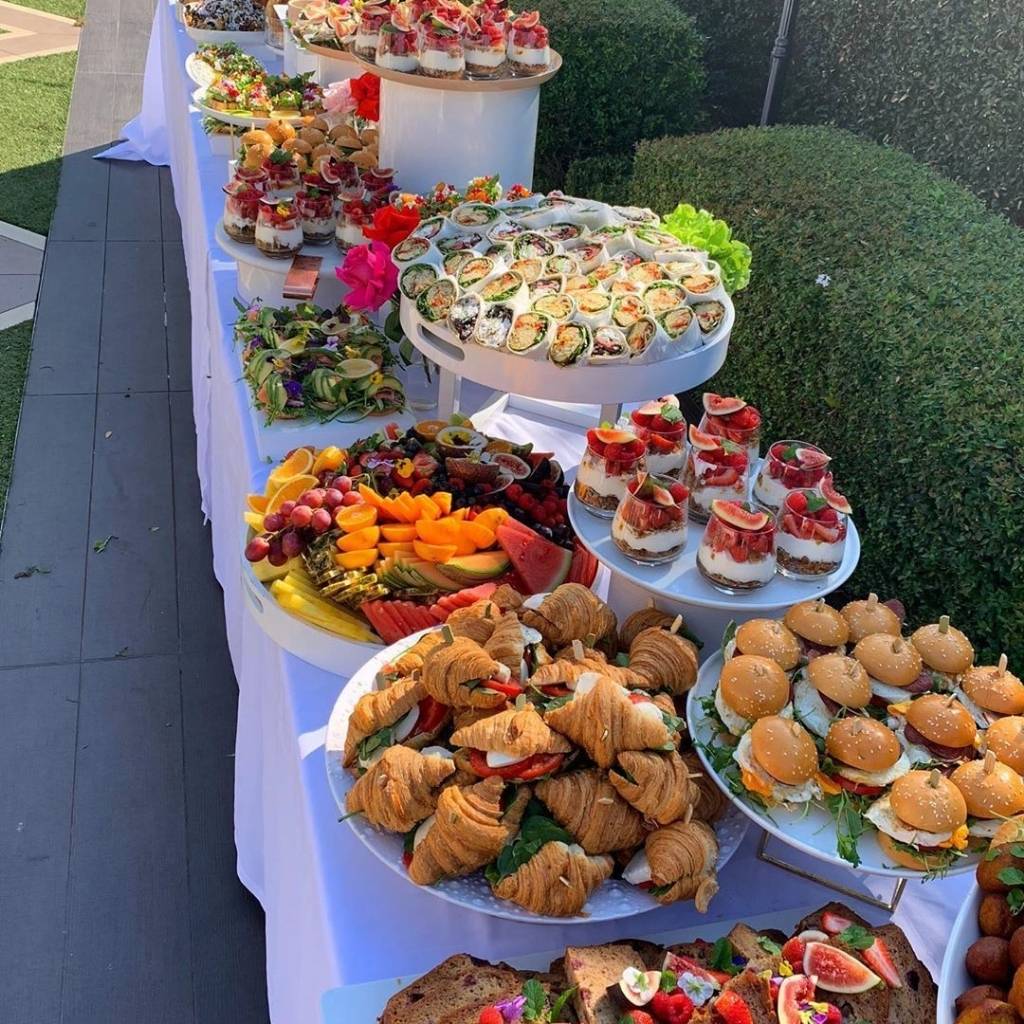 Image: Pinterest
Whether you are hosting or attending an autumn baby shower, you may find yourself baffled when deciding what food to pick. After all, you don't want your baby shower menu to be bland and boring – but you also don't want to break the bank on a million different foods that everyone will only have a bite of. That's why we're here!.
Here are some Fall baby shower food ideas that are guaranteed to impress both the parents-to-be and the other guests:
Try these delicious Fall-themed recipes: mushroom sausage cups, vegetables, burgers, mix fruits.

Consider some Fall colors, maple leaves, and pumpkins.

Use fresh figs, apples, and pears instead of bananas in the fruit salad.

Add Worcestershire sauce and dijon mustard to the dip for a kick.
16. How Can I Make My Baby Shower More Fun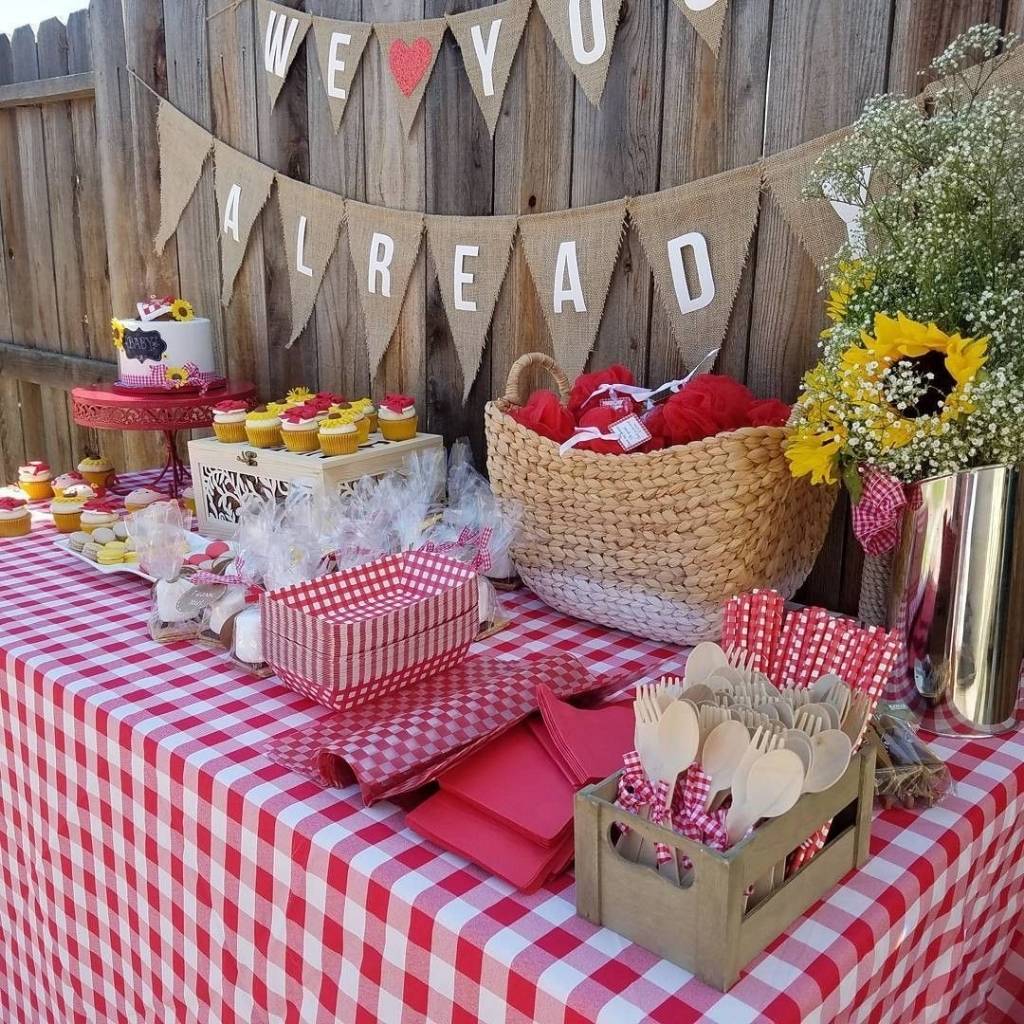 Image: Pinterest
Who has time to stress over planning a party, right? Baby showers are great because they are all about having fun. You don't need to be too frightened about staying on a budget since the party is meant to be memorable.
Let's get ready to enjoy your baby shower with some fabulous ideas:
Make a plan before the shower starts.
Figure out fun decorations and activities you can do while there.
Plan a fantastic menu that everyone loves.
Decorate the party to fit the theme and baby.
17. How Many Baby Showers Should a Person Have
When trying to get a good answer, there are many things to consider. Maybe you're wondering how often a person should have a baby shower. Perhaps you're having trouble deciding how many baby showers are too many. Don't despair. There is an appropriate number of baby showers. It's totally fine if you want to throw multiple parties for your new bundle of joy!
These tips might help you to decide on your baby shower parties:
Throwing a baby shower should depend on your budget and relationship with the mom.

You shouldn't feel pressured to have more than one.

Make sure you have enough money for showers – don't fall into the parent trap.
How Much Should a Baby Shower Cost
Everybody loves babies, and most people want to see their friends and family members become parents. Baby shower is a universal way of celebrating the new offspring, whether a boy or a girl. It is also an opportunity for friends to get together, chat and eat some yummy snacks while at it. It can be pretty expensive, though, but worth the spending.
A baby shower held in person often costs between $100 and $1,000, while a baby shower held online typically costs between $20 and $200 on average. However, a significant amount of it is determined by the location of the event, the total number of attendees, and the decisions you make about elements such as party favors and prizes.
Takeaway
I hope the above ideas inspired you. If you need more baby shower ideas, don't stop here! Fall is an excellent time for getting together with friends and family, so consider coming up with some seasonal activities, like going apple picking, going on a hay ride, or taking pictures in an autumn corn maze.
And if there's anything else that you'd like to add to this list of ultimate Fall baby shower ideas, feel free to chime in below and help make this the most comprehensive guide to Fall baby shower ideas out there.
Visit Guy About Home for more of these exciting ideas!