Paint your bathroom vanity blue and shower it with creativity that you have never seen before!
Never break a sweat about thinking of what your bathroom would look like. Follow your instincts. Go for your favorite color! Blue! We understand that you are still confused about how you can make this happen. This is why we have this article written just for you!
Turn your bathroom into something pleasing. For sure, you will love the outcome! And you will be shocked that an ordinary can be something you have always wished for.
For more blue vanity bathroom ideas that you should try, you could just visit bathroom set-up ideas. We promise that you won't regret a thing!
Table of Contents
Dark Mystery Blue Vanity Bathroom

Blue Subway Tile Vanity Bathroom Ideas

Classic Blue Vanity Bathroom Ideas

Modern Blue Vanity Bathroom Ideas

Printed Wallpaper Blue Vanity Bathroom

Pastel Blue Vanity Bathroom Ideas

Everything In Blue Vanity Bathroom Ideas

Rustic Vibe Blue Vanity Bathroom
1. Dark Mystery Blue Vanity Bathroom
Image Source: The Decorista
Do not be afraid in creating a statement in your bathroom. This bathroom seems scary but in reality, it projects power and authorization. It gives out a dramatic mood and is very unique in the eyes of many.
To have this kind of bathroom, you need to:
Purchase a candlelight sconce and place them on both mirror sides. You can also add a real candle above or on the sink if you desire.
Pick the darkest shade of blue and have it painted on your walls and floors.
To contribute to the dramatic and luxurious mood, pick an oval mirror that has a rectangular gold frame.

Get the

console sink.

This would make your vanity bathroom sophisticated.

For the overall bathroom colors, you must try: navy blue, gold, dirty white.
2. Blue Subway Tile Vanity Bathroom Ideas
Image Source: Better Homes and Gardens
You only need to think about having your entire body cleaned and fragrant when going to your bathroom. But nothing beats a bathroom that gives the impression that you are underwater while slowly admiring your beautiful self. How to do that? Just have your tiles in blue!
In case you are planning to have this kind of bathroom, you can:
Cabinets don't need to match the color of the tiles; just a simple yet traditional contrast will do. Pick oak brown for durability.
Have the slim sconce. They should be white and gray.
Just choose a traditional marble and framed mirror. To create a large illusion, you can purchase a double vanity.
Place some fresh flowers, perfumes, and soap in between sinks to project fragrance.
For something contemporary, choose a comfy blue stool.
Add more design to your walls with bathroom wall decor ideas in just one click!
3. Classic Blue Vanity Bathroom Ideas
Image Source: Home Thangs
Stay classic and traditional. That's what some new homeowners do. This blue vanity bathroom is seemingly perfect for those people who are still unsure about what to do with their bathrooms. And it is also ideal for those who just want to focus on having a nice warm bath rather than its vanity bathroom design.
To have this bathroom in your home, you need to:
Purchase two decorative octagon mirrors and have them pinned to your wall.
Have the rectangle-up light sconce placed on mirror sides.
Choose a white and navy blue cabinet where you can put lots of stuff in it by having divided compartments.
Add fresh or artificial flowers and even indoor plants for a fresher look.
You can also add a traditional square or a modern side table in the corners.
4. Modern Blue Vanity Bathroom Ideas
Image Source: Decoist
So, you plan to upgrade your vanity bathroom into something modern but wanted to have it blue? No worries, because we have ideas that will surely blow your mind.
There are several factors that you need to consider:
Make sure that the tiles in your shower are ceramic and contain different blue shades.
Floating storage is always the best if you want to ensure modernity, so go for it.
Frameless rectangular mirrors are also ideal if you aim to contribute to the new era fully.
For the sconce, go for a lantern downlight sconce to somehow have a touch of yesterday's era.
Royal blue, white, and gold are your primary colors. Incorporate them, and you are good to go!
To ensure that your bathroom is always in good condition, you can check out, bathroom deep cleaning for more tips. 
5. Printed Wallpaper Blue Vanity Bathroom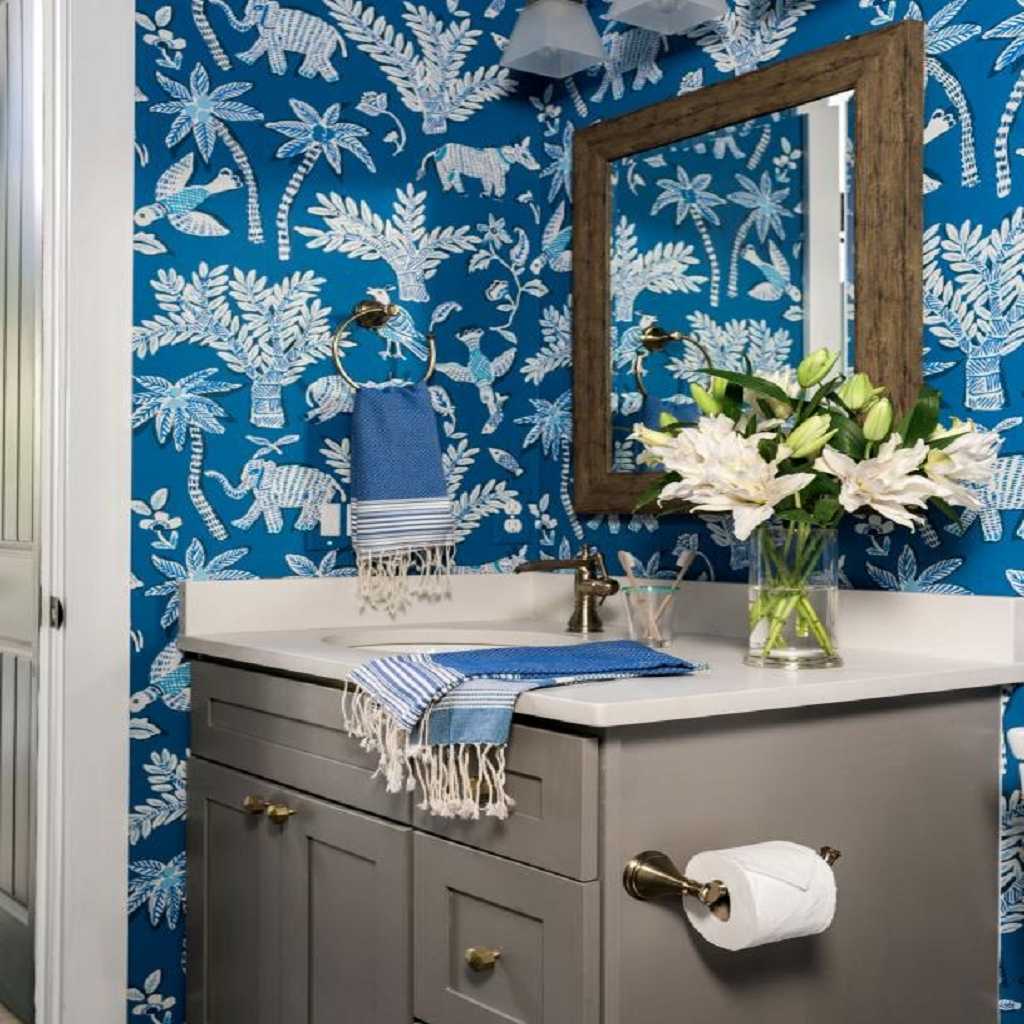 Image Source: HGTV
Get something playful yet well-thought-out design in your vanity bathroom. This is a unique design, but this will surely showcase your creativity. Well, it's not easy to think of little and many design elements in just one sitting. So, if you can come up with the right features, that's amazing.
All you have to do are:
Pick a blue wallpaper with multiple printed drawings and install it on your walls.
Since the above picture speaks about nature, you might as well match it with a rustic squared framed mirror.
Your cabinet can be in contrast. Have it colored gray and white.
Downlight sconce should be placed above the mirror, while a rack for hand towels and tissues should be on the side.
Lastly, place some fresh flowers or anything that matches the design of your cute wallpaper.
6. Pastel Blue Vanity Bathroom Ideas
Image Source: Decor Pad
If you are into retro style, this is the perfect vanity! The pastel blue color is eye-pleasing and speaks volumes as it matches the white walls.
If you aim to achieve this color, all you have to do are these:
Although you are playing retro, it is essential to have a somewhat modern and unique look. So, go for a floating cabinet for two.
Your vanity mirror should be similar to the shape of the cabinet below, so choose a rectangular one.
For the wall tiles, choose ceramic tiles to achieve a clean and elegant look.
Place the traditional two-light sconce above the vanities.
Your floor tile can be in contrast for more volume and elegance; pick the one that has colored black and white mosaic.
Install a white and simple ceiling fan to contribute more to the traditional aspect.
7. Everything in Blue Vanity Bathroom Ideas
Image Source: Decoist
If your love for blue color is beyond boundaries, you may notice that the above picture is a mint color. It brings a cool ambiance, mainly if you aim to enjoy a cold and fulfilling bath.
If you are still wondering what to do to have your bathroom look like these,
Have your brick walls painted white as a contrast to the mint color. The flat walls and other furniture such as windows, cabinets, and vanities should be mint color.
Purchase a space gray mosaic wallpaper to be pasted behind the vanities.
Ensure that your cabinet has multiple drawers to eliminate awkward spaces.
Surround your entire vanity with sconces for a simple and rustic ambiance.
Sinks can be marble, but ensure that their color complements the pastel blue color. A black and white sink will do.
8. Rustic Vibe Blue Vanity Bathroom
Image Source: Signature Hardware
Indeed, blue may not be the best color if you want to achieve a rustic vibe. You may ask, why? It's because blue is a color of modernity and power. But who said we cannot turn it into a traditional blue rustic vibe?
Here comes your guide:
Purchase a wooden cabinet with a built-in sink, a vanity with a wooden frame and a shelf, and have them painted blue. (Your cabinet may not or may have an open storage underneath for your other stuff)
Have two candlelight sconces on both vanity sides.
Do not overdo the blue color. The walls and tiles should be white for simplicity.
You can place a pot of plants for additional design.
Visit bathroom sanitation ideas for more information on how to beautify your bathroom. 
Conclusion
Achieving a blue vanity bathroom can be challenging at first. Imagine that you have to put up with a different vibe without having it awkward or overdone. But thanks to its different shades, you can just play with the blue color. Above are some ideas for you to follow if you think you are not that confident about the imagery you have in your mind.
Just remember that you are the boss of the design. But it is also vital to put everything in place. Follow the steps above, and for sure, it will be not only yourself that you will admire in the vanity bathroom but the entire room too.
For more ideas you want to learn, visit Guy About Home today!