It is never easy to choose the right cabinet for your vanity. You always need to consider a suitable theme for that. Modernity does not mean that you need to acquire a black or a white cabinet, you can always play with colors and textures.
In this article, you will encounter tons of modern double vanity bathroom ideas that are very useful if you are still a beginner or just wanted to improve your bathroom. On the other hand, if you want more ideas, you can always head to double vanity bathroom ideas. 
Now, it's time to indulge yourself in modernity with an incredible style.
Table of Contents
Simple Industrial Modern Double Vanity Bathroom Ideas

Illuminated Lines Modern Double Vanity Bathroom

Classic Natural Wood And Modern Double Vanity Bathroom Ideas

All-White Subway-Tiled Modern Double Vanity Bathroom

Deep Black Modern Double Vanity Bathroom Ideas

Basic Modern Double Vanity Bathroom Ideas

Floating Modern Double Vanity Bathroom Ideas
1. Simple Industrial Modern Double Vanity Bathroom Ideas
Image Source: Impact Furniture
It is very common in the office to see furniture pieces that depict modernity. Why? Because it shows that a person is highly respected and smart. Now, after reading this, we know that you wonder if you can incorporate this in your double vanity bathroom, the answer is yes!
All you have to do are:
Be consistent with your pattern. Black, grey, and white are modern colors so you might as well put up an average frame and handles matching one another. 

Free-standing cabinets with open storage are nice if you want a simple design, so go for it. 

Match the vanity and shower panels. But remember to keep a chilling ambiance by installing marble tiles. 

You could have a separate wash basin for a more defined style but if you want a built-in sink, choose an

undermount sink. 

Since the pattern is rectangular, choose a rectangular-framed mirror.
2. Illuminated Lines Modern Double Vanity Bathroom
Image Source: Homedit
It's raining neons! Have your double vanity highlighted with colors. You do not have to think too much. You can just play with colors. Don't worry about ruining the design, do not because neon can almost go with everything.
Here are some tips for you:
Put a little volume in your mirror, do not just go for a spherical mirror. Choose an oblong-round mirror that has corners. But if you want something classic, choose the rectangular ones. Don't forget to put some lights around it to highlight it. 

Pick a

shaker-style cabinet

or a marble floating one depending on your mood and overall design. You can also put some lights around it or you could just leave it be. 

Paint the wall white or grey. Have it black to surely highlight the furniture pieces.

Sinks can be under-mounted or overmount sinks. It depends on the design elements that you desire.
3. Classic Natural Wood Modern Double Vanity Bathroom Ideas
Image Source: Good Housekeeping
Transform your bathroom vanity into something antique while yelling "beauty" the moment a person sees it. This elegantly designed bathroom vanity is perfect for those wood and brown color addicts. Also, by installing woods, you are being eco-friendly. So why not try it with a little bit of volume and style?
To achieve this, you have to:
Install a floating or a free-standing wood cabinet in your bathroom. 

The shapes should be consistent. Since your backsplash is a bent rectangular one, you should acquire a rectangle double vanity. It's all about matching everything. 

Your backsplash can be just plain wood or white painted one. Or, to make it more attractive, apply different complementary colors. 

The sinks can be built-in or just a separate one for a vessel-type vibe. You decide. Don't forget to add some plants and toiletries. 
For additional bathroom decor, visit bathroom wall decor ideas now!
4. All-White Subway-Tiled Modern Double Vanity Bathroom
Image Source: Crystal Cabinets
Do it the classic way! That's what they always say. Despite that, we always want you to explore more designs as you do it creatively. No need to spend too much. Aside from being so pure and sensitive to dirt, white furniture is less costly.
All you have to acquire is a playful mind and these:
Purchase a classic white shaker-style cabinet below your vanities. 

If you want to shower everything with white, you can have a thick-framed rectangular mirror. Yet, if you want to keep everything minimalist, choose a thin-framed one. 

Downlight reflectors are nice to somehow project a warm ambiance. A transparent white sconce is also lovely to put. 

Sinks should be under-mounted to put up a smooth and organized vibe. 

Remember to put some additional furniture features such as: 

Flowers

Toiletries

Figure displays

Portraits / Paintings
Ensure that your bathroom is clean, check out bathroom cleaning hacks.
5. Deep Black Modern Double Vanity Bathroom Ideas
Image Source: Interior Design Ideas
Black is the primary color for modernity. If you love black, then you might as well want to incorporate this color into your vanity bathroom. Have your bathroom in black mystery type of vibe as you enjoy a warm or cold bath.
Tips to achieve this:
Get a black flat-style cabinet or a floating one. Ensure that you have open storage above or below the cabinet for additional stuff. 

Instead of getting an elegant plant, choose those which has fewer leaves but more branches. 

You can have rectangular reflectors or a hanging one depending on your desire. 

For the vanities, match the shape with your cabinet. Go for a rectangular one. Or, if you want something new, have it spherical or concave. You can also install decorative mirrors beside the cabinet or just let the wall be. 

To achieve a dark mystery vibe, acquire a trough sink.
6. Basic Modern Double Vanity Bathroom Ideas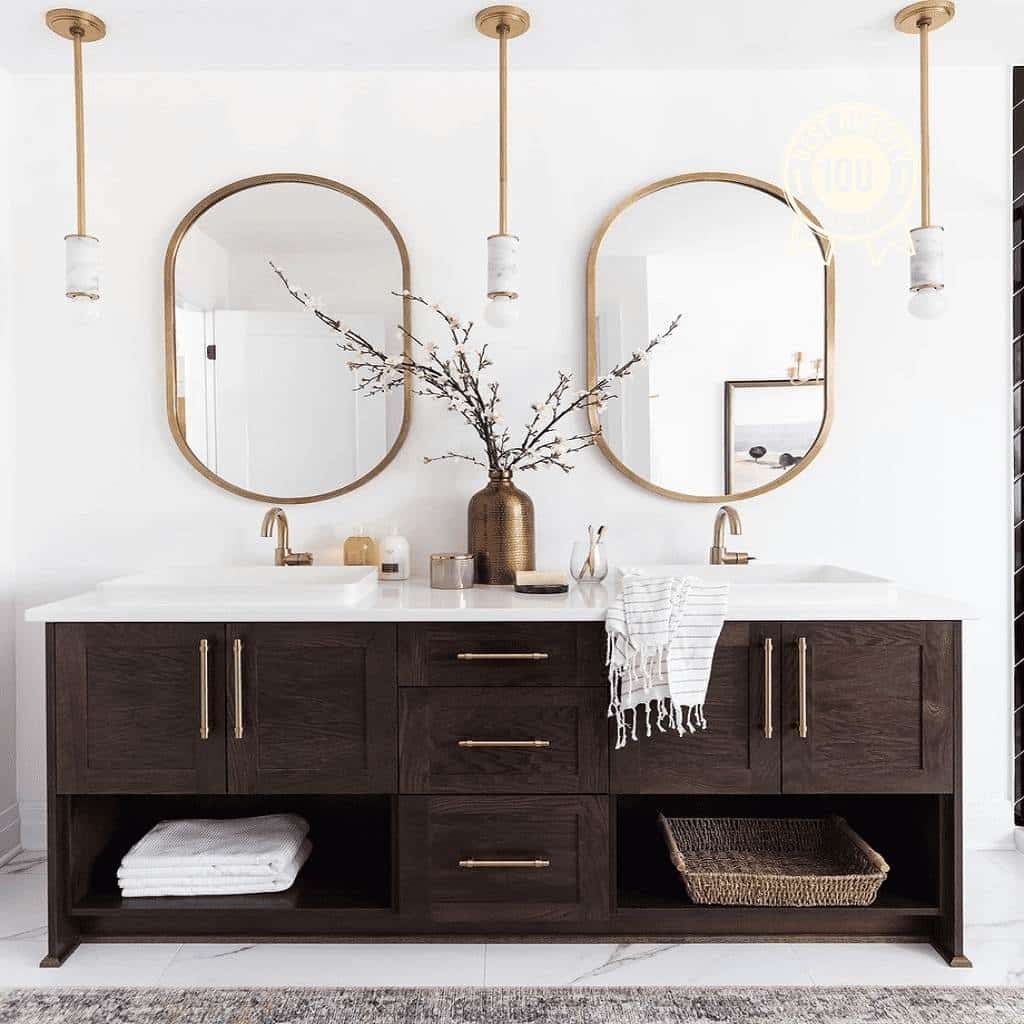 Image Source: My Domaine
So, you want a basic and classic one, eh? That's possible. We know that you believe that being simple means that you are projecting beauty. That's right. All you have to do is to acquire the right furniture. Notice how the wood matches the frame colors of the vanity. The balance among the compartments is undeniable.
Get basic by following these:
Sconces are for the average-looking bathroom. If you want a basic and elegant one, you can install hanging lights with an antique design. 

Sinks can be either drop-in or trough ones. 

Cabinets can be shaker-style, a vessel, or the one with few compartments with open storage for something contemporary. 

Complete the look by painting your wall white or grey. Have some porcelain or glass tiles for a glossy and chilly mood. 
Think you could step up a little bit, beach-themed bathroom decor ideas got everything laid out for you!
7. Floating Modern Double Vanity Bathroom Ideas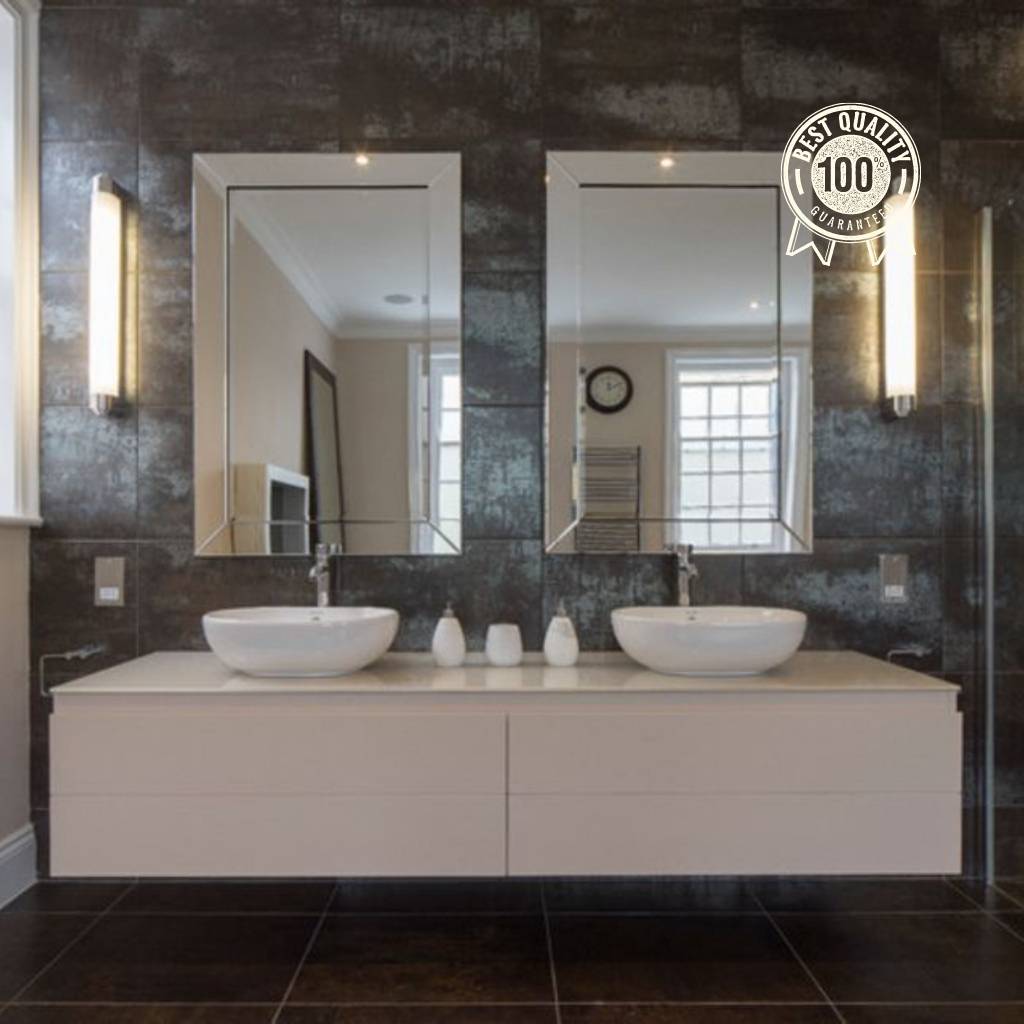 Image Source: The Spruce
This type of bathroom is very common in hotels and huge establishments. This is the second one to the basic if you are talking about modernity because of its glossy and cold vibe. You see, being modern does not mean that you always have to follow all the bathroom furniture rules, sometimes you need to think creatively.
Instead of choosing the industrial type of cabinet, go for a floating one to project modern innovation. 

Go for an aluminum framed mirror instead of wood-framed ones since you are indulging in a more improved and new look. 

Put the sconces on the side or in between the vanities to create a design volume. Make sure that the light is orange for a warmer ambiance. 

Have your basin separated from the sink for a combined classic and classy style. 

Have your walls black, grey, or white as they are the modern colors.
Conclusion
You do not have to think much about acquiring a suitable vanity in projecting a modern style. The ideas that were presented above are carefully analyzed and simplified for you to absorb. Remember that to achieve a modern look is to know the appropriate texture, color, and sizes of each furniture piece.
If you are a beginner, a little bit of research and opinions from others would also help. Just be ready to prepare your pocket because you will need to spend money to achieve a glossy and innovative design.
Visit Guy About Home today for more ideas!