Eliminate the grey dullness with these amazing vanity bathroom ideas which you will surely fancy! 
Show your love for grey color by applying some grey tones to your entire bathroom. You will be shocked to see that a neutral and a mature color can be one of the most complementary and creative colors of all time. 
Thank you for reading this post, don't forget to the best blogger Guy About Home who offers the best garden and home improvement tips! If you are a home decor and design fan, don't miss the tips on home ideas. If you are a home garden owner, then you might be interest in our complete guides to house plants!
In this article, you will gain some ideas on how to design your grey vanity bathroom. Every idea is worth reading about, from furniture pieces to wall and floor tiles leading to vanities. 
So what are you still for? Come and enjoy this reading. Take time to read the cleaning bathroom guide to ensure a high standard and beautiful bathroom.
Table of Contents 
Minimalistic Industrial Grey Vanity Bathroom Ideas

Marble Grey and White Vanity Bathroom

Dark Grey Tones Vanity Bathroom Ideas

Grey Double Vanity Bathroom Ideas

Budget-Friendly Grey Vanity Bathroom Ideas

Rustic Grey Vanity Bathroom Ideas

Kids Grey Vanity Bathroom Ideas
1. Minimalistic Industrial Grey Vanity Bathroom Ideas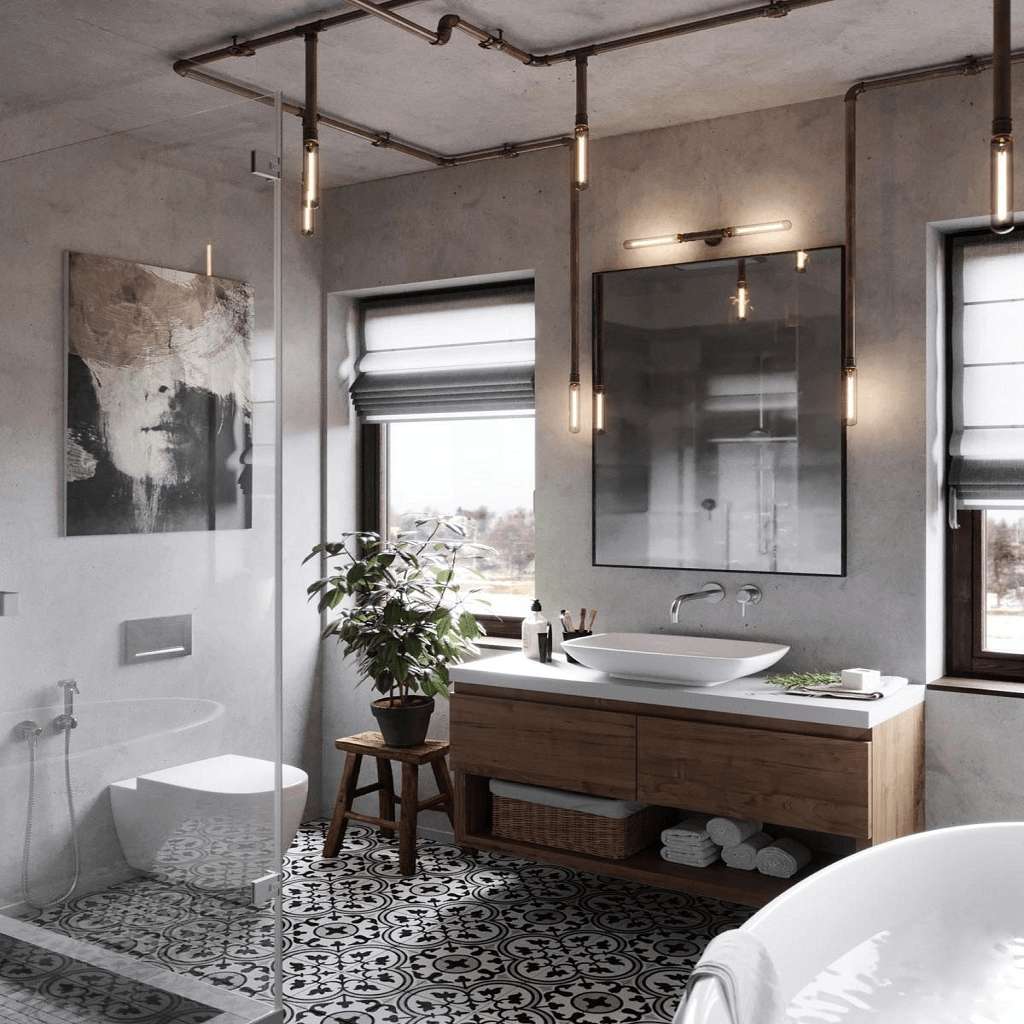 Image Source: Interior Design Ideas 
No wonder we do like putting stuff in our bathroom, especially if we are tired of just seeing them wet and plain. Indeed, grey vanities are very much appreciated and ideal if you plan to have your bathroom larger than it seems.  
Achieve an office-like and attractive bathroom through these: 
Instead of going for a traditional grey cabinet, you can make an exception by having your cabinet rustic where there is open storage for your towels, clothes, and other stuff. 

Put a sconce above the frameless mirror and hang lights in the center for a more warm and luxurious ambiance. 

Abstract art

depicts deep emotions, modernity, and elegance; you might want to add this.  

Place some indoor plants, shower seats, or a small tool. 

Your tiles should be complementary. You could go for black and white or a total grey. 
2. Marble Grey and White Vanity Bathroom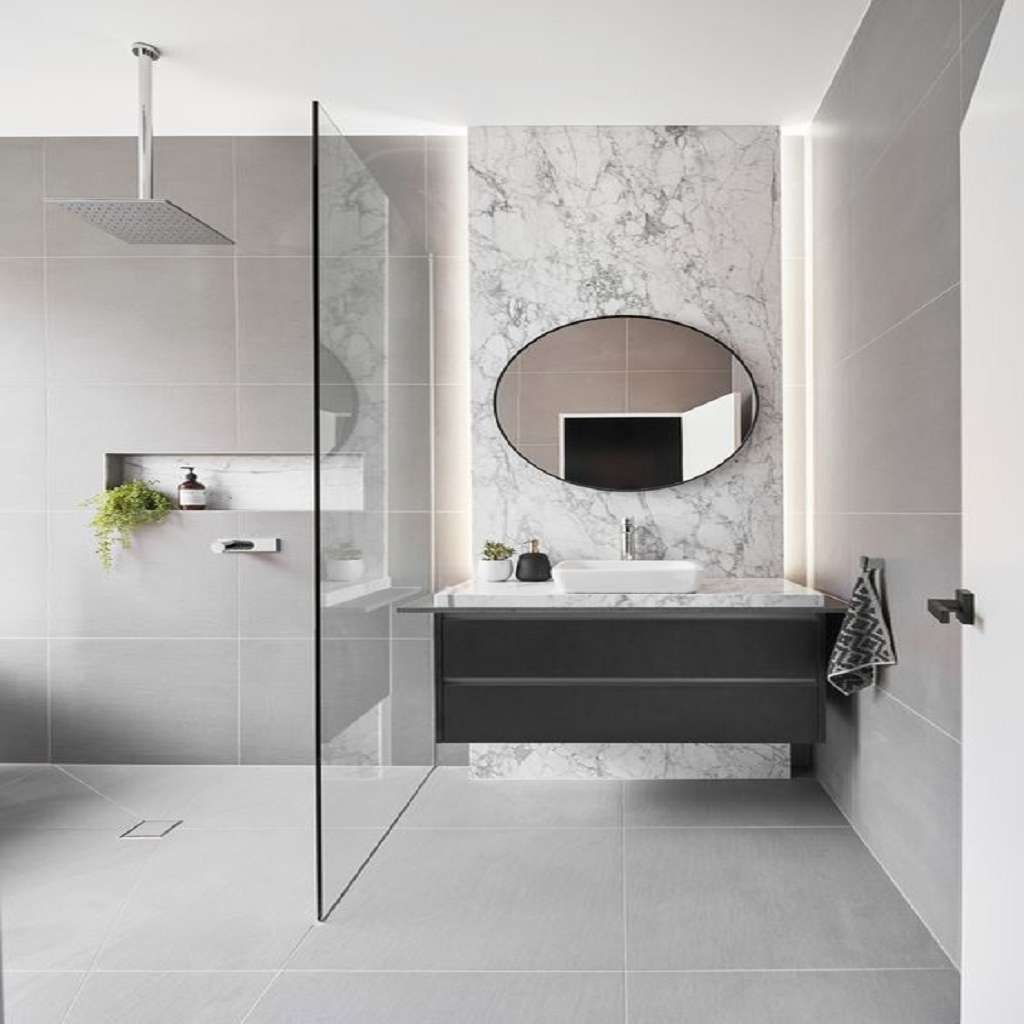 Image Source: Digs Digs
Want to focus on beautifying that small area where you could admire yourself after a fresh bath? No problem! Grey color may be dull at some point, but we have ideas that will break that stereotype. 
Here's how you can transform your tiny grey vanity bathroom space into a jaw-dropping area: 
Tile color should be grey or white and should be in marble texture for a luxurious look. All grey marble wall is a great option too.  

Spherical mirrors are also lovely for a contemporary impression. Make sure to pick those who have a thin grey frame. 

Floating dark grey cabinets are excellent for a modern and elegant ambiance. 

Your wash basin should somehow be in contrast, so make it white.

Lastly, you could put some small potted plants, soap, and perfumes. You might as well put some mini shelf for other sanitary stuff. 
3. Dark Grey Tones Vanity Bathroom Ideas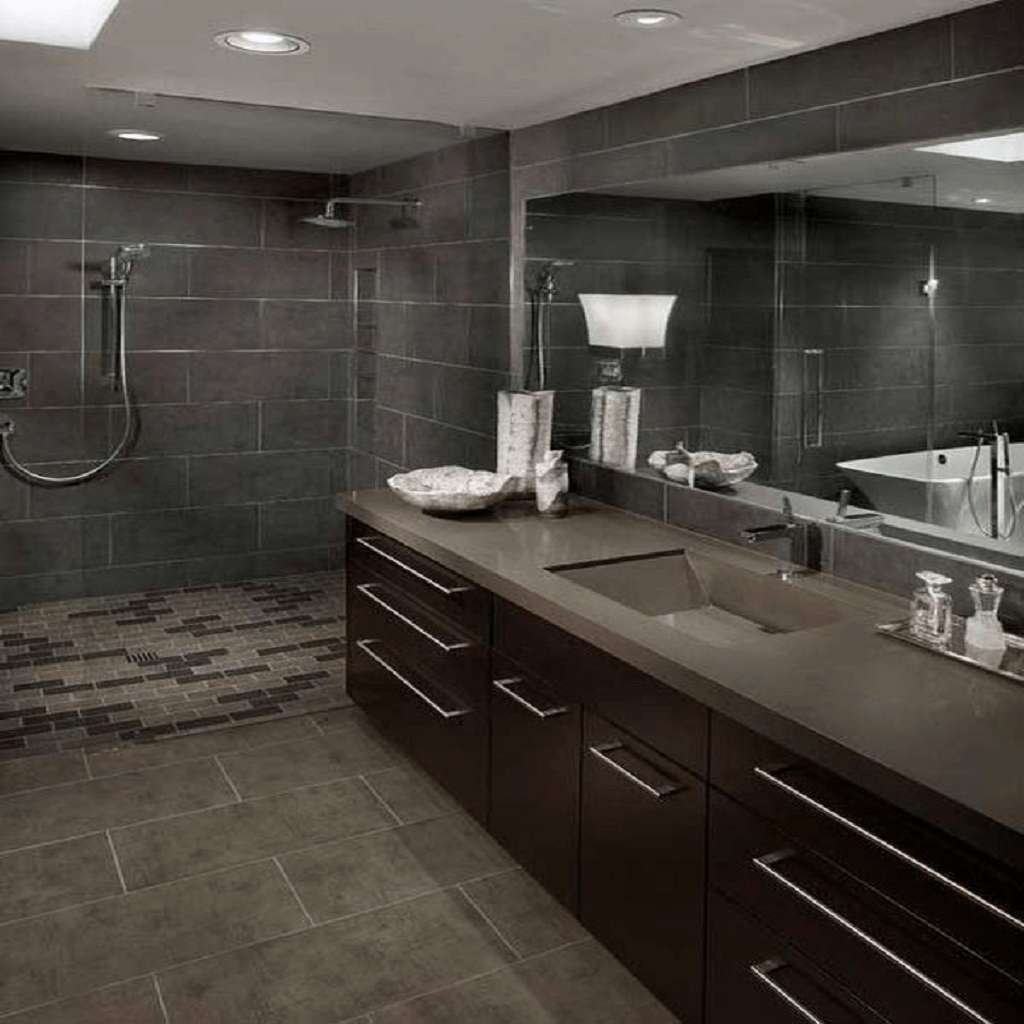 Image Source: Home Edit
Feel the dark, mystery ambiance once you step inside this cool bathroom. You will surely love to solve the mystery by cleaning your body and admiring yourself in this grey vanity. 
To achieve this bathroom look:
Have grey

porcelain tiles

in your vanity area and grey

ceramic tiles

in the shower. If you have darker shades, go for it!

Walls should be covered with porcelain tiles for consistency. 

Thermofoil

cabinets are a brilliant option if you want to add a modern style but if you're going to stick to a mystery look, go for a rustic or a traditional grey cabinet. 

You can put some indoor small potted plants, soap, shampoo, lotions, body wash, or different vase basins beside the sink. 

Put modern LED lights, or you could just put slim sconces to brighten the area. 
For more interesting bathroom decor ideas, you can click the link attached. 
4. Grey Double Vanity Bathroom Ideas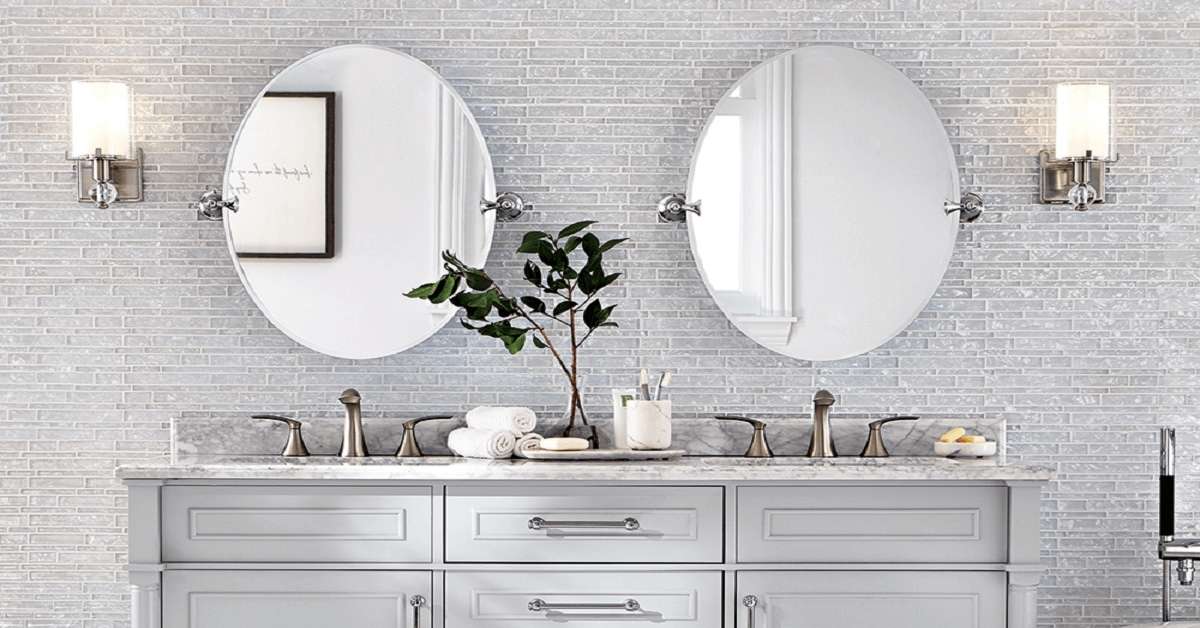 Image Source: Sales SP
Isn't it lovely to have a vanity bathroom area where you are admiring yourself and the area itself too? No need to worry about turning your vanity bathroom into something that you will be pleased to see because of the combined elegance and versatile furniture pieces that are perfect for your home. 
Come and read these tips: 
For a touch of something new, go for an oval frameless mirror, which will surely steal the show!

Have some

limestone tiles

on your wall; it will contribute elegance and modernity. 

Your sink top can be marble or a traditional white and grey to match the entire theme. 

Cabinets should have divided compartments and should be colored grey. It would be nice to look at and also convenient. 

Aside from bath towels, soaps, plants, and brushes, you can also put some mini shelves where you can add some of your sanitary things. 
5. Budget-Friendly Grey Vanity Bathroom Ideas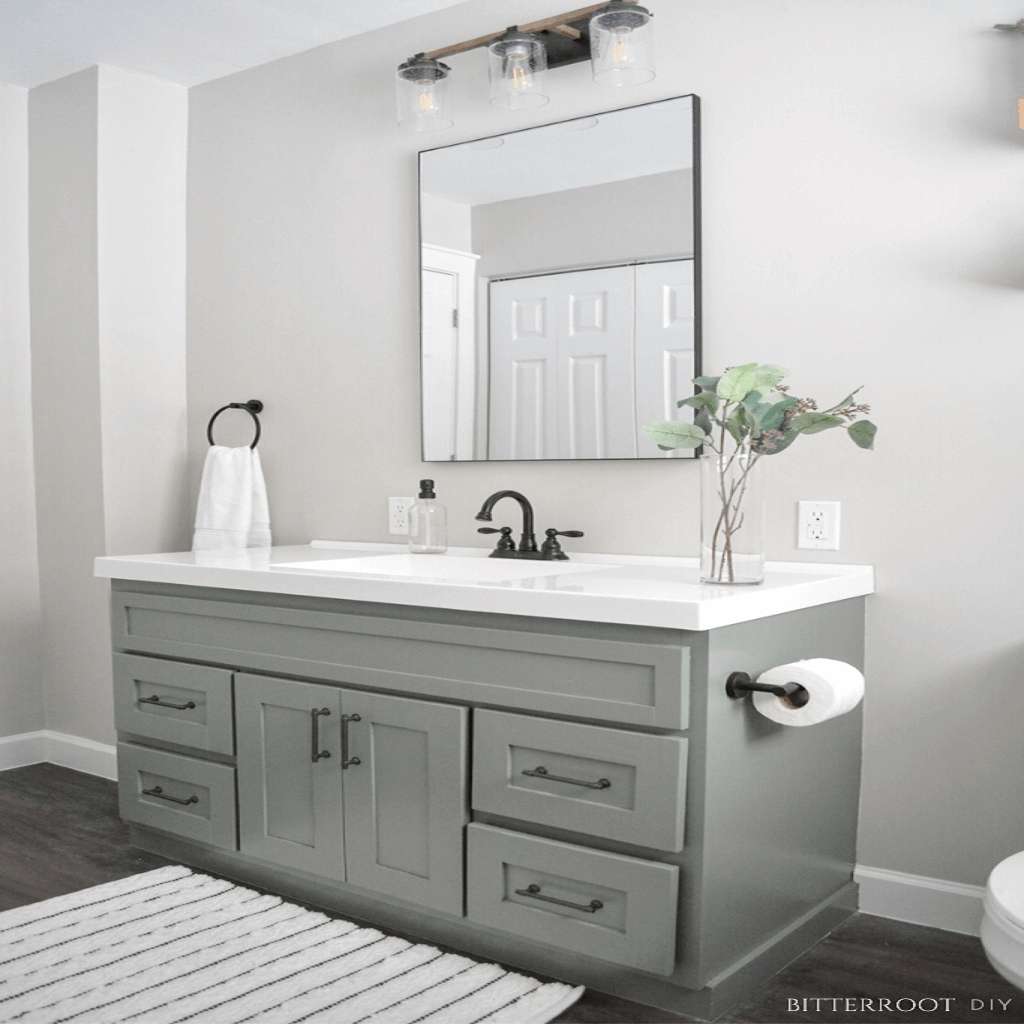 Image Source: Home BNC
If you are tight on budget but don't want to make it obvious, this vanity bathroom design is just for you! Grey bathrooms are more affordable than other bright colors because if it is paired with white, it already looks simple. However, being simple does not mean that we cannot spice things a little bit.
Here are some guides for you: 
Paint the wall with a combination of grey and white if you want something that depicts the whole vanity bathroom theme. 

Some of the rugs you can acquire are hand woven, hand-tufted, handloom, or braided rugs. 

Pick a square mirror with a

shaker-style cabinet

for a traditional look. 

Grey porcelain tiles are non-expensive, so you better go for it. 

Aside from plants, you can add a mini-shelf or have a built-in rack for more bathroom stuff storage.  
6. Rustic Grey Vanity Bathroom Ideas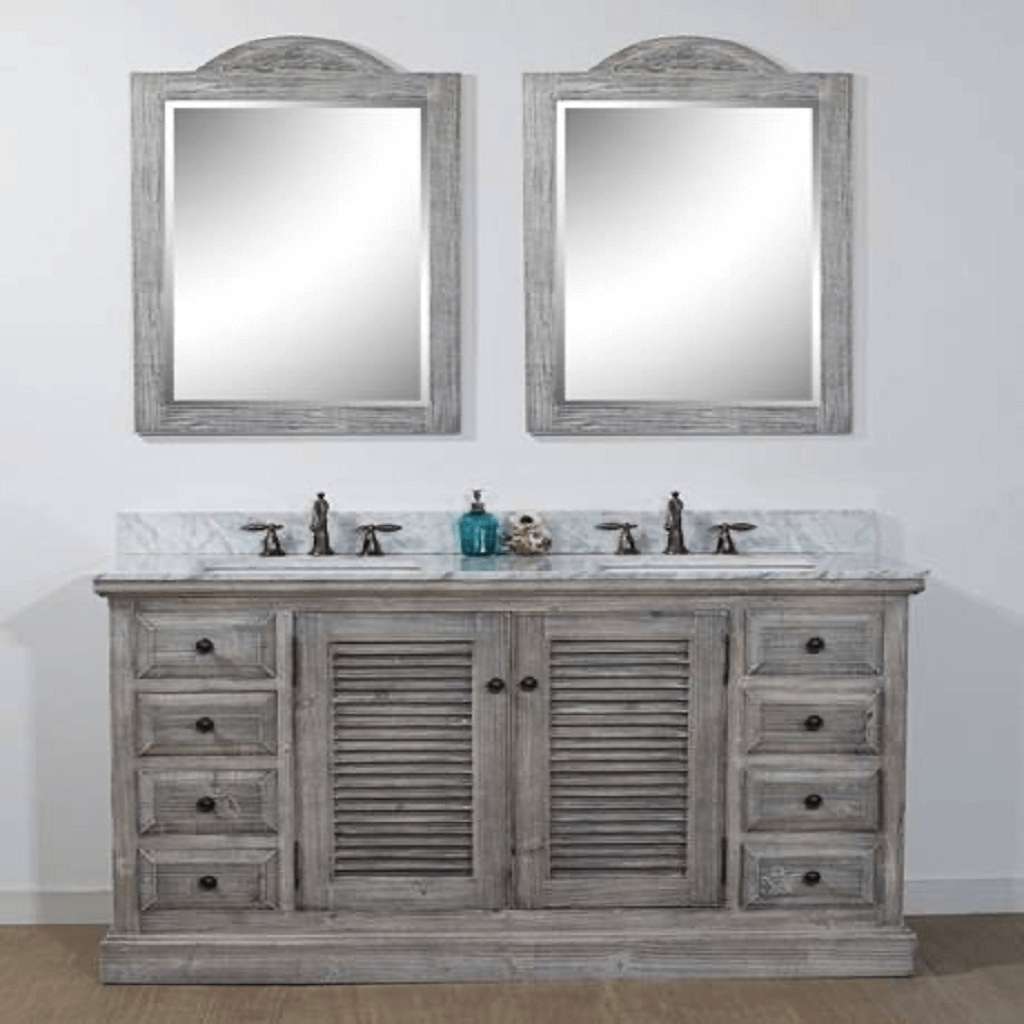 Image Source: Bathroom Vanities
One thing that we cannot always let go of is the past. So, why not apply a rustic vibe to your grey vanity bathroom? You see, brown may be the main color of a rustic theme, but no one said that it could not be grey. 
For you to achieve this, you have to: 
Make your bathroom large by purchasing a wooden-framed square vanity. 

Ensure that the rustic vibe applies to your cabinet. Have it grey, but its texture and design should be wood. 

If you want a touch of elegance and contemporary, you can go for a grey and white marble sink top, yet if not, have it wooden too. 

Add some antique displays and sunflowers and your sanitary things besides the sink. 

Lantern or candlelight sconces can be placed beside the vanities. 
Take care of your bathroom by reading bathroom cleaning checklist. 
7. Kids Grey Vanity Bathroom Ideas 
Image Source: Bathroom Vanities
Of course, one way to keep your kids happy is to give them their bathroom. Kids enjoy playing in the shower and popping bubbles as they mind their hygiene. But would they love it if the area was colored grey?
Learn how you can make a grey vanity bathroom their favorite spot. 
Statement framed posters boost their confidence by giving them authorization in the area. Pick something that described them as a person and have them nostalgic about it. 

Printed wallpapers make them jolly and have a playful vibe, so you might as well add this. 

Traditional grey cabinets with divided compartments and aluminum mirrors match, so go for this. 

Add some toys they can play with: duckies, dolls, and fishes. 
You can always visit beach themed bathroom if you want more exciting decor ideas. 
Conclusion
As you can see, the color grey is not that boring. It can sometimes be depicted as an adult and mature color, but you can always turn it into something playful and vibrant with a suitable theme and furniture. Above are some guides that you can always follow if you are unsure how to do it. 
You do not have to be an expert to achieve this. You have to obtain creativity, motivation, and knowledge to ensure that your bathroom furniture pieces, such as vanities, will last longer than usual. 
For more amazing ideas you can have, visit Guy About Home today or you can check the related blogs: