Level up your bathroom cabinet ideas with the right paint color to swoon everyone.
Many of us have been focusing on beautifying the bathroom tiles and walls. But for today's article, we are not saying that we should neglect those things. What we are trying to imply is that we should also give importance to the bathroom cabinets because they not only keep our stuff but also have a massive impact in the overall bathroom design.
Thank you for reading this post, don't forget to the best blogger Guy About Home who offers the best garden and home improvement tips! If you are a home decor and design fan, don't miss the tips on home ideas. If you are a home garden owner, then you might be interest in our complete guides to house plants!
Let's read this article and take a glimpse of the ideas on how to obtain an amazing painted cabinet. However, you can also pair your cabinet with vanities that are mind-blowing, check out white bathroom vanity ideas. 
Table of Contents
Soft Purple Painted Bathroom Cabinet Ideas

Powerful Dark Blue Painted Bathroom Cabinet Ideas

Brown and Vintage Painted Bathroom Cabinet Ideas

Green-Natured Painted Bathroom Cabinet Ideas

Black Elegantly Modern Painted Bathroom Cabinet Ideas

Crimson Red Painted Bathroom Cabinet Ideas

Mustard Yellow Painted Bathroom Cabinet Ideas
Soft Purple Painted Bathroom Cabinet Ideas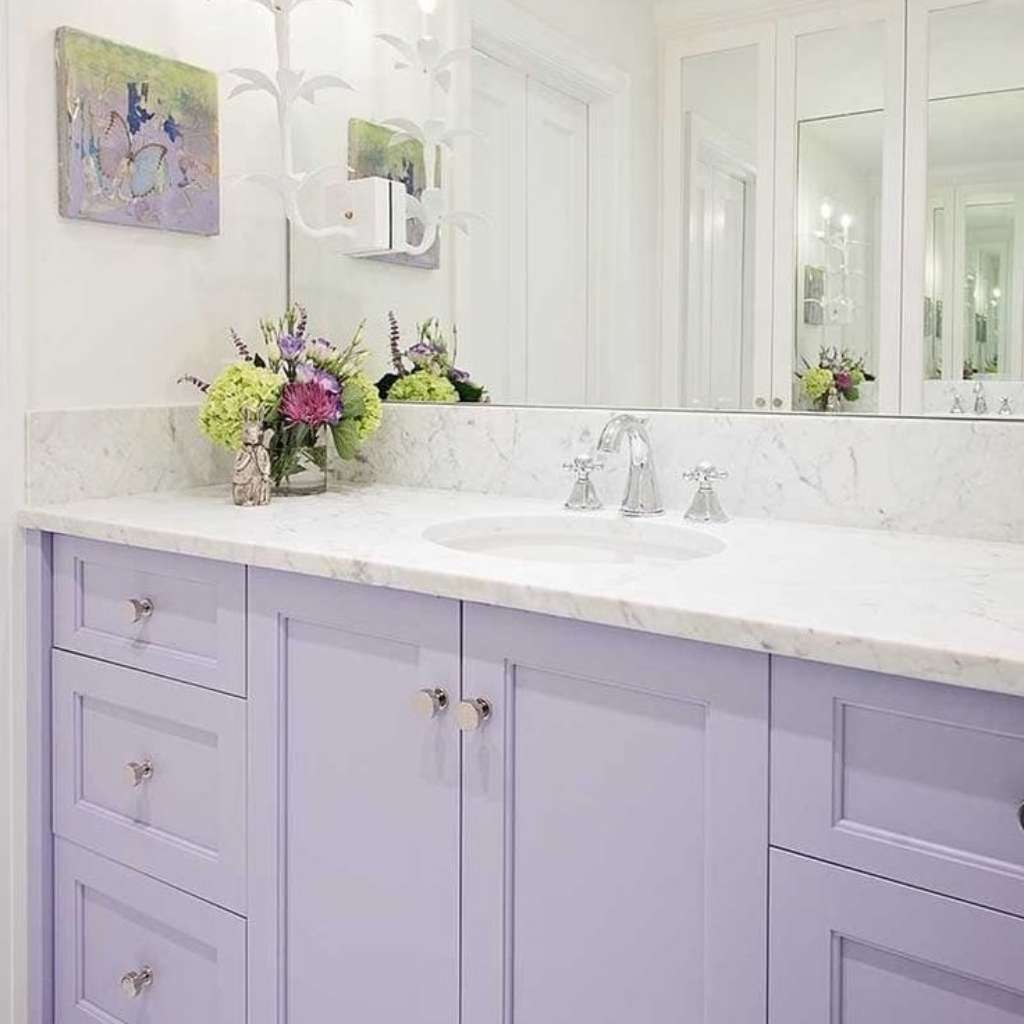 Image Source: Pinterest
Indulge yourself in a light or pastel color. The purple-painted cabinet is one of the unique colors because people often go for a modern or a vintage vibe cabinet. But purple color corresponds to being light-hearted, which brings out the idea that when a person walks into their bathroom, they can truly feel the essence of lightness and positivity.
Here are some tips:
Buy a classic, free-standing purple cabinet where there are tons of compartments. A modern floating cabinet is not ideal since it shows off awkward spaces in the area.
Acquire a rectangular frameless mirror if you wish. Yet if you want something traditional and less classy, go for a concave or panel mirror.
To add a soft and refreshing sensation, acquire a hand-made painting along with matching fresh flowers that add more design.
Have an under-mounted sink for them to create an easy and cohesive look.
Powerful Dark Blue Painted Bathroom Cabinet Ideas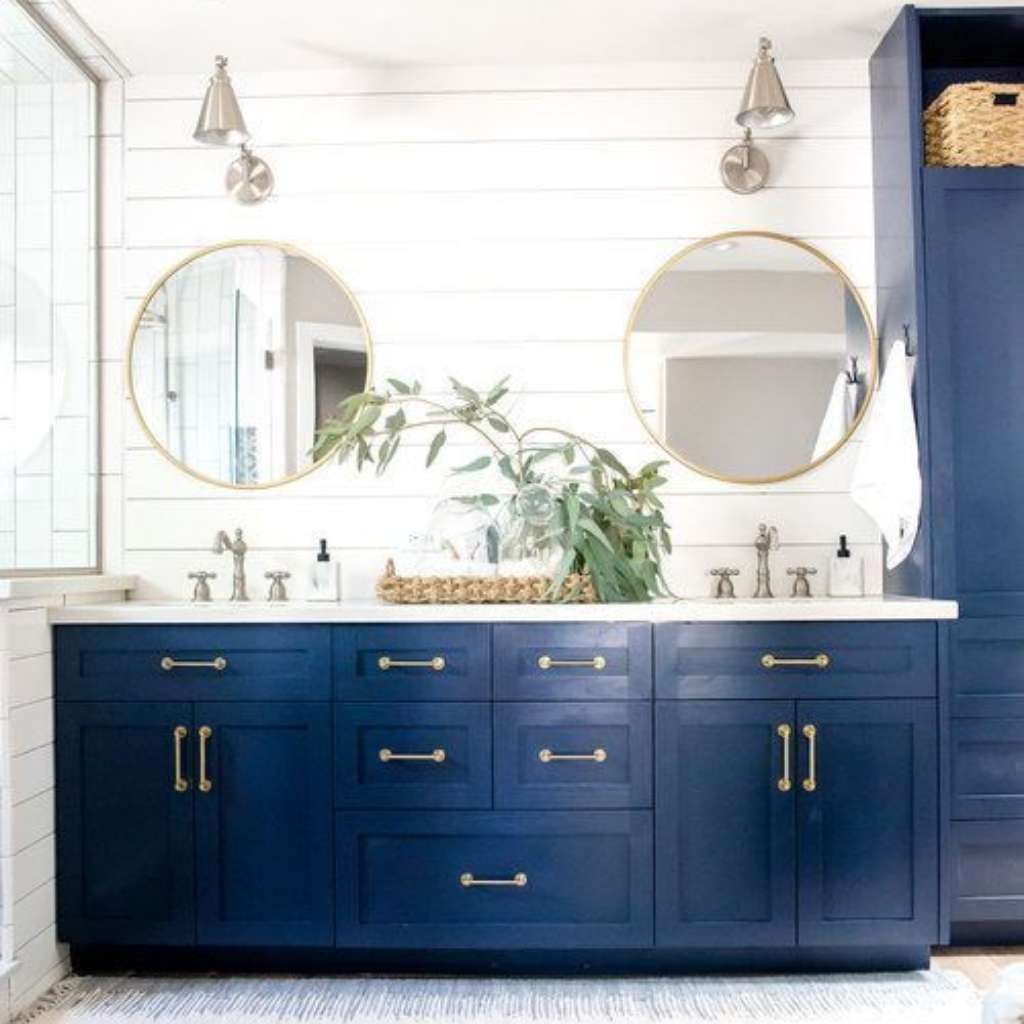 Image Source: Pinterest
Aside from black and white, one option that you could try is to paint your entire cabinet blue. With this color, you can confidently say that you are balancing the modern and classic look since blue is a neutral color that almost matches any color.
To match the navy blue paint color you have to:
Ensure that everything is balanced. Acquire rattan baskets and chandeliers for your sanitation stuff. Or you can do it the other way, get a classic chandelier and basket while putting a rustic touch as your backsplash. A wood backsplash would be lovely.
Spherical mirrors are an excellent option, but you can stay classic by acquiring thick-framed square mirrors.
Finally, have a traditional cabinet with lots of compartments. If you want, you can purchase a simple one or the one with a vertical chamber for a more attractive look.
Brown and Vintage Painted Bathroom Cabinet Ideas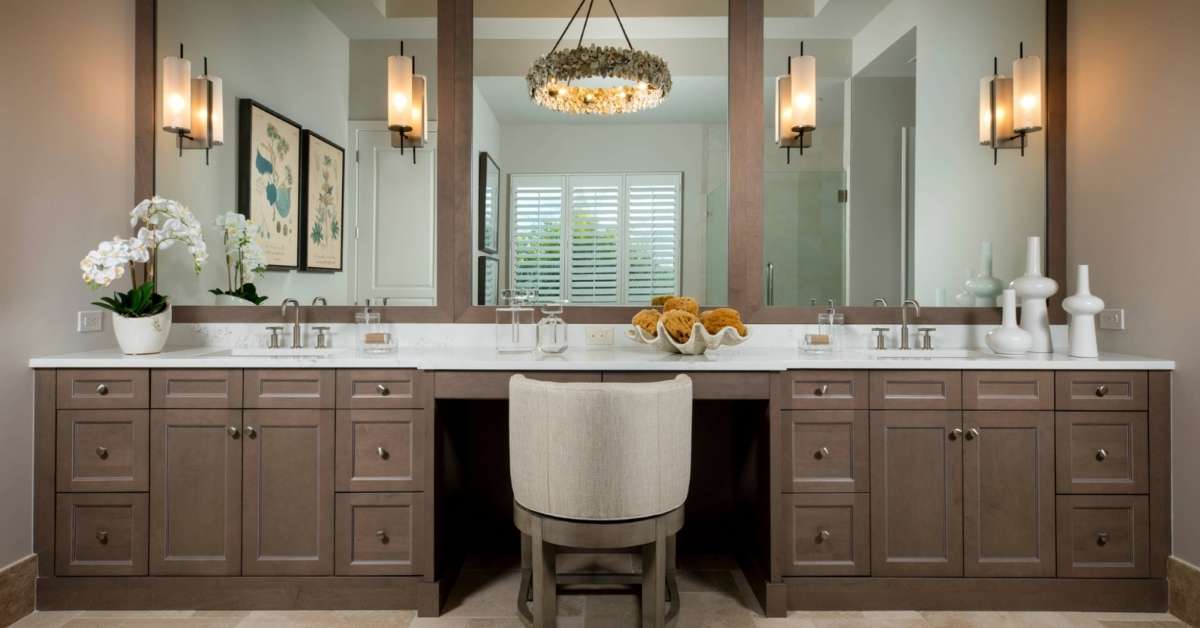 Image Source: Houzz
Who doesn't love brown? It gives off chills and memories of the past despite us living in the modern era. Plus, it feels like you are bathed with nature's ambiance because of its earthly vibe.
Combine modernity and antique style by:
Purchase a brown cabinet with a space in the center for the owner to accommodate.
Pair it with brown and cream combined limestone tiles. For the walls, you can stay in the brown color palette or have it white.
Produce a warm color and relaxing mood by acquiring slim lantern-like sconces as they are installed in the wood-divided vanity. You can also buy a wreath chandelier to add a more rustic design.
Then, have your sink classy by putting different sizes of vases and having two under-mounted sinks. 
If you are still looking for more designs, check out bathroom DIY vanity designs
Green-Natured Painted Bathroom Cabinet Ideas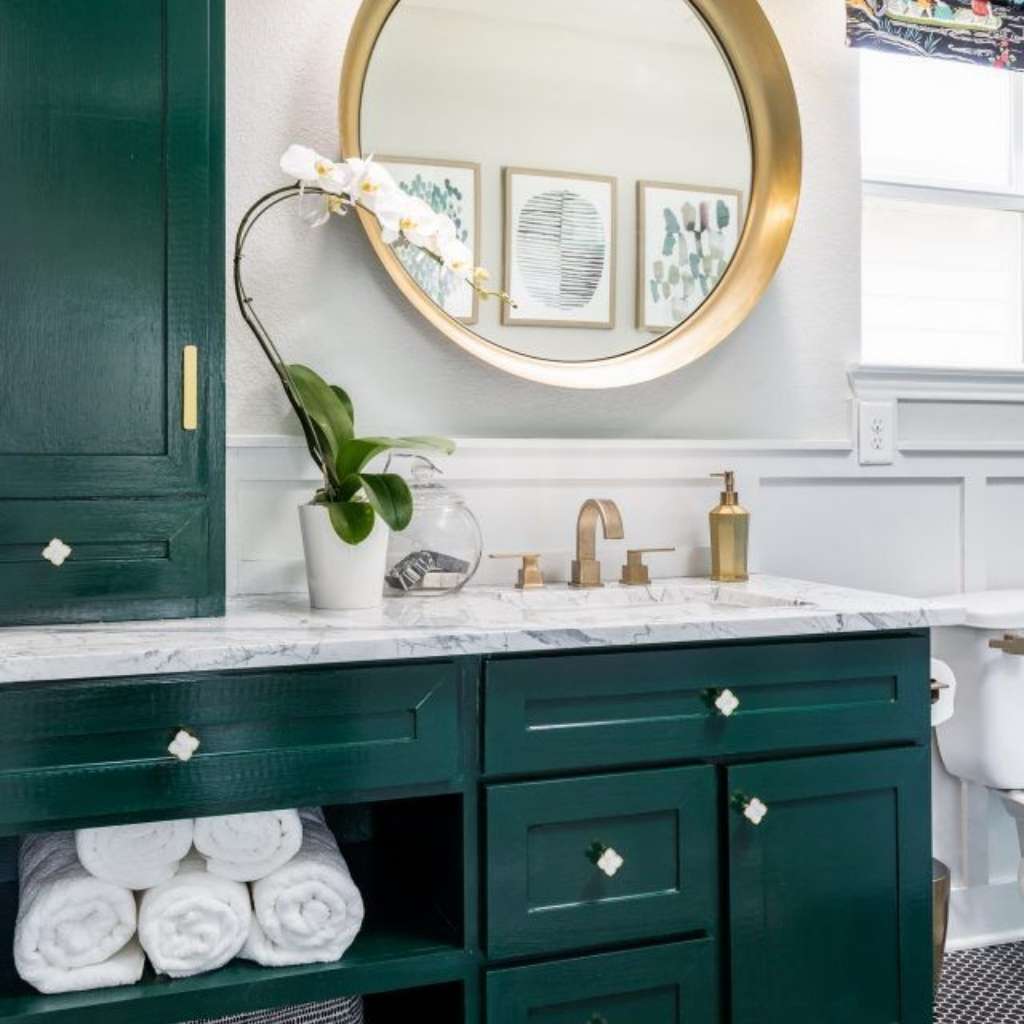 Image Source: Pinterest
If you love nature, you should paint your bathroom cabinet green. Not only is it invigorating, but it is also calming because of its airy vibe. Just choose the shade you desire, and you are good to go.
What you can do are:
Pick the right color for your entire bathroom: gold, black, and gold are ideal but what you can also choose is white, brown, green, and grey.
Downlight reflectors are excellent if you want a simple touch but if you want to stick with the nature theme, pick a transparent uplight sconce.
Add more design volume by getting artificial or natural bent flowers. Place it in a white vase. You can acquire a spherical mirror or a thin framed rectangular vanity for the vanity.
Lastly, paint the walls white for a brighter and classic look, but if you want an average and fabulous color, paint it brown.
Black Elegantly Modern Painted Bathroom Cabinet Ideas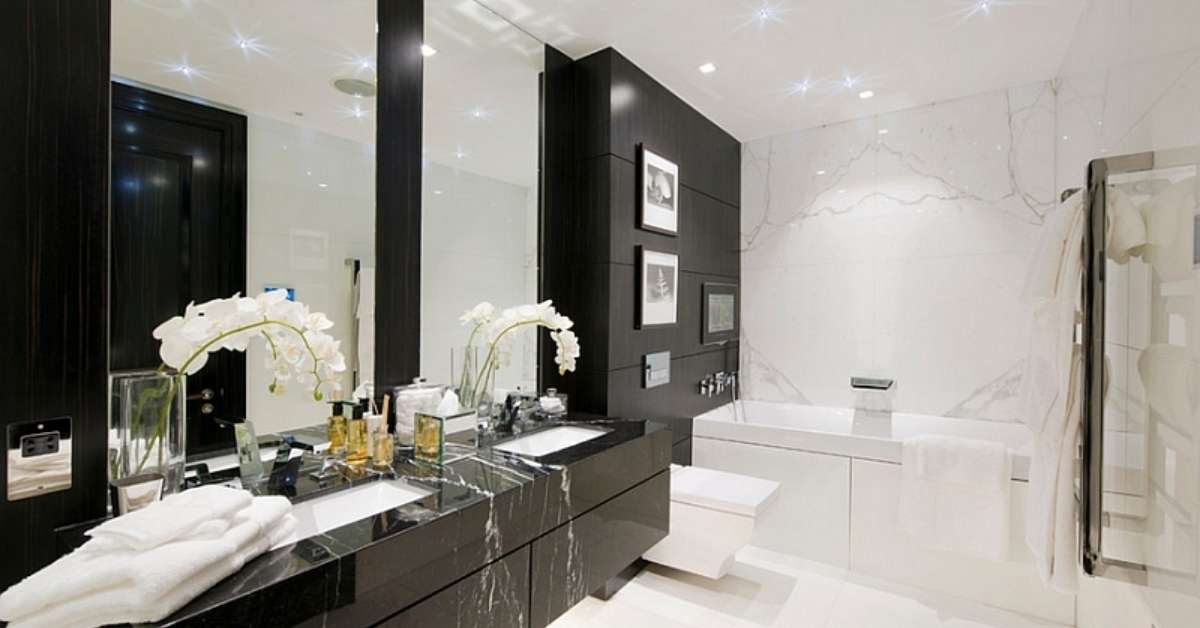 Image Source: Decoist
Remember those videos where you see a CEO taking a bath in this type of bathroom? Well, you don't have to be envious of it. You can easily have all of these in your home. All you need is the right furniture and the right colors.
Let's achieve this by:
Paint your entire bathroom black and white. No need for other colors. Just go with the classic colors. You can add a little bit of volume such as painted cracks.
Instead of acquiring a rectangular vanity, you could acquire two full-length vanities. Thick frames are out of style. Your plain black backsplash shall do the trick!
You can purchase a classy wash basin or you can have the under-mounted sinks. Put some designs such as flowers in a vase along with your sanitation stuff.
Your cabinet color should be floating since you are trying to achieve a modern and digitized look.
Crimson Red Painted Bathroom Cabinet Ideas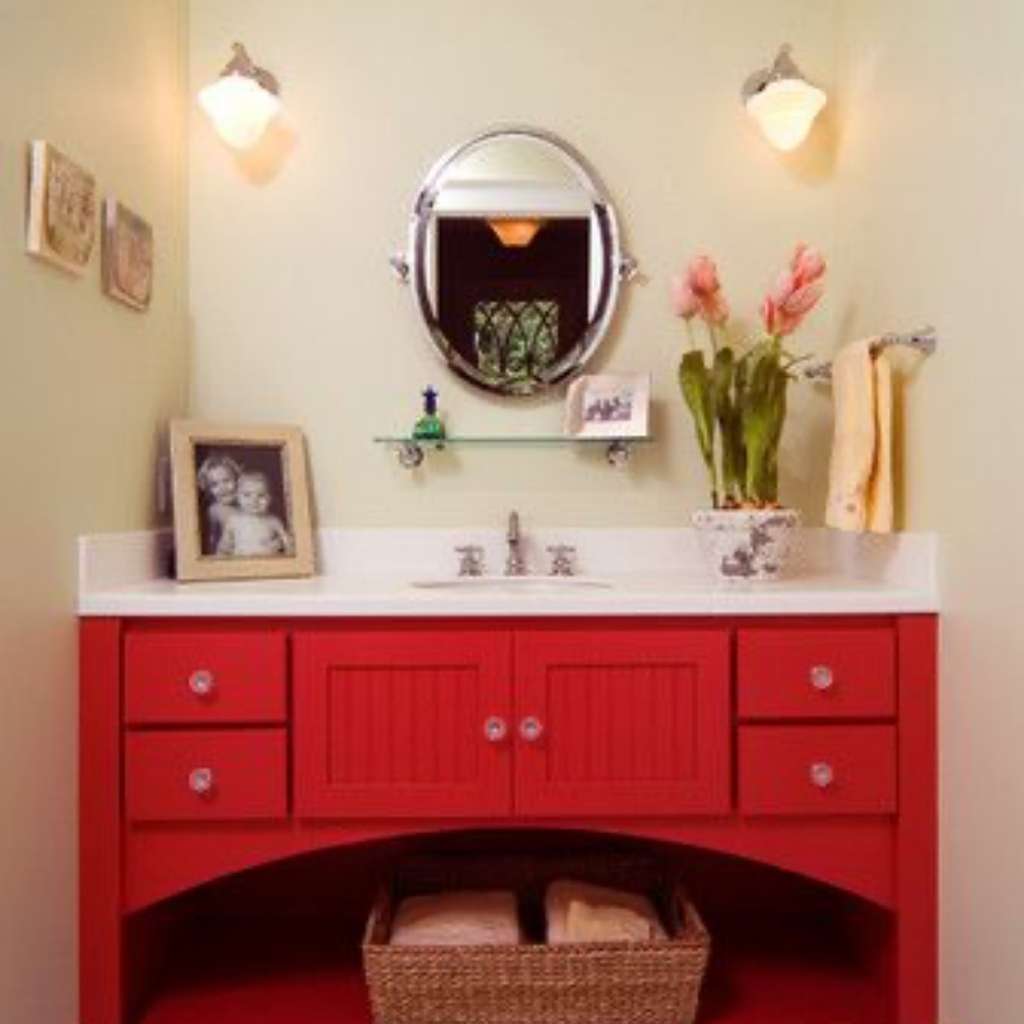 Image Source: Pinterest
Red is a very strong color. Sometimes it can symbolize anger but at the end of the day, it symbolizes love. Well, who doesn't love a red-painted bathroom cabinet?
You can choose between a traditional cabinet with tons of compartments, or you can just select a balanced one such as a cabinet with open storage below.
Match the warm and strong theme by painting the wall cream, or you could for white paint for a traditional vibe.
Put a downlight sconce on the wall while placing a mini mirror or a rectangular framed vanity in between to complete the look.
If you want something nostalgic, you could put portraits on the sink but if you want something classy, just place natural or artificial tulips in a vase.
Usually, red and blue go together, so if you want some blue ideas, you can visit navy blue bathroom vanity ideas. 
Mustard Yellow Painted Bathroom Cabinet Ideas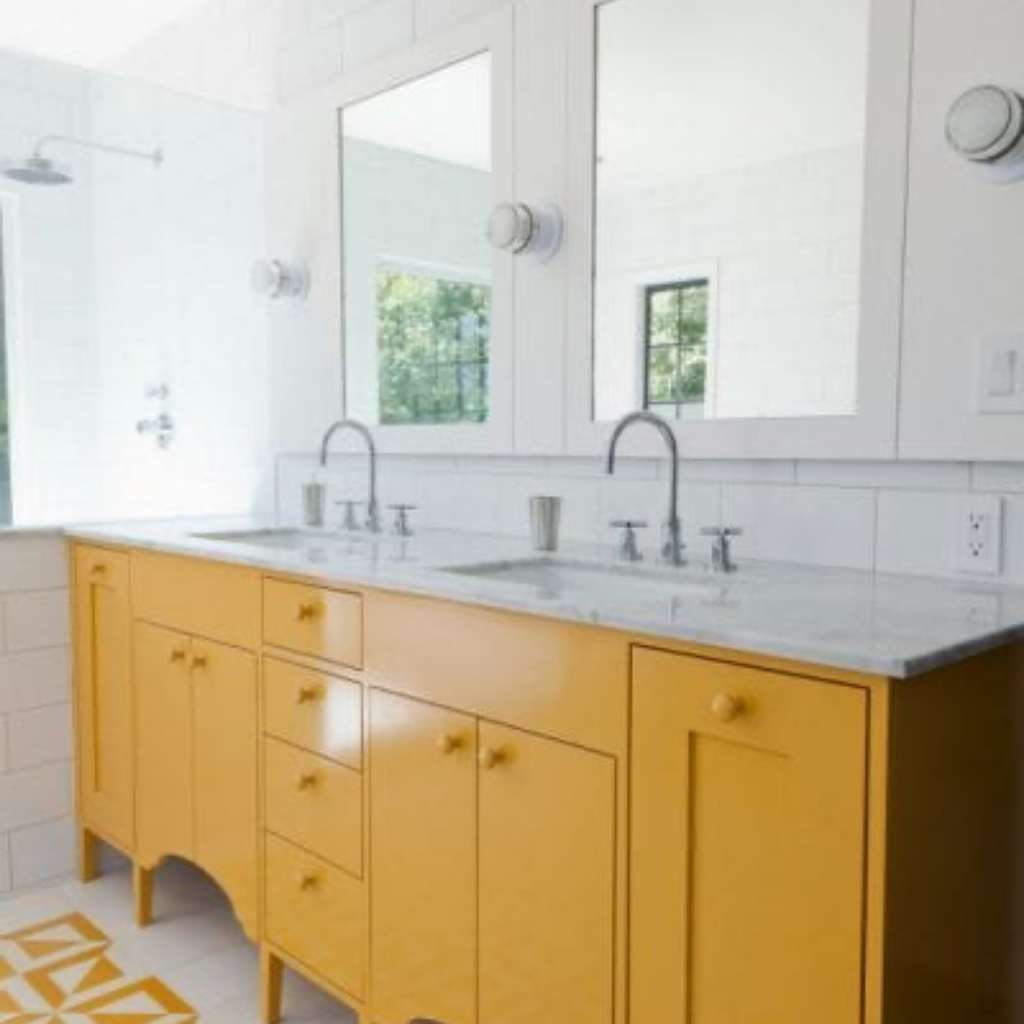 Image Source: Remodelaholic
Mustard yellow has always been mistaken as a bit of an off-color. But if you are addicted to the idea of trying something new and retro, this kind of color is just perfect for you! It might catch your attention because of its intense color, but we swear this is an excellent option!
Here are some tips to help you out:
A free-standing cabinet may not be the traditional one, but it gives out a french-vintage style, so you must try it.
A 2-in-one cabinet is convenient if you have a small bathroom. So, you might as well want to acquire a built-in vanity in a medicine cabinet.
Acquiring sconces is costly, so you can just put some reflector lights between the vanities.
For the sink, you can choose between under-mounted or over-mounted ones. Both of them will do.
See more colors at bathroom beach-themed design ideas now!
Conclusion
One thing that you should always consider in designing your bathroom is the cabinet color because it is the biggest piece of furniture. It's the first thing that a person sees once he or she walks into your bathroom. So, you better be careful in choosing the right color.
Match or play with colors. Remember that you should have prior creativity and knowledge before indulging in it. The above ideas are just some of the things that can help you. We hope that we are able to suffice your needs.
For more fantastic ideas, visit Guy About Home today!
Looking for more inspiration to spice up your bathroom and their cabinets? come check out the itemized blogs below: