Do you know there are different glass railing designs for your balcony  ? These breathtaking designs will give your building a gorgeous look you have ever dreamt of.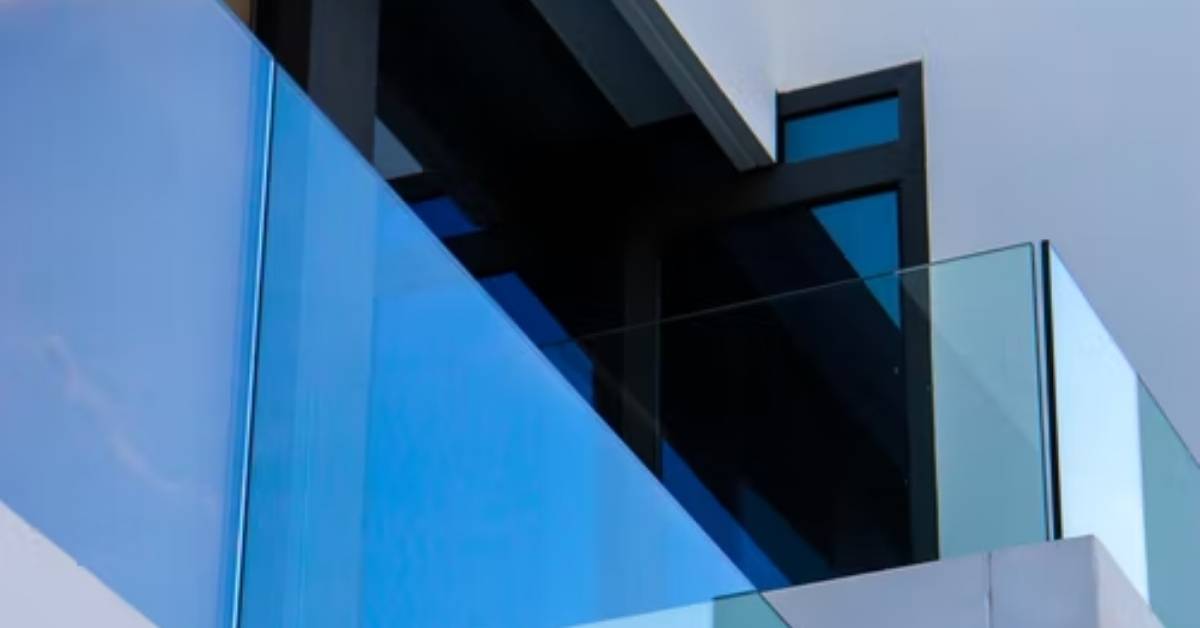 Image Source: Unsplash
Thank you for reading this post, don't forget to the best blogger Guy About Home who offers the best garden and home improvement tips! If you are a home decor and design fan, don't miss the tips on home ideas. If you are a home garden owner, then you might be interest in our complete guides to house plants!
Choosing a glass railing for your balcony can be a great idea than other materials like wood, iron, stainless steel, etc. Apart from the beauty and splendor, it contributes to your building, and they are excellent at reflecting natural light. The genuine reflection created by the glass gives your home an open, fresh, and extensive atmosphere it deserves.
There are different glass railing designs for balconies that can fit into the architectural structure of your building, and we have a detailed list below of the other methods. Do well to make your choice!
Table of Contents
Modern Style Glass Railing Design for Balcony

Designer Glass Railing Design for Balcony

Tuffen Glass Railing Design for Balcony 

Modern Balcony Glass Design 

House Balcony Glass Design 

Stainless Steel Railing with Glass Design for Balcony 

Balcony Full Glass Design 

Etching Glass Design for Balcony

Toughened Glass Design for Balcony

Steel Glass Railing Design for Balcony 

Glass Balcony Grill Design

Front Glass Design for Balcony

Round Balcony Glass Design 

Glass Handrail Design for Balcony
Modern Style Glass Railing Design for Balcony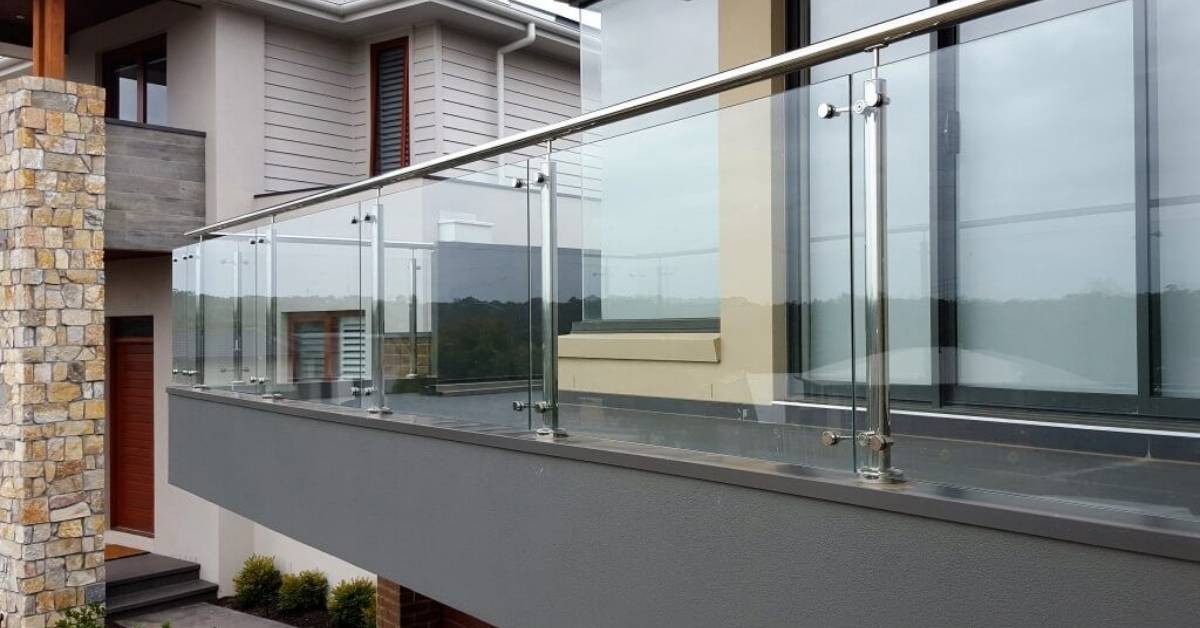 Image Source: Pinterest
Modern-style glass railing designs add to your house's contemporary look. Aluminum-covered glass railing can be minimal yet classy; stainless steel posts and glass combinations can be ideal.
On the other hand, your modern glass railing can only retain its uniqueness and beauty when properly maintained. If not, you start to lose its elegance which may not be something you want. How then do you maintain it? Learn these helpful tips:
Always add lemon juice to your cleaning reagent. The juice acts as a deodorizer and leaves a fragrant smell on your glass railing. Also, it has acidic properties that help clean modern glass railings easily.
Do not scrub glass when cleaning to avoid scratching it.
Inspect your glass railings' support and brackets monthly for any loosened end or corrosion. Always look out for termites and mold if they're attached to wood.
If made of aluminum that cannot rust or corrode, always look for a loosened end and fix it.
Designer Glass Railing Design for Balcony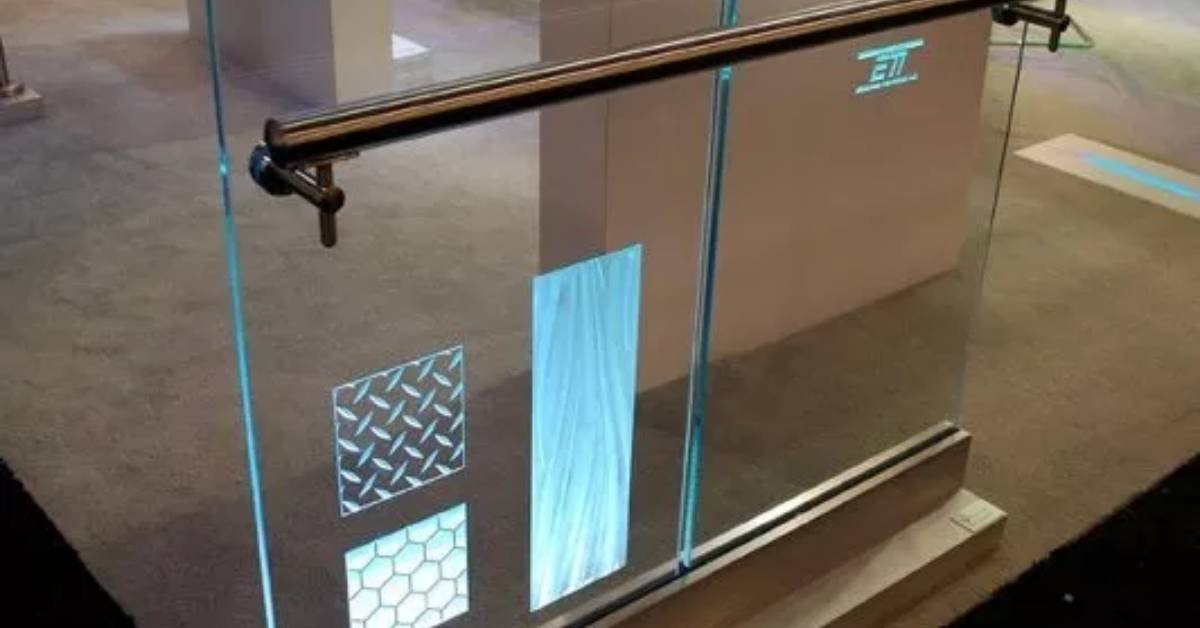 Image Source: Alibaba
Are you short of ideas and decisions to make? Many designers have creative ideas from which you can draw inspiration and decide what glass railing technique you want for your balcony. The designs are tailor-made to suit your taste based on your budget.
Some come with LED light and modern frameless aluminum designs, while others are frameless tempered glass designs. They are not just for balconies, but are also perfect for swimming pools. Check out other home improvement designs in Guy About Home, they're truly breathtaking and mindblowing.
Tuffen Glass Railing Design for Balcony
Tuffen or tempered glass railings are more substantial than regular glass because they've undergone high heat. They can withstand higher thermal strength without breaking. Check this out.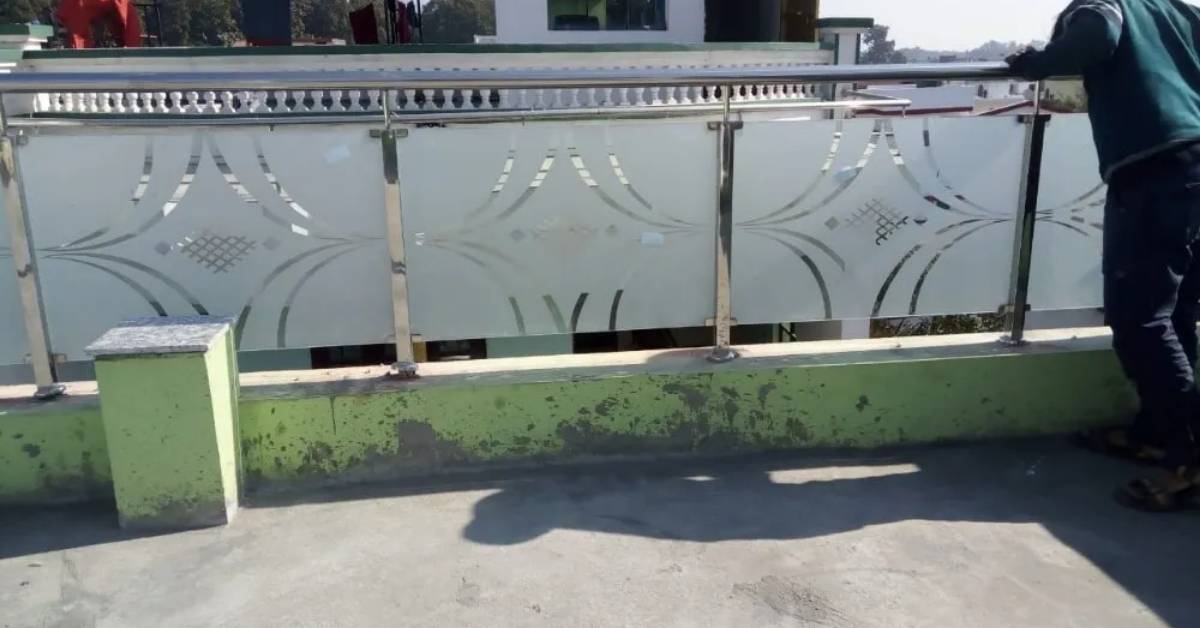 Image Source:IndiaMART
Why Choose a Tuffen Glass Design for Your Balcony?
As already established, tuffen or tempered glass railings can withstand high heat because of the chemical processes. Instead of going for the normal glass railing designs, you might want to choose a tuffen glass railing for your balcony due to the following reasons:
You don't need to paint, treat or furnish it to maintain its beauty and durability.
Tuffen glass panels are safe and sturdy because they do not break into pieces even when cracked.
If you need your privacy, this design might be an excellent option since it permits little or no visibility to the external.
Modern Balcony Glass Design 
These modern balcony glass designs are gorgeous. Some come with frames, while some are frameless railings and could be excellent for pool enclosure.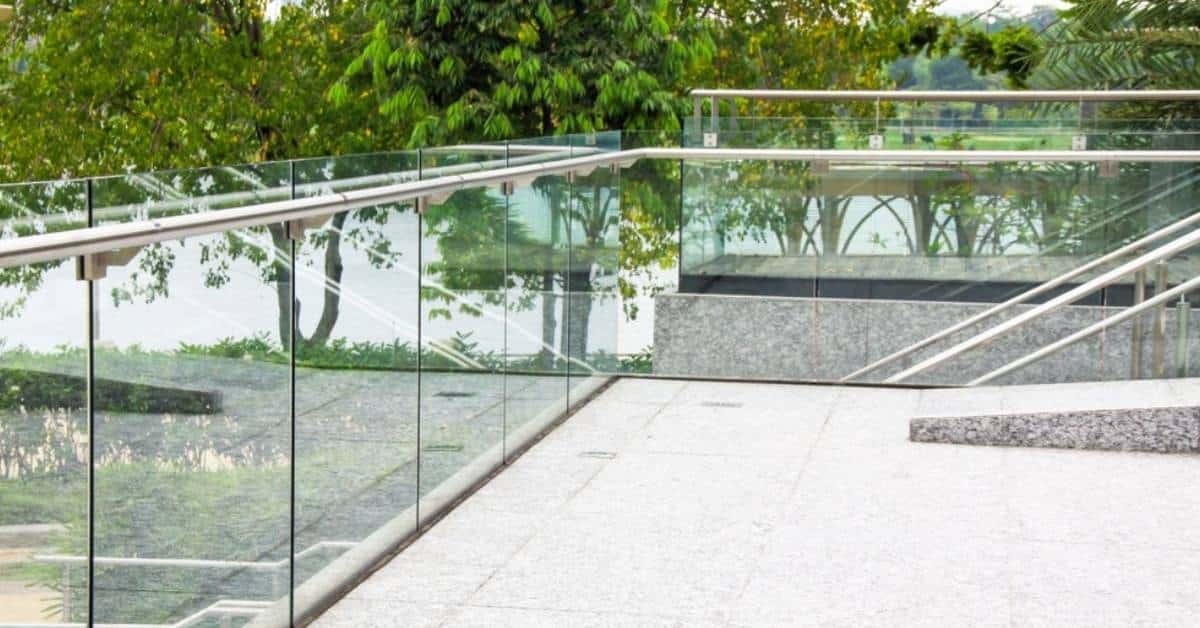 Image Source: Google
How to Clean Your Modern Glass Balcony
Modern glass railings, especially those on your swimming pool or balcony, are continuously exposed to dust/dirt, bird droppings, and grime. Therefore, you need to maintain its sparkling and luxurious effect regularly. Follow these simple tips to clean your modern glass railing:
For dust/dirt stains
For dust/dirt stains that are easier to remove, wipe the surface with a lint-free cloth.
Prepare the cleaning solution by mixing water and vinegar in a ratio of 50:50.
Dip a clean cloth, rag, or newspaper into the solution and wipe across the glass surface.
Soak the cloth in the mixture of vinegar and water to allow the debris to loosen, then dry under the sunlight.
For Animal/ Bird Droppings 
Dip a clean disposable cloth in an apple cider vinegar solution.
Then clean across the surface of the glass railing.
Note that apple cider vinegar has an antimicrobial effect, making it an excellent option for cleaning animal/bird droppings.
House Balcony Glass Design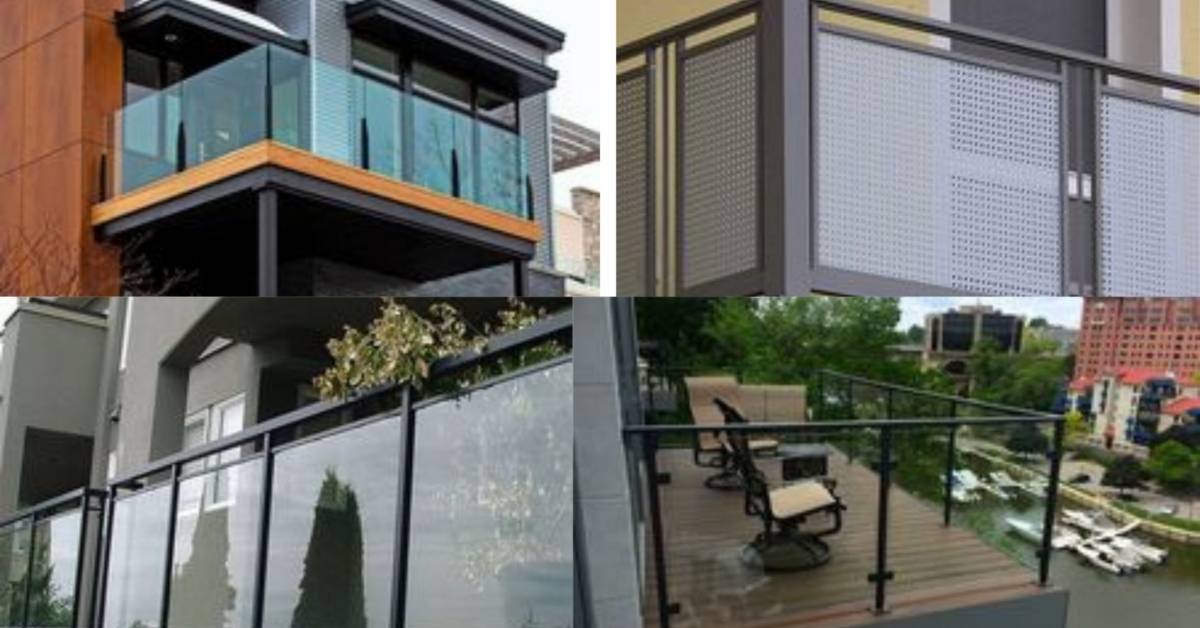 Image Source: canva
What do you look for when selecting a balcony glass design for your house? Everyone loves it classic, especially when it comes to home designs because it's where we spend most of our time aside from the office. Check out the guide below:
Right direction: Check for designs that are a great source of light reflection. A direction where you can easily receive light and not overheat the interior of your house.
Glass type: Balcony glass safety is mandatory. Therefore, go for processed glass, unlike standard glass. The processed glass has strength and resistant capacity.
Safety precautions: When designing your house balcony glass, adhere to all safety precautions. For height and width, your design must be according to the parapet.
Shape them well: Select designs with your desired shape. Be it L – shaped or boxed-shaped, depending on your spec.
Stainless Steel Railing with Glass Design for Balcony 
Stainless steel glass railings come in different designs and materials. You can use it to your advantage depending on the material and the techniques. Also, a stainless steel post creates a glossy modern look, providing security and safety to your balcony.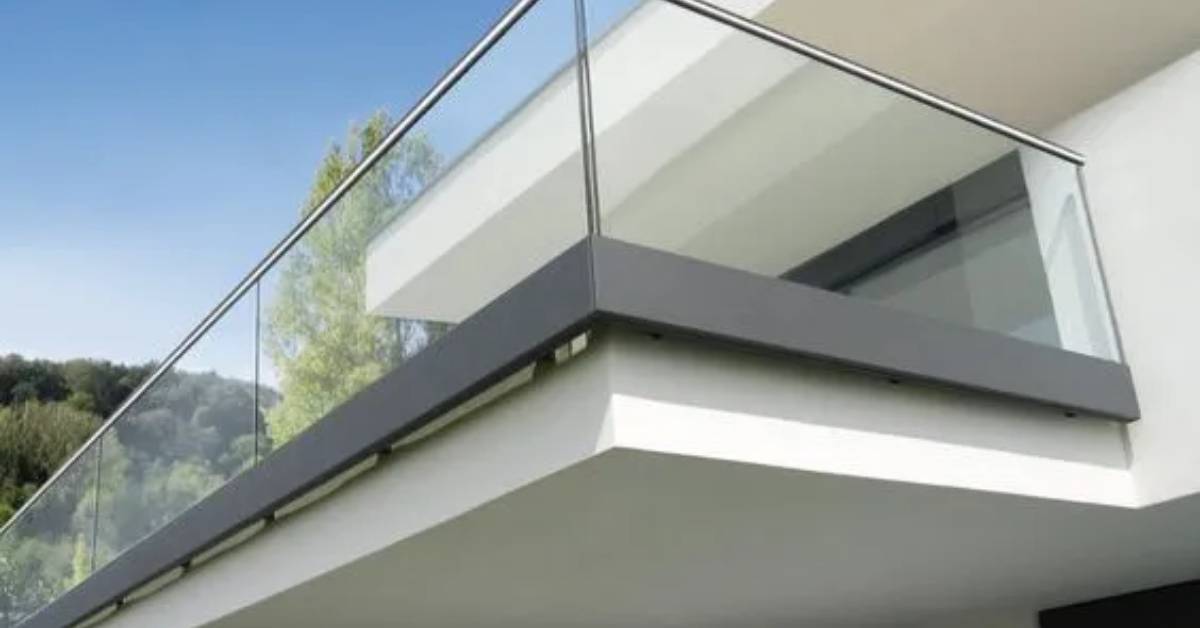 Image source: Google
Balcony Full Glass Design 
Some of these designs are frameless and excellent for outdoor use. If you have a huge balcony, you may want to consider an entire glass design for it. These designs are also classy and add modern looks to your building.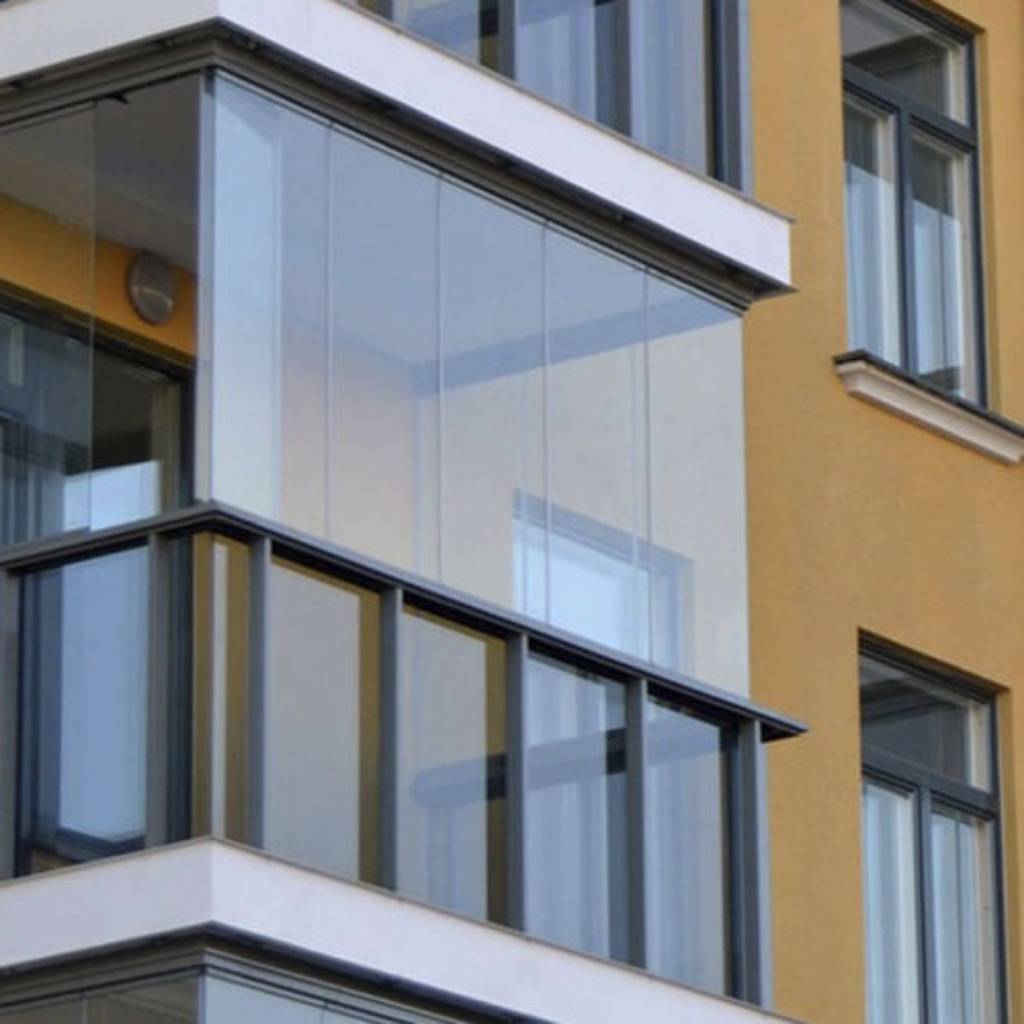 Image Source: Google
Things to Note When Cleaning Full Glass Balcony 
Here are a few things you need to put into consideration when cleaning your full glass balcony:
Do not clean glass on a bright sunny day. Cleaning when the sun is up can lead to rapid evaporation, thereby leaving traces of watermarks on your glass. The best time to clean is in the evening.
Always attach a squeegee to a pole end when cleaning the rooftop of the glass railings. It makes it easy to clean those spots that are hard to reach.
You need not use a commercial glass cleaner; just a dishwasher and warm water will do the expected magic!
Etching Glass Design for Balcony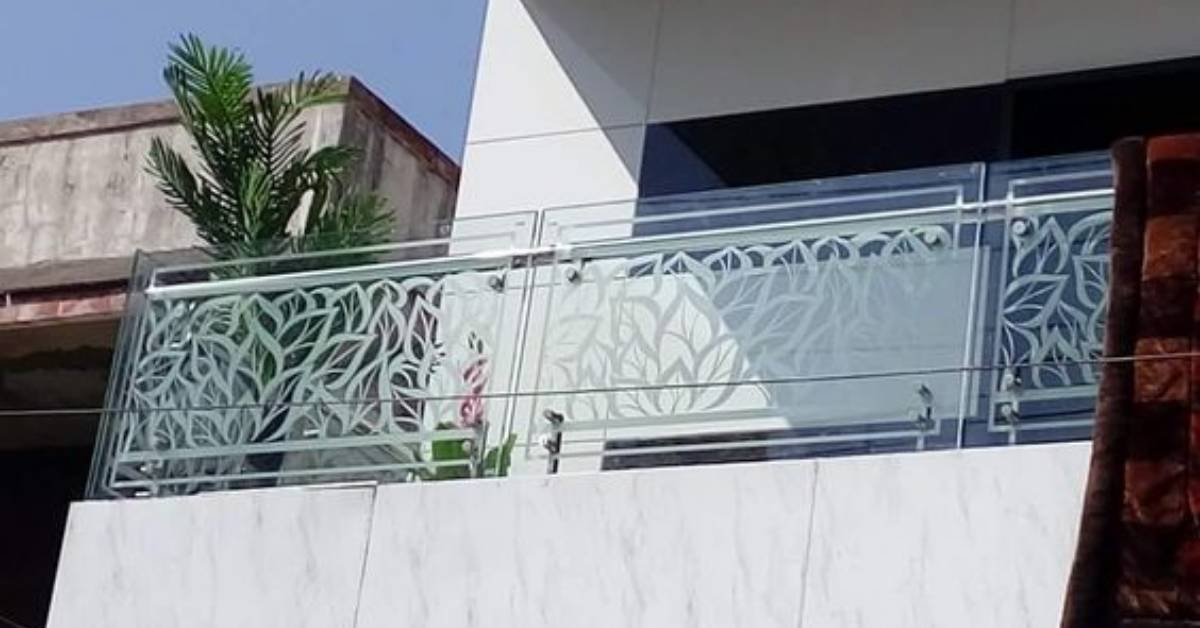 Image Source: Pinterest
You don't always have to stick to the simple and plain glass when there are more charming and classic ones – etched glassware. Your balcony will still look modern when you try these out.
Etching glass designs are decorative and elegant artistic works made on glassware. These designs are intentionally crafted on glassware by applying acidic, abrasive, or caustic substances. These etching glass designs can take your balcony to the next level, away from the normal.
Toughened Glass Design for Balcony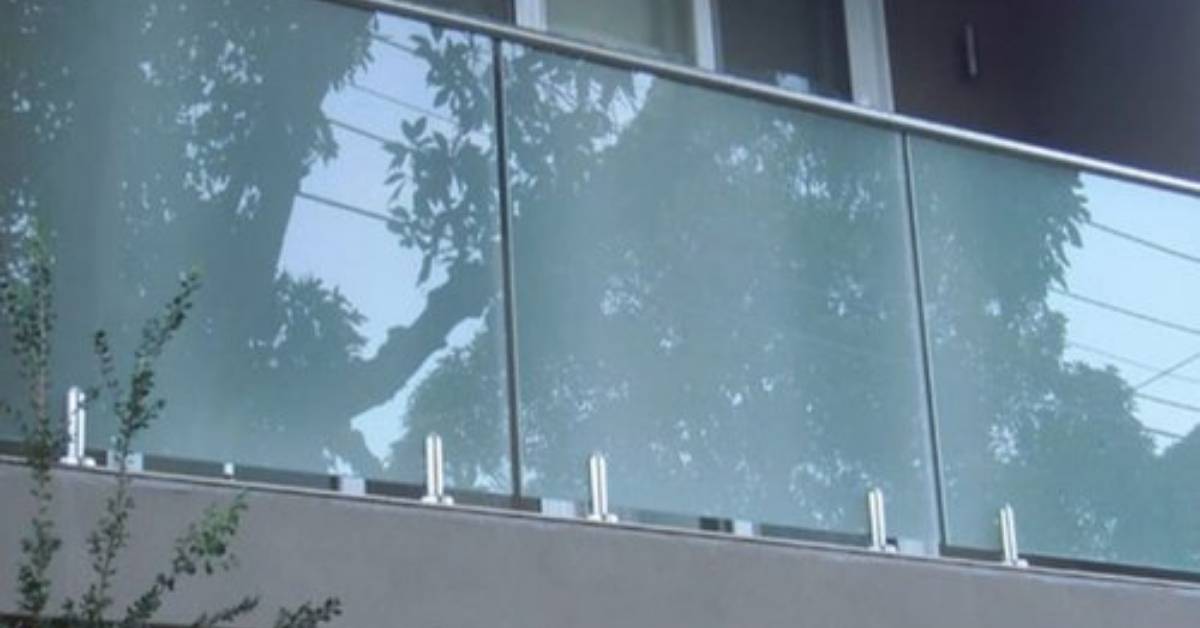 Image Source: IndiaMART
If you're very keen on safety and as much as possible want to reduce injuries and damages when dealing with glassware for your balcony, try this one. Also, you might want to consider a toughened glass design for your patio instead.
Toughened glass is also called tempered glass; both names are used interchangeably. They have undergone intense compression and tension, making them more robust than usual. They're constructed under close monitoring to ensure their strength and durability. Check out these toughen glassware with etched designs.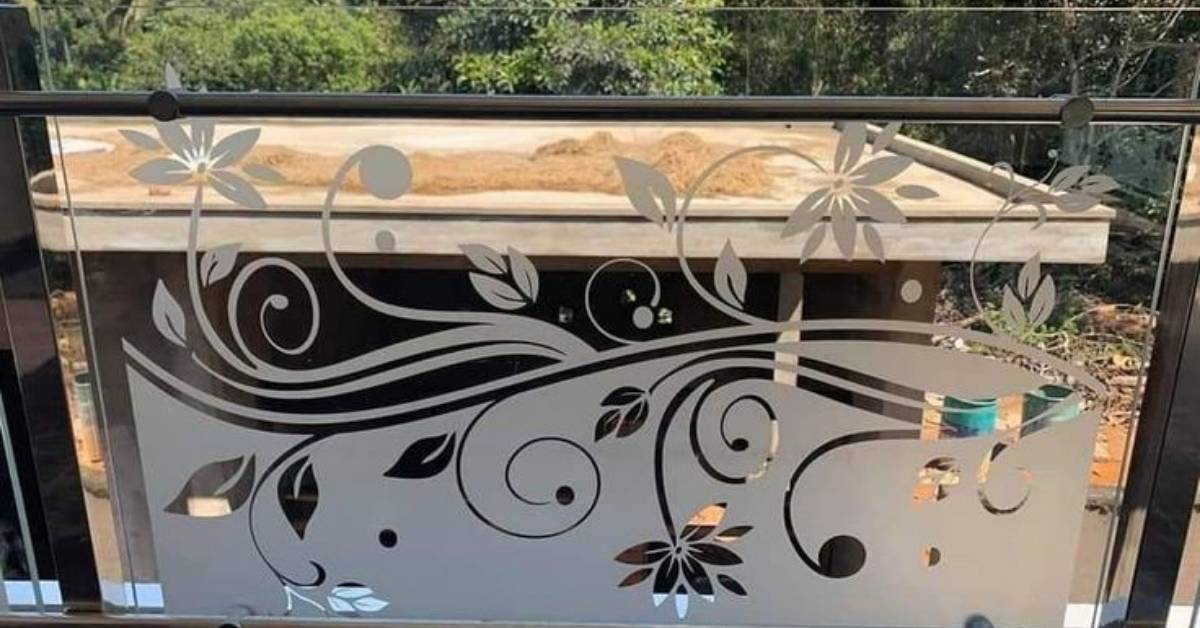 Image source: Google
Steel Glass Railing Design for Balcony 
You may want to try this out if you're looking for a steel glass railing design with a more sophisticated material for your balcony. It's made of 304 steel grade and guaranteed to serve you better.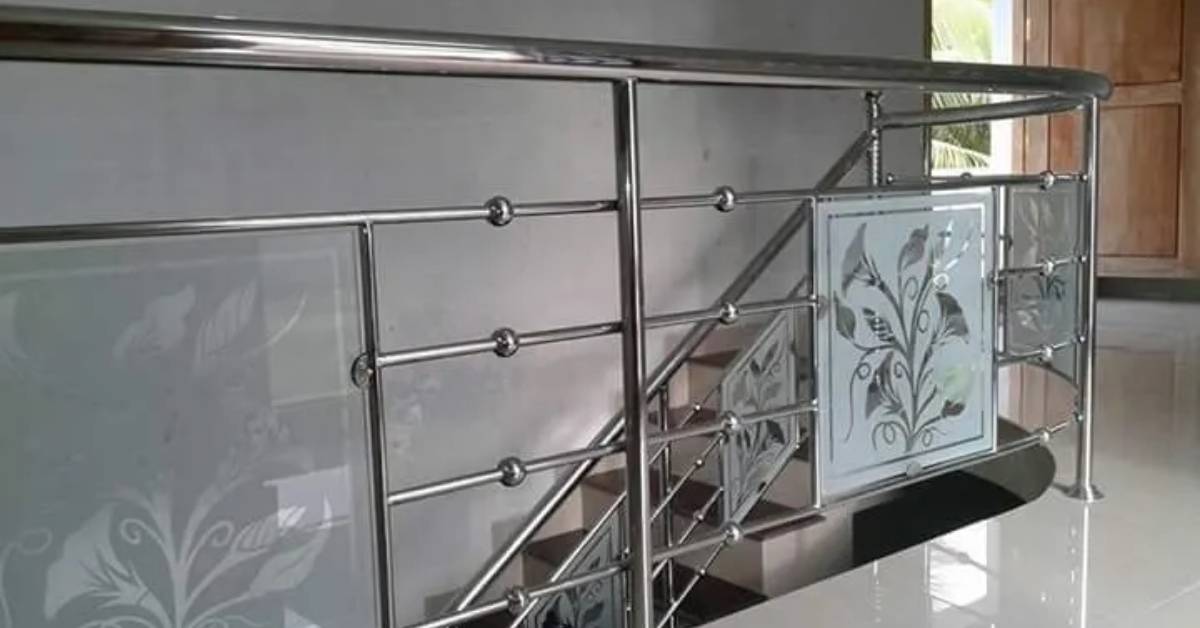 Image Source: IndiaMART
Tips on How to Maintain Your Steel Glass Railings for Balcony
Below are some simple and effective ways to clean your steel glass railings while still maintaining the brand's stunning look:
Avoid using chemicals to clean the steel railings. A mild detergent will do, as chemicals tend to leave some spots on the steel.
Use a Scotch-Brite or any other soft scrubber to scrub the steel gently. And scrub in the same direction to avoid crisscross lines.
For stubborn stains, buy a cleaner to help polish the surface and remove hard stains and scratches.
Finally, keep the surface of the steel away from steel wool, sandpaper, chlorine acids, or hydrochloric acids to maintain it in good condition.
Glass Balcony Grill Design
Glass balcony grill designs are another option you might love because they come with uniqueness and glamour, adding beauty to your home. Make your balcony look gorgeous with grill designs, using materials that will give a high-end modern view.
Materials such as stainless steel, aluminum, glass, wood, mild steel, concrete, cast iron, and wrought irons can add beauty and splendor to your designs when used appropriately. Check out the picture below;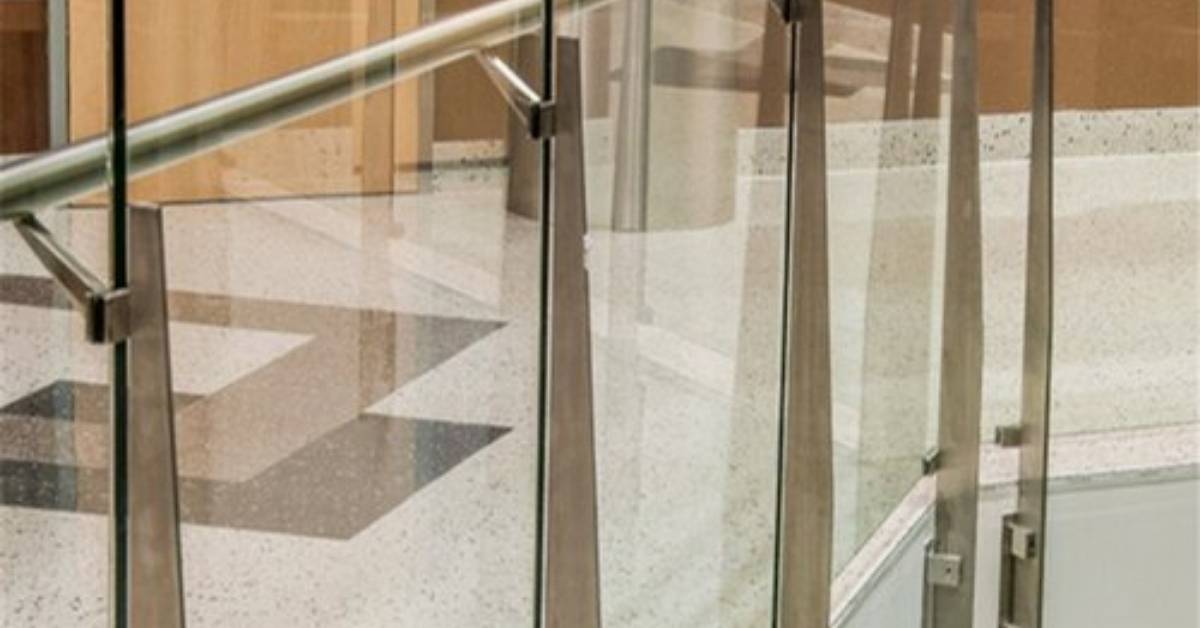 Image Source: IndiaMART
Front Glass Design for Balcony 
Your balcony can look all stunning if you learn to choose the right plan that best fits. The pictures below can give you the front glass design ideas you need for your balcony.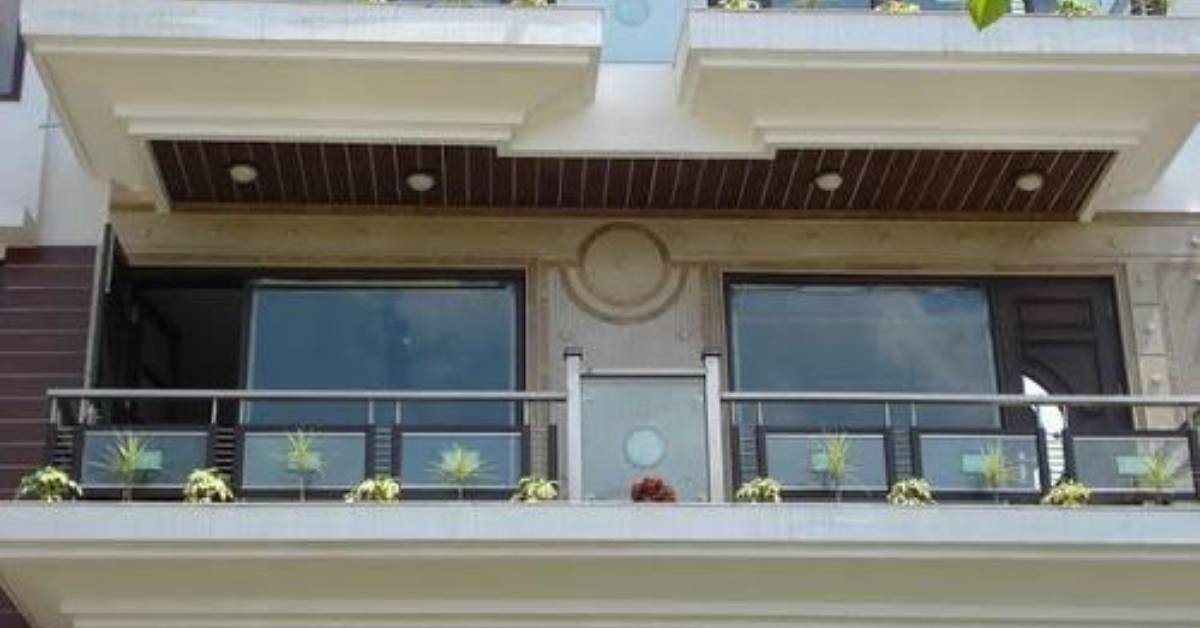 Image Source: IndiaMart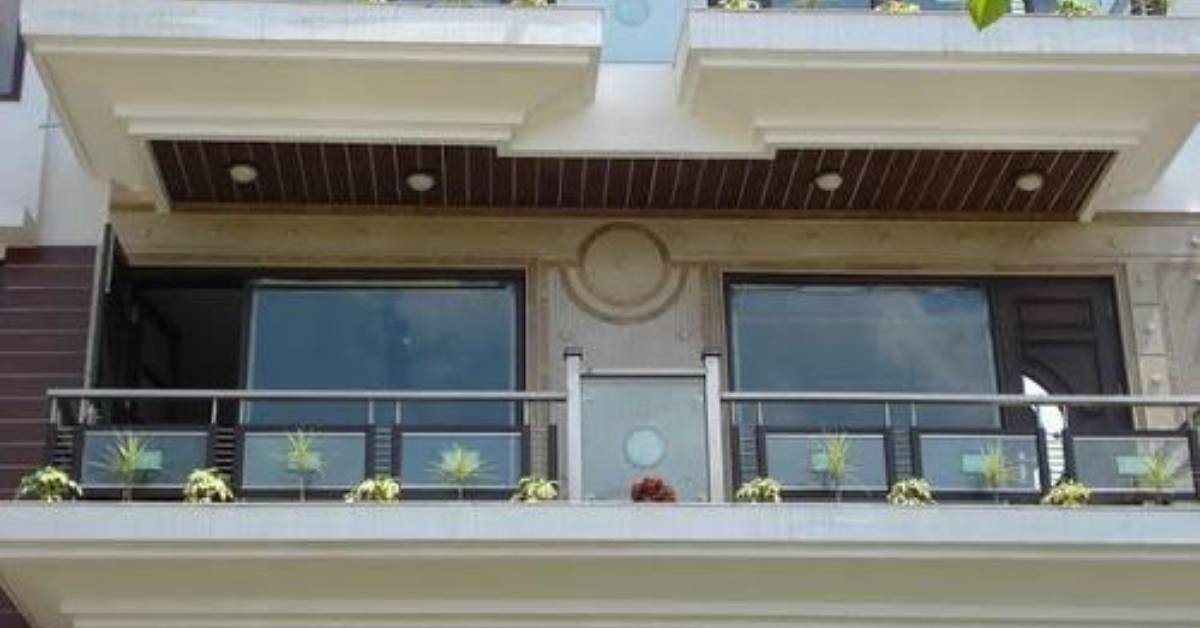 Image Source: Pinterest
Why Choose a Front Glass Design for Your balcony?
A front glass design looks fanciful for your balcony. However, there are other reasons you may want to choose a front glass design for your balcony, which are stated below.
It could be a fantastic place to host your visitors, especially if it's big enough. Having a few lounge chairs and some lovely flowers could make it look inviting to your guests.
You can have a retracted glass panel installed if you love to enjoy the evening breeze while you sit on the balcony.
It also keeps you away from the noise. It can insulate you from unpleasant noise outside, especially if your home is on a busy outlet.
Round Balcony Glass Design
Are you fashionable in your lifestyle and want to see the same play out on your balcony? Do you want a design that is unique and different from the normal? If yes, choose a round glass railing design for your balcony.
Check out the amazing design below. It's of high quality and standard. The decor is superb, and it's what everyone will love. Round balcony glass designs are awesome because they give a different look to your exterior.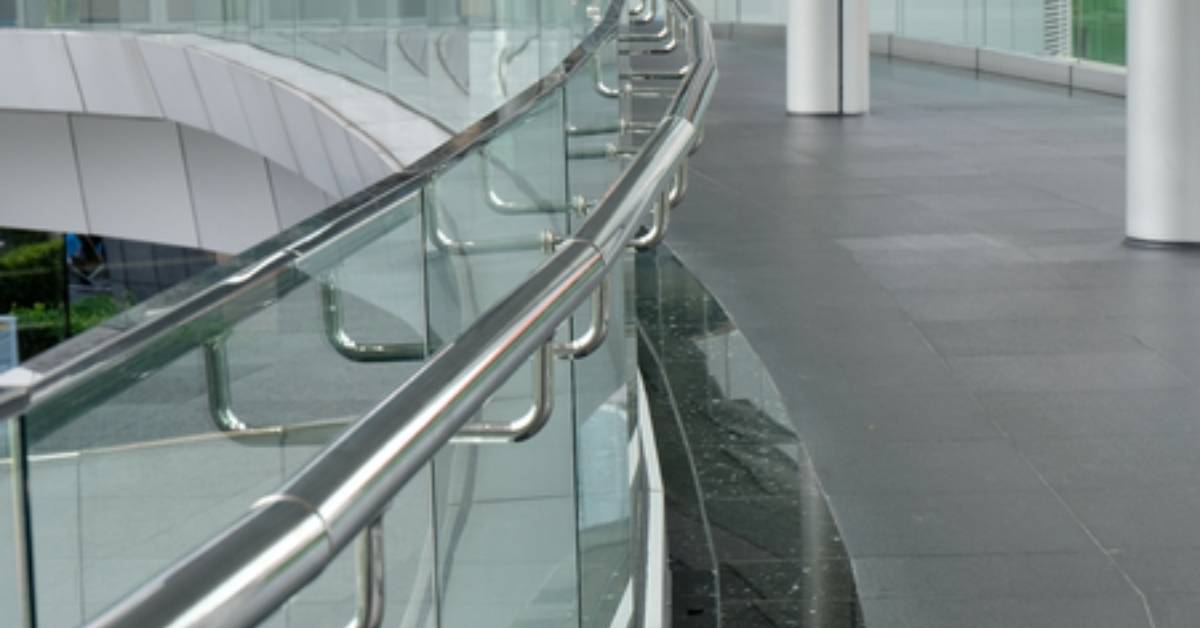 Image Source: Google
Glass Handrail Design for Balcony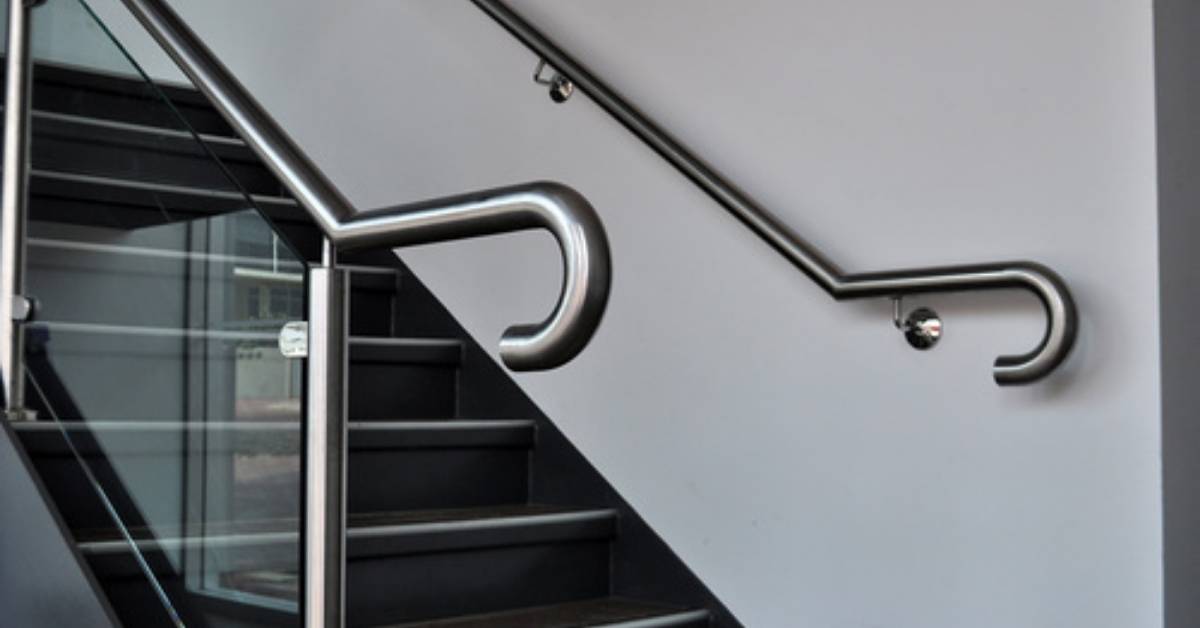 Image Source: rajgurusteel. co
Glass handrail designs come in unique forms with different colors, such as silver and metallic grey. They are perfect for balconies and can also be used for deck, bridge, and patio designs in places such as hotels, airports, and cinemas.
Handrail designs come in different types. Some are made of iron which completely changes the look of your home. Some are made from anodized aluminum, which is durable and resistant, requiring little or no maintenance. Just like this lovely design, the sleek finish adds elegance to your home's interior.
Conclusion
It's such an exciting tour, going through different glass railing designs. You have seen the beauty and aura they bring to any architectural structure. None is archaic. Every plan has its perfect fitting.
For more amazing ideas you can have, visit Guy About Home today or you can check the related blogs: