Turn a classic black color into something exciting through acquiring the right amount of design!
We can sense your love for the black color. Black is not always the color for grief or evilness, it can be turned into something fun and playful. No need to go further because in this article,
Thank you for reading this post, don't forget to the best blogger Guy About Home who offers the best garden and home improvement tips! If you are a home decor and design fan, don't miss the tips on home ideas. If you are a home garden owner, then you might be interest in our complete guides to house plants!
the level of sophistication beats the dullness of the black color.
Make a jaw-dropping bathroom vanity with the ideas that we got for you. Also, check out master vanity bathroom ideas if you are looking for more inspirational bathroom designs.
Table of Contents
Traditional Black Vanity Bathroom Ideas

French-Style Black Vanity Bathroom Ideas

Gothic and Bold Black Vanity Bathroom Ideas

Modern and Luxurious Black Vanity Bathroom

Rustic Farmhouse Black Vanity Bathroom

Dramatic Black Vanity Bathroom Ideas

Artsy

Black Vanity Bathroom

Ideas
1. Traditional Black Vanity Bathroom Ideas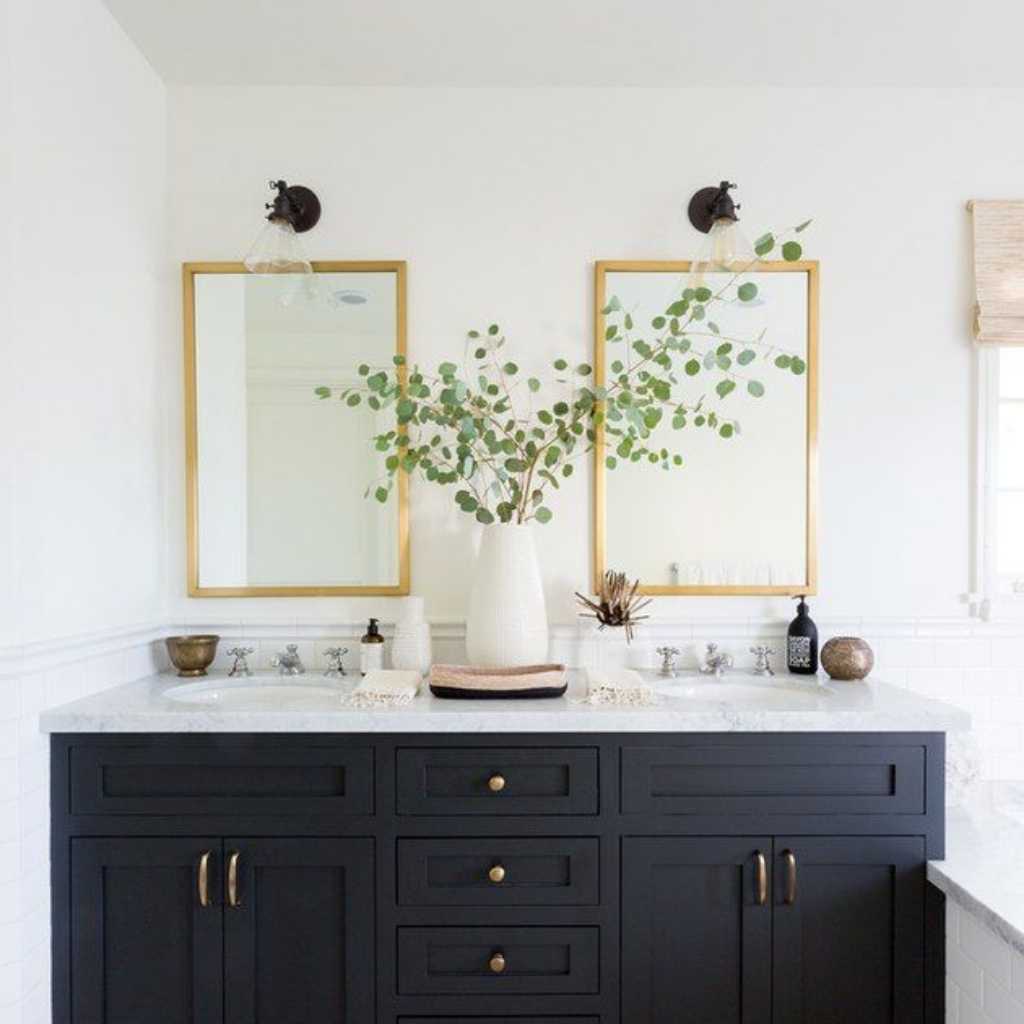 Image Source: Pinterest
With the combined classic and modern features, you will surely not regret having a bathroom like this in your home. Not only will you be having it customized, but through its color, you can ensure 100% elegance.
To have this kind of bathroom:
Purchase two golden brown-framed vanities. It can be either two rectangular vanities or decorative mirrors for a unique look.
For the cabinet, it should be a shaker-style cabinet to project a classic vibe. If you plan to do a DIY, you can have a free-standing one.
Reflectors or sconces can be put above the vanities or beside the vanities if you think you can eliminate awkward spaces.
Remember to put some design to make the room fresh and alive. Have some succulents or average size plants along with your necessities.
If you don't want to overdo the black color, have your bathroom black and white.
2. French-Style Black Vanity Bathroom Ideas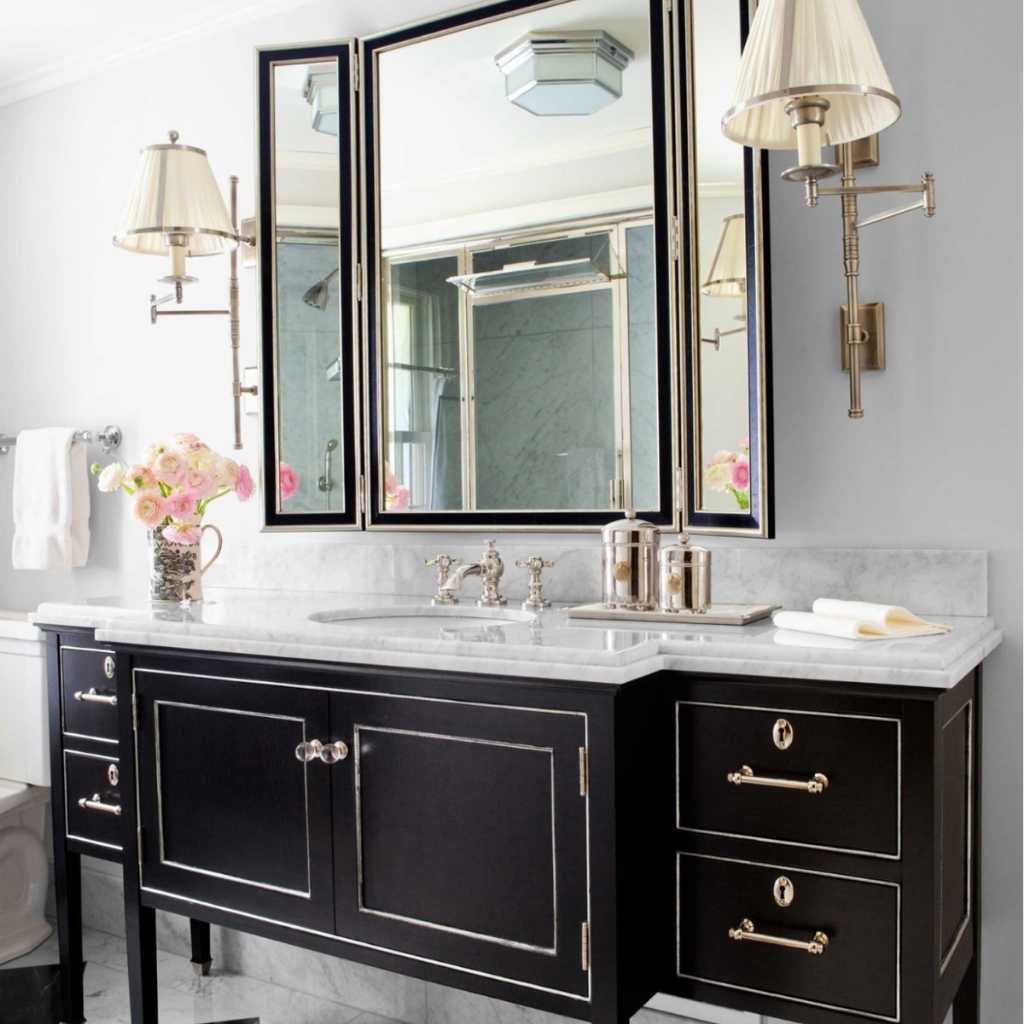 Image Source: House Beautiful
A Parisian-inspired bathroom is all you need to ensure a chic and classy style. The perfect amount of black color shall do the trick. You do not need to paint everything black; just a little combination will do if you want to see some highlighted furniture.
Here's what you can do:
Sconces should be a lantern or lampshade-like ones. Make it transparent for a more classy look.
Instead of having a simple rectangular vanity, you need to step up your game by purchasing either a carved oakwood vanity or a three-way vanity.
Usually, shaker style cabinet with the designed edges will do, but a free-standing one is an excellent option for a french-style too.
Put some flowers along with your sanitation stuff. Choose colors that are pastel-colored for a soft ambiance.
Grey is close to black and pastel, so better paint your wall grey for a balanced look.
3. Gothic and Bold Black Vanity Bathroom Ideas 
Image Source: Pinterest
If you want to rule your bathroom and are a little bit sinister in designing the area, we have everything covered for you!  Eschew the ordinary and create a statement bathroom in no time. Surprise yourself for an undeniable beauty brought by the black color.
What you can do are:
Match the chair and vanity with the edges carved and oakwood in texture. If your wall is painted black, make sure the edges are visible enough since it serves as the furniture highlight. So what you can do is have it grey.
Sinks can be drop-in sinks, or maybe a trough sinks, depending on your desire.
To somehow eliminate the dullness, put some white flowers or if you really want to indulge in a dramatic vibe, just put branches or red roses.
 To contribute to the gothic style, sconces should be in black and lantern-like ones.
4.Modern and Luxurious Black Vanity Bathroom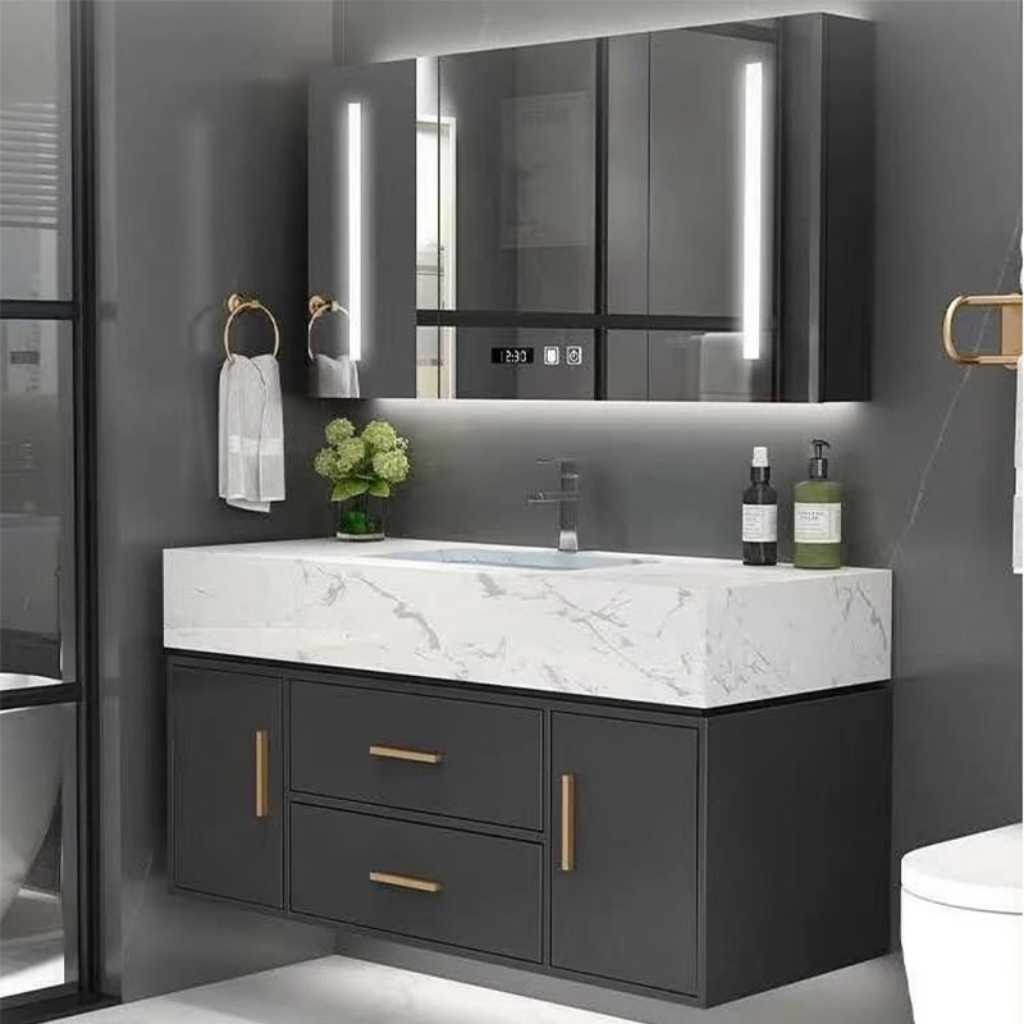 Image Source: MGAWE Bathroom
Apart from filling up the modern era requirements, this bathroom is versatile because you can easily match the color with almost everything. Just ensure sophistication among your furniture pieces.
To achieve this:
A vanity with a medicine cabinet and a built in light is genuinely convenient. Not only could you admire yourself in an illuminated nice vanity, but you can also store your meds behind.
A combination of  black ash wood and a marble tile projects a modern and chilly vibe so go for it.
Acquire a hand towel handle. You can also have some shelves for your necessities to add more design volume.
For the overall bathroom color, make sure to not use a single color. For a more balanced and unique look, have some space grey, and white color along with the black color.
For more wall designs, you could check out bathroom wall decor ideas.
5. Rustic Farmhouse Black Vanity Bathroom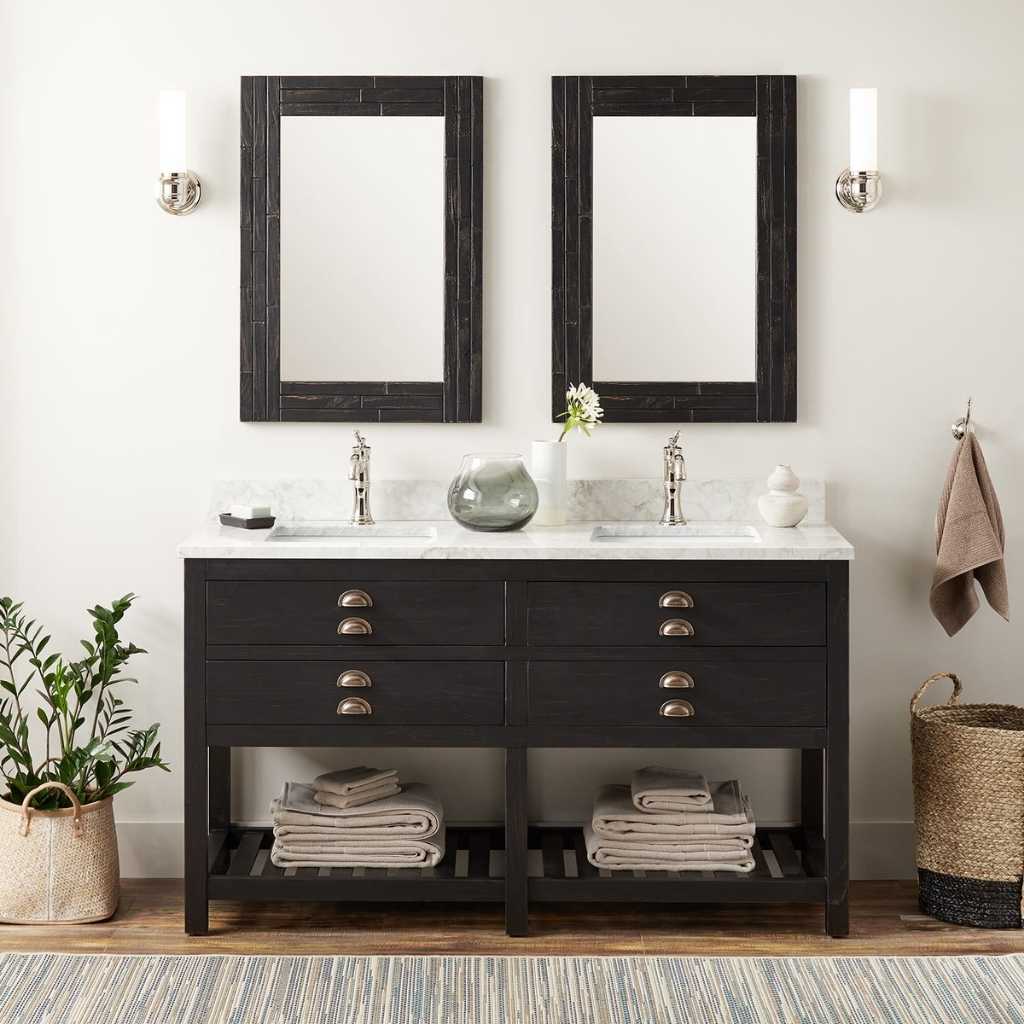 Image Source: Signature Hardware
In most cases, you can see that white is the dominant color, but since we are aiming for a more contemporary look, you should acquire some black features. To ensure class and balance, you can combine black and white.
Here are some tips:
Get a black wooden free-standing cabinet with an open storage underneath to ensure its convenience and stylish look.
To match the cabinet, you must acquire a rectangular or squared vanity. Make sure that it has a wooden frame too.
For the sink top, you can go further and try a smooth and cold ambiance by putting up a marble tile.
For additional design, put some uplight sconces and rattan baskets to contribute to the farmhouse vibe.
Walls could be colored white, cream or grey. Just don't overdo the black color to have the furniture visible.
Looking for more inspiration? read beach-themed bathroom decor for more
6. Dramatic Black Vanity Bathroom Ideas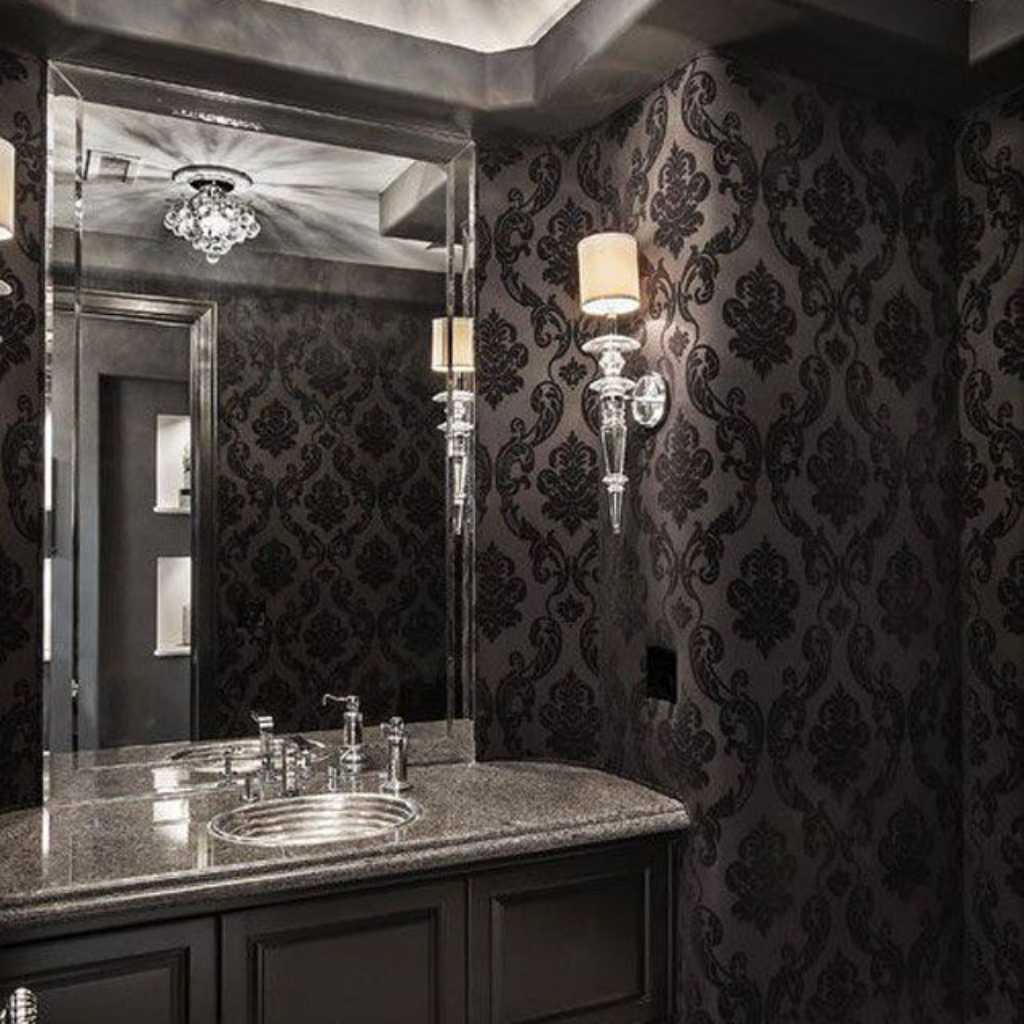 Image Source: The Spruce
There are several ways to put up a contemporary fabulous bathroom. You see, you do not have to indulge in different colors, black alone is already enough. Ensure the right amount of drama and style, and you are good to go.
To achieve an elegant bathroom vanity:
Add more texture by acquiring a black damask wallpaper. This could also add a gothic and dramatic look in the entire area as it is the largest portion of the area.
Along with a lantern-like sconces, illuminate the area with a chandelier that creates dreamy shadows over the white surface.
The vanity should be large to further contribute to a personalized look.
The shiny and black granite countertop is an excellent option since it adds sophistication.
If you still want to indulge into a lighter shade of black, you can just look into grey vanity bathroom ideas and see for yourself.
7.Artsy Black Vanity Bathroom Ideas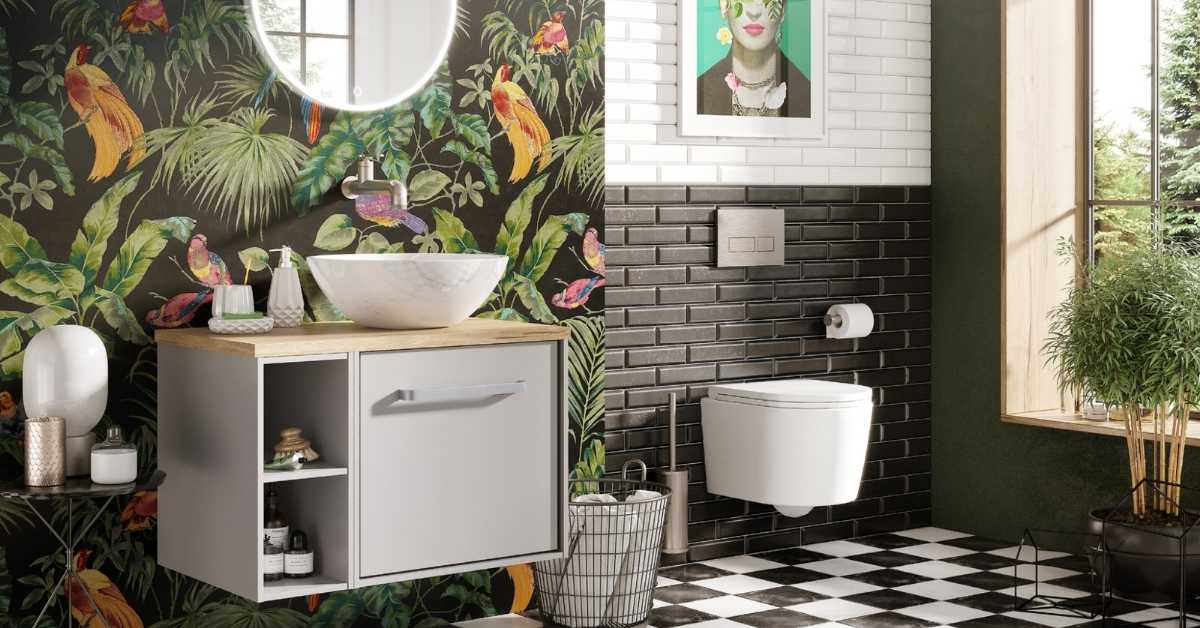 Image Source: Real Homes
Step up your game by applying your creativity in your bathroom! Good news! You can have a natured-painted-look in your bathroom. Through the black colors, you can consider it as a sketch pad where you can draw your design. It also give highlights to the design so it is an excellent option.
For you to soften the lighting and brighten the spaces, you must install wall subway tiles. Make sure that the balanced look of black and white are matching with the floor tiles.
Highlight the spherical vanity by having an LED framed one. For a more natural DIY look, have a separate wash basin on top of your floating or free-standing cabinet.
An artist would never be tired of design, so you might as well want to put tangible design such as plants, stools, paintings, vases, fancy containers along with your sanitation stuff.
Conclusion
Black has always been versatile everytime. It depicts modernity but you can always add a little bit of twist in it. All you need to obtain are bunch of ideas. Above are some ideas that will definitely help you grant your wish of having a brilliant and elegant bathroom vanity.
Put in mind that these ideas came from a thorough research which we narrowed down to suffice your design cravings.
If you are still in thirst of more ideas, you can visit Guy About Home today!
Make your bathroom even more gorgeous in the eyes of many by checking out these blogs: