Having a down-to-earth feeling while having your bath can give security! Recreate these dark brown vanity bathroom ideas now!
The dark brown color gives feelings of warmth, comfort, and security. It's great to feel secure in one's home; a welcoming atmosphere is crucial, especially in the bathroom!
The color, as mentioned earlier, also symbolizes simplicity, naturalness, and wellness. This color scheme gives a friendly, cozy, and warm vibe. To achieve a great result, you must know how to blend this in your bathroom creatively with all these excellent characteristics!
Hence, this post is put together to enlighten you on how you can design your bathroom vanity and inform your decision. However, if you would love to explore more ideas, you can head to bathroom wall decor ideas to get more inspiration!
Table of Contents
Dark Brown Burns Design Wallpaper Vanity Bathroom

Cozy Dark Brown Vanity Bathroom Ideas

Subtly Soothing Dark Brown Vanity Bathroom

Sleek and Classy Dark Brown Vanity Bathroom Ideas

Detuscanization Contemporary Vanity Bathroom ideas

Maderno Mimosa Vanity Bathroom Wallpaper

Floating Dark Brown Vanity Bathroom Wallpaper
1. Dark Brown Burns Design Wallpaper Vanity Bathroom
Image Source: Ideal Home
The word "burns," doesn't mean your bathroom would look like a burnt arena. Many people who love simple patterned wallpaper enjoy this design. This classy vanity is best for a big bathroom space but can be rearranged for a smaller area.
To achieve this burns wallpaper vanity bathroom, you need to:
Purchase this type of dark brown wallpaper with a consistent and simple pattern

A patterned floor tile with golden outline

A long rectangular mirror with any tone of brown frame matches the dark brown wallpaper. 

Hang four hanging light bulbs with white light.

A single sink with double tap, you can use two if you desire. 

White is a good color to compliment this, ceiling and walls can be painted in white 

Toilet and bath should be distant and should be well illuminated for contrast

Lastly, place some natural flowers in a ceramic vase for a fresh look. 
2. Cozy Dark Brown Vanity Bathroom Ideas
Image Source: Mgawe bathroom
Cozy designs for vanity bathrooms can be fascinating, especially if you have a small space and like to throw the "less is more" philosophy on display. This dark brown with complete cabinet arrangement helps in creating a calmy look that is glamorously eye-pleasing in all ways.
If you'd like to recreate this wood grain design in your vanity bathroom, these might help:
Get dark brown cabinets with two safe for storage purposes.

A rough wall painted plainly with a shade of ash color

Have a simple

spherical mirror

installed on your wall. 

Two wall light bulbs in holder to reflect on the mirror 

Lastly, place some natural flowers in a transparent glass for a fresh look.
3. Subtly Soothing Dark Brown Vanity Bathroom
Image Source: Small bathroom ideas
Subtle is an understatement for this setup, but it is a good arrangement for a small space. You will vibe with this custom and soothing vanity design if you are the "I love it simple" type. You try this out with more fantastic add-ons; be creative!
To complete this subtly soothing bathroom look:
Acquire vintage rectangular mirror

The walls should be painted brown for simple yet modern look 

Put a wall

sconce

to give a magical highlight

Come up with custom slab made with wood design that suit your taste 

You can also have a navy blue handwoven rug or towel as an accessory

You can place maidenhair ferns in every vanity corner for a natural look.
If you want to delve into this look, check out bathroom vanity decor ideas at once!
4. Sleek and Classy Dark Brown Vanity Bathroom Ideas
Image Source: Foter Magazine
This bathroom vanity is a classic bathroom decor and functions as a utilitarian piece. Each item has its personality; dark wood is favorable for its durability and distinctiveness. It emits warm tones by absorbing light, offers a modest yet soft tone to any bathroom, and is frequently regarded as an easy-to-care-for material choice.
To achieve this, here are some tips:
Get a dark brown custom cabinet furnished with an arc for your bathroom space.

Ensure that the vanity has a soft color that compliments the cabinet. 

Indulge a transparent sconce and make sure it's placed at a corner for good lighting 

Regular light bulbs should be fitted on the arc

A large mirror is placed to cover the entire cabinet with two side mirrors to create good reflections.

Natural flowers can be placed in a vase for aesthetics.

You can also install a hanging rack for your bath towels.
5. Detuscanization Contemporary Vanity Bathroom ideas
Image Source: Florida Design
Today, everyone is embracing "detuscanization" designs, particularly places along coasts – locations near sea shores,slopes and hills, where contemporary coastal design reigns supreme. You do not have to eliminate your primary color; just make a blend with other colors that are not too far from it to add beauty to your bathroom. 
Wondering how to do that? Here are some ideas:
Have a dark brown built-in cabinet with stylish curves.

Two round copper vessels sink and quartz countertop 

Wrought iron lighting is a perfect clique.

Two square mirrors framed with wood

Ultra modern rugs with brownish squares can be placed on the floor as an insulator for the feet and to keep the feet warm as well.

A creamy color to make the background and wall pop.

Big vase with a copperlike flower to match the scene
6. Maderno Mimosa Vanity Bathroom Wallpaper
Image Source: Houzz
Want to try something new and eliminate the dullness of your entire bathroom? Here's the answer: Find a moderno mimosa styled wallpaper. It creates a royal and elegant feel, it is also good for small bathrooms
Interestingly, you could still achieve this on a budget, here is how:
Purchase a moderno mimosa wallpaper based on your wall size. 

You may consider painting excess area, this should be done in a professional way for aesthetics.

Dark brown cabinet with multiple closets.

Have a gold rectangular mirror installed on your wall. 

To add more spice, you can install two hanging sconces on both mirror sides. 

A round small sink is perfect to manage space. 
A transparent vase with natural rosy flowers to give an energetic vibe
The beauty of this wallpaper is its silvery and goldy look. So, you might consider buying one that's close enough to match your wall or cabinet.
7. Floating Dark Brown Vanity Bathroom Wallpaper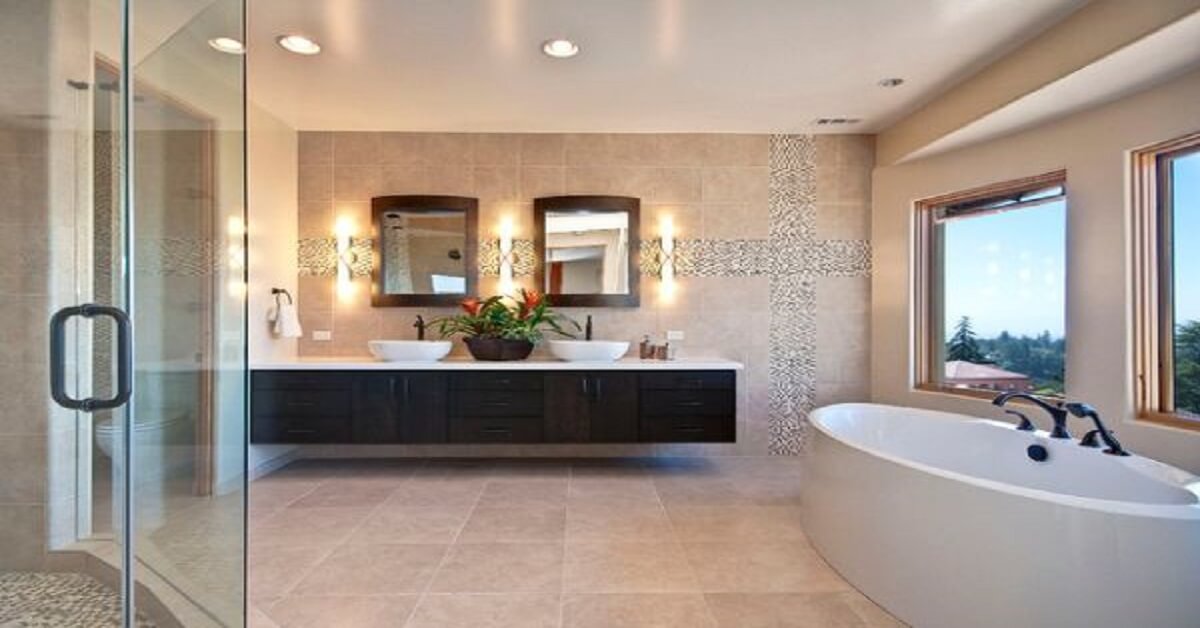 Image Source: Decoist
Like the space where gravity is with no regard, make your vanity area float. You can truly achieve this if you leave the door of your imagination open. Achieve a sophisticated and clean look without breaking aback.
Without further ado, follow these steps:
Have your dark brown vanity cabinet and white circular sinks installed on your walls but not touching the ground.

Purchase a double vanity with dark brown woody frames to achieve an elegant and modern look.

Cylindrical wall lights should be hung and placed on each side of the mirror to give a radiant look. If you want a warmer color, you can adjust its brightness.

Just be simple as always; polished tile and wall color should do the trick with glassy wall stones!
You might want to explore still more ideas to make your bedroom glow. Click  bathroom wall decor ideas to learn more!
Conclusion
Good bathroom vanity designs aren't just limited to your favorite color; even the worst colors can be utilized appropriately to achieve a fabulous result. We've seen that dark brown is a color that depicts maturity and is popular in interior design for its ability to blend in. Don't forget to always give in to creativity as you design your home area.
I know it's been a long ride through this article, but we hope you were inspired by these ideas and are ready to get started with any for your bathroom. Visit Guy About Home today for more thrilling ideas!