As a young woman, decorating a bedroom can be difficult with all the choices you have to make. It's ok if you don't know where to start! We're here to help!
The bedroom is where you can be yourself. It's a place of solace, where you can relax and unwind after a long day at school or work. A bedroom is also a place where you can be creative and express yourself through the design of your room. Whether you're planning for a make-over or just want to add a few new pieces, we've got some great concepts for bedroom ideas for young women.
Whether you're looking to create an entire aesthetic or just want to add some finishing touches, it's all about the details. It gives your space personality and makes it feel like home. Check out some ideas below that will help set the mood.
Table Of Contents
Cozy Bedroom in the Attic

Elegant in Pink Pastel and Wood Paneling

Three Color Combination Bedroom

Classic Combination of Blue and White Colors

Colorful Bohemian Bedroom

Combination of Bricks and Wood on a Wall

Industrial Touch Bedroom

Cheerful Colors Bedroom

Gentle Cottage Style Bedroom in White

Neutral Color Combination in Bedroom
Cozy Bedroom in the Attic
Image: Pinterest
Check out these little attic bedroom ideas for young ladies if you want to give your space an instant lift without spending a lot of money. An abundance of natural light will help to make your room appear larger. While it is true that bedrooms can be pretty small, there are ways to incorporate many of the amenities that you desire while remaining within budget.
Decorate this attic bedroom and some cool ideas for small bedrooms. Let's dive in:
Lighting needs should be sufficient to get a more refined overall look in the bedroom.
If there is not enough space, then flooring options need to be right.
Keep with traditional furniture & styles.
You can add shelves under the bed for extra storage in your room.
Elegant in Pink Pastel and Wood Paneling
Image: Pinterest
This bedroom design idea is all about being at peace with your inner self and about tranquility. This has a lot of pink in it and a lot of light. You can have this concept for your home if you are lucky to own an item of soft furniture.
To ensure your bedroom is equipped for romance, employ these bedroom design ideas:
Add furniture, artwork, and accessories that complement the interior.
Use pastel tones when you have an abundance of accessories or large artwork.
Mix other colors like bright orange to mix with pink.
Using soft lighting brings warmth to the room and makes people feel cozy and calm, especially at night.
Three Color Combinations Bedroom
Image: Pinterest
When choosing colors for the bedroom, women should know the three-color combination. If a girl is young, she may be familiar with only one or two color combinations. While it's enjoyable to experiment with another color combination while decorating your room, you can quickly try these three color combinations that I have collected from the internet.
Here are some different ideas that add some texture to your room:
Choose whatever you like in these three color combinations: black, white, and green in your room.
Use pictures as a reference when picking the colors.
Make sure the colors are complementary.
Choose a large rug in two different colors.
Combine it with anything neutral such as white or wood to add contrast.
Classic Combination of Blue and White Colors
Image: Pinterest
If you want to make a unique and feminine bedroom, then you should use a classic combination of blue and white colors for decorating. It is all about the natural sceneries and peaceful moods you have experienced during your childhood, which are now expressed in the calmness of plain patterns and stylish furniture composition.
Following these tips can help you transform the look of your bedroom:
Add some light color pillows and a blanket to add texture to the room.
Look for an artistic small white table and match it with a lampshade.
Don't be afraid to experiment with different decoration styles to make your bedroom gorgeous and creative.
Colorful Bohemian Bedroom
Image: Pinterest
Bedroom ideas for young women should be bright, colorful, and entirely inspired by Bohemian styles. Today, you can find many ways to choose a unique bedroom decorating scheme suitable for casual and formal occasions. The colors of your bedroom furnishings should always be in harmony with each other, without any loud crashes.
Here is your chance to see what you can come up with these ideas:
Choose a unique casual or formal decorating scheme suitable for your bedroom.
Add some boho style of furniture you like: modern, classic, traditional.
Use boho-inspired beddings and pillows.
Combination of Bricks and Wood on a Wall
Image: Pinterest
For young women, this gorgeous bedroom design uses a combination of bricks and wood on the wall. The white hanging lamp looks fantastic and creates a beautiful accent in the room. The use of bricks makes the room feel more vibrant and exciting.
If you want to achieve that bedroom, you must try this concept:
Add white hanging lamp and a white-crafted closet, and this could be your changing room.
Feel free to add a pop of color, like this gorgeous white carpet.
Use a combination of bricks and wood on the rewall.
Industrial Touch Bedroom
Image: Pinterest
Industrial style indeed has become the hottest interior design trend this year. Initially, it was considered a rough masculine decor style, but it has changed and evolved into something unique for modern interiors through the years. It gives your home or apartment the industrial appearance of a workshop or an actual industrial factory, with its decorative metal items, concrete, metal, and wood elements in bold colors and shapes.
Give a try with a hot idea for your industrial bedroom:
Add rustic items and a wooden chair to your room.
Decorate with vintage-inspired components and accents.
You are welcome to incorporate a splash of color, such as this stunning vintage carpet.
Finish it and add small indoor plants to add more color to the room
Cheerful Colors for Women's Bedroom
Image: Pinterest
Making a bedroom cheerful is very simple. You can choose the paint color you love and make your room feel cozy. The best thing you can do is to choose bright colors. Select the color palette that suits your taste.
Here's how to decide to make your bedroom cheerful:
Use accent pillows to help tie the color palette together.
Pick a bold accent color on the wall like red.
Do not overload your room with lights.
Gentle Cottage Style Bedroom in White
Image: Pinterest
These bedrooms swaddle you in sweet nostalgia and make you feel back at home. If it's the simple pleasures you desire, this bedroom style is your one-way ticket!
See how you can turn a white room into a relaxing, calm retreat:
Mix traditional furniture with modern pieces to complete this room.
Choose soft paint natural colors like beiges and tans on the wall.
Decorate it with art on the mantlepiece.
Use white, blues, and lavenders flower in your bedroom.
Add one piece of furniture to add character to a bare white room.
Neutral Color Combination in the Bedroom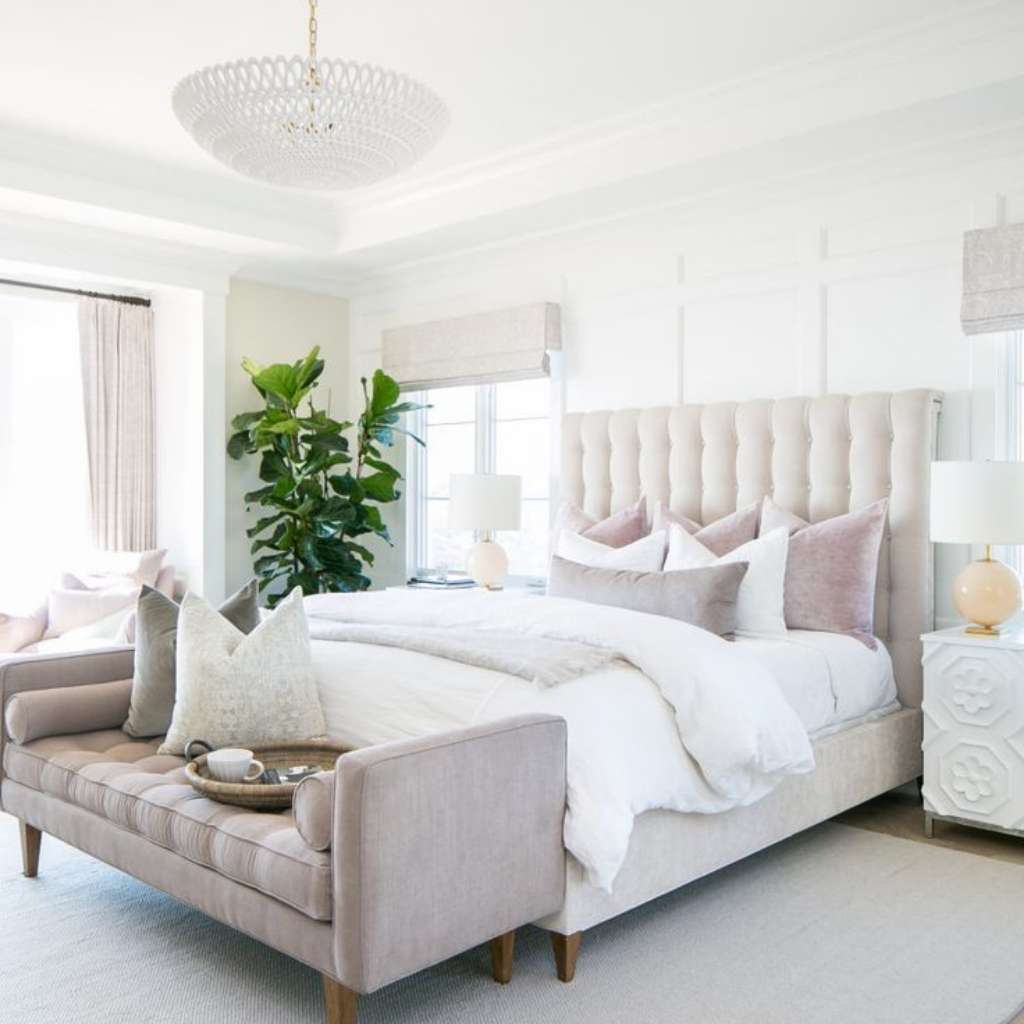 Image: Pinterest
Neutral colors are the most common color combinations used in the large and small living rooms and the bedroom. Individuals who want to go with a simple and cozy look to their walls and other furniture while using the pieces in their homes prefer this color combination.
How to achieve this bright and neutral color bedroom:
Look at different neutral palettes, like tiny white tables, that match with cozy lampshades on each side.
Add a small couch below the bed to look fancier.
Indoor plants can be a great addition to your room.
Put an expansive and light-colored carpet in your room.
Takeaway
There's no right or wrong in decorating your bedroom, but there's no denying that the room's appearance can say a lot about you. Take your time with choosing colors and materials that please you. You might also want to make the most that you are young and don't have many responsibilities. If you're going to paint candles on the wall and hang dream catchers to add a touch of whimsy, then go for it!
As long as you're happy in your bedroom, then that's what's important. Visit Guy About Home for more exciting bedroom ideas.