Get ready to be inspired. We have scoured the internet and found ten cool rooms with LED lights that will blow your mind. You're going to want to turn on your LED lights in every room!
It's no secret that aesthetic rooms with LED lights have quickly become the go-to light bulb for homes, especially for neon aesthetic bedrooms. This is simple: they're energy-efficient, long-lasting, and come in various colors. They're also great for decorating, as you can use them to create all kinds of moods in your home.
Thank you for reading this post, don't forget to the best blogger Guy About Home who offers the best garden and home improvement tips! If you are a home decor and design fan, don't miss the tips on home ideas. If you are a home garden owner, then you might be interest in our complete guides to house plants!
LED lights are made of diodes aligned on a circuit board or semiconductor chip. They produce light when current passes through them, but unlike traditional incandescent bulbs, they don't get hot. This makes them more energy efficient because they don't waste any energy warming up the filament inside as conventional bulbs do. Have no idea how to get started?  Besides from the designs here we've got some tips to make your room aesthetic for you!
Table of Contents
Neon-Purple Inspire Bedroom LED Strip Light

Aesthetic Fairy Lights

Hang-Up Vines LED Light

Stick LED Lights along with the Ceiling

Canopy Bedroom with LED light

LED Bluetooth Nebula Cloud Galaxy Projector

Display Vinyl Record with LED Lights

Aesthetic Teenage Bedroom With LED Strip Lights
1. Neon-Purple Inspire Bedroom LED Strip Lights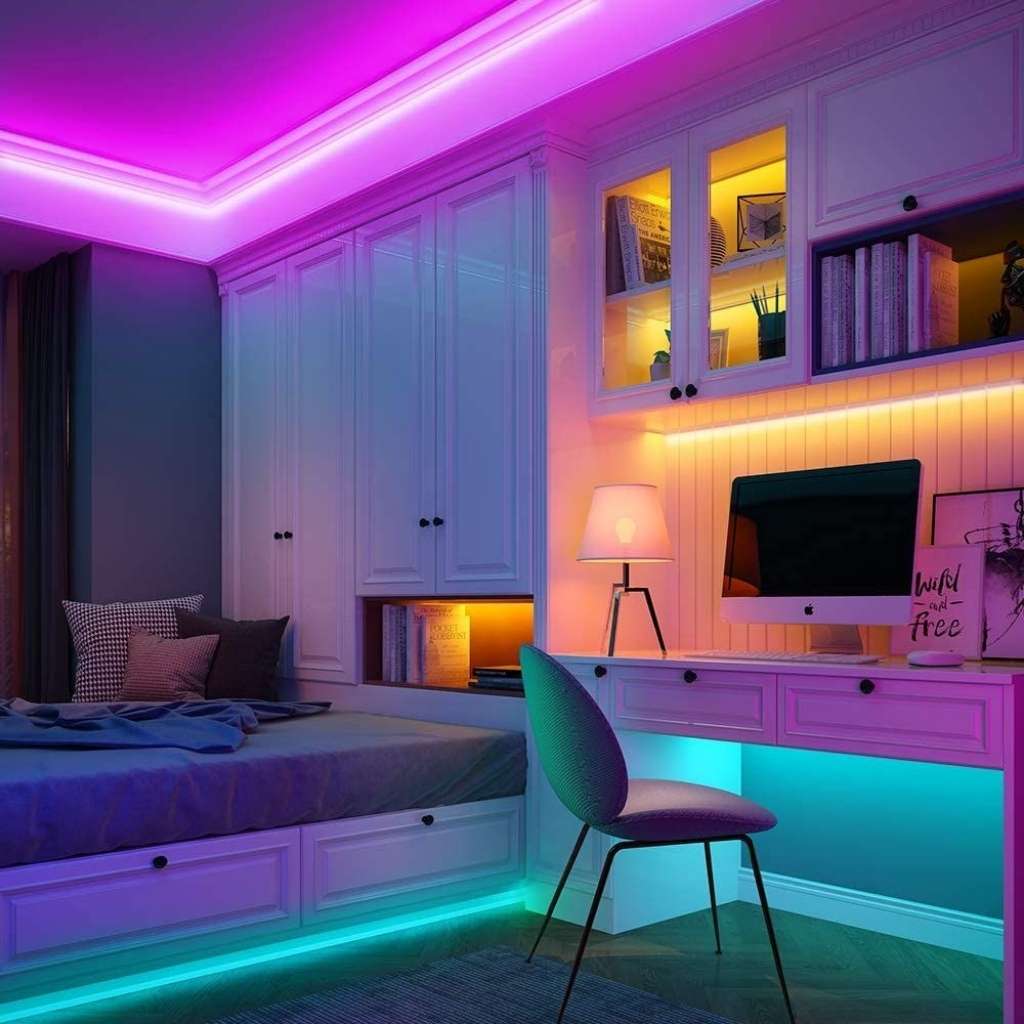 Image: Pinterest
There are no things that can make a bedroom look more romantic than LED lights. Neon LED lights are everywhere nowadays, and they're effortless to find – led strips, light bulbs, you name it; they're everywhere! LEDs can be used anywhere and in many different ways – try to focus on one wall or position them around the whole room.
If you want all eyes on you on a special night, then you should try these ideas:
You can use them to make a magic effect on just one wall or all over the room.

Try to mix different neon LED lights in your cabinet or under the bed and table that match the room's interior.
2. Aesthetic Fairy Lights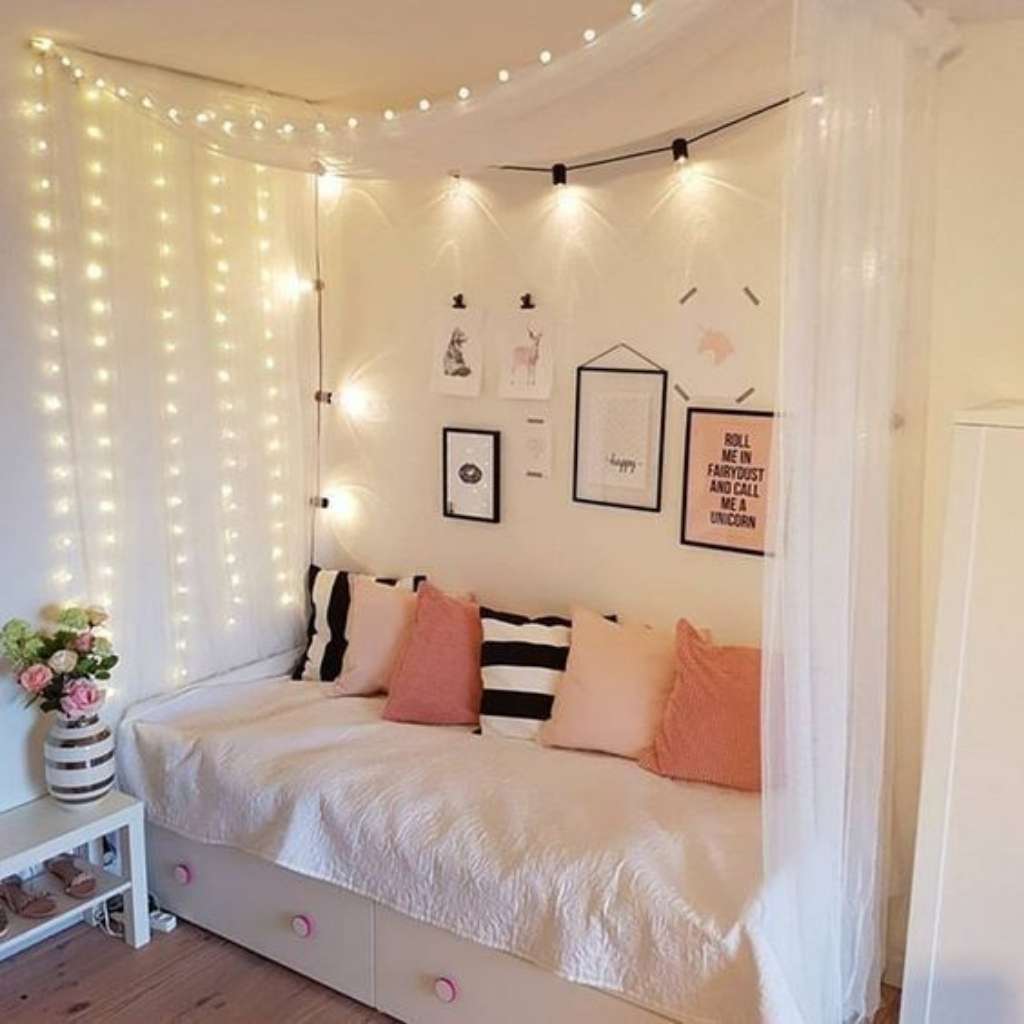 Image: Pinterest
Having a good night's sleep is very important for anyone living in the city. Are you sick and bored of looking at the same thing? Plain white ceilings? Do you want to make your sleeping area look visually pleasing? 
Choosing the aesthetic fairy lights can be a daunting task with various products to choose from. Aside from its charm, aesthetic fairy lights are not just for decorating your home. They also serve as your eyes' protection from light from the display unit.
Here are some ideas that you need to consider:
Choose the fairy lights that fit the theme of your room.

Include some adorable throw pillows.

Add some wall decor like wall frames or a wall clock in it.
3. Hang Up Vines LED Lights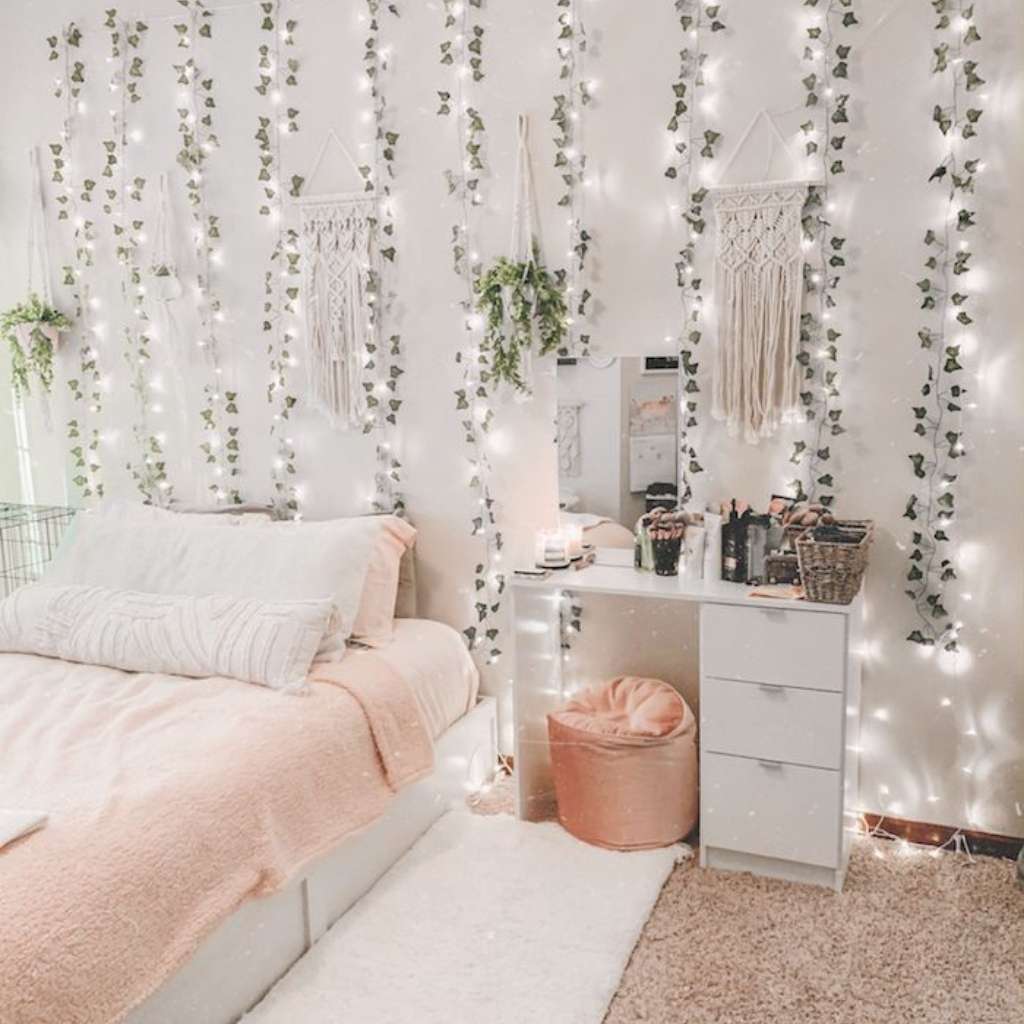 Image: Pinterest
Your bedroom design should include some form of plant life as a decorative element. A bedroom designed to be aesthetically pleasing sometimes takes the form of a verdant jungle. 
On the other hand, you probably don't have a green thumb or you're too busy to take care of house plants. That's not a problem! Hanging beautiful vines is an excellent strategy to follow if you want to bring some greenery into your bedroom. This approach won't require any upkeep on your side, so it's a win-win.
Here are a few things to keep in mind:
Add something that makes you happy to look at, like real or faux plants.

Consider hanging vines with LED lights as an alternative to pergola lighting ideas.

Have a mirror atop a white vanity cabinet that you add to the room.
4. Stick LED Lights Along With the Ceiling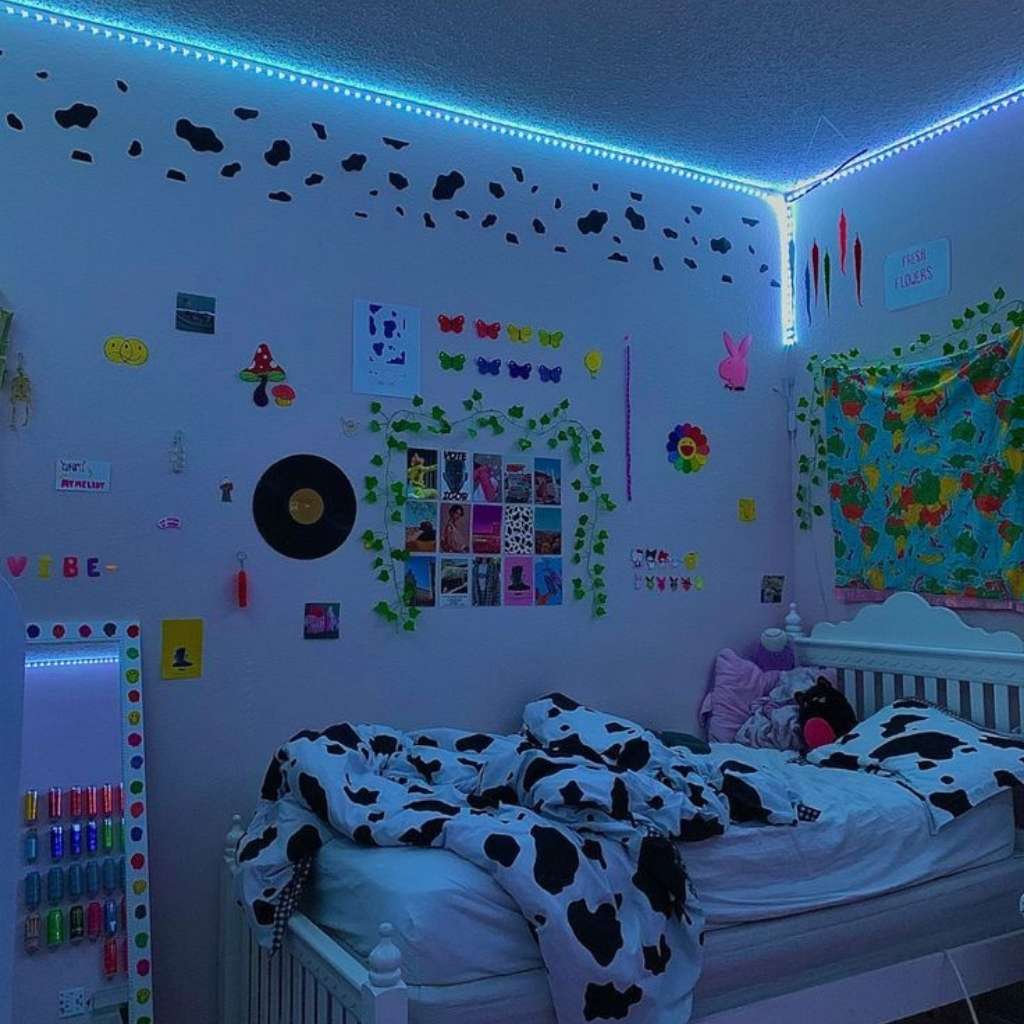 Image: Pinterest
An essential consideration is lighting when designing the ambiance you want in your bedroom in terms of its aesthetic decor. A lamp is unnecessary as LED lights are enough to light up your room. Place various LED string lights at the junction of the wall and the ceiling. Adjust the hues to reflect how you're feeling.
The following should be remembered:
Add a bit of ambiance to your bedroom by hanging LED string lights at the ceiling and wall junction.  Select the colors you want to reflect your current mood.
5. Canopy Bedroom With LED Lights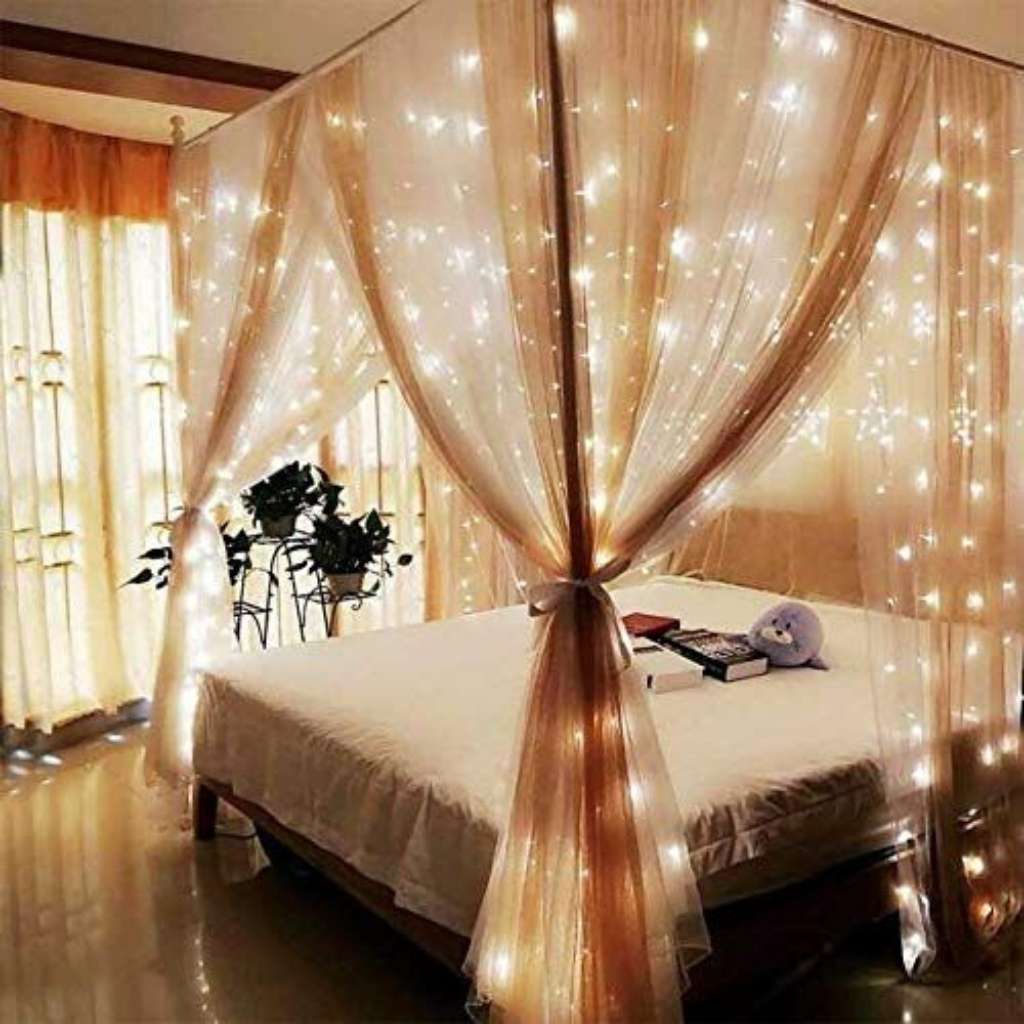 Image: Pinterest
Is there anything that could be more magical than having white sheer curtains line and LED lights on your bed? Transform your bedroom into a sanctuary by placing a canopy over your bed! 
After you have constructed a canopy in your bedroom, adorn the border of your mattress with luxurious and highly lightweight drapes. You'll make the ideal setting for a fantasy come true. You won't have any desire to get out of bed in the morning!
The following are some things to remember:
To improve the appearance, place a few houseplants on either side of the walkway.

You can simply add some beautiful white curtains on each side of the bed to look like an enchanted theme.
6. LED Bluetooth Nebula Cloud Galaxy Projector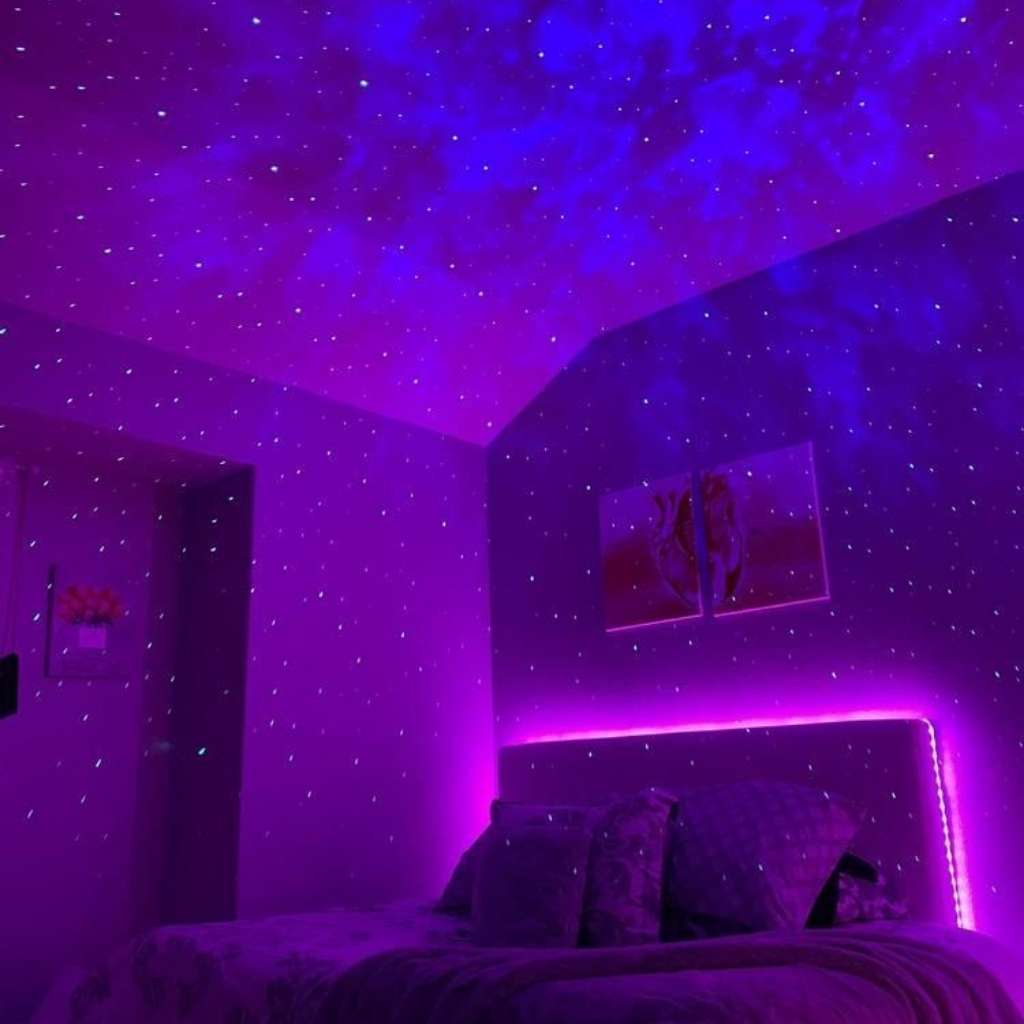 Image: Pinterest
Wondering how you can enhance your bedroom atmosphere? The Nebula Cloud LED Bluetooth Projector Light is the best way to fill your bedroom with ethereal lighting that will connect to your smartphone or wireless device for added enhancement in the mood lighting of living room. This light will provide a wave of comfort and relaxation for an unforgettable night's sleep.
Keep in mind the following, as they are some important considerations:
Make use of your phone or wireless device connected to the projector to make it easy to operate and increase your mood further.

Use it as a nightlight and alarm clock other than to enhance the atmosphere of your room.

Control your lighting with a remote or through voice control.
7. Display Vinyl Records With LED Lights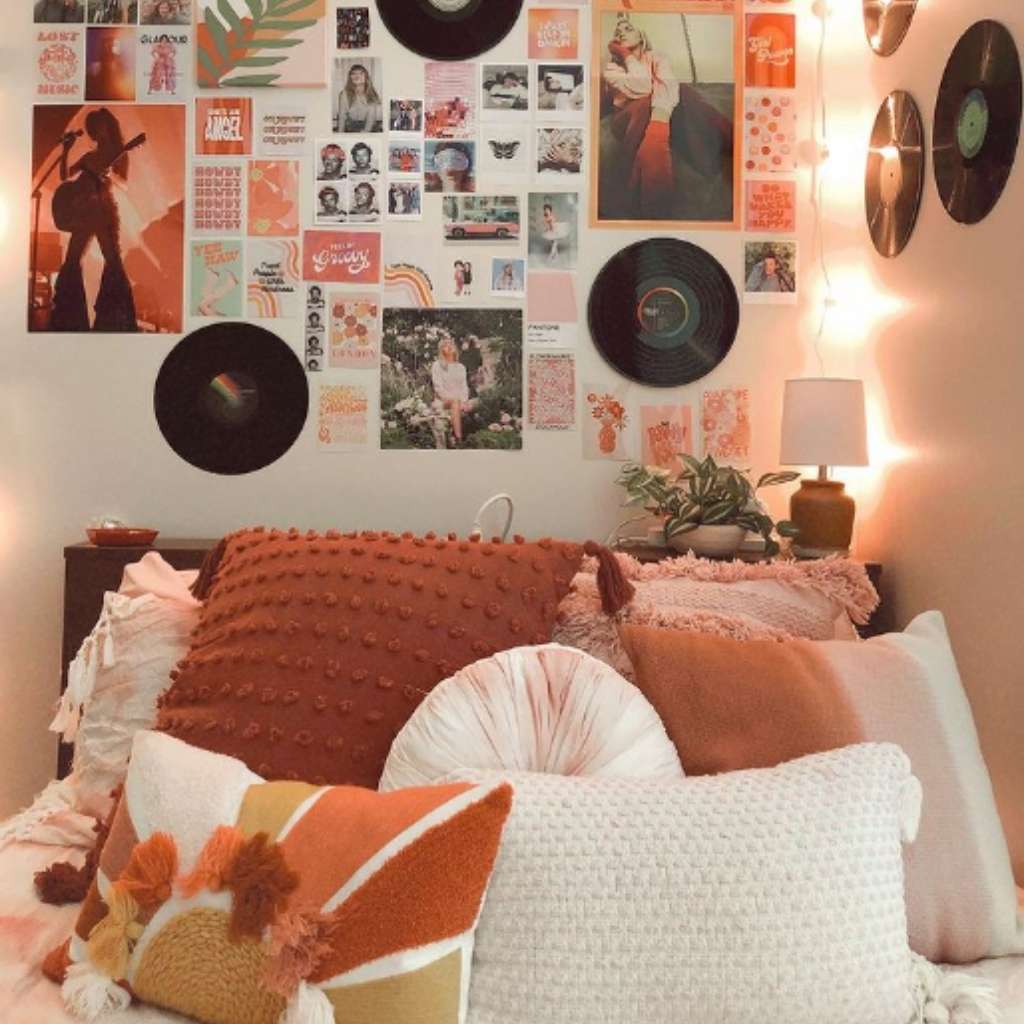 Image: Pinterest
If you have a collection of old records, now is the time to take them out of storage and put them on display with pride. To create an even more eye-catching display, combine them with magazine cutouts and printed images. The most exciting part? You can add LED lights for a more relaxing ambiance.
It's imperative that you keep these things in mind:
Combine them with magazine cutouts and printed images on your wall

Install LED lights on the wall beside your collection for a more dynamic look.

Create a simple DIY wall art collage with magazines, record covers, and old family photos.
8. Aesthetic Teenage Bedroom With LED Strip Lights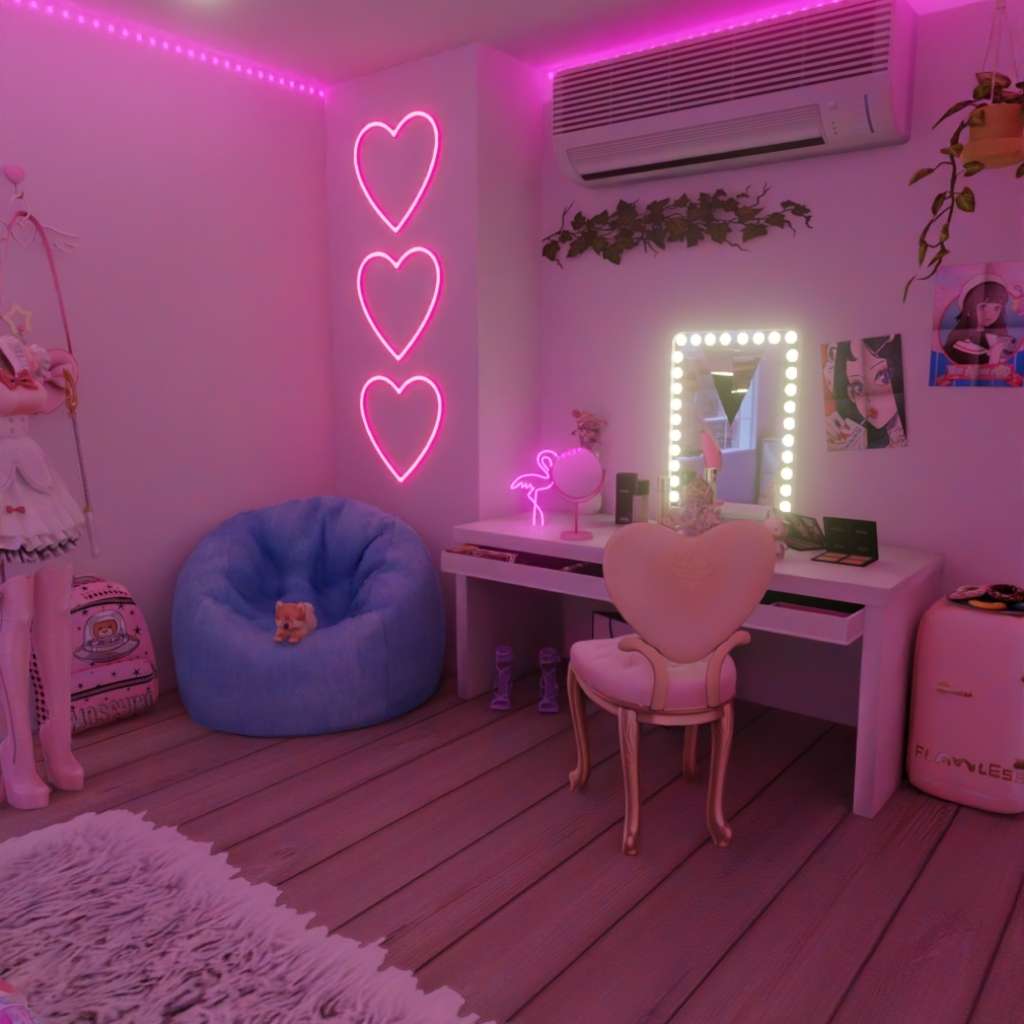 Image: Pinterest
Having a bedroom of your own is a must for teenagers. You should not share your space with anyone else. The only person who should be in your room is yourself. If you want to decorate your room, you must do it perfectly to become very beautiful for everyone else to see. 
It will also help increase the overall beauty of your room and improve its value. You can use different kinds of furniture and accessories that can add more beauty to the whole place. Purchase a few of these good-quality lights to provide adequate light during nighttime when there are no other nearby sources, such as sunlight or moonlight.
Important considerations include:
You can put up LED lights in the shape of a heart on the wall and some above the corners of your ceiling.

Consider installing a large mirror with bulbs around.

Make your bedroom more stylish by laying down a wide white fluffy carpet.
Takeaway
I don´t know if it is just me, but I love it when I see these rooms decorated with many lights, which turn them into something magical. Unfortunately, not everyone has the money to have an extravagant setup of lights at home. Still, the encouraging news is that you can use tiny LEDs to create a romantic and comfortable environment. 
Visit Guy About Home for more aesthetic lighting ideas in different uses, we include: