It's time to add some sparkle to your patio and outdoors today! Get some pergola lighting ideas as you read this article!
Choosing the right design of lights to lit up the entire patio/pergola area can be challenging because design matters and it can easily affect your mood. Lights could be the last touch of design and it can be so much fun with the help of a little bit of research and suggestions.
Thank you for reading this post, don't forget to the best blogger Guy About Home who offers the best garden and home improvement tips! If you are a home decor and design fan, don't miss the tips on home ideas. If you are a home garden owner, then you might be interest in our complete guides to house plants!
If you want to sprinkle a taste of creativity on your patio, then lucky you because we just put the right article for it.
We will walk you through the magnificent pergola lighting ideas you can put up over time. In this article, you can also find some pergola decor inspiration that you can use in the future.
Pictures and images of pergolas with lights: A Quick View
Pergola String Lighting Ideas

Outdoor pergola lighting ideas

Modern Pergola Lighting ideas

Pergola Solar lighting ideas

Patio Pergola Lighting ideas

Garden pergola lighting ideas

Outdoor Gazebo Lighting Ideas

Patio Ceiling Lights ideas

Patio Chandelier Ideas
1. Pergola String Lighting Ideas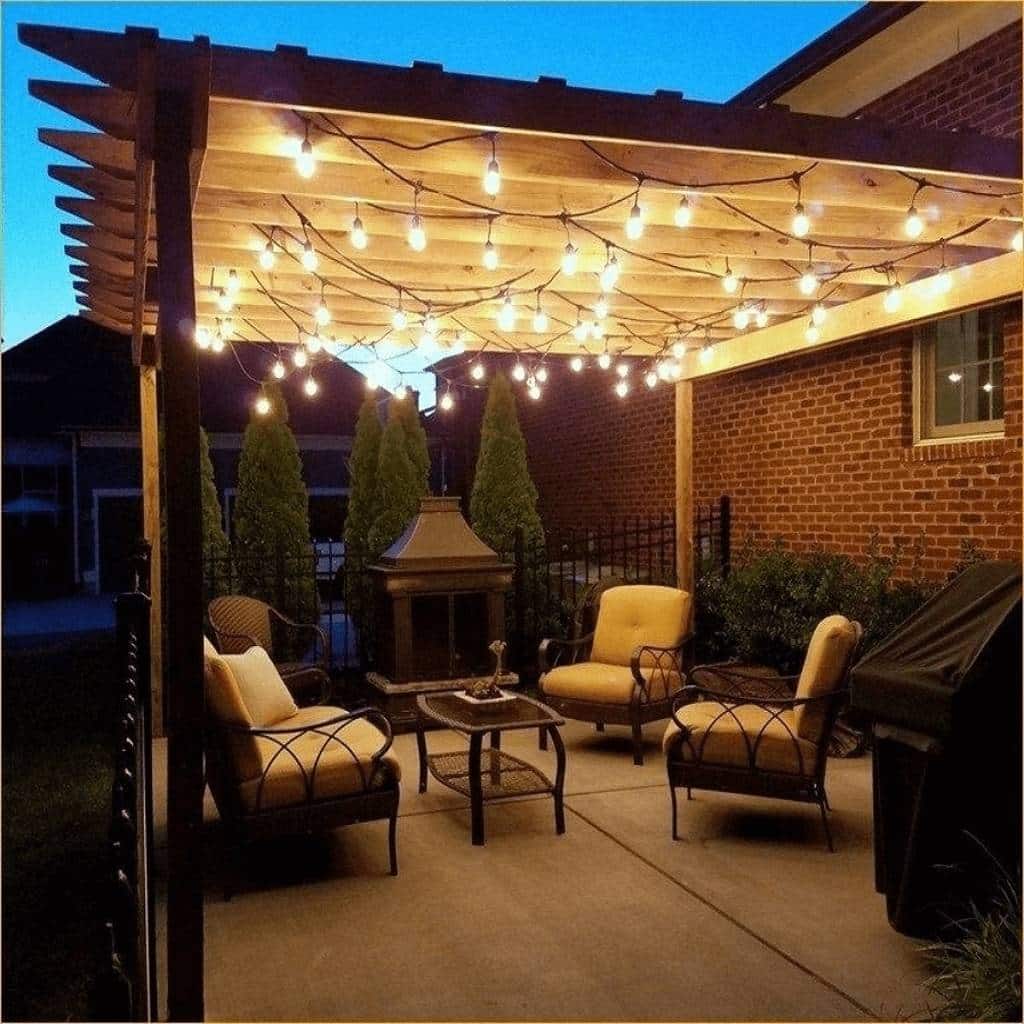 Image Source: Bob Villa
Globe String Lights are said to be ideal because they are easy to hang but if you want a unique look, then go for ornamental lights. Once you have established your patio, you can put up the lights above the firepit to create a perfectly romantic ambiance. Check out the pergola string lighting ideas, this article will definitely help you.
If you are running out of lighting ideas, mini bulbs and string lights are to the rescue! You can put those in your barbecue area and enjoy eating as it illuminates the entire area.
2. Outdoor pergola lighting ideas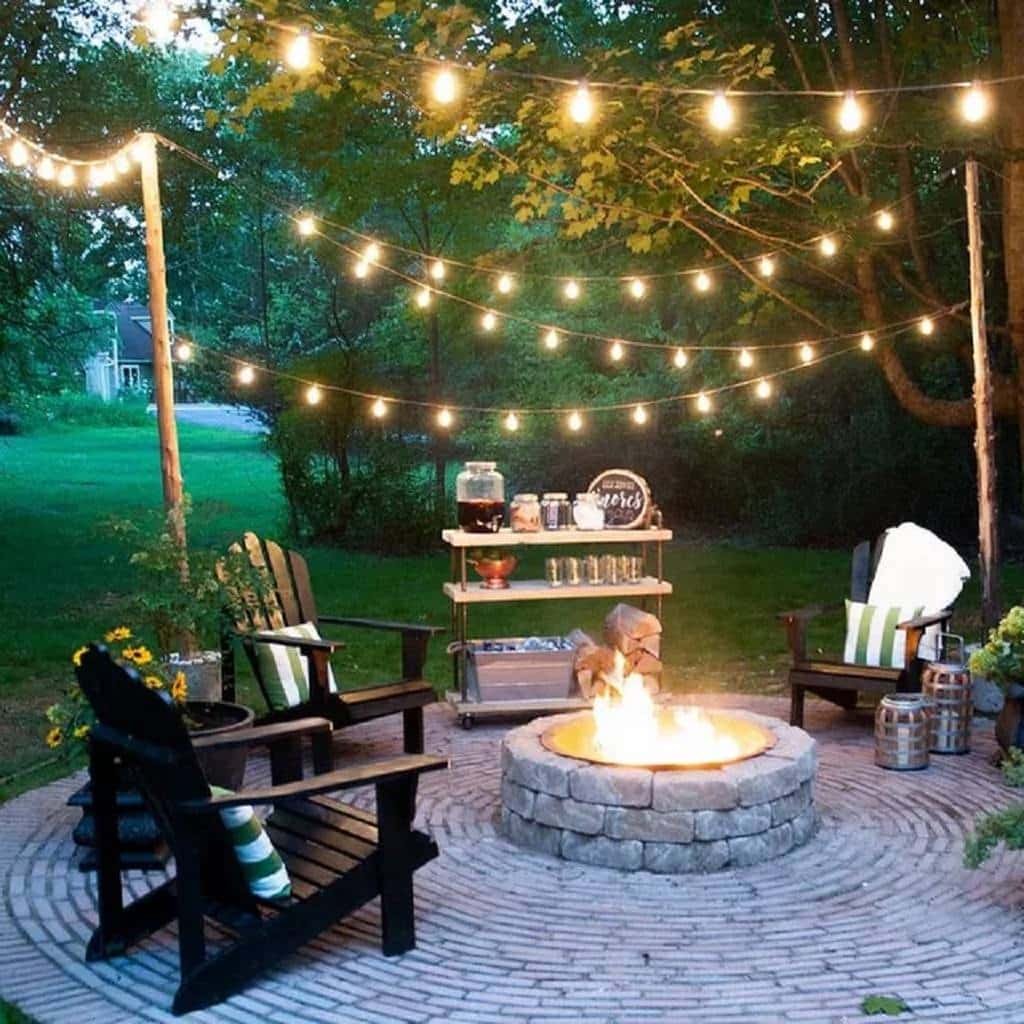 Image Source: Country Living Magazine
For a solid roof, porch lights are ideal. String your lights back and forth depending on your porch's width to illuminate the entire area. For open spaces such as yards, you might want to hang and surround the entire area with pergola lights to make it more appealing and relaxing.
If you have a pool area in your home, you might as well want to light it up by hanging string lights around the area to avoid any pool accidents. A few strings would do the trick.
3. Modern Pergola Lighting Ideas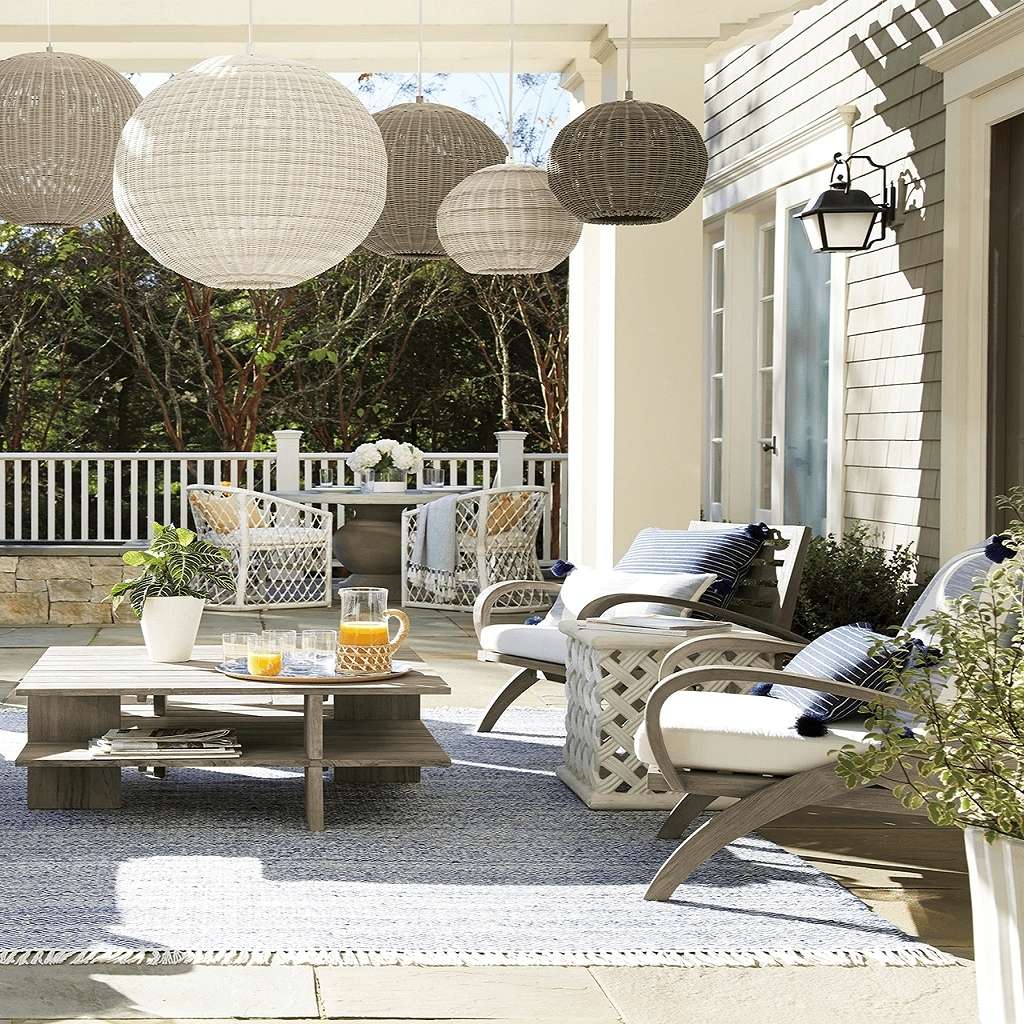 Image Source: Martha Stewart
There are so many stunning ways you could beautify your pergola. Start with Rattan lanterns that come in different colors and sizes, made with small and improvised rattan pot-shaped lantern. And, there you go, your rattan lantern gets in the way and is now slaying!
Next is lighting up your curtains and enjoying a fun and relaxing ambiance. Add some candles if you are into an intimate ambiance. Hanging lanterns is a good option too.
4. Pergola Solar lighting ideas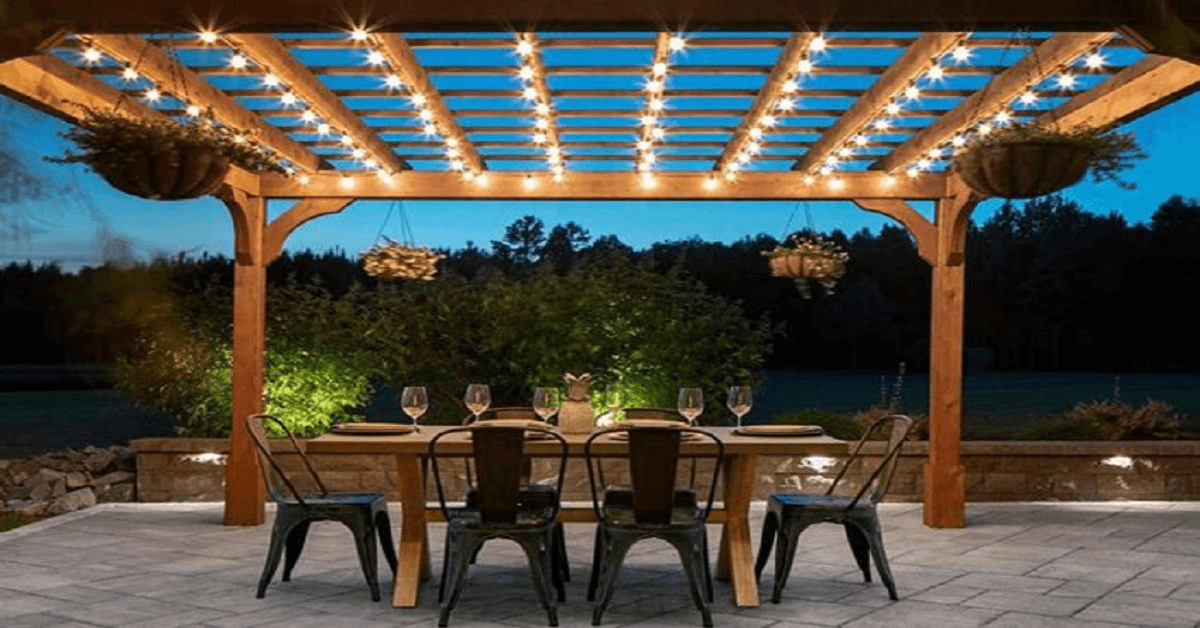 Image Source: Bob Vila
Going for a more modern yet convenient way today? Go for solar outdoor lights that you could hang around your spa lounge and patio. Not only the solar lights will illuminate and beautify your pergola, but you can save electricity as you lit it up. Isn't this convenient? You can now literally enjoy a good juice while conversing with your friends and family in the evening without disturbing your neighbors.
5. Patio Pergola Lighting Ideas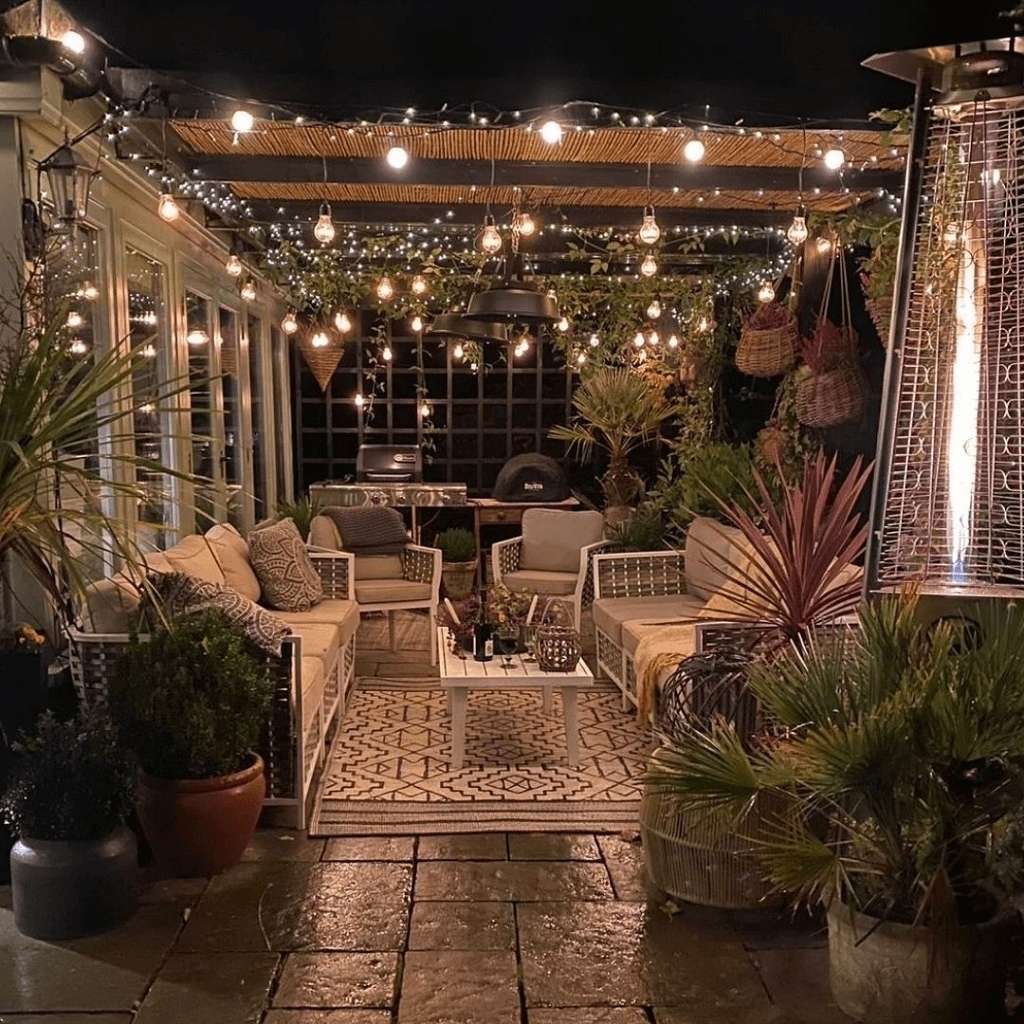 Image Source: Sparkle Lighting
Coffee in the afternoon and barbecues on the weekend. Warmer weather has got us staying on our patio. But would it be better to turn up some lights? Yes! Enjoy a great dinner in the patio dining area with a few strands of string lights and scatter some lanterns too on your table. Lounges also deserve hanging lights for relaxation. Why not try it too?
6. Garden pergola lighting ideas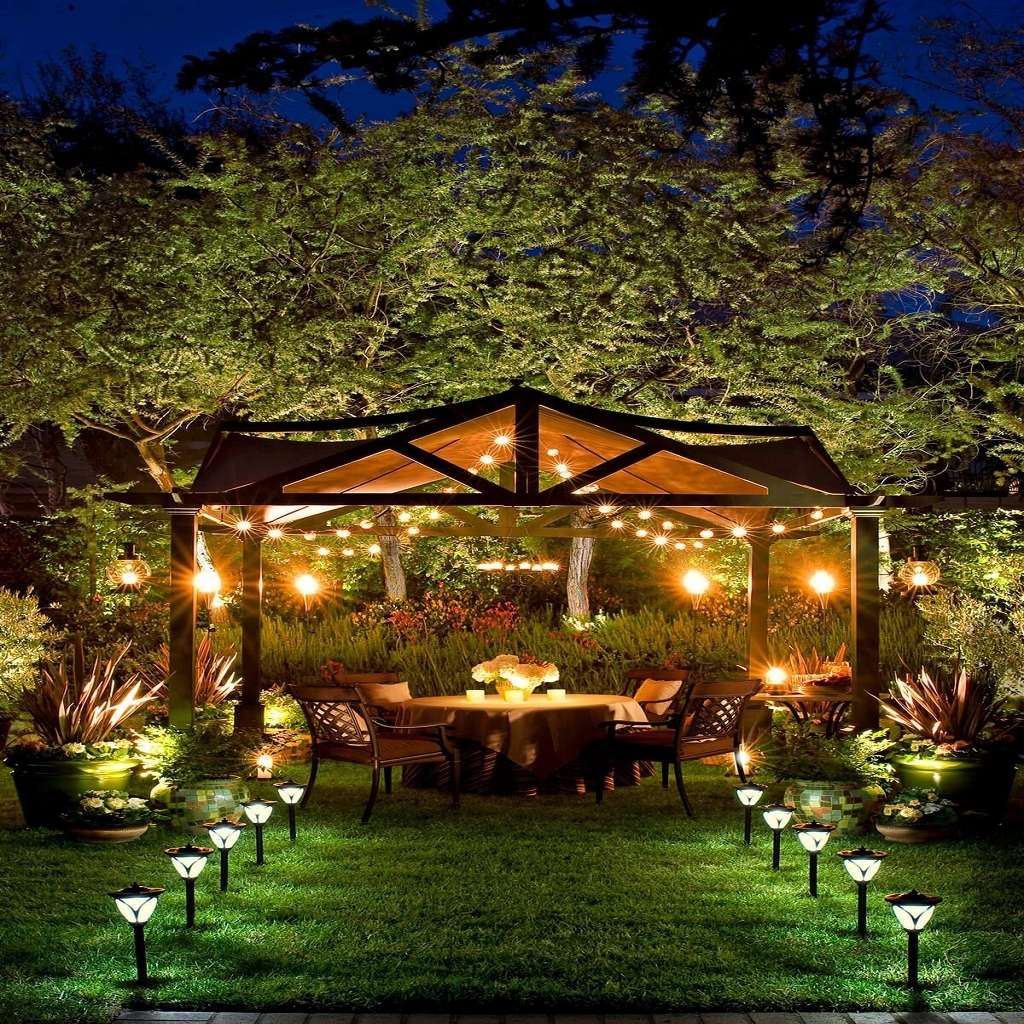 Image Source: Home BNC
Illuminate your garden with dazzling light ideas like hanging festoon lights around your garden to create a laid-back festival vibe. But if you are into a minimal and modern look, try putting up downlights that also give out symmetry and a smart vibe. However, if you want to get laud, go for a boho inspired solo lantern.
7. Outdoor Gazebo Lighting Ideas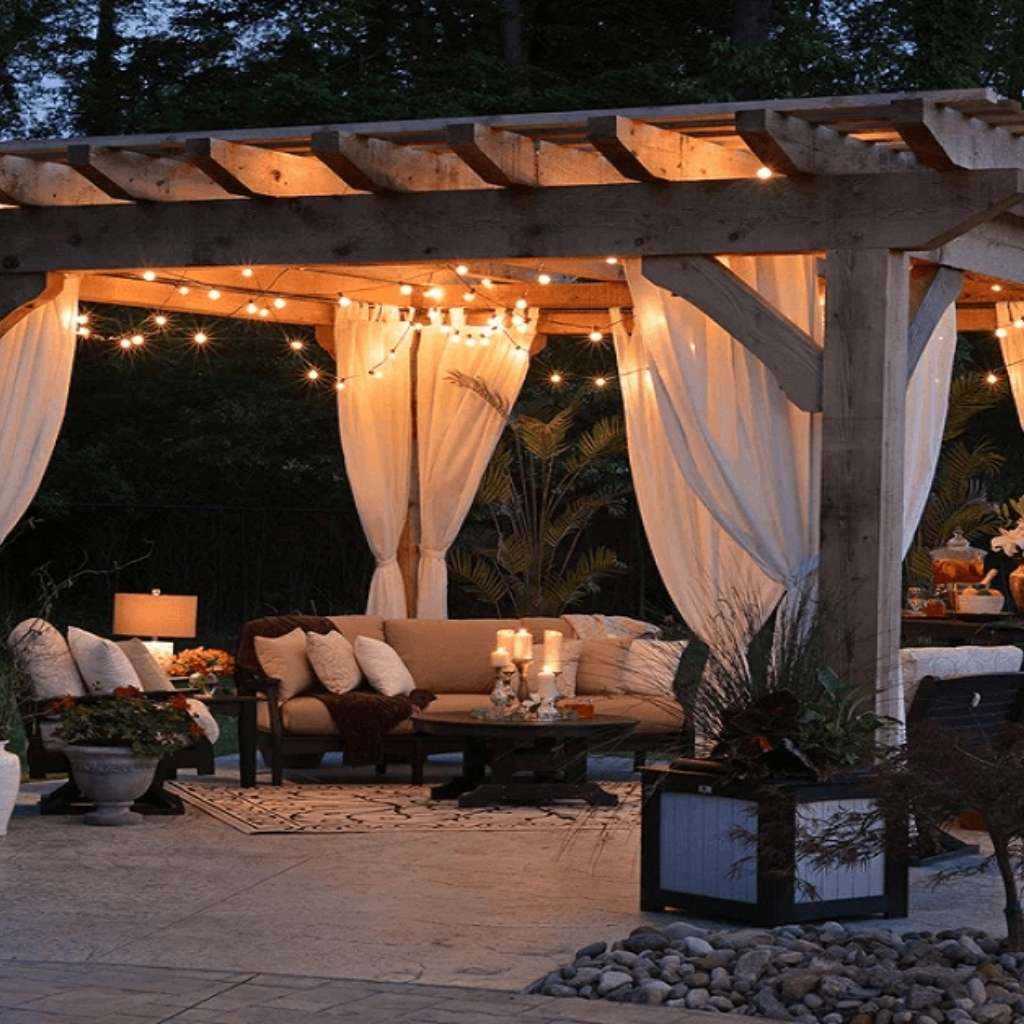 Image Source: Lighting Pros
Gazebo lights are known to project a simpler but speaks volumes design. So you might want to hang gazebo lights around your pergola and not overdo it.
Want to focus on the center of your patio? Go for it! String lights mounted across the ceiling will light up the center where people can gather and socialize. Yet, if you want a glamorous decor, scatter the lights and wrap the lights around the posts and walls like a fairytale dream.
8. Patio Ceiling Lights ideas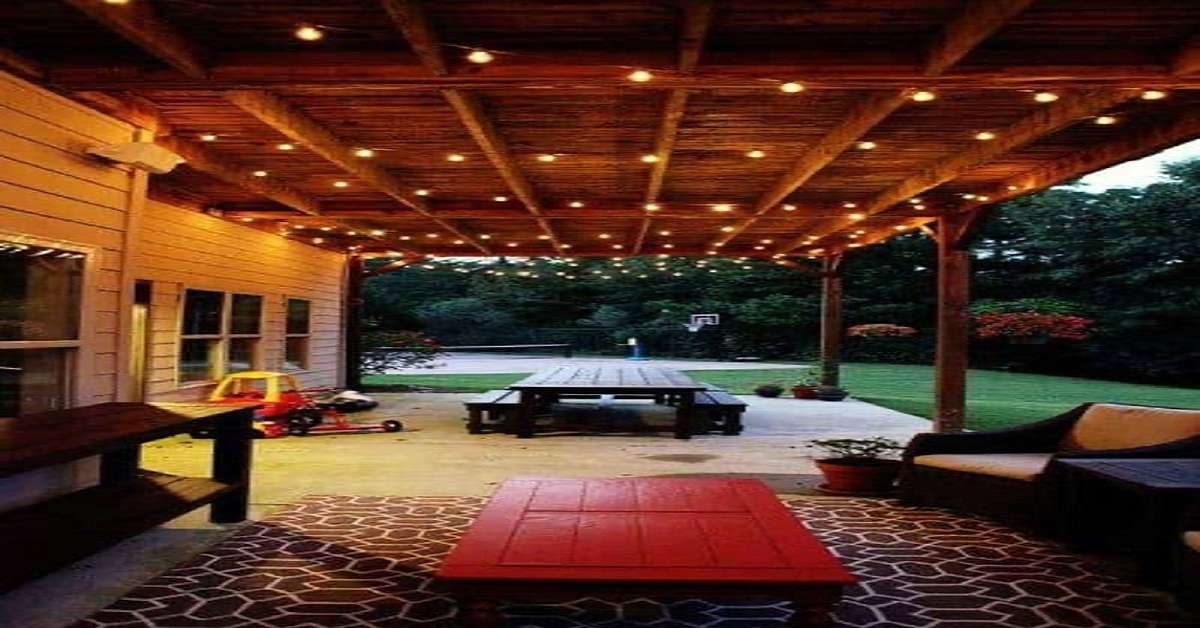 Image Source: Next Luxury
Craving for some outdoor lunch or dinner? Not a problem. Create an easy and relaxing ambiance through pendant outdoor lights and lantern LED chargeable lights. These designs could make your patio even more inviting. An outdoor chandelier with geometric design and right silhouette could also do the trick if you aim to project a modern vibe.
9. Patio Chandelier Ideas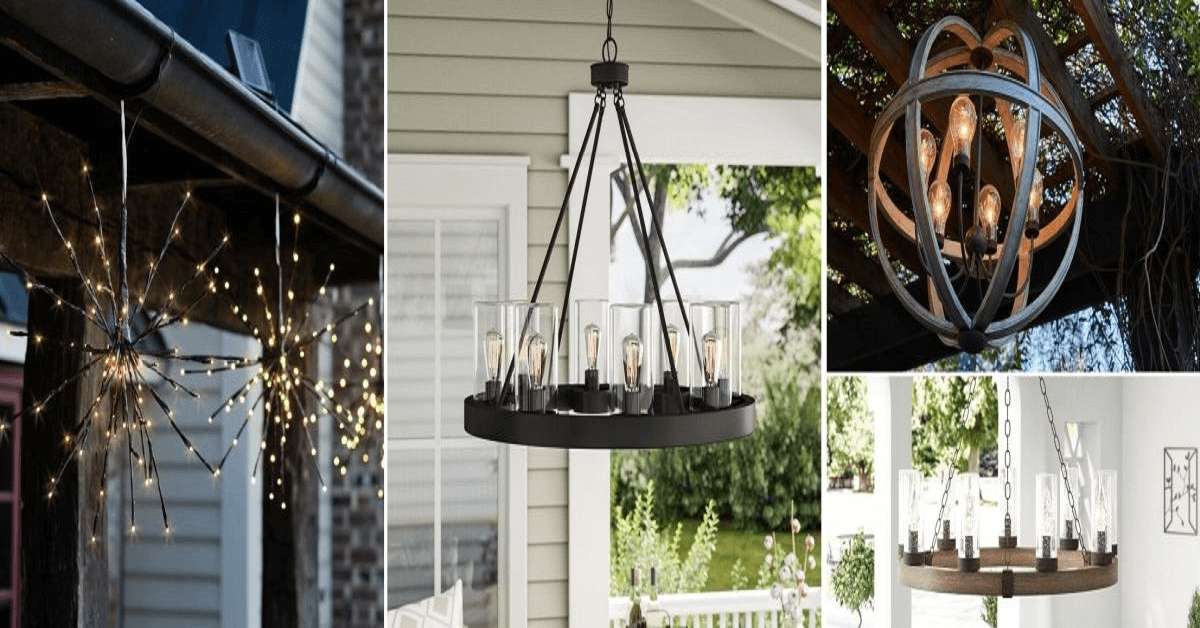 Image Source: Homedit
Gone are the days when people would overthink decorating their patio with old-fashioned furniture. If you want to impress your guests once they walk into your patio, Mount Vernon Chandeliers is perfect for contemporary patios. Plus, you can also control the ambiance because the lights are dimmable.
If you have a rustic design in your patio, add the wagon wheel chandelier which is made with sturdy metals and bright LED Lights.
Going for a pub vibe? Factory Flair is the best option! It is made of durable aluminum and would make a great addition in both modern and traditional patios.
Tips on pergola lighting ideas: things you need to consider before installing pergola lights
1. How Much Does Pergola Installation Cost?
It's always been so refreshing when you see a finished and polished patio. It feels like you can relax anytime in that area. Before you achieve your desired patio design, you might need to get a huge amount of money from your pocket. Below are some of the factors you might want to consider.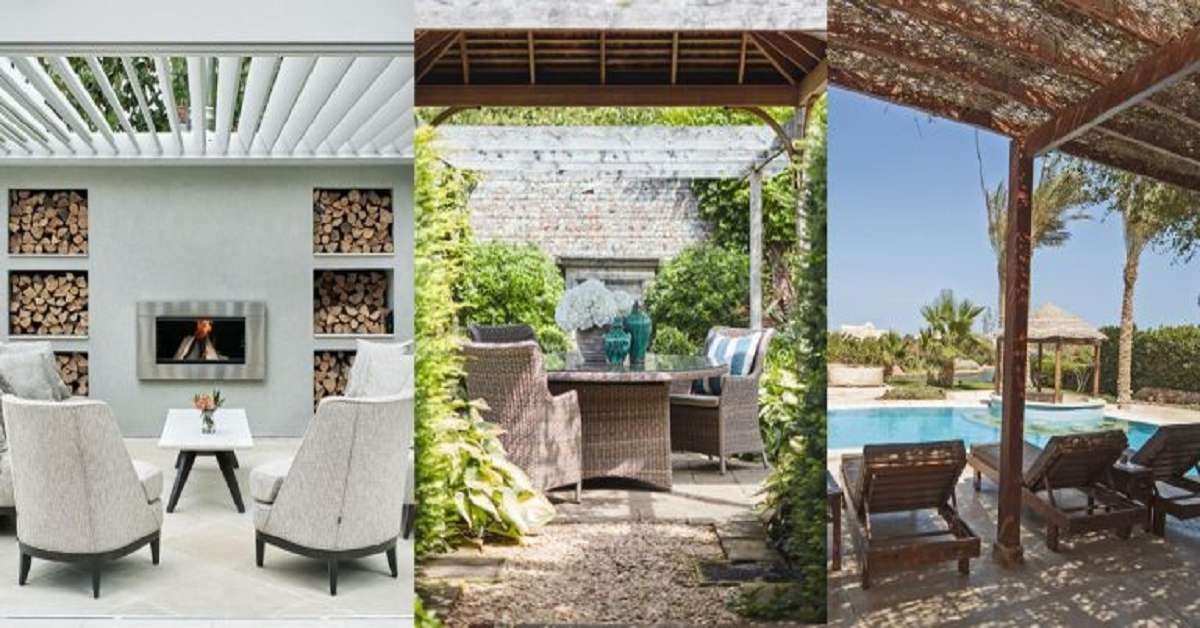 Image Source: Homes & Gardens
2. Pergola Roof Features
Consult your designer so that you'd know what to do. If you decide to go for a retractable roof, it can affect the installation price. Smart pergolas have been said to be one of the most costly, ranging from $60 to $65 per square foot. While non-retractable roofs are less expensive, their price only ranges from $10 to $30 per square foot.
3. Pergola Materials
You should always be careful in choosing the right materials for your patio. If you are looking for a more budget-friendly option, go for Aluminum and Vinyl options. They cost $10 to $30 per square foot. At the same time, redwood pergolas cost $40 to $50 per square foot.
4. Size of Pergola
You may need to look out for your budget in determining the size as it could not go as planned because the square foot usually determines the cost. Below are some of the estimated costs of pergola per square foot.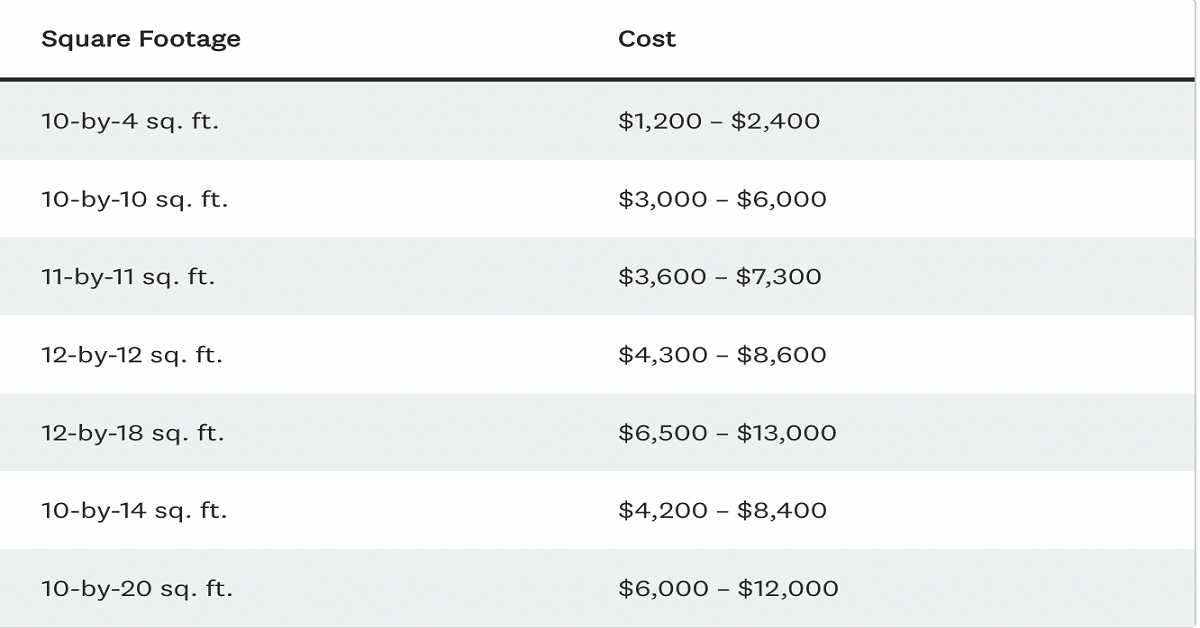 Image Source: Angie's List
5. Hire Or DIY?
Hiring a pro designer might cost you a lot more than building the pergola yourself. Labors usually cost $500 to $1000 depending on their work duration and productivity. If you are going to build your pergola by yourself or with the help of some friends and family, you can still get comfortable in getting suggestions and also save you money.
Select the right pergola light options: the killing part for outdoor pergola lighting
Check the video below to know the pergola light options you can have for your patio.
Guyabouthome also list the specific pergola lights for your choice in patio decoration:
Driveway lights 

Doors and entryway light fixtures

Deck and patio lights

Ambiance accent lighting

Post lights on deck posts & railings

Recessed deck lights

Holiday lights & rope lights for ambiance 

Landscape lighting & garden lights

Accent lights above and below trees
Different Pergola Lighting Ideas: A how-to Video Instruction
How to Hang Lights In a Pergola? Step-by-Step Guide Here!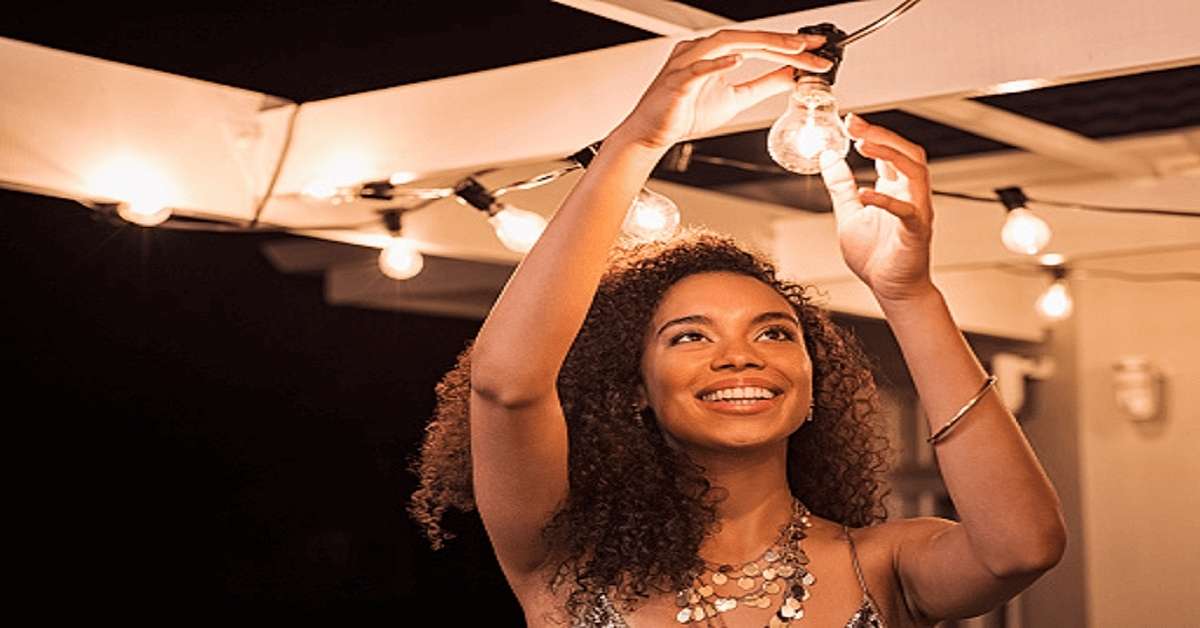 Image Source: Unsplash
How to install pergola lights? Now, let's head to another topic that you can use for your DIY pergola set-up. Check out these five easy steps, which you can use to create a brilliant and refreshing ambiance in your backyard for as long as you wish.
Measure the patio space.

Get your tape measure and determine the space measurements of your patio. Start comparing it with the lengths of your lights and come up with your desired design or layout. 

Screw the eye hooks. 

Use a drill to create a hole prior to screwing the hooks. Make sure that the bulbs are spaced at least 24 inches. Grade lights are highly recommended for they are durable in most cases. 

Connect screw hook and molded loop.

You are almost done in this phase. Hang the lights and make sure that the screw hook is durable enough not to break any bulbs. 

Screw the bulbs into place.

Secure the bulbs by screwing them into their rightful place. Ensure that the strings are not stringed to one another to avoid any power outage. 

Attach your pergola lights.

This is the most exciting part of patio design. Put up the lights and illuminate the entire area. Purchasing remote-controlled lights are highly suggested so you are able to control the lights from the inside of your home for your convenience. 
Conclusion
Aside from beautifying your home, a pergola has another purpose and that is to provide relaxation to homeowners. Hanging lights in the pergola would add to its purpose. And, being creative enough in hanging lights is not a sin.
The guidelines above will help you decide and determine how creative and dedicated you are in achieving a breathtaking patio. Time to unleash your creativity and provide an ambiance that will turn your guests' heads upside down. Just always remember to take note of your patio space, budget and desired pergola design.
For more amazing ideas you can have, visit Guy About Home today or you can check the related blogs: