Make your own DIY baby shower decorations with these free printables, easy crafts, and fun projects!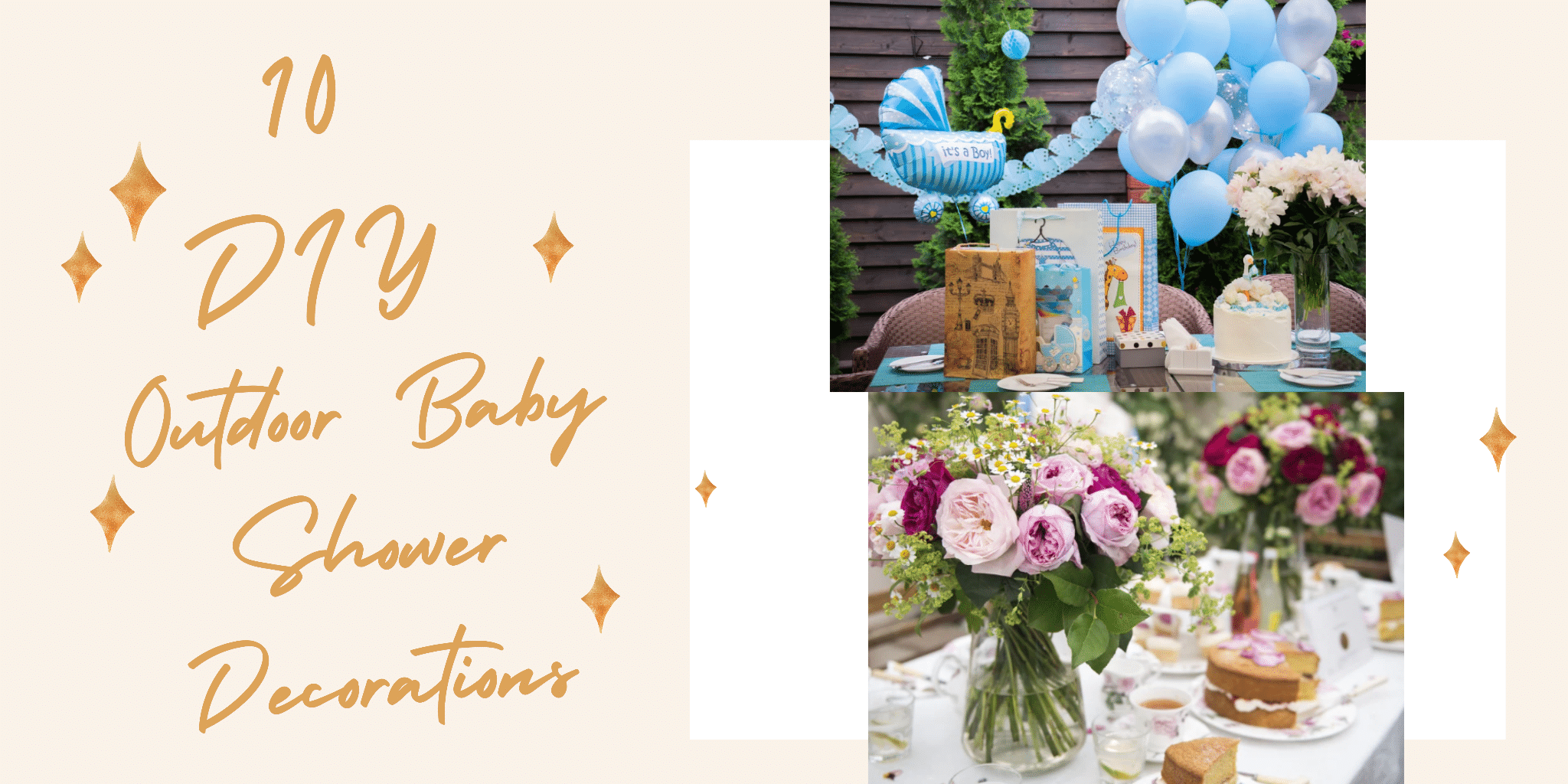 Image: Canva
Let's face it — baby showers have fallen by the wayside. They used to be real parties where people went outside to use their porches and their yards and such! Today everyone uses the internet to do things, of course. And you're no exception. This is why we want to talk about outdoor baby shower decorations. Browsing the internet will help you a lot, especially if you need some ideas about the theme you want for your baby shower.
It's always a good idea to try and make an outdoor shower a memorable event. There are many ways of doing so, but if you don't know where to start, these baby shower decoration ideas for the outdoors are the ones for you!
Table of Contents
Use a Piece of Wood and a Stand

Balloons and Streamers Galore

Event Tent Draping Baby Shower

Floral Arrangement

Baby Shower Photo Booth

Photos of Mom and

Dad

Create a Lounge Area

Lighting (it's everywhere)

Decorative Food Arrangement

Messages For Baby
1. Use a Piece of Wood and a Stand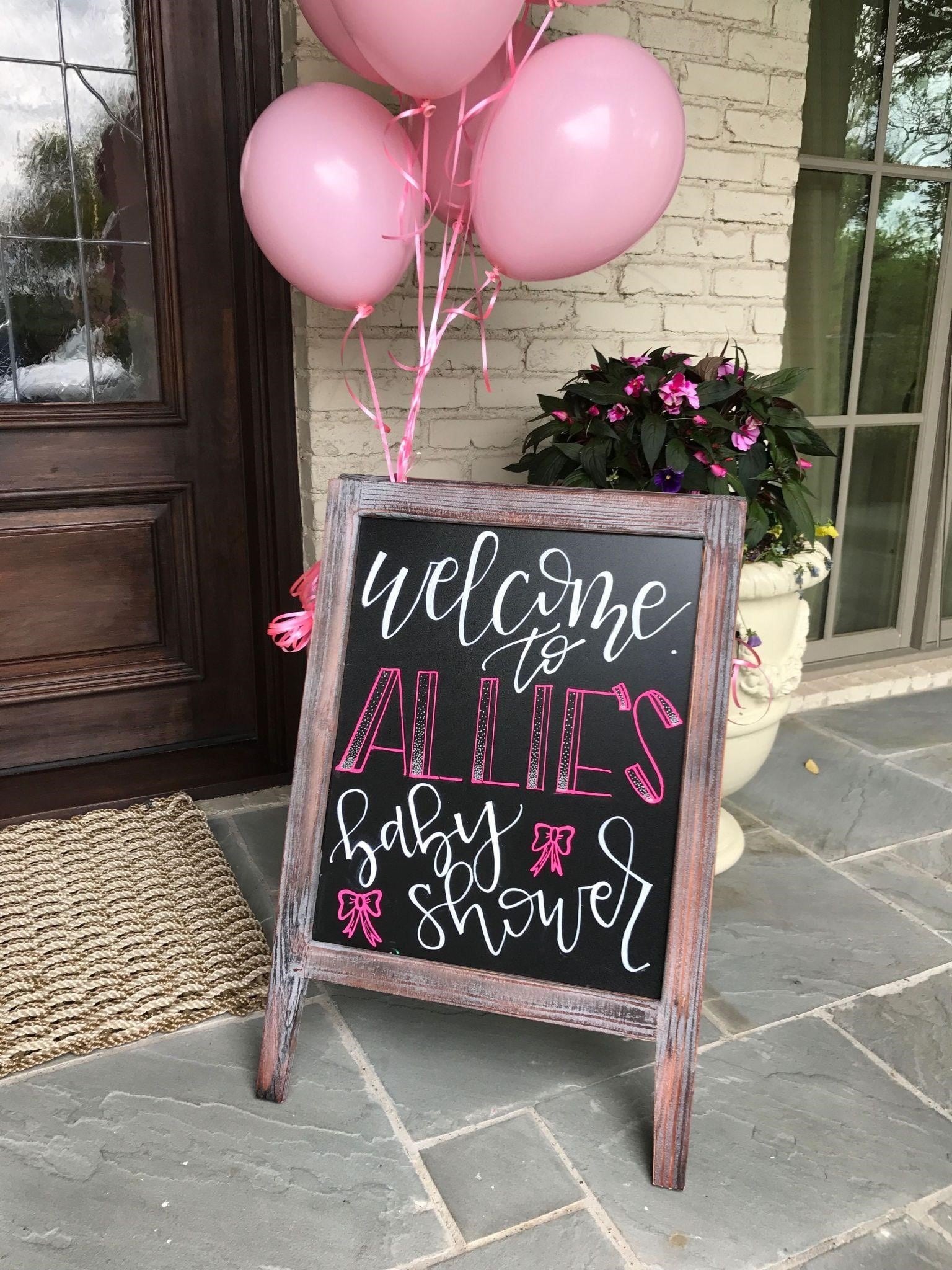 Image: Pinterest
Don't you have a stand? This yard sign that stands on its own having the right design does the same job. To make the cutest greeting for your guests, you could cut the base into the shape of a baby bodysuit.
Here is how you can make one up:
Make a photo display board with wood and a stand.

Use it on baby shower ideas for friends or family.

Get a creative wood piece and some stand to go with it.
2. Balloons and Streamers Galore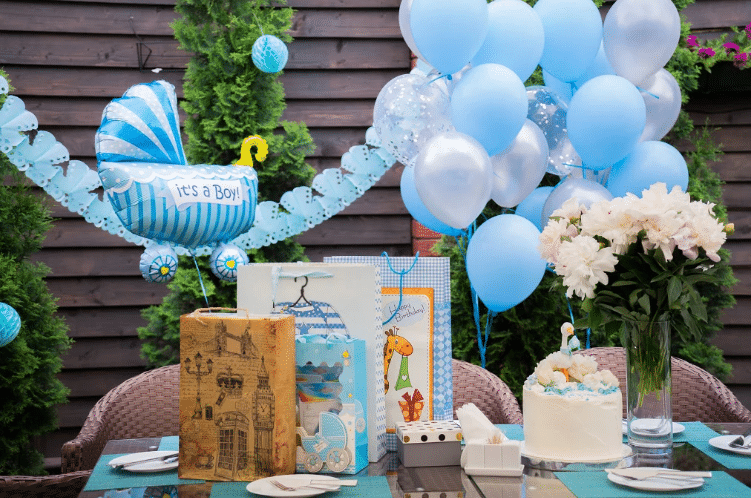 Image: American Tent
If you want to go with a traditional baby shower theme, use as many balloons and streamers as possible. These things would create a happy, childlike atmosphere at a baby shower. Balloon and streamer decorations can also be used to include your baby shower's color theme without going crazy or overspending. 
You may easily add more decor or simply leave it at that for a simpler design. Add a giant balloon arch, streamers hanging above, and clusters of balloons scattered around your tent.
Check out this outdoor baby shower idea:
Go for a bright, colorful, and fun look.

Use lots of balloons to decorate.

Choose matching streamers.

Add some fun color cakes and eat them too.
3. Event Tent Draping Baby Shower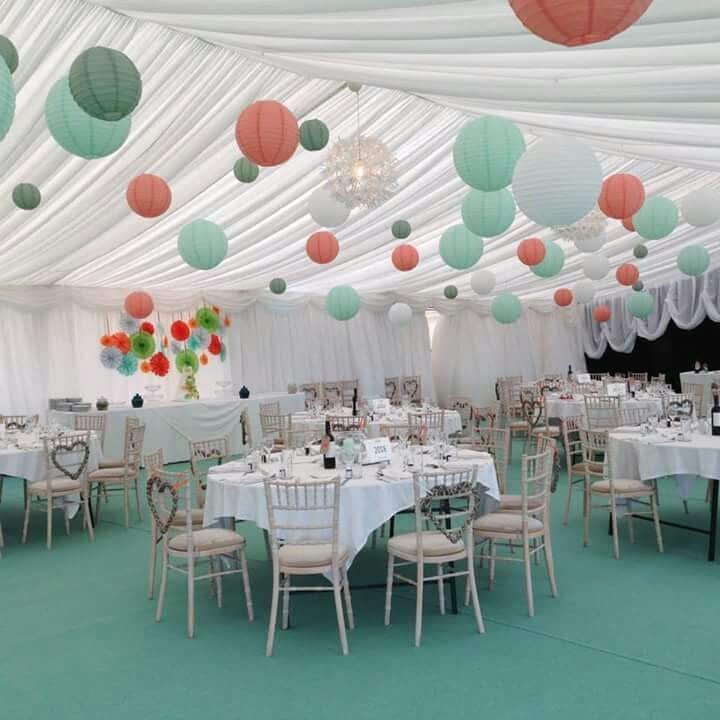 Image: Pinterest
Decorating an outdoor baby shower tent with fabric draping is one of our favorite ways to decorate an event tent. For a baby shower in the spring or summer, draping your tent will give it an airy, refined look. When they swing and sway, your celebration will have a light and breezy feel.
Here are some of the tent draping at an event idea:
Add accent furniture to make it look more cohesive with the overall theme.

Use some colorful lanterns that will blend the color theme.

Use a tablecloth and fabric bunting for backdrops.

Be stylish; add flowers or balloons to the table or anything you want on a budget.
4. Floral Arrangements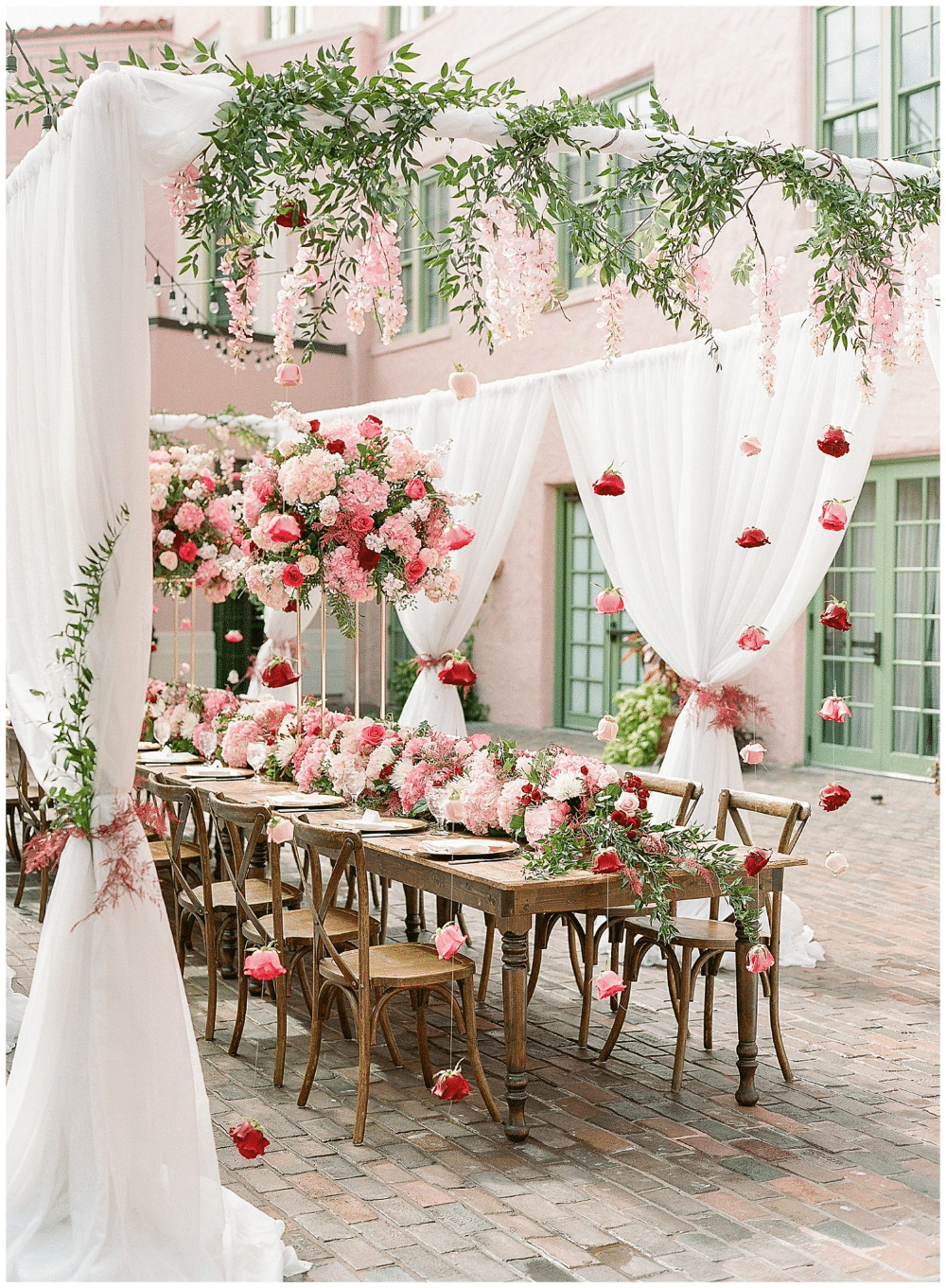 Image: Pinterest
Flowers aren't just for weddings; any flower arrangement will look beautiful as part of your outdoor baby shower tent decorations. And don't worry, you don't have to spend a lot if you don't want to.
If you want to go all out for your baby shower, you can do whatever you want with your flowers. Large bouquets, centerpieces, and oversized arrangements are great ways to decorate the tent for your outdoor baby shower event. They will give the possibility of a natural, feminine feel that every baby shower should have.
Create a beautiful DIY centerpiece combining classic and modern flowers with this idea:
Learn how to choose the right flowers for your arrangement. Remember flowers are symbolic, communicate particular meaning and emotions be creative.

You can hire a company to do it for you or do it yourself.

Choose a florist to guide you for your baby shower event.

Plan how the tables will be set up and the colors of the flowers.

Buy flowers and decide which color scheme you'll use.
5. Baby Shower Photo Booth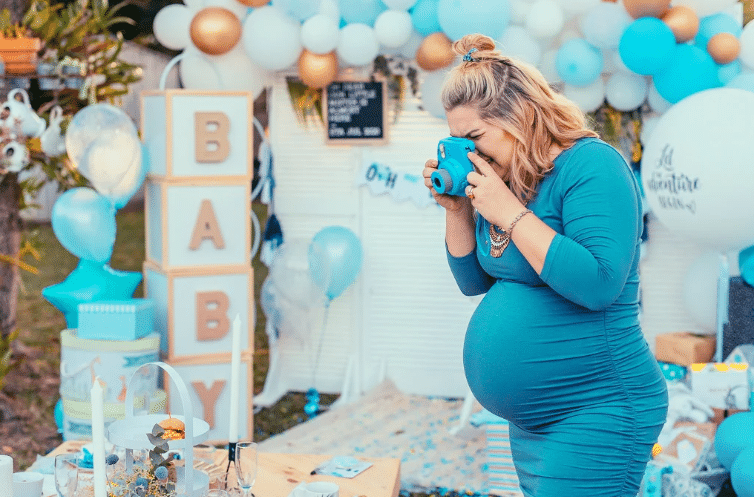 Image: American Tent
Being pregnant is such an exciting and short time to take pictures every chance you get. This is especially important at a baby shower, where the mom-to-be can spend the day with friends and family celebrating. A photo booth is the best way for a group of people to get great pictures of their day.
Adding a photo booth to a tent for an outdoor baby shower event doesn't have to be expensive or require you to rent a big, expensive machine. It's pretty easy to make a photo booth yourself. If you do it right, your DIY photo booth could be a decoration at your baby shower.
Check out these ideas on how to make it happen:
Use a baby shower photo booth to let your guests take photos as keepsakes.

Order prints or get the pictures on a disk.

Create a custom hashtag for the event.

Make sure there is a camera on a stand angled towards the guests.
6. Photos of Mom and Dad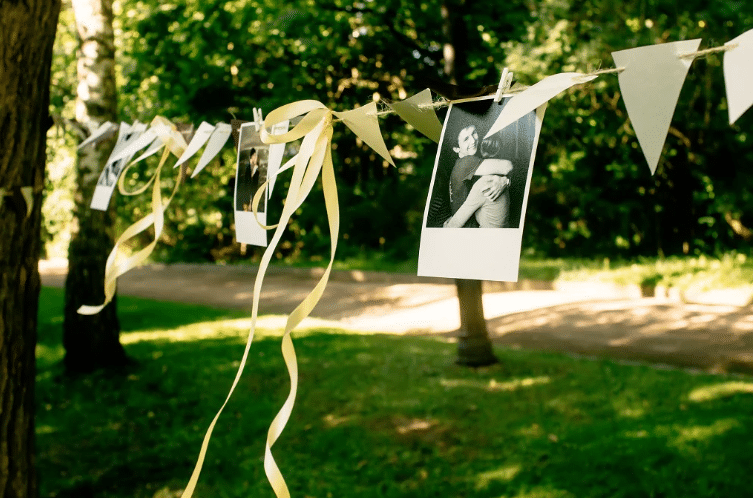 Image: American Tent
For your outdoor baby shower tent, don't forget to decorate with images of the expectant parents. Include pictures of the parents when they were young, and even repurpose photographs from the couple's engagement and wedding.
To include images in your baby shower tent, there are several options. When decorating your event tent, you can use smaller prints as place settings and other little accents throughout the space or purchase larger images to utilize as giant décor centerpieces. There is nothing that can't do.
Check out these photos or your mom and dad's baby shower tips:
Make sure to take pictures of mom, dad, siblings, and grandparents.

The area that you chose to focus on is the decorations and food.

Add a personalized monogram.

Hire a professional photographer or do it by yourself.
7. Create a Lounge Area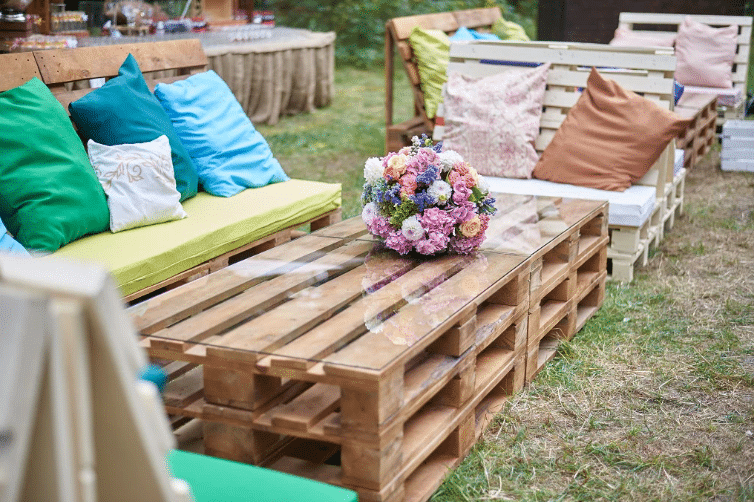 Image: American Tent
Making a lounge area with a mix of old furniture, rugs, lights, and side tables gives your event tent a touch of homey comfort, style, and texture. Even though mismatched vintage furniture isn't decor, it looks great in photos and gives your event tent a warm feel.
A lounge area is also an excellent place for you and your guests to relax and get comfortable. It is also the perfect place to open gifts, play games as a group, take pictures as a group, and chat with all of your guests.
Get comfortable with these tips for your outdoor lounge:
Create a lounge area using a large clear tarp and some pillows.

Make sure seating options are available for all guests.

Bring decor that adds color and nature to your outdoor gathering.

Use a wood pallet and stack it to create a table matching glass and a flower vase.

Hire a lounge area host.
8. Lighting (it's everything)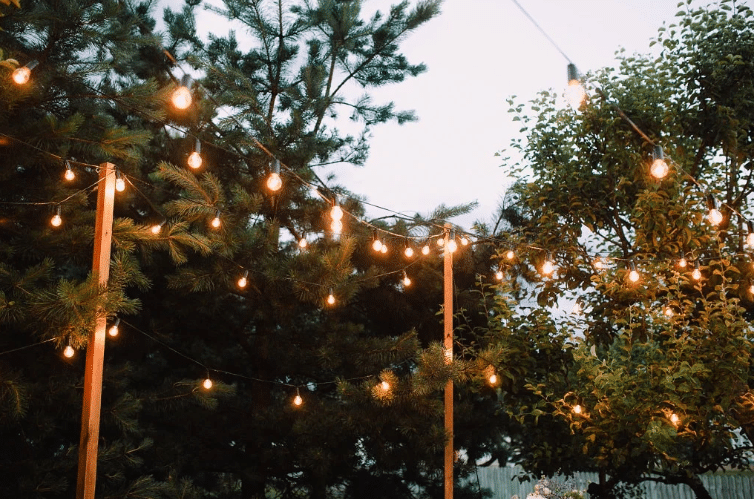 Image: American Tent
Lighting is, indeed, everything. A beautifully decorated event tent can look boring even during the day without the proper lighting. You can add lights to your outdoor baby shower tent in some ways, some of which are cheap and some more expensive.
String lights and hanging lanterns are cheap ways to add soft, dreamy light to your event tent. They can also make a baby shower feel more young and fun. If you want your event tent to be filled with a specific color, you can rent uplighting and make the tent whatever color you want it to be.
Check out these incredible DIY string light tips:
Use candles and hanging lanterns.

Double-check outdoor space and get creative!.

Don't forget about the height of the table centerpieces. Heels and high seated tables are shared.

Use lights to create Instagram-able moments for guests.
9. Decorative Food Arrangements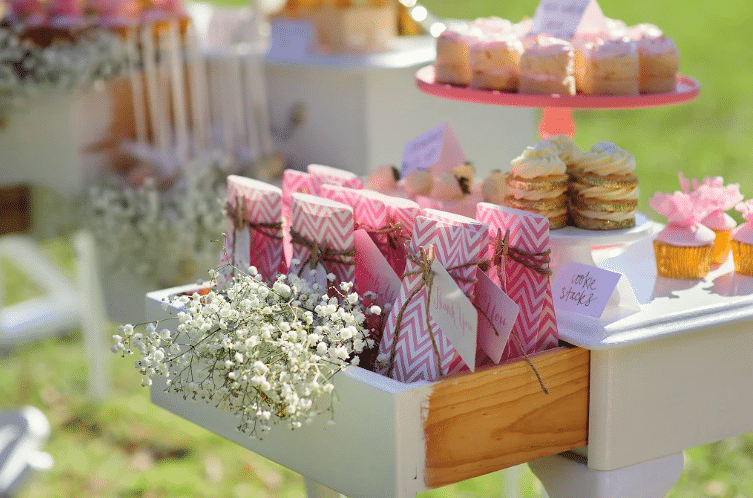 Image: American Tent
You have to feed your guests at a baby shower, so why not use the food as decorations? There are many ways to make the snacks and food at an outdoor baby shower more fun, and your guests will appreciate the extra effort.
You can do something as simple as giving your guests baby bottles to drink out of instead of cups. This will make them laugh and give you great photo opportunities. Or, you can add a donut wall to your outdoor baby shower tent. This modern baby shower idea looks great in pictures and is a fun way for your guests to enjoy the event.
Look at these decorative food arrangements tips:
Consider your theme, season and location will be great for your baby shower.

Make an excellent baby shower decoration with simple items.

Use edible flowers to decorate your centerpiece.

Build a base out of fruit.

Change up how big and round your plates and cups are.

Make personalized serving trays.
10. Messages for Baby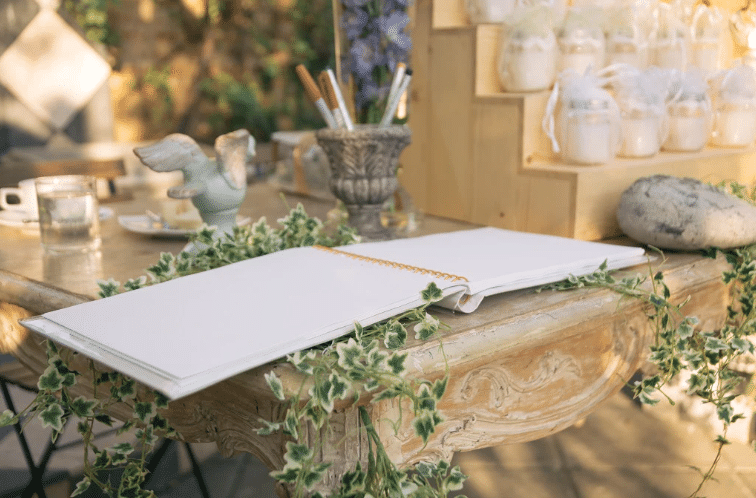 Image: American Tent
Last but not least, don't forget to include something on which guests can write notes for the baby-to-be. You can get a guest book or a keepsake scroll, among other things. No matter what you choose, your guests will love being able to write notes for the baby to read when they are older. It will also be a great keepsake for the parents.
Find out these cute ideas for decorations:
Start getting very creative. Personalize your photos and messages for your guest.

Set up a table and decorate it with your style.

Use images of your cute infant.
Takeaway
In the end, if you want to throw an outdoor shower, there are plenty of decorations and ideas online that will greatly assist you in making it a success. And remember to have fun with it as you create your outdoor theme. Visit Guy About Home for more.
Also, it is likely that reading the following articles will engage you on a number of different levels and provide you with information about a variety of topics.