Having a place to be alone, indulge in hobbies, and hang out with male friends is relieving. Discover thrilling man cave ideas that you can explore!
Nothing beats a soothing retreat to your man cave when you want to get away from the stresses of modern life for a while. A man cave is a room or other area in a house considered a man's sanctuary and outfitted to accommodate a man's recreational activities, hobbies, and other interests.
Thank you for reading this post, don't forget to the best blogger Guy About Home who offers the best garden and home improvement tips! If you are a home decor and design fan, don't miss the tips on home ideas. If you are a home garden owner, then you might be interest in our complete guides to house plants!
Depending on your creativity, you can create your unique man cave space without a hush; this post will help you. I believe you would be interested in exploring more ideas for your home recreational set-up. You can visit the deck & patio improvement to get more inspiration!
Table of Contents
Garage Man Cave Ideas

Small Man Cave Ideas

Basement Man Cave Ideas

Man Cave Bar Ideas

Man Cave Shed Ideas

Man Cave Ideas on a Budget

Simple Garage Man Cave Ideas

Small Man Cave Bar Ideas

Rustic Man Cave Ideas

Man Cave Decor Ideas

Man Cave Room Ideas

Man Cave Office Ideas

Cool Man Cave Ideas

Man Cave Gift Ideas

Man Cave Wall Ideas

Man Cave Shed Interior Ideas

Man Cave Lighting Ideas

Garden Man Cave Ideas

Gaming Man Cave Ideas

Outdoor Man Cave Ideas

Man Cave Shop Ideas
1. Garage Man Cave Ideas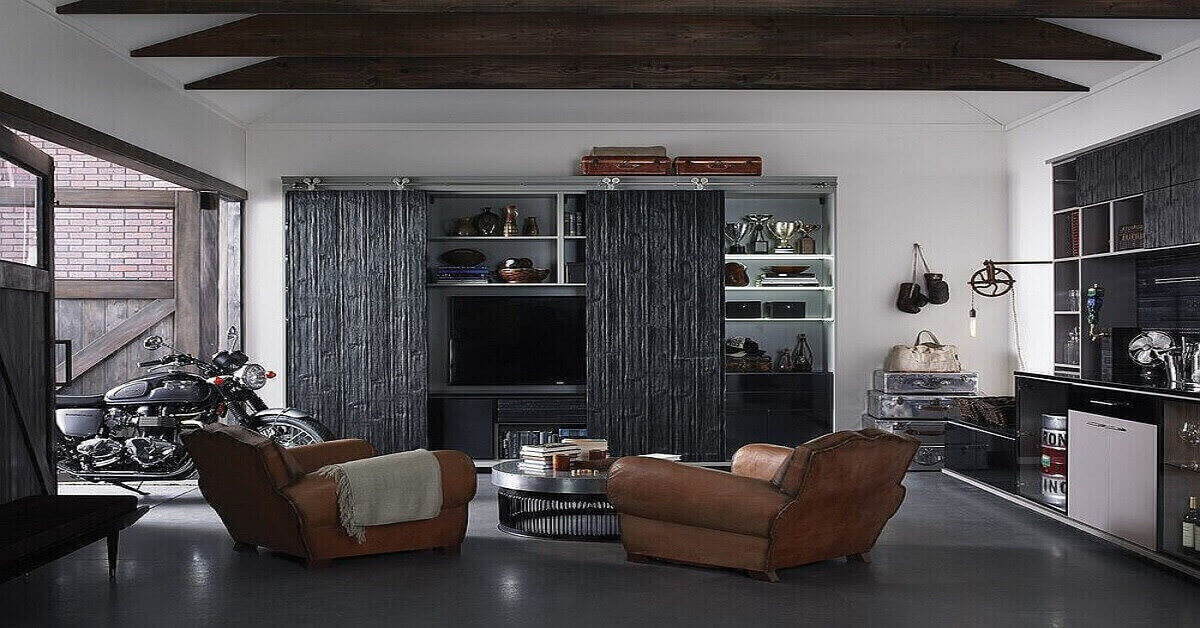 Image Source: Homedit
Not everyone would be able to afford a vacation trip every time they are stressed out or need to get off busy schedules. Building your personal space will do justice to what it means to balance your work and social life. The garage is an excellent place to slake your taste if appropriately styled.
You can achieve this by:
Repaint your garage walls with light color.

You can use a PVC or vinyl for the flooring.

Insert

wall cabinets

(cabinet is one feature you don't want to exclude).

Two small couches with a round table to discuss and catch your breath.

Add a minibar, Television, and sound with an exclusive game as you choose.
We are here to show you how you can transform your home into a piece of beauty. Learn more about how you can transform your deck and patio for retreat purposes.
2. Small Man Cave Ideas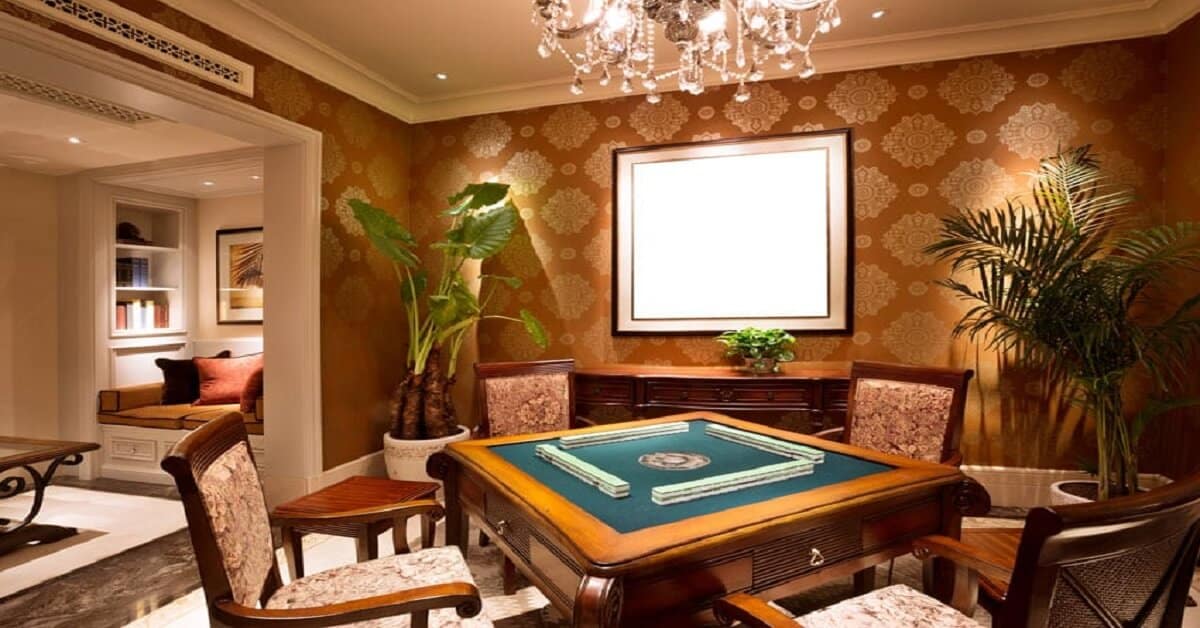 Image Source: Designing Ideas
Gentlemen are always willing to sacrifice their garage, basement or a small closet in their house to create a special place where they can escape from worries or chill with their friends. Space might not be an issue if you can creatively maximize it.
Here is how to go about this:
Paint the whole room white, including the ceiling.

You can attach a golden wallpaper to some part or whole wall to give a bright look (small rooms need to be given a bright look).

Add a small fancy table with chairs that you can play chess or scrabble games on.

Put a long couch and Television for relaxation.
Explore more small man cave bar ideas if you take interest in it
3. Basement Man Cave Ideas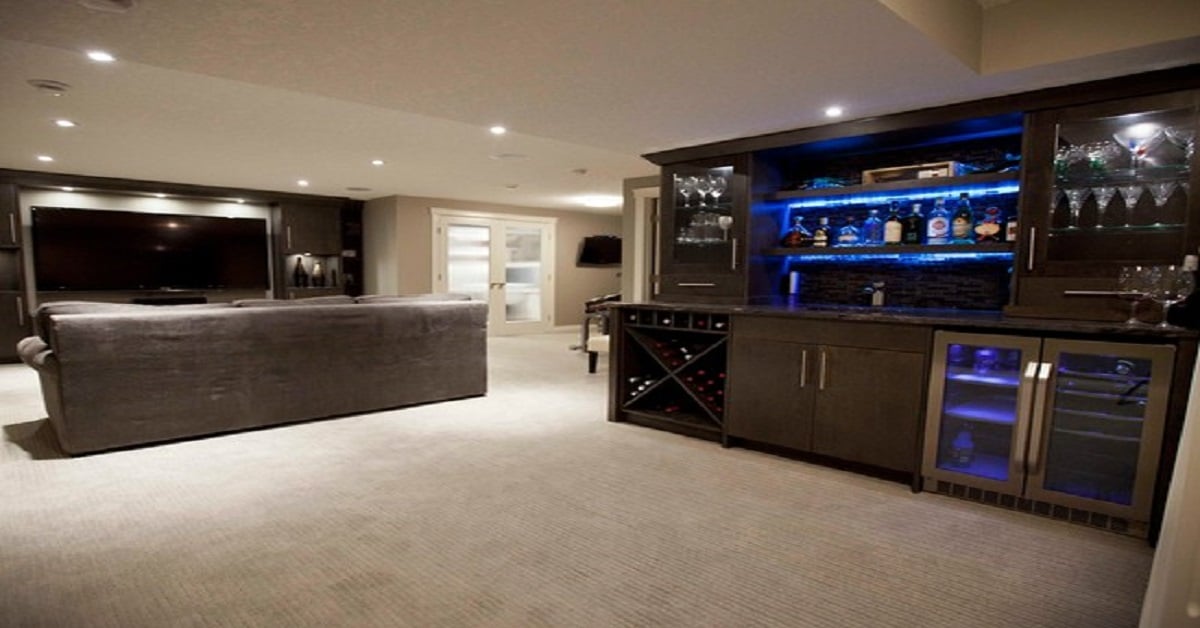 Image Source: Lake Home Reality
If you like having a quiet time alone, look no further; The basement is one of the most silent places to set up a man cave. It is secluded and not easily accessed from other parts of the house. The choice of having your man cave in a basement can be somewhat enjoyable.
Most efficiently, it is one of the most achievable man cave ideas; the basement has a lot of open spaces, just enough to build what you like.
First of all, ensure there is good lighting by installing plenty of bulbs on the ceiling.

Install a wall cabinet for the wine cellar and bar; add colorful and reflective lights to spice up.

Add a long leather bench with a couch to sit on while watching your favorite movie, sports or documentary.

You can have sporting activities here too; you have to consider your preference and budget.
4. Man Cave Bar Ideas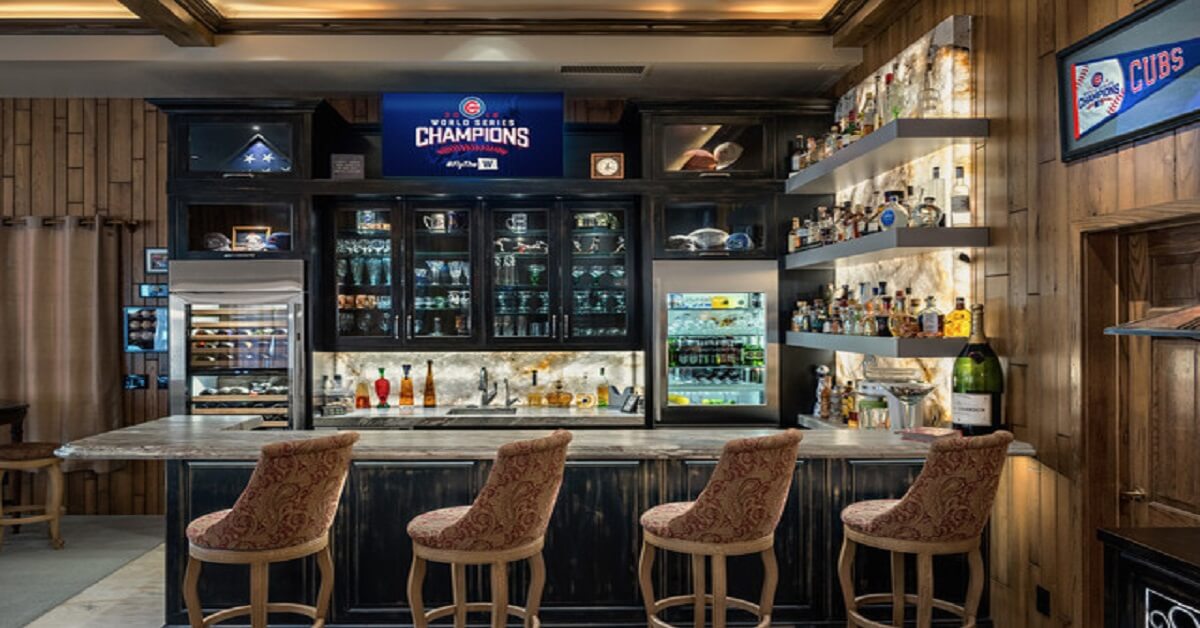 Image Source: Houzz
Bars and man caves are like 5 and 6 pairing in a football game. Leaving out the bar in your man cave design makes it look awkward, except in cases where you have strong views about not having it around.
The bar is often considered the center of attraction in a man's cave without controversy.
Bars in your man cave curtail the risk of drinking and driving. It is a meeting point to pour wine with guests, friends, and gist.

Make sure you choose your bar appropriately; whiskey, wines, rums, beers, tequila and champagne should be separated for quick recognition.

A spacious basement, garage or outdoor man cave plan can be put to good use with an arrangement for a bar.
Explore more man cave rustic bar ideas if you take interest in it
5. Man Cave Shed Ideas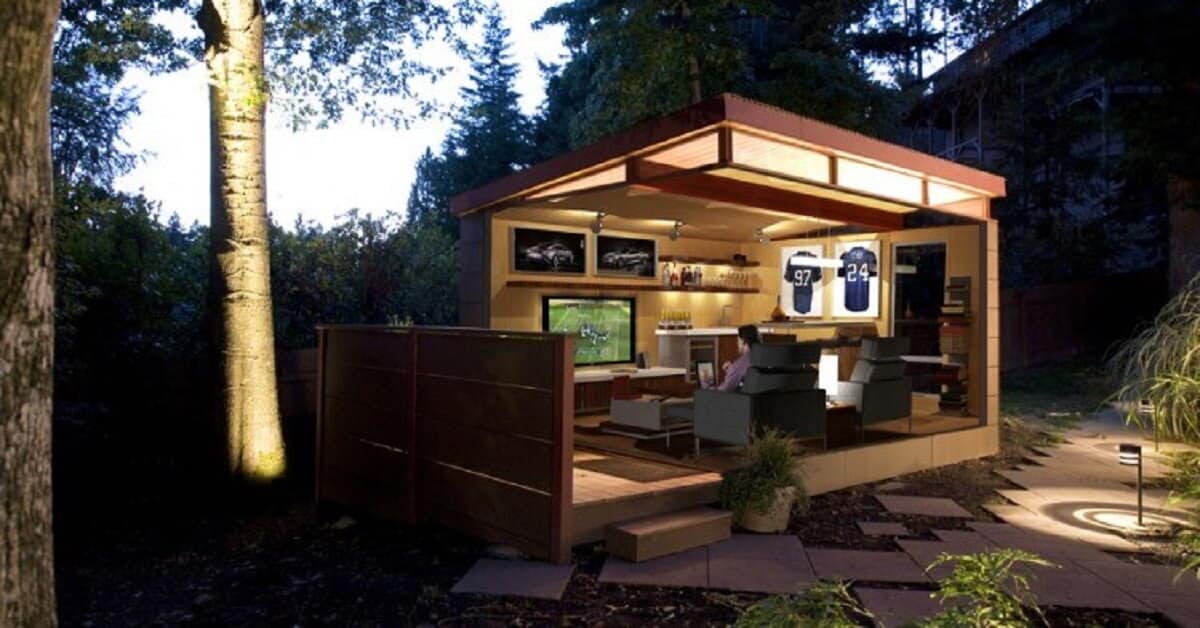 Image Source: Housely
Sheds can chill and calm an area. These one-of-a-kind buildings are entertaining and inviting, making them ideal for socializing with friends or simply unwinding after a hard day at work. You may sometimes require transportation assistance, trash disposal services, or restricted space rescue. Although, this type of man cave requires a particular site.
Here is how to creatively go about it:
Build a small mini shed house with utilities like toilet, mini bar, and kitchen.

Catch your favorite game on a long couch with fresh air.

Ensure it has enough lights for safety purposes.

Secure your perimeters by clearing thick bushes and have the building above the ground floor.

Trees and green vegetation are excellent sources of oxygen (this space can be recommended for someone with respiratory disease).
6. Man Cave Ideas on a Budget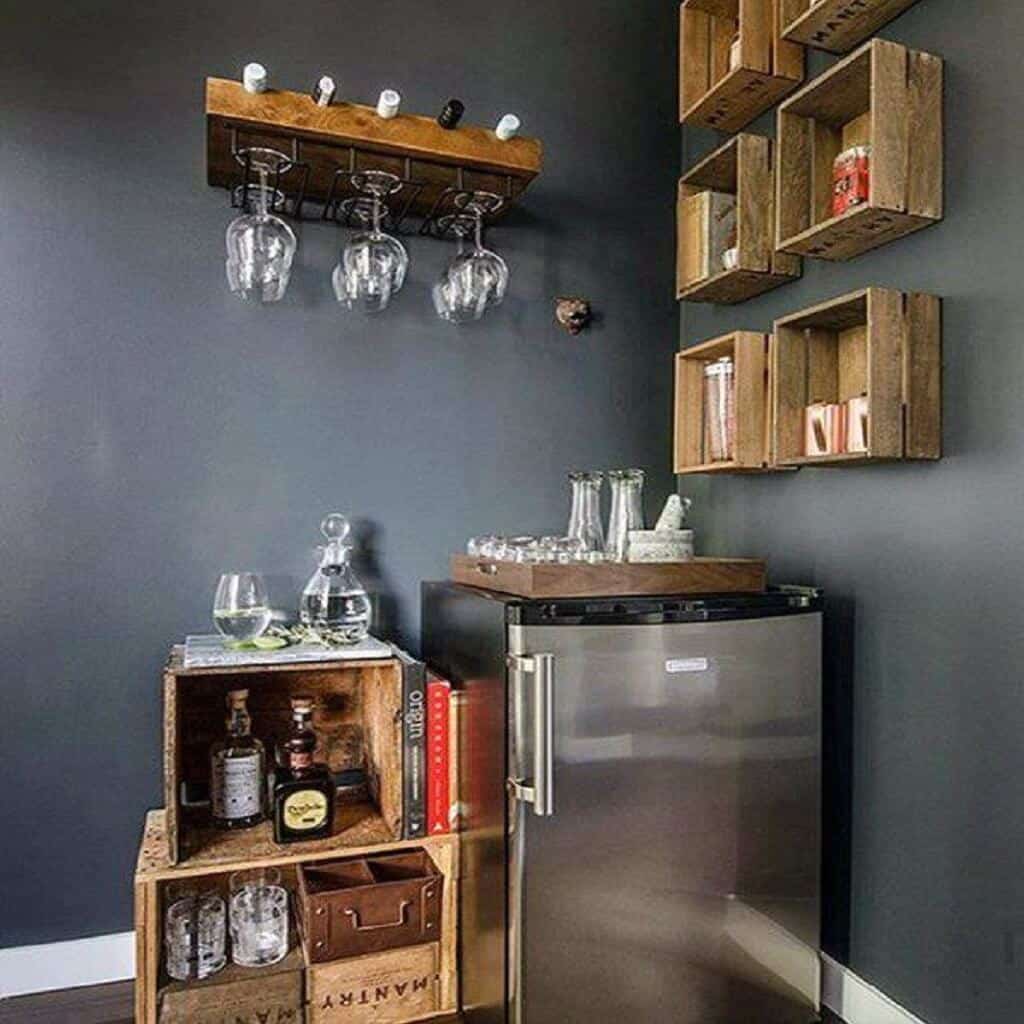 Image Source: Pinterest
When you're on a tight budget but still want a man cave, you may obtain the appearance you want without breaking the bank. The goal is to recycle old furniture and décor items while learning to perceive them in a new light.
Continue reading to learn about our creative and inexpensive ideas to equip your man cave:
Attach 5 to 6 cabinets to the wall with a wall hanger for your wine glassware.

Put a small fridge to cool your drinks.

Paint the wall in Ash or white color.

Buy a medium size Television to watch news and sports.

Add a mini couch with a small table.
7. Simple Garage Man Cave Ideas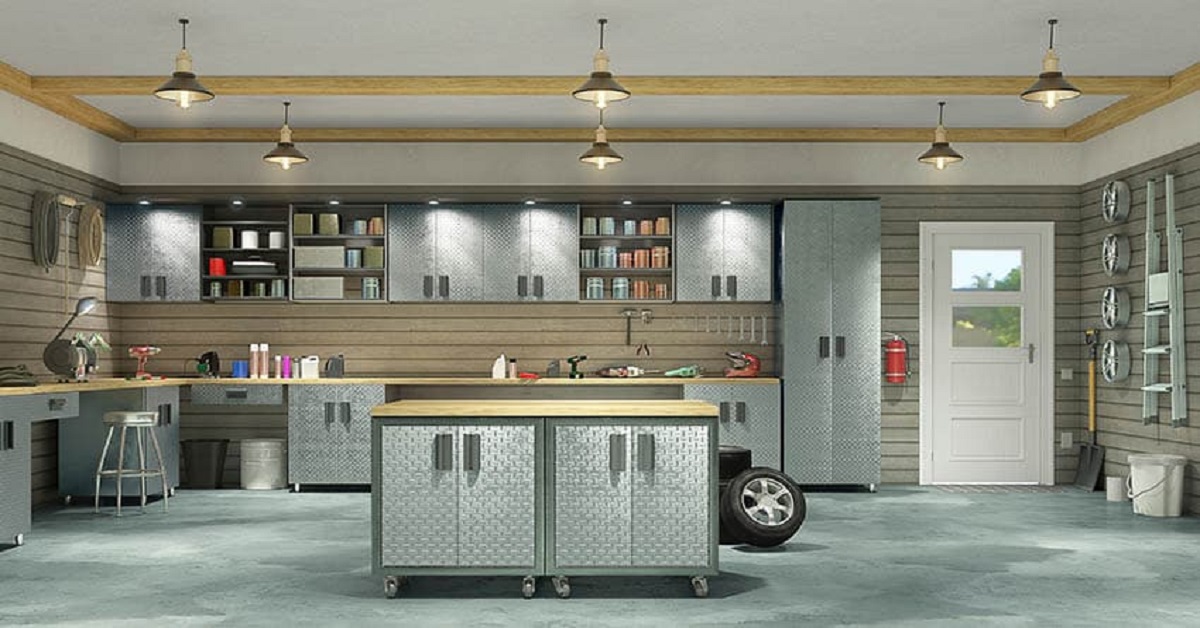 Image Source: Designing Idea
You can turn your garage into this piece of beauty. This simple yet classy design is the best fit for an oversized garage. It is another typical man cave shop idea that can be tweaked to taste.
To achieve this simple man cave design, follow through with this process:
Reconstruct your garage into a cinder wall.

Paint in Ash and light brown.

Insert a lot of cabinets on the wall and floor (Although wall cabinets are to store your wines and other kinds of stuff).

Place a central cupboard for storage.

Sconces and ceiling chain lighting are needed for bright illumination.
Explore more great man cave ideas if you take interest in it
8. Small Man Cave Bar Ideas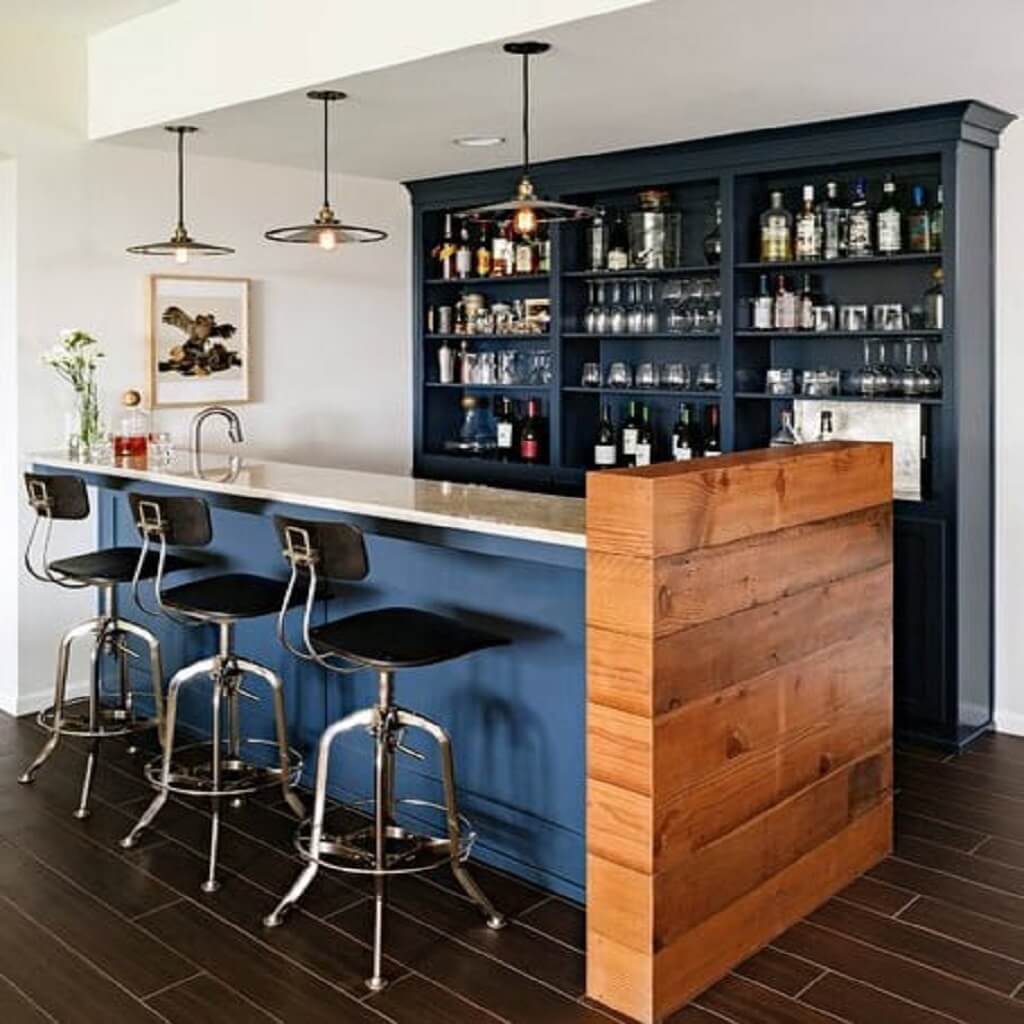 Image Source: Pinterest
You don't have to be a drunk or lover of wines, beers and rums, before setting up a bar in your Small man Oasis. Considering the limited space, you must be creative about installing this bar. It's a fun fact to know that your man's sanctuary isn't complete without a bar.
Check out how you can achieve a simple yet minimal bar design for your small man cave:
Buy a cabinet and paint it dove grey. It could be standing or floating; a cabinet is an excellent way to manage little space.

Build your bar top with a minimal design, as long as you have a space to lean on while enjoying your drink. 

Ergonomic rolling chairs could also be used instead of spending more on a fancy bar chair.

Add a flower vase as it has its therapeutic importance.
Explore more man cave rustic bar ideas if you take interest in it
9. Rustic Man Cave Ideas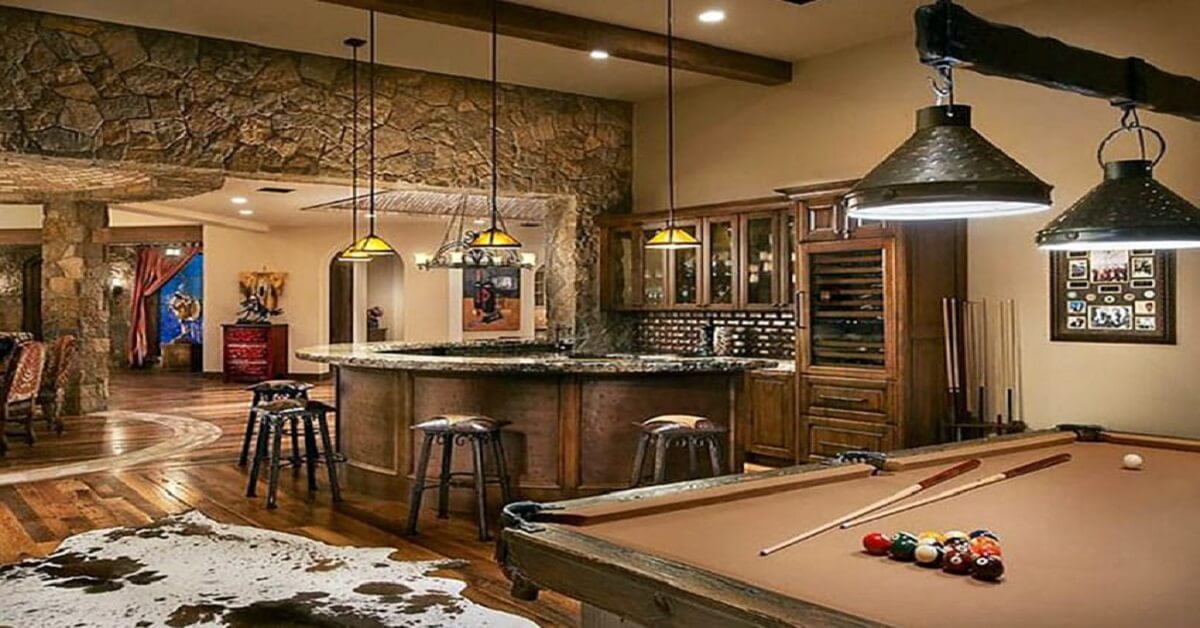 Image Source: BCulinary Lab
The combination of wood and leather is a distinguishing feature of the man cave. Wood and leather are used to make sofas, armchairs, tables, bookshelves, and many other objects with a rustic man cave vibe.
A leather couch, for example, exudes luxury. It communicates 'here is my chair, this is my room,' and takes on the appearance of a modern-day throne for the fortress that is your house.
You can, however, add;
A poker board or any other board game you love

Shelves for books and a man cave bar shelf for wine storage

A king-size chair for reading purposes

Vintage rugs made from animal skin to act as insulators
10. Man Cave Decor Ideas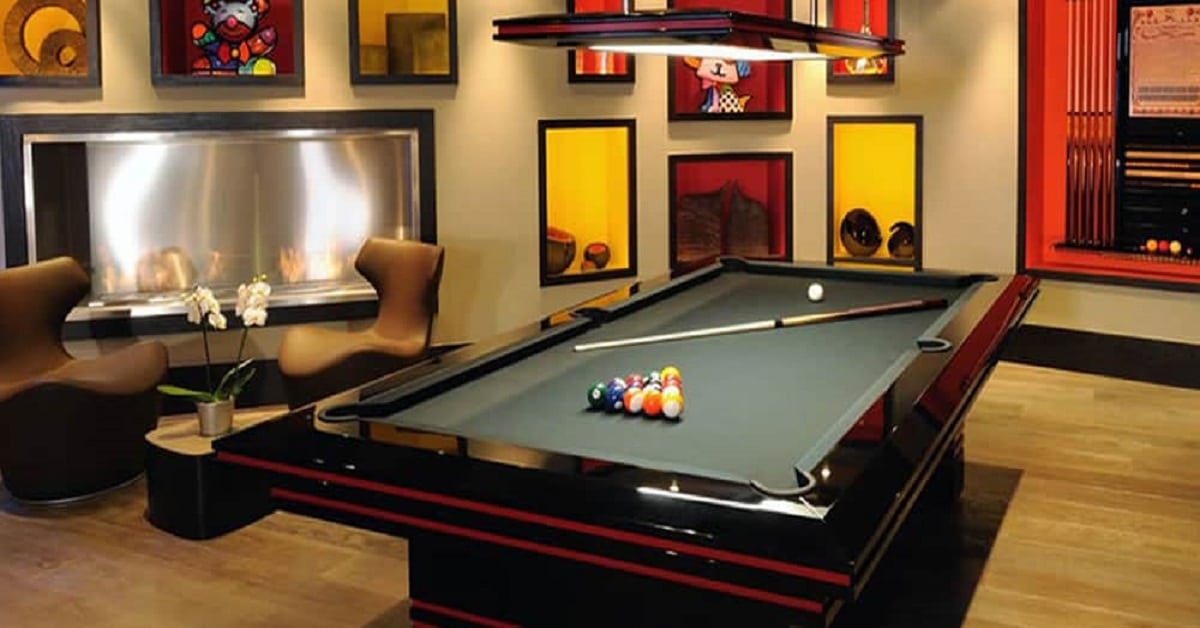 Image Source: Fashion Beans
Walls are one way to give a man cave personality. You may paint them a bright color, cover them with stone or wood, or embellish them with artwork, posters, or souvenirs. Textured walls, for example, provide earthy tones and give the area a rustic appearance. Man cave decors are quite exclusively to your budget and your taste.
Firstly choose your theme. It gives you direction.
Firstly choose your theme. It gives you direction. 

If you can afford wallpapers go for it, they provide a cozy feel.

Paintings and artworks should be hung on the wall to beautify the scene.

You can also use lights as a means to decorate the space.

In all, avoid a stuffy environment; you won't like to get choked while having your alone time.
11. Man Cave Room Ideas
Image source: The Spruce
A private room can be converted into a man cave to provide the perfect place to relax, hide away from the world, and enjoy a drink. Depending on the room's size, you can repurpose the space to serve as a man cave.
Although the budget is a significant factor, it is practically easy to achieve. Follow this:
Repaint the room with your favorite color.

Add more lighting, wall sconces or hanging light.

Buy a comfy long leather chair with enough pillows.

Add a beautifully designed center table with ceramic top.

Install cabinets to store your antiques and ample space for Television and sound systems

Flooring should be

PVC or vinyl.

You can choose to bring a poker table if you wish.
12. Man Cave Office Ideas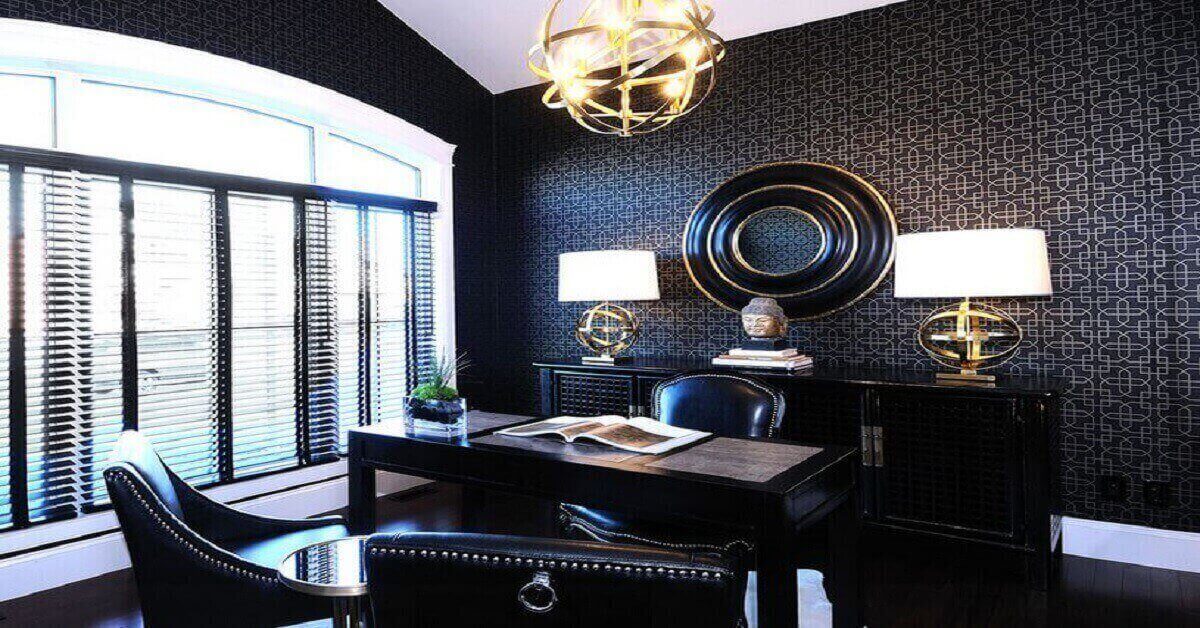 Image Source: Sonorospace
Sometimes we love having our unfinished office work done at home or as freelancers. As well as the increasing demand for "work from home" due to the pandemic, the Man cave office is an excellent place to go without your laptop office wares. Textured or patterned wallpaper to start with gives the room an intense yet refined feel. You can, however, make the walls dark with a few golden highlights.
To achieve this classy design, follow the steps:
Design the wall of your small man cave with a textured patterned blue wallpaper.

Insert a cabinet with a desk lamp and good but classy artefacts to beautify the space.

Add a small side table with leather chairs.

Put a natural water grass in a transparent glass. 

Bring Galaxy lamp holders and Glassy window with blinds for massive illuminations.
13. Cool Man Cave Ideas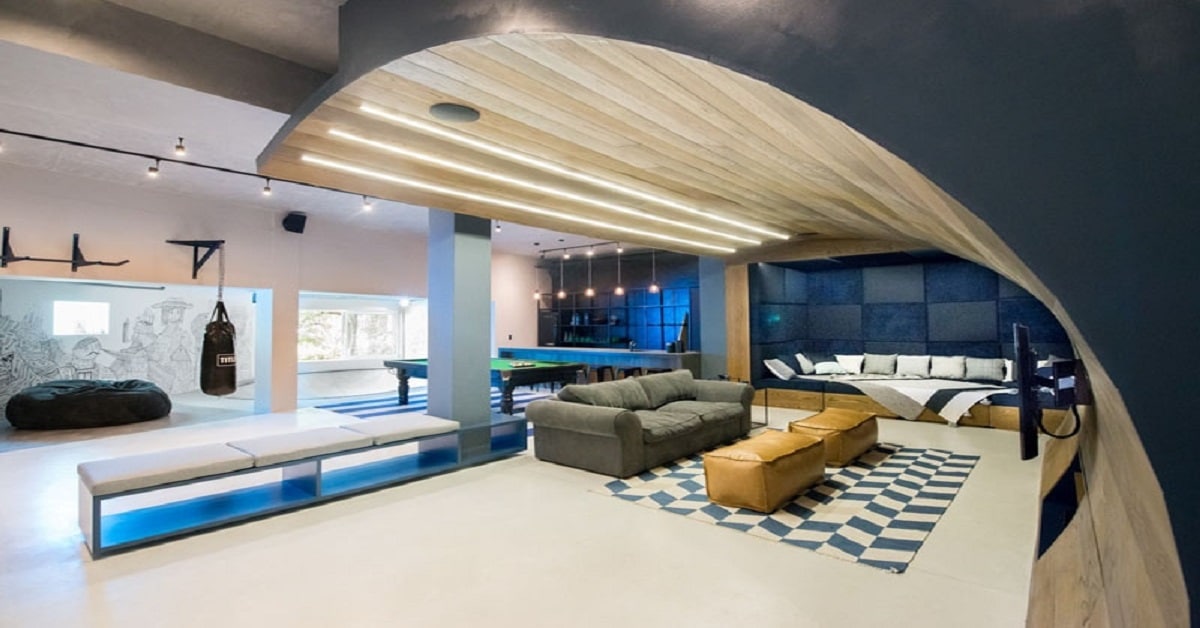 Image Source: Pinterest
Cool is classy and welcoming, with an atmosphere devoid of tension. If you like to have a beachy scenic view in your man cave, the choice is yours to make with this stunning idea. There is no limit to how far you can go about this; follow the rhythmic cool and less tempered design.
It gives a calm inference that may help relax our brain after much stress.

You may add a swimming pool to this design if you can afford one.

A long and soft couch makes much sense in this setting.

Aquatic blue is the theme color; stay creative with it.

While fluorescent lamps are the usual lighting, except you find another better option.
14. Man Cave Gift Ideas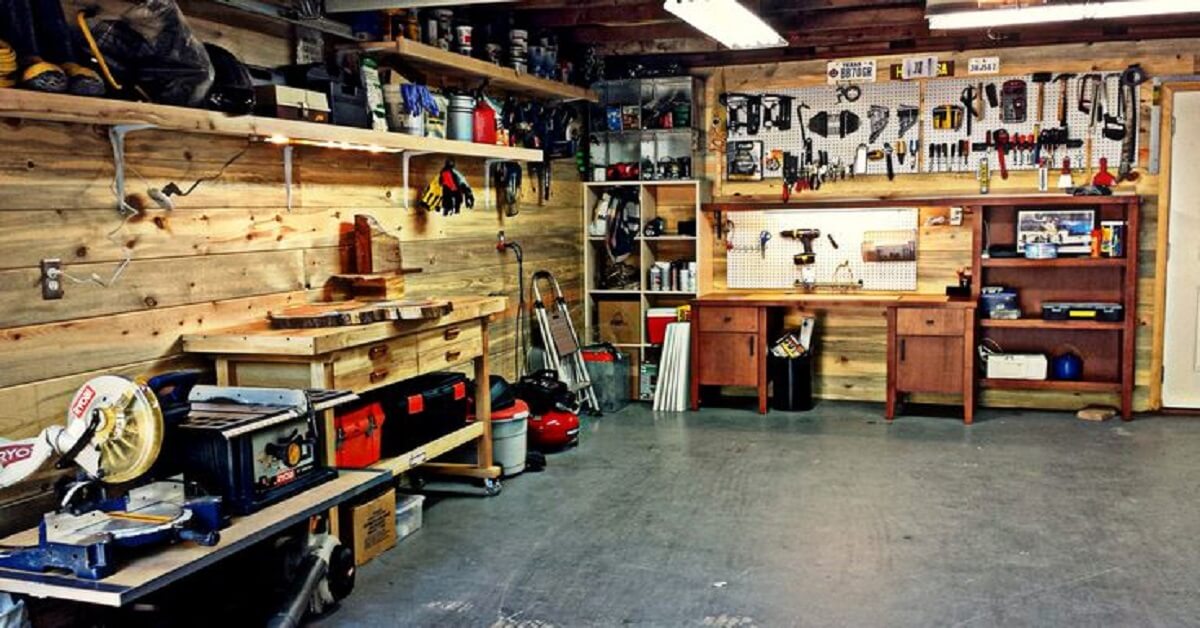 Image Source: Rug seller blog
Generally, getting gifts for men can be an arduous task. We all want to celebrate our dad on Fathers' day, husbands, brothers and uncles. Knowing their preference and likes who give headstarts, you can head to any store and pick some gift they can preserve in their man cave for years.
Here is a list of famous man cave gifts to appeal to your favorite men:
Home theater seaters with led lights

Liquor and wine dispensary

Sports wallpapers of their favorite teams or players with a customized jersey

Vintage-styled Globe 

Unique silky carpet woven rug

Pool table, chess board etc
15. Man Cave Wall Ideas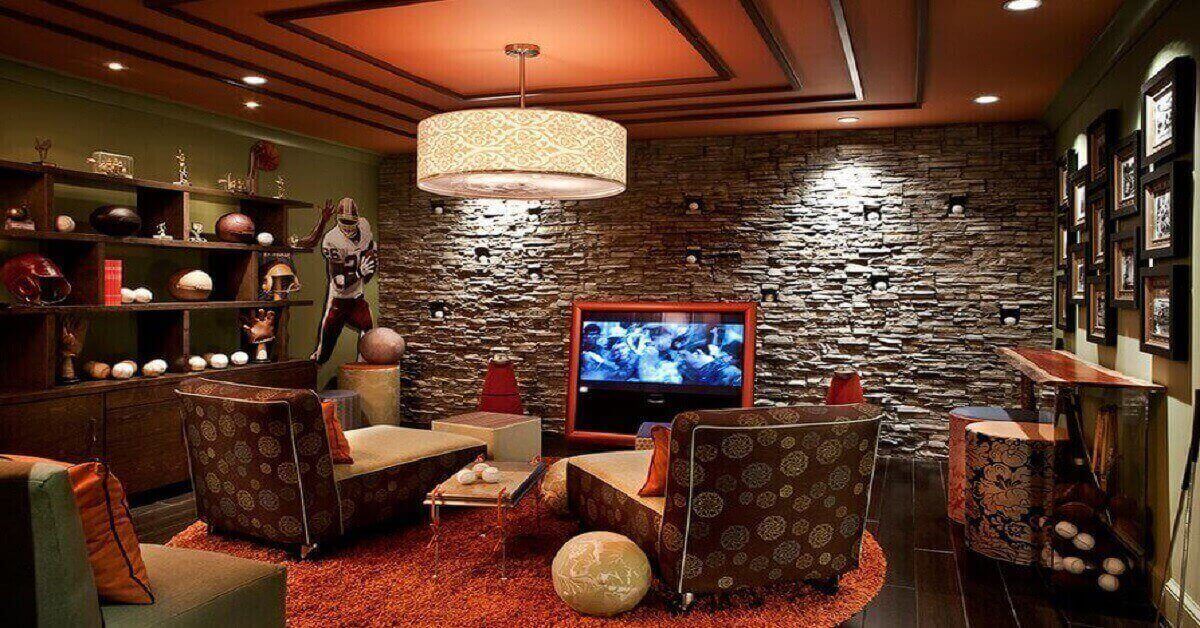 Image Source: Homedit
If you want to keep things basic, choose strong materials like wood and stone to give the space a masculine feel. For a professional appearance, neutral hues are also advised. The textured wall in this example makes the room look more inviting. You can, however, pull up wall designs that speak to you. Make sure safety measures are taken during construction to avoid collapse.
The options aren't limited to these :
Cool-toned Camo

Wood-clad wall

Large art wall

Futuristic feel

Youthful eclectics

Lined bricks 

Smooth Pop wall

Play around with neutral colors like white, gray, brown and its shades while painting.
16. Man Cave Shed Interior Ideas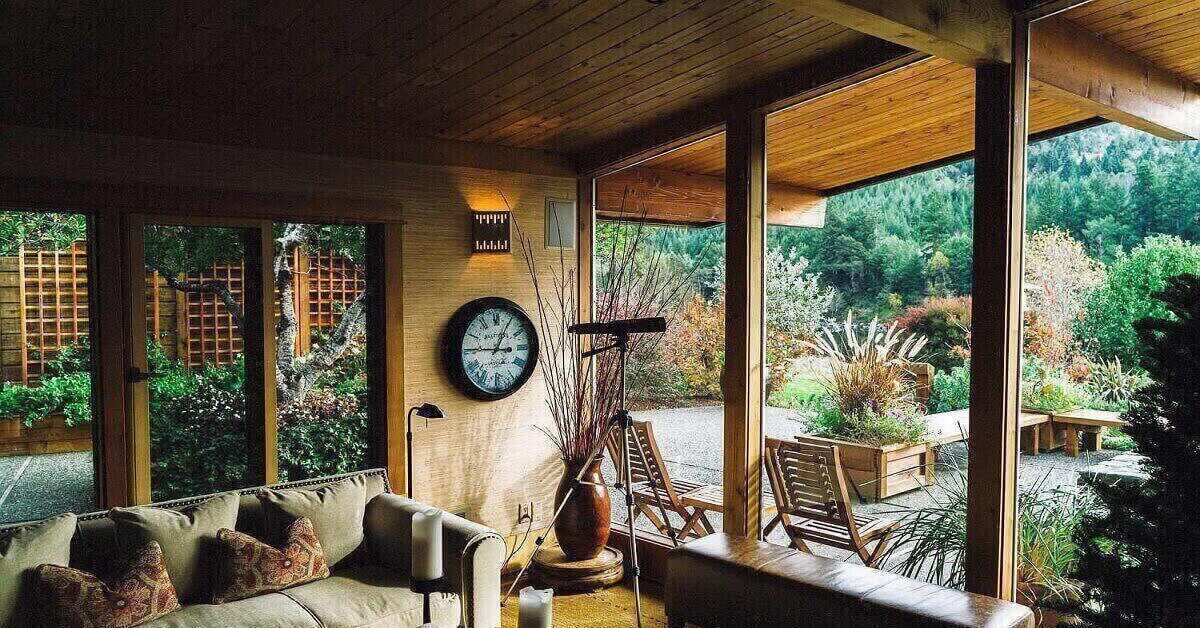 Image Source: American Gun Association
Healthier and aesthetically pleasing man cave sheds are a product of good interior designs. Interiors comprise everything in the shed, including your chairs, tables and how they are arranged. You are allowed to style your man sanctuary shed in your personalized way. You might need to involve an expert, from wall to ceiling arrangements.
To achieve a classy interior design in your man cave, follow these rules:
Balance:

Create visual harmony by allowing even distribution of all the elements.

Unity:

Uniformity is critical. Your colors shouldn't contrast each other.

Rhythm:

use the same colors at the interval. It makes the brain track activities easily.

Emphasis:

There should be a focal point in your shed.

Contrast:

this can be done carefully by combining different colors.

Scale and proportions:

Sizes of the object should relate to each.

Details: Little things must not be overlooked.
17. Man Cave Lighting Ideas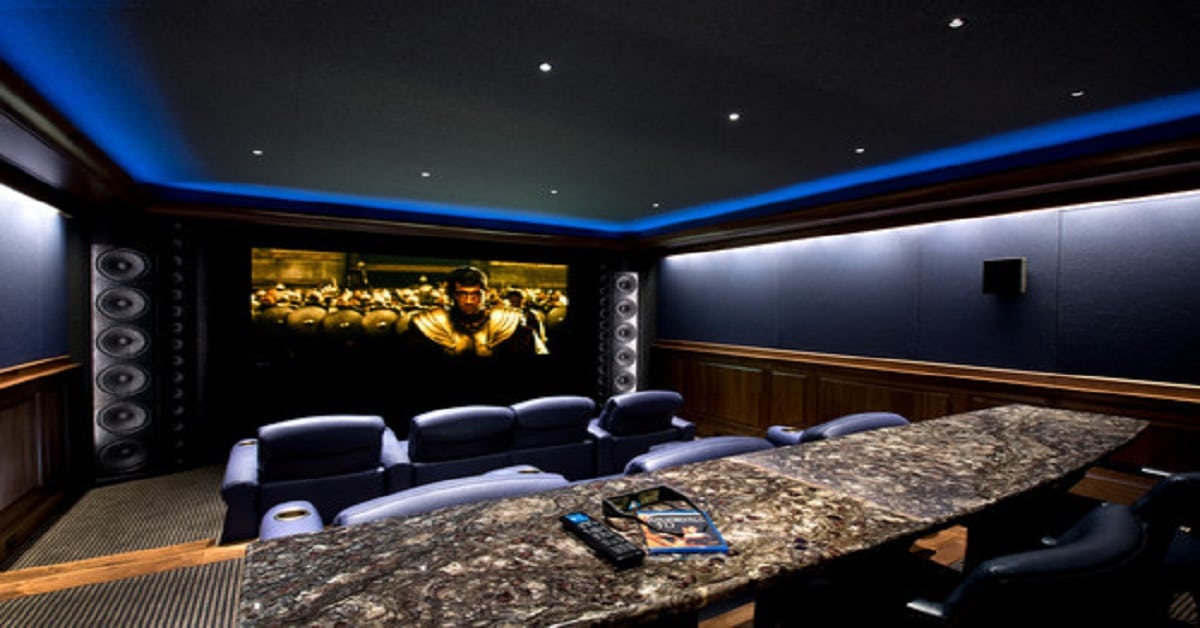 Image Source: Take three lightning
Man caves are dedicated man spaces commonly used to display sports memorabilia and other collections, watch sports and movies on large-screen TVs, and hold game nights with the men.
However, just because it's termed a man cave doesn't imply it must be completely dark.
Strategically placed lighting can truly bring a man cave to life. Specifically, basements need enough illumination; as such, you must have enough budget for this.
There are several lightning approaches; start by assessing yourself if you are not photosensitive.

Led lights are recently the most common lightning experience in a man's cave.

Hanging bulbs, screwed bulbs, wall sconces and reflective colored lights are trendy, among others.
18. Garden Man Cave Ideas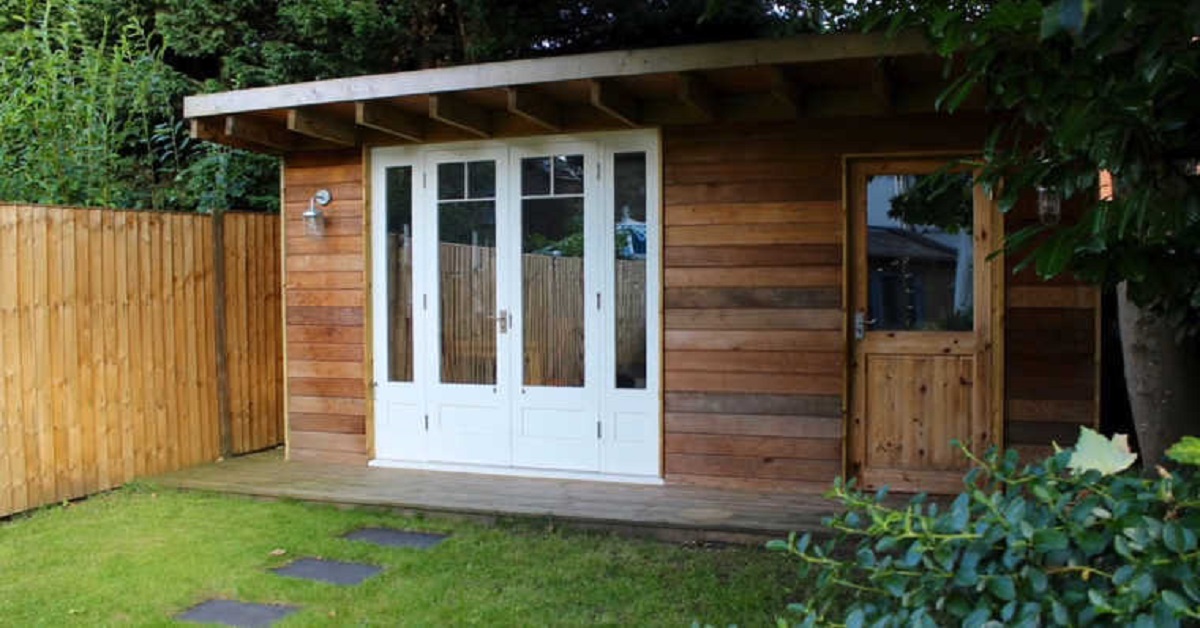 Image Source: Garden Patch
Where better to unwind than in the garden, far away from the house? The basic shed may be swiftly transformed into a quiet, pleasant room for working, performing hobbies, or simply relaxing for a while. You don't need to break your bank to achieve this kind of garden man cave. All you need to do is upgrade once you have enough cash as time goes by.
There are numerous designs to pick from. It all depends on your budget:
Furnished and proper woods can be used for this build-up.

The interior and exterior design should be done according to your preference.

A garden chair that is carried around.

Carpet grass, to give the environment a garden feel.

There must be electricity to power refrigerators and Television as well as lighting bulbs.
19. Gaming Man Cave Ideas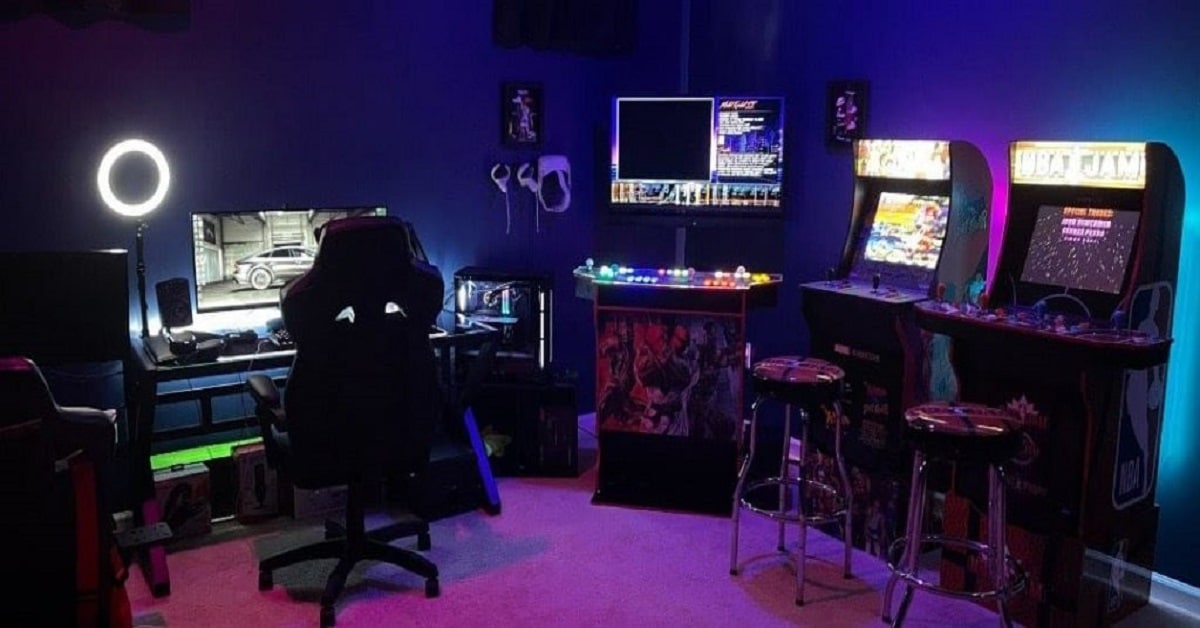 Image Source: Sonorospace
If you leave anything else out, a man cave needs entertainment. The trick to getting it perfect for you is to choose one or two of your favorite entertainment platforms (GTA, PES etc.), while keeping in mind that you probably won't be able to fit an entire billiards table and two full-size arcade games in your man cave.
Begin with one game and construct your man cave around it.

Your "game" might effectively become the theme of your room. 

Let's imagine poker is your favorite game, and it becomes the main attraction in your game room.

 Place the poker table and chairs out to the side of the room.
20. Outdoor Man Cave Ideas
Image Source: Man cave Knowhow
A lack of indoor space does not mean you should abandon your man cave fantasies completely. Instead of thinking inside the box, consider thinking outside of it! Go outside and construct your man cave there. Outdoors man caves are the best choice for summer.
Follow these steps to create a stunning outdoor man cave:
The floor should be interlocked.

Flowers in the vase should be kept in place.

Choices of chairs vary from iron to small couching chairs.

You can use a broad and robust umbrella as shades.

A cinematic television can add to the beauty.

Overall, make sure you have lights all over the place.
21. Man Cave Shop Ideas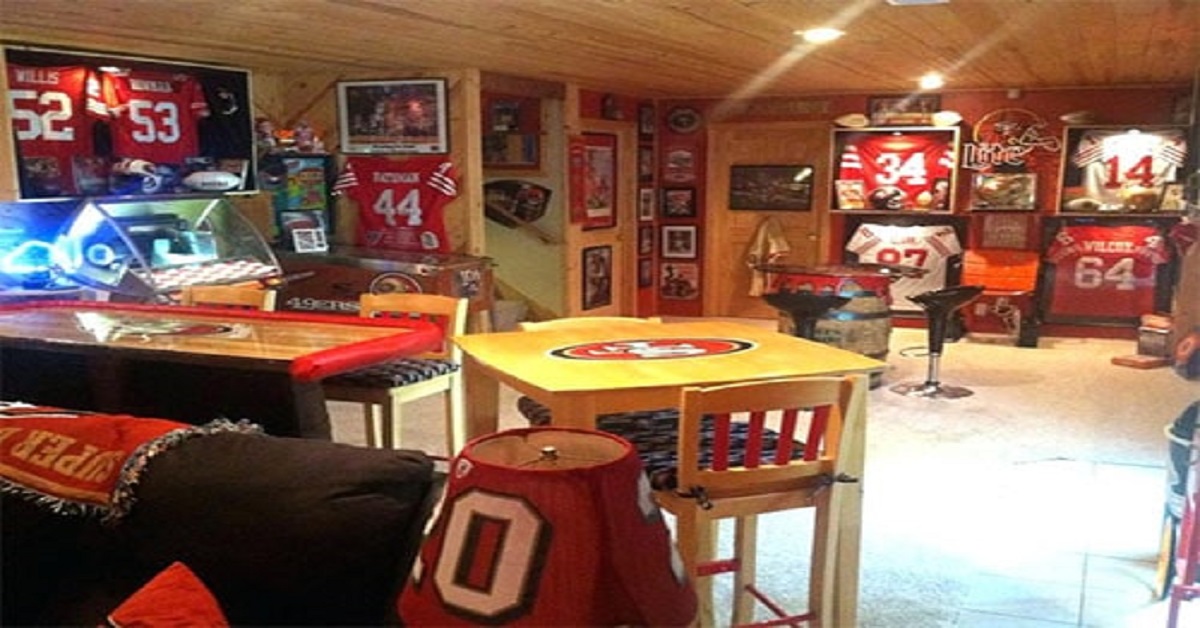 Image Source: TrueMan cave
It is challenging to locate man cave products. Unfortunately, there isn't a single store where you can find everything you need. Sports fans must seek out specialty stores, nerds must seek out a local comic shop, and choosing furniture without a plan necessitates visiting far too many locations. It's wise to have your list based on the theme you desire to build.
What are your options? Of course, learn where to get man cave things ahead of time! 

Shortening your selection of potential destinations expedites the purchasing process. 

Going to essential destinations first reduces the number of journeys required.
Conclusion
As opposed to the lair, masculinity is what defines Man Cave. Home spaces like garage, basement, and shed are the best locations for this set-up. It is not just enough to have a set-up; crucial measures must be taken to achieve the purpose.
Man cave sheds often are based on your budget; know what you want so as not to run out of interest while on it—still finding it hard on how to go about other set-up or decor in your home? 
For more amazing ideas you can have, visit Guy About Home today or you can check the related blogs: