Having an exquisite balcony isn't alone; the door that leads you to this space should also have a great look. Get the best and unique balcony door designs for your home space!
The balcony is that one home space dedicated to being tranquil and peaceful, an area where you can meditate, get some fresh air, or even practice yoga. Whatever the view from your balcony, you may transform it into a cozy refuge for lounging, a reading area, a romantic supper spot, or whatever else you imagine.
Thank you for reading this post, don't forget to the best blogger Guy About Home who offers the best garden and home improvement tips! If you are a home decor and design fan, don't miss the tips on home ideas. If you are a home garden owner, then you might be interest in our complete guides to house plants!
Everyone desires a home with a lovely outside space and a breathtaking view—a relaxing spot to unwind after a long day, perhaps with a bottle of wine. To complement this beautiful outlook, exquisite balcony door designs spice your space. Visit repair and maintenance for more inspiration!
Table of Contents
Balcony Glass Door Design

Balcony Sliding Door Design

Balcony Safety Door Design

Balcony Wooden Door Design

Bedroom Balcony Door Design

Balcony Door and Window Design

French Door Design for Balcony

Balcony Door Grill Design

Small Balcony Door Ideas

Living Room Balcony Door Design

Modern Balcony Door Design

Hall Balcony Door Design

Iron Door Design for Balcony

Front Balcony Door Design

Steel Door Design for Balcony

Grill Design for Balcony Door

Standard Balcony Door Size




Best Balcony Doors




Conclusion
Balcony Glass Door Design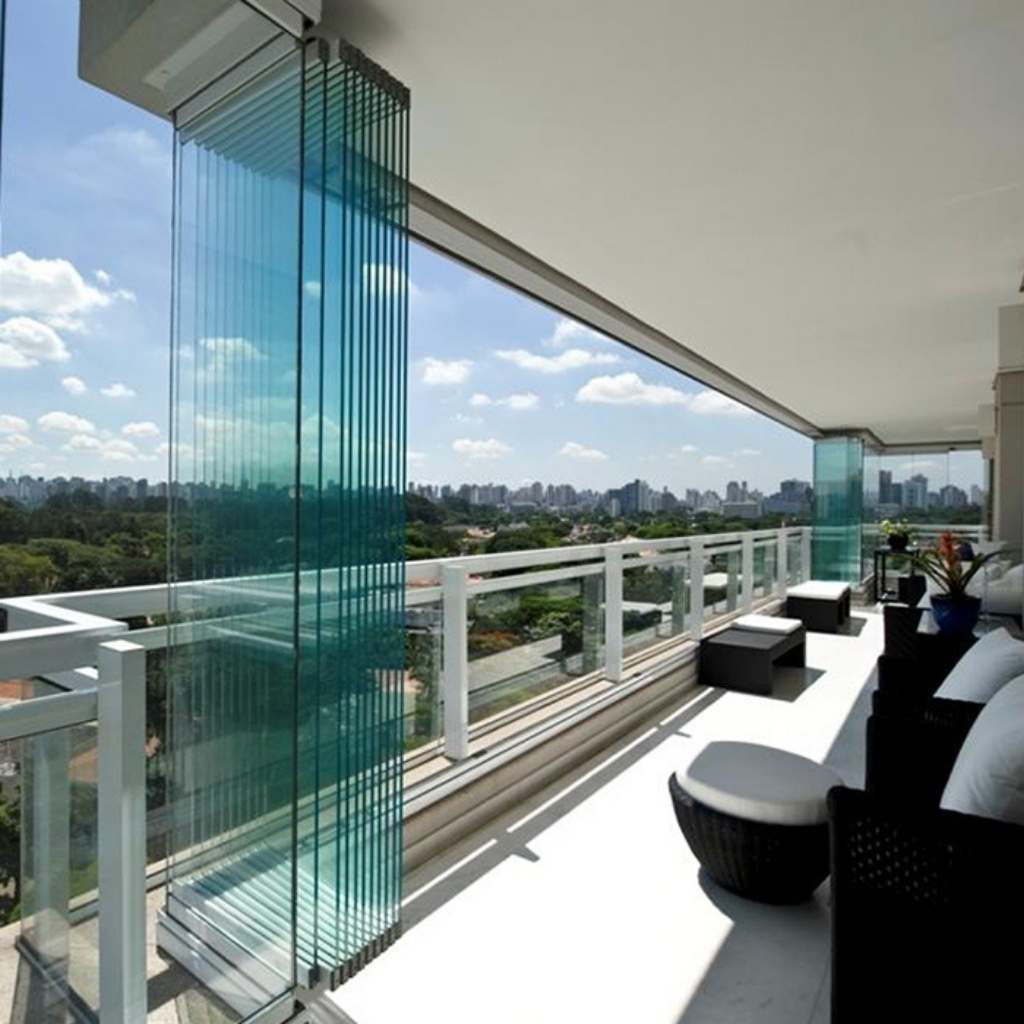 Image source: Pinterest
The balcony glass door is a unique one. Outside, this is a seamless set up, keeping the room ventilated. This balcony door is designed in curves which make the door easy to open and close, giving it an impressive look. Its design is a complete intermediary between the inside and out; some are remotely controlled.
Choose glass doors designs that are:
Foldable and made from thick glass
Strong textured glass, uneasy to break
See through only from inside
It may reflect green or blue depending on the angle of the light ray.
Balcony Sliding Door Design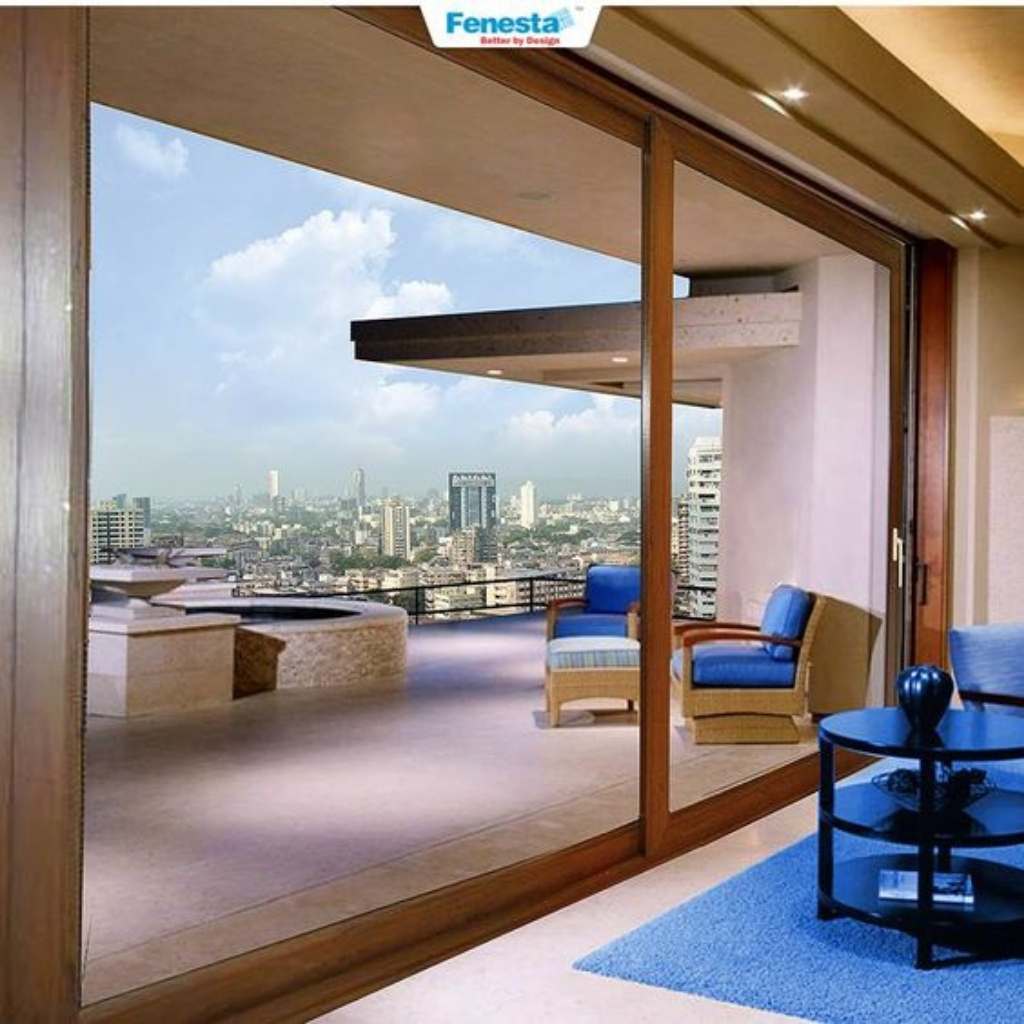 Image source: Fenesta
For most homeowners, installing the sliding door for their balcony gives easy Fenesta access to the view they desire without much hassle. This is because they are functional and have such an incredible ambience. The custom designs give more alternatives for homeowners to choose from, fitting both traditional and modern styles.
A typical balcony sliding door must have:
Baked coloured brass frame
With transparent glass fitting
A sliding wheel is installed for durability
Rubbers fittings to cushion effects
Some of the glasses are made from pyrex with a modern tech of reflective view from the outside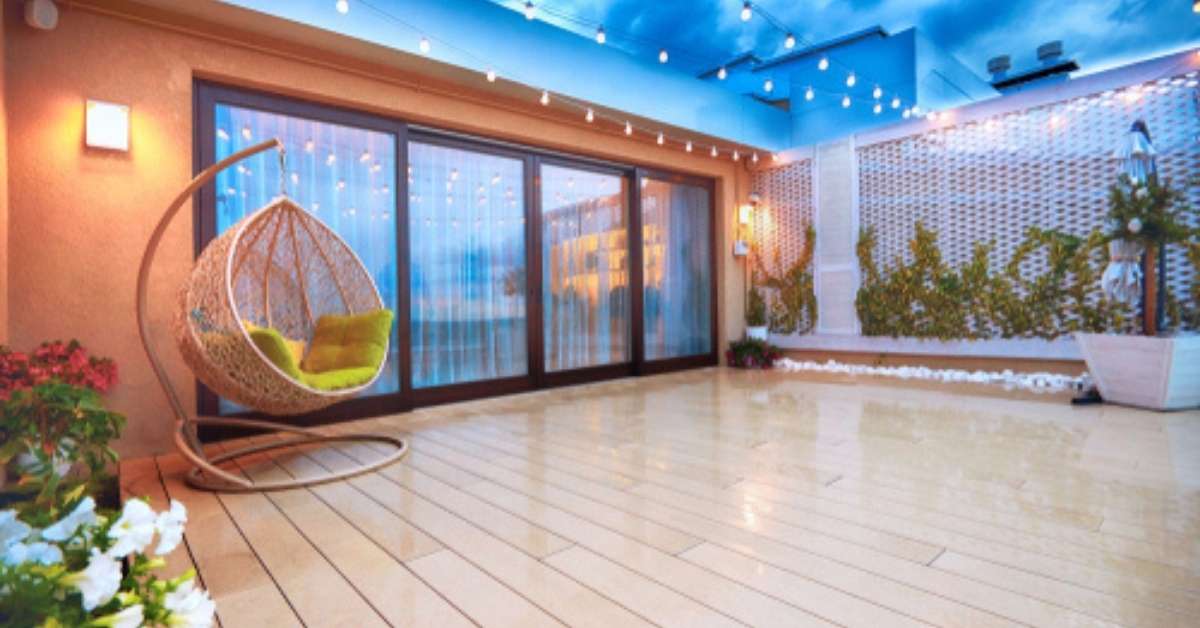 Image source: Magic Bricks
The balcony sliding door design enables a smooth feel while sliding. Asides from this, it gives sunlight for you to stay healthy. The look is modern and gives your friends and family an impression that you've spent a fortune to get it.
Install this sliding door to achieve that design:
Transparent and light reflective
Made with Painted Dark brown Aluminum frames (This frame doesn't rust)
It is somewhat difficult to see what's inside with this modern glass design
Depending on the size of your balcony wall, this should be installed according to the proportionate size.
Balcony Safety Door Design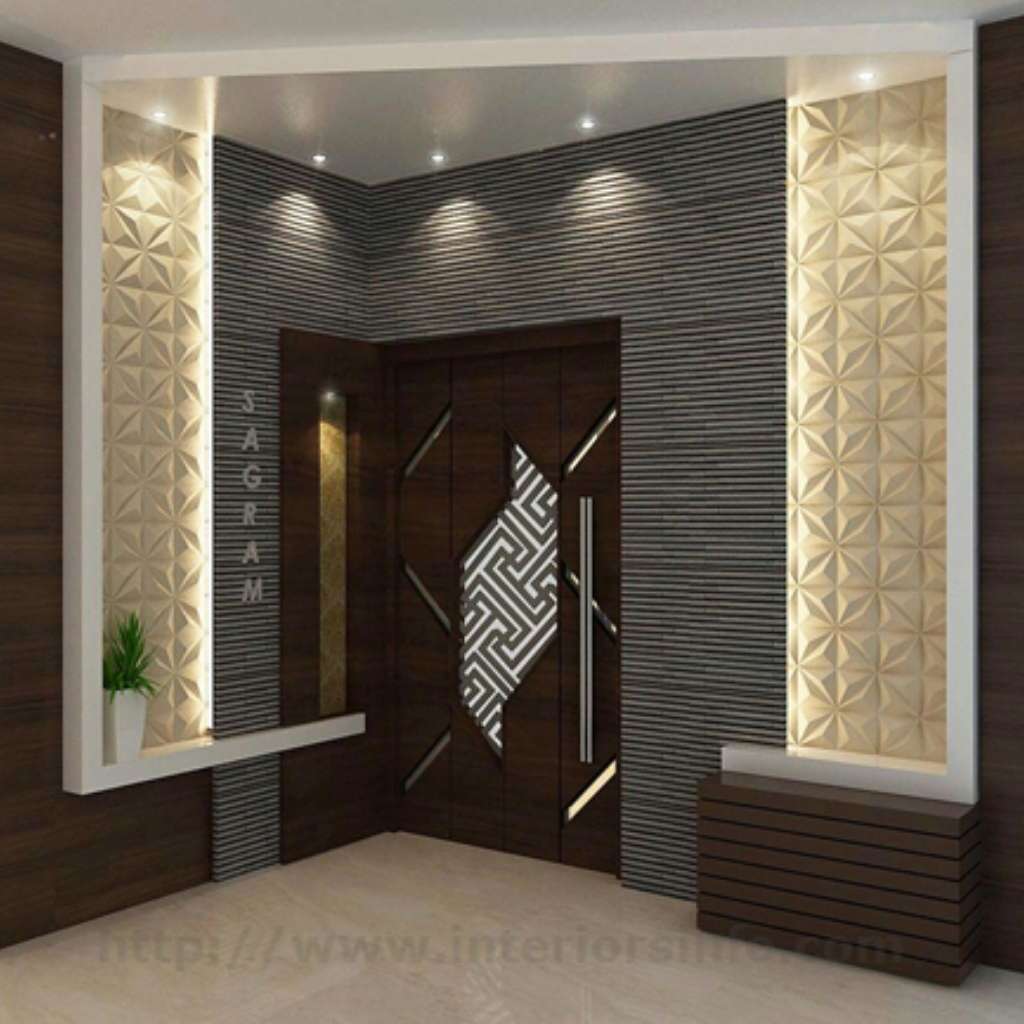 Image source: Interior Info
Balcony safety doors can help protect your house from theft and robbery. The investment in safety doors is such that it is worthwhile. Bring an aesthetic visual appeal to your home and create an atmosphere of comfort and security as well. Aside from protecting our homes from intruders, they can also offer some level of privacy.
Balcony door designs should have a:
Strong metallic door with white custom designs
Double panel door with and utility door knob
Painted to blend with the wall
With security holes on the side to view exterior
Safety doors are often designed to shut intruders and are not easily broken except with heavy machines and dynamites.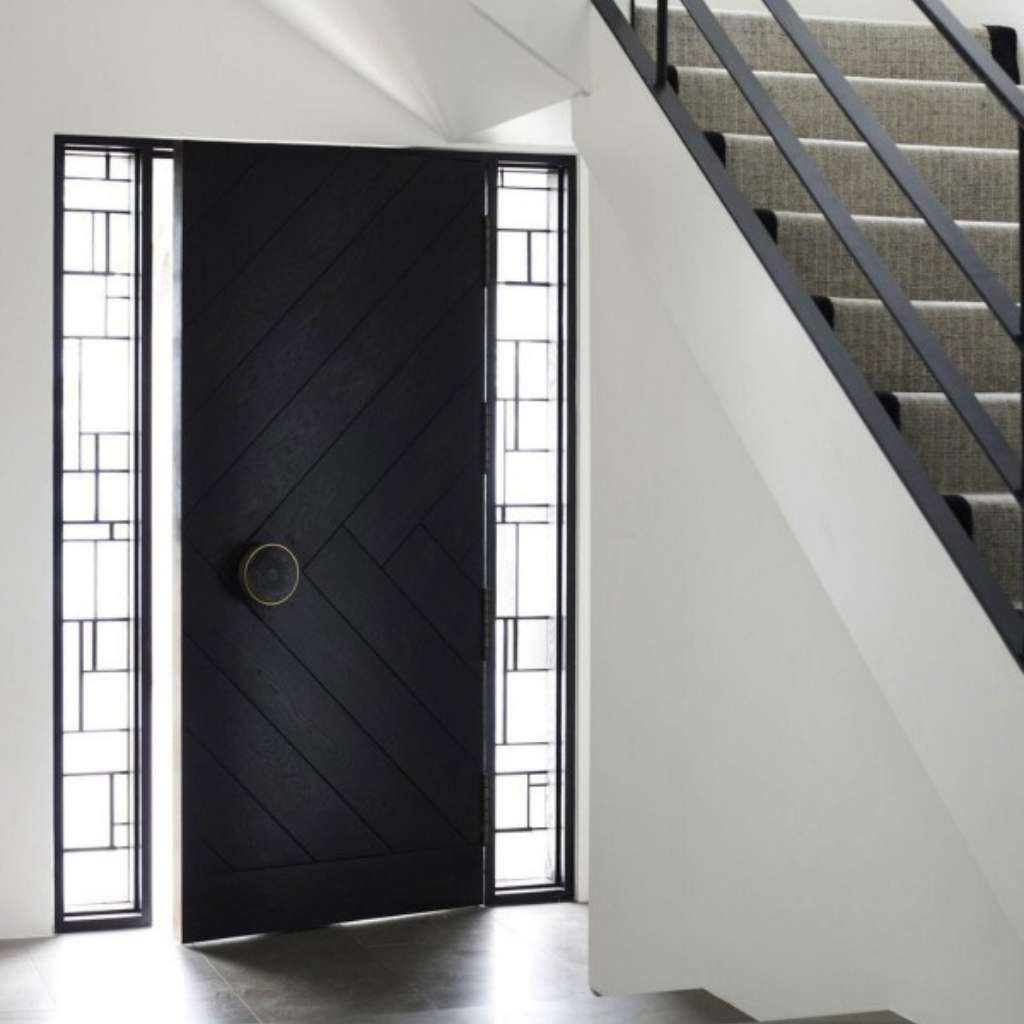 Image source: Home Designing
In every home setting, when fixing any vital element, safety is of topmost priority; hence balcony doors are not left behind as they also grant access to the main building. Sideways herringbone patterns aren't standard on balcony doors, making this one stand out even more. Sidelights inspired by the golden ratio add to the creative aspects at play.
To achieve this safety door design exclusive to your balcony:
Make a sideway patterned design
Paint with fixed glass in a metal frame
Have a unique door knob serving the purpose of a lock
This unique design is heavily guarded and can come even in armored style.
Balcony Wooden Door Design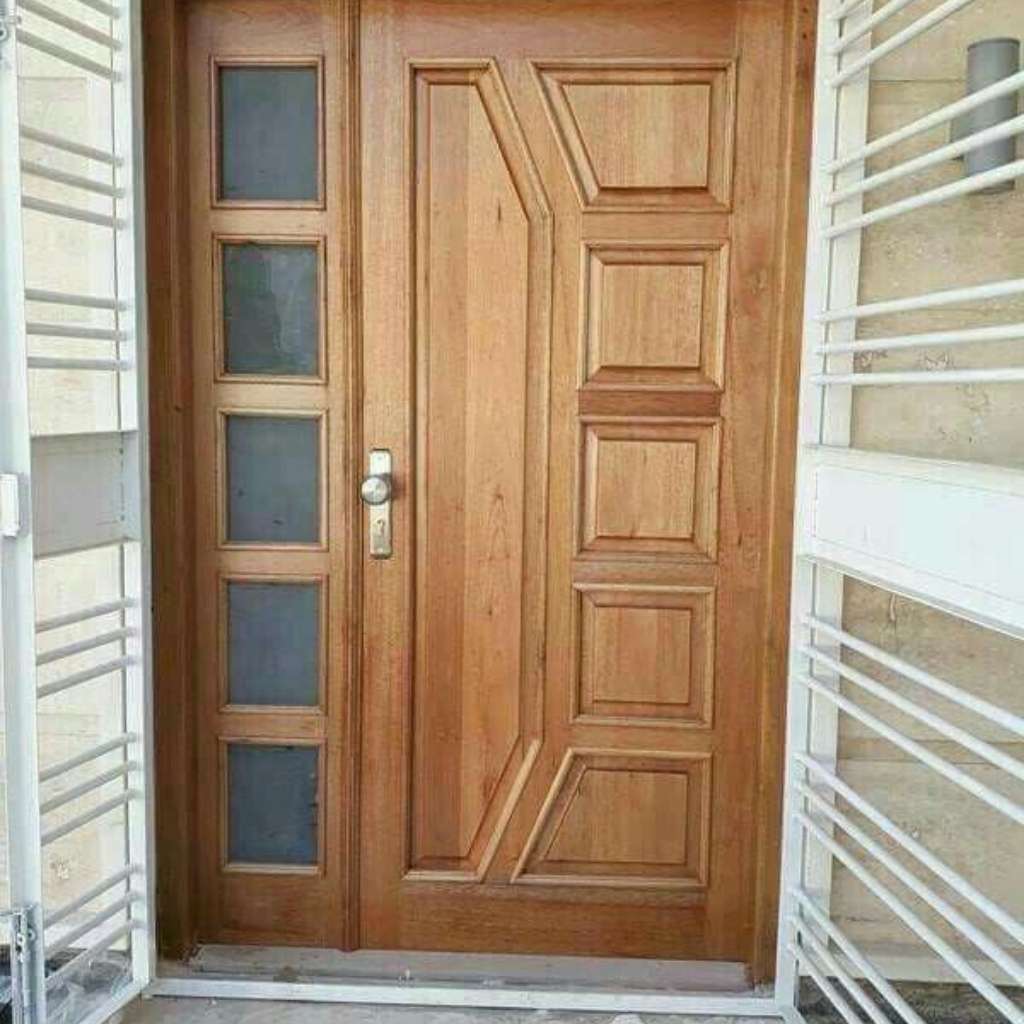 Image source: Pinterest
The balcony wooden door design happens to be the delight of many households over the years. They are still used by some homes who find them fitting to their budget and style. Usually, it's an option because it is budget-friendly. The types of woods used in creating door designs include White-oak, Fir, Pine, Oak, Ceder, Opler, Cherry, and a host of others.
Install this wooden design as it is:
A bit different from the regular room doors
Have varying experience to view exterior
Have a more security-tight keyhole
Several wooden methods are usually combined to create this beautiful piece
Bedroom Balcony Door Design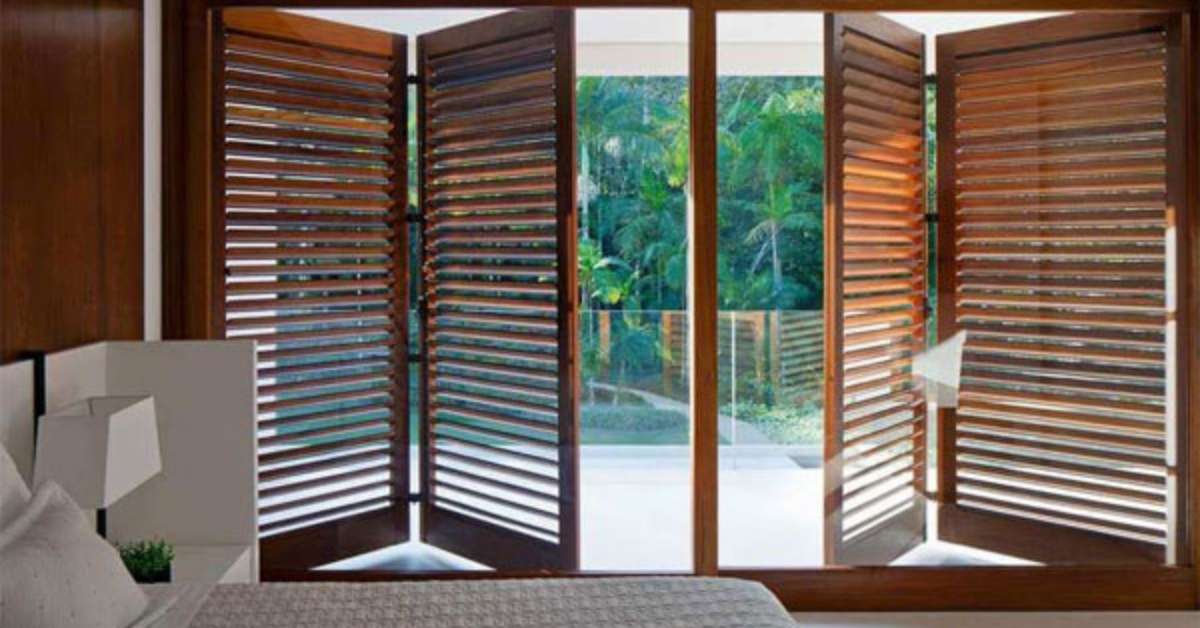 Image source: Interior Info
The boudoir is a spot where you may enjoy the view without leaving your bed. If you've ever lived in a house with a great view from the bedroom, you'd understand the peace of waking up to a beautiful view. A great transition between the bedroom and balcony, it permits aeration which is good for asthmatic individuals.
These particular door designs are best for ocean or seaside lodges.
Bifold balcony door
Brown shutter color
Sizeable wooden frame with a wide opening
If you are lucky to have your balcony around a hill, seaside or forest, these woody bedroom balcony doors would not just give you wake-up to the view you desire, but guarantee security.
Balcony Door and Window Design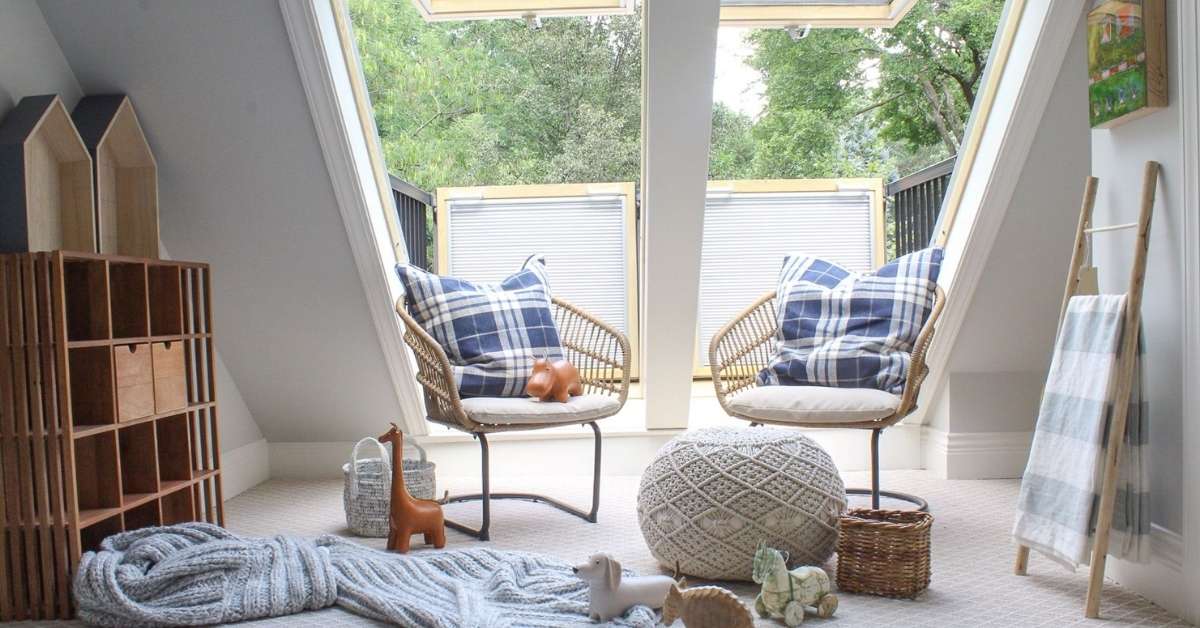 Image source: Magic Bricks
Your balcony may do more than improve the beauty of your home; it can also improve your quality of life. Small Juliet balconies or large walk-out balconies would both require windows and doors. There are several door-window convertibles to give incredible natural light to your home.
Opt for these type of designs because they are:
Slanted 45 degrees doors styled in the form of a window
Aluminum frames
Clear transparent glass
Concrete partition for the double walk-in
Velux Aluminum frame painted  to blend with the wall
If closed, you might find it hard to know that there is door access with this unique design.
French Door Design for Balcony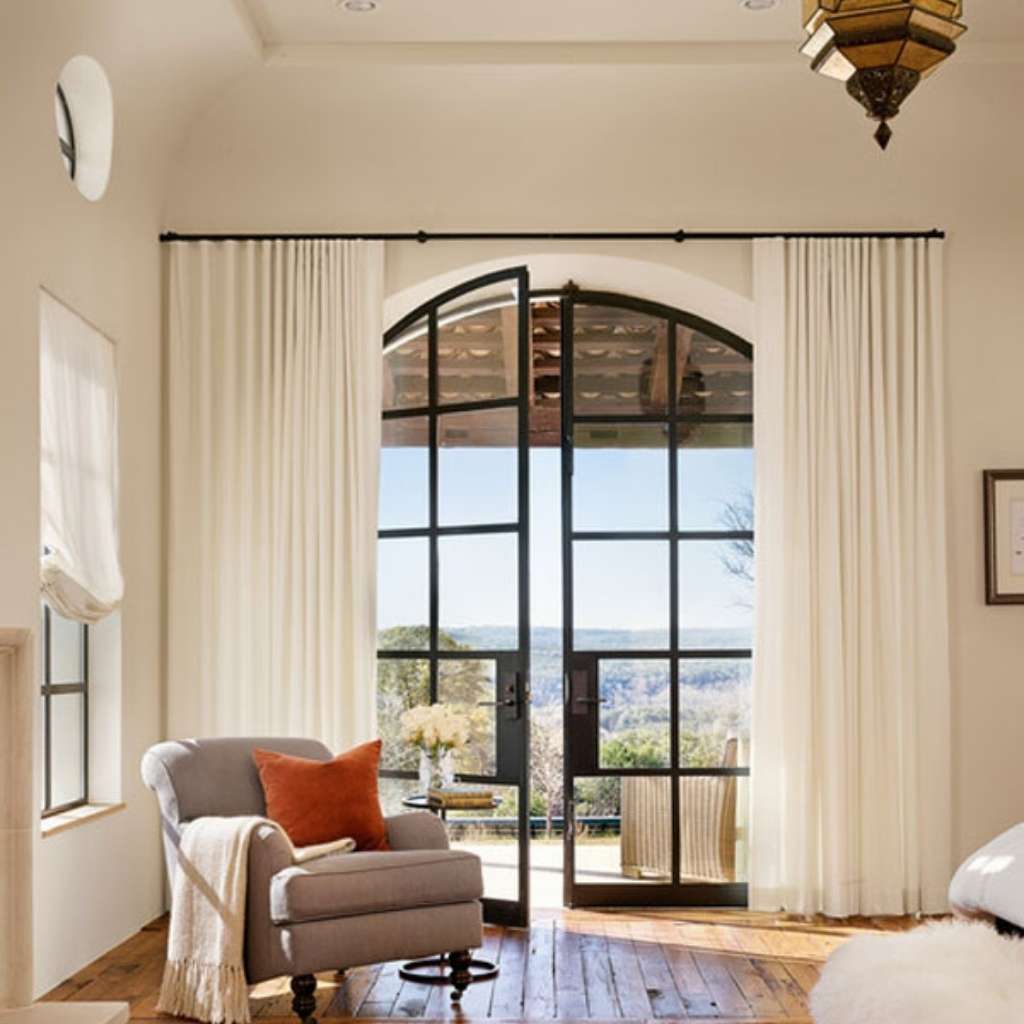 Image source: Pinterest
French doors add a unique vibe to the balcony door design. Usually, these doors give a great passage into the balcony with their unique arched-styled designs. You can always choose your preference depending on the available space. Moreover, French door design allows less light penetration compared to a glass sliding door. This could also come in various colors as it fits your balcony.
Achieve this design through the following:
Get an arched frame door design
Steel frame glass door with padded rubber fittings
Door handle door knobs with graded locks
Painted in black to contrast the wall color and possibly match with the balcony frame
Balcony Door Grill Design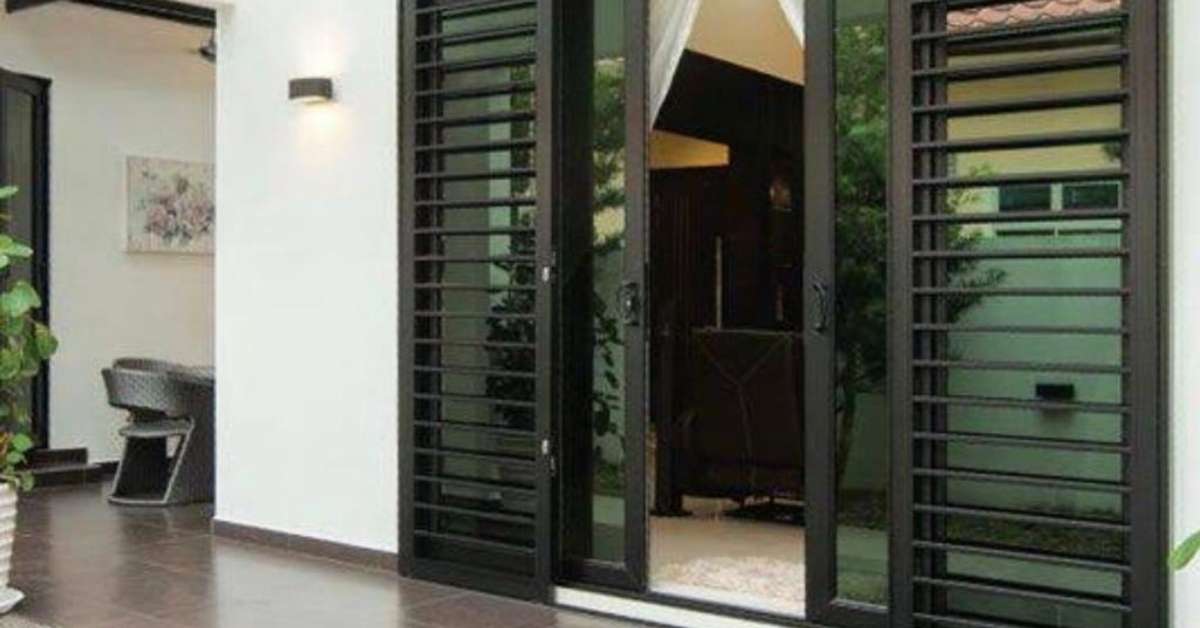 Image source: Pinterest
Depending on the size of your home, there are several balcony door grill designs you can explore. You can choose either the traditional or modern balcony grill designs. Grills is a perfect choice if you have security concerns for security.
Here are some balcony door designs you may want to consider:
Basic iron grills
Full coverage grills
Colored grills
Floral patterns with grills
Black and gold designs
Heavily designed grills
As seen in the image above, incorporate these ideas too:
The sectioned iron door behind a glass
Sliding door with a strong lock
Partitioned to allow aeration
Painted in black to match the whitish wall color.
Small Balcony Door Ideas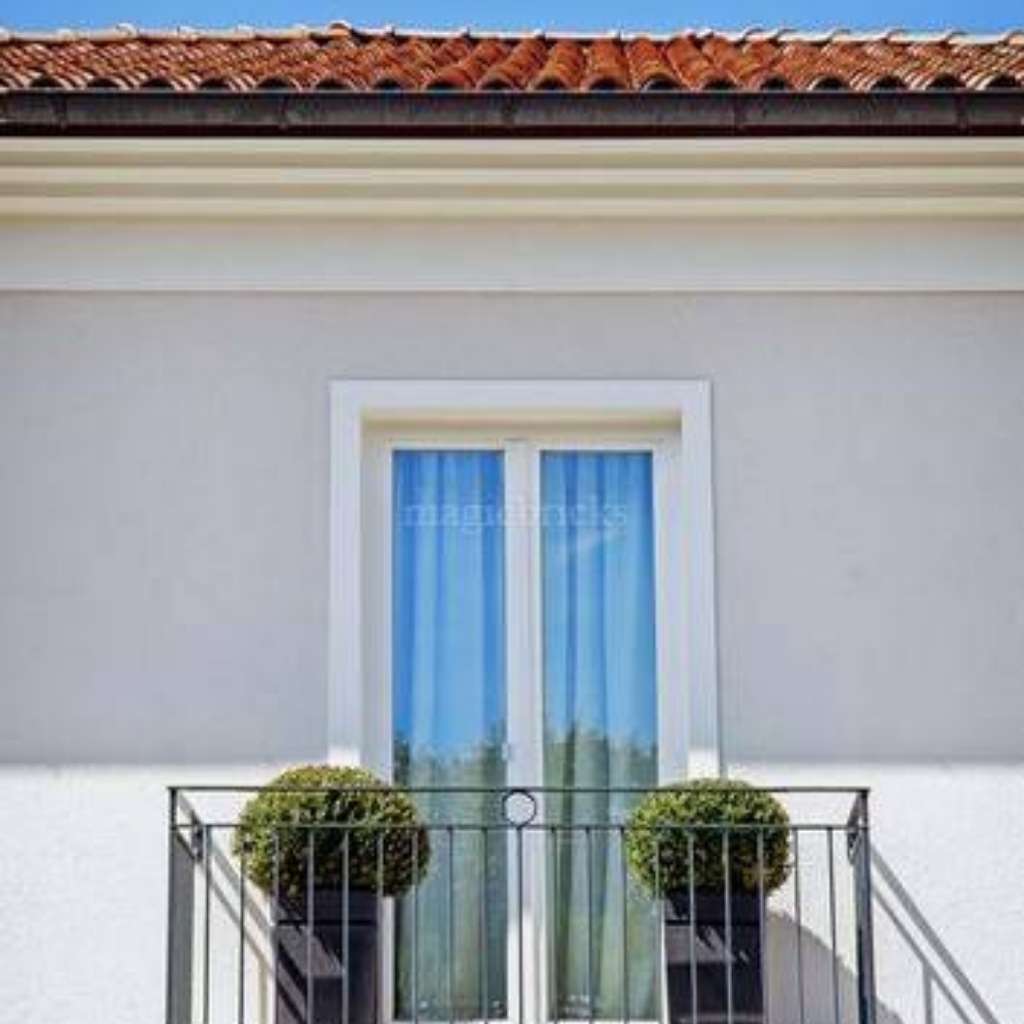 Image source: Pinterest
The antique-style Italian aluminum door, one of the most famous small balcony glass door designs, might be an excellent choice for your luxury home. Its exceptional beauty and durability will be well worth the investment.
A small balcony door could be made of:
Double 0.7 x 1.15-meter Aluminum frame
Double transparent pyrex glass
It is designed with a divider door opener
Painted in white to match the wall painting
If you are an artist or have painting talents, you can personalize the side walls with comics or landscapes. Visit Guy About Home to learn and see more fantastic home designs.
Living Room Balcony Door Design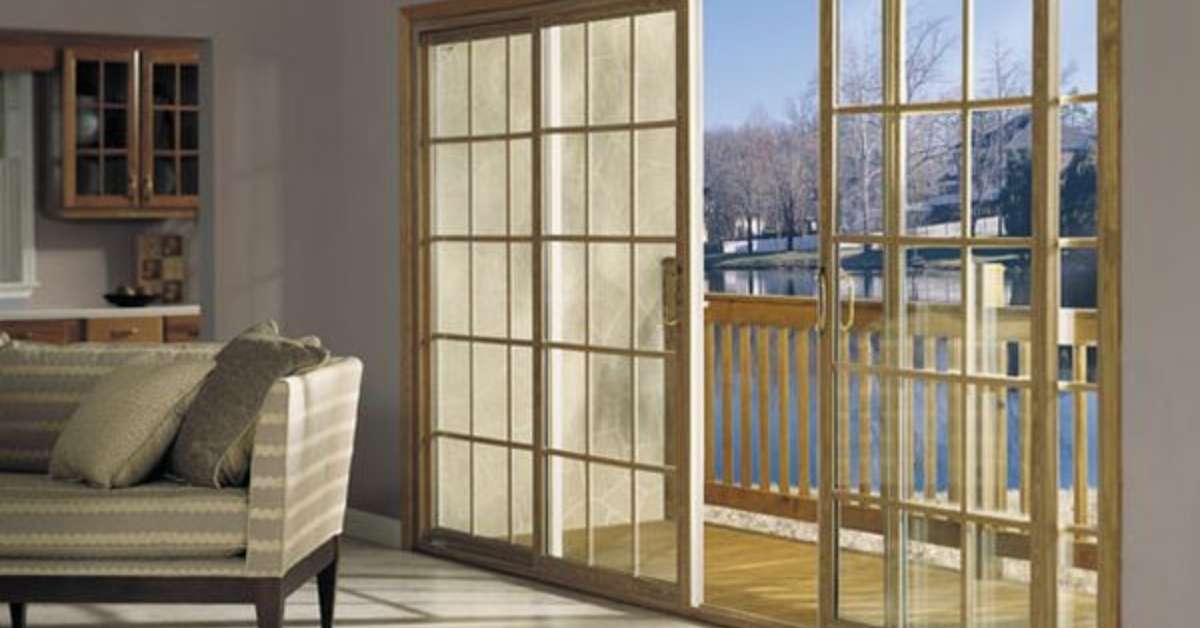 Image source: Decoist
A sliding glass balcony door is one of the best in-out links to give a living to the balcony. This is attributable to the fact that they are both functional and have a great feel. Custom designs provide homeowners with more options for living room balcony doors. Wood, fiberglass, and vinyl are the most common materials used. Furthermore, you'll locate a balcony door that matches your taste.
A unique design such as this is:
Made from coloured wood finishing
Sectioned to add more beauty and durability to the door
It is commonly a french sliding glass doors with a strong handle
This glassy door allows a transparent view of the outdoor from the living room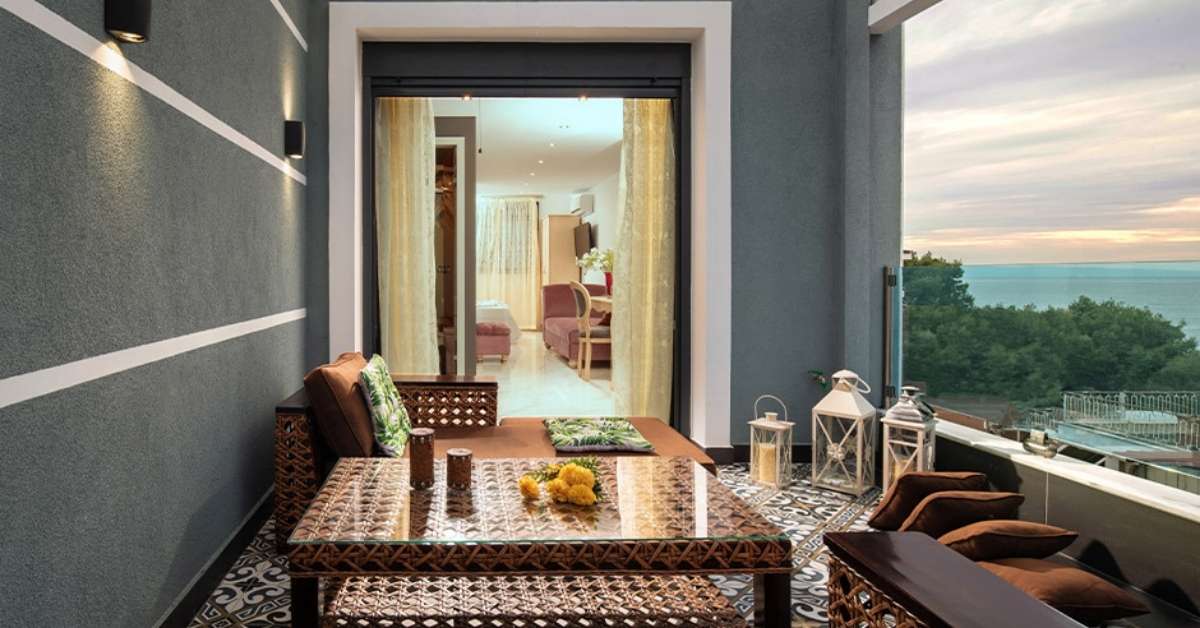 Image source: Design Cafe
A balcony door in the shutter type is a space-saving alternative that is excellent for smaller areas. This is a nice option if you don't want to go with the traditional sliding glass door. The door swings open into a ceiling nook. The shutter-type balcony door choice will be ideal for your house if you want a balcony door that keeps out of the way and allows for more open living space.
To achieve this iconic design:
Get a single shutter door with glass
Paint the metal frame with dark brown
Add a white-golden blended blind behind to restrict the view
Paint the side with white and gray
Modern Balcony Door Design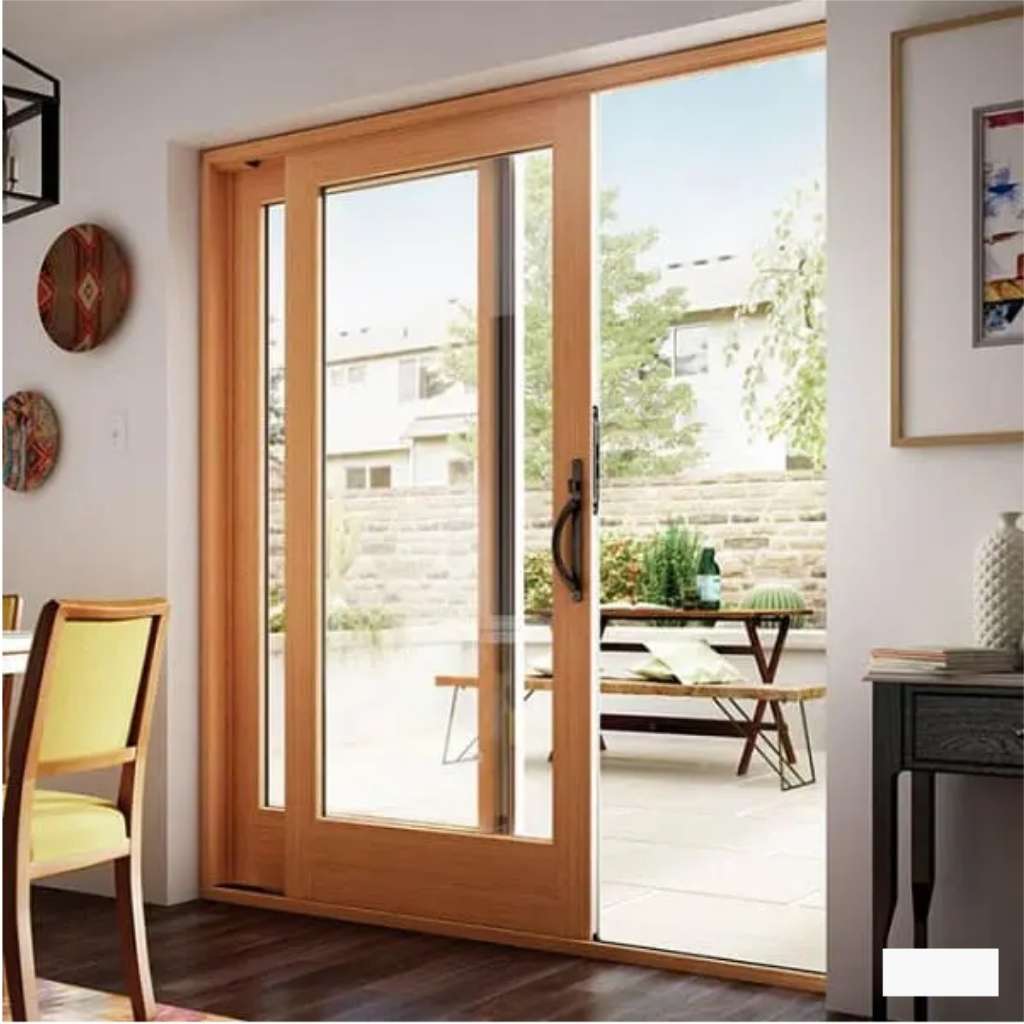 Image source: Styles at life
Wooden frame doors are popular in modern balcony door designs because of their robustness and aesthetic appeal instead of a traditional hinged door. With the increasing need for improvement in doors and window design, security is still in high consideration, which is why steel designs are also gaining ground in recent trends.
Install wood French glass sliding doors for a more elegant appearance.
Paint the frame of the brown sliding glass doors with a wood grain finish that gives the area a rustic feel.
Have it made of clear glass and a vintage door knob.
Hall Balcony Door Design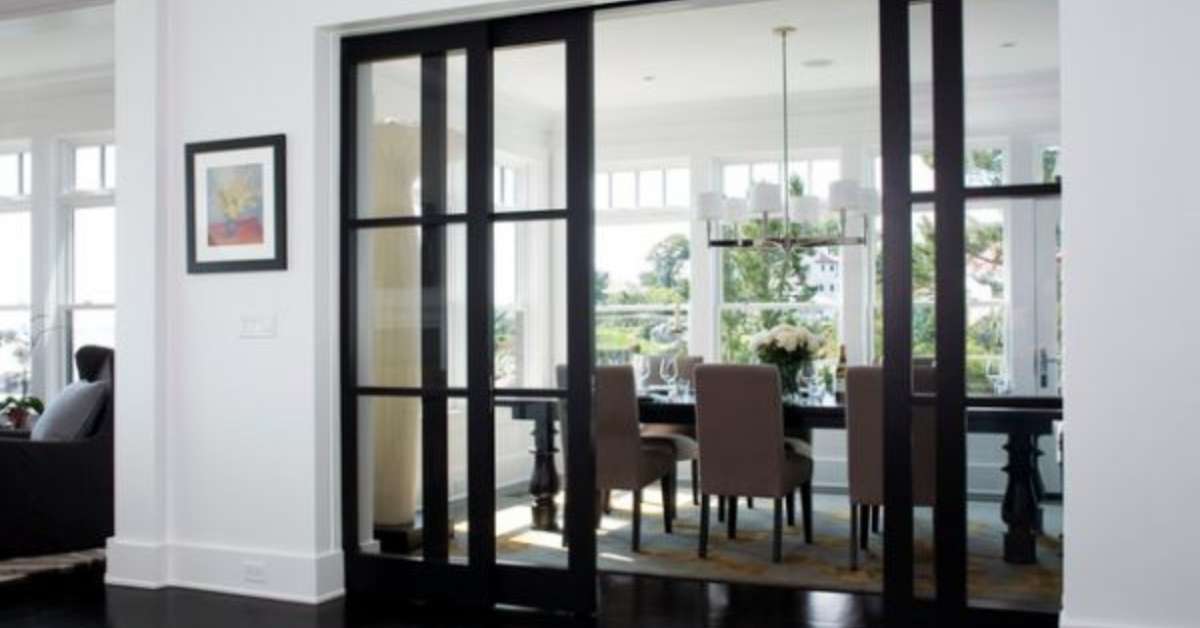 Image source: Decoist
Nowadays, people no longer require large halls to have their wedding receptions; a small space is all they need to marry with family and close associates. This is perhaps one big reason for a hall balcony; it also satisfies the beautiful and scenic view even as the hangout is ongoing. With it, a beautiful door entrance is another good way to give your guests a warm welcome.
Make this unique hallway designs by:
Having elegant dining balcony concealed by sliding glass doors
Wooden frames are painted to fit furnitures
Have a consistent frame design that its color complements the wall
Iron Door Design for Balcony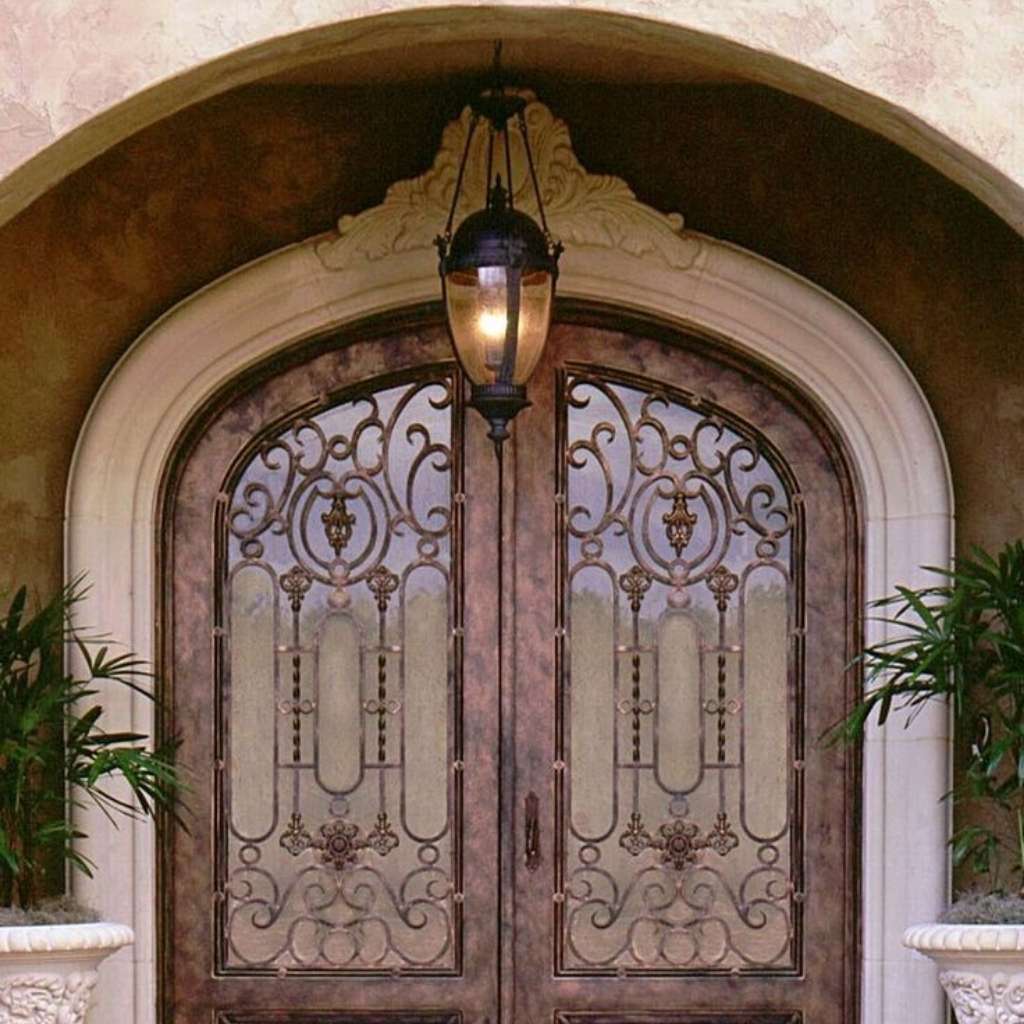 Image source: Pinterest
This contemporary double-entry wrought iron door complements any balcony design and is also a great way to strengthen security. It has a classic and well-designed balcony entrance with a tall, narrow square shape with bars. The brighter brick contrasts beautifully with the fake finish texture.
To achieve this design:
Get a hand forged iron door, dark brown vintage iron design.
Make sure the pattern design is consistent and resonates with your personality.
Ensure it is well painted to fit in your balcony model.
Just like ancient city gates, you need to open wide for access; it is an excellent way to restrict access to your home.
Front Balcony Door Design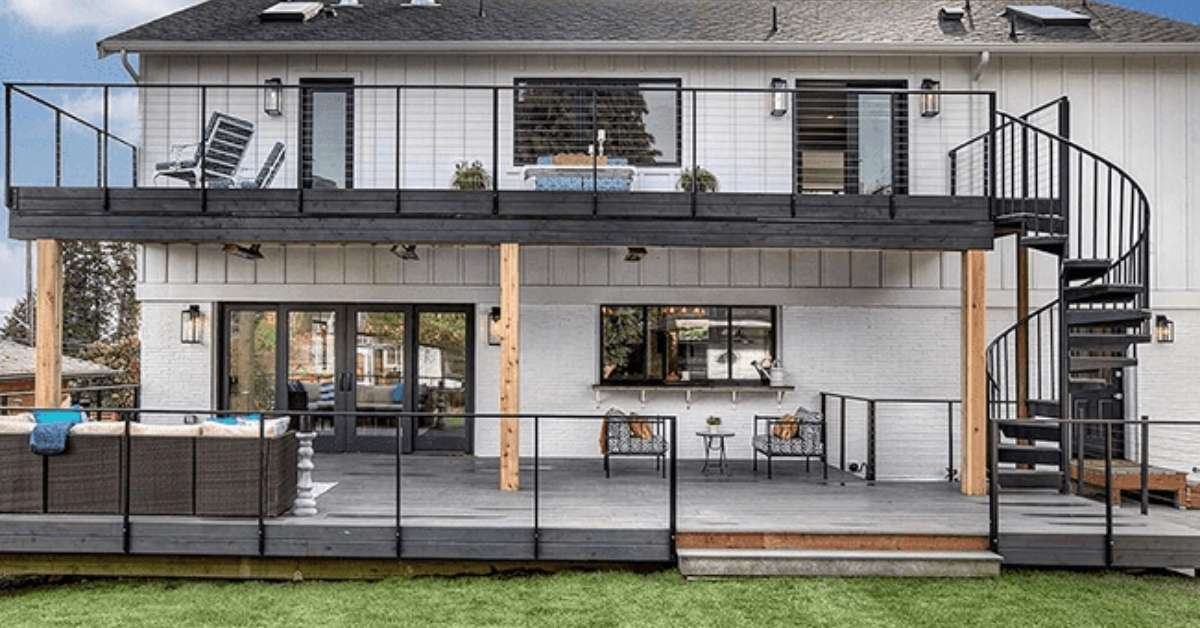 Image source: Pella
This front door balcony door, with its large, full sliding glass doors, adds to the modern appeal of the home's design.
You can achieve this by:
Getting a vertical and horizontal lined doors from your carpenter,
Together with a slick flooring and
 Fireplace mantel, to create a pleasing look.
Not a fan of the curtains on the sliding glass doors? Sliding glass balcony doors with shutters between the panes is an option. Your blinds will be protected from dust and damage by being permanently sealed between the panes of glass. Activities going inside are discrete due to the tempered glass.
Steel Door Design for Balcony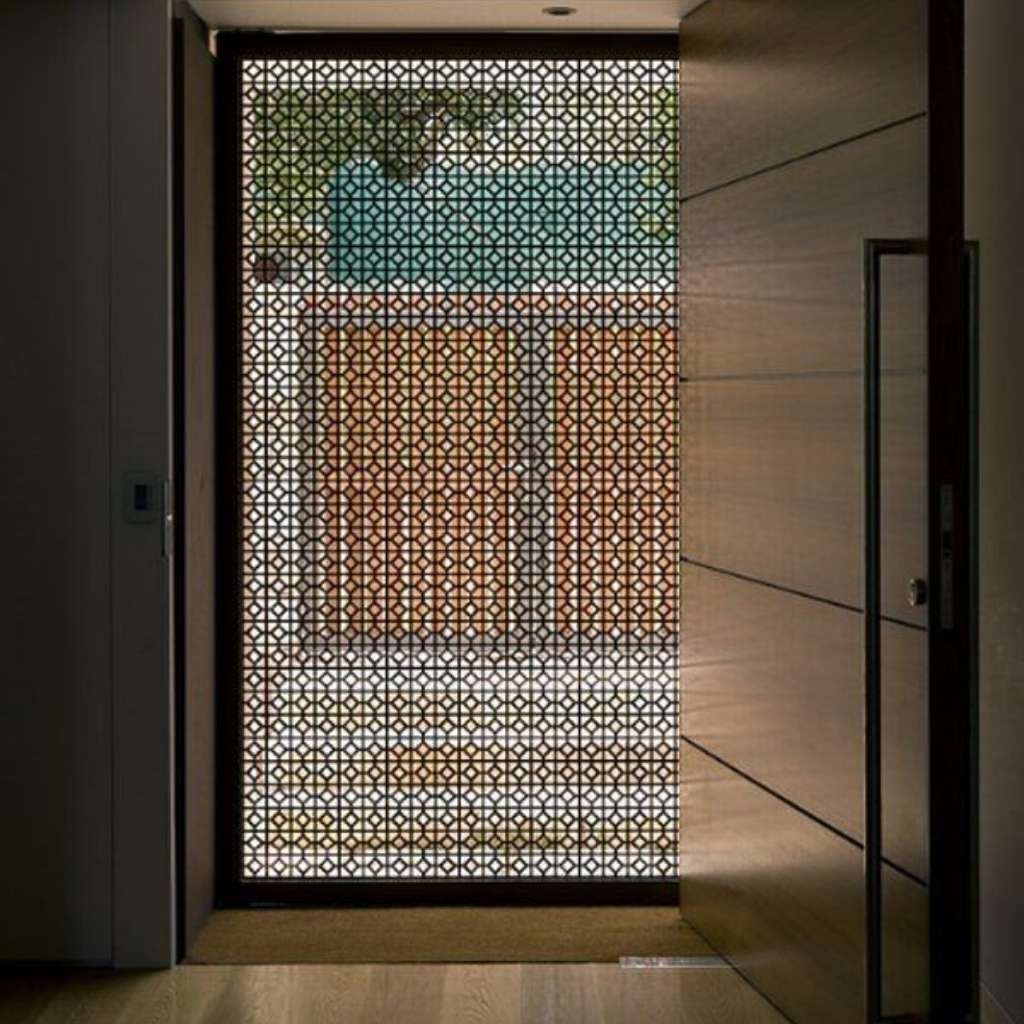 Image source: Home designing
An open steel single door has a lot of benefits. It is unrivaled in strength and durability and lasts for many years. The powder coating on the steel frame protects it from the environment and corrosion. Smaller glass grids can be used for safety, aesthetics, and usefulness. This door is ideal for the balcony and outside.
Screen doors can boast plenty of styles too. Decorative strapwork amazingly creates:
A secure yet elegant barrier between the front entrance and the street balcony.
The blazing sun doesn't reach very far because fresh air seeps right through to cool the house.
Plenty of open-air holes are made as a pattern
Steel doors are strong enough to wade off invaders
Grill Design for Balcony Door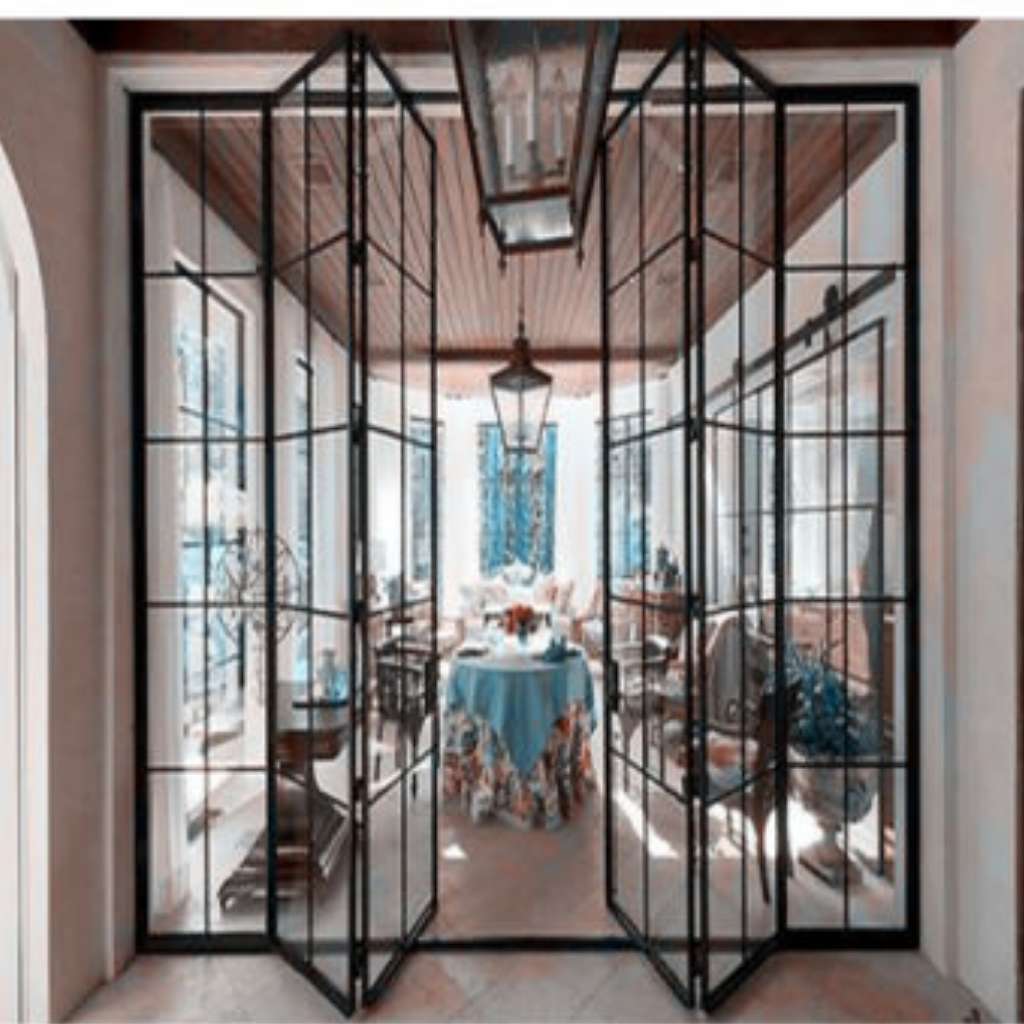 Image source: Anhoui Hotian
Grill designs are a state of the art design for balconies in general. From the railings to the mounted barricades, grill designs are often used because of their functionality, durability and strength. For balcony door design, a grill styling might be a good and available option to explore!
Install this grill door design exclusively by:
Making foldable cast iron door with glass
Glass-enclosed with various systematic partitions
Grill strength arid designs and Bi-fold grill framed glass are examples
Depending on your need and the size of your balcony, this comical entrance could be done in style. However, there are numerous styles to choose from; creativity plays a huge role in determining the versatility of such design.
Standard Balcony Door Size
A balcony door's average height is about 2,090 mm (around 6 ft 8″), while a patio door's standard width is around 1,790 mm (about 5 ft 8″). On the other hand, a traditional sliding door is 2100mm by 1800mm, but also can vary depending on the extent of the balcony. For the spectacular 4-panel glass doors, the average height is 80 inches.
A PVC balcony door may be significant, with a two-part reaching up to 3,000mm wide. The door may be made up of many panels with varying proportions. In addition, iron, metal, and wood designs may also vary in different proportions.
Here is the procedure to follow in choosing your door size:
Grab a tape measure, pen and pencil.
Take measurements of the width.
Measure the height.
Adjust the measurements to fit each dimension.
Decide on the type of balcony door you wish to install.
Employ artisans to help with it.
Best Balcony Doors
With increasing advancements in innovation and technology, emerging balcony and patio door designs are beyond a trend flow. They have come to stay and make habitation easier and cozier for us. It's more than simply a patio door; it's a design feature in its own right.
In regards to this, we have painstakingly compiled a list of the best balcony doors that your home can benefit from:
Sliding glass Balcony Doors
Folding glass Balcony Doors
Lift/slide door
Vinyl Patio Doors
Fiberglass Patio Doors
Grill balcony door design
Pivot doors
Aluminum Patio Doors
Metal balcony doors
shutter sliding door
French balcony door idea
Conclusion
There is no more superb choice than having a balcony. The aerial perspective you receive when you open the balcony doors gives a cozy vibe.
All balcony windows and doors, be it aluminum, uPVC,steel, glass or wood, need to meet operational requirements while still appealing to the eyes. Also, designs, styles, and aesthetics should match the home's existing facade.
For more inspiring and exciting home ideas, visit guyabouthome today!
For more amazing ideas you can have, visit Guy About Home today or you can check the related blogs: