Stairs don't have to be boring. Give your home a makeover with DIY stair risers that are nice to look at and walk on!
Stair risers are the portion of a stairway between the treads. They're often made of wood or concrete but can also be some other material. The height of a riser depends on several factors, including the type of stairs and the materials used for construction.
Thank you for reading this post, don't forget to the best blogger Guy About Home who offers the best garden and home improvement tips! If you are a home decor and design fan, don't miss the tips on home ideas. If you are a home garden owner, then you might be interest in our complete guides to house plants!
When designing stairs, it's essential to consider how many risers there should be in your design. Not only does this impact safety, but it also impacts how your home will look when completed. It's also important to consider whether or not you want to use different types of risers for other portions of your staircase.
To help get started on the right foot (or stair), we've rounded up some of our favorite stair riser ideas from around the internet.
Table of Contents
What is a Riser on a Staircase

What is the Best Stair Riser Height
Painted Stair Riser Ideas

Tile Stair Riser Covering Ideas

Stair Riser Covering Ideas

Creative Stair Riser Ideas

Wood Stair Riser Ideas

Outdoor Stair Riser Ideas

DIY Stair Riser Ideas

Stenciled Stair Riser Ideas

Stone Stair Riser Ideas
How to Build Stair Riser for a Deck

How much can Stair Risers Vary

Where should stairs be Placed in a House
What Is a Riser on a Staircase
A stair riser can be defined as the space that exists between two steps. Stairs may have a door that is closed or open. Tread – A stair tread is the part of the step that a person stands on, and it is an essential component of a staircase, along with the riser.
What Is the Best Stair Riser Height
Carpenters have found that the product of tread width and riser height should equal somewhere between 72 and 75 inches. This formula was developed over several years. The highest rise should not be any higher than 8 1/4 inches, and the minimum run should not be any lower than 9 inches. These dimensions apply to a central staircase.
Painted Stair Riser Ideas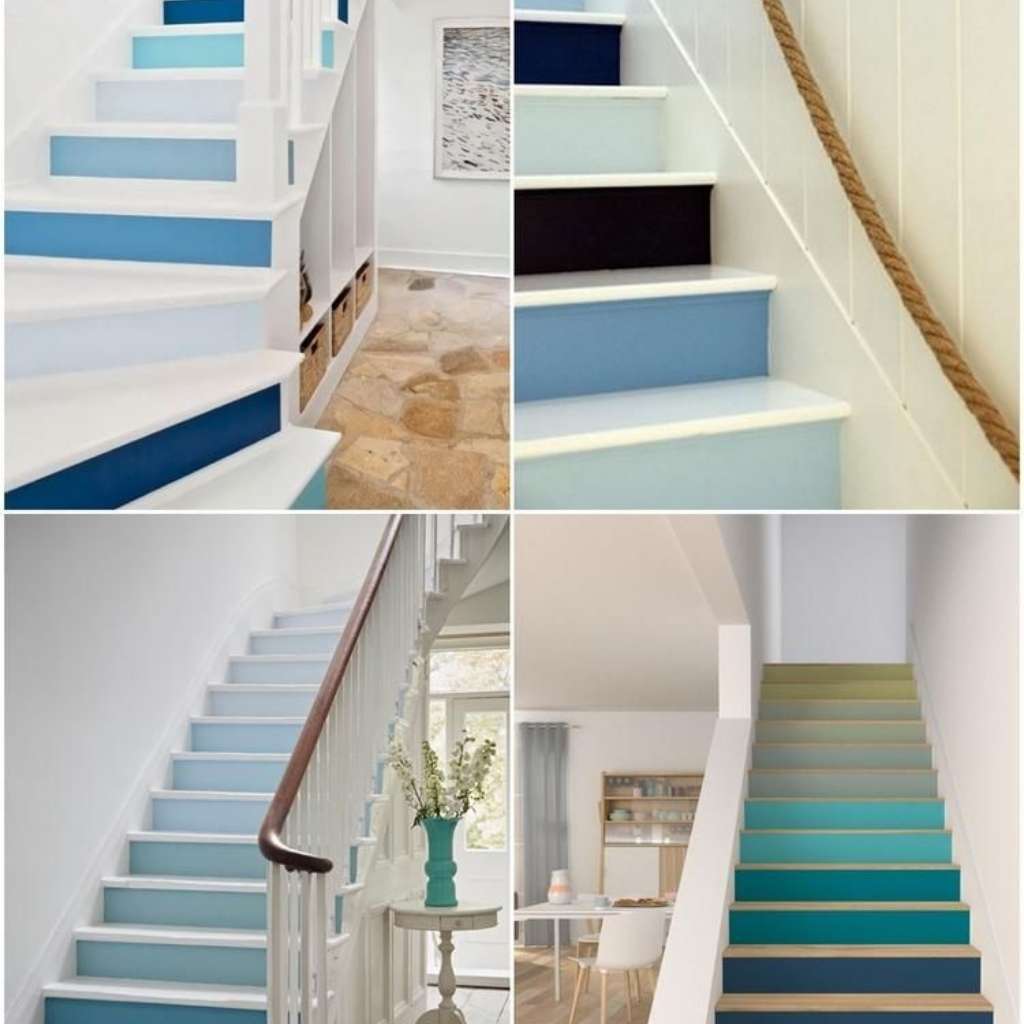 Image: Pinterest
Painting risers, either upstairs or down, can be tedious, but with creativity and good preparation, you can have your wall-to-wall carpet the way you want it in a few hours. Painted risers are also great for adding color to an otherwise drab stairway.
Check out these painted stair riser ideas:
Let your personality show. Choose what color you want in your stair riser either light color or dark color.
Use your creativity for a non-budget-friendly DIY project.
Paint your stair risers with bright colors, black and white, or nature patterns.
Tile Stair Riser Ideas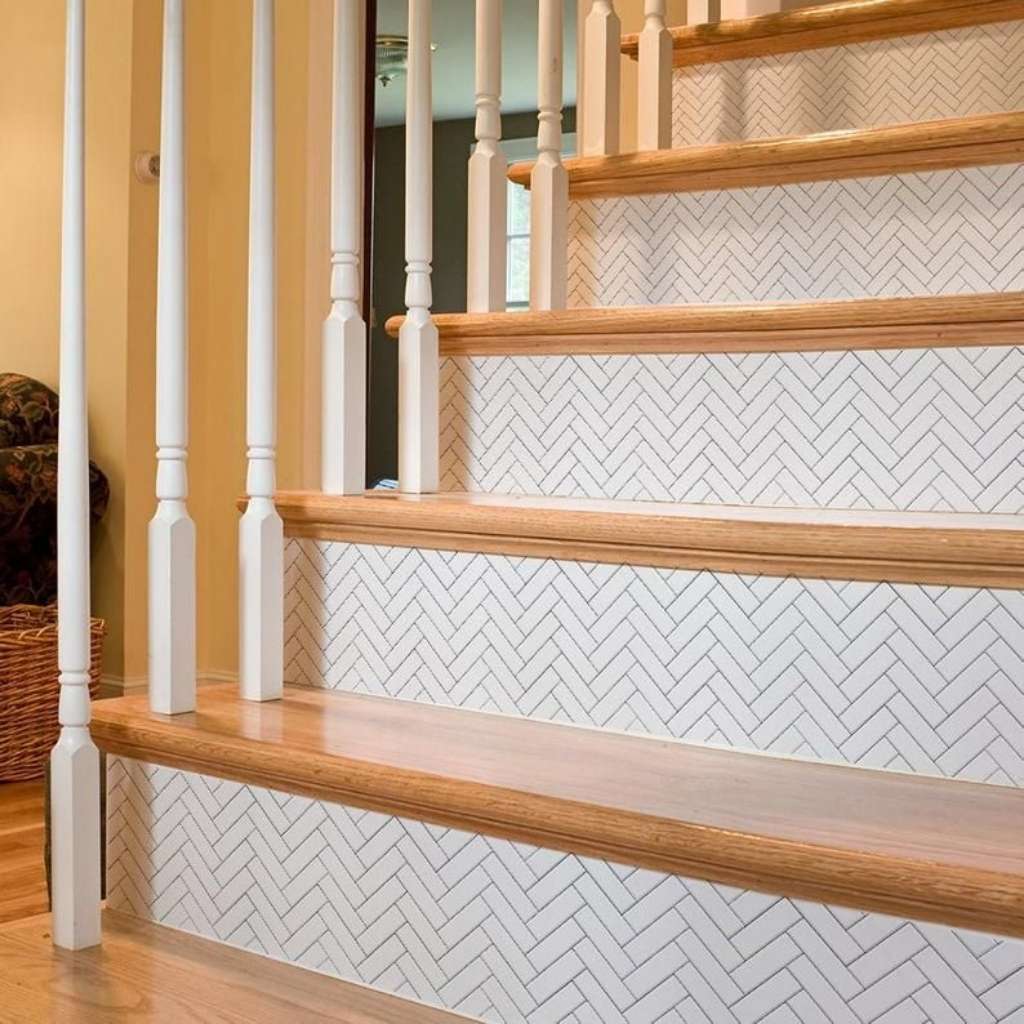 Image: Pinterest
Tiles are one of the most beautiful, elegant, and affordable decorative accessories in every home and property. Tiled stair risers have been in trend for years and carry a rich artistic appeal to homes owing to their variety of colors and designs. If you are looking for exclusive tile stair riser ideas or inspirations to make your staircases stylish, do take some time out of your busy schedule to browse through this article.
Check out these ideas for tile stair risers: .
Please choose the right tile, and be sure to buy it in bulk.
Be inspired by tile designs and options that are available to you.
Make a pattern with tarps and paint.
Stair Riser Covering Ideas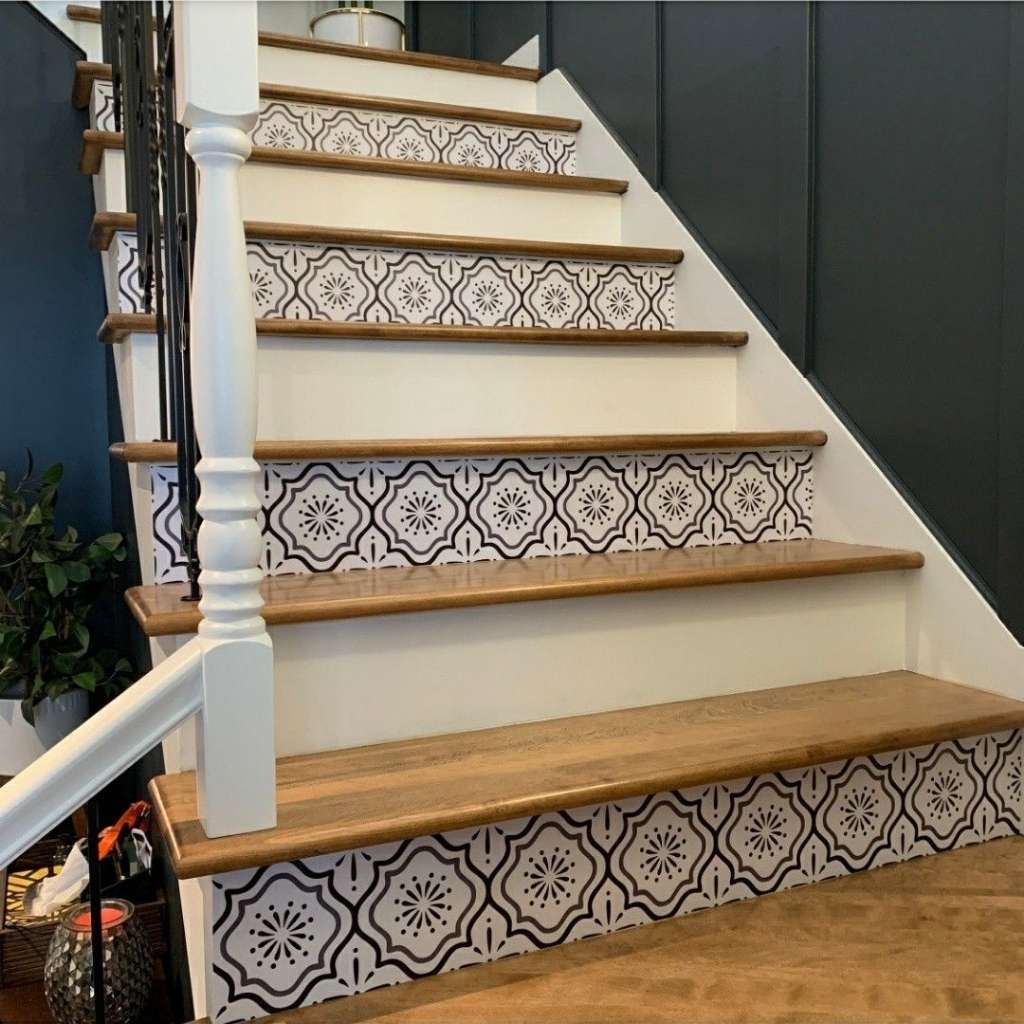 Image: Pinterest
Don't be scared to add beauty and value to your home with stair riser coverings. Stair risers offer several ways to update a home without destroying it. Many people are happy with their homes yet feel something is lacking. Here, stair riser covers can draw attention and tie together your home's décor.
Check out these stair riser covering ideas:
Use the white color to make it look better, with alternating Nordic design.
Go to your local home goods store to get bigger and better samples.
Creative Stair Riser Ideas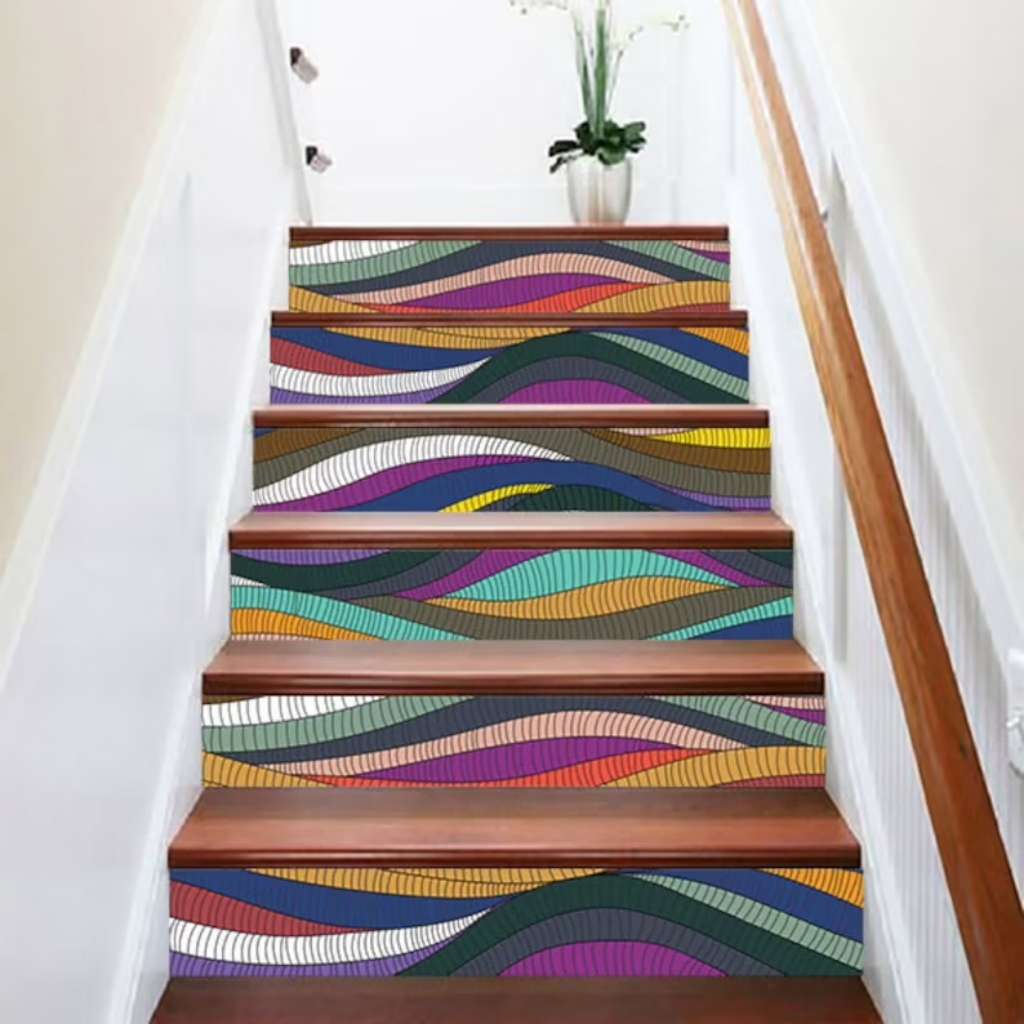 Image: Pinterest
When it comes to home decor, stairs and riser ideas are something that homeowners don't usually consider. Your stairs and risers likely blend in with the walls and woodwork for most of the day, making them hardly noticeable, but that doesn't mean they can't look as good as any other room.
When you decide to update the exterior or interior of your home, a creative stair riser idea can do more than just make your time on a given level exciting. It can also help you save money.
Check out these to find creative staircase riser ideas:
Get creative with paint or stencils.
Use stickers, color, etc., to make your stairs look cooler.
You can make a DIY project that both looks great and saves money.
Wood Stair Riser Ideas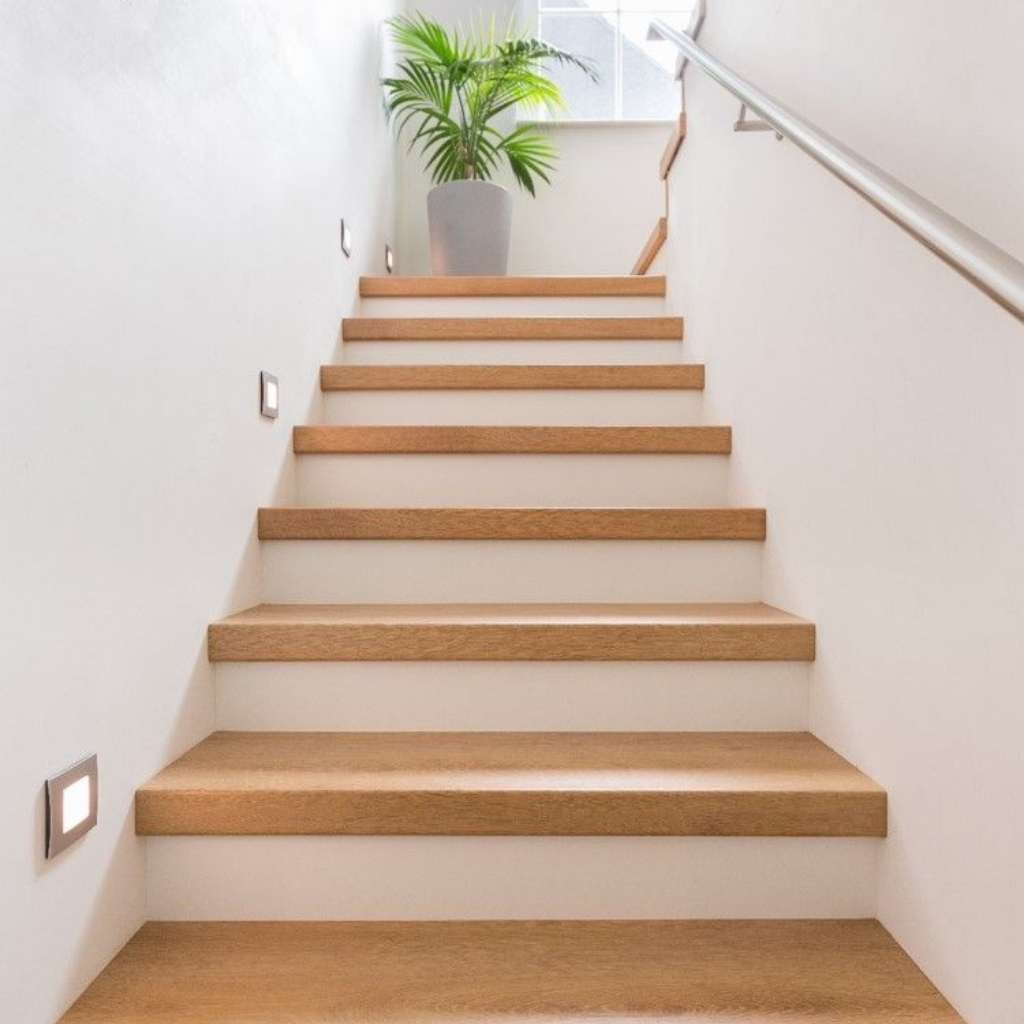 Image: Pinterest
Wood stair risers are a great way to add style, comfort, and functionality to your stairs. It can also be used to make a design statement in the same way you might use the vertical wall space between rooms or around skirting boards.
Here are some excellent wood stair riser ideas:
Use a table saw to cut each strip easily.
You can use other types of flooring on top of them, like carpet or tile.
Add a handrail for the elderly.
Outdoor Stair Riser Ideas
Image: Pinterest
Outdoor stair riser ideas are inexpensive, but the effect is stunning. They surround your house or garden and can be painted in any color that would match your taste, leaving you with a beautiful entrance or view. In painting the riser, you can add border moldings and stone impressions.
one here with these outdoor stair riser ideas:
Recycle old lumber to create old stair risers or use patio blocks, outdoor carpet remnants, or scrap pieces.
Use riser pads for more safety.
Install lights under the raiser for safety every night.
Paint it with a different color that matches your taste.
DIY Stair Riser Ideas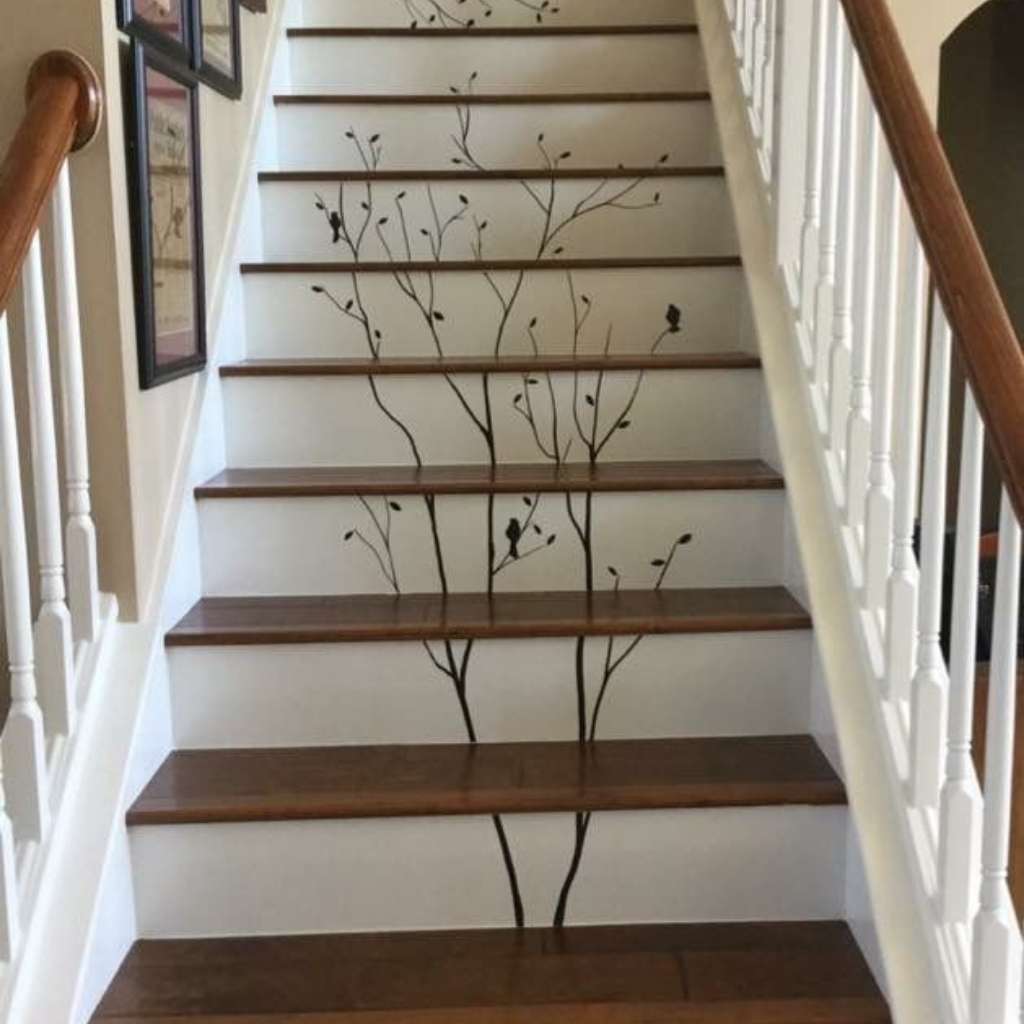 Image: Pinterest
You can add impact, style, and color to your stairs in many ways. Whether you're looking to make one of the most frequently used areas of your home more inviting or simply have a vision that needs reality, these DIY stair riser ideas will inspire you and give you lots of new ideas in creating the perfect look.
Use these ideas to make your stairs look cooler:
Determine first what design you want that makes it unique from a traditional stair riser.
Show your creativity; painting it will be a great idea.
Don't use expensive materials to make DIY designs.
Stenciled Stair Riser Ideas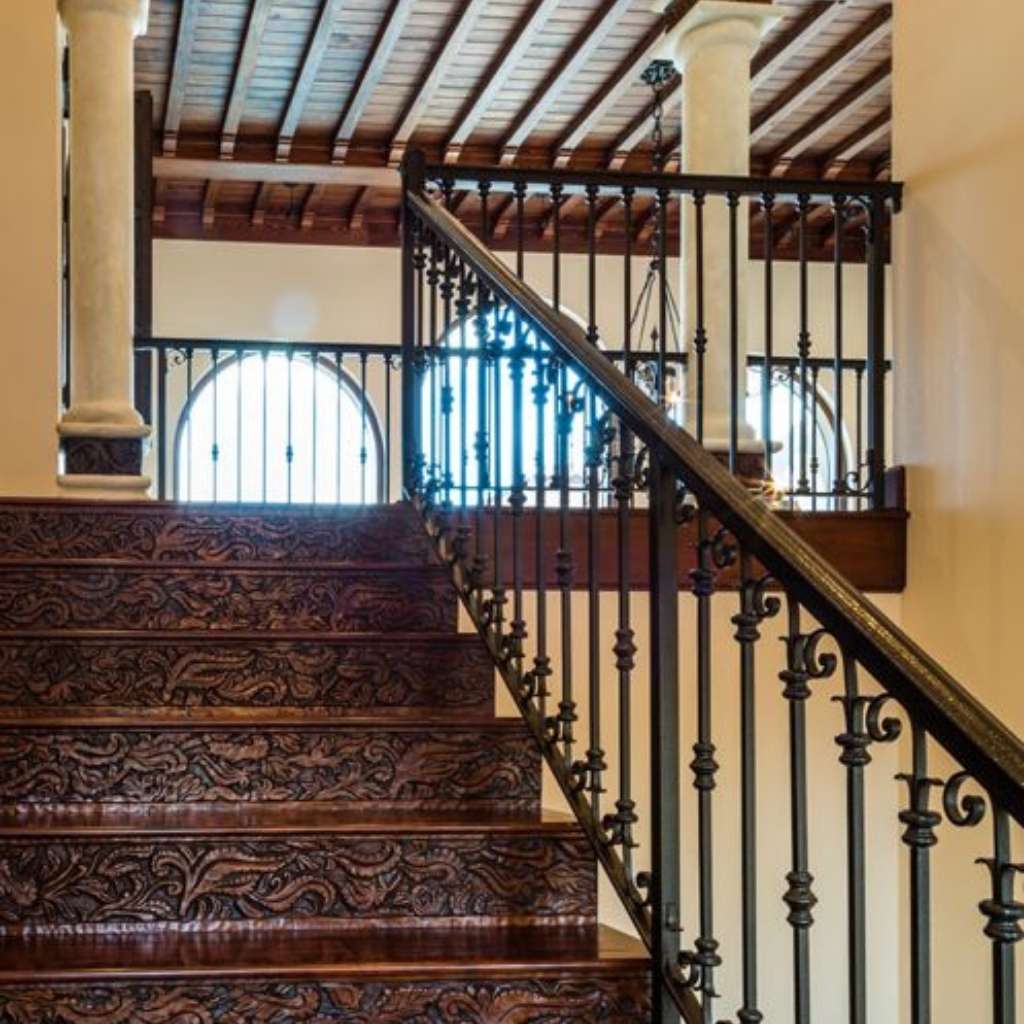 Image: Pinterest
If you're interested in a different take on paint for the stairs, look at stenciled stair risers. When using a stencil, you can have it lead from the tread to the baseboard or just from the sideboard to the center of the impression. This creates an interesting effect that is unique in most homes yet is still easy enough to do.
Check out these stenciled stair riser ideas:
You could stencil any design.
Much better if you hire a stencil master to decorate your stair riser.
Be sure the stencils are easy to read in person.
Stone Stair Riser Ideas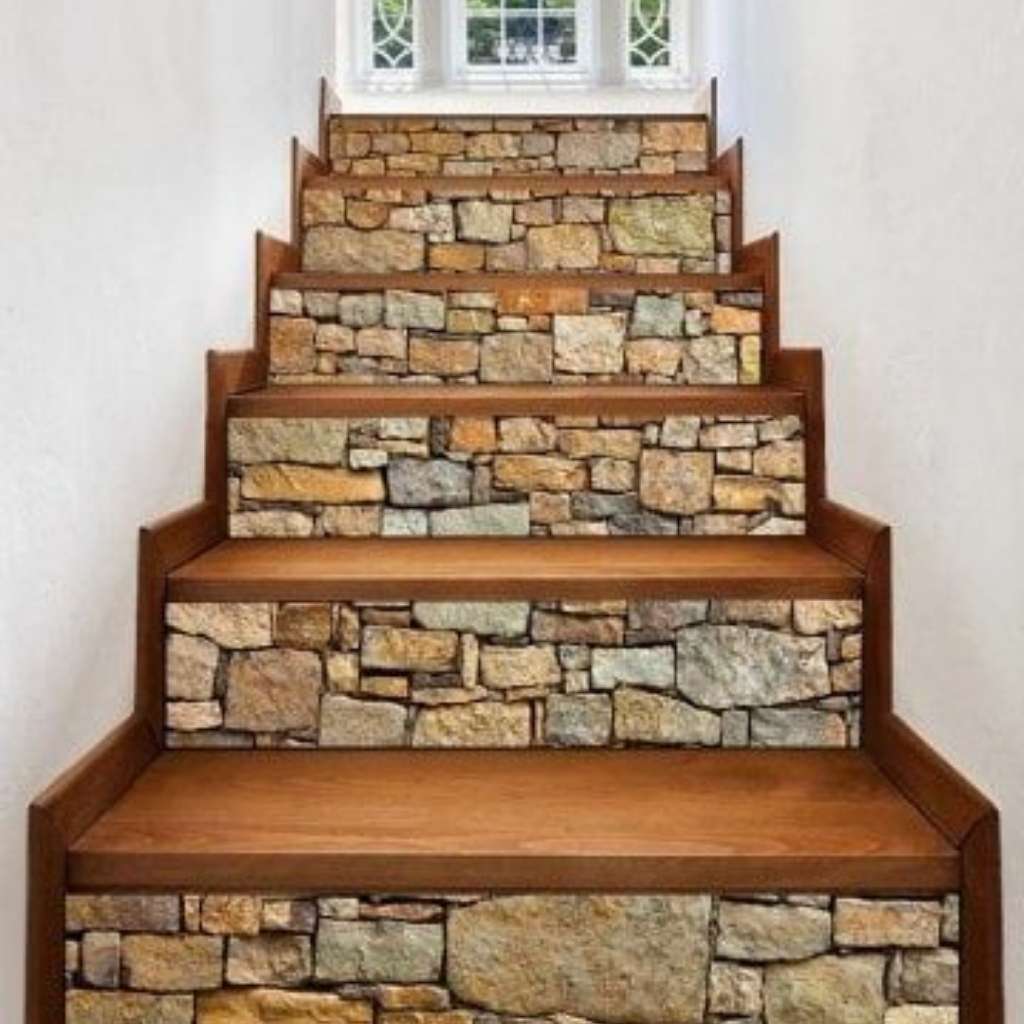 Image: Pinterest
Do you want to give the impression that your house is more elegant or contemporary? Including stone, a stair riser is an attractive option to consider. These can completely change how a stairwell looks and draw attention to outside your home.
Here are some ideas for stone outlines on staircases. Give it a try:
You can even use different types of stone.
Make sure to use contrasting colors.
Don't forget the outdoor staircase lighting.
How to Build Stair Risers for a Deck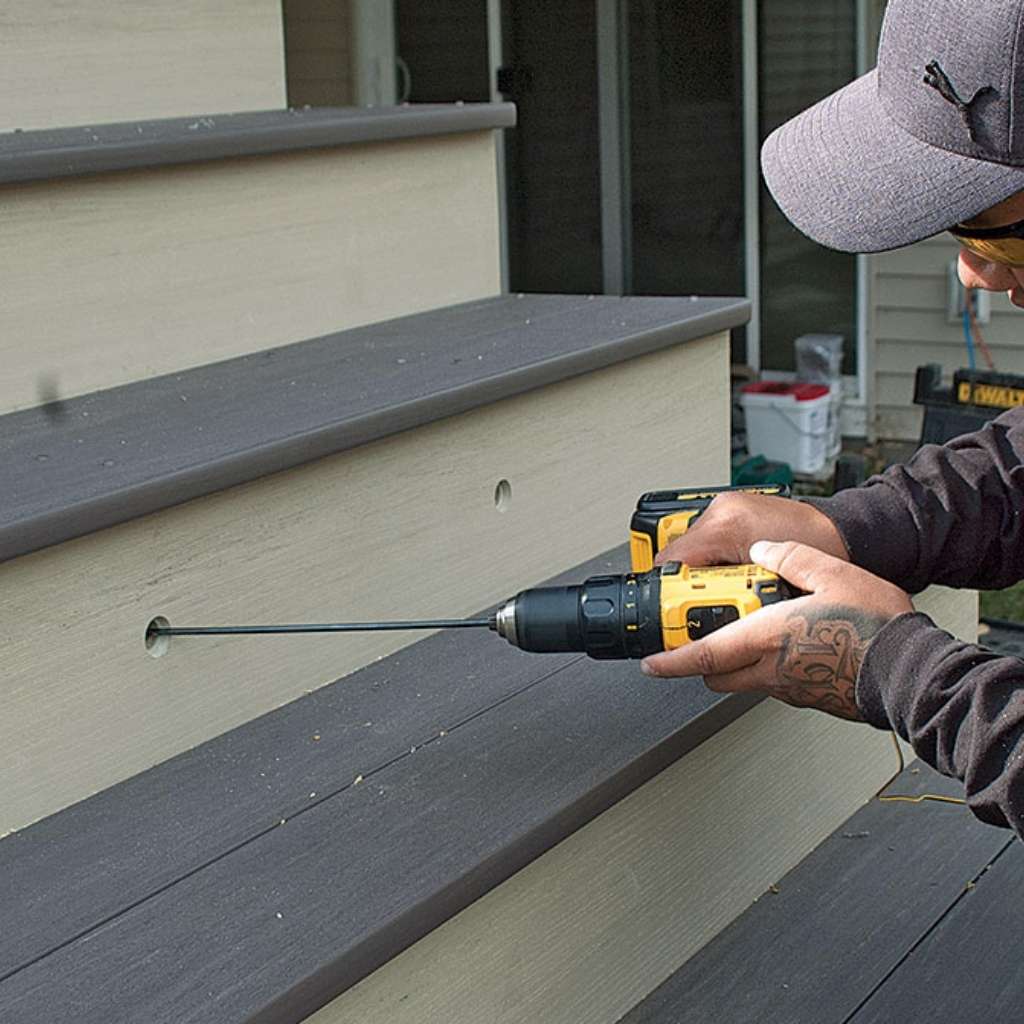 Image: Pinterest
Building stairs for a deck can be a bit tricky, especially when you're going for an attractive design. This is because stairs are generally an accent piece on your patio. So aside from focusing on function, the stairs are used to help make your deck stand out from the rest.
Whether it's their shape, color, or material – stairs have a considerable effect on the look of your deck and have a massive impact on how much time you spend using it.
These tips will help you build a stair riser:
Provide a list of tools needed.
Take a trip to your local home improvement store and buy the materials.
Plan the dimensions of the stair risers – cut your supply material to length and width.
How Much Can Stair Risers Vary
The International Residential Code sets residential stair regulations. The IRC stairs code requires that residential steps be at least 36 inches wide. The code for stair risers is 7.75 inches and 3/8 of an inch. Standard stair tread dimensions are codified. Residential stair tread depth should be at least 10 inches with nosing and 11 inches without it, with a maximum 3/8-inch deviation.
Where Should Stairs be Placed in a House
Stairs should typically be placed in a house's entrance hall or foyer. This gives guests who may be on their way up to see the homeowner a place to rest and take off their coats and boots before going home. Most often, the front door opens into this room, allowing for easy access regardless of whether guests arrive from outside or from another part of the house.
Takeaway
The best ideas for stair risers are profoundly personal and reflect the aesthetic goals of each homeowner. You must weigh all your options and determine what's suitable for your particular situation. The important thing is to be informed and make an informed decision. In that respect, I hope that this tutorial has been of some assistance to you.
Check other blogs of Guy About Home for more home improvement ideas!
As a bonus, browsing the articles listed below may offer you useful information.