Gardening is a beautiful thing, especially when done right! No dig landscape edging is one sure-fire way to go about this. When things in the yard just align, and they're as smooth and symmetrical as can be, they can bring about a sense of calmness and accomplishment.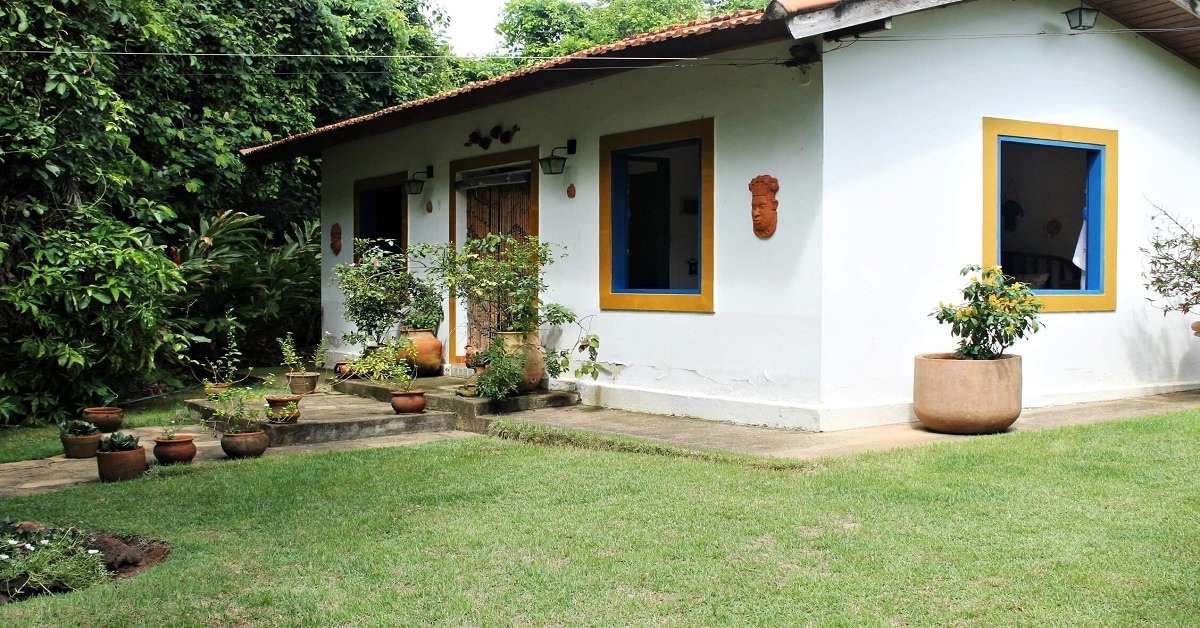 Featured image by adriana carles on Unsplash
Thank you for reading this post, don't forget to the best blogger Guy About Home who offers the best garden and home improvement tips! If you are a home decor and design fan, don't miss the tips on home ideas. If you are a home garden owner, then you might be interest in our complete guides to house plants!
We know, the task can get a little intimidating, especially if you're new to the whole idea and never done, or even seen it done before. However, it can actually be pretty straightforward. It only takes a little creative thinking. Don't worry, let us be your guide and we'll run through the best DIY and store-bought edging for your garden!
No Dig Landscape Edging
Whether you're figuring out how to make a flower bed without digging, creating a pollinator garden, going for a raised flower bed, or a fruit, vegetable, and herbs kind of garden, landscape edging can be applied.
Let's break this down into two categories; DIY edging and Store Bought products for edging.
Store Bought Garden Landscape Edging
Store bought edging is, again, very straightforward. Find a reputable store or seller, get the product you need, and just follow the instructions included. Simple, right? However, finding the best and most appropriate product is our goal. Let's look at some of them, shall we?
Dimex EasyFlex Plastic No-Dig Landscape Edging Kit, 100-Feet (3000-100C)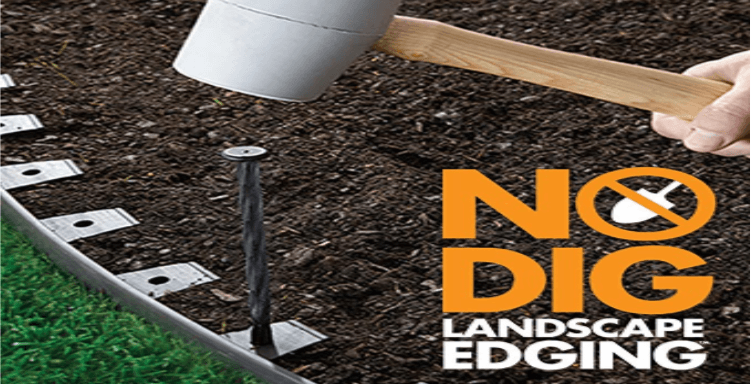 The Dimex EasyFlex Kit has made it to the top of Amazon's "best seller" category, making it a no-brainer choice for us consumers! With over nine hundred customer reviews and one hundred plus solved queries, this product is sure to put that elegant separation we're aiming for.
The kit includes a 1.5" tall black edging coil measuring to 100 Ft., thirty 8" spikes to hold the pieces, and five connectors for seamless borders between each.
For this product, you will need to have a mallet (preferably rubber) on-hand as it isn't included in the package. Use the aforementioned mallet to drive the spikes between the holes of each edging piece. It is also advisable to measure beforehand the length that you need, especially if you only need a short distance, and plan out the outcome.
When done right, you'll have a sleek, professional-looking lawn in no time! After all, as far as inspirational garden quotes go, Abraham Lincoln once said;
"The greatest fine art of the future will be the making of a comfortable living from a small piece of land."
Ecoborder – Landscape Edging Black 6pk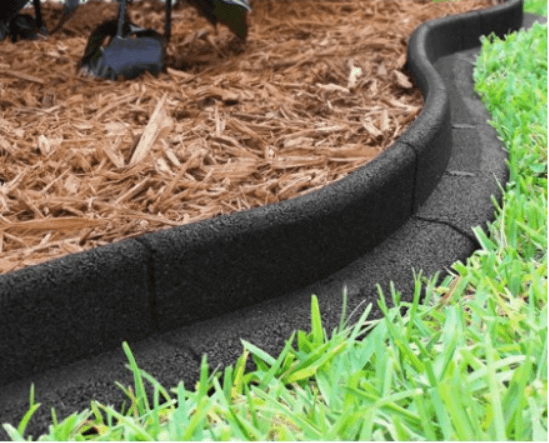 Another great product for no dig garden edging is Walmart's Ecoborder. All you have to do is handle the product well and follow the included instructions.
The good thing about this one is that it adheres to recycling. It is made purely of recycled tires. Since it is non-toxic, it's safe for children; thus, it can be used around a playground as well. The makers also boast about easy installation and its resilience to severe weather; claiming that it will not crack or give-in.
You can even use this to match your theme for small patio decorating ideas on a budget since it creates an exquisite look. It also comes with a red and brown variant for you to mix and match!
Plastic Landscape Edging No Dig Flower Garden Lawn Border Flexible Fence 20 Feet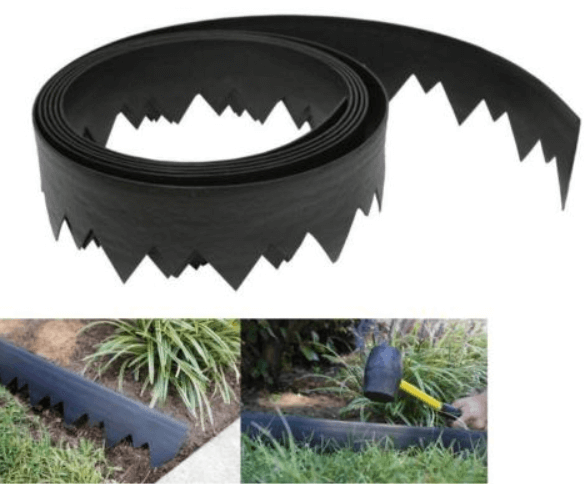 Here's a relatively "simpler" look for no dig landscape edging; eBay's Flexible Landscape Fence! It's good that this product ships internationally from the USA, with the calculated fees of course.
Due to its user-friendly installation method and minimal groundwork required, you'll never need to call for a professional. The package includes 20 Ft. of serrated coil of black edging, a single connecting sleeve, and two stakes to hold points. This product features a customisable length and flexible material.
eBay also offers a return policy, should you want to exchange it or just aren't altogether satisfied with it.
DIY No Dig Edging
Sometimes it's good to be a little creative. After all, the best design will most likely come from your creativity. Plus, it saves you the money you would've spent buying from a store, and you can set your own limits as to what you would create.You are your own boss! That said, here are a few DIY-ways to develop a no dig edging for your garden!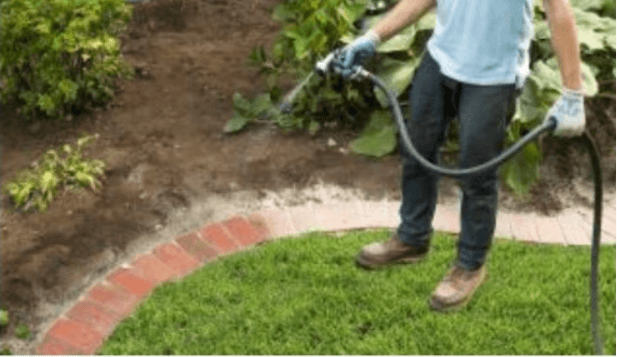 With just a few bricks, you can outline your garden how ever you like, or simply follow the above. The great thing about this is, the cleaner your work is, the more elegant it can look! If you're following a certain colour pallet, paint the bricks before installation. It also helps to measure and plan your route beforehand for you to be able to check if you have enough blocks.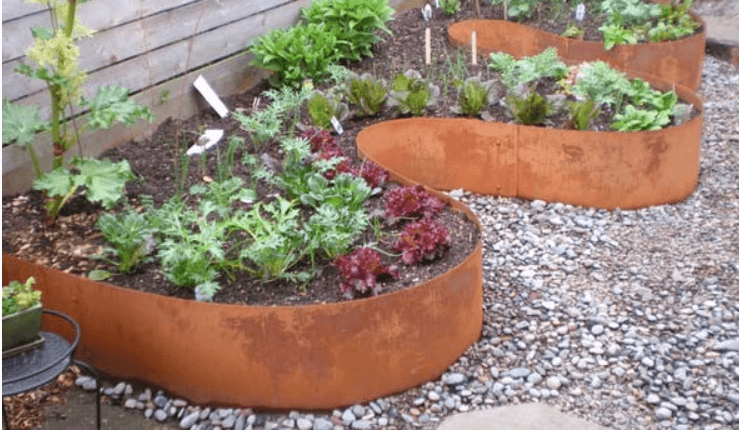 It doesn't always have to be straight! With steel such as the above, you can create a "pool shape" or whatever else your imagination cooks up. Sky's the limit, as long as you can still manage and maintain it! As with the bricks, plan your route and paint the steel if you're following a theme.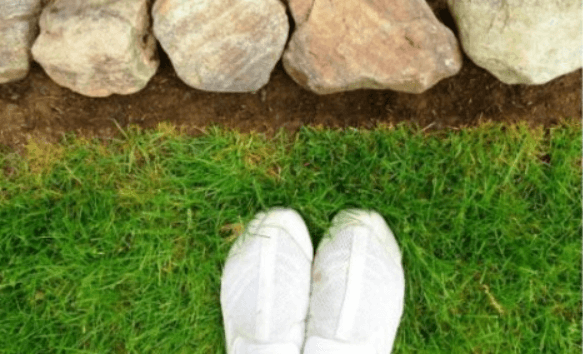 It doesn't get any simpler than this! Grab a few rocks that look similar and are about the same size and boom; you have a barrier. Align the stones in a pathway. It helps to spruce them up a bit beforehand.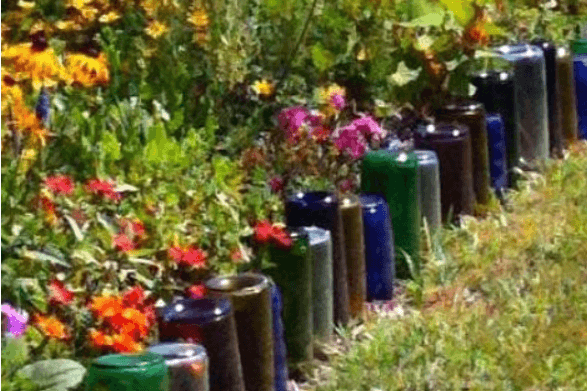 By now, you might have already noticed a pattern here. You may actually use whatever you like. As your own DIY project, it's all about creativity and using what is available to you. In this example, a bunch of old, used, collected wine bottles have been inverted upside-down to create a fence of sorts; thus completing the edging for the garden.
Get Creative With No Dig Landscape Edging
In landscape edging, you don't necessarily have to stick to one style. You may choose a DIY set for half your garden, and a store bought item for the other. Whether you stick to your theme or colour palette or create an abstract garden of sorts, it's all up to you! Incorporate anything and everything to your heart's desire. You may even mix up two different styles, or two different materials.
Also, designing the edging is all well and fun but remember to always to care of what's inside its border; the plants and the soil! Collecting rainwater via a water butt, among many other means, is an optimal answer on how to improve garden soil quality.
Happy gardening!
For more amazing ideas you can have, visit Guy About Home today or you can check the related blogs: