Any corporate space is usually set up in a more serious tone. Colors are never that bright and if there's art involved, it is always maintained to the minimum as possible. The reason for this could be due to the need to look professional, the accepted notion around is that anything corporate has to be simple and to the point.
Thank you for reading this post, don't forget to the best blogger Guy About Home who offers the best garden and home improvement tips! If you are a home decor and design fan, don't miss the tips on home ideas. If you are a home garden owner, then you might be interest in our complete guides to house plants!
With that in mind, the following are some of the ways through which you can decorate a law office.
Book Shelves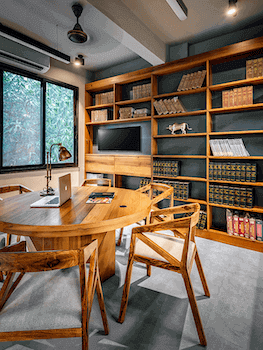 Source:
https://www.pinterest.com/pin/45599014966073180/
This is the kind of situation where you kill two birds with one stone. Ask anyone that practices law and they will tell you how much paperwork they have to go through, a single case can have thousands of pages of submissions and other documents, this requires storage space, and the best way to do that is to set up bookshelves in any available space.
You can arrange the files and books in an orderly manner that gives the entire office space a very professional look, one that inspires confidence in the client every time they walk in.
Lighting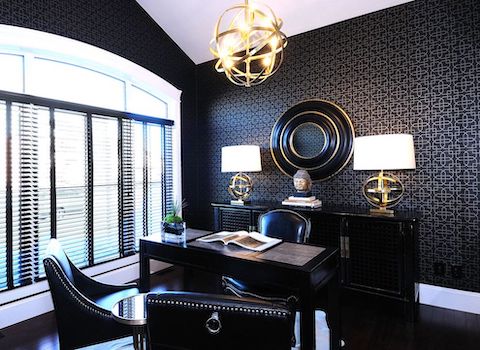 Source:
https://www.pinterest.com/pin/49328558392546157/
There are various lighting styles available at your disposal but when it comes to lighting up a law office, you have to be subtle about it. It shouldn't be too harsh and neither should it be too dim, there has to be a balance struck between the two.
For a start, the office is the last place on earth where you should use brightly colored bulbs. Normal incandescent light bulbs are the perfect option. How big they should be will depend on the size of the space in question.
You can choose to have overhead bulbs installed into the ceiling, against the walls to illuminate the wall art better, and even have hanging chandeliers in the lounging room. They have to be bright enough for someone to read a book comfortably as they sit in the waiting area.
Wall Art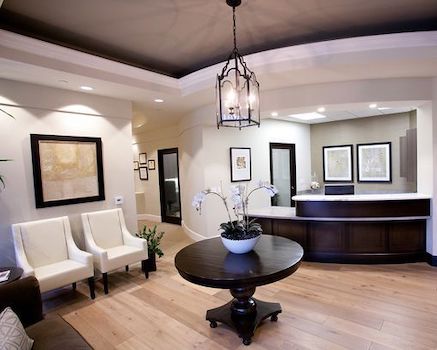 Source
https://www.pinterest.com/pin/636485359836316724/
Painting on the wall is not encouraged in an office setting, and neither are wallpapers. Most times. The walls usually come with beautiful pre-installed mosaic patterns that can serve as art on their own. However, there's always that need to have some proper art hung on the wall.
The best option in this situation would be to have a beautifully framed picture or art hung in a very strategic place, probably behind the reception area so that it becomes the first thing that people see when they walk through the doors of the law firm.
The art can be anything you want, it doesn't necessarily have to do with law, and anything that feels right and can add an aesthetic appeal to the inner space can be used.
Signage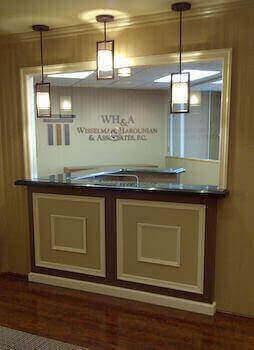 Source:
https://www.pinterest.com/pin/1759287340676173/
This is the commonest and the most appropriate law office décor idea. It involves writing the name of the firm in big and bold letters that have been molded out of metal in clear and good looking fonts. In fact, if you walk into any law firm, this could be the only form of decoration you'll see on the walls.
It is a preferred style as it is a form of self-advertising, a form of branding. You can have it placed behind the reception desk and it should be big enough to be seen even from outside by people who may not be looking for your services at that particular moment.
Wall Partitions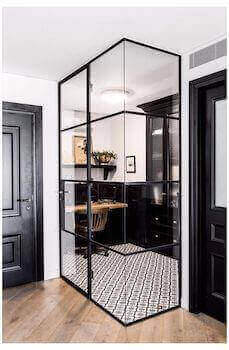 Source:
https://www.pinterest.com/pin/1337074882181239/
Another innovative idea would be to use beautiful partitions inside the whole office. Rather than using concrete walls, you can go for glass partitions that have beautiful patterns on them to spice up the various departments within the same open-plan office.
The room dividers can be used with great effect in the lounging area to give the client a good view of what is going on around them without them feeling like they are invading anyone's privacy.
Besides glass partitions, there's also the option of using wood, metal, and plastic, all with different designs that add a classy and professional touch to space.
Furniture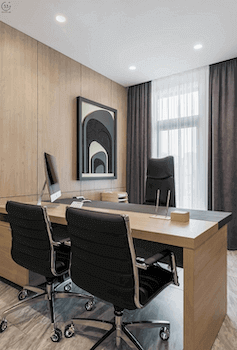 Source:
https://www.pinterest.com/pin/35325178317457851/
When it comes to office furniture, there's nothing classier out there. Every part of the office requires chairs, tables, mobile or tablet accessories and shelves. You must have a running color theme and scheme that blends well with everything else.
The colors of the sofas and the chairs have to match the colors on the walls and the floors; not necessarily identical but you can find a way to use different colors that go well with each other.
Conclusion
Decorating a law office is not an easy job. You may need to have a solid background in interior design to be able to pull it off with class. Therefore, if you are setting up a law firm, you may need to hire the services of a qualified professional. Feel free to check out our website for more ideas on interior décor.
For more amazing ideas you can have, visit Guy About Home today or you can check the related blogs: