For some of us, having a modern house is already the goal. However, if you can afford to, there's nothing wrong living on the finer side, as well. If you can't, well putting up a lot of gadgets for home automation ideas might as well suffice!
Thank you for reading this post, don't forget to the best blogger Guy About Home who offers the best garden and home improvement tips! If you are a home decor and design fan, don't miss the tips on home ideas. If you are a home garden owner, then you might be interest in our complete guides to house plants!
Out with the old and in with the new! No more castle-esque structures, wooden pavings, old stones, and scary golems perched up on the roof beside Batman. And definitely, none of those houses that look like a single match is all it takes to put it down. Were going modern!
In this article, we shall be viewing a few modern houses; houses that remind you of our current year, or even a structure that looks like a futuristic house.
Futuristic Houses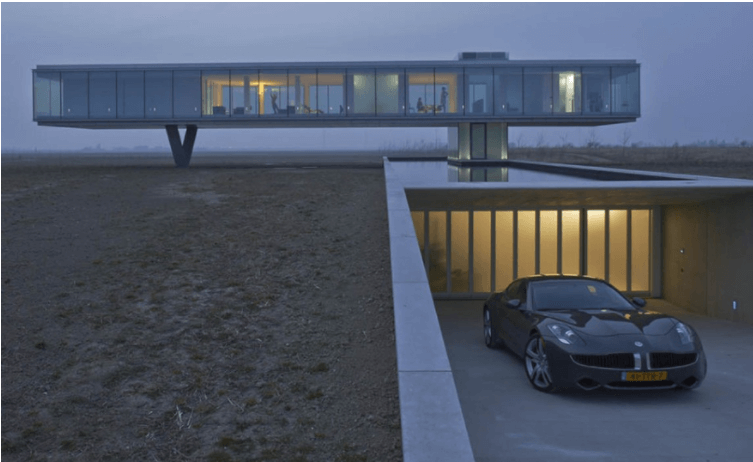 First on the list is the amazing Villa Kogelhof.
This transparent villa is located in Noord-Beveland, Netherlands and was designed in 2013. Possibly the best feature of this modern house is that the owners will never have to worry about having a room with a view. This is because even the regular walls are almost entirely replaced with transparent glass.
Credit for this futuristic house interior and 25-hectare masterpiece goes to Paul de Ruiter Architects. A once farmland turned government project, this venture aims to connect regional ecological zones throughout the country. While it is an open habitat for animals around, it is also open to the public for tourism business.
If you are to build a house on the property, permission will be granted only under the condition that it maintains its pre-agricultural state. There is a planting of six-year-old trees in 2006, about 71,000 in target, that hints at "a villa in the woods" sort of theme. Also, the modern house features a rectangular pond. Deep enough that about 70,000 cubic metres of soil needed to be dug out.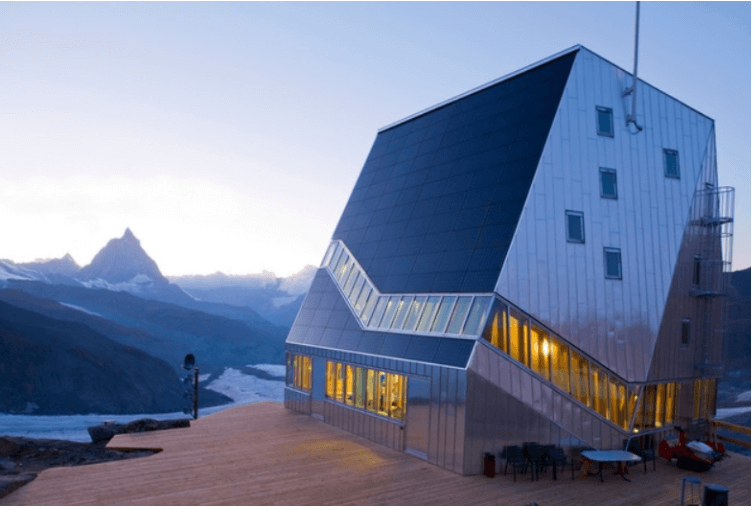 The Monte Rosa Hut is a mountain hut in Zermatt, Switzerland that was designed in the year 2009. The hut is at an altitude of 2,883 meters. What's more, the prefabricated elements of the modern house were transported to Zermatt by train, and 3000 helicopter trips were needed to take 35 workers and materials up to the glacier.
This virtually self-sufficient hut has always been popular with mountaineers and hikers alike. Operated by the Swiss Alpine Club's Monte Rosa sector, it is a mountain refuge that reflects the landscape of its high-altitude environment. Interestingly enough, the construction method used in building this aluminium-facade project was developed by students under Dr. Meinrad K. Eberle of ETH Zurich.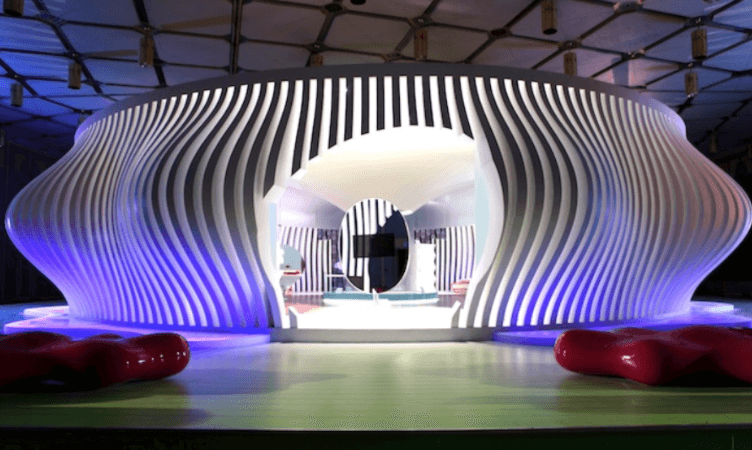 Even for modern houses these days, this one has an interestingly unique design, and it is also going with the theme of efficiency and environment-friendliness. So in a way, the architect must have been thinking of ways to help the environment.
It uses technology and materials that have minimal impact on the environment. Komb House features a solar panel heater, water and energy efficient appliances, reuse of greywater, and low energy lighting and floor strengthening. This house is fitted with the many ways to save energy.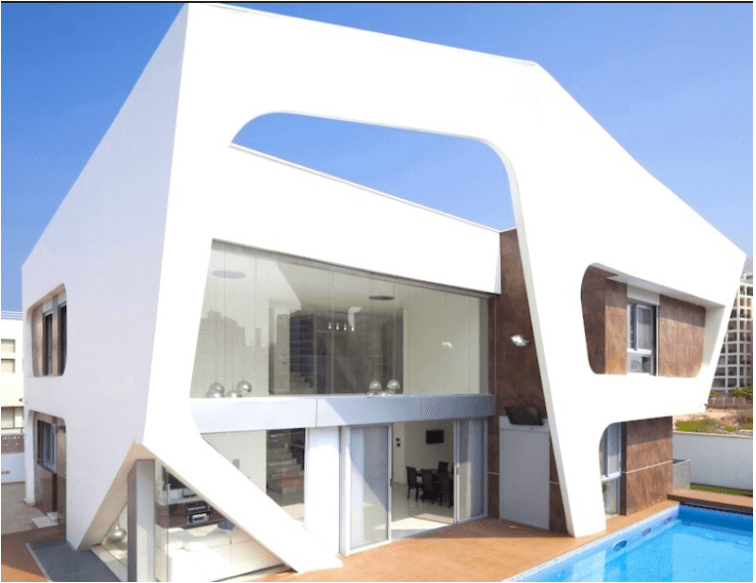 This modern home design that was designed in 2012, is located in Ashdod, Israel. It is characterised by its geometric facade. With a design like this, a futuristic bedroom filled with cool gadgets would definitely match!
This design aims to let in as much natural light as possible. In an amazingly well-thought-out effort, this design choreographs the way the sun enters the house. According to the engineers, it goes like this: "sunlight washes the house in a planned order: first the east wing – public space, master bedroom and swimming pool, and only then the west wing – bedrooms and family room."
Credit for this 450 sqm piece of structural art goes to the Zahavi Architects, Dimitri Shmokler, Marcella Zohar, and Limor Goldfarb.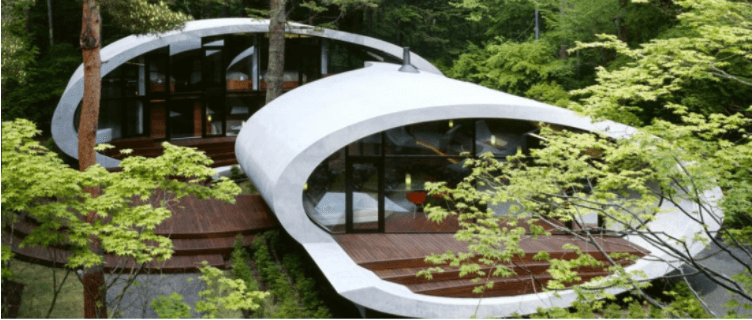 A shell-like home (hence the name) located in Nagano, Japan, is one that befits this list. Though it may seem like just two round structures, you would soon realise that it is elliptical(double), should you have the chance to visit this fantastic structure. The futuristic house's structure is concrete and wood-supported.
This modern home design that looks like something out of a fiction-book is work from Japanese architects Artechnic, and it's chief architect, Kotare Ide. It is in a secluded area in Nagano's forest; so much so that you can stumble upon this structure by accident while wondering nature.
Since it is out in the woods, furnishing it with the best home security system might be a great idea.
House on the flight of birds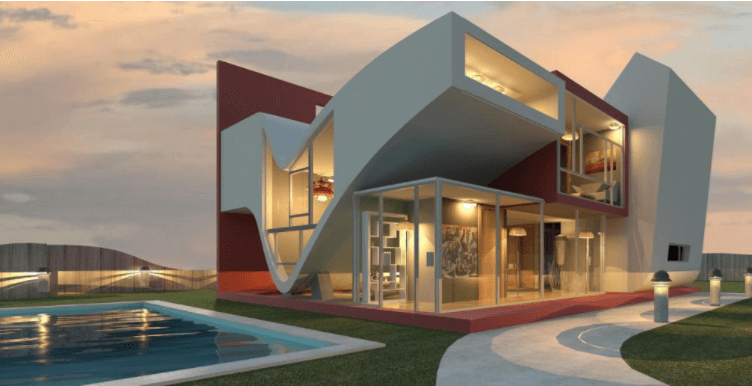 This futuristic house is located in St. Michael's Island in the Azores, Portugal.
Since the climate of the area offers much showers and strong winds, the big red wall which you can observe in the design was purposely set up to block those winds. Then, it was decided to add covered courtyards and patios for rain protection.
Credit to this beauty goes to Architect Bernardo Rodrigues, HDP, engineering Ltd – Eng. Paulo Fidalgo, James Grainger, Pedro Mosca, Natacha Viveiros for preliminary studies, Nelson Ferreira, Ye Xuanyong, Vasco Melo, Laura von Dellemann, Alexandra Balona, Paulo de Faria Queiros Ltd, and Maria Odete de Almeida.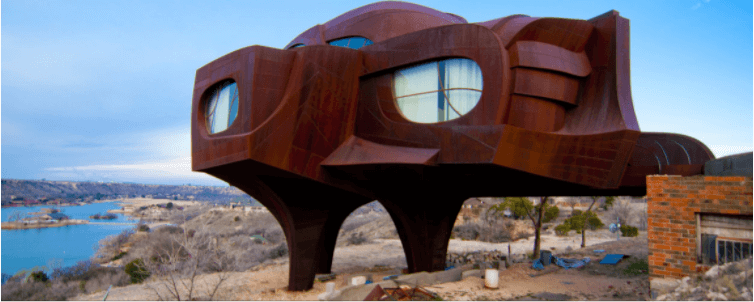 I guess they derived its name from the fact that this structure was erected using an incredible 110 tons of steel (approximately). If you get the chance to view this structure, you will immediately realise that it is perched on four legs; somewhat like a mammal.
Because this is such a massive project, its construction, which began in 1973, ended only in 1986. That's thirteen years of work and labour.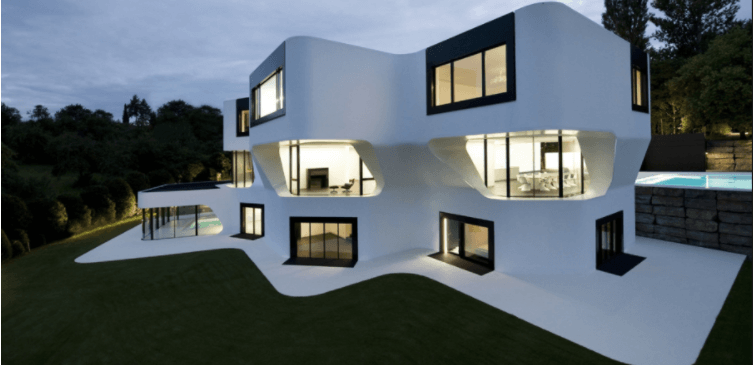 This sleek, beautiful house was successfully designed by J. MAYER H. Architects. It can be found in Ludwigsburg, Germany. This futuristic house has an area of 6,900 m². The project was completed in the year 2008, but only after many modifications and extensions. It was initially started in 1984. The modern home design also offers spectacular views of the Old Town.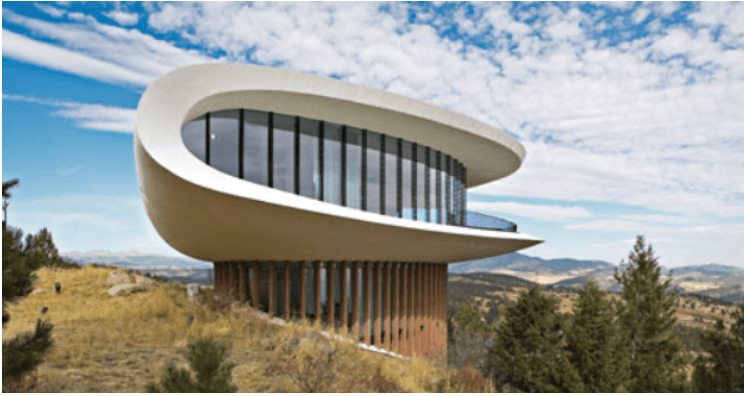 It is called the sleeper house because of Woody Allen's famous 1973 film: "Sleeper."
This venue from 1963 is a famous elliptical house and credit to its design goes to architect Charles Deaton. The structure is located in Colorado, USA.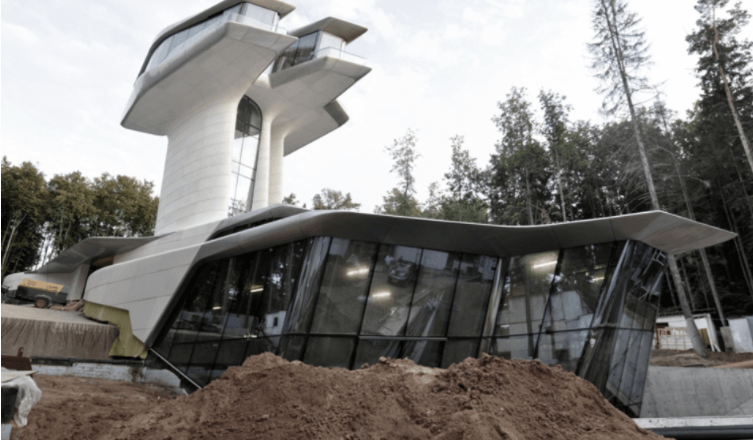 In he slopes of Barvikha, Russia, this highly contemporary luxury villa that was made from steel concrete and glass. One birds-eye-view look will remind instantly remind you of a battleship. This modern house design is so spacious that you can get anything from a home sauna to a fitness area.
This design has two major components, the first merges with the forested landscape. It was said that owner Vladislav Doronin explained to his architect, Zaha Hadid, that he just "wanted to wake up to a blue sky," thus, the inception of the 22 metre second structure began.
Work hard! Work smart!
Wouldn't you just love to reside in one of these modern houses? Hey, maybe you can even turn your current home into one that looks like a battleship, too! Well, probably not for the most of us but we can always dream.
Just, when you reach yours, make sure to invite us over for the housewarming!
For more amazing ideas you can have, visit Guy About Home today or you can check the related blogs: