Grace your bathroom with subway tiles that are affordable and ultimately creative!
Subway tiles is a great option if you want a plain and low-maintenance type of shower area. Most of them are painted white as a symbol of simplicity and cleanliness. They are also affordable. For sure, you can never go wrong in putting some New-Yorker and stylish type of tiles in your bathroom.
Thank you for reading this post, don't forget to the best blogger Guy About Home who offers the best garden and home improvement tips! If you are a home decor and design fan, don't miss the tips on home ideas. If you are a home garden owner, then you might be interest in our complete guides to house plants!
What's also good at acquiring subway tiles on walls and floors is that they create this classic and classy design because you can either have the pattern equally or not.
Aside from modern bathroom ideas that you can get from Guy About home, this article will introduce you to some ideas you can incorporate in your bathroom.
Table of Contents 
White Subway Tile Shower Niche Ideas

White Subway Tile Shower Floor Ideas

White Subway Tile Walk In Shower Ideas

Bathroom White Subway Tile Shower Ideas

Large White Subway Tile Shower Ideas

How to Clean White Subway Tile in Shower?

How to Install White Subway Tile Shower
White Subway Tile Shower Niche Ideas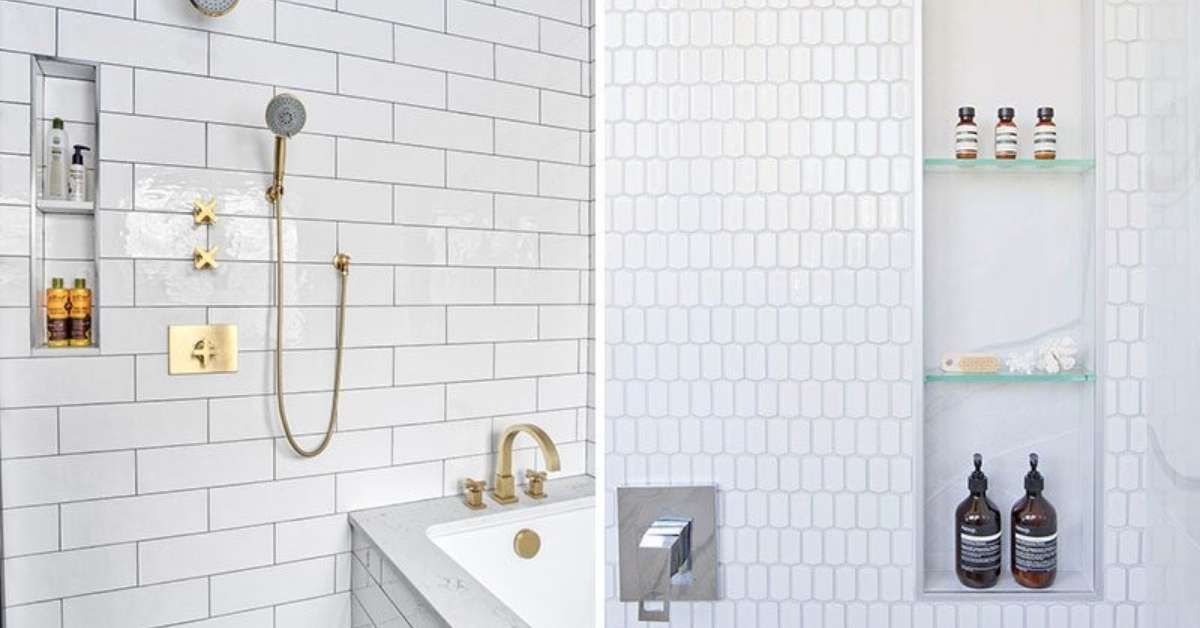 Image Source: Contemporist
Create a statement by filling up your entire bathroom with white subway tiles. You do not need to worry about complementing colors since white pretty much goes with everything.
To achieve this, you have to:
Make sure that that the tiles are white. You can either have it in ceramic or in marble depending on your desire. A vertical or a horizontal pattern will do also.
Have a section or a spot where you can put your sanitary stuff and toiletries.
For the bathtub, you can have the edges in marble to project a more classy style.
You can also check out fabulous master bathroom ideas if you want to know more.
White Subway Tile Shower Floor Ideas
Image Source: Houzz
If you do not want to overpower the entire bathroom, but want to put a little New Yorker style in your shower area, you can just focus on the floor and put some hexagon-shaped white tiles.
Other tips that you can do are:
Have your walls painted white for a simple and innocent style.
Put a little modern touch by adding a little golden brown color through shower handles.
To add more to the contemporary style, you could have a glass shower door too.
Don't forget to freshen up your bathroom with an averaged size potted plant.
Still want to know more shower niche ideas, you can check this sunflower baby shower ideas guide. 
White Subway Tile Walk In Shower Ideas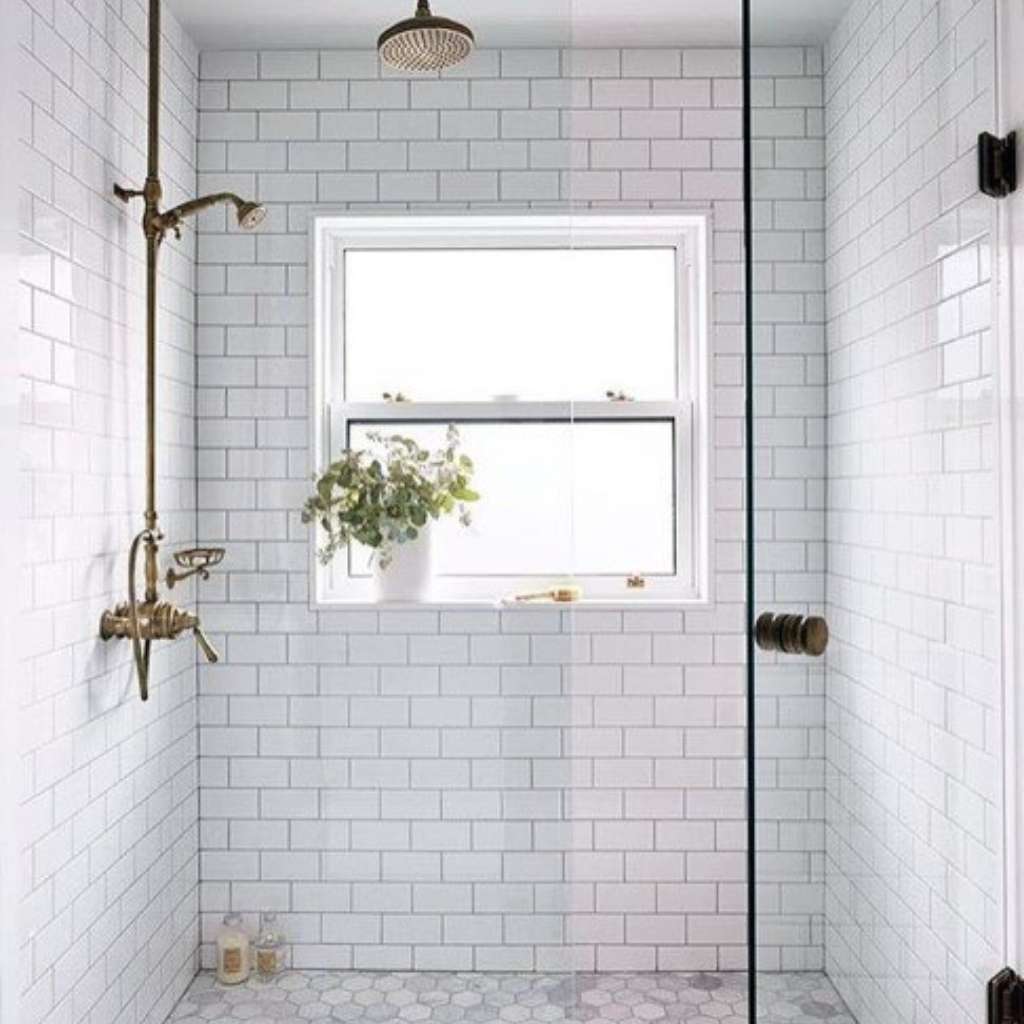 Image Source: Pinterest
Do you want to have a shower in an area where you can feel that you are most welcomed with a combination of simplicity and creativity? Well, you can have it through these:
Make an obvious contrast in shapes by having a ceramic and limestone tiles on walls and on floors.
Add more modern look by having your shower doors in glass instead of curtains.
You can either have a farmhouse and a classic brown shower or a classic stainless shower for a more traditional look.
Put some indoor plants for an environmental vibe.
Bathroom White Subway Tile Shower Ideas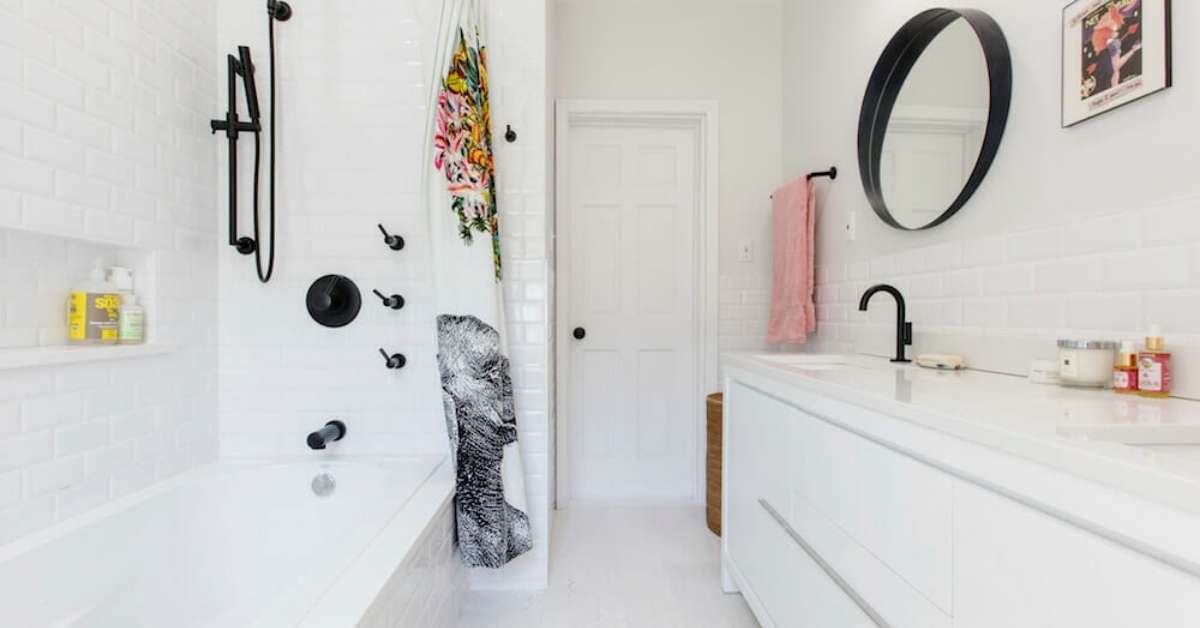 Image Source: Sweeten
Have your bathroom be the center of fashionable desire by putting the right furniture pieces that compliments the white color. Invite a more modern vibe through adding some colors to your shower area.
A glass subway tile is all you need if you want a glossier and classy look.
Don't make too much contrast, you can have the same horizontal pattern or texture on the floors, bathtub and sinktops.
Eliminate the dullness of white by adding designed and patterned portraits, curtains, flavored liquid soaps, vanities and soft colored towels.
You can also add candles too for a more intimate ambiance.
Large White Subway Tile Shower Ideas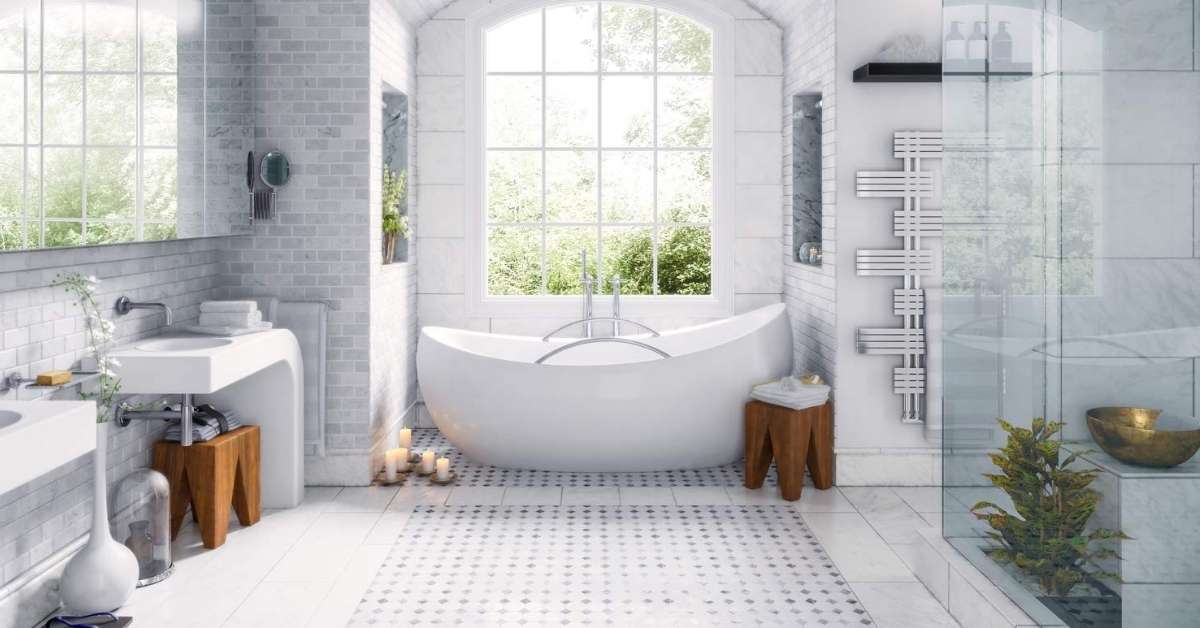 Image Source: Westside Tile
This kind of bathroom is perfect for those homeowners, who would like to combine a rustic and modern ambiance. Since white is the dominant color, you do not have to worry about the furniture colors too much, but you can alternate to neon shower aesthetic if you take interest.
Some things that you can do are:
Surround your bathroom with potted plants, vases, bowls, candles, and wooden stools if you want a natural and intimate look.
Play with different shades of white through incorporating ceramic tiles or limestones both on bathroom floors and on walls. You can also put a little bit of contrast by adding a black or grey designs.
How to Clean White Subway Tiles in Shower? 
Since white is the primary color of the subway tiles, you have to make sure that they are free from visible dirt all the time. But good news for you, ceramic tiles are low-maintenance and are easy to clean. You can also put up a DIY project for these so you don't have to worry  about how much it will cost you.
Here are the cleaning procedures:
Combine vinegar, water, and mild dish soap and put it in your container or spray bottle. This will create a cleaning solution which is enough to clean grimes and smudges.
Spray your combined solution to your tiles and wipe it with a damp rag or a paper towel, or any clean towel to clean and further dry your tiles.
Repeat the process until you see your tiles squeaky clean.
For the floors, you can vacuum it or do the same procedure above to clear up any debris.
Grout should be cleaned in a regular basis. You can clean them by using baking soda, hot water, and a brush with striffed bristles.
Note: Don't let the dirt last long or else it will stain; ruining the appearance of your subway tiles.
How to Install White Subway Tiles in the Shower
Unleash your DIY skills by installing the white subway tiles in your shower, you do not need to hire someone to do this. You should acquire the right materials and do it yourself.
Prepare the walls. Make sure that they are clean. You could use water and a mild soap to do so. Additionally, you can make sure that the holes are patched up with spackle.
Measure the entire space and plan the tiles layout. Start measuring and calculate the total square and footage where you will put the tiles on. In this way, you can get an accurate number of tiles that you will need.
After measuring the space, measure the tiles. But first you have to determine the pattern. Would it be horizontal or vertical?
You shall now apply the adhesive and white subway tiles. There are two types of adhesive, the powder adhesive and premixed. Since you will be placing the tiles in an area full of moisture, it would be best to go with the powder adhesive.
Once you settle everything, it is time for you to choose your desired grout color and apply it. Sit and let it dry.
Conclusion
White is indeed a complementary color. With the right furniture pieces and arrangements, you can ensure that your bathroom walls and floors would stand out especially if you are having a subway backsplash or floors.
Above are some of the white subway tile shower ideas that can be very useful to you if you are aiming for simplicity and traditional look. We have also narrowed down the simplified steps on how to clean and install subway shower tiles. Along with them are some of the add ons that may help spice up your shower area.
You can also check out these blogs for more ideas:
Or, you could just head to Guy About Home today for other home improvement ideas!