Having a movie room in your home is a great way to ensure you have a place to escape to. It provides the perfect opportunity for you to unwind and unplug from your everyday stresses.
The best part about having such a space is that you get to host friends and family and enjoy your time together over a movie.  With such a space, you may be wondering what you need to do to make it inviting and appealing.
Thank you for reading this post, don't forget to the best blogger Guy About Home who offers the best garden and home improvement tips! If you are a home decor and design fan, don't miss the tips on home ideas. If you are a home garden owner, then you might be interest in our complete guides to house plants!
Well, there are a few things you can do to ensure you achieve this. You'll need to invest in the right kind of decor to ensure that your space turns out as you'd like. Some of the decor you should consider include:
Furniture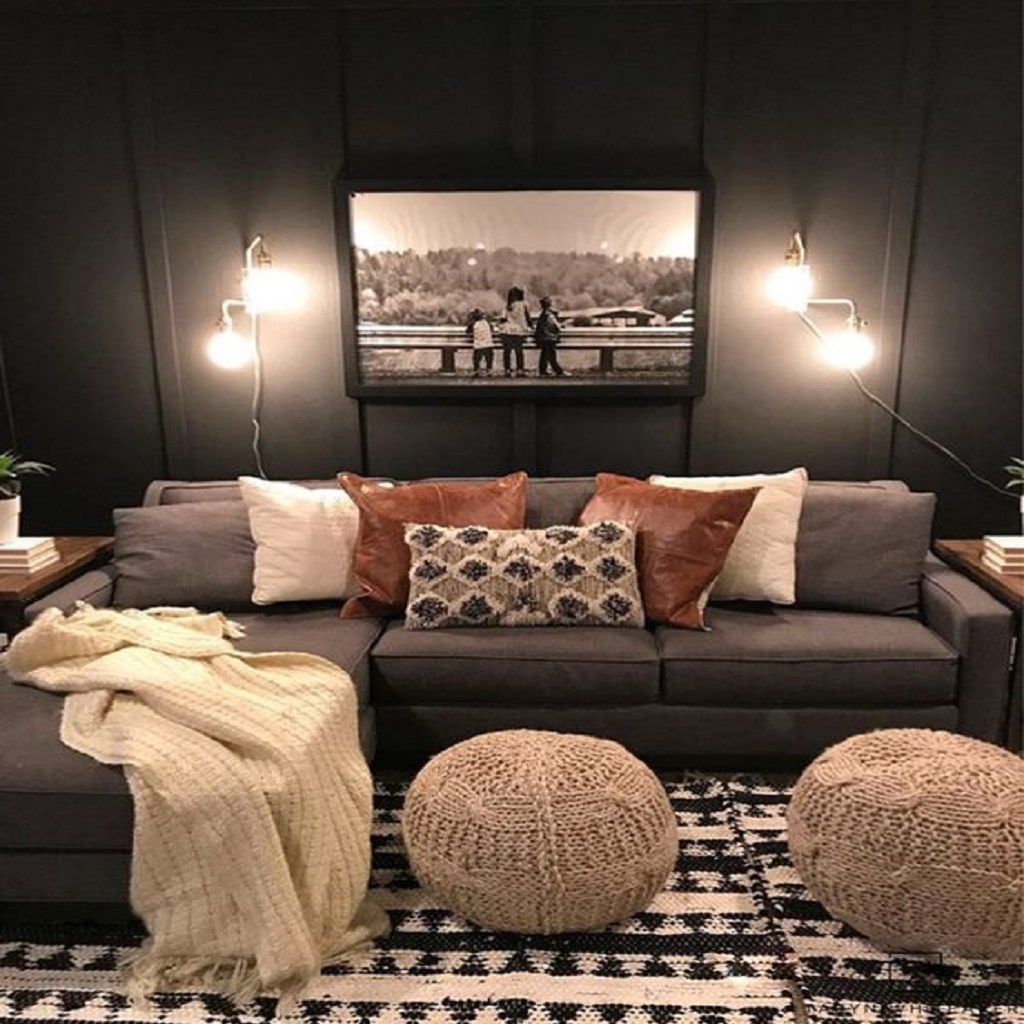 Source:
https://www.pinterest.com/pin/1266706134222587/
Your choice of furniture in your movie room plays a big role in influencing the overall look of your desired space. If the aesthetics of your movie room matter to you, investing in the right furniture is important.
Your furniture should fulfill all the requirements for it to be featured in your movie room. As shine as inspiring indoor plants quotes, ensure that it is very comfortable and supportive where people can spend a few hours. Also, pay attention to the design you decide to invest in.
Avoid going for the generic furniture choices you find in movie rooms. Consider investing in pillows, ottomans, bean bags, and other interesting furniture choices available.
Additionally, pay attention to the color you choose to incorporate. Consider using a pop of color to give the room a lively feel and look. Your furniture will play a big role as decor in your movie room to ensure that you get the best look.
Paint Your Walls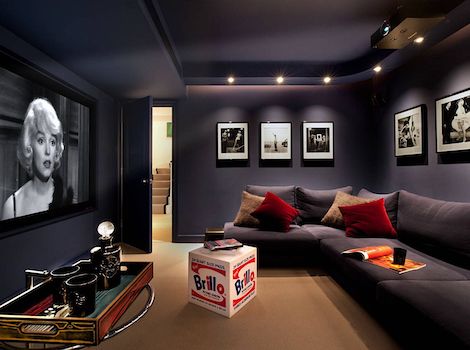 Source:
https://www.pinterest.com/pin/2181499810239144/
To add to your decor choices, sprucing up your walls by adding a fresh coat of paint is a necessary step that will help you improve the look of your room. Most movie rooms are always dark to ensure that you get the best experience possible.
With this in mind, you find that painting your walls a dark color is always a good idea. This will help you achieve a dark effect with ease as you watch your movies.
However, you also have the option of painting your walls a bright color if you want to. This will however require you to invest in blackout curtains if you'd like to make the room darker, especially during the day.
Movie Posters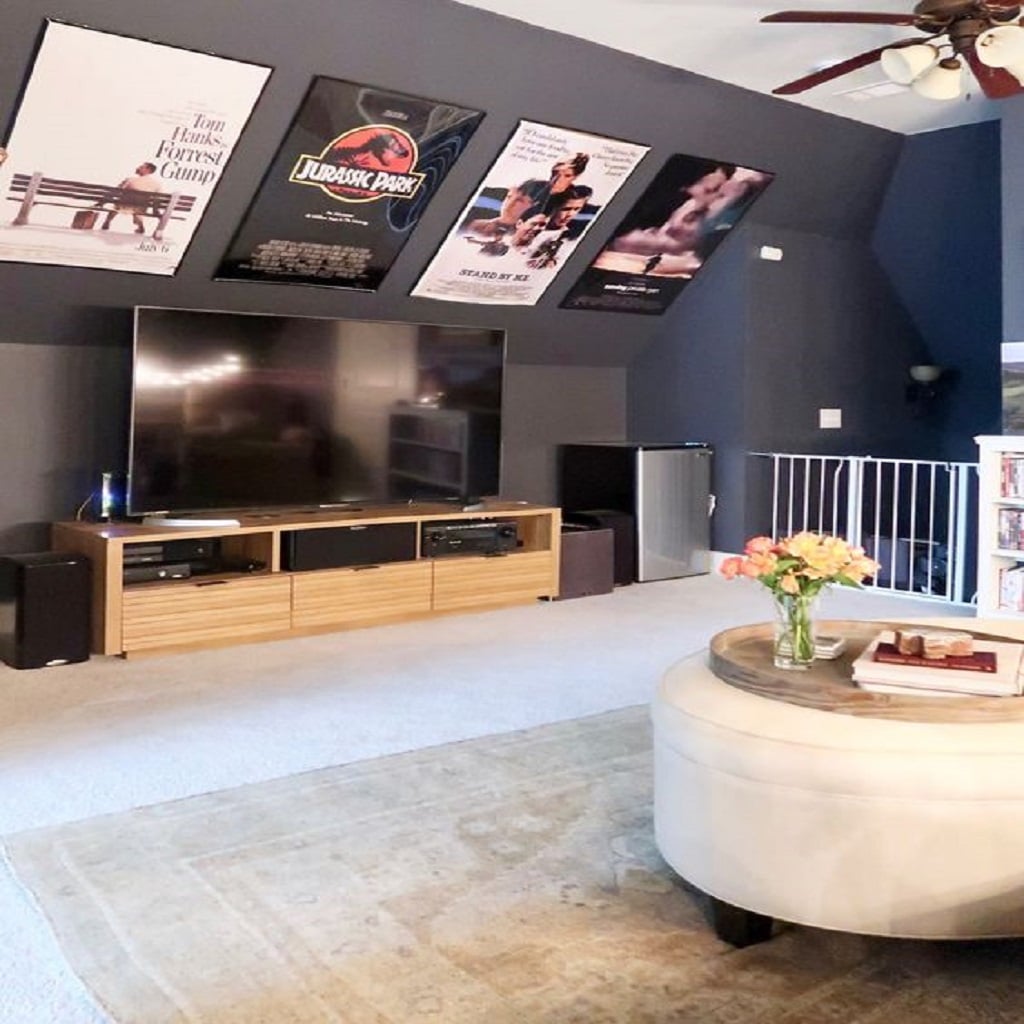 Source:
https://www.pinterest.com/pin/9922061668479145/
Given that this is a movie room, including movie posters is a great decor idea that you can implement. Lovely as ninja turtles room ideas, take a look at your most favorite movies and print out the posters you want to see around your room.
You could also stick to having a collection of your favorite movie stars instead. Once you've printed them out you can stick them directly to the wall if you don't want to spend too much on it.
However, investing in decorative frames that you can easily include in your printed posters is a better idea. This will also contribute to the overall decor you are going for.
Throw Pillows and Blankets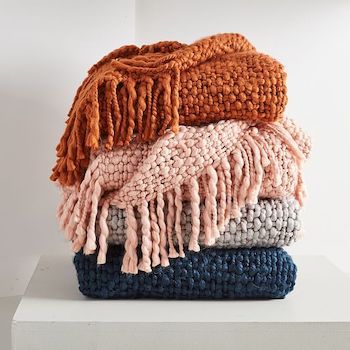 Source:
https://www.pinterest.com/pin/9007267994047937/
Pillows and blankets are great decor pieces that add to the comfort and relaxation that should be enjoyed in a movie room. To ensure that you get the best out of this, invest in throw pillows that are attractive and complement your room perfectly.
You could consider using different shapes or colors to ensure that you get it right with your decor. When it comes to using throw blankets, ensure that you use a different texture.
Adding Texture is a great way to ensure that your decor is on point. The best thing about using throw blankets is that you can easily use them if it gets cold while watching. They also offer a great relaxation feeling that you could easily enjoy.
Frame Your TV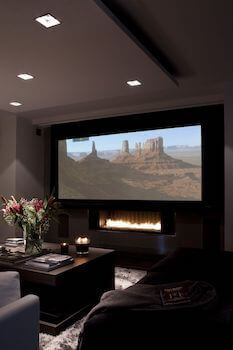 Source:
https://www.pinterest.com/pin/188729040623628302/
Your movie room should feature a television and home theater system to make the experience better and a lot more fun. With this, you need to frame the area where they'll be situated.
Doing this adds a great decorative aspect that you contribute to making the movie room more aesthetically pleasing.
With the right design, you'll be left with space to also include some family photos, books, and other knick-knacks. This will also allow you to easily hide away the wire cables that could make the whole setup a mess.
Conclusion
Working to decorate your movie room is a good step to ensuring that your space depicts your personality. Inspired as pinterest living, as you do this, remember to invest in the things that feel right to you. The most basic things could make a great decorative piece.
Additionally, knowing that some of your furniture and accessory choices can also serve as decor will save you a great deal. It will influence your choices when making a purchase. Stay mindful in this process to ensure that you get the outcome you are aiming for.