Ah, the babies. Our precious little seedlings. We can't wait until they grow up and are finally able to change their own diapers or get rid of them altogether, let's let them decide on that! However, for that to happen, we have to make sure they are alive long enough to learn.
Thank you for reading this post, don't forget to the best blogger Guy About Home who offers the best garden and home improvement tips! If you are a home decor and design fan, don't miss the tips on home ideas. If you are a home garden owner, then you might be interest in our complete guides to house plants!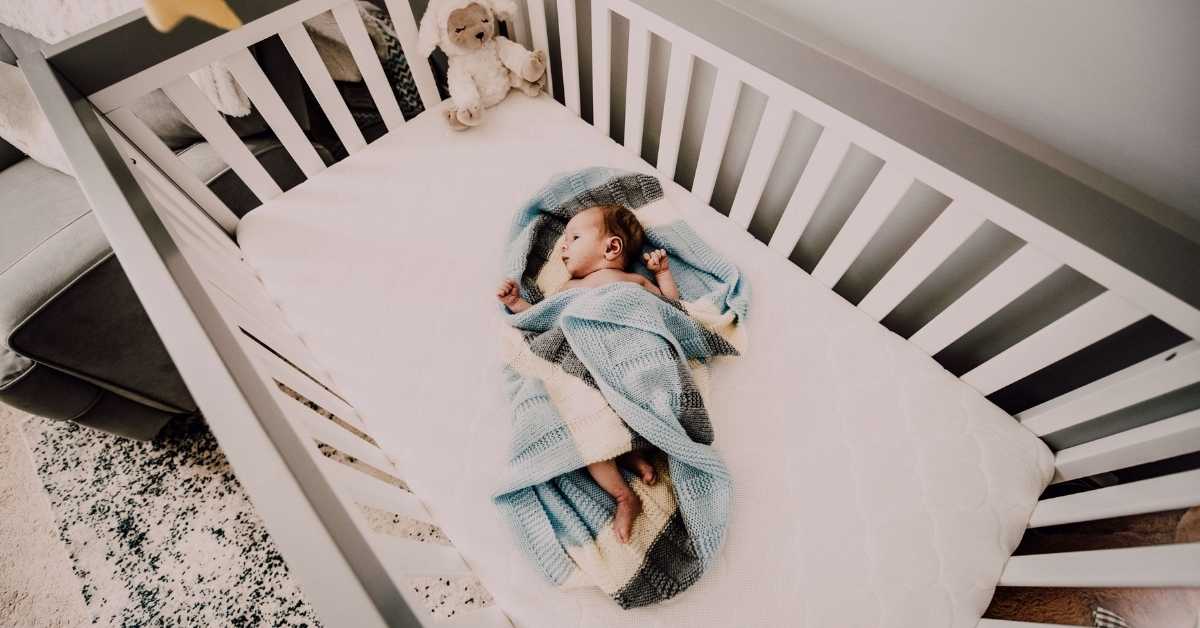 Therefore, it is our job to keep them safe in their most vulnerable time. A baby proof house filled with child proofing products is a great way to go about their protection. We cannot afford to risk them banging into the wall, tripping down the stairs, or, God forbid; hurt themselves on sharp furniture. It's a nightmare to even think about.
Baby Proof House With Child Proofing Products
Image Source: Pinterest
A good tip to remember is that baby proofing products are usually made for the more common, classic-type of household. You might be fitted with challenges if you have a more modern home.
It can be a parent's greatest nightmare to have our toddlers fall off the stairs. With that said, check out the bannister-to-bannister retractable fabric safety gate that is manufactured in the USA.
It feels like a rug with boards inside, making it sturdy; therefore, knowing a little about rug cleaning could go a long way! It also has hooks and grips on either end that you can wrap, tie, or lock around the edges of the entry point to your stairs; therefore, hindering unwanted entrance or exits from your baby or babies.
Also, a bonus is that this product doesn't actually look half bad. The nightmare would be to plan and buy a beautiful home only to make it ugly with a bunch of baby proofing products. This stylish baby proof product will protect your children from an accidental fall and keep the wonderful aesthetic of your home.
It boasts easy installation, versatility, works with any bannister, it is sustainable, and it has multiple different methods of installation.
Skip Hop Moby Bath Spout Cover For Bathtub Protection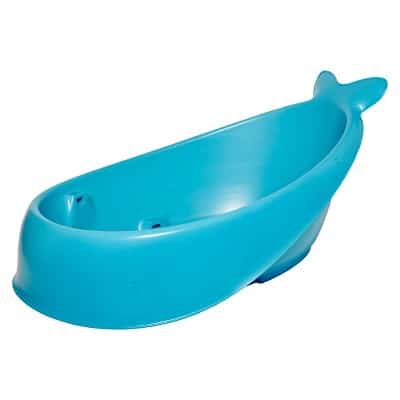 Image Source: Pinterest
Unbeknownst to many, drowning is one of the primary cause of death among kids in the US. For infants less than two years old, it most commonly occurs in the bathtub. Here are a few things you can do to avoid this danger towards your little angels.
The best thing you can do is always to keep an eye on your baby. Never let them be out of arms reach. If you need to leave the bathroom or forgot something outside, either let it wait or take your baby with you. Many things can happen in just moments.
To mitigate the danger of other possible accidents, make sure to keep your baby away from the faucet's tip as far as physically possible to avoid bumping its head. But you may also just install Skip Hop Moby. It acts as both protection and entertainment! It can even work as excellent beach bathroom decor.
Also, be mindful of the water temperature. A relaxing warm temperature may be soothing to us, but may already hurt the baby's sensitive skin. Check your water heater that it is below 120 degrees to reduce the risk of burns.
One more great practice you can employ is to always make sure your own hands are dry before taking the baby out of the tub. The reason for this should be apparent.
Cord Raceway Cover Cable Concealer Kit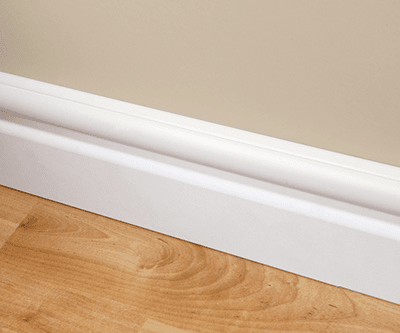 Image Source: Pinterest
Kids can go through a chewing or gnawing phase. These same toddlers can go through a pulling phase, as well. It can get troublesome if the baby decides to do one or the other to the cords connected to the very expensive wall-mounted flat screen OLED ultra HD TV.
If it was constructed right, it shouldn't come off; however, would you really want an item that probably cost about your whole month's salary to get damaged and need repairs? Conceal the wires! Not only do they get them out of the way, but they blend with walls pretty easily. Therefore, they're an aesthetic enhancement as well!
These are great for cable management. Most computer hardware enthusiasts use these to keep the clutter of wires and cables at bay. Also, they're pretty easy to install. You can use either a screw or self-adhesive tape. The kit includes six raceways to conceal up to 150 inches of cable.
They can also be custom cut, and the good thing about this is that it has an installation guide included with the package. Use this product on wires on the floor as well. Especially ones that don't need to be unplugged too often or are always just plugged to the same socket. This can prevent any tripping incident from the children, as well as their parents!
Table Edge Guard & Corner Bumpers for Baby Proofing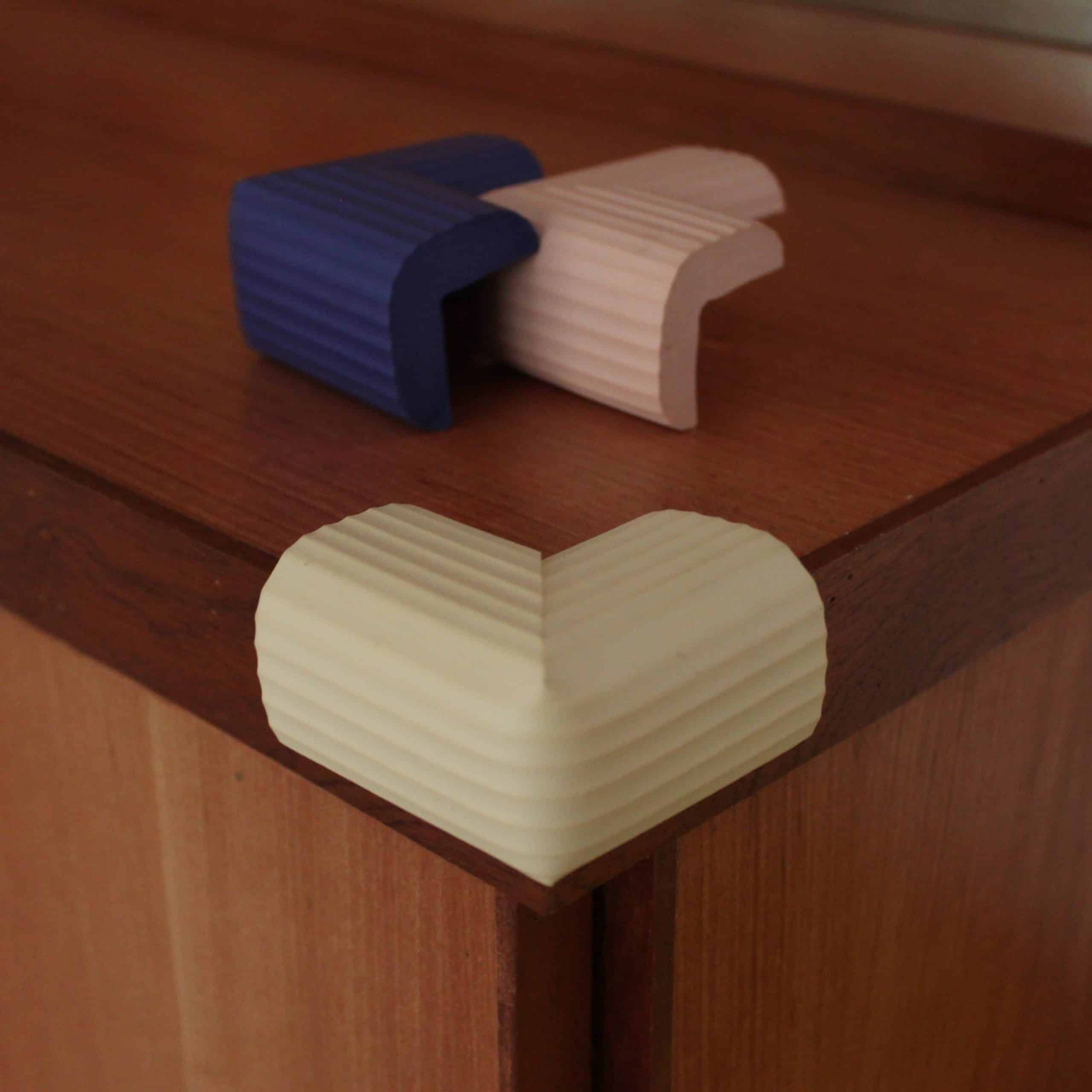 Image Source: Pinterest
For us to avoid having the babies hurt themselves on sharp furniture, we need to mitigate the danger. Successfully doing this will alleviate us of the anxiety and fear as well. Getting rid of the furniture is a way to go, but I think we could all agree that it isn't the best solution. So, what can we do?
A great solution to this is installing a table edge guard. Basically, it's a protective material that is fitted on to the sharp corners of tables and cabinets. This product boasts easy installation, extra long cushion corner protectors, more dense edge protector to absorb impact, and the guarantee to always shield our precious seedlings from sharp corners.
This product comes with fifteen feet of safety edge cushion, plus eight corner cushions. This won't do much if it won't stick; gladly, it also includes a 3M adhesive double-sided tape. There are forty-five feet of tape for the edge cushion and thirty-two pieces of tape for the eight corner cushions. You should have more than you need for a straightforward installation!
Choose and commit
No matter which you choose, committing to them by installing them correctly and using them often is highly advised. It will all be for nought if you bought them and just stored them away. However, it is still the best practice to always keep your eye on your little seedling.
These precious angels will, predictably, get a little wild and naughty. Feed them, and they'll spit at you, clean them, and they will just soil themselves again five minutes later, but that's the beauty of parenting. You get to raise your own human and teach it all the wonderful things you know.
Good luck and happy parenting!
For more amazing ideas you can have, visit Guy About Home today or you can check the related blogs: