You'll be so glad you didn't hire a contractor to do your basement after seeing these modern, creative, and truly inspiring spaces.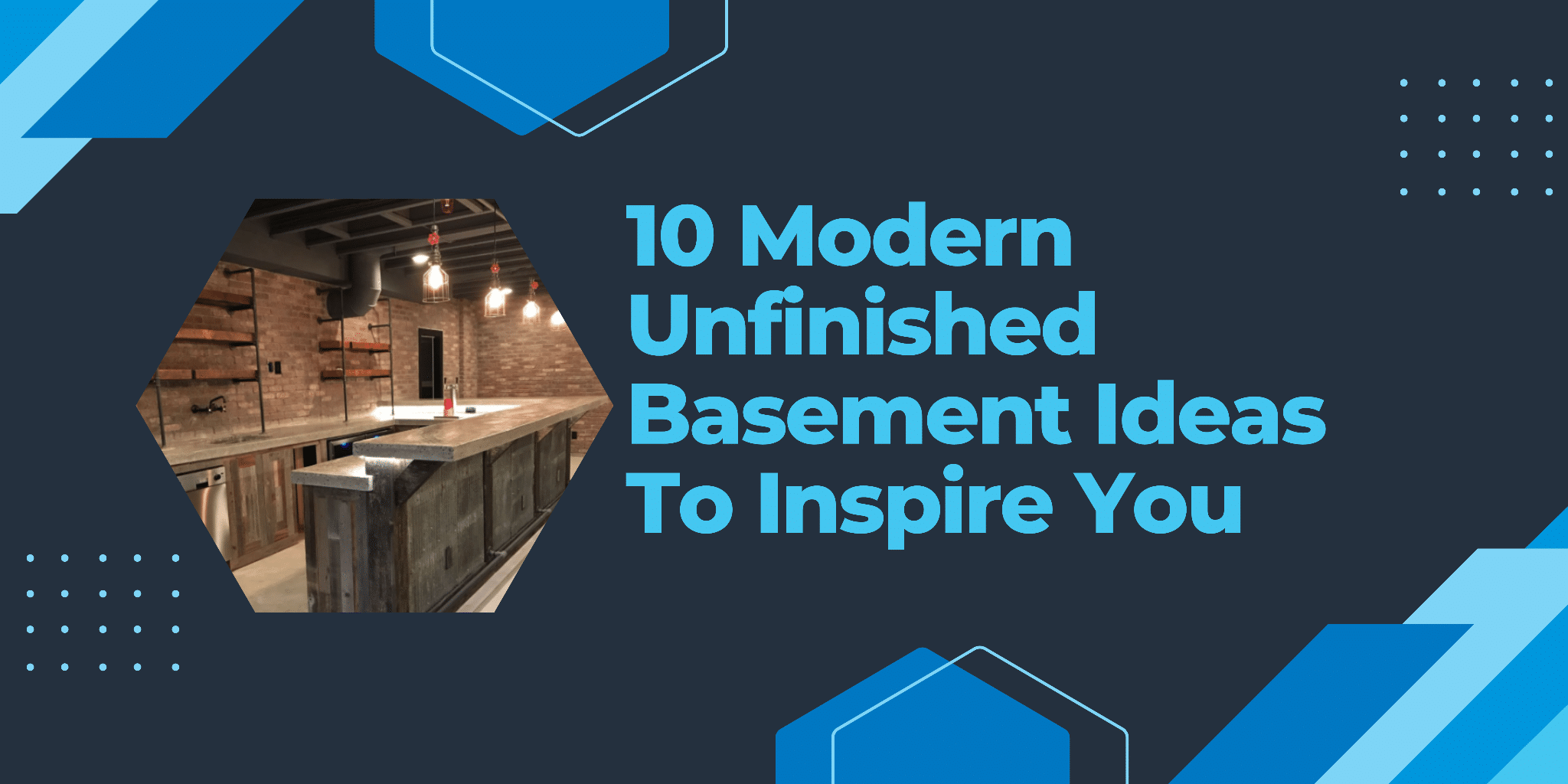 Image: Canva
Modern unfinished basement ideas are becoming popular among homeowners. It is not surprising that the modern lifestyle is becoming more demanding, as people do not have much free time for their hobbies, even for home improvement. 
However, in order to make your life easier and more comfortable, it is necessary to take care of your home. The basement is one of the most often neglected areas in the house. Still, if you have an unfinished basement, you can easily change its appearance by applying some of these ideas.
Table of Content
Unfinished Basement Bar Ideas

Unfinished Bedroom Ideas

Unfinished Billiards Room Ideas

Unfinished Basement Cine

m

a R

o

om Ideas

Unfinished Basemen

t

Ho

m

e Gym

I

deas

Unfinished Basement Low Budget Ideas

Unfinished Basement Studio/ Office Ideas

Wine Cellar

Unfinished Basement Exposed Ceiling Wood

Playroom in Unfinished Basement Ideas
1. Unfinished Basement Bar Ideas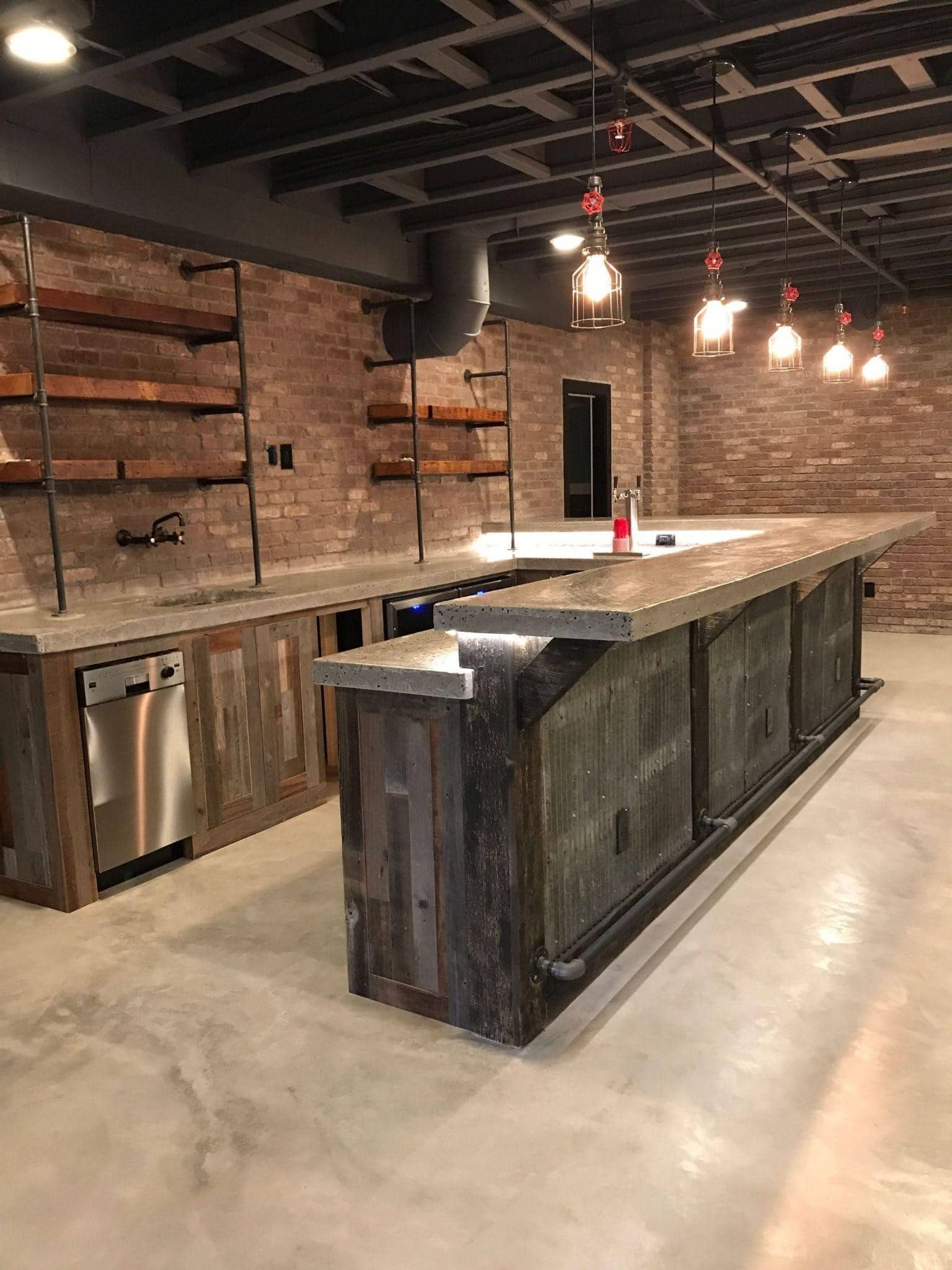 Image: Pinterest
A basement bar is a perfect solution if you need a space to entertain guests or just have a place to kick back with friends! This space can double as a guest room or game room if necessary. There're plenty of options for storage and entertaining in your basement, so don't be afraid to make it your own.
Use these unfinished basement bar ideas:
Make your space functional and entertaining.

Add in

LED lighting

so you can see the area.

Add wallpaper, lighting, and furniture for a stunning and inviting space.

Use a contractor to finish your basement.
2. Unfinished Basement Bedroom Ideas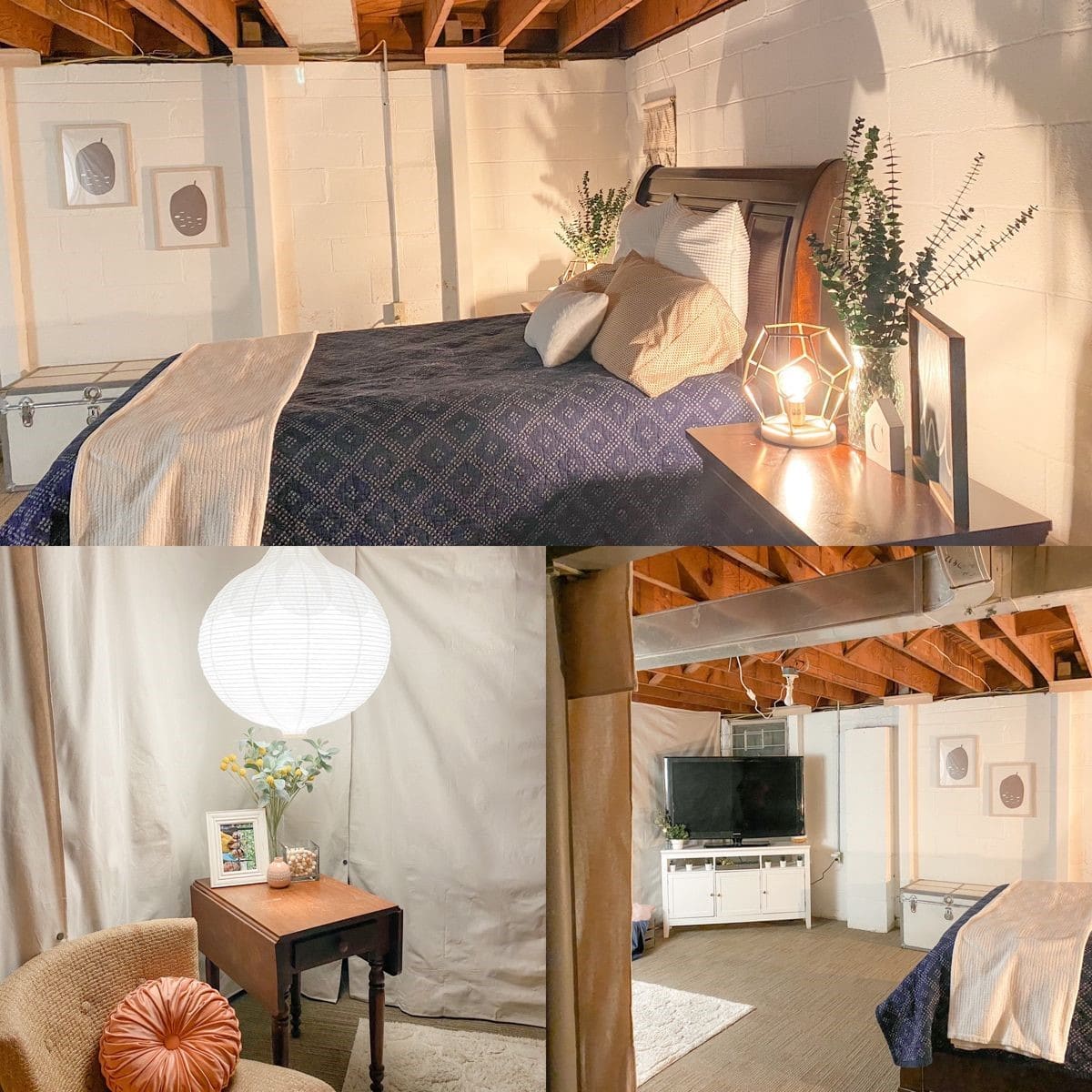 Image: Pinterest
You may not realize how unused the basement is. You probably hide many of your belongings down there and might even sleep there in winter. By turning your basement into another room, you can make the most one of your home's significant spaces.
Check out these basement bedroom ideas:
Use old cabinets or order new ones.

Make your wall decorations shine by adding window treatments or paint.

Keep it warm, simple, and functional.

Consider adding another door or window for natural light.
3. Unfinished Basement Billiards Room Ideas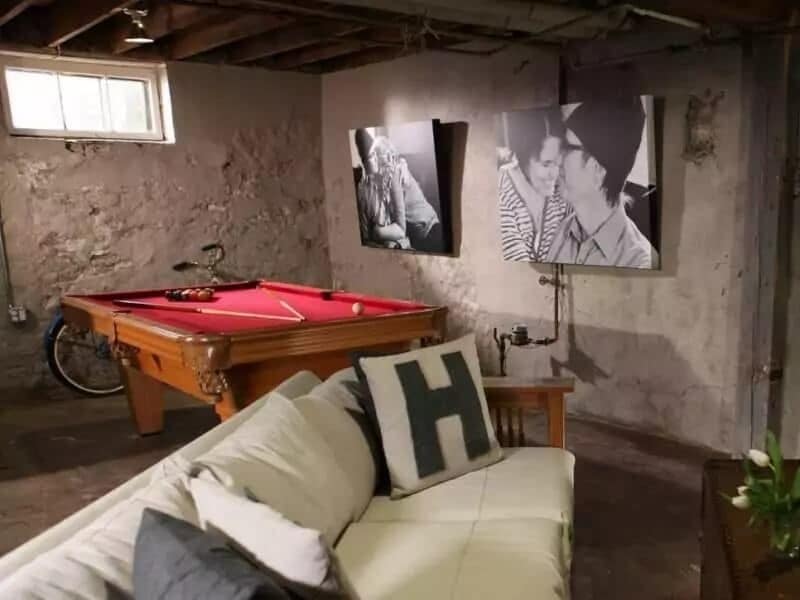 Image: Pinterest
Ever dreamed of having your very own billiard room but were never able to because you lived in an apartment or a house with a low basement ceiling? You're in luck! With these excellent basement billiard room ideas, you'll be able to get the space that you crave!
Here are some tremendous unfinished basement billiards room ideas:
Use house plan gallery to customize a basement billiards room.

Add lighting to your basement billiards room.

Pick an accent color (like red or blue).

Buy cheap pool tables and accessories online.

Decorate your walls with big wall photos or posters.
4. Unfinished Basement Cinema Room Ideas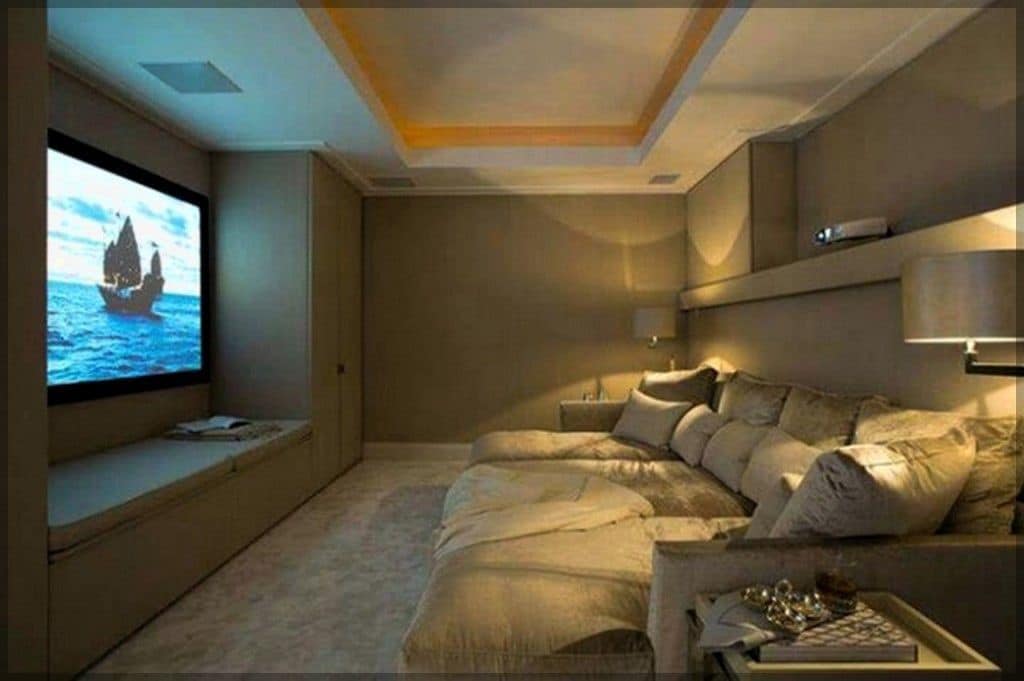 Image: Pinterest
Let's face it, taking the whole family to the movies will save you a lot of money, especially if you want to see the latest blockbuster. Then, once you've entered the theater, you'll need to compete with the other patrons there. You may avoid the hassle by transforming your unfinished basement into a cozy home theater. All that is required is to install a wall mount for a television or projector screen on one of the walls in your unfinished basement.
Check out some basement cinema room ideas:
Use large cutting boards to make movie theater popcorn carts.

Hire someone to custom build you a home theater.

Use essential DIY tools.

Choose the right colors for the room.

Pick out a foundation for your room.

Set up entertainment systems.
5. Unfinished Basement Home Gym Ideas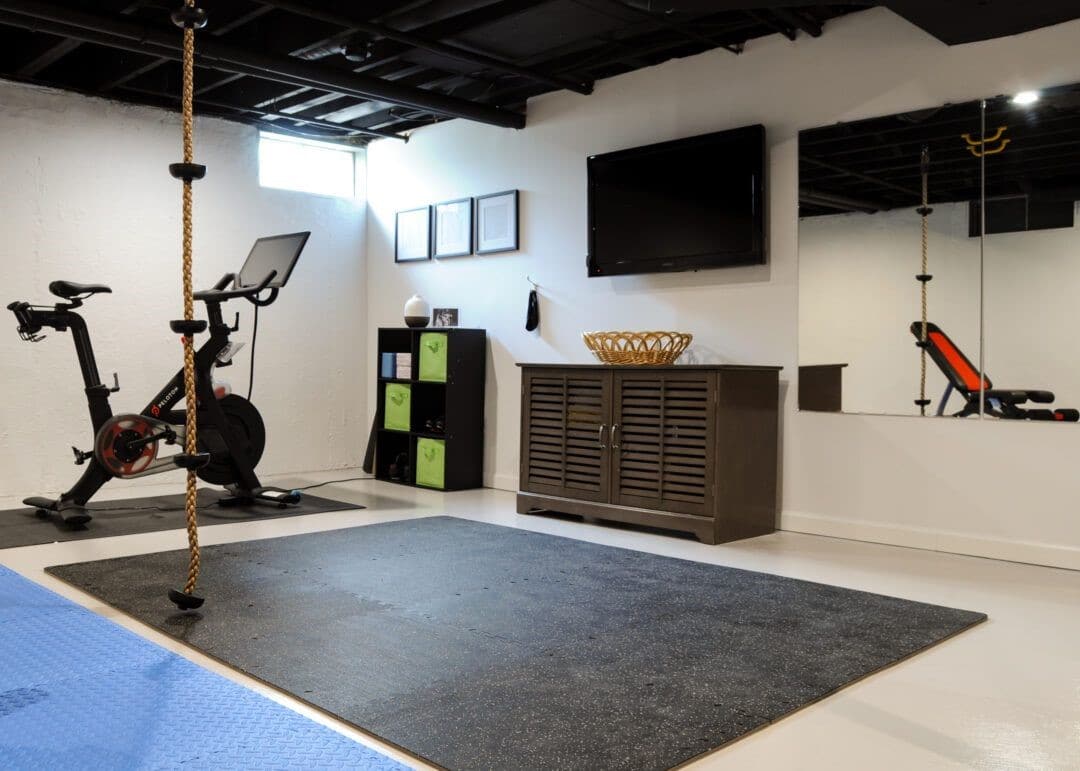 Image: Pinterest
A home gym can be a great way to increase fitness in your own home. If you don't have the time or budget for a gym membership, having your home gym will allow you to exercise regularly without breaking the bank. While a home gym can provide great benefits, it is also important to remember that a kit can be costly and requires plenty of room to create an effective workout space.
Here are some home gym ideas you can use:
Make it comfortable by adding amenities like a lounge chair and a tv.

Buy some equipment tracks to create.

Make it inviting for guests and family members.

Add a dumbbell rack.

Install some wood floors.

Hang some mirrors.
6. Unfinished Basement Low Budget Ideas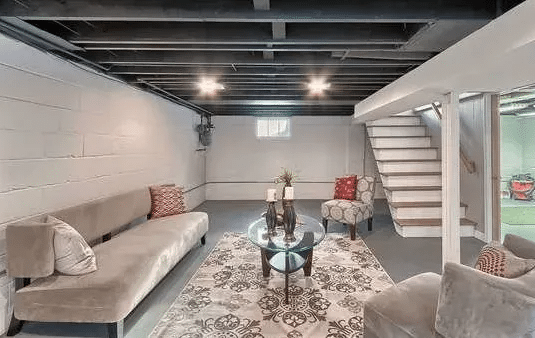 Image: Pinterest
You have decided to finish the basement but you don't have much money to make it happen. This is a very common problem that people face nowadays. Unfinished basements, also known as unfinished spare rooms, always need improvements. The basement ceiling is one of the cheapest and most easily turned into something beautiful and valuable.
Check out these tips on unfinished basement low-budget ideas:
Repurpose old items and furniture.

Use a sisal rug on the floor.

Use white bedsheets on the walls and drape them over furniture.

Create a plan for the best possible budget you can live with.
7. Unfinished Basement Studio/Office Ideas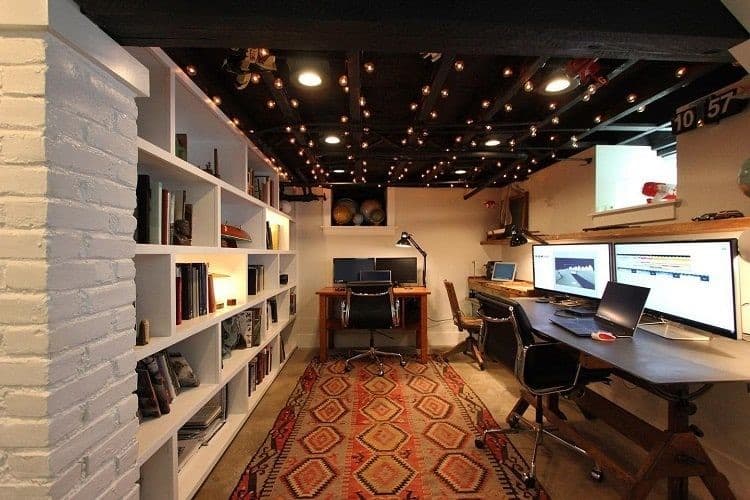 Image: Pinterest
Setting up an office in the basement is a good idea. It gives you a quiet place to work that is made for that purpose. You can close the door to create a space where you can have meetings, study, research, and concentrate on what you're doing.
The following are some options for converting your basement into a creative studio or office space:
Use a table lamp for lighting.

If you don't have enough electrical outlets, get an extension.

Improve the room with a few easy DIY projects.

Reuse old furnishings and make them your own.

Try to use bright lights and other fantastic elements.
8. Wine Cellar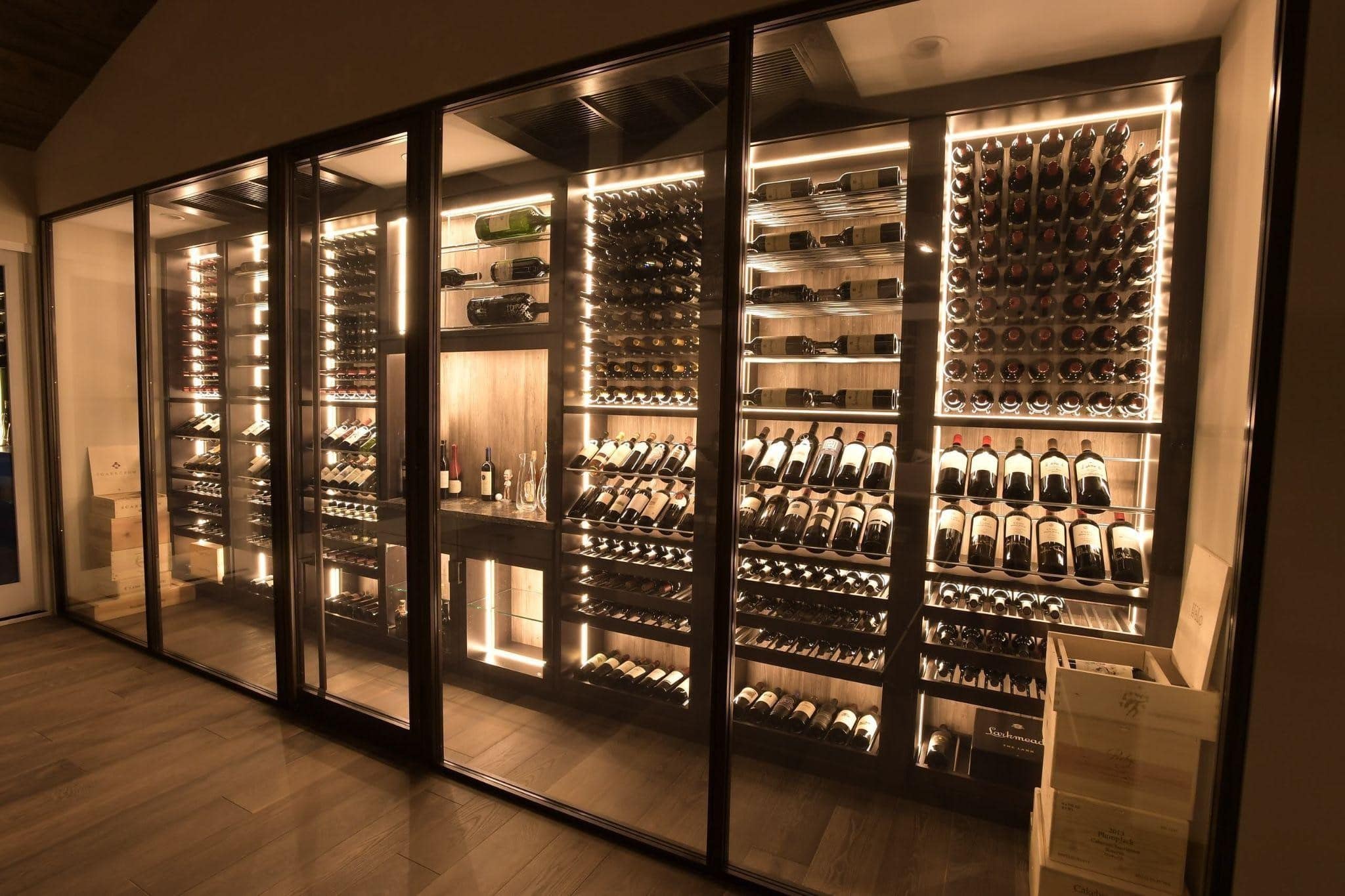 Image: Pinterest
Basements are great places to store wine, which is why wine collectors love them. They only get a small amount of sunlight and are naturally kept cool. You could use your whole basement for wine or set aside a small space for your collection.
Check out these basement renovation ideas.:
Use wine racks and cabinets to hold bottles.

Determine a place for an airtight wine refrigerator.

Consider adding modern elements.

Decide on room temperature or climate-controlled storage.

Separate wines and their colors, types of bottles, and what makes them different.
9. Unfinished Basement Exposed Ceiling Wood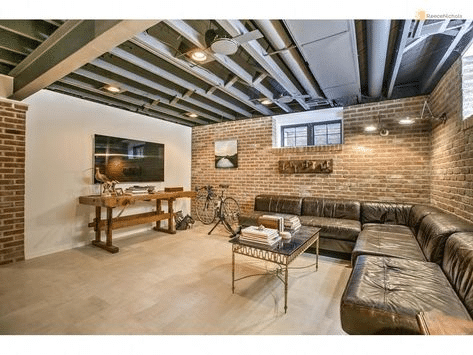 Image: Pinterest
One of the most complex decisions you'll have to make is what to do with the ceiling. When building a house, the basement roof is often not finished, and the floor joists are usually not covered. They are not very attractive because they are hidden behind drywall.
Check out the finished basements and exposed ceiling wood tips here:
Look for cracks and water damage to avoid mold.

Add some personality to your basement with gently used furniture.

Work with a contractor to install drywall & hardwood flooring.

Combine the use of ceiling beams, built-in shelves, and stained wood ceilings.
10. Playroom in Unfinished Basement Ideas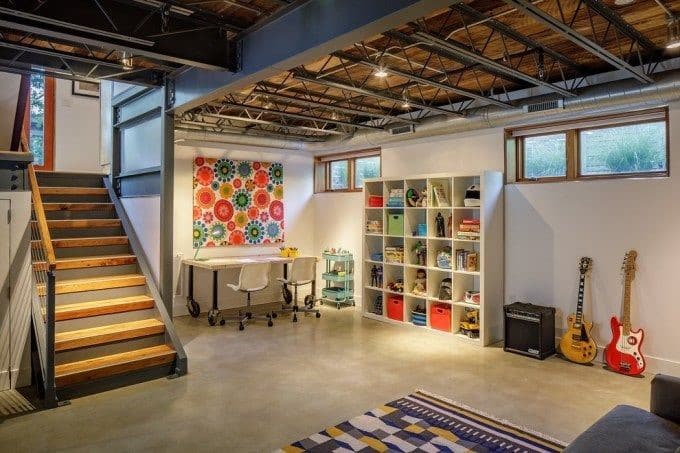 Image: Pinterest
Every parent knows kids will love a playroom. They'll have their friends over to hang out, they'll feel independent, and it's an excellent place for them to escape if something is up. You know all of these, but the thought of slogging through some big project is just too much for you. Have no fear! We've got you covered with ideas about arranging the space and tips for finding unfinished basements in your neighborhood.
Check out playroom in unfinished basement ideas:
Add colorful pictures, accent walls, and more.

Make it comfortable and fun.

Don't focus on decorating since a kid's room can quickly become messy.

Give your kids their place with painting walls, adhesives, and other items.

Add some height so kids can play safely.

Add hardwood floors for durability and comfort.
Takeaway
This article will prove to be an excellent resource for anybody considering renovating their basement in the near future. Consider these ideas for your project, and you'll have a much better chance of turning your basement into an area to enjoy yourself. You can also use it as a home theater room to complete your evenings. 
Read more ideas on Guy About Home!
The articles in the following list may also provide you with helpful information.