No, you wouldn't want to see your jewelry pieces ruined after spending a fortune to acquire them. You want to keep them glowing and robust by maintaining them. Read these tips on cleaning your jewelry, no matter what it's made of.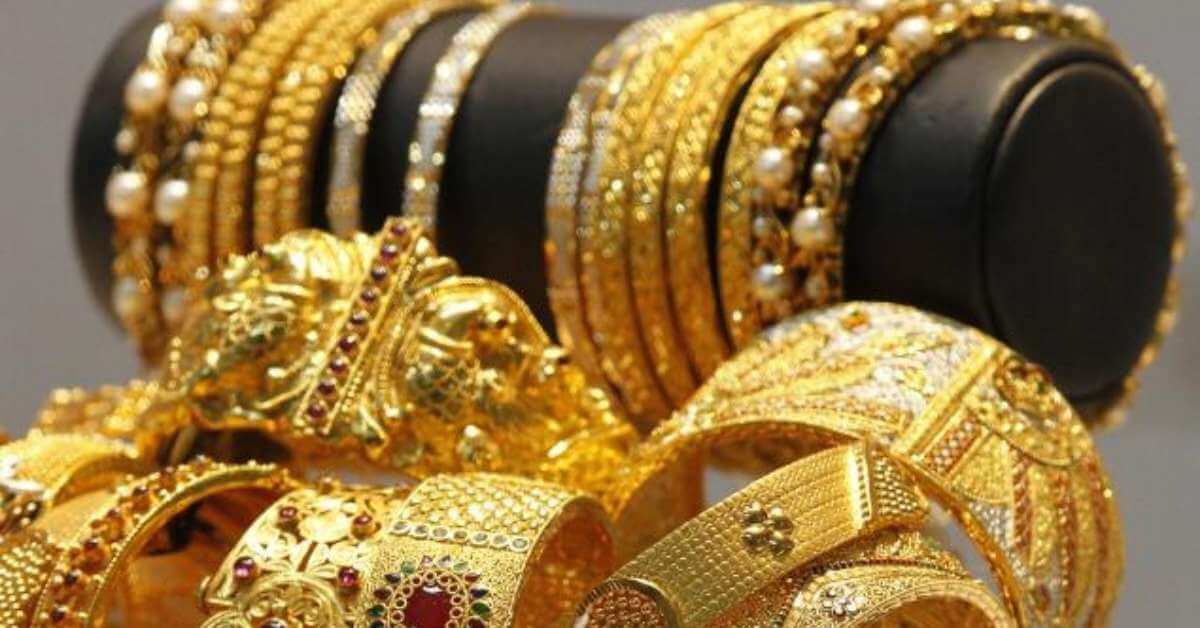 Image Source: punchng.com
Thank you for reading this post, don't forget to the best blogger Guy About Home who offers the best garden and home improvement tips! If you are a home decor and design fan, don't miss the tips on home ideas. If you are a home garden owner, then you might be interest in our complete guides to house plants!
Cleaning your jewelry is something you want to do regularly. Apart from the jewelry looking its best, it's also a way to kill unwanted germs. No matter the make of your jewelry, be it metal, rusty, gold plated, costume jewelry, etc., there's a way to clean it, so you don't get to damage it.
Check out these tips for cleaning different types of jewelry. With these, you can't do wrong! Also, understanding the techniques and materials to clean your jewelry makes it a lot easier exercise for you.
Table of Contents
 

What Makes Jewelry Dirty?

  How to Clean Your Jewelry

  How to Keep Your Jewelry Clean

  What Do You Need to Clean Your Jewelry

  Tips for Cleaning Different Types of Jewelry
Gold-Plated Jewelry  

Costume Jewelry

Pandora Jewelry

Jewelry with Baking Soda

Metal Jewelry

Rusty Jewelry

Diamond Jewelry

Oxidized Jewelry

Bronze Jewelry

Silver Tarnished Jewelry

Opal Jewelry

Crystal Jewelry

Oxidized Artificial Jewelry

Stone Jewelry at Home

Nipple Jewelry

Tanzanite Jewelry
  Why Should You Clean Jewelry

How Often Should You Clean Jewelry

  Tips for Preventing Your Jewelry from Becoming Dirty

  Common FAQs for Cleaning Your Jewelry
What Makes Jewelry Dirty?
On a norm, your jewelry should sparkle and shine, but constant wearing and handling can make it collect dirt. When your jewelry comes in contact with air, moisture, oils, and acids, they react chemically with the metal, causing wear and tarnish. Hence, you need to clean your jewelry regularly. Also, exposure to light and air degrades your jewelry, meaning you must clean it periodically and keep it fresh, especially silver jewelry.
How to Clean Your Jewelry
Generally speaking, the best way to clean your jewelry is to use a DIY solution involving a dish, a bristle toothbrush, mild detergent (which is better), and warm water. Mix some dish detergent in a bowl and warm water to make the solution. Use a toothbrush or soft bristle brush to buff the dirt and debris off the jewelry. Soak the jewelry in the solution for difficult dirt for longer before washing it with a brush.
How to Keep Your Jewelry Clean
As much as possible, you want to keep your jewelry clean so it last longer than expected. Therefore, it's advisable to take it off when you get home, and lay it on a flat surface when not worn. Also, avoid showering with any piece, no matter its make, and refrain from interacting with lotions and perfumes. This way, your jewelry will keep looking pristine and fresh.
What Do You Need to Clean Your Jewelry?
Laid back on what to use in cleaning your jewelry? Some things you need to clean your jewelry include; lemon juice, baking soda, salt, aluminum foil, toothpaste, and a soft toothbrush or Q-tip. Instead of going for an inexpensive cleaning agent, you can have a DIY cleaning solution done from the comfort of your home. We will discuss this further in this article.
Tips for Cleaning Different Types of Jewelry
Many love jewelry because of the beauty it gives to their outlook, whether it's made of silver, gold, metal, or platinum. However, exposure to some chemicals can discolor or tarnish your jewelry. Fortunately, you can clean your it without going to a professional. Here are some home remedies for cleaning different types of jewelry.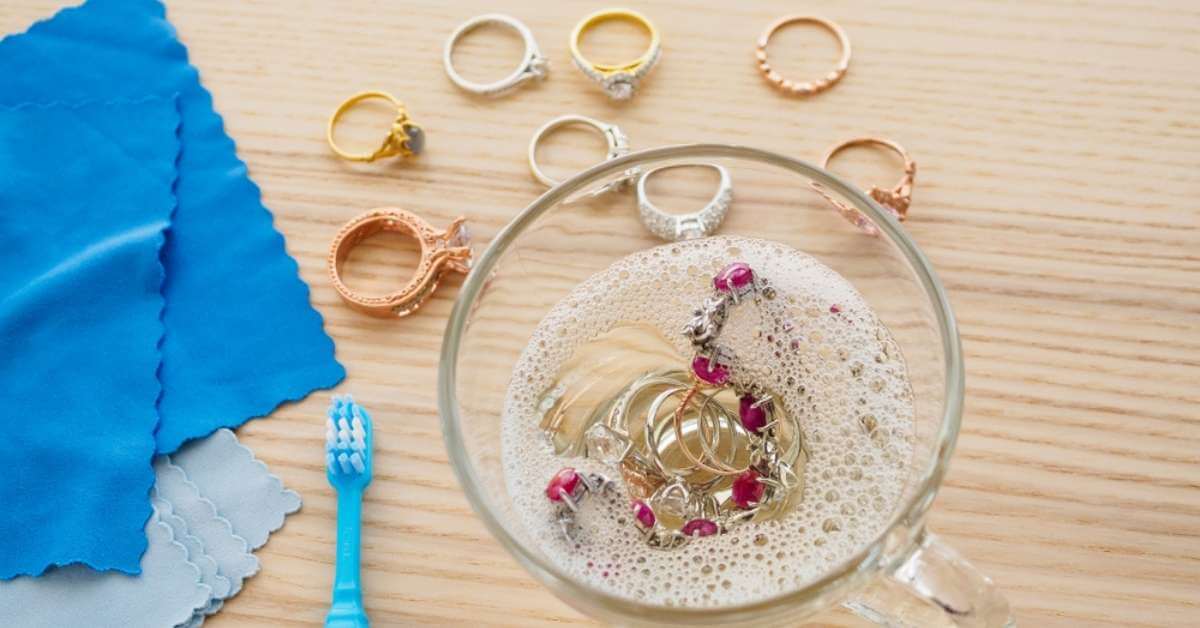 Image Source: Shiny Refinery
Gold-Plated Jewelry
The best way to clean a piece of gold-plated jewelry is to soak it in warm soapy water. The dish wash and warm water will do a great job. Follow these few steps below to clean your gold-plated jewelry.
Fill a bowl with warm water. Make sure the water is friendly to the feel.
Add a few drops of dish soap or detergent to the bowl.
Mix until it turns soapy.
Soak the gold-plated jewelry for 10 to 15 minutes in the mixture.
Remove jewelry from the bowl and rinse off the soapy water.
Gently clean with a soft polish cloth and allow to dry.
Costume Jewelry
Your costume jewelry can tarnish, unlike gold jewelry. But that doesn't mean you'll have to throw it away. Follow these tips on how to clean your costume jewelry, and get it back to life.
Mix water and lemon juice in a ratio of 50:50 inside a bowl.
Soak jewelry in the mixture above and leave for 10 – 15 minutes.
The dirt should naturally remove due to the acid and lemon juice. But if you notice it is partially removed, rinse the jewelry and place it in the mixture again for more time.
Once the shiny nature is restored, rinse under running water and dry with a clean cloth.
Pandora Jewelry
These few tips below will teach you how to clean your Pandora jewelry using a quick wash. These steps were given by some women who are familiar with the brand.
Add some hot water to a bowl with a little amount of soap.
Then allow the bracelet to soak for 5 minutes.
A large amount of dirt will emerge from the bracelet.
Using a soft toothbrush, gently wipe the dirt off the jewelry.
Pandora recommends this cleaning method, and a similar one is shared on their website.
Jewelry with Baking Soda
Using baking soda to clean your jewelry could scratch off metals and softer stones because it's slightly abrasive. Although, it's a cleaning agent that can clean heavy tarnished jewelry. Check out these tips for cleaning with baking soda.
Line a bowl with aluminum foil and add salt, baking soda, and liquid detergent.
Add warm water and place your jewelry in the mixture for 10 minutes.
Brush gently with an old toothbrush and rinse.
Then pat with dry paper or towel to remove water traces.
Metal Jewelry
Using vinegar and baking soda to clean metal jewelry (silver, aluminum, stainless steel, titanium, niobium, etc.) might be a good idea. For tips on how to get this done, follow the step-by-step procedure below.
Mix half a cup of vinegar and 2 tablespoons of baking soda in a large bowl.
Soak your rings, bracelets, and other jewelry in the mixture for 3 hours.
Rinse under running water and thoroughly dry using a small soft cloth.
Then allow drying further utilizing a blow dryer on the coolest setting.
Rusty Jewelry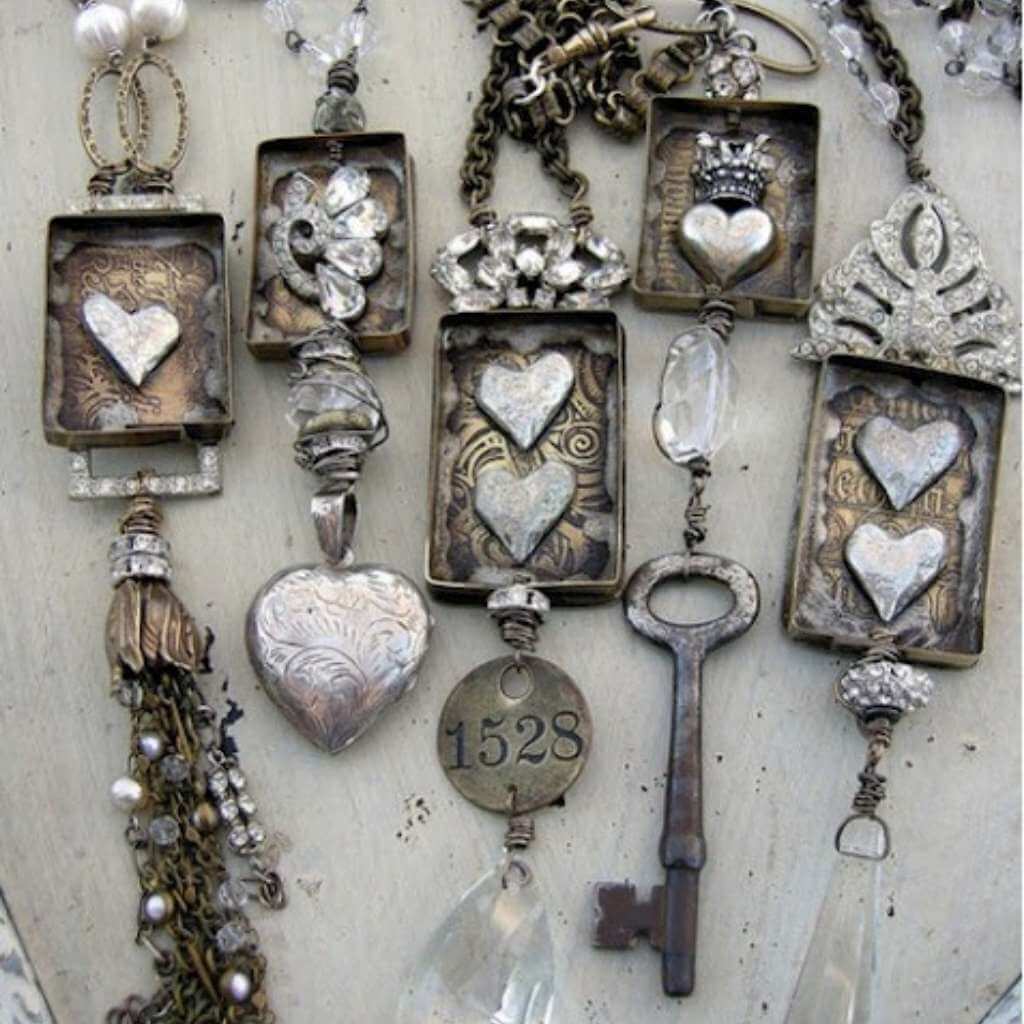 Image Source: Pinterest
Rusty or tarnished jewelry can look dull and unattractive. If you have one, you need not condemn it to death because it's still redeemable. Here's how to get it back to life and value again.
Get a large bowl that can take 240 ml of water and line it up with aluminum foil, keeping the shiny part facing up.
Measure 240 ml of hot water into the bowl, a tablespoon of salt, and a tablespoon of baking soda.
Place the rusty jewelry in the mixture and allow to rest for 10 minutes.
The baking soda and aluminum foil will react to remove the rustiness from the jewelry.
Using a tong, pick jewelry out of the water and run it under the tap, making no residual salt and baking soda remain on it.
Then clean with a soft cloth and allow to air dry for 1 hour.
Diamond Jewelry
Diamonds are the most common gemstones in the world because of their beautiful and sparkling nature. They are used at home as earrings, bracelets, engagement rings, etc. While solid and rigid, they can be prone to damage if not correctly taken care of. For your diamond jewelry not to lose its gorgeous shiny look, follow these tips to clean it;
Mix a quarter cup of ammonium or mild liquid detergent in a cup of warm water.
Place diamond jewelry in the solution and allow to soak for 20 – 30 minutes.
Once the time lapse, take it out of the water and scrub with a gentle soft toothbrush.
Avoid brushing it too vigorously so as not to dislodge the diamond settings.
Next, rinse off the solution and remaining dirt, and dry using a cloth.
Oxidized Jewelry
Oxidized jewelry is a piece of jewelry in which sulfide has been introduced, which changes the color of the jewelry, giving it a tarnished or antique look. This process makes the jewelry last longer, giving the item a royal look. How then do you clean oxidized jewelry? Follow the steps below:
Lay an aluminum foil at the bottom of a bowl, and add boiling distilled water from the kettle.
Add the jewelry into the water and flip, allowing both sides to touch the foil.
Rinse with distilled water and dry using a soft cotton cloth.
Allow air drying, then buff with a soft cloth to keep it polished.
Then store away from heat, light, and moisture.
Bronze Jewelry
Bronze is made of tin and copper. Most bronze jewelry will tarnish with time, especially those polished with patina. A little alcohol rubbed on the surface to clean your bronze jewelry could eliminate dirt and residue. However, you can also follow the straightforward steps below.
Wipe your bronze jewelry with a jewelry polishing cloth.
Apply some mild liquid dish wash over the piece and rub it gently on the surface to remove accumulated dirt.
Rinse off with water and dry using a towel.
Note: To keep the patina on the bronze, which protects it from rusting, avoid cleaning with any household cleaner. Use a small clean cloth to wipe off dirt and brush hard edges with a soft brush.
Silver Tarnished Jewelry
A tarnished silver jewelry is one with a thin layer of corrosion accumulating, forming a dark coating and giving it an unpleasant look. However, before condemning your silver tarnished jewelry, check out the steps below to help restore its gorgeous look, using lemon and salt.
Cut a lemon into two halves and squeeze it into a bowl.
Add 3 tablespoons of salt and add warm water.
Place tarnished silver jewelry into the mixture and leave to rest for 5 minutes.
Remove from the water and clean with a soft cloth.
Note that tarnish was removed inside the solution using the fabric.
Opal Jewelry
Most opal jewelry and pearls can be cleaned using mild detergent and hot water. Avoid using bleach, cleaner, or any chemical substance to clean it; it could damage it ultimately. See the steps below.
Soak opal jewelry in warm soapy water.
The grime stain should fall off into the water naturally. But if still on the jewelry, use a soft brush or jewelry cloth to wipe it off gently.
Next, rinse with clean, warm water.
Note that if it contains triplet or doublet, do not soak in warm water, as this can erode the paste between the layers, making them separate. Instead, use a damp jewelry cloth with dish soap to clean the jewelry.
Crystal Jewelry
Note the following tips to clean your crystal jewelry at home;
Using baby wipes, remove stains and dirt from your jewelry.
Dip a soft cloth or cotton into warm water and scrub over the jewelry.
Apply mild detergent using the cloth and rinse under running water.
Using non-gel toothpaste, rub gently all over the jewelry.
Next, allow it to dry before storing it.
Oxidized Artificial Jewelry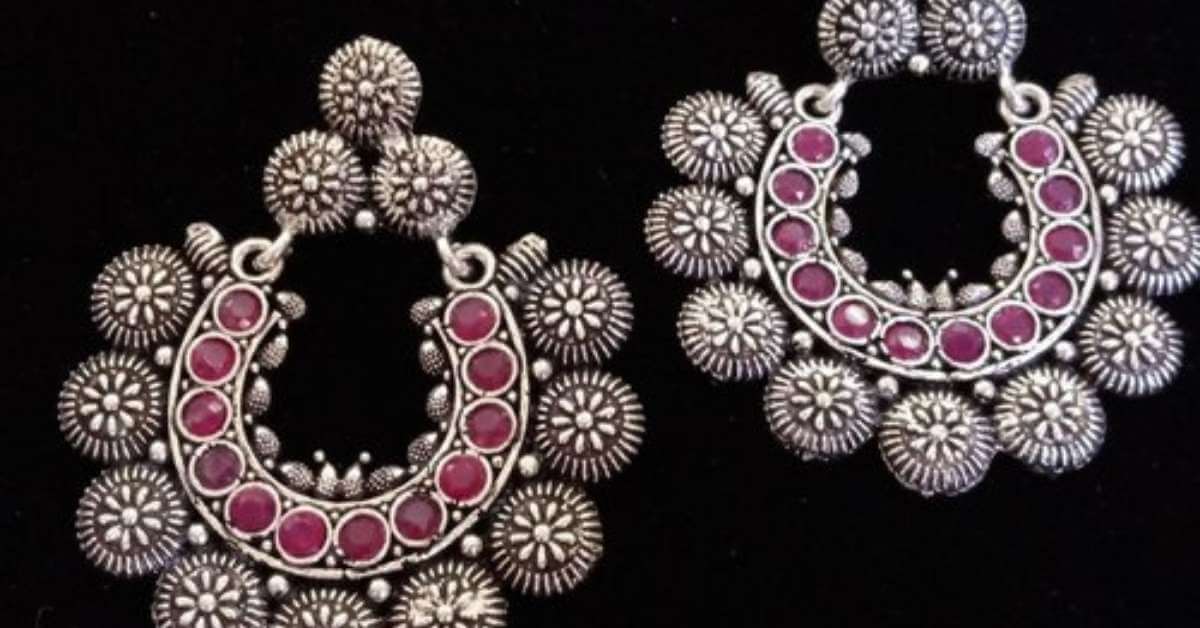 Image Source: IndiaMART
You can apply several methods to cleaning your oxidized artificial jewelry. White vinegar, water solution, or olive oil leaves the chains shiny and sparkling. Just check out the tips below.
You can apply vinegar to a cloth or sponge and rub it over the jewelry.
Also, you could apply olive oil using a clean cloth and rinse it off after some minutes.
You could also dissolve a dental table in the water, soak the jewelry for some minutes, and scrub using a toothbrush.
Stone Jewelry at Home
Cleaning stone jewelry at home requires carefulness, so you don't dislodge or damage it. Also, avoid cleaners and chemicals for colored stones and pearls as they do more harm than good to your jewelry. To clean, follow these steps given;
Add some mild soap wash and warm water to a bowl.
Use a soft-bristle brush to scrub over the surface of the jewelry and its crevices.
Rinse and dry using a soft cloth.
Nipple Jewelry
Cleaning nipple jewelry requires that you sterilize it using antibacterial soap. Thus, the cleaning process is given in the following steps:
Soak the jewelry in a bowl of warm water containing antibacterial soap.
Leave in water for some minutes, then rinse under the tap and dry.
An alternative to antibacterial soapy water is saline water. Do well to get the one specifically made for cleaning the piercing.
Tanzanite Jewelry
An ultrasonic cleaner and steam aren't advisable to clean your tanzanite jewelry at home. Warm soapy water is best. Check out the steps below to clean it when cloudy.
Place your tanzanite jewelry in a medium bowl, and add warm water and mild detergent.
Using a small brush or an electric toothbrush, stick it into the mounting wiggle to remove dirt and stone from the tanzanite.
Rinse the mounting and stone from the jewelry using warm to cold water.
Why Should You Clean Your Jewelry
It is crucial to clean your jewelry, keep dirt away, and make it an unsafe haven for bacteria that could cause allergies, skin irritation, discoloration, and metal degradation. When dirt and debris accumulate over time, it could make the gemstones scratch, and you wouldn't want this for your precious jewelry.
Avoid harsh chemicals and vigorous scrubbing, and keep your jewelry in water for too long. It could lead to its damaging on time. Also, cleaning your jewelry the right way reduces its chance of damage and makes it last longer than expected.
How Often Should You Clean Your Jewelry
How often you clean your jewelry depends on how much your wear it. Diamond pieces of jewelry are more resilient and, as such, can withstand more wear and tear, unlike opal jewelry and others. If you wear your jewelry (earrings, diamond ring, etc.) daily, it's likely to be dirtier. For this, you can clean bi-weekly depending on how dirty they are.
Generally speaking, cleaning your jewelry every month and taking it to a professional jeweler once every six months for thorough work is advisable.
Tips for Preventing Your Jewelry from Becoming Dirty
Instead of waiting until your jewelry is dirty before cleaning, here are a few tips to prevent them from becoming contaminated, so you don't have to keep up with cleaning all the time.
Remove your jewelry when applying lotion or washing your hands. And after wearing your jewelry, wipe off water, lotion, and perfume around it, using a soft cloth.
Avoid swimming or bathing in a hot bathtub with your jewelry.
Do not use heavily scented products on your skin and hair. Body spray, perfumes, hair spray, etc., can cause damage to your jewelry. It's preferable to use the ones with mild scents.
Store jewelry in a cool, dry place when not in use to last longer than expected.
Make sure to remove your jewelry while in the garden, so it doesn't heap dirt and small rocks which are abrasive to jewelry.
Common FAQs for Cleaning Jewelry
How do I keep my jewelry in good condition?
Store your jewelry in a dark and dry place. Dark areas absorb excess moisture and prevent it from premature tarnishing. For large jewelry pieces, wrap in a silver polish cloth or a pouch to limit light penetration.
Can I use baby shampoo to clean my jewelry?
Yes, you can use baby shampoo to clean your jewelry because it's a milder detergent and is suitable for cleaning fake jewelry.
Can I use lens cleaner or toothpaste to clean my jewelry?
Yes, there are various cleaning products that you can use. Lens cleaner or toothpaste will be more applicable to costume jewelry. Do well to follow the instructions given on the pack. Although lens cleaner isn't good on precious metal, toothpaste does well for all jewelry types.
Conclusion
Now you have hands-on tips on how to clean your jewelry no matter its make. Following the steps above will keep your jewelry in perfect condition with a longer lifespan.
For other helpful tips and ideas on cleaning, keeping common household pests from your surroundings, and more, visit our website GuyAboutHome. You can also check out the links to the blogs below;