Get the answers you need about blue clematis flowers with this easy-to-follow blog.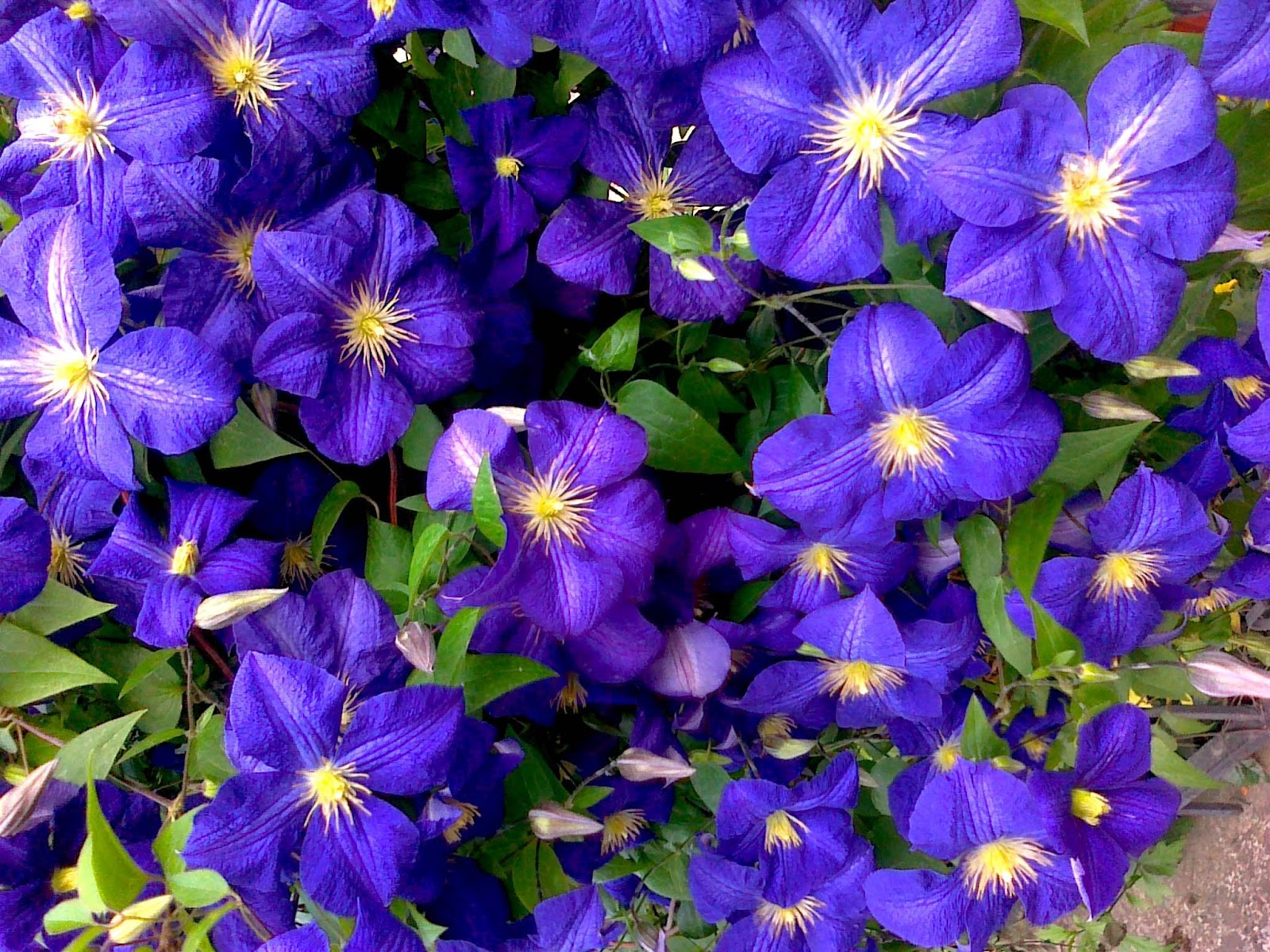 Image Source: Wikimedia Commons
Thank you for reading this post, don't forget to the best blogger Guy About Home who offers the best garden and home improvement tips! If you are a home decor and design fan, don't miss the tips on home ideas. If you are a home garden owner, then you might be interest in our complete guides to house plants!
Are you looking for a beautiful, easy way to brighten your garden? If so, consider adding blue Clematis to your landscaping! This flowering vine is a great addition to any outdoor space and provides an impressive display of vibrant blue large-flowered Clematis. Not only are the flowers stunningly colored, but they are also quite hardy and easy to care for.
In this blog post, we'll provide all you need to know about planting, caring for, and maintaining blue Clematis and Clematis in general in your backyard. So prepare for a burst of blue hues to make your garden look even more spectacular!
Clematis Summer Blooming: Common Questions You Need To Know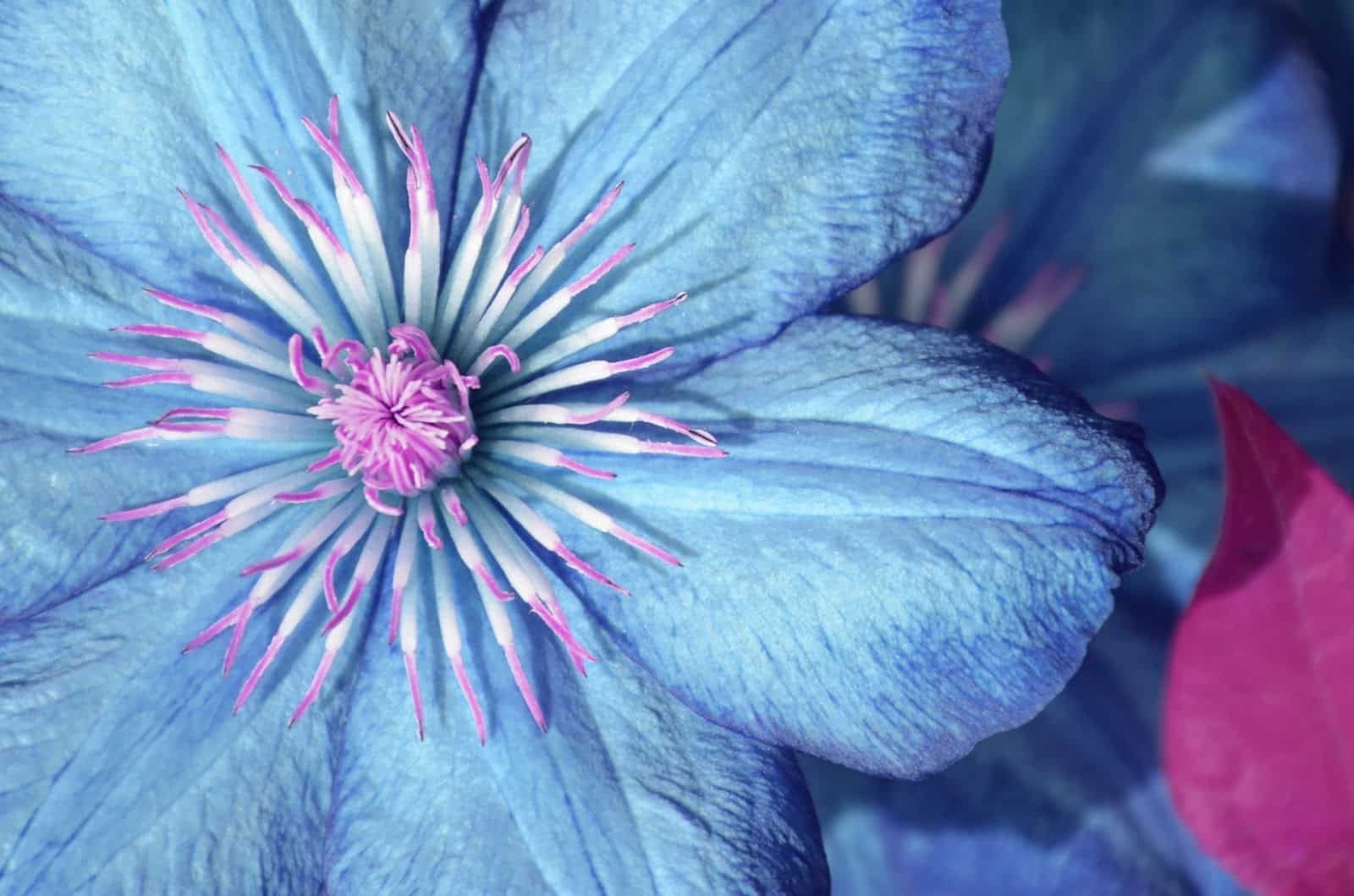 Image Source: Public Domain Pictures
Before diving into the details of blue Clematis, here are a few of the common questions that you need to know about these flowers:
How Much Sunlight Do Clematis Need?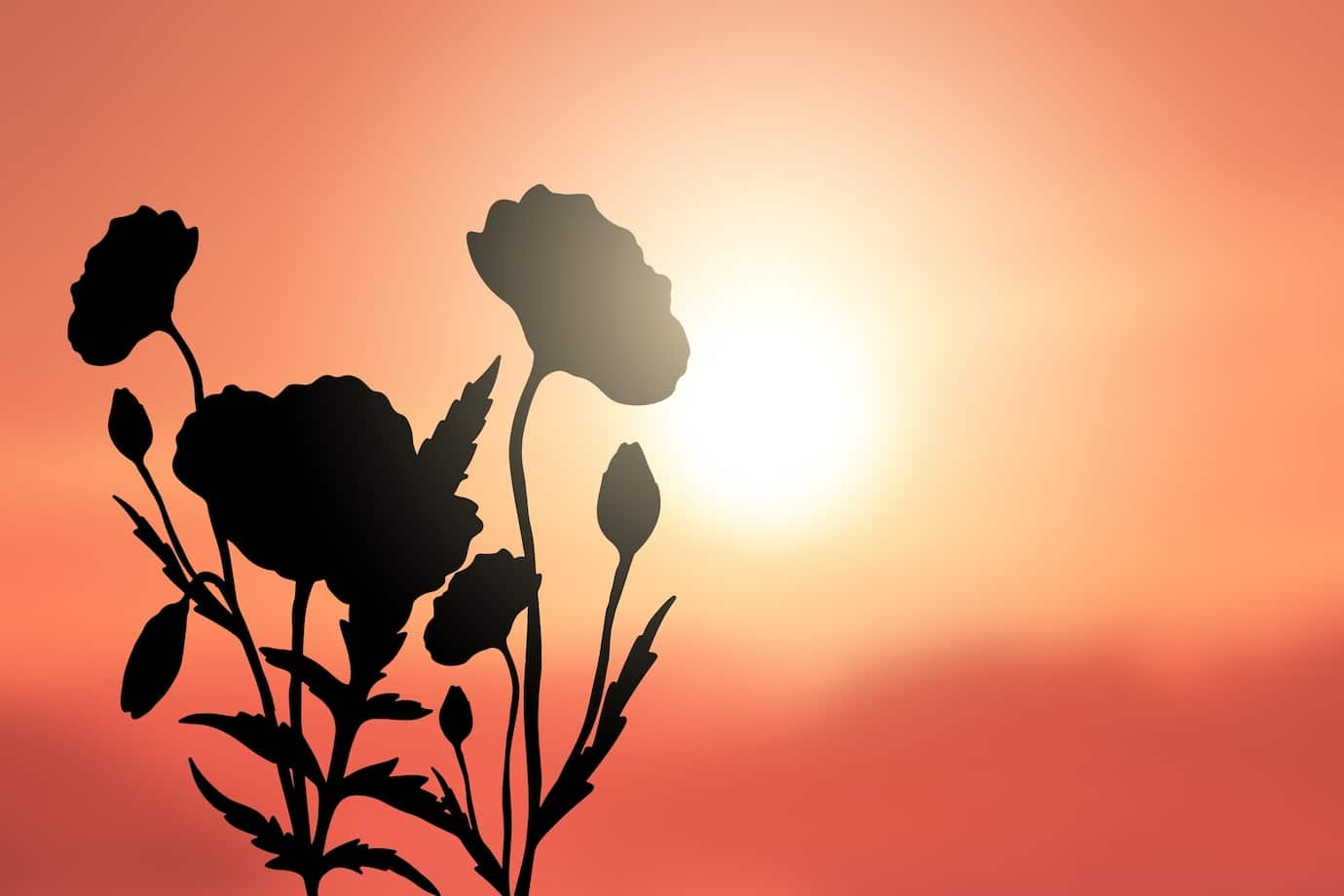 Image Source: Freepik
Clematis need at least 4-6 hours of sun per day to perform optimally. Therefore, the more sun they get, the better they will bloom and grow. Placing Clematis in an area that receives full sun during the morning and some shade during the afternoon is ideal for optimal flowering.
How Often Does Clematis Bloom?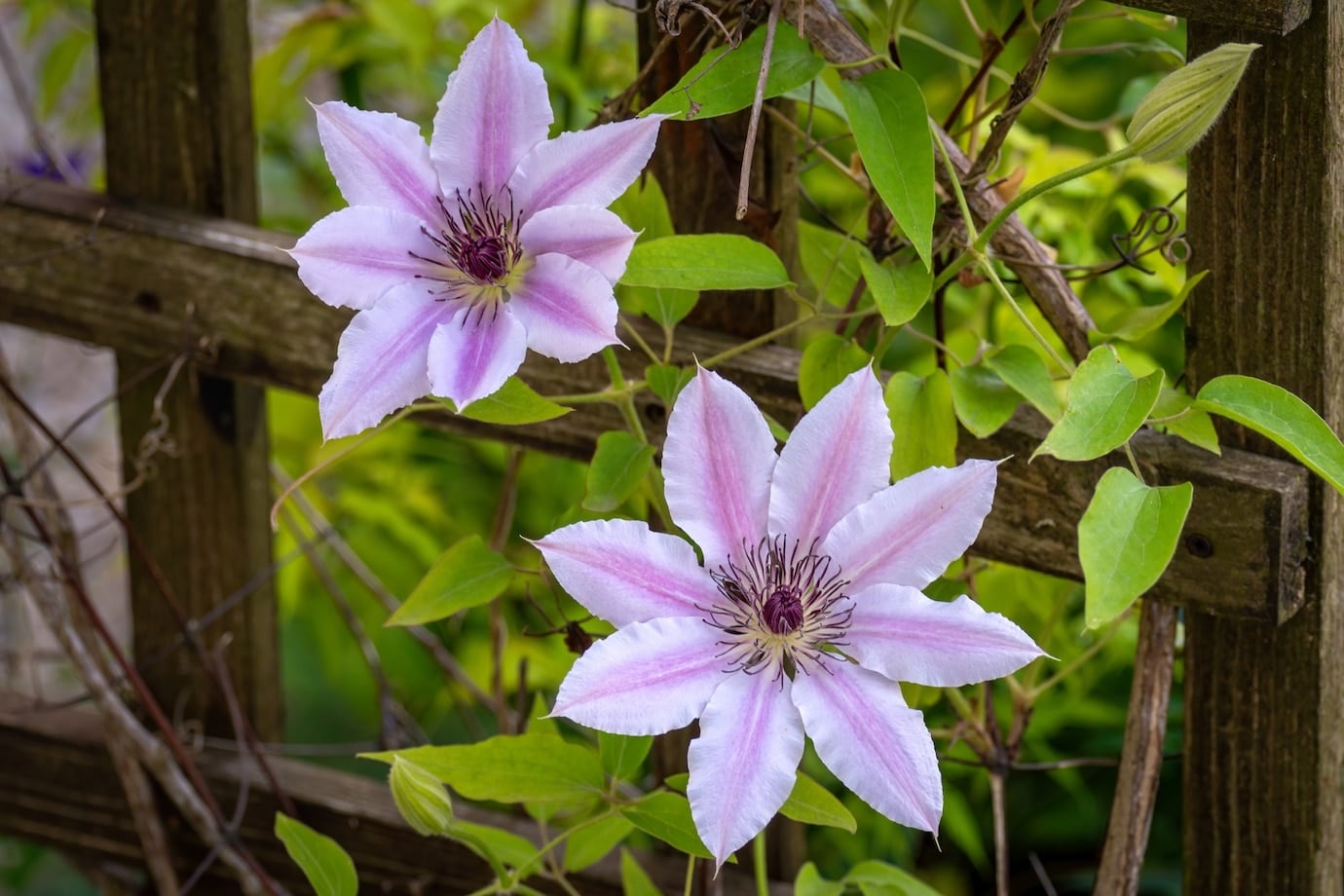 Image Source: Freepik
Clematis blooms throughout the growing season, typically from late Spring to early fall. The exact bloom times depending on the variety and the growing climate.
When to Prune Summer Flowering Clematis?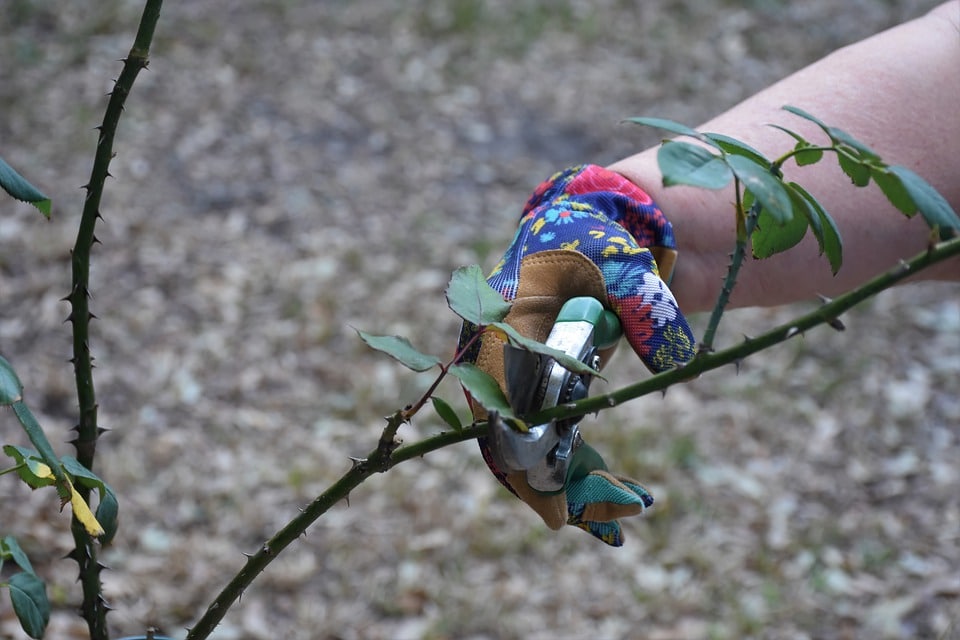 Image Source: Pixabay
Summer flowering clematis should be pruned back in late winter, or early Spring after the danger of frost has passed. Dead and damaged stems should be cut back to the ground level to ensure maximum flower production. Any shoots that have grown too long and are rubbing against each other can also be trimmed back. Doing so will promote vigorous growth with multiple stems and more flowers.
How Long Do Clematis Flowers Last?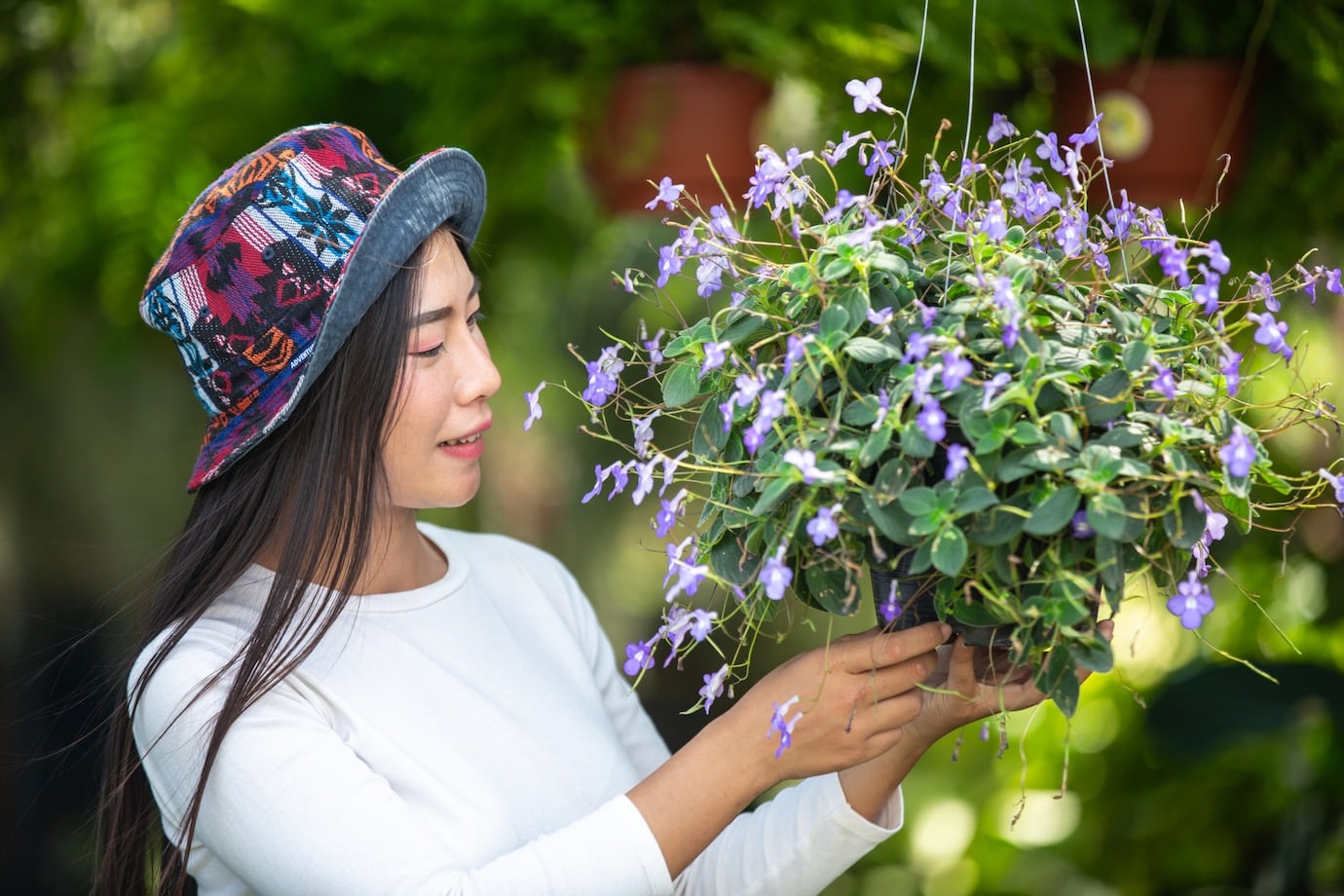 Image Source: Freepik
In general, clematis flowers last around 2-3 weeks but can last up to 6 weeks depending on the variety and climate conditions. Some varieties may bloom several times in one season.
Where to Plant Clematis— Sun or Shade?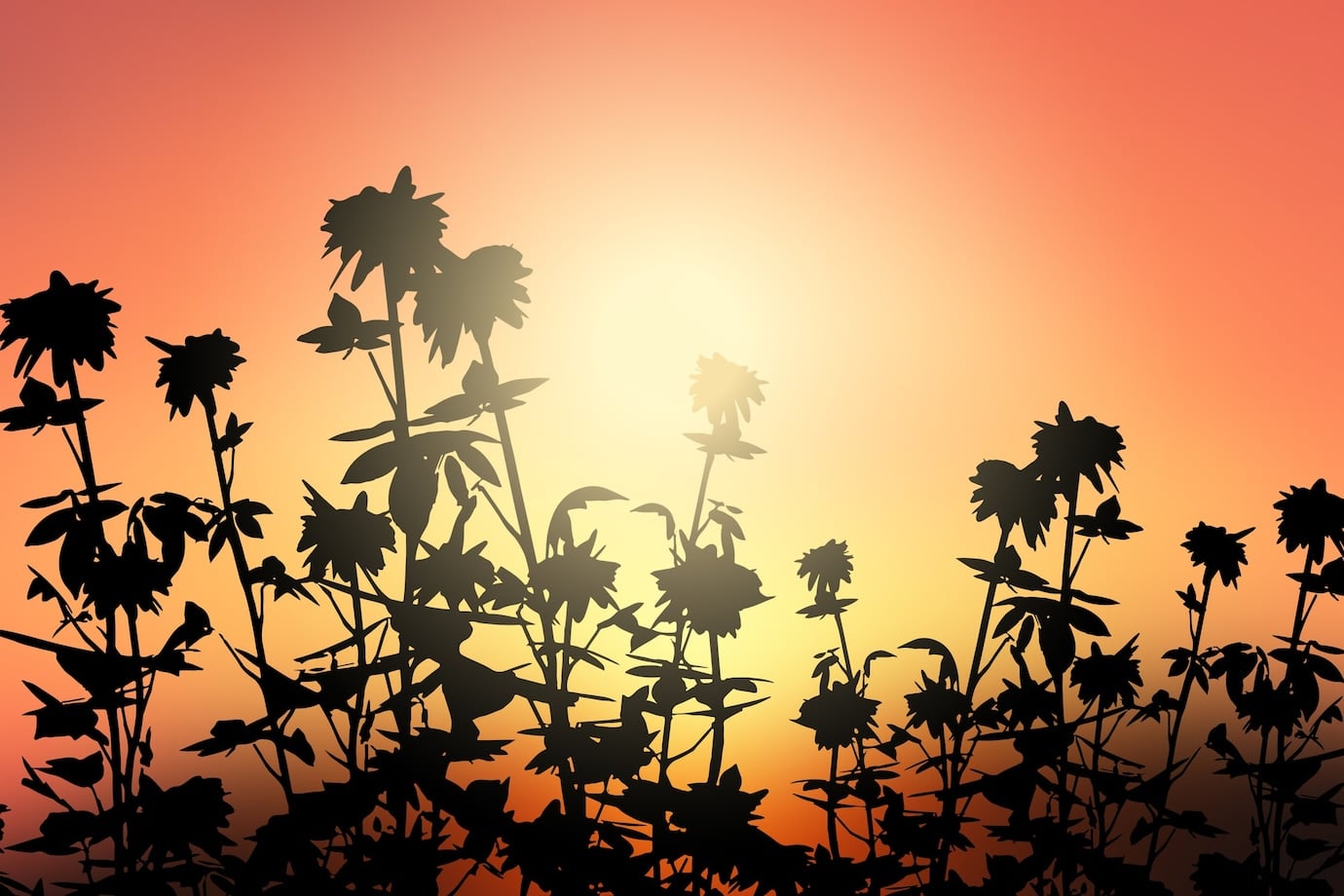 Image Source: Freepik
The Clematis is a versatile climber that can survive in either full sun or partial shade. The best exposure for your Clematis will depend on the variety you choose. Some varieties prefer a lot of sunlight and heat, while others require some shade to protect them from sun scorch. Generally, most varieties prefer a bright spot with some afternoon shade.
When to Cut Back Summer Flowering Clematis
The best time to cut back summer flowering clematis is after the blooming period, usually in late summer or fall. Pruning late in the season will ensure that new growth has had sufficient time to develop before winter and that there is still time for regrowth before spring flowering. In addition, it's important to prune at the right time, as heavy pruning at the wrong time may lead to a lack of blooms in the next flowering season.
How Long Do Clematis Flowers Bloom?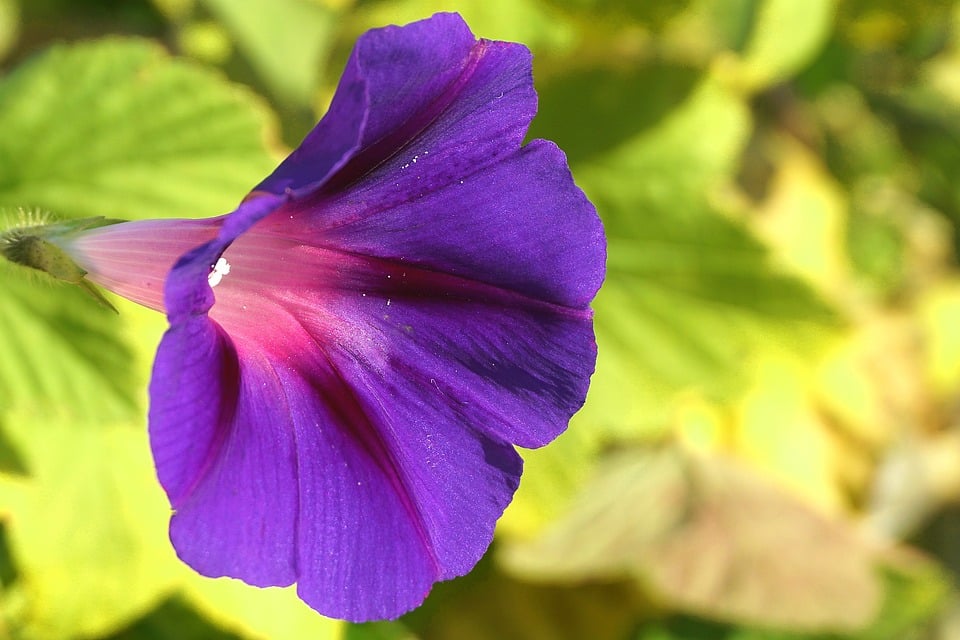 Image Source: Pixabay
Depending on the variety, Clematis flowers typically bloom from late Spring to early Autumn. Some varieties bloom in as little as 6 weeks, while others last up to 8 weeks or more.
How to Prune Summer Flowering Clematis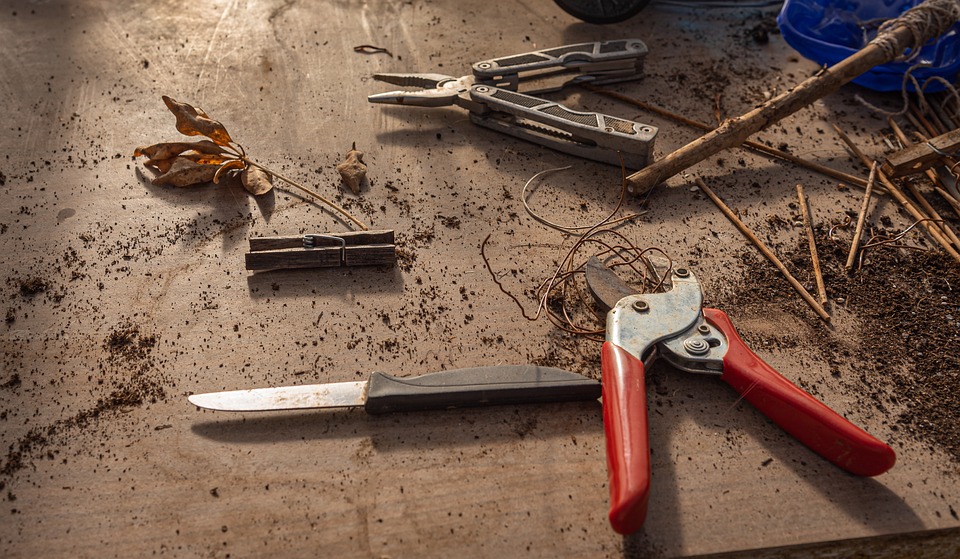 Image Source: Pixabay
Summer flowering clematis should be pruned shortly after the flowers have faded, usually mid to late summer. Before pruning, remove any dead or diseased stems and cut back the main stems by about a third of their length, ensuring that the cut is just above a bud facing outward. Pruning this way encourages the Clematis to produce new growth, which will flower in the next season.
Blue Clematis: Brighten Your Garden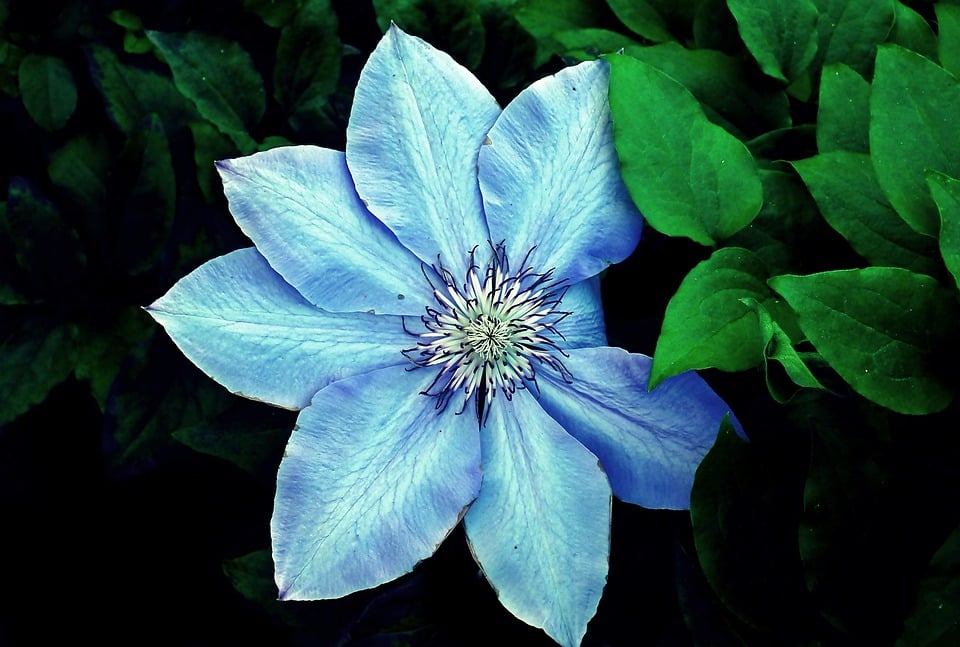 Image Source: Pixabay
The clematis flower has so many blue flowers. Blue clematis flowers are a flowering vine that produces vibrant, star-shaped blooms in shades of blue. The petals of these delicate flowers range from light sky blue to deep navy, and the centers are often a darker hue.
The foliage of blue Clematis is typically dark green with fine hairs, and some varieties can have purple or bronze-colored foliage. They thrive in sunny locations and need plenty of moisture for the best results. A Blue Clematis vine usually blooms from late Spring to early summer and can add vibrant color to your garden.
In addition, blue Clematis produces lovely, fragrant blooms from mid-summer to early fall, making them an excellent addition to any garden.
Blue Clematis Varieties
Clematis Multi Blue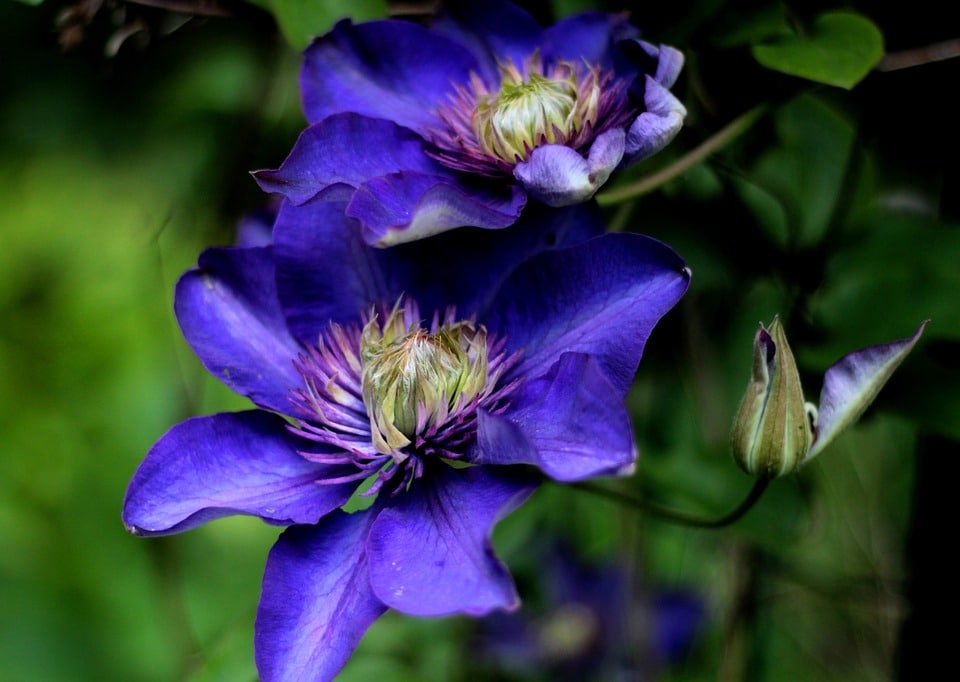 Image Source: Pixabay
Clematis Multi Blue is a stunning variety of Clematis that features large double blooms of soft, sky-blue petals. Blooms appear on this vigorous variety from May to September and will brighten gardens with their vibrant color. In addition, the foliage is a deep green, and the vine is disease resistant. Perfect for trellises, pergolas, or walls, this lovely climber will quickly become an eye-catching addition to any garden.
Clematis Alpina Blue Dancer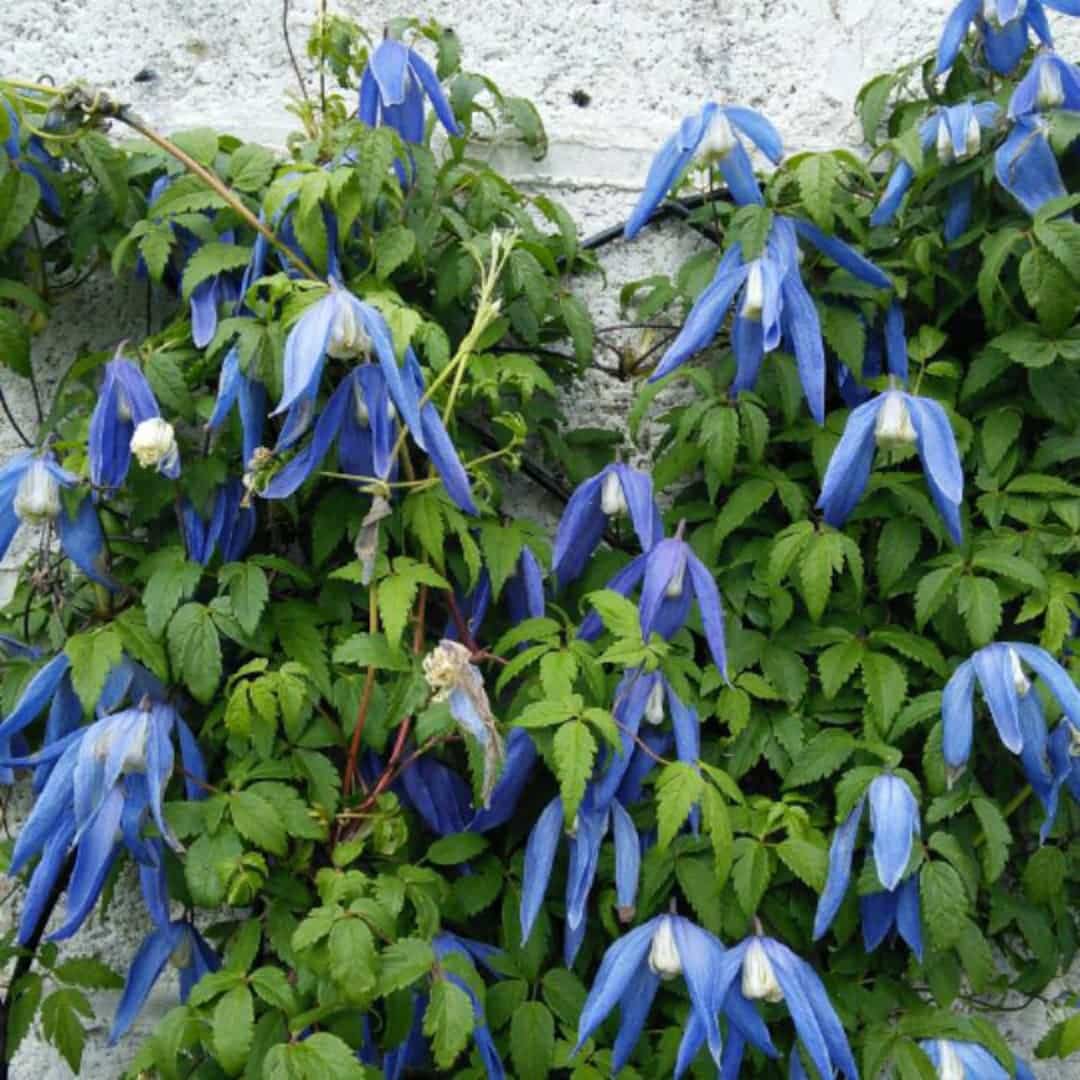 Image Source: Etsy
The Clematis Multi Blue is a stunning variety of Clematis that produces an abundance of 4-5 inch, bell-shaped flowers in a deep and vibrant blue. The foliage boasts light green, glossy leaves that create the perfect backdrop to bring out the beautiful colors of the blooms. This plant is a reliable bloomer that grows up to 8 feet tall and is best suited for containers or trellises.
Other Clematis Varieties You Need to Check Out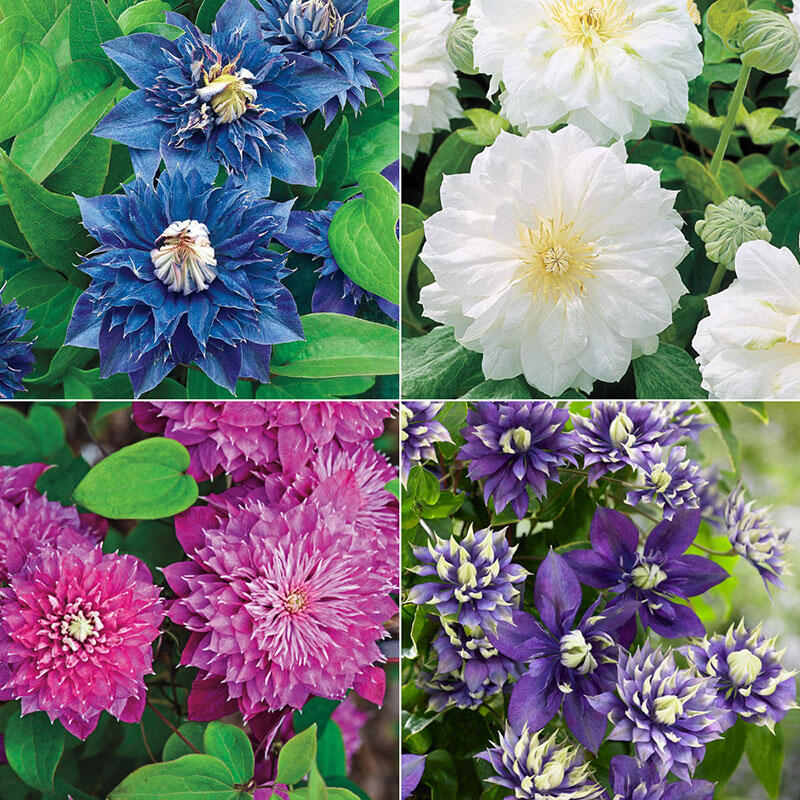 Image Source: Breck's
Here are some of the other spectacular varieties of Clematis that you need to check out:
Evergreen Clematis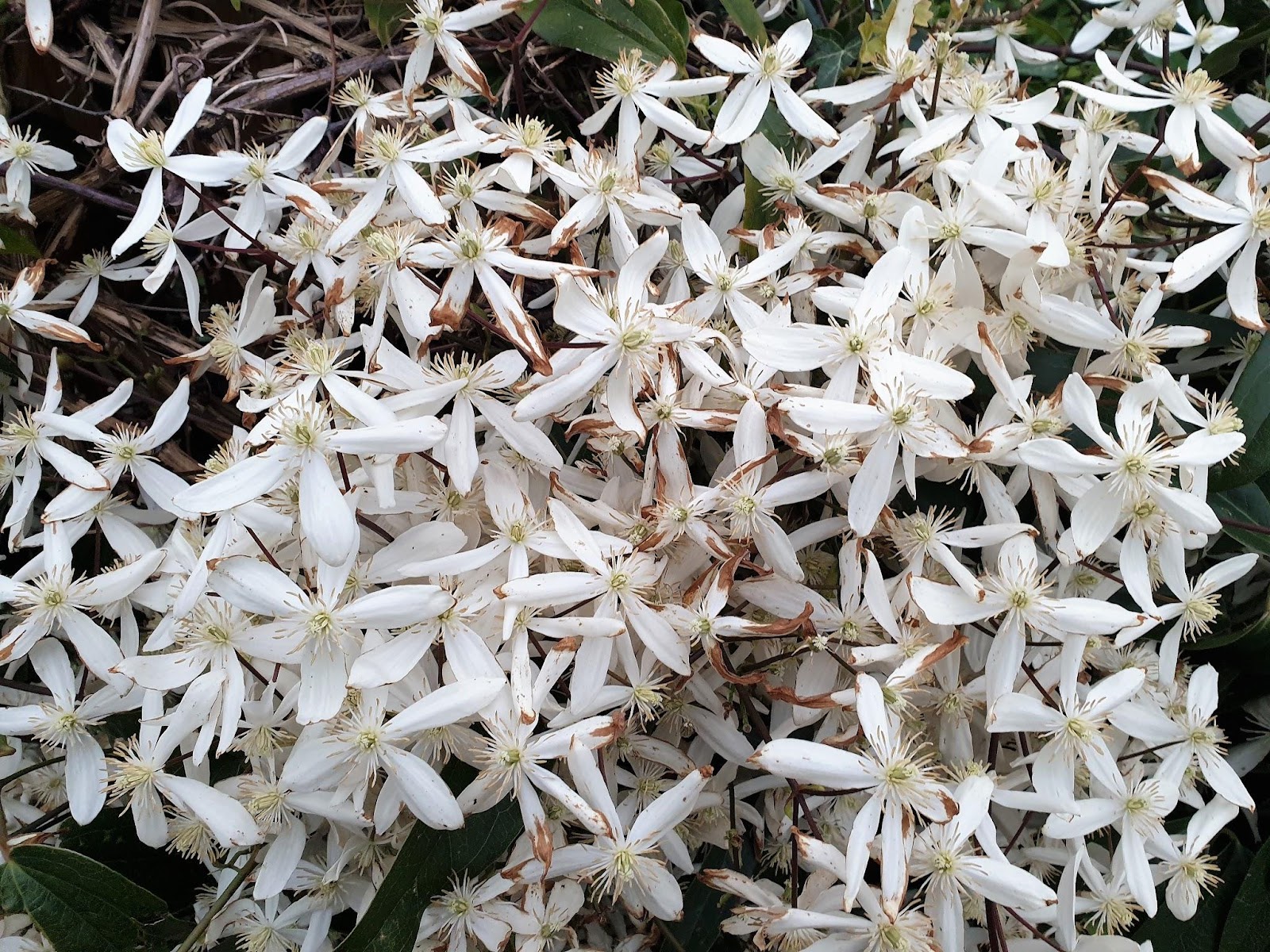 Image Source: Wikimedia Commons
The Evergreen Clematis is a fast-growing flowering vine with beautiful, star-shaped clematis white flowers with purple parts. The showy blooms are low maintenance and drought tolerant, making them ideal for adding color to any garden.
Landscapers use Evergreen Clematis for Shade. They are used as ground covers and for creating shade, as the lush foliage measures up to 10 inches long and 6 inches wide.
The vigorous vines can grow up to 20 feet long, with semi-evergreen foliage providing year-round coverage. Evergreen Clematis vines are an ideal choice for use on trellises, arbors, fences, or latticework.
They can also be used as border plants in beds and borders or mass planted along a walkway or driveway. Pruning is recommended once a year to keep the vines in check.
Evergreen Clematis Varieties: White Clematis Varieties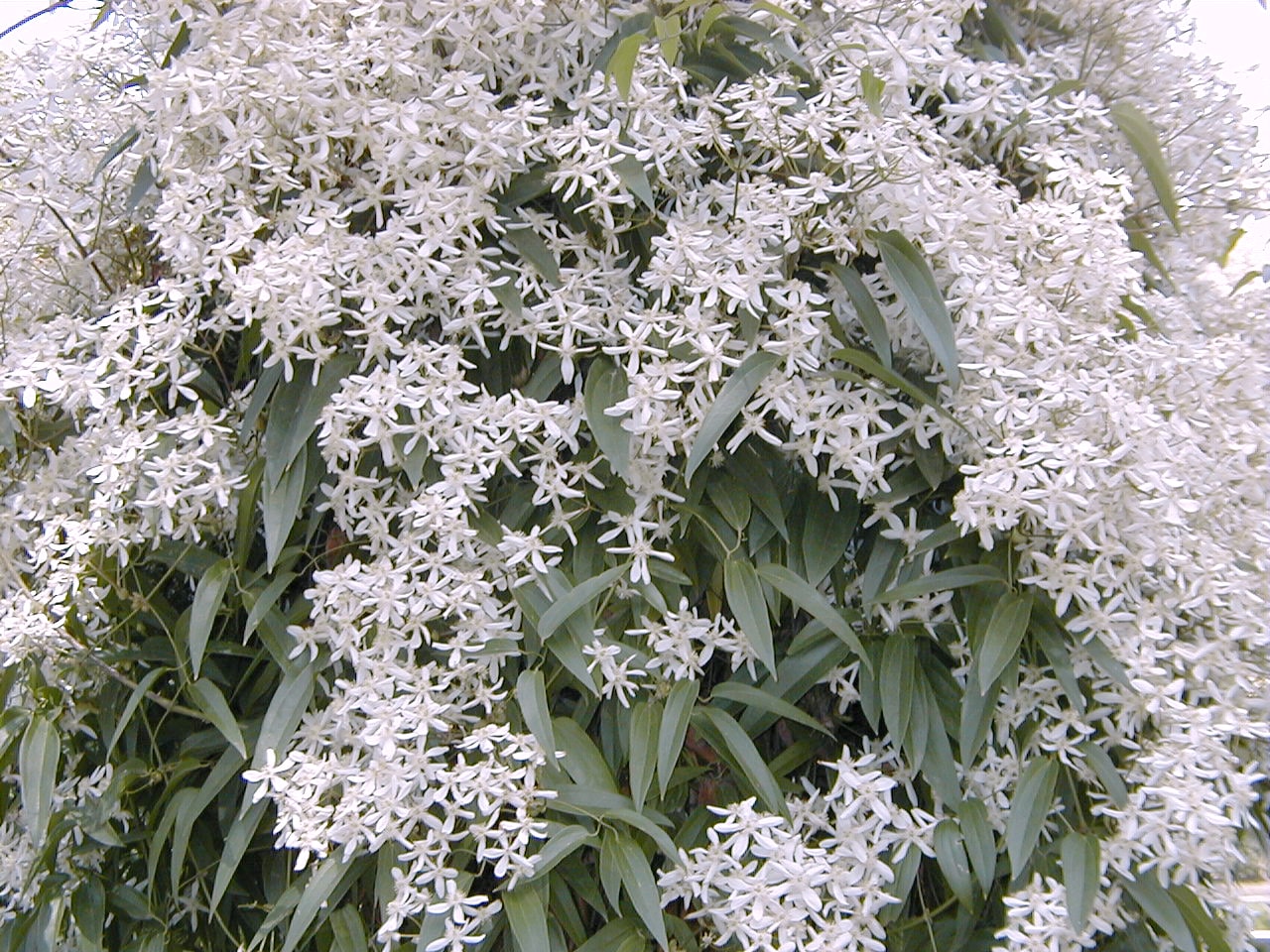 Image Source: Wikimedia Commons
It is best to grab the opportunity whenever you see an Evergreen Clematis for Sale. These flowers are a good way to add a long-lasting touch of color to your garden all year. Some popular varieties include:
Evergreen Clematis Armandii (Clematis with Small White Flowers)
Evergreen Clematis Avalanche (Clematis So Many White Flowers)
Evergreen Clematis Apple Blossom
White Evergreen Clematis
Evergreen Clematis Early Sensation
Early Sensation Evergreen Clematis
Clematis Purple Flowers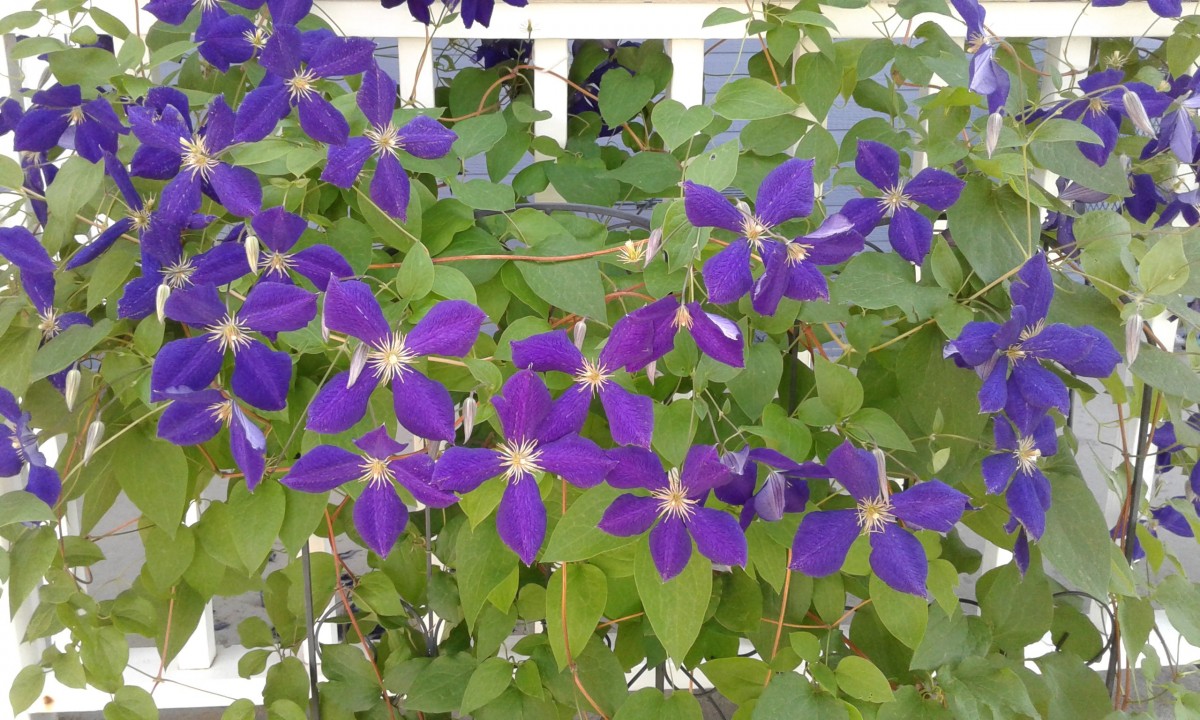 Image Source: PxHere
Seeing a purple clematis vine in full bloom is a true feast for the eyes. This variety is known for having so many purple flowers, making it a favorite among those who love purple. The purple clematis vine is a true beauty, and it is no wonder why it is so highly prized among gardeners and flower enthusiasts alike.
Here are some of the Purple Clematis Varieties:
Dark Purple Clematis
Happy Jack Purple Clematis
Light Purple Clematis
Pink Clematis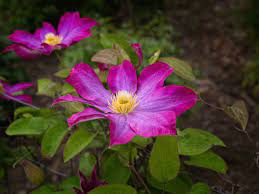 Image Source: Wikimedia Commons
A Pink Clematis is a delicate and enchanting flower that blooms in a soft shade of pink. Its petals are tender and velvety to the touch, and they open up to reveal a beautiful center filled with small, bright yellow stamens. The Pink Clematis vine is equally beautiful, with long, slender, and flexible stems that can grow up to 20 feet long.
Here are some of the Pink Clematis Varieties:
Clematis Armandii Apple Blossom Pink
Image Source: Gardenia.Net
Clematis Armandii Apple Blossom Pink is a variety of clematis with beautiful pink flowers. The flowers are typically around 2-3 inches in diameter and have a distinct sweet fragrance. They bloom in early spring and are a popular choice for adding color and fragrance to a garden or landscape.
The flowers have four to six petals and are usually pale pink or light mauve in color, with a creamy white center. The petals are thin and delicate, and the center of the flower is adorned with a cluster of yellow stamens. The leaves of the plant are dark green and glossy, providing an attractive backdrop for the flowers.
Clematis Alpina Pink Flamingo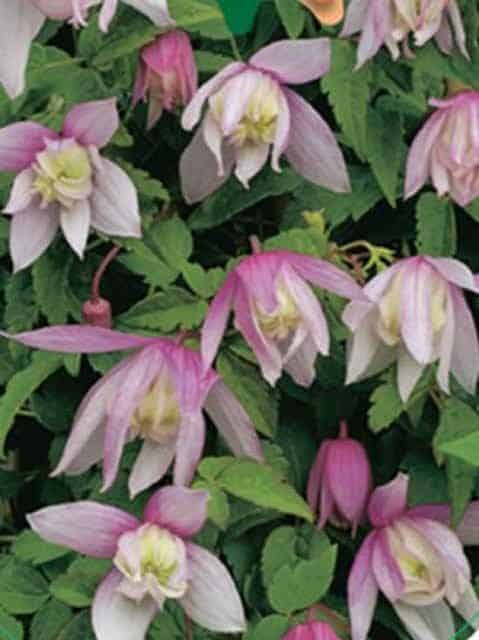 Image Source: Pinterest
The petals of the Pink Flamingo clematis are a vibrant pink color and have a slightly ruffled appearance. The center of the flower is adorned with a cluster of yellow stamens, which add a contrasting touch to the pink petals. The plant itself is a deciduous vine that can grow up to 10 feet tall and 4 feet wide.
Red Clematis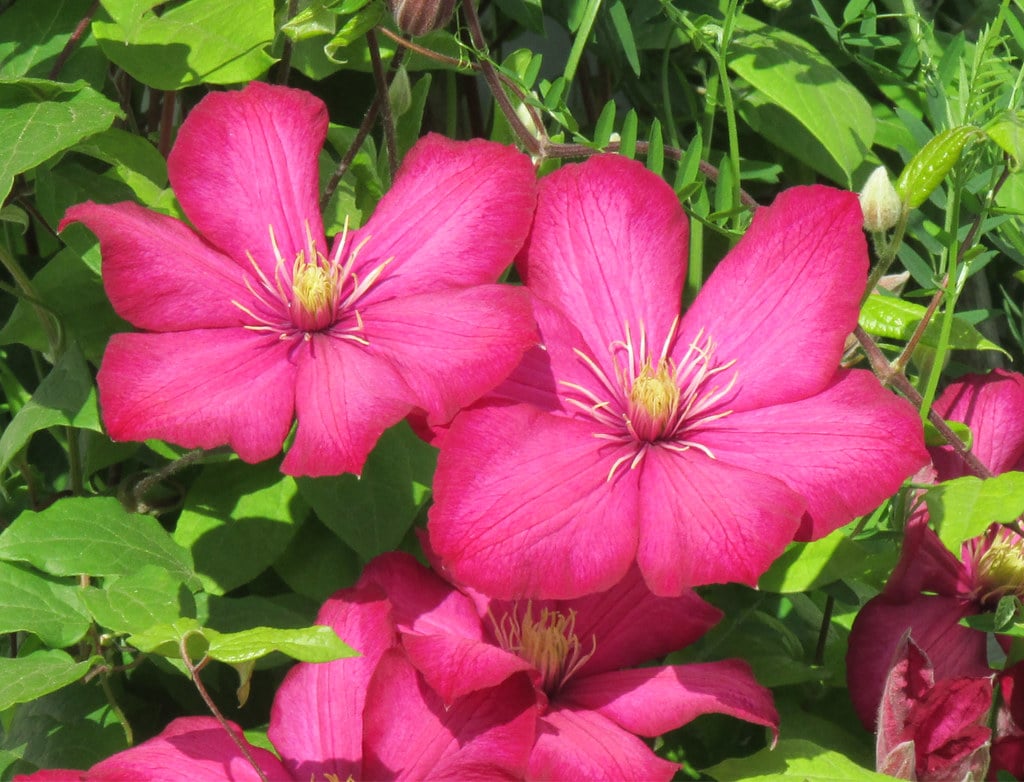 Image Source: Flickr
The red clematis blossom is stunningly lovely and draws attention with its striking color. Its petals have a velvety texture that is soft and inviting, and they are a deep, rich shade of crimson. A stunning cluster of bright yellow stamens that contrasts beautifully with the flower's red petals is in the middle. The Red Clematis Vine is sturdy and flexible, and it can easily climb walls, trellises, and fences to create a stunning floral display.
Here are some of the Red Clematis Varieties:
Clematis Red Cardinal
Clematis Niobe Red
Yellow Clematis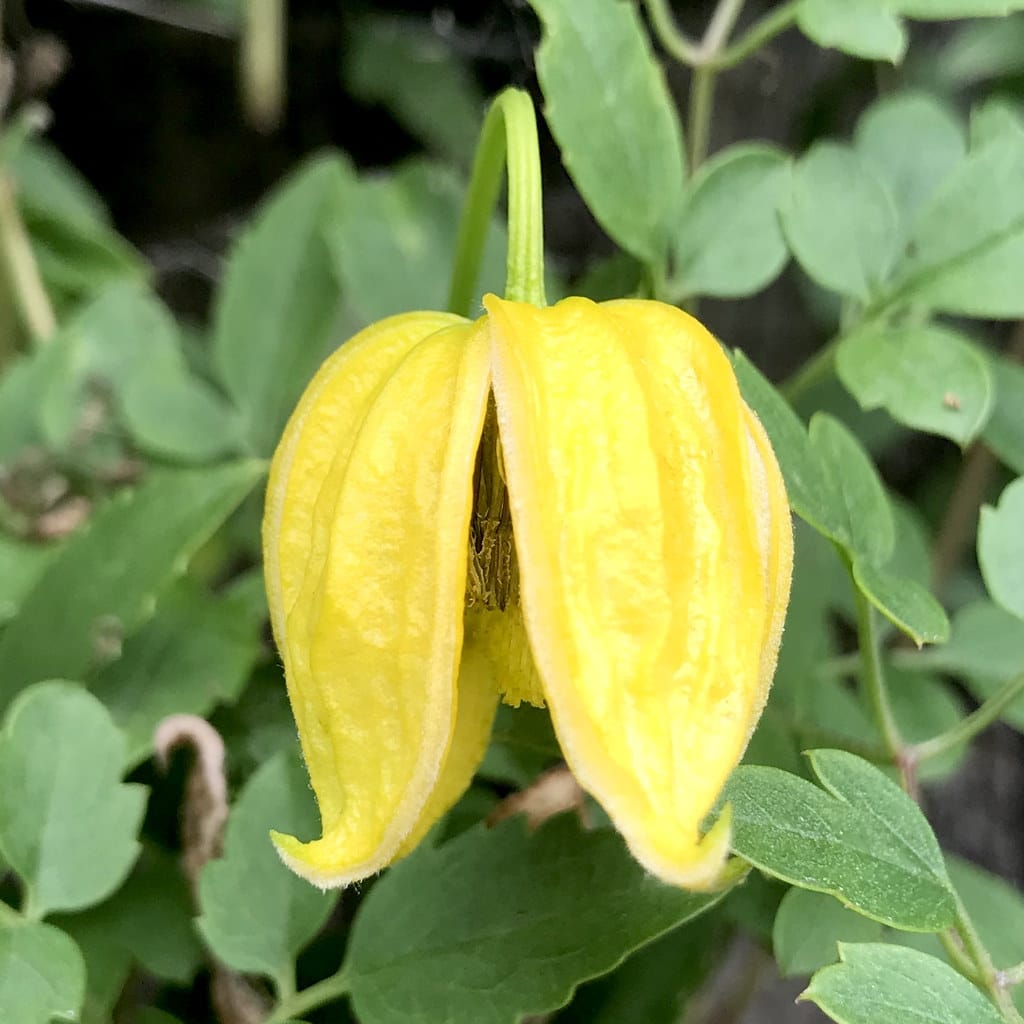 Image Source: Flickr
Clematis yellow flowers are long, graceful vines that produce a vibrant pop of yellow when in bloom. Yellow Clematis Varieties typically grow between 2-4 feet long and can produce as many as 200 blooms on one Yellow Clematis vine.
Clematis Green Passion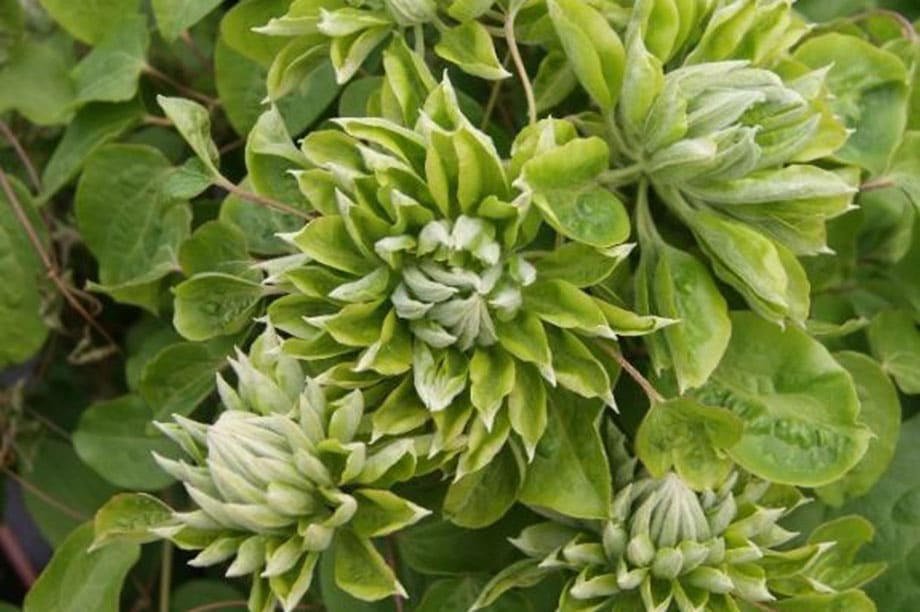 Image Source: Hortweek
Clematis Green Passion is a species of clematis vines that produce fragrant, creamy-white flowers with bright green edges. They thrive in partial sun to full shade and can reach up to 3m tall. These stunning flowers make an excellent addition to any garden.
Conclusion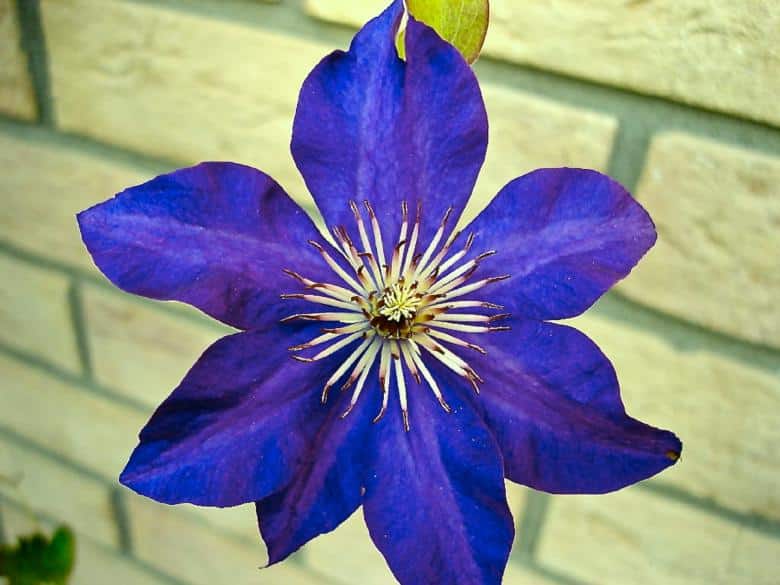 Image Source: Stockvault
Blue Clematis is a beautiful yet hardy flowering vine that can add color and life to any garden. With proper planting and care, the blue Clematis will thrive outdoors, providing its vibrant hue while attracting hummingbirds and butterflies.
Depending on your preference, you may go with its classic blue variety or choose one of the other unique color varieties, such as pink, yellow, or purple. Regardless of the color chosen, the blue Clematis will offer a stunning display in any garden.
If you're looking to improve your gardening skills or just want to learn some new tips and tricks, check out Guyabouthome's other blogs on gardening! From choosing the right plants to maintaining a beautiful garden, We offer expert advice and insights to help you create the garden of your dreams.
If you liked what you read here, you might also be interested in other gardening guides: