Drumstick Alliums are a type of flower that comes in various shapes, sizes, and colors. From deep purple to pale pink, discover the beauty of these unique flowers today!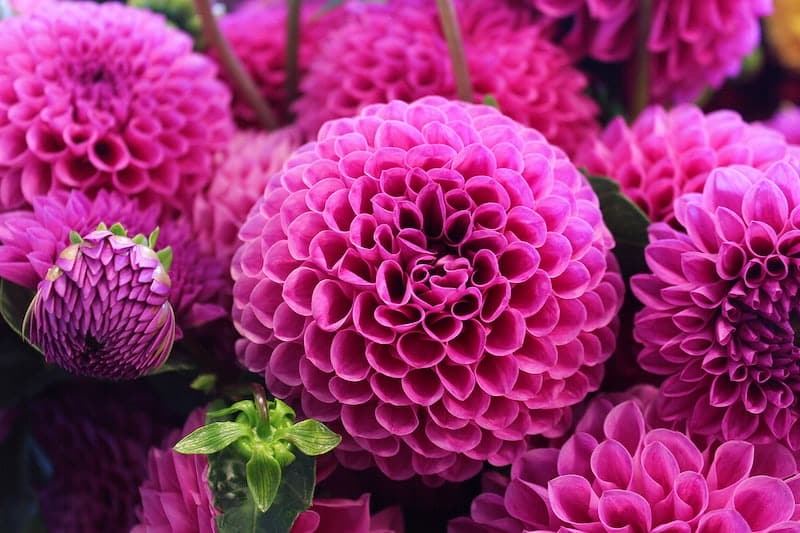 Image Source: Free Vectors
Thank you for reading this post, don't forget to the best blogger Guy About Home who offers the best garden and home improvement tips! If you are a home decor and design fan, don't miss the tips on home ideas. If you are a home garden owner, then you might be interest in our complete guides to house plants!
Are you a gardener who loves exploring flowers but is looking for something unique and different? If yes, then you must take advantage of the Allium Drumstick! It is an eye-catching member of the Allium family that can make any garden stand out. Not only is it popularly grown as an ornamental plant, but it is also edible and used in various culinary dishes.
In this blog, let us explore the many types of drumstick alliums and discover how to use them for aesthetic and culinary purposes.
Different Types of Drumstick Alliums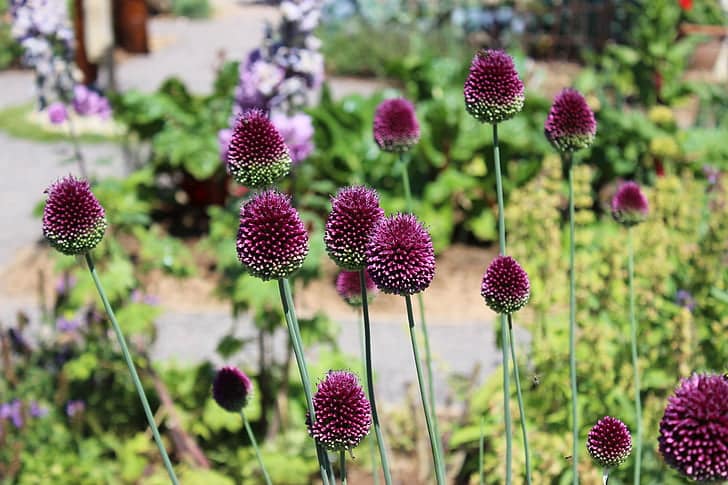 Image Source: Hippopx
Let's explore the different types of Drumstick Alliums flowers so that you can find the perfect one for your garden.
Purple Allium Flower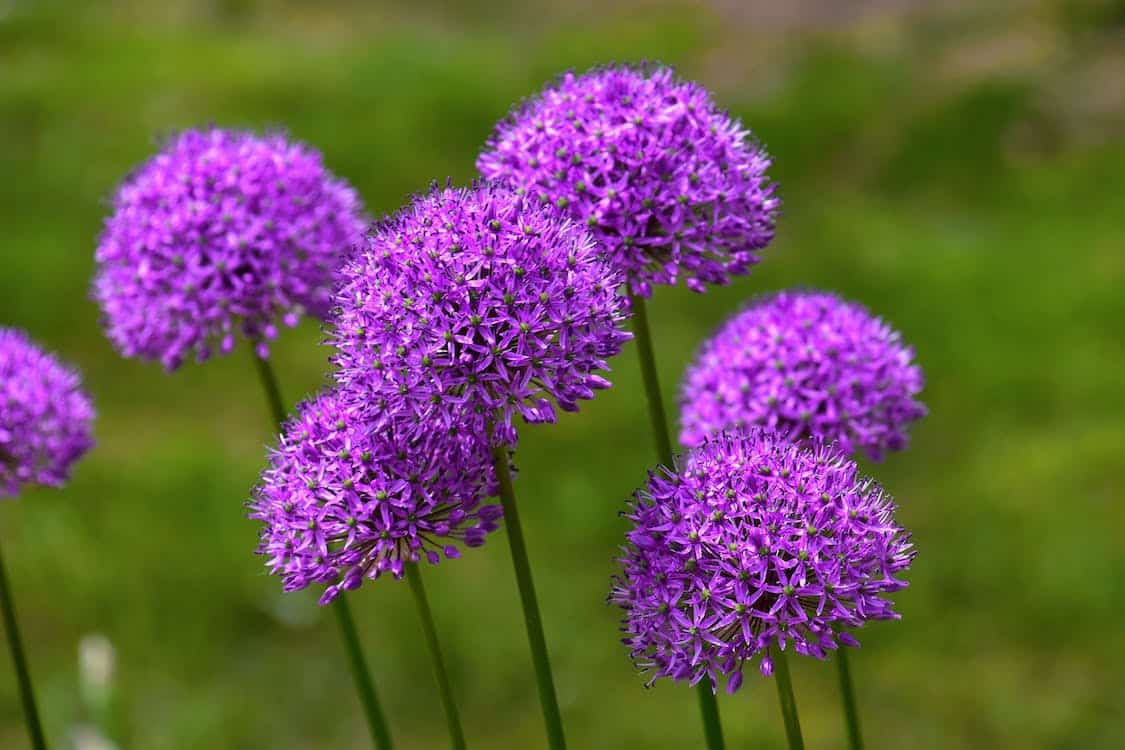 Image Source: Pexels
Purple Allium flower is a perennial flowering bulbous plant in the Allium genus that is linked to the onion family. The flowers are usually deep violet or lavender and form into an umbel of small star-shaped florets that display stunningly when planted en masse. The blooming period for the
Purple Allium flower is typically from late summer to late autumn. They also attract pollinators, including bees, butterflies, and beneficial insects. In addition, these plants are easy to grow in most soil types and require minimal maintenance.
With their vibrant color and hardiness, these long-lasting flowers will surely be a showstopper in any garden or flower arrangement.
Here are some of the varieties you can check out:
Allium Aflatunense 'Purple Sensation'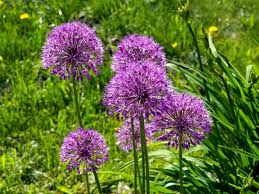 Image Source: Boomkwekerij
Allium Aflatunense 'Purple Sensation' is a bulbous perennial plant that belongs to the Allium family, which includes onions, garlic, and chives. It is a popular garden plant that produces large, deep purple globes of flowers on tall, sturdy stems reaching up to 80cm in height.
Features
Allium Purple Sensation bulbs are small, round, and brown, typically measuring 5 to 6 cm in diameter. They are sold in garden centers and nurseries in the fall, and they should be planted in well-draining soil at a depth of around 2-3 times their size.
It is best to plant Allium Purple Sensation in a location that receives full sun and has good air circulation, as this can help prevent diseases such as botrytis. The bulbs should be planted in groups of at least 5-7, spaced around 20cm apart, to create a striking display.
Allium Purple Sensation blooms in late spring to early summer, and the flowers can last up to four weeks. The drought-tolerant plant requires little maintenance, making it an excellent choice for novice gardeners or those with busy schedules. Its deep purple color and unique spherical shape make it popular for cut flower arrangements and garden borders.
Allium Purple Rain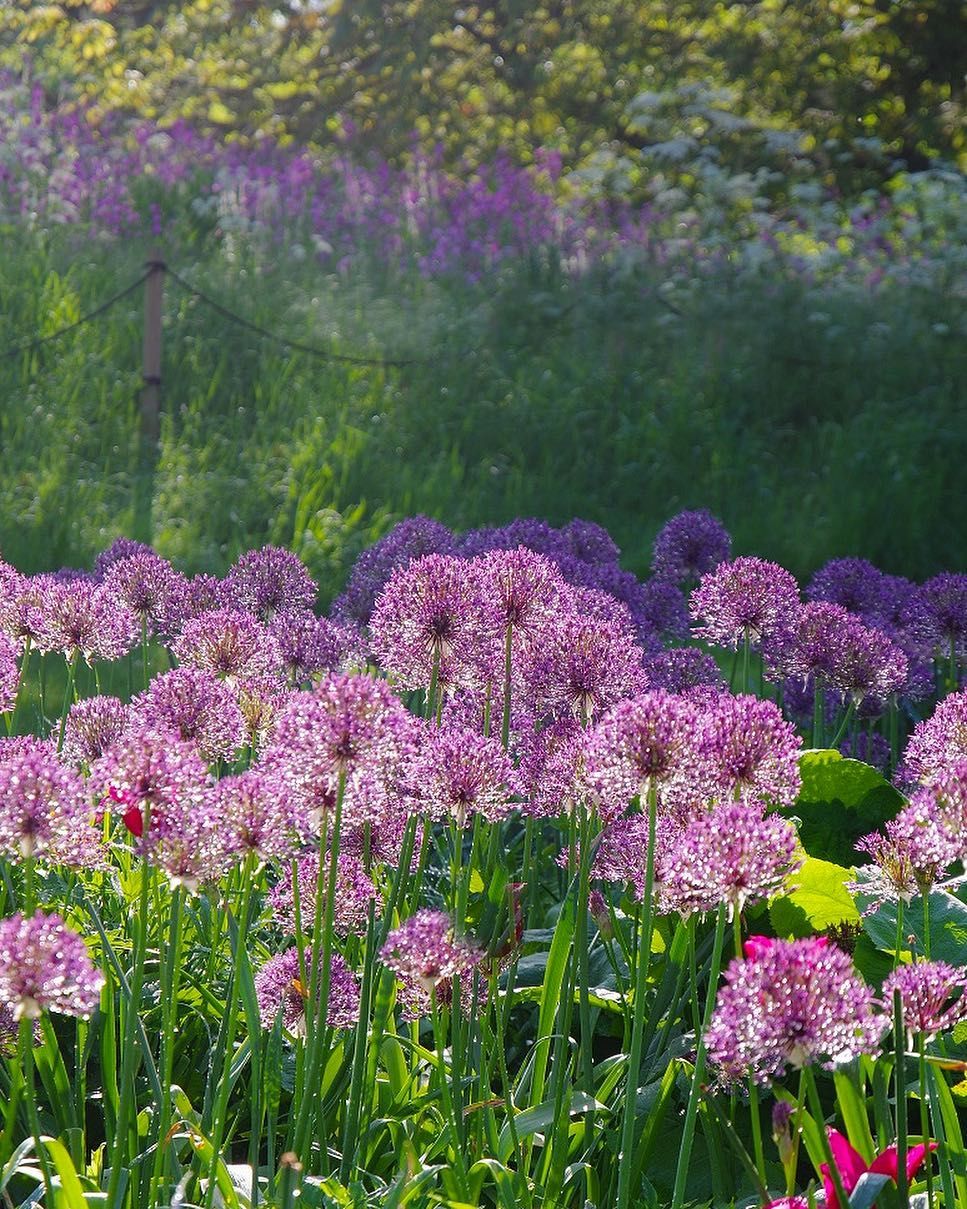 Image Source: Pinterest
Allium Purple Rain flowers are unique and beautiful ornamental onions with deep purple blooms. The flower heads range from 2 to 5 inches wide and comprise many small florets that give the overall effect of a ruffled purple pompom. These flowers can add color to any garden setting by rising on sturdy stems. It can be equivalent to Iris Purple Sensation which is one of the most popular varieties of Iris flowers available
Purple Giant Allium Giganteum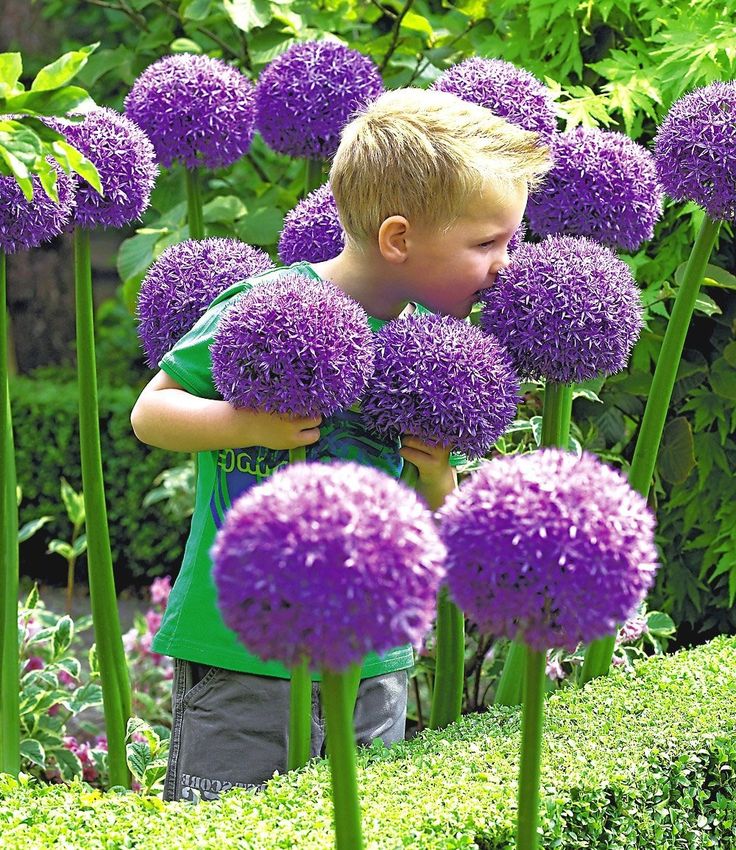 Image Source: Pinterest
The Purple Giant Allium Giganteum is an ornamental plant that belongs to the Alliaceae family. It is native to Central and Eastern Europe, growing wild in grassy meadows and along roadsides. The Purple Giant Allium Giganteum has long, bright purple flower heads that can reach up to 10 inches (25 cm) in diameter.
Campanula Purple Sensation
Campanula Purple Sensation is a stunning variety of bellflower with deep purple-blue blooms. It is an upright, clump-forming perennial with sprawling stems and lush foliage. The star-shaped, bell-shaped flowers bloom between June and August, much later than other campanula species.
Persian Blue Allium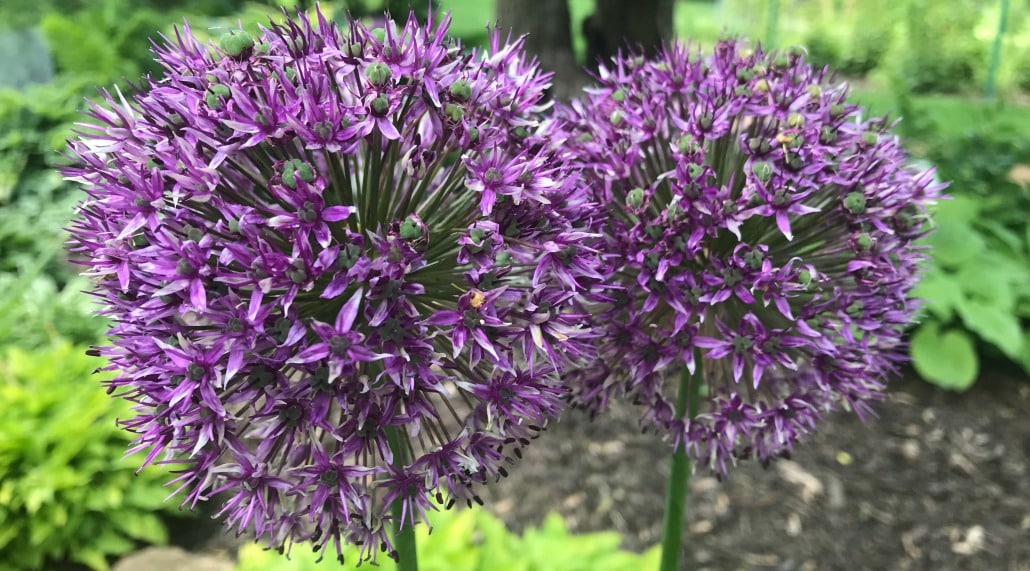 Image Source: Demonstration garden
Persian Blue Allium is an ornamental flower with a unique, vibrant blue color that makes it stand out in any garden. It has long slender stems and blooms from late spring to early summer. The petals are a beautiful deep navy blue, and the flower heads consist of 10-20 small florets, which add texture and interest to the garden.
Persian Blue Alliums look best when planted in clusters to create a stunning display of color and texture.
White Allium Flower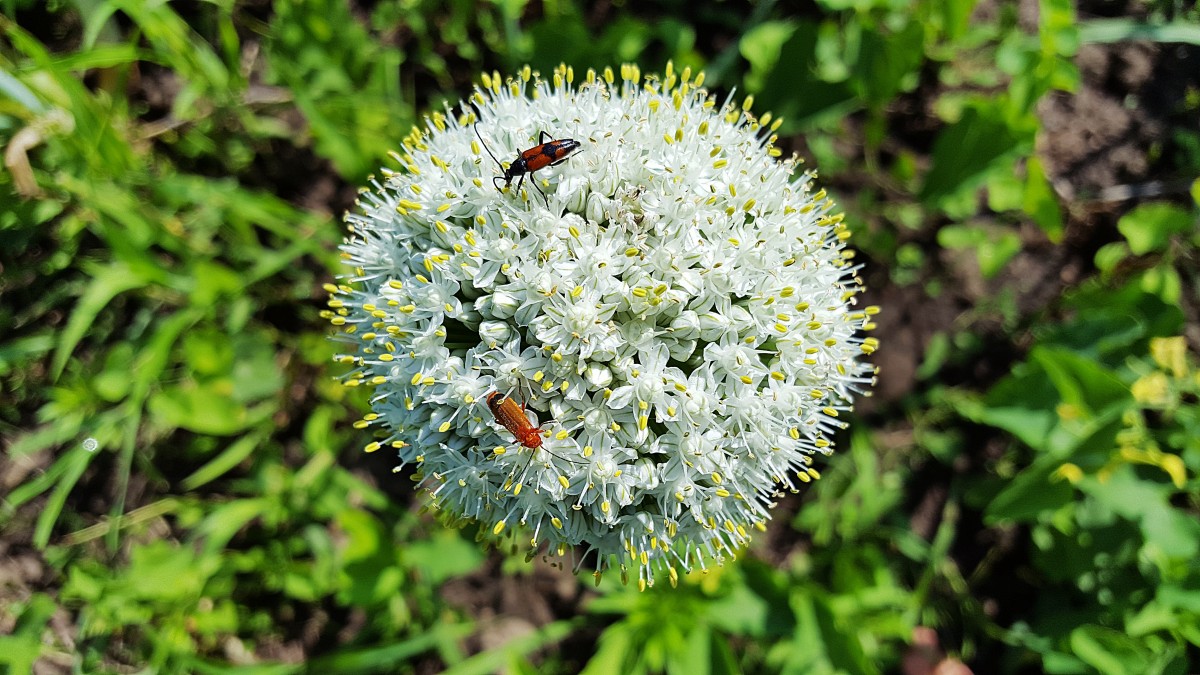 Image source: pxhere
White Allium flowers are a type of ornamental bulbous perennial plant belonging to the Allium family, including garlic, onions, and chives. These flowers are known for their striking white color and distinctive spherical shape, comprising clusters of small, star-shaped blooms.
White Allium bulbs are small, round bulbs typically between 2 to 3 inches in diameter. They are sold in garden centers and nurseries in the fall and should be planted in the ground at a depth of around 2-3 times their size. Planting them in the fall before the ground freezes are recommended, so they have enough time to establish their roots before winter.
Here are some of the White Allium Varieties you can check out:
Allium White Giant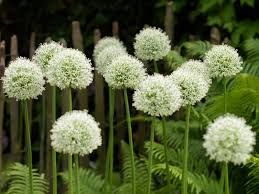 Image Source: Architectural Plants
White Allium Varieties of Allium is a flowering plant species. It is a bulbous perennial with fragrant white flowers carried on tall stems, blooming in summer. Its large round flower heads comprise many small florets spaced tightly together to create an overall spectacular look.
This variety is well suited for fresh-cut flower arrangements, garden beds, or container gardens, and it adapts easily to most climates. White Allium Varieties will bring beauty and fragrance to any outdoor setting.
Allium White Cloud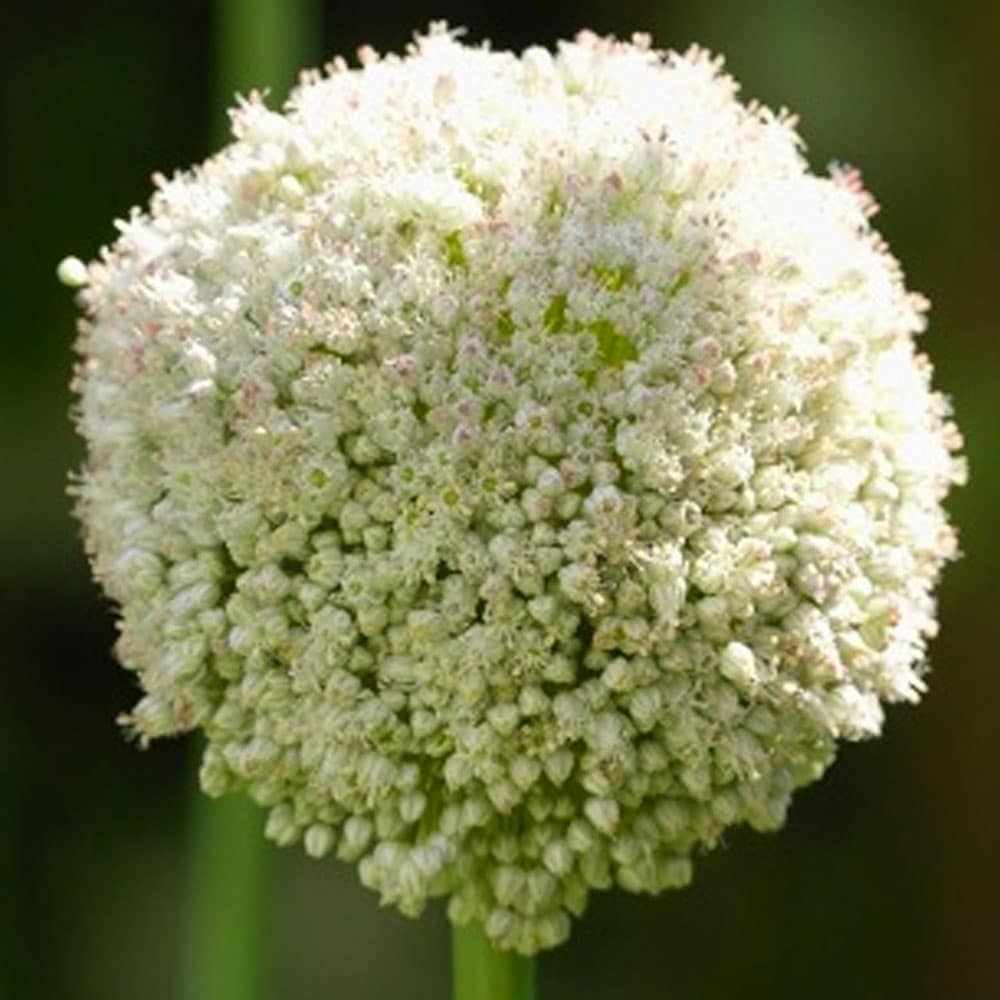 Image Source: Rose Cottage Plants
Allium White Cloud is a variety of Allium flowers known for their pure white color and dramatic shape. The flower grows up to 45cm in height, with large egg-shaped clusters of small, star-shaped flowers that bloom from late spring to mid-summer. It is an excellent choice for adding subtle elegance and a good-cut flower to any garden. In addition, white Cloud is a great addition to any garden because it is low maintenance, easy to grow, and attractive to pollinators.
Allium Silver Spring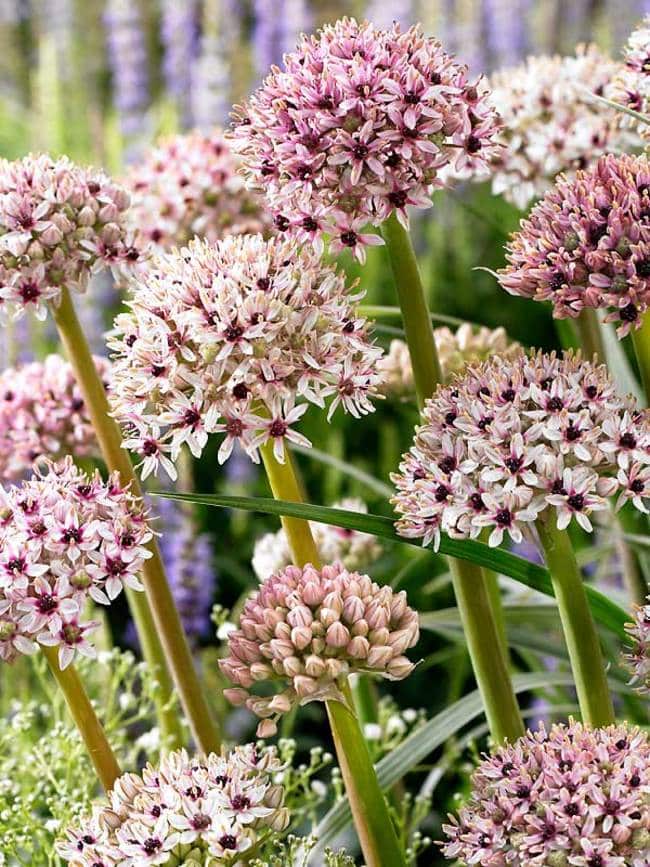 Image source: Bluestone Perrenials
Allium Silver Spring is a beautiful, star-shaped flower that bursts out with cheery blooms in the spring. It has vibrant purple petals and bright yellow-green centers that make it a standout among other flowering plants. Unlike many other alliums, Silver Spring will continue to bloom until late into the summer, adding a pop of color to your garden. Its striking beauty, ease of growth, and long blooming season make it an excellent choice for any garden.
Red Allium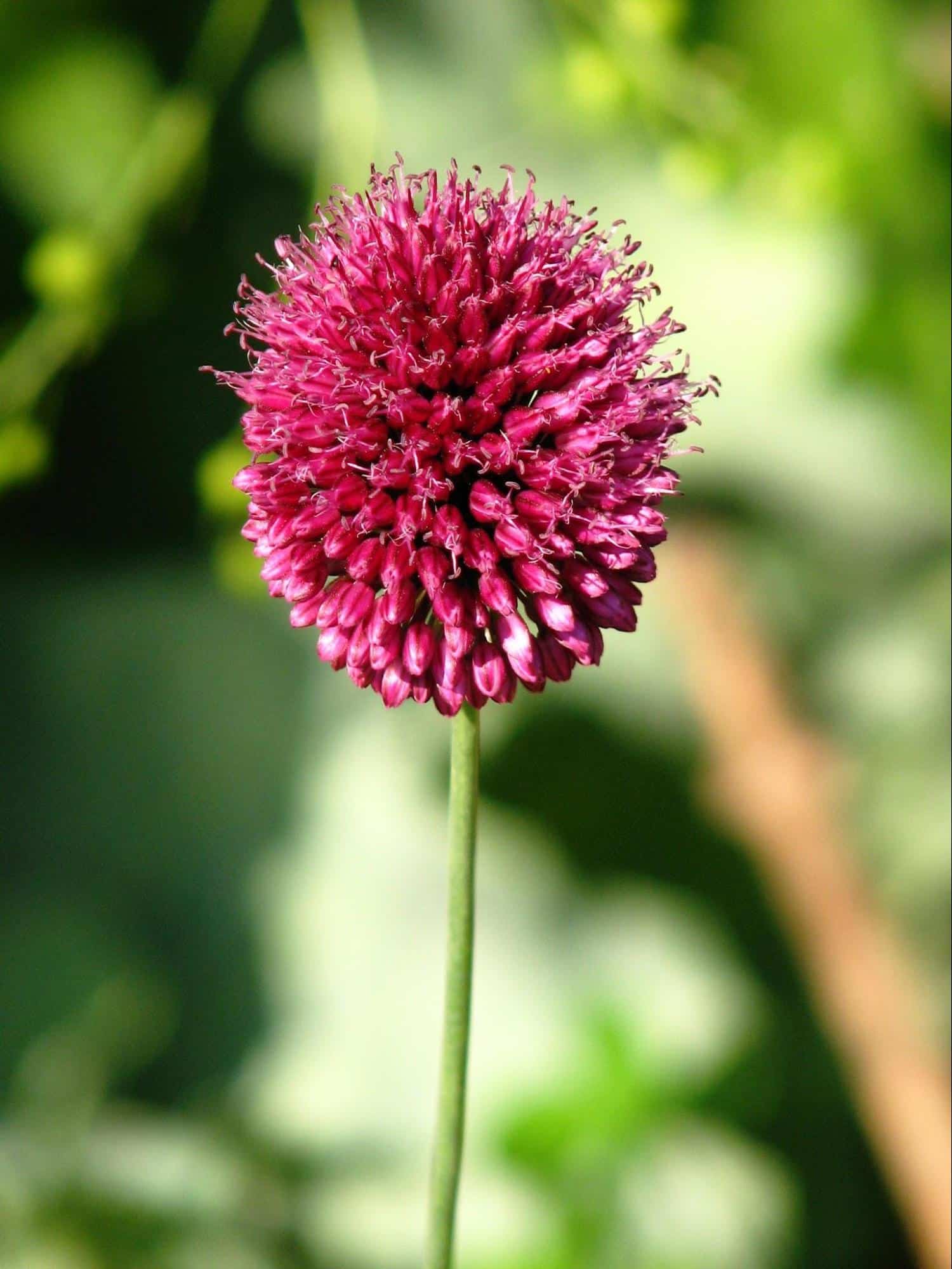 Image Source: Wikimedia Commons
Red alliums are a member of the onion and garlic family. These vibrant and eye-catching blooms have deep burgundy petals and round, bulbous centers that can range from intense red to paler shades of pink. In addition, red alliums feature long stalks topped with delicate petals, giving a subtle, sweet smell.
Here are some of the varieties you can check out:
Allium Red Mohican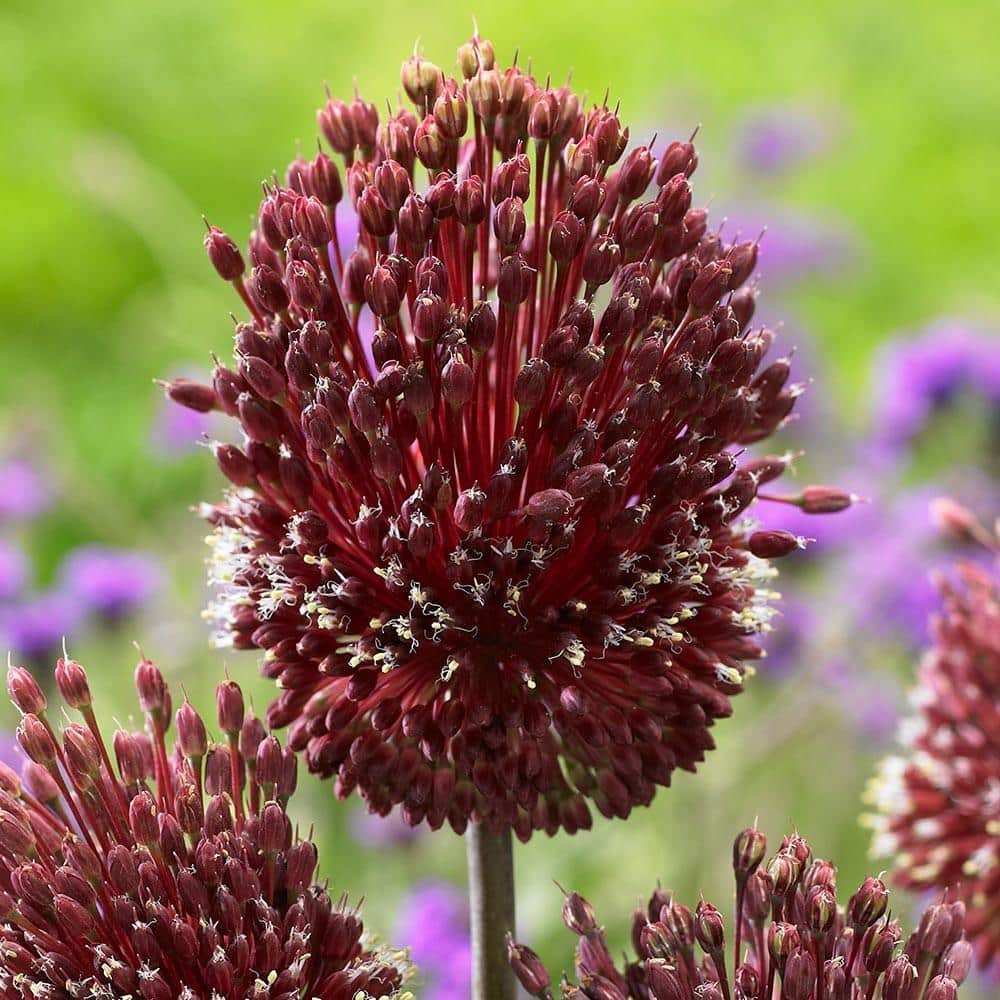 Image Source: DutchGrown
Allium Red Mohican is a unique and striking variety of red Allium known for its large, bright, burgundy-red flower heads that stand on thick stems above lush deep green foliage. The flowers are 5 to 7 inches in diameter and appear in late spring or early summer.
Allium Red Giant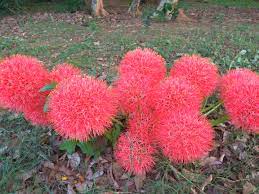 Image Source: Wikimedia Commons
Allium Red Giant is a variety of Allium that produces large, bright red flowers. It is a hardy perennial and can grow up to three feet in height, producing hundreds of small blossoms on each stalk. The blooms are very showy and attract pollinators, from bees to butterflies.
Red Giant Allium is a large, stunning red allium variety that produces 6 to 8-inch (15-20 cm.), deep red, spherical flower heads atop 3 to 4-foot (90-120 cm.) sturdy stems. Its bright petals open in the morning and last until evening, providing a long-lasting show of vibrant color.
Yellow Allium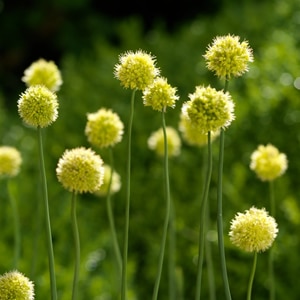 Image Source: Plant Encyclopedia
Yellow Allium is a bright and cheerful bloom that can add a burst of sunshine to any garden. It features delicate, bright yellow petals curved inwards, surrounding a green core in the center. This flower grows tall and slender, green stems, with many blooms appearing in each cluster.
Here are Yellow Allium Varieties you can learn more about:
Allium Yellow Fantasy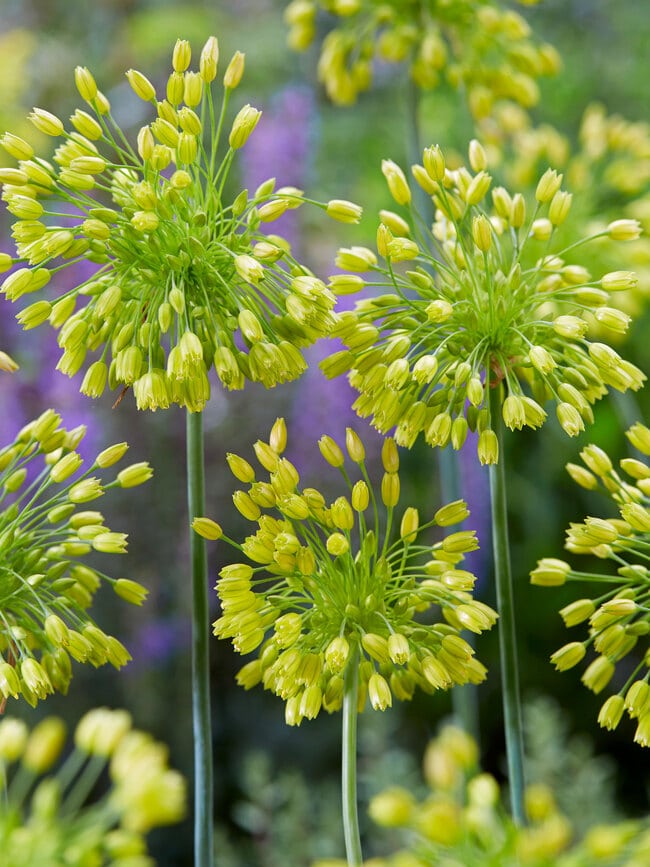 Image Source: Bluestone Perrenials
Allium Yellow Fantasy is a lovely flower variety that will lend a touch of sophistication to any garden! This eye-catching bloom features vibrant yellow petals with an abundant, layered appearance. The full, globe-like shape of the flower head makes it stand out, while the unique texture and deep green foliage add an extra dimension.
Allium Moly Yellow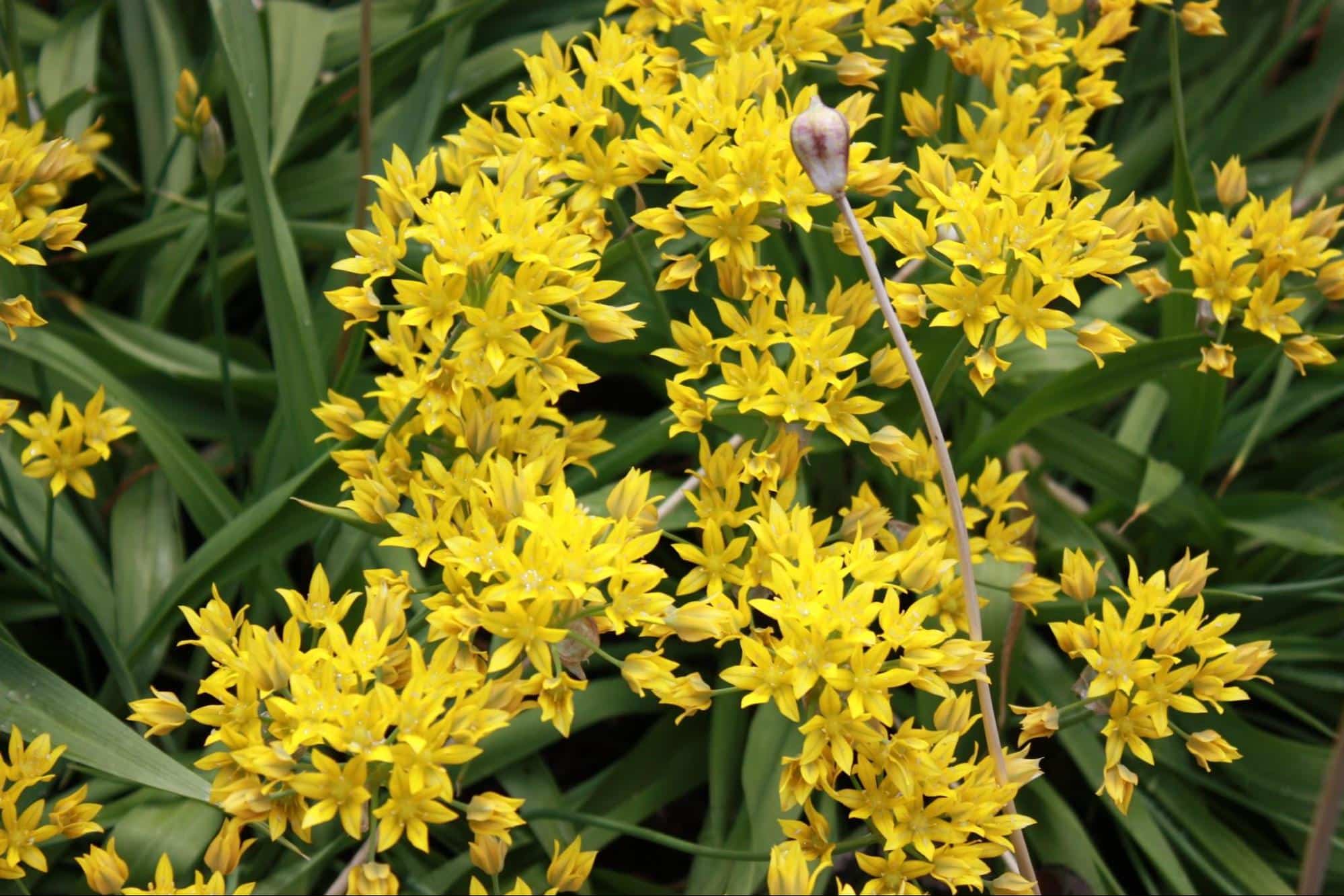 Image Source: Wikimedia Commons
Allium Moly Yellow is a stunning and vibrant flower variety of the Allium genus. This yellow-flowering variety features bright, golden-yellow clustered blooms perched atop tall foliage stems. They bloom in mid-spring, lasting several weeks and adding a bright color to the garden.
Pink Allium Flower'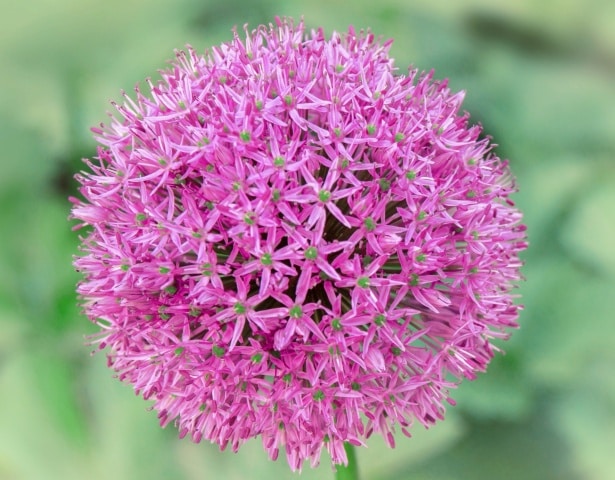 Image Source: Public Domain Pictures
Pink Allium is a flowering plant that produces beautiful pink flowers. The bell-shaped flowers range from soft pastel shades to vibrant deep pinks. They make an excellent addition to garden borders and flower beds as they provide an eye-catching contrast to other plants. The plant also attracts wildlife, such as butterflies, bees, and birds, and is a great way to add color to any garden.
Conclusion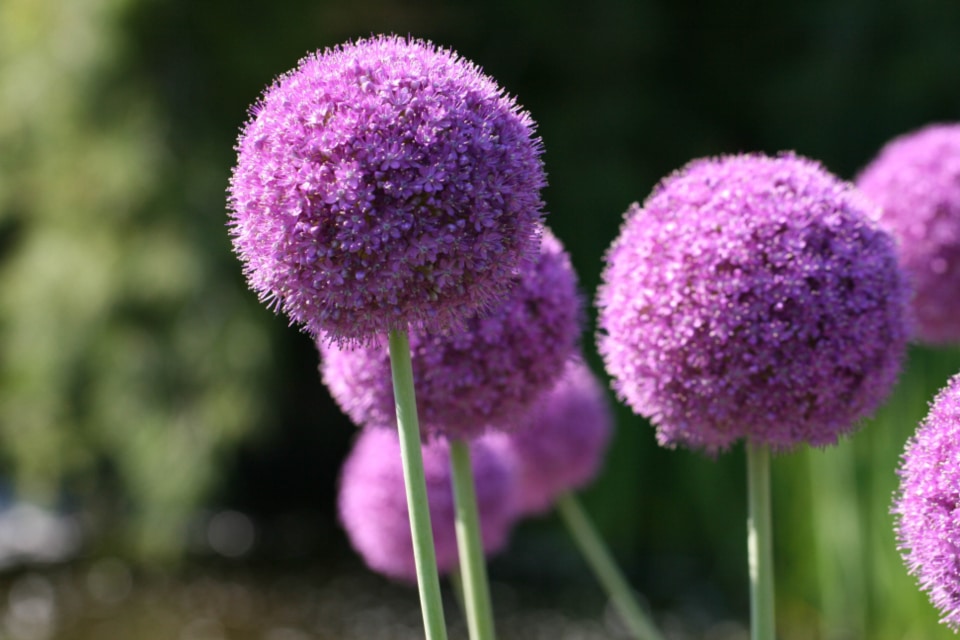 Image Source: StockSnap.IO
The Drumstick Allium is a beautiful flower with a wide array of colors and shapes. It can be used to create stunning floral arrangements or as a stand-alone flower in your garden. Whether you're looking for a bright and colorful pop of color or something more subtle and delicate, the Drumstick Allium is sure to please.
With its unique and exotic blooms, it's no wonder why this allium has become such a popular choice for many gardeners and landscapers around the world. So go ahead and explore this wonderful flower today!
If you're looking for helpful advice and gardening tips, check out GuyaboutHome's blog section. With plenty of insightful articles and posts on various gardening topics, you're sure to find something that will help you with your gardening needs and aspirations. Be sure to read more blogs at GuyaboutHome for more gardening tips today!
If you liked what you read here, you might also be interested in these gardening guides: