Have a staircase that will surely take your home to the next level! Choose from the ideas that are presented below!
A stair connects two floors. But what's sensible here is it's the first thing that your guests sees upon entering your home, so you might as well want to splatter some creativity in your stairs. However, you also need to ensure that your area is big enough to put some stairs.
Thank you for reading this post, don't forget to the best blogger Guy About Home who offers the best garden and home improvement tips! If you are a home decor and design fan, don't miss the tips on home ideas. If you are a home garden owner, then you might be interest in our complete guides to house plants!
Put carpets, have the steps risen, or do it in either modern or rustic ways. You decide. We know that you are still wondering how you can build breathtaking open stairs. Here's a list of open-plan staircase ideas which you can choose from. Come and read on!
Table of Contents 
Open Plan Staircase Ideas

Open Tread Staircase Carpet Ideas

Open Tread Staircase Ideas

Open Staircase to Basement Ideas

Under Open Staircase Ideas

Open Staircase Railing Ideas

Open Staircase Carpet Ideas

Rustic Open Staircase Ideas

Half Open Staircase Ideas

Open Riser Open Tread Staircase Carpet Ideas

Modern Open Staircase Ideas
Open Plan Staircase Ideas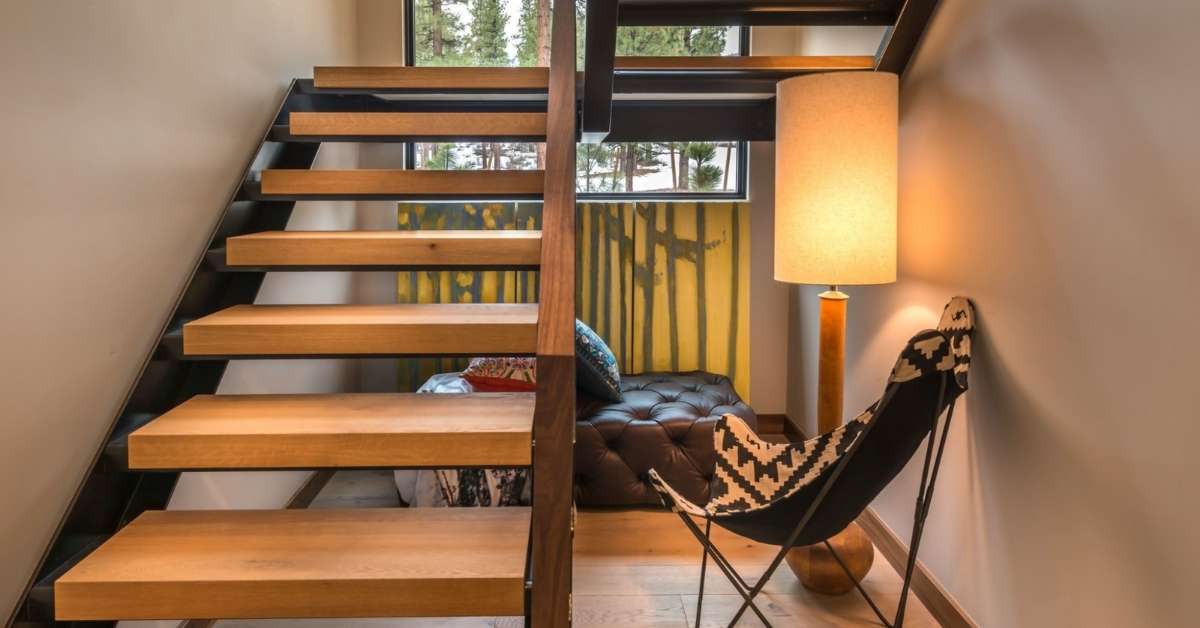 Image Source: Elle Decor
Create a great sense of space in the entire area with the offset stringers and open rise steps in a traditional way. This would demand attention while ensuring the durability and hard texture of each step.
To make your stairs attractive:
Be consistent in the stairs' texture. No need to have a stainless handle, you can have it in wood for a rustic sense.
Covering up the stairs would be boring so incorporate some rising look in the stairs. Don't cover up the spaces and leave them be.
Contribute to the rustic vibe by adding some warm lights below the stairs
Open Tread Staircase Carpet Ideas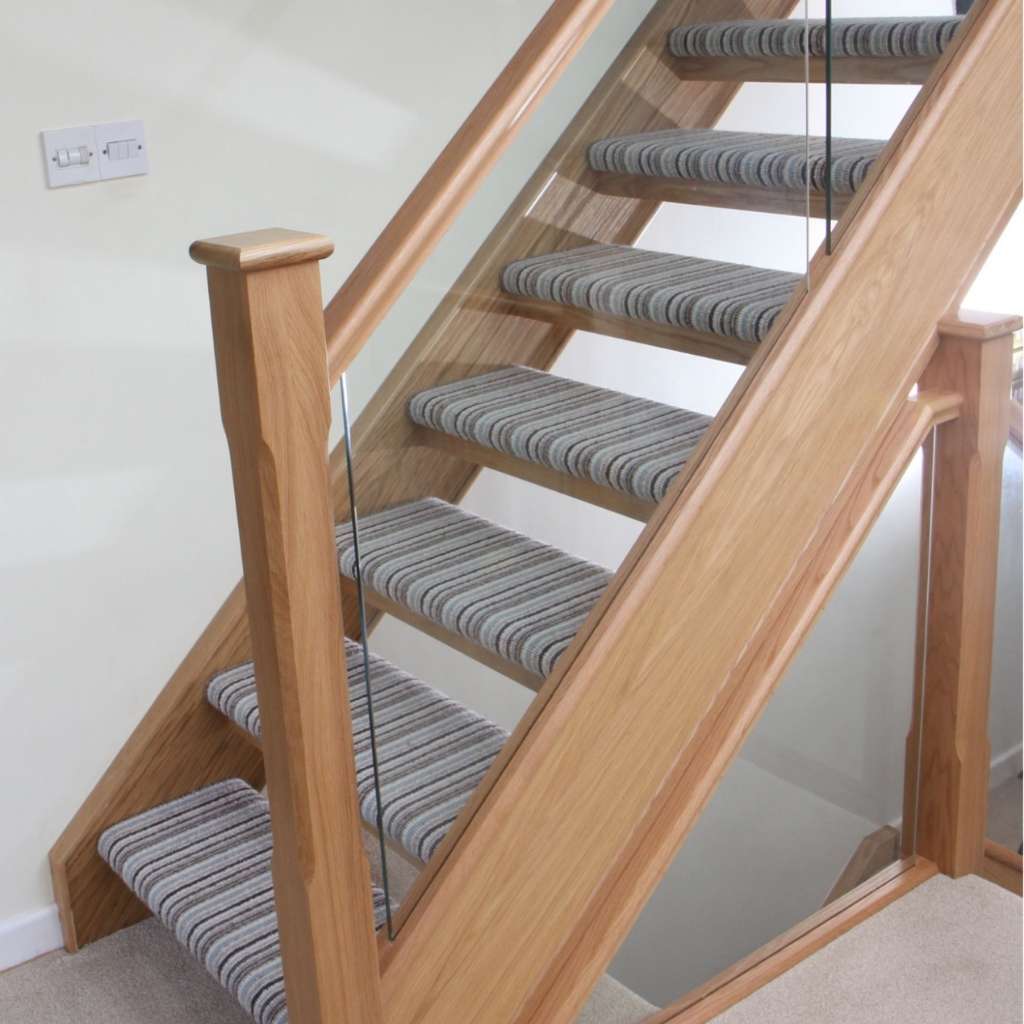 Image Source: Pinterest
Notice that the stairs here has still spaces below. This is the essence of the open staircase, you create a floating illusion while also ensuring that you are able to fulfill the goal to connect two floors and the dirt would have no place.
Here are some tips:
Go for an oak wood staircase if you want something traditional.
Put pieces of carpet in every stair step to ensure modernity. You can also go for a long carpet if you wish.
You can put some glass panels on the side of the stairs for modernity and protection too.
Open Tread Staircase Ideas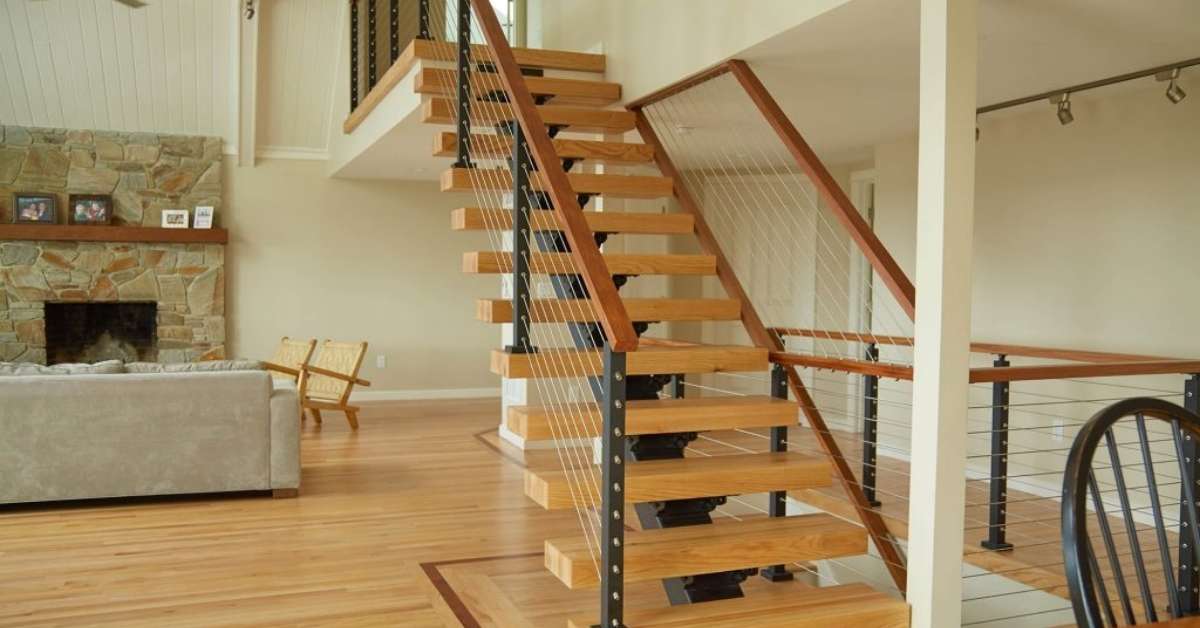 Image Source: Viewrail
This type of stairs is a traditional stair with a bit of creativity. Notice that it is like a guitar; it's texture, type and color of the wood, and the strings on every side.
To achieve this:
Instead of putting glass panels, have it in the contemporary way by putting strings on the every side of the stairs.
Don't put full stairs and create a rising illusion for a more cohesive and volumized look.
No need to paint it for a contrast, you can just play with the wood color or just have it similar to the floor color.
Open Staircase to Basement Ideas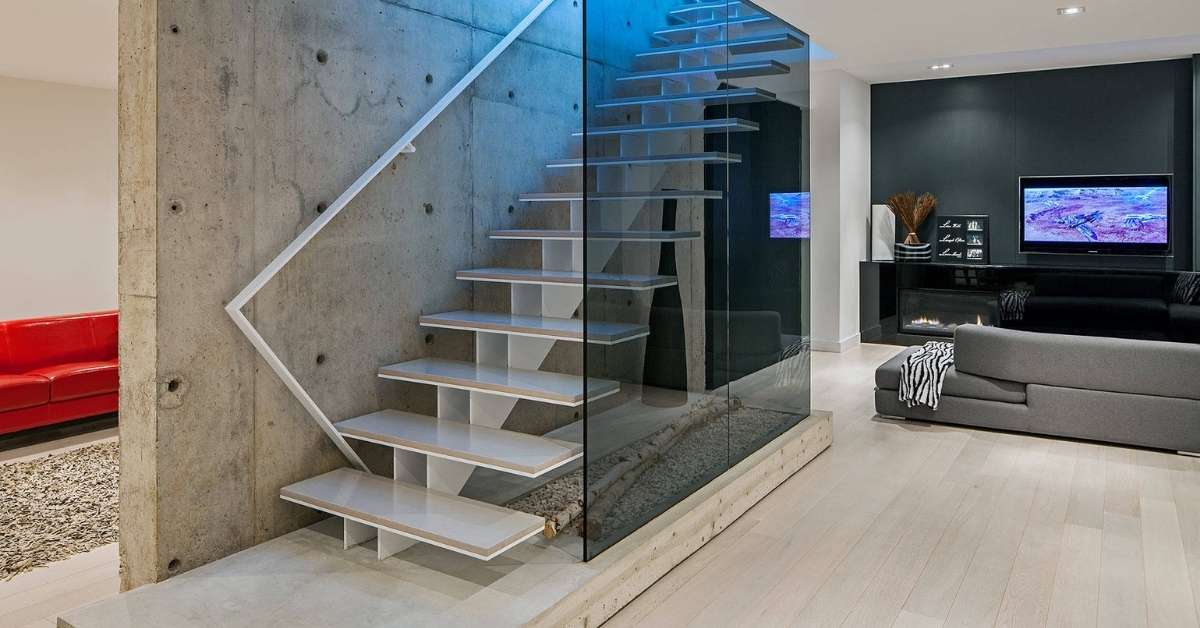 Image Source: Houzz
Basement is where our secret lies and other stuff, so you might want to project some mystery and modernity right from the beginning of every step. Start with the stairs and put a little glimpse of light around.
Tips for you:
Create a symmetry by having a bent single white glass handle. Glass panels should be covering the entire side stairs to contribute to a digitized look.
Glass staircase create a mysterious and modern vibe. Having it white and gray could contribute to these aspect as well.
Since you want a secrecy and a volumized look, put an unpainted cement wall and floor.
Under Open Staircase Ideas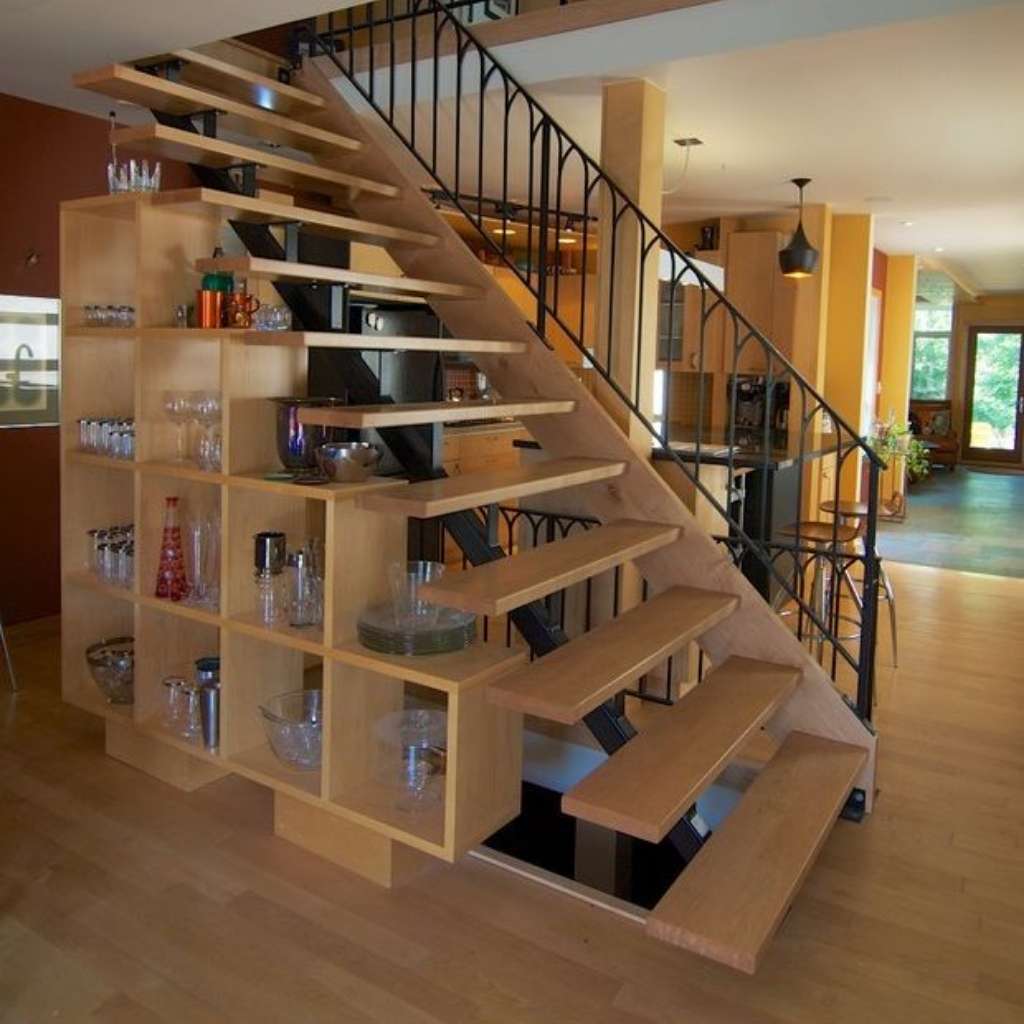 Image Source: Pinterest
Alt-Text: Under Open Staircase Ideas
Who says that stairs can only be connected to the second or third floor? This stairs has the ability to create a bigger look by extending its power towards having an under storage. Isn't that great?
What you can do are:
Measure your stairs and put rectangular or squared open storage under your stairs. The wood texture should be the same since they are extensions of the stairs.
For the design, you can put some portraits, glasswares, vases or other stuff to beautify your home.
 Handles should only be minimal so the focus on the stairs would not be removed.
Open Staircase Railing Ideas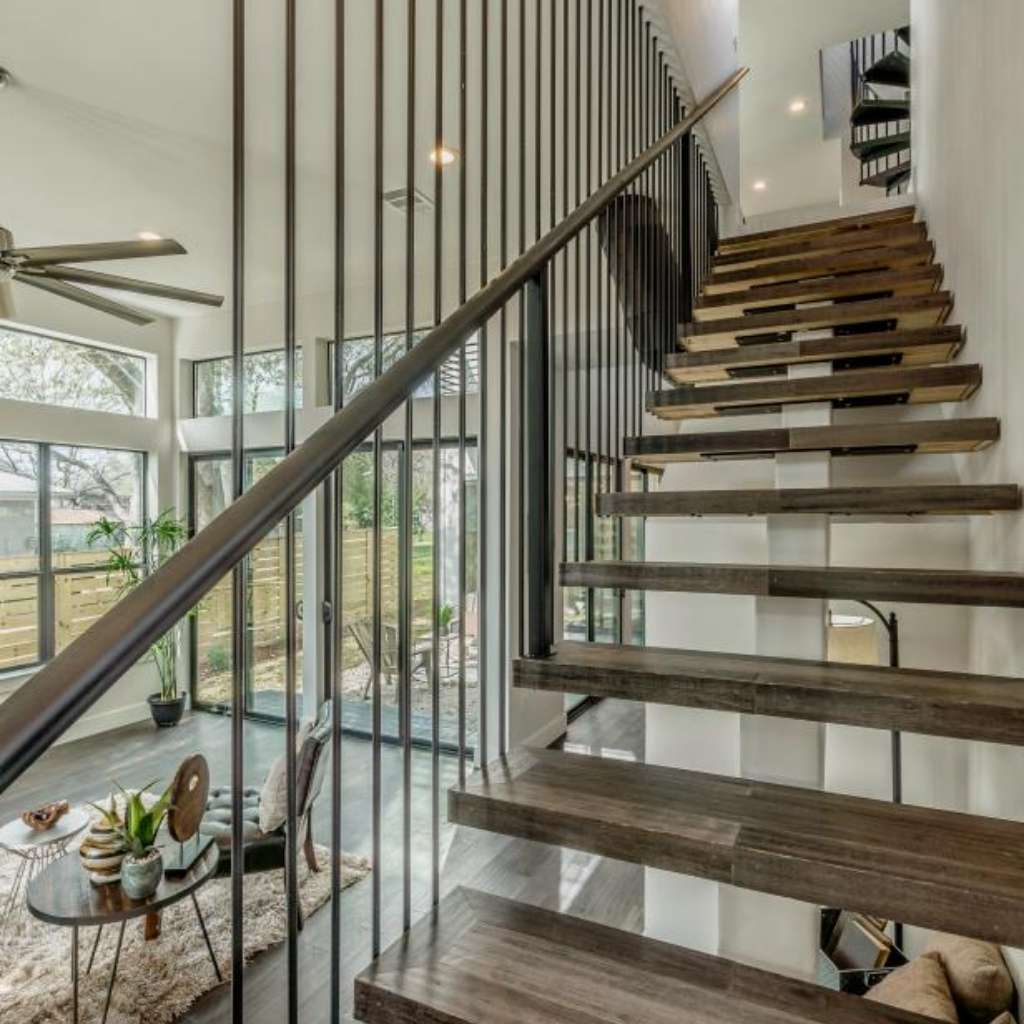 Image Source: HGTV
Steel and integrated railings are one of the best staircase railings. It contributes a more cohesive and volumized look. With these being said, not only your stairs will look like a modern one but it will create a more polished vibe.
Things that you can do more:
European oak is more ideal for this type of open staircase because it projects a modern and glossy look.
To further add, steel and integrated railings add the protective, straight, and steep vibe.
Don't forget to have the staircase risen as to make it shallow and elegant.
Open Staircase Carpet Ideas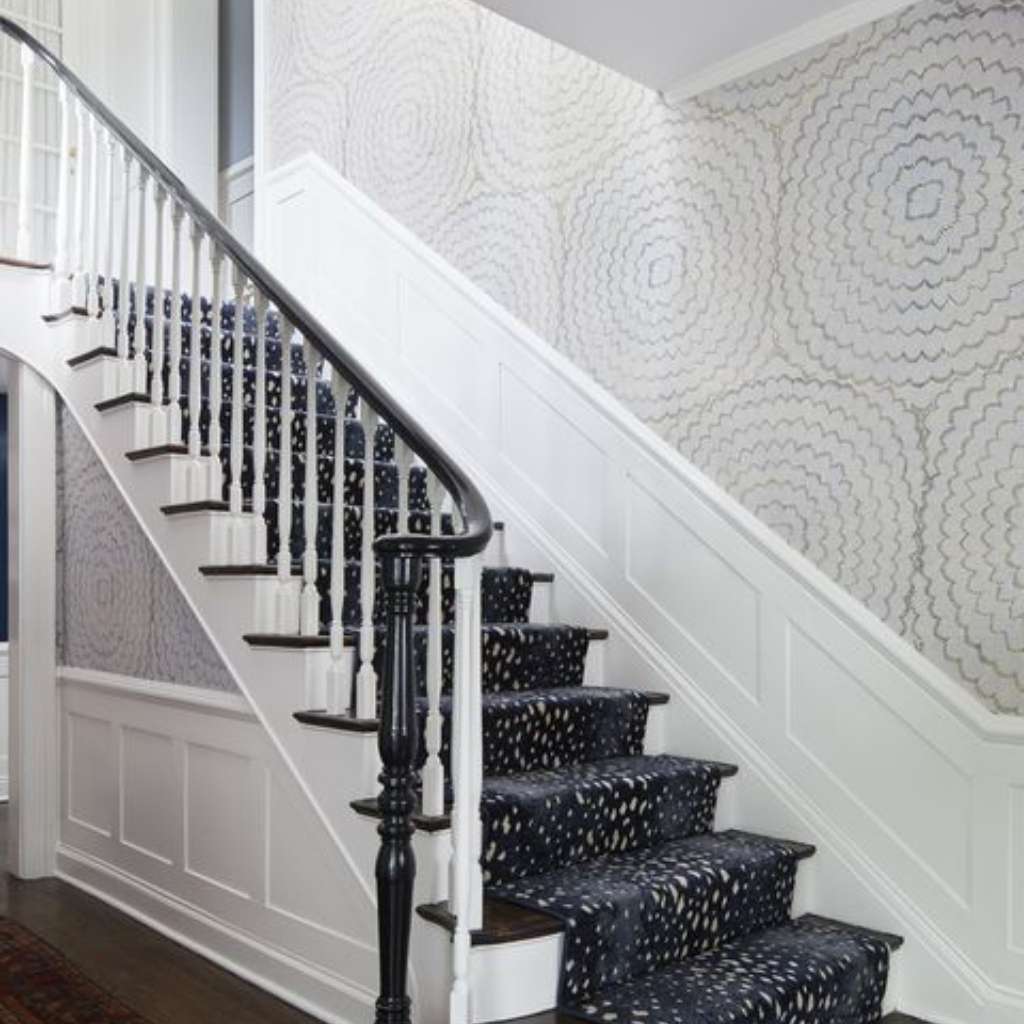 Image Source: Elle Decor
Aside from the fact that carpet is a nice thing to beautify your stairs, it can also make your stairs safe to stepped on. Choose the right color of the carpet. No need to install a  rug or a carpet on every step, just a long and continuous one will do.
Take note of these:
Contrasting colors are nice for oakwood stairs White or gray are nice options. Don't go for a dark one to avoid overpowering the entire area.
Tencel carpets are ideal for a more durable and promising look. Purchase the plain one or the one with patterns.
Rustic Open Staircase Ideas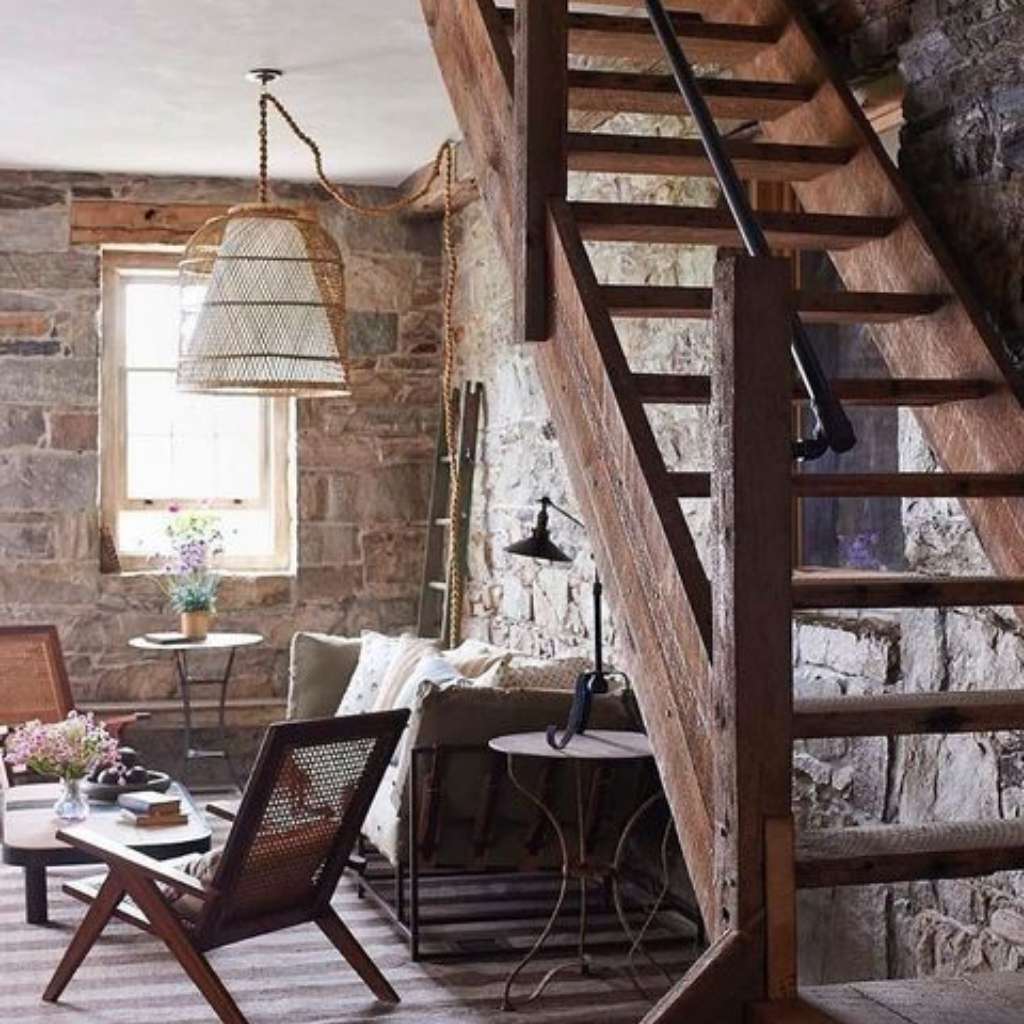 Image Source: Elle Decor
Can you feel the vintage ambiance with this rustic open staircase idea? Not only you feel nostalgic but the biggest advantage of having an unpainted wooden stairs is that it is cheaper.
To achieve this you have to:
Make the design simple. Use antique wood that contains patina and saw marks.
Angles should be well observed or you could just go for a straight stair angle if you think this would suffice the traditional look.
Open riser staircase gives off a floating and lighter look while straight ones are responsible for a classy vibe. You decide which one is yours.
Half Open Staircase Ideas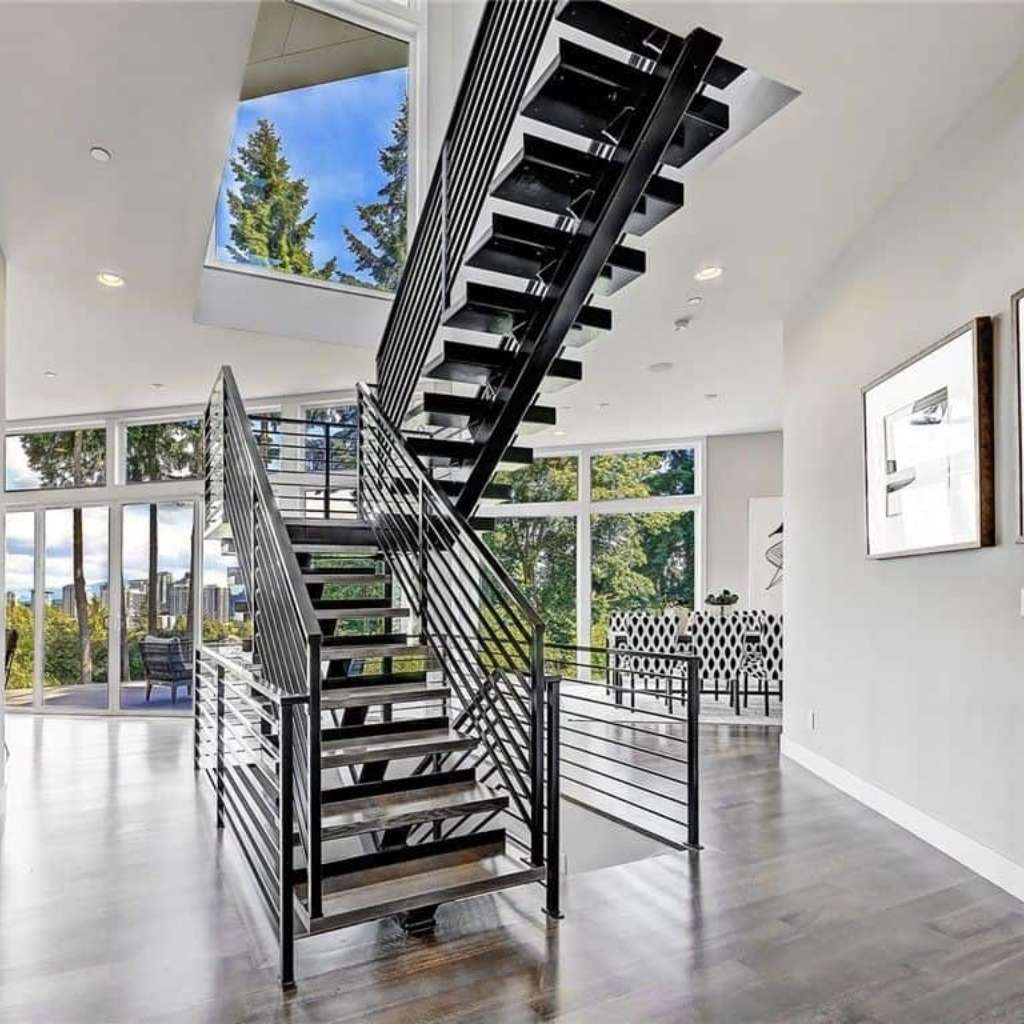 Image Source: Home Stratosphere
Half open staircase is a nice option if you want to project a symmetry in the house. This black staircase half-turn staircase gives off the steep and narrow vibe which is essential if you want to project a modern and industrial look.
You can achieve this look through:
Acquire a steel railing and measure your stairs. Make it an average look as possible for a classy appearance.
Build the stairs in the center if you want to show off the stylish one. However, if you think it would be better to put it on the side, then go on.
Open Riser Open Tread Staircase Carpet Ideas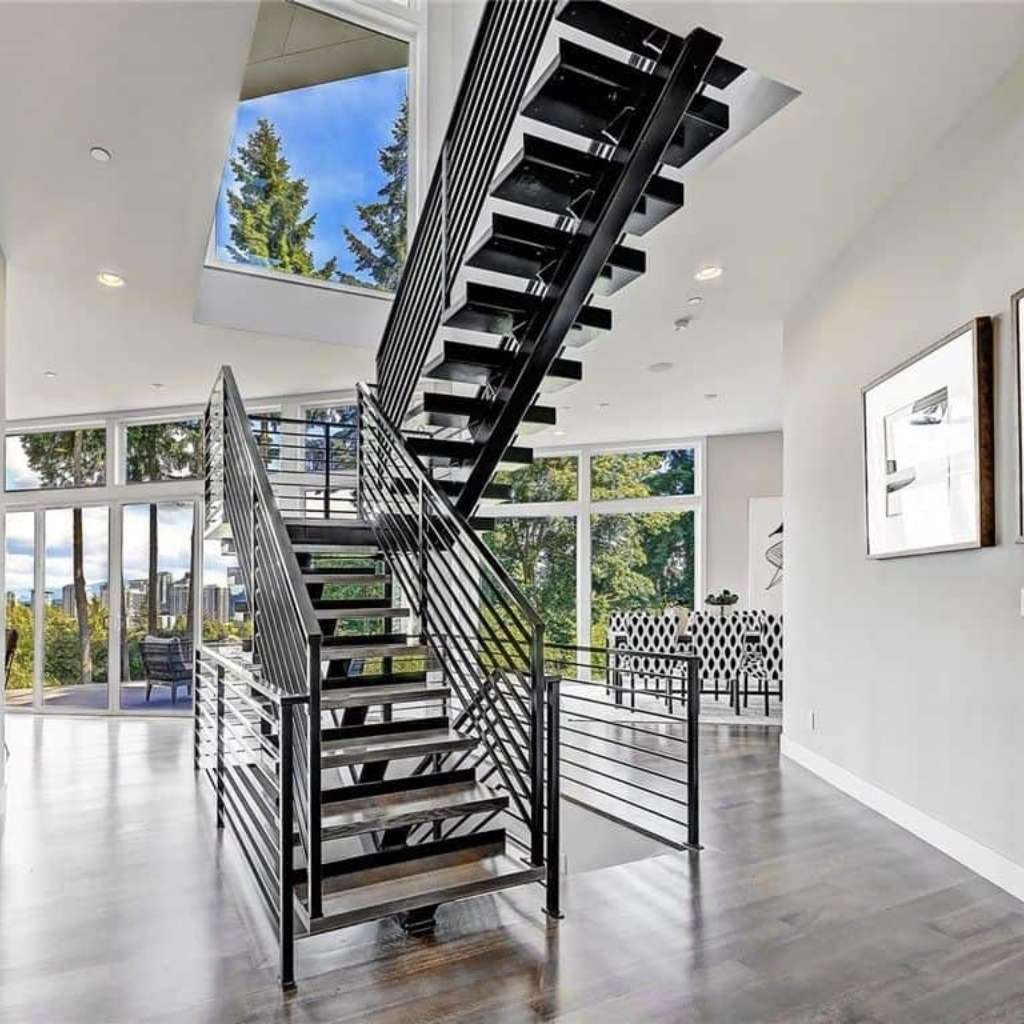 Image Source: Houzz
This kind of stairs are common to average home owners. Notice that the wood that was used in the stairs are a bit cooler than a traditional oakwood. This is to match the cool ambiance of the tile flooring.
Akasa wood gives off a glossy look which is essential if your aim is to somehow combine a traditional and a bit modern staircase appearance.
Curved and angled handrailing is best if you want a playful placement of the stairs.
Put a carpet on every step to avoid any accidents and to further put an elegant design in your stairs.
Modern Open Staircase Ideas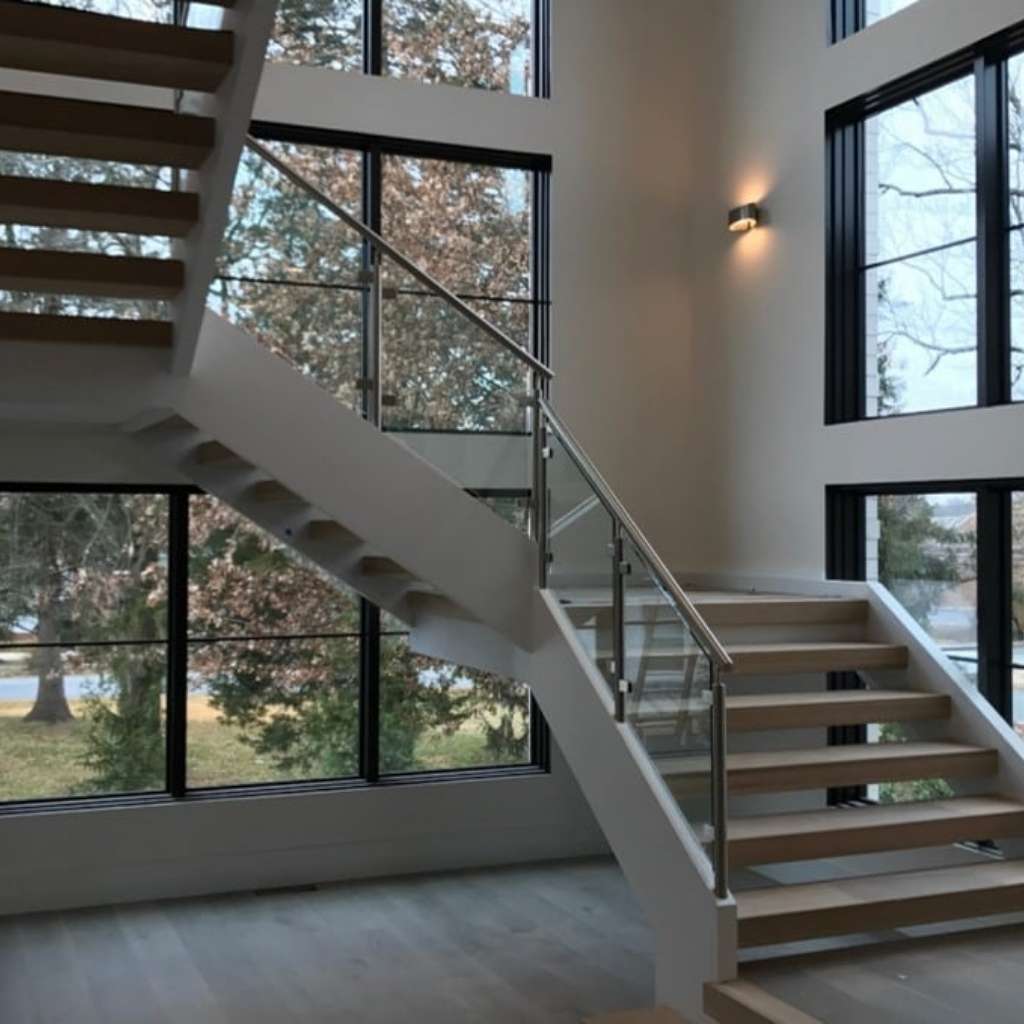 Image Source: Southern Staircase
Who doesn't want a modern and a large open staircase? In this time, having one makes your home a lot bigger. Having no wall behind that supports each steps contributes to the floating illusion that this stairs is giving off.
Tips for you:
Make the steps wider than the average ones and acquire ash wood for a more polished and larger one .
Have a three stairs combined instead of going for a curved straight stairs to project a more dynamic view.
Ensure that the color tones are matching.
Add a glass railing to contribute to the large and modern design.
Conclusion
Open plan staircase ideas make your home a lot larger than it seems. Not only it connects two floors at a time but with their look, your home could also be trendy. However, they can be really expensive because of its size and construction.
Itemized above are some open plan staircase ideas that you can check out if you are planning to acquire one for your home. These ideas were carefully analyzed and researched, so they are very much reliable.
Here are other related blogs, that you can make use of:
For more exciting ideas, you can explore Guy About Home today!